If you're doing specific recipes for your keto meal plan, you'll likely make your own keto diet shopping list. This beginner keto grocery list printable is more like a cheat sheet. If you've opened your shiny new keto and gotten it out of the box, but don't have time to read the whole instruction manual, use this quick start guide to get going right away. 😉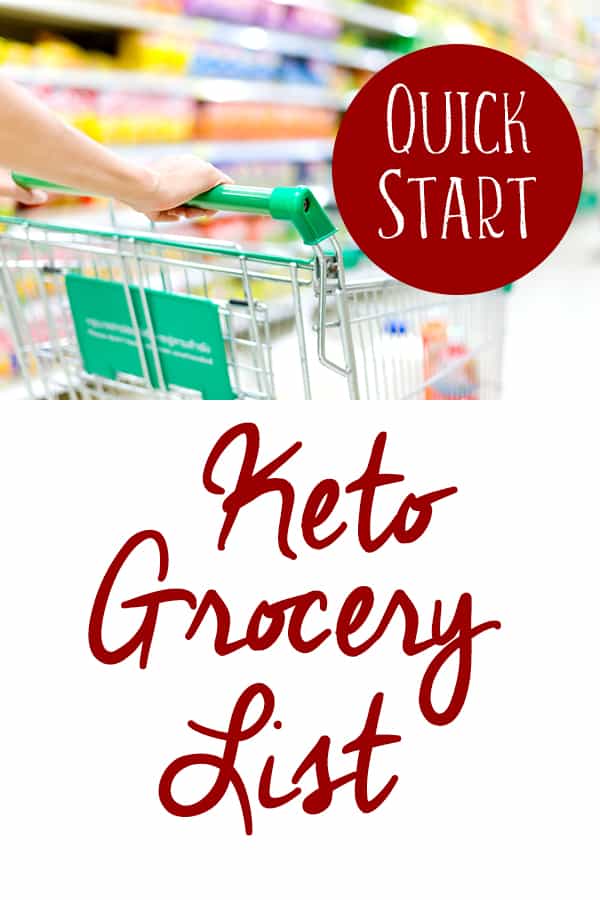 This keto shopping list printable will ensure you have enough food to get started while you form a weekly meal plan, figure out what to buy for keto online, calculate your macros and join a supportive keto Facebook group.
Once you're ketoing like a pro, check out my Instant Pot Keto Recipes to help you plan ahead and stay on track.
Here's what's on the beginner keto grocery list and why (besides the obvious)
Beginner Keto Grocery List
Bacon
Cauliflower
Ranch or Caesar dressing (check labels)
(Because then you can make these easy keto snacks!)
Coconut Oil
Coffee
MCT Oil
Whipping cream
(hello Bulletproof coffee and not being hungry for hours on end)
Macadamia Nuts
Avocado
Butter
Fresh mozzarella
Asparagus
Spinach
Zucchini
Full fat hard cheese
Eggs
Chicken thighs
Unsweetened tree nut butter (almond, cashew, etc)
Olives
Moon Cheese (available at some Starbucks and Target stores)
Pickles (sipping the juice helps balance your electrolytes if they get out of what when entering ketosis. I found it to keep any nausea at bay too.)
Morton Lite Salt (contains salt and potassium to help with your electrolytes)
Keto Shopping List Printable
Click the image below for your keto shopping list printable.

You may also find my What To Buy for Keto? post helpful for tools and food to purchase online.


Once you get some momentum going and decide that keto is the right choice for you, check out these keto freezer meals and my keto fast food options to make things even more convenient.
Keto Grocery Shopping