This is another of my Aunt Katy's original recipes that she gave me permission to share with ya'll. This Layered Mexican Cornbread Salad Recipe is a huge hit at church potlucks and our family gatherings. I'm told that it doesn't keep well for leftovers, but I don't know how anyone can know that since there's never any leftover! While this layered salad looks fabulous in a trifle bowl, you can also layer it up in a big pan for large gatherings.

The Pampered Chef Cutting Edge Food Chopper
Creating this layered Mexican cornbread salad recipe is definitely a labor of love and you'll need a tool to make things easier on yourself. One of the tricks to full flavor of this recipe is finely chopping the ingredients and this chopper tool from Pampered Chef can cut your prep time in half! There are other similar models out there from different brands, but just trust me on this one and invest in the Pampered Chef one. It's high quality, takes apart and puts together easily, is dishwasher safe and lasts forever (no, I don't sell Pampered Chef, I just can't imagine making this Mexican cornbread salad without this tool!)
Layered Mexican Cornbread Salad Recipe
Ingredients
2 packs Mexican cornbread mix made according to package directions (Martha White makes a good one)
2 packs ranch dressing mix
2 c buttermilk
2 c mayonnaise
1 lettuce head, finely chopped
2 cans seasoned black beans, rinsed and drained
1 can shoepeg corn, drained (use white or yellow corn if you can't find shoepeg)
1 can mexicorn drained
1 red bell pepper, chopped
1 green bell pepper, chopped
1 jar green olives
1 can sliced black olives
2 tomatoes
1 bunch green onions, sliced
8oz shredded cheddar cheese
Directions:
1. Prepare cornbread mix according to package directions. Cool.
2. Mix ranch dressing mix with buttermilk and mayonnaise and refrigerate until ready for use.
3. Crumble 1/2 cornbread into large glass trifle bowl or 5 quart ice cream bucket (perfect for traveling!) Layer 1/2 lettuce, 1 can black beans, 1 can corn, red bell pepper, sprinkle enough green olives to cover 1 layer (don't use whole jar), 1/2 tomatoes, 1 1/4 cups ranch dressing, repeat 1/2 cornbread, 1/2 lettuce, 1 can black beans, 1 can corn, green bell pepper, 1/2 tomatoes, black olives, green onions, 1 1/4 cup ranch dressing, shredded cheese, and top with bacon bits.
4. Cover and refrigerate at least 2 hours and up to 24 hours before serving.
Serves 10 as a meal
Serves 20 as a side dish.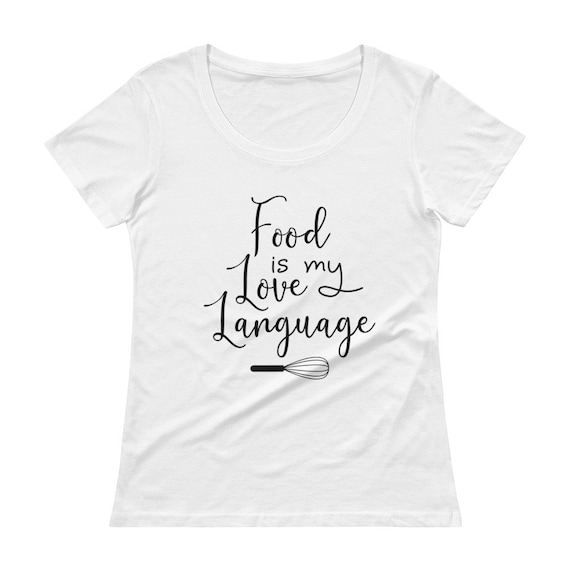 Food Is My Love Language Shirt

If you want another potluck recipe that will knock people's socks off, try my Death by Spinach dip. Might want to double the recipe because it goes fast wherever you bring it.