Keto freezer meals are a great way to make the LCHF way of eating a little more convenient. Below are 10 keto freezer meals (and snacks) you can prepare ahead of time to help stay on track with your ketogenic diet. If you like these keto freezer meals, be sure to check out my keto Instant Pot recipes and Crock Pot keto recipes too!

Keto Freezer Meals
If you are new to freezer cooking, here are a couple of tips.
Avoid freezing dairy products. You can adapt many keto dishes for the freezer by simply eliminating the heavy cream, cream cheese, etc and adding it at cooking time.
Disposable foil pans are your friend. I like to get mine at the Dollar Tree where you can often find 2-3 in a pack for $1 depending on the size.
1.Low Carb Meatballs alla Parmigiana
2. Crock Pot Bacon and Cheese Chicken
3. Low Carb Breakfast Burritos
20 slow cooker keto recipes for busy weeks
4. Buffalo Bleu Cheese Burgers
5. Low Carb Freezer Friendly Breakfast Sandwich
6. Bacon Wrapped Chicken Breasts
Easy keto snacks! These cook up in the microwave for a quick and easy keto treat.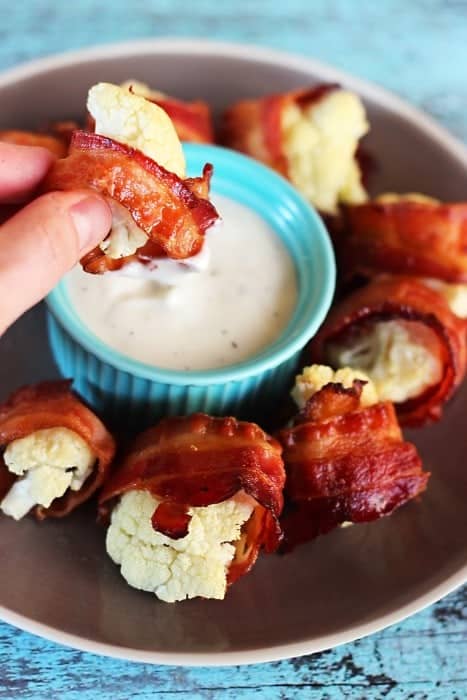 7. Carrot Ginger Soup (don't freeze the cream!)
9. Cauliflower Rice Prep and Freeze
Need to eat more vegetables? Try one of these 20 low carb veggie recipes to make sure you're getting your daily greens.

Hopefully working these keto friendly freezer meals into your LCHF meal plan will make life a little easier. Which one will you try first?