Instant Pot Keto Recipes will help you stick with your low carb high fat way of eating by making mealtime oh so convenient. I love my Instant Pot and if you're a regular reader, you know it!

Be sure to check out these 20 keto pressure cooker recipes too for even more delicious ways to fire up your Instant Pot, and if you have an Airfryer, you'll want to check out these Keto Airfryer recipes too.


Instant Pot Keto Recipes
1.Instant Pot Keto Cauliflower Soup
2.Faux Cauliflower Mashed "Potatoes" in the Instant Pot
3. Keto Instant Pot Chicken Thighs
Try my easy keto snacks that you can make in the microwave to save even more time!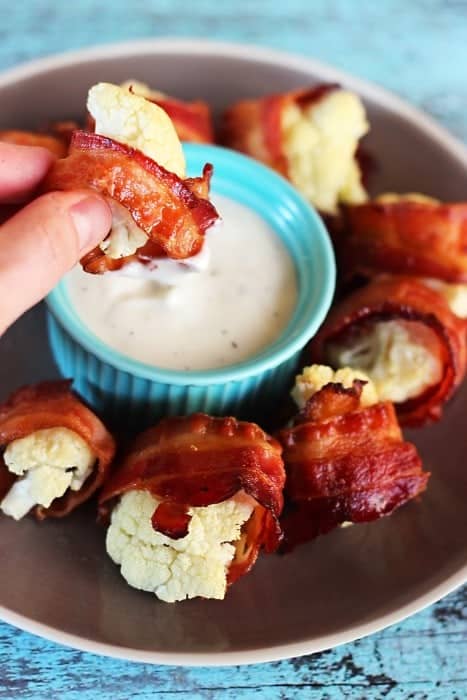 4. Instant Pot No Noodle Lasagna
5. How to Make Bone Broth in an Instant Pot (of all the Instant Pot Keto recipes, I can't wait to try this one!)
You might also like my low carb vegetable recipe featuring asparagus and boiled eggs
8. Instant Pot Chili Lime Steak Bowl
9. Instant Pot Brussels Sprouts
10. Chicken Parm Spaghetti Squash
Keep scrolling for more keto recipes for your Instant Pot. Here are 20 low carb veggie recipes to complement these Instant Pot Keto recipes!

12. Jalapeno Hot Popper & Chicken Instant Pot Dip
13. Pressure Cooker Broccoli Cheese Soup
Get your eggs "boiled" and your keto veggies steamed with these must-have Instant pot accessories!
2-Pack Stainless Steel Egg Steamer Rack for Pressure Cooker, Egg Steam Rack Stand Basket Set, Egg Cooker Eggassist
NEW DESIGN – Vegetable Steamer Basket – 5.5-9.3
14. Instant Pot Smothered Pork Chops (you may want to skip the mushrooms and go full-fat on the "cream of" soup.)
15. Low Carb Instant Pot Meatballs
If you love these Instant Pot Keto Recipes, be sure to check out my Crock Pot Keto Recipes too!
16. Instant Pot Buffalo Ranch Chicken Dip
17. Green Chile Pork Taco Bowl
18. Instant Pot Crack Chicken (Use almond flour instead of cornstarch to thicken)
Ketogenic Instant Pot Cookbook: 250 Healthy Ketogenic Recipes
Keto Diet Instant Pot Cookbook: For Rapid Weight Loss And A Better lifestyle
The Keto Diet: Instant Pot Cookbook
19. Applebee's Copycat Artichoke Spinach Dip
20. Pressure Cooker Meatloaf (skip the breadcrumbs! If you use leaner beef, it will stick together fine.)
4 More Instant Pot Keto Recipes
Check out what to buy for keto (besides an Instant Pot since you already have one of those) if you want the most out of the LCHF way of eating.