Are you on the ketogenic diet and searching for easy ketogenic recipes? You can make these easy keto snacks in the microwave! I just ate them for lunch actually since I'm in blogging beast mode right now and didn't want to stop working long enough to make a full meal. 😉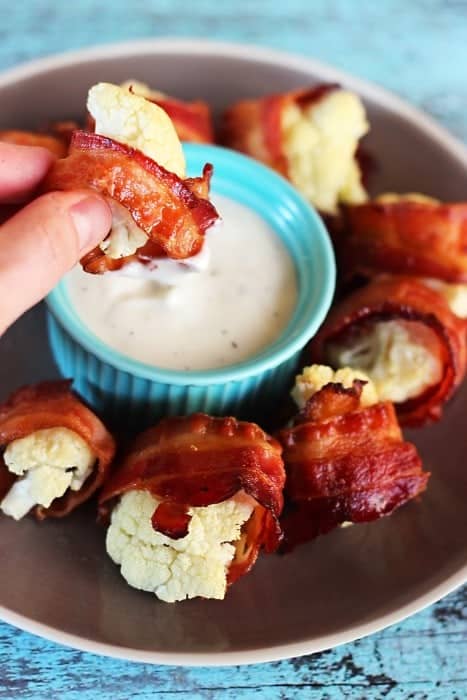 easy keto snacks in the microwave! " width="467″ height="700″/>
These keto-friendly Bacon-Wrapped Cauliflower Bites make perfect low carb snacks on the go. You might also like these keto jalapeno poppers which are almost as easy to make.
Easy Keto Snacks: Bacon Wrapped Cauliflower Bites
Bacon Wrapped Cauliflower Bites
Author:
Prep time:
Cook time:
Total time:
On the ketogenic diet and need easy ketogenic recipes? You can make these
easy keto snacks
in the microwave!
Ingredients
14 Cauliflower Florets
1 pkg precooked bacon
Full fat ranch dressing for dipping
Instructions
Wrap 1 piece of bacon around each cauliflower floret and place on a microwaveable dish
Microwave 1-2 minutes depending on how soft you like you cauliflower and how crisp you like your back. 1 minute is perfect for me.
Serve with your favorite full fat ranch dressing.
I like my bacon very crispy and my cauliflower tender-crisp, not mushy so I used precooked bacon and cook for about a minute. If 1 minute isn't long enough, try adding time 30 seconds at time under the cauliflower is as tender and the bacon is as crisp as you like.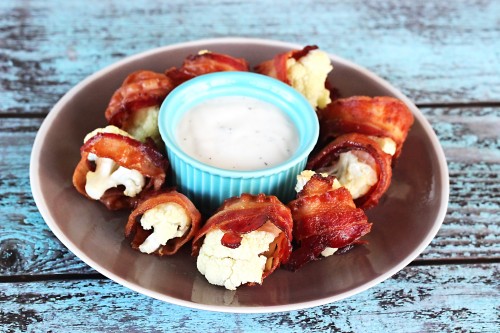 Setting yourself up for success on a keto (or any diet really), means planning ahead with meal prep and having plenty of keto snacks accessible, especially during the first few weeks. Below are a few other popular keto snacks to help you power through when you just don't have time to make your own keto snacks. Friends don't let friends get hangry!
Prepackaged Keto Snacks
Pork Clouds – (8) Rosemary & Sea Salt + (8) Malabar Black Pepper + (8) Habañero – (24 Bags Total)
ChocoPerfection 6-bar Box, Variety Package, 2 Dark Mint, 1 Dark, 1 Milk, 1 Dark Raspberry and 1 Dark Almond Bar
Hemp Rules Roasted Hempseeds, Caribbean Crunch, 6 Ounce
Biltong – Seasoned Dried Beef Sliced 16oz Pack
Moon Cheese Medium Cheddar
If you're looking for more easy ketogenic diet solutions, check out these 20 Crock Pot Keto recipes too!