Summer is almost here and if you're looking for a family-friendly place to relax over the school break, you'll want to check out Navarre Beach for sure. When it comes to panhandle beaches, Navarre falls somewhere on the spectrum between the seclusion of destinations like Cape San Blas and the bustle of Panama City Beach. In my opinion, it strikes a great balance! There's plenty of relaxation to be had, but enough activities and restaurants to keep the kiddos from getting restless.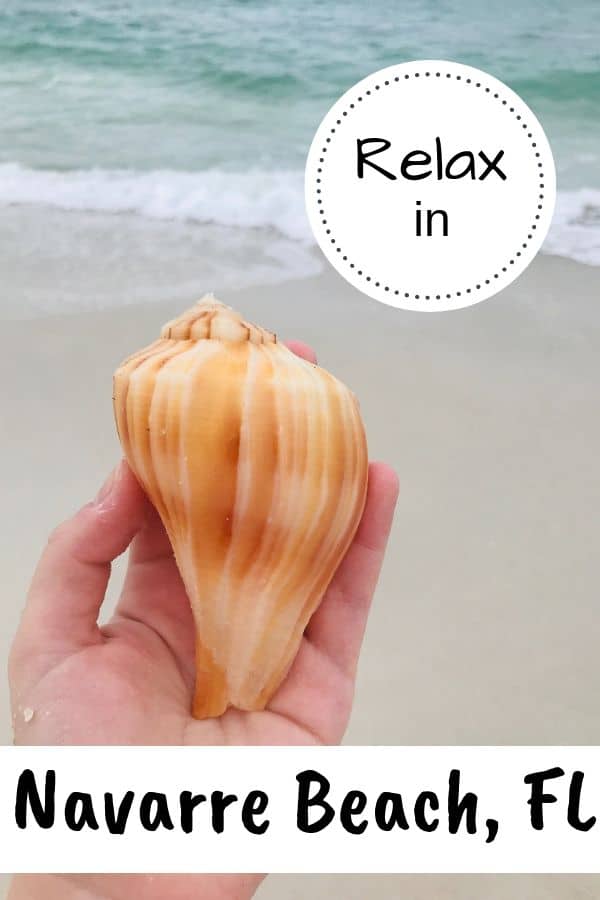 Since we visited during the school year, we focused primarily on relaxation during our trip to Navarre Beach (Well, as relaxing as trips with children ever are. *wink*) We very much enjoyed the break from work and school and hope you'll visit Navarre soon for your own respite in paradise.
Where to Stay in Navarre
Wondering where to stay in Navarre? I haven't had the opportunity to stay in multiple Navarre Beach resorts (yet) but we were extremely pleased with our stay at Caribbean Resort by Resort Quest by Wyndham. We stayed in unit 1302 and it was so spacious for our family of 4 that we felt downright decadent.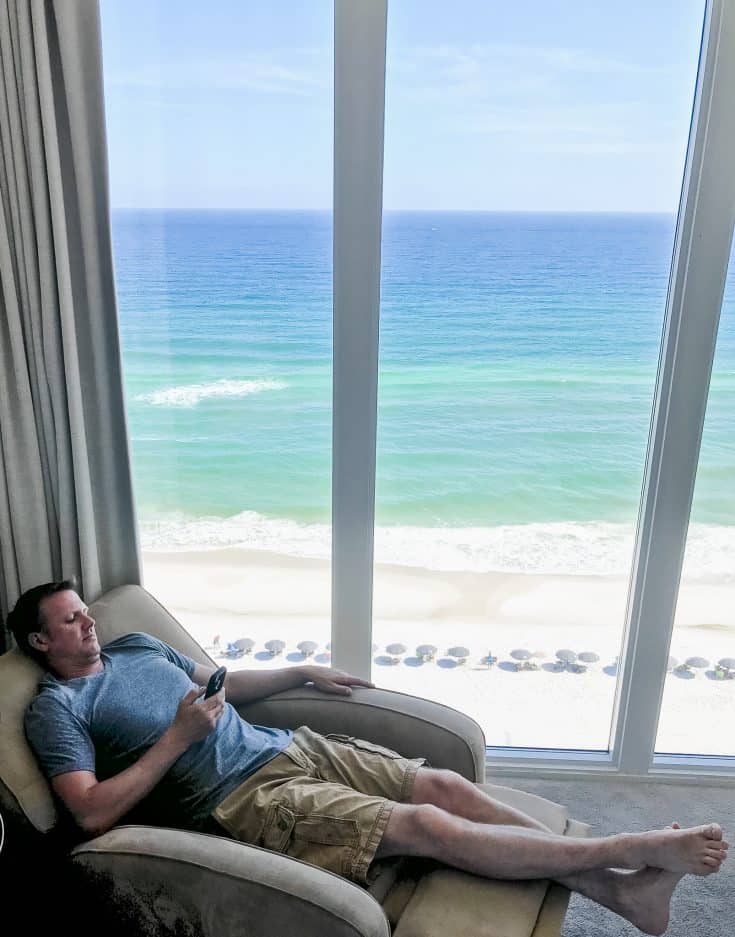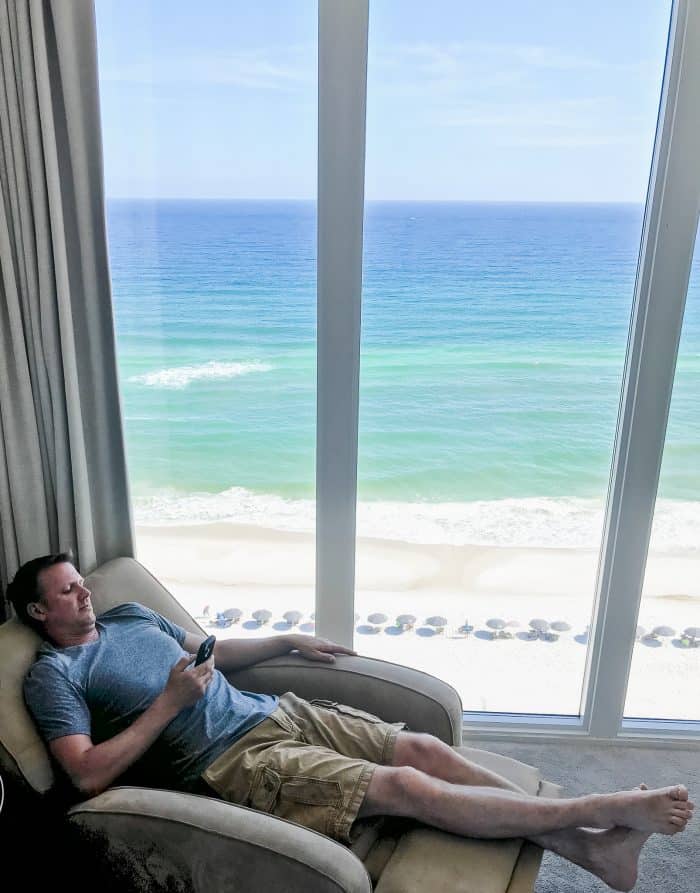 With three bedrooms, one of which is a suite unto itself complete with a breakfast area and mini fridge, it's an ideal location for traveling with multiple generations.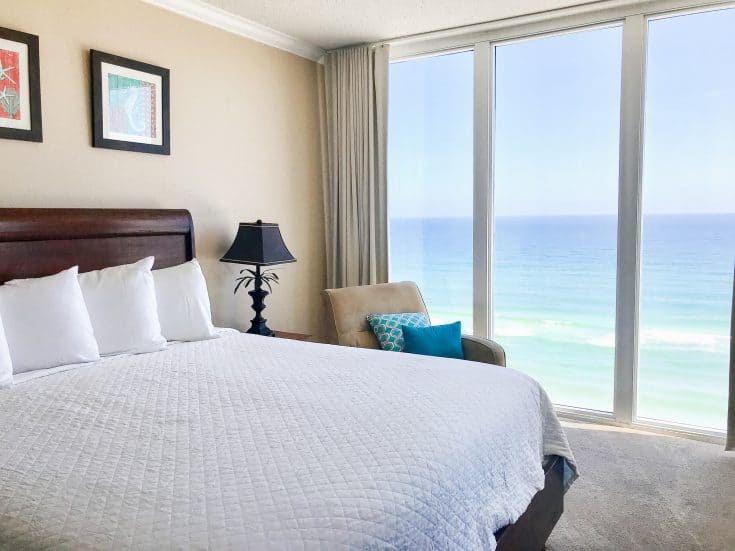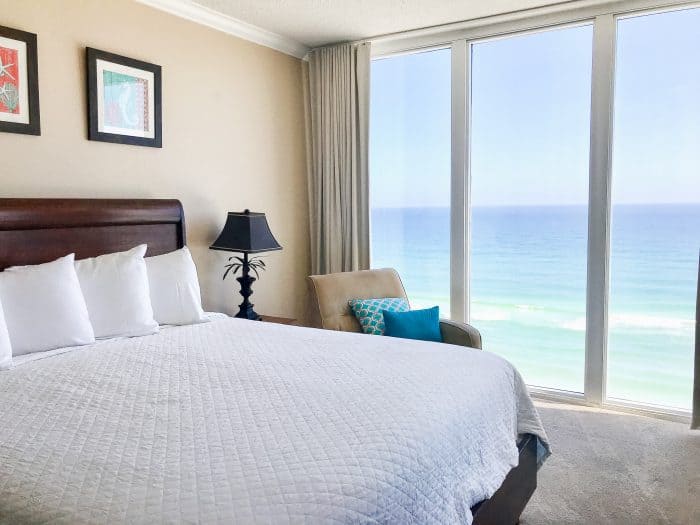 Parents, grandparents, and kids can all have their own space and stick to their preferred bedtimes and wake times without disturbing the rest of the family.
And there are enough TVs that no one will be fighting over what to watch. Speaking of in-room entertainment, Our stay came with unlimited, complimentary DVD rentals which you can be sure we took advantage of. The kids loved watching movies in their bunk beds after a day in the sun.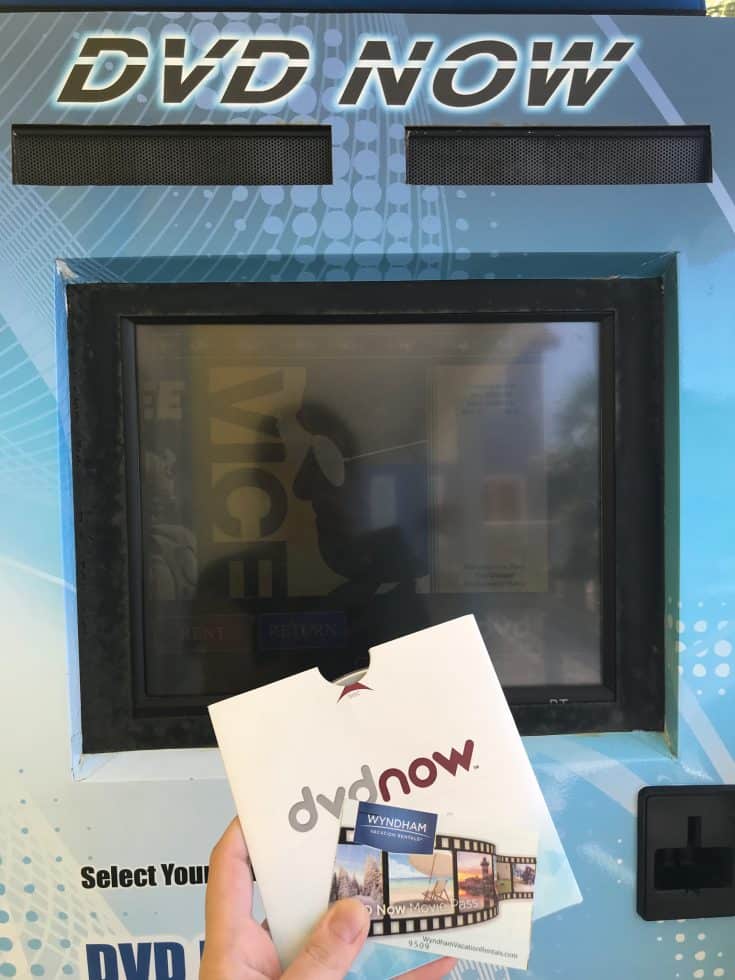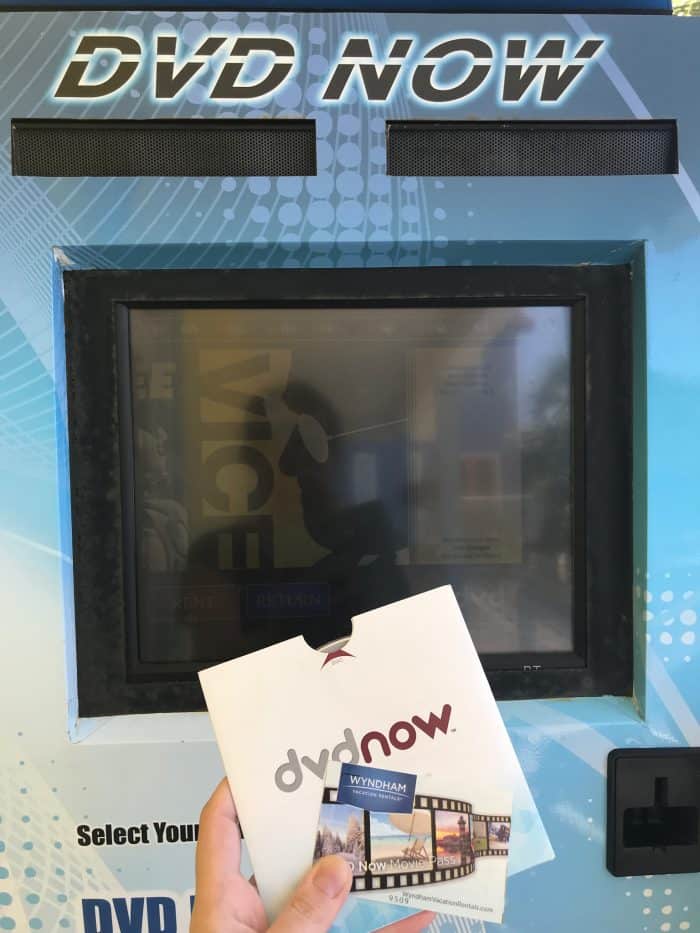 I preferred the master bathroom jet tub and a good book for my in-room entertainment. Moms, who is with me?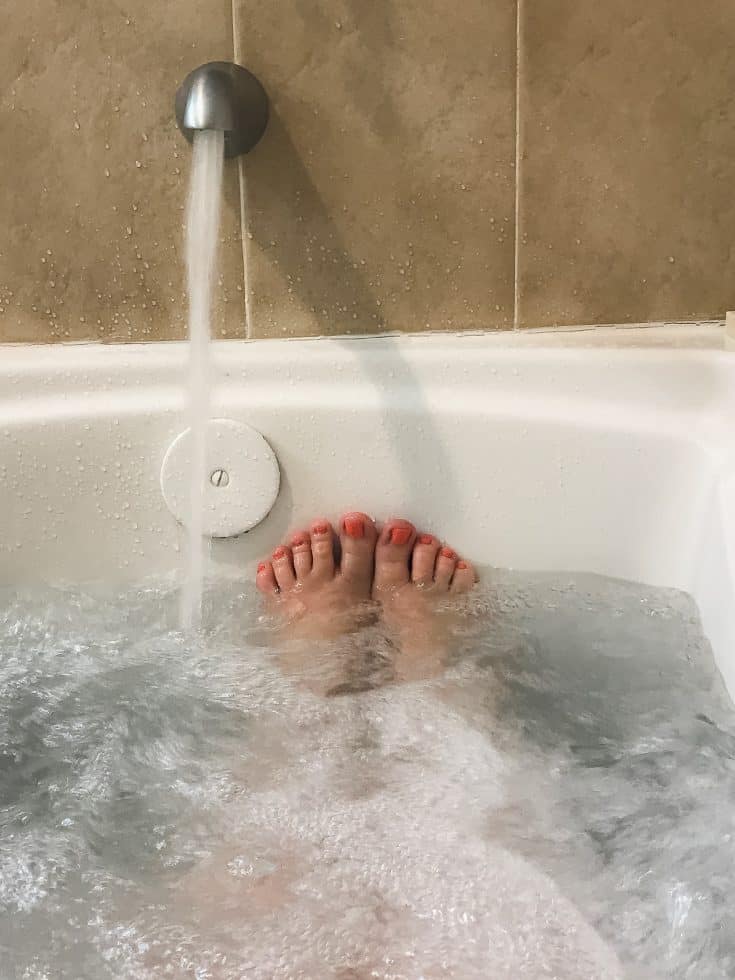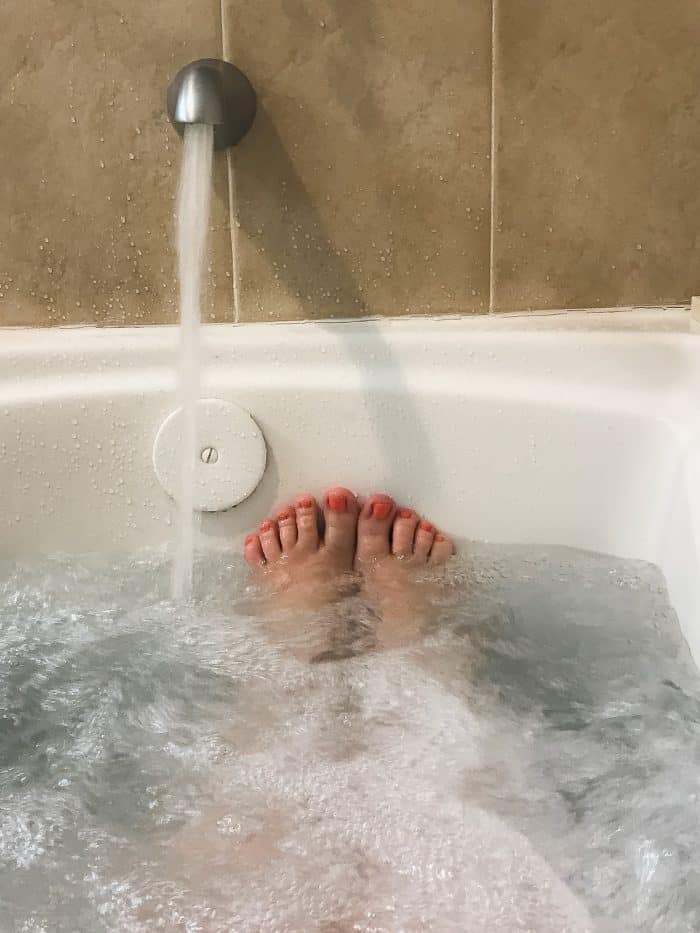 Of course, there's always the hot tub by the pool if you want some company.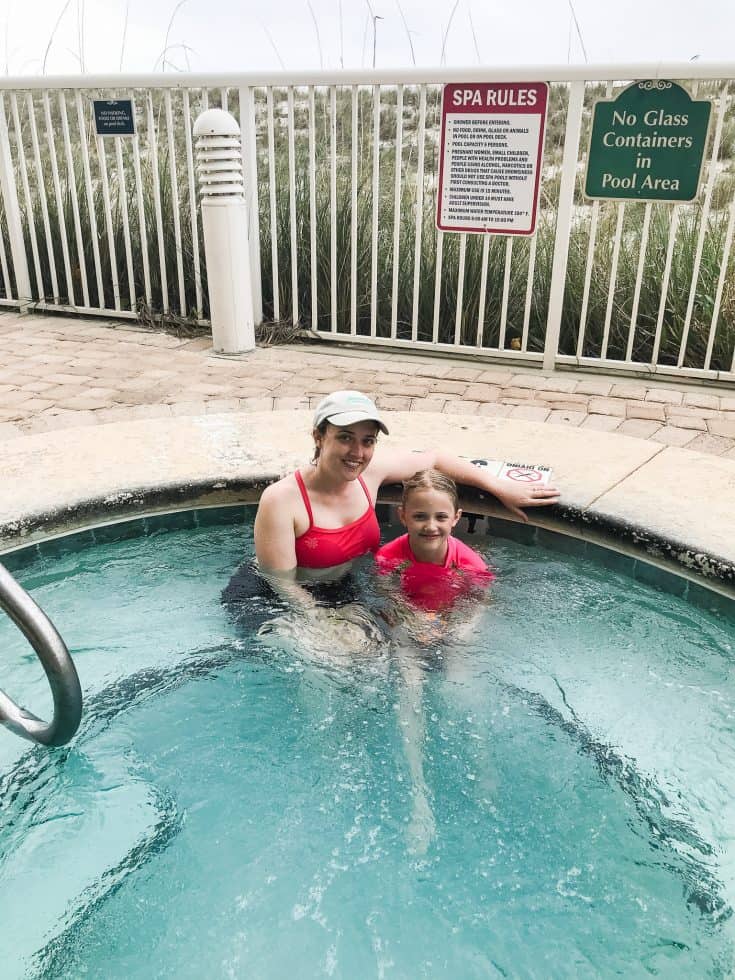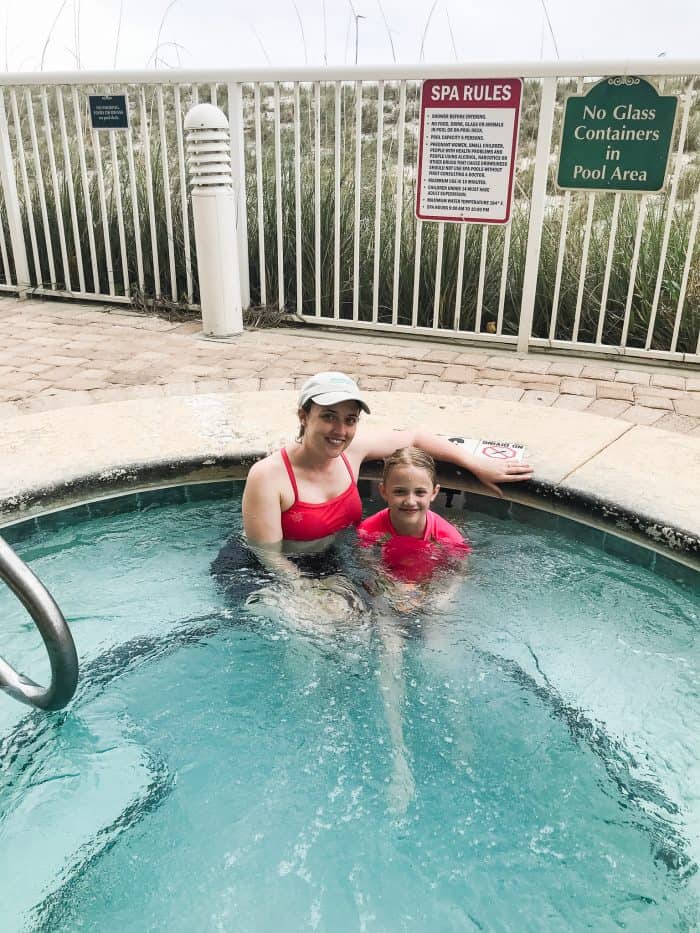 With a full kitchen stocked with everything from a Crock Pot to drink pitchers, you can feed your crew anything from a homecooked meal to microwave popcorn. This is important for those of us with picky eaters!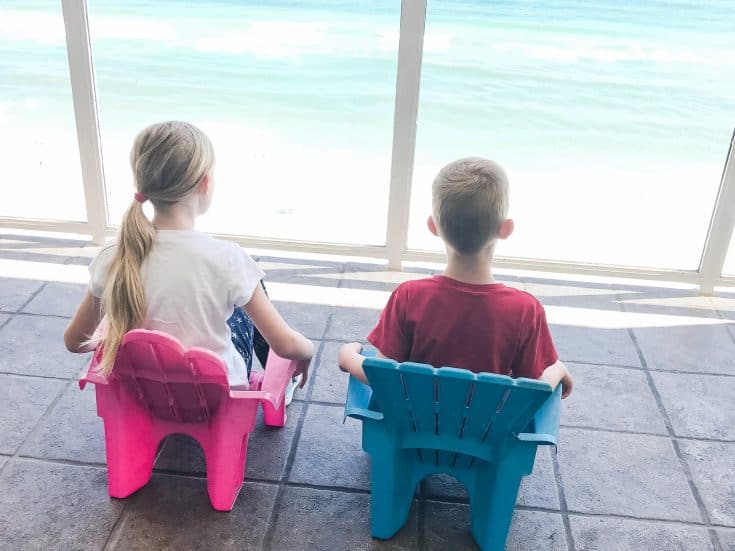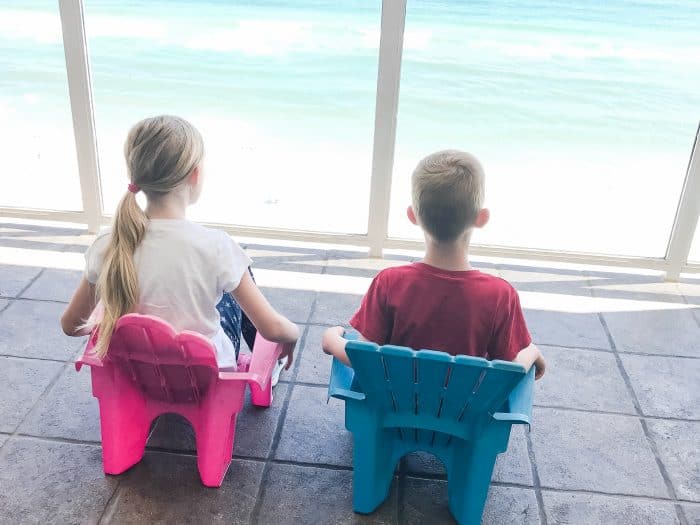 Of course, you're on vacation and will want to eat out at least some of the time so let's look at some of the Navarre Beach Restaurants you'll have to choose from.
Navarre Beach Restaurants
Juana's Pagodas

– Of all the Navarre Beach restaurants, Juana's Pagodas seems to be the happening place in the evenings and it's easy to see why. There's live music, amazing food, several bars, and a game of beach volleyball going on at any given time. It's also a fantastic place to watch the sunset.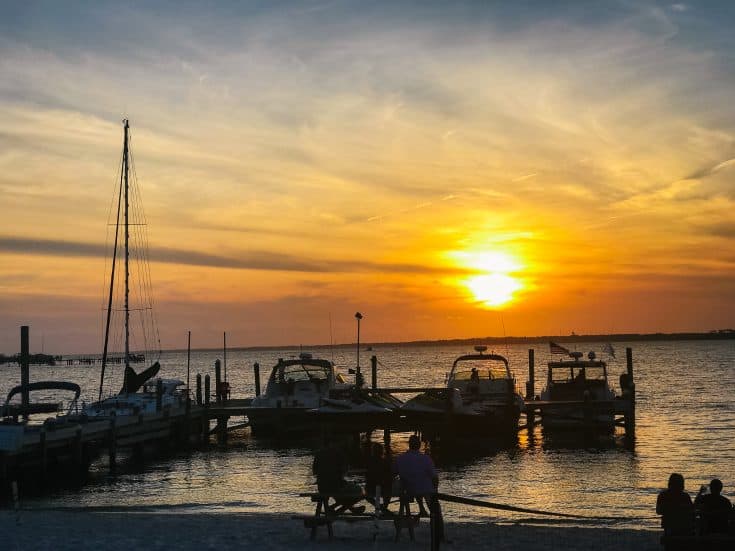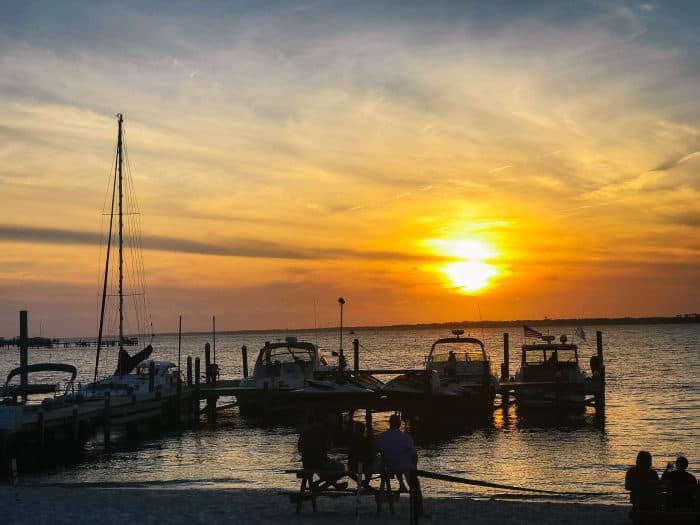 I got to sample the fried avocado bites and like them so much I decided to order them on my burger.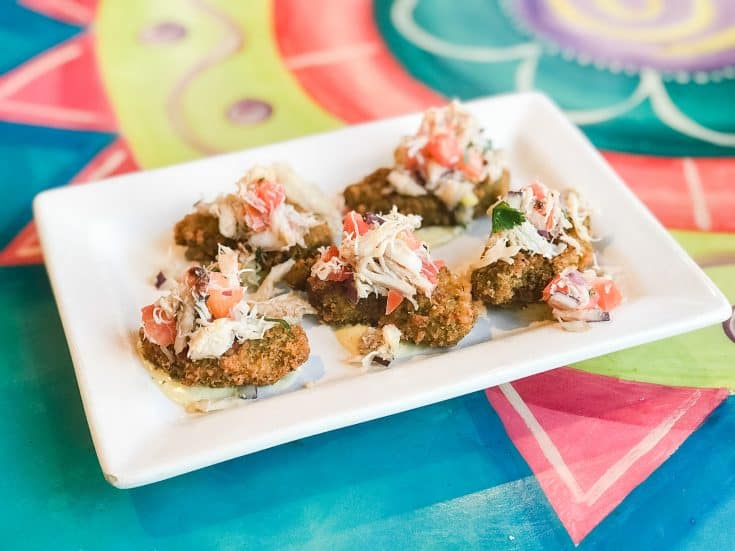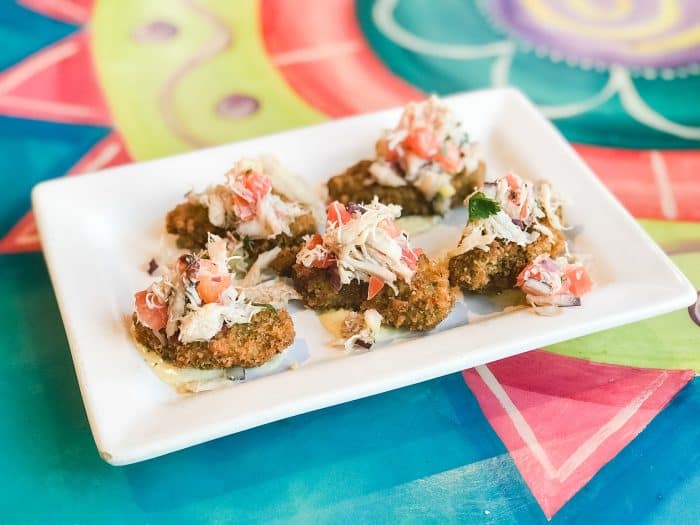 One strayed over from my crab burger into the mac and cheese. It's all good!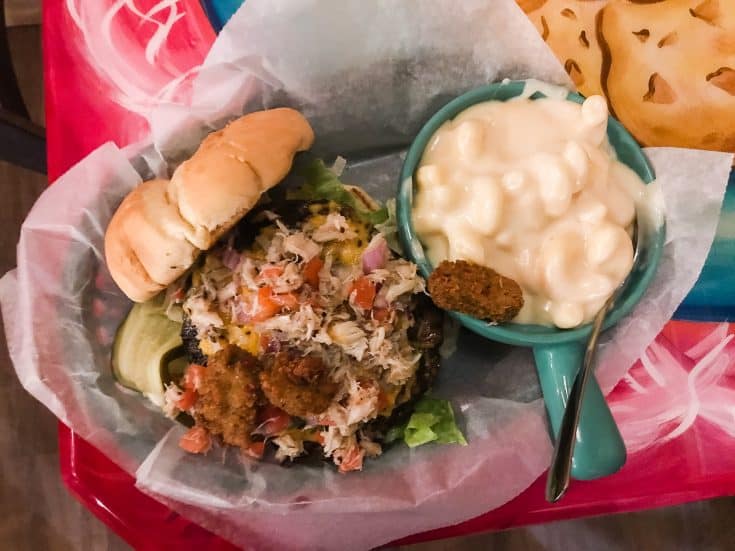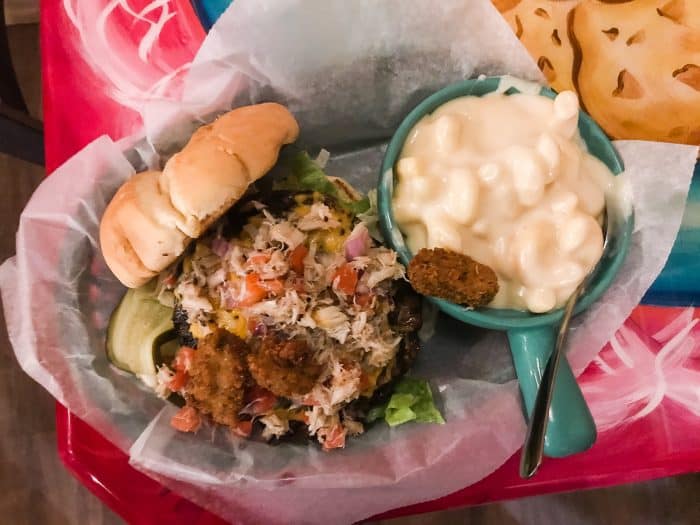 The fried green tomatoes were delicious too.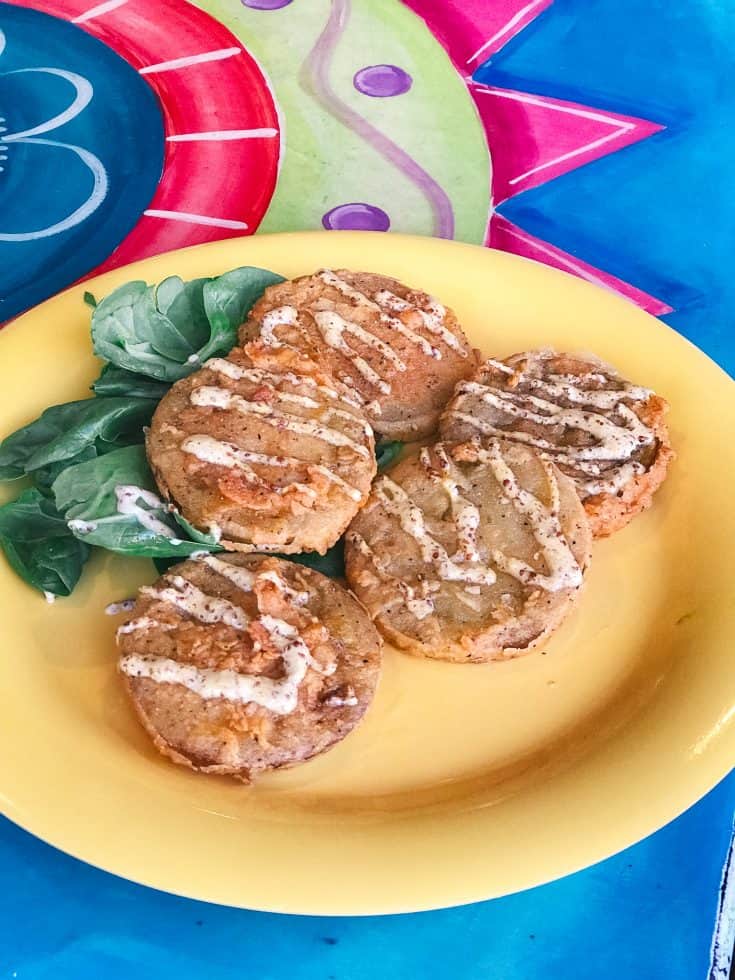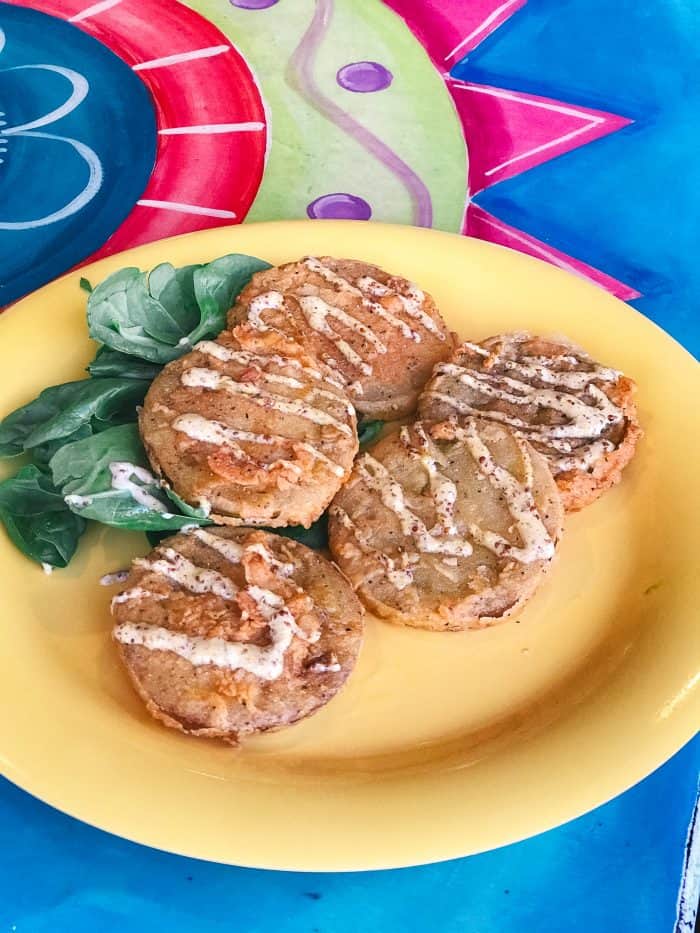 Be prepared to wait for a table at Juana's Pagodas. I promise it will be worth it!
Donuts in Paradise

– Treat yourself to coffee and donuts at Donuts in Paradise.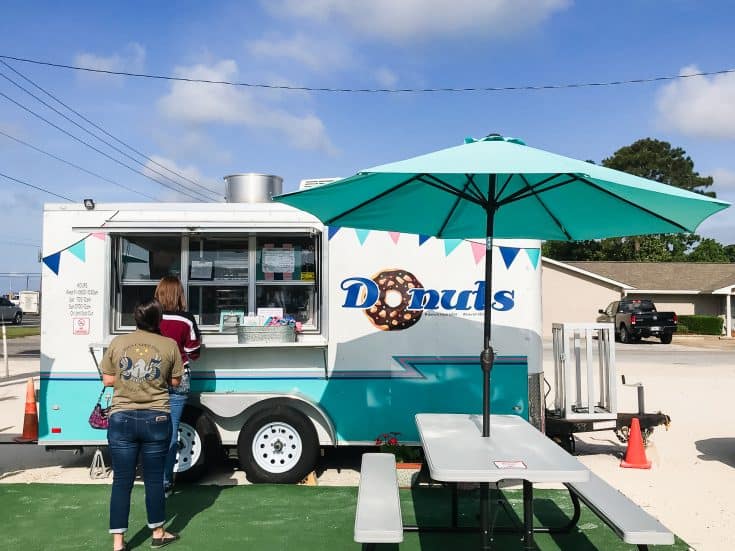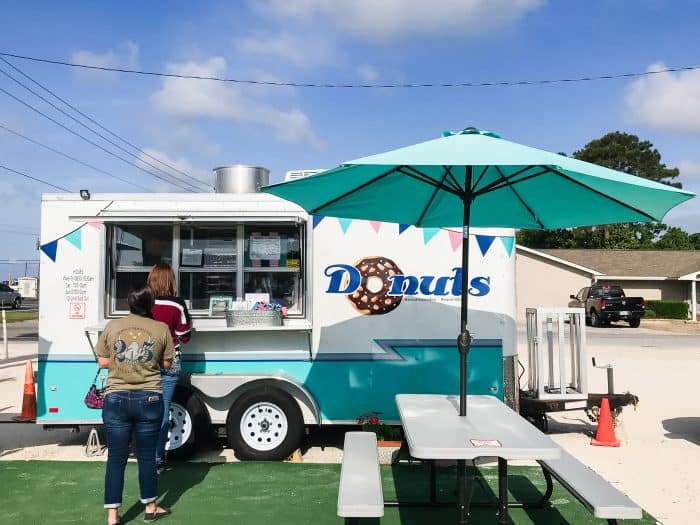 You can eat them outside or bring them back to your Resort Quest rental to share with everyone.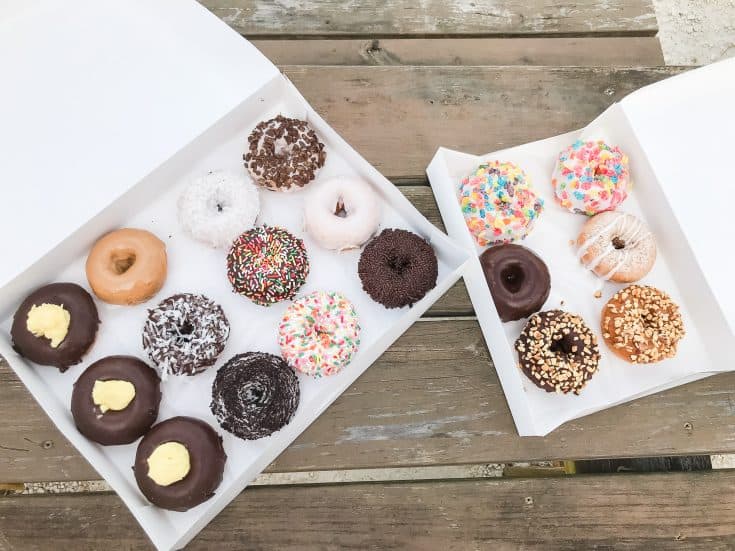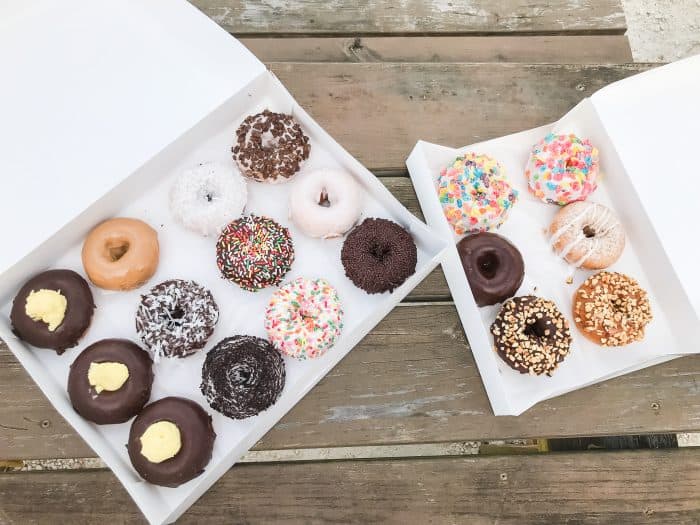 In addition to their regular menu, Donuts in Paradise has a seasonal menu with a variety of different donuts available on different days of the week and times of the year.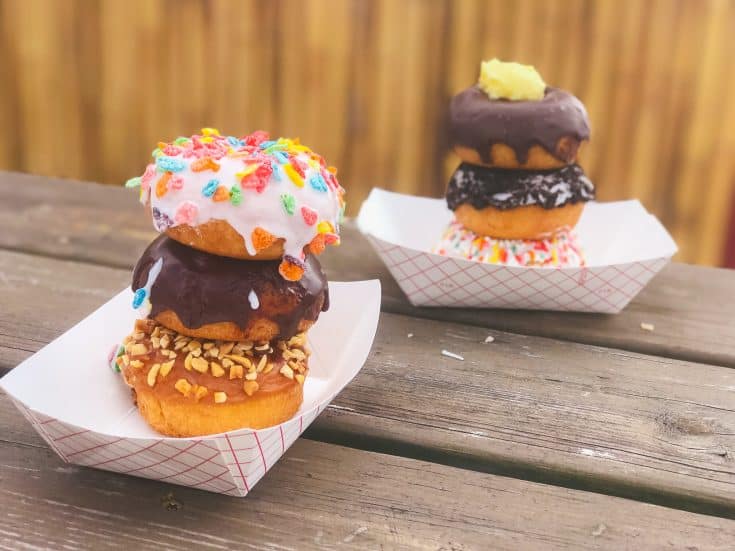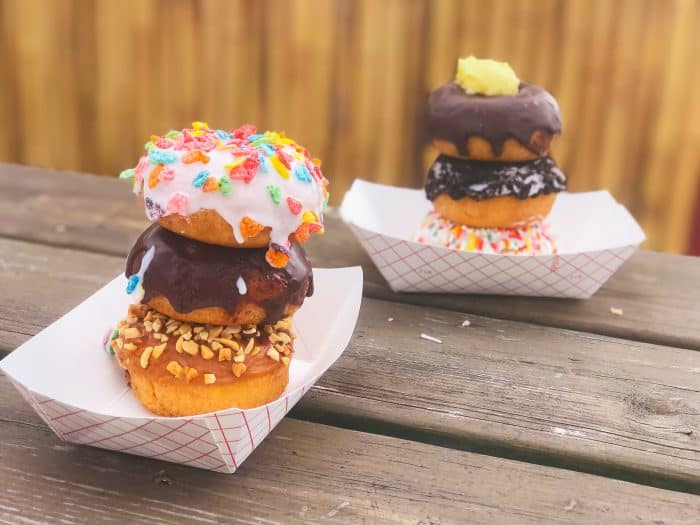 My favorite was the Oreo donut.
Dewey Destin's Navarre

– Offering some of the freshest seafood available in Navarre, Dewey Destin's is a fish market-style dining experience that will present your tastebuds with a variety of hand-selected, locally caught seafood.
The shrimp ceviche was a hit with our whole table.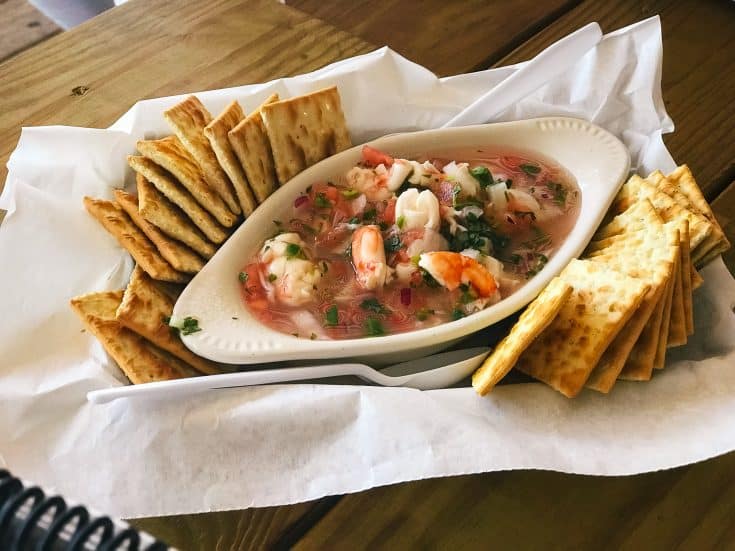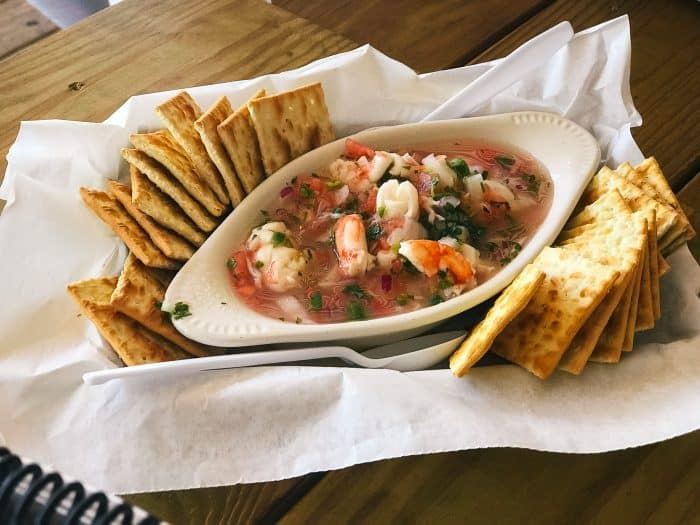 The grilled scallops did not disappoint.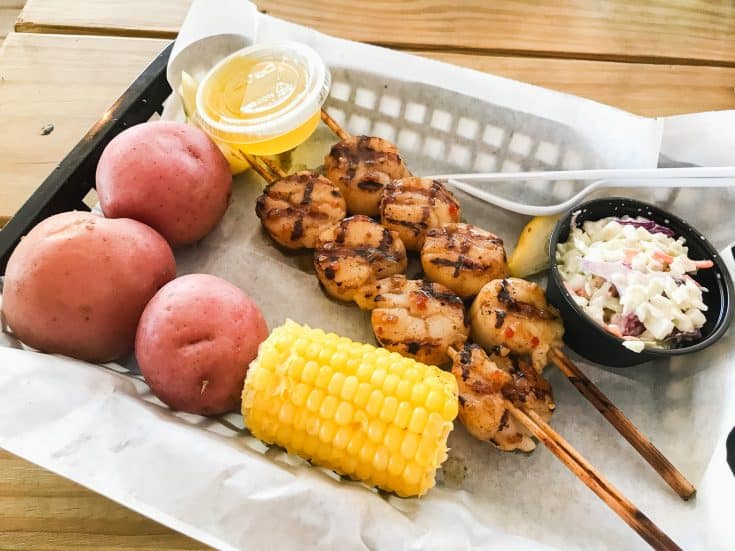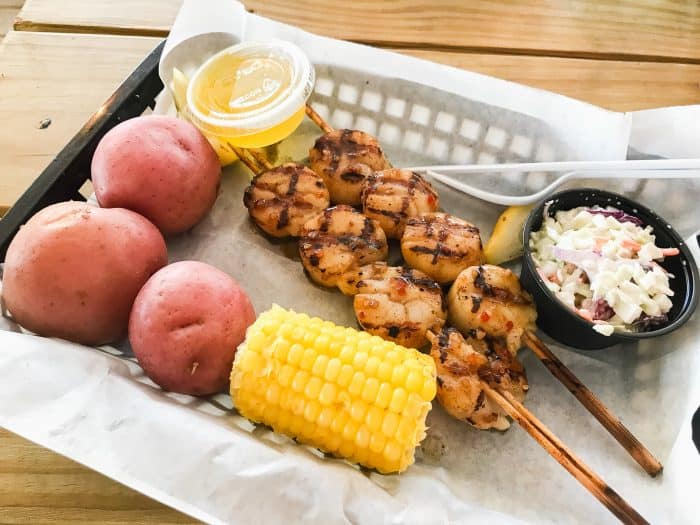 Dewey Destin's, Navarre has a beach area that's great for the kids to play in. They even provide sand toys.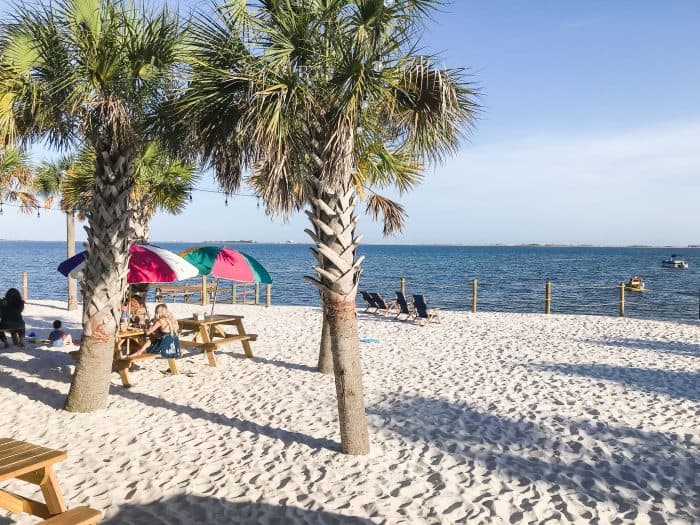 We probably should have sampled some other Navarre Beach restaurant, but we actually ate at Dewey Destin's twice since it's so kid-friendly. Hubs and I both ordered the fried shrimp on our second visit.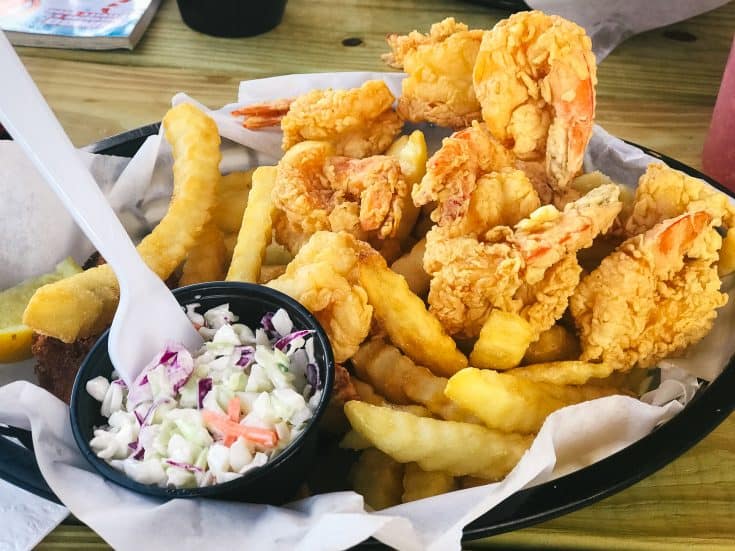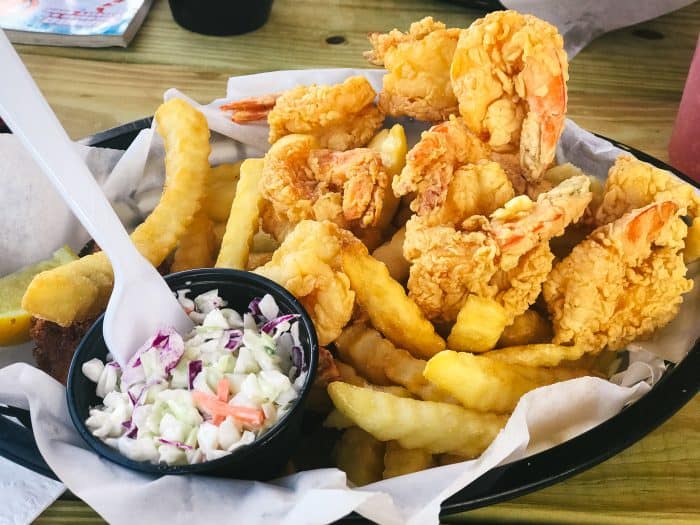 Shark Bite

– There's no shame in donuts for breakfast on vacation, but if you'd rather start your day off with something savory than something sweet, visit Shark Bite for a breakfast burrito.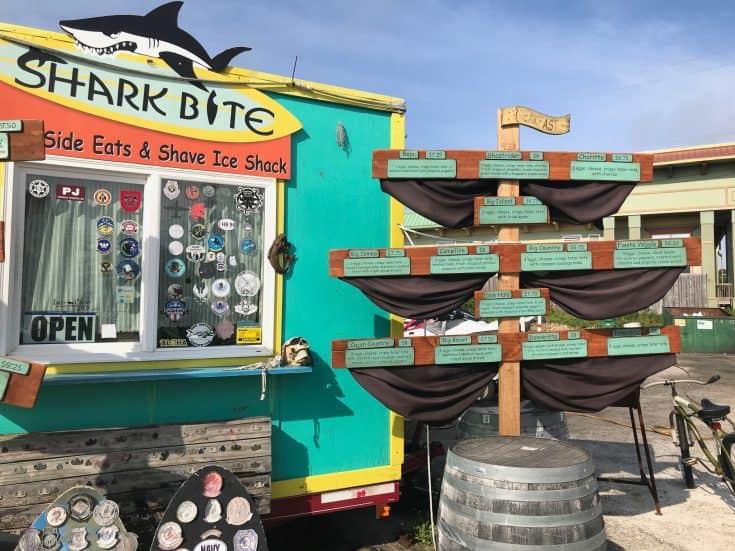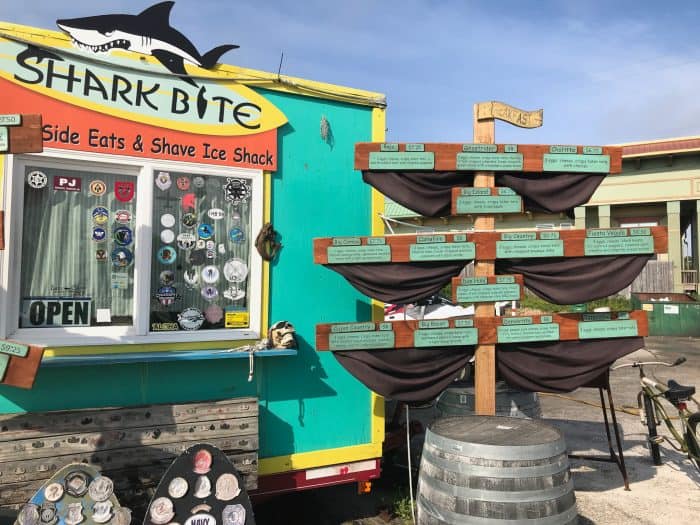 Everything at Shark Bite is made fresh to order so don't expect fast-food service. Relax and enjoy the view while you wait for your breakfast. I recommend the veggie burrito.
Which of these Navarre Beach restaurants will you try first? You'll need to fuel up for all the things to do in Navarre, FL. Let's check a few of them out.
Things to do in Navarre, FL
Gulf Islands National Seashore

– Obviously, enjoying the beach is the primary way to relax in Navarre. If you're staying at a Resort Quest by Wyndham rental, you'll have plenty of beachfront access to call your own. If you aren't staying right on the water or if you're just enjoying a relaxing day trip to Navarre Beach, check out Gulf Islands National Seashore. It's one of the things to do in Navarre, FL that's absolutely free and you'll be able to enjoy the beautiful beaches until the sun goes down.
Sage Paddle Company – Sage Paddle Company rents so much more than paddleboards. If you're headed through Gulf Islands National Seashore, stop by Sage Paddle Company for a scooter first and enjoy the salty sea air as you ride through miles of undeveloped seashore.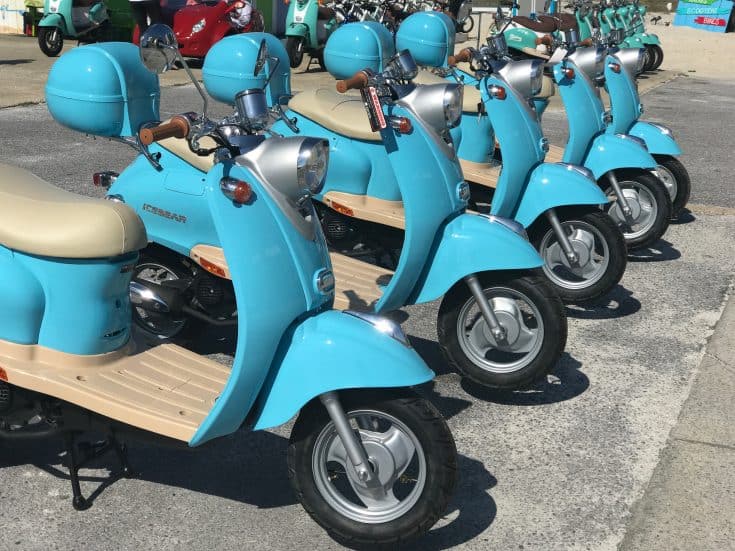 There's even a trike of sorts if you'd like to bring the kids for a ride!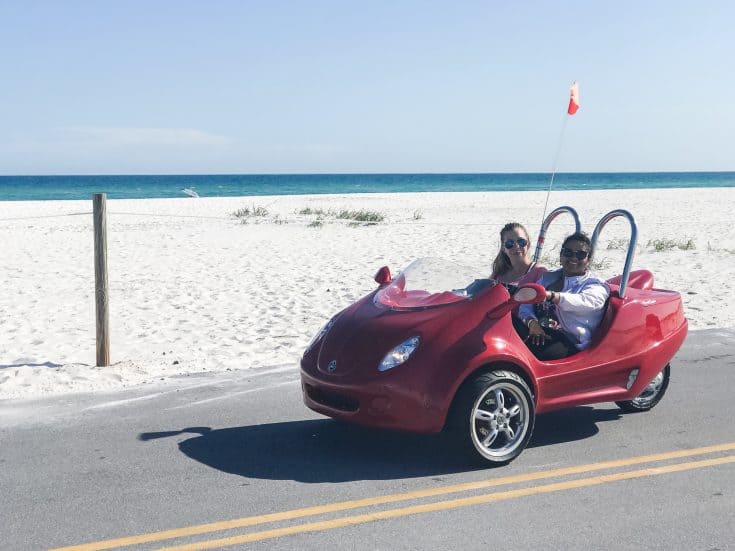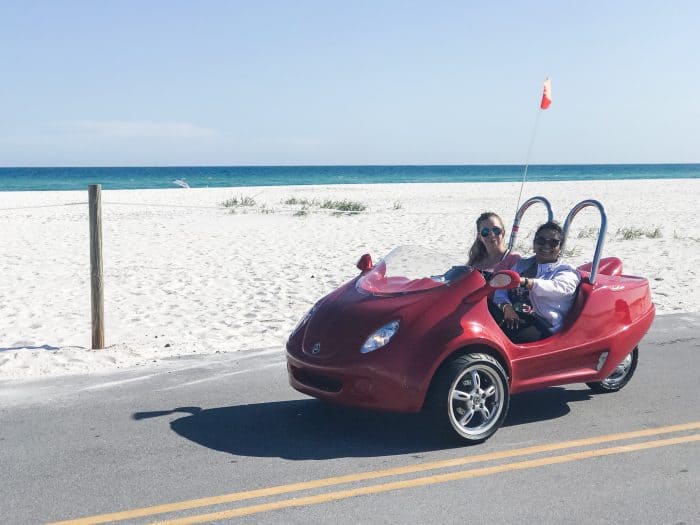 The calories you took in at the Navarre Beach Restaurants were well worth it, but if you'd rather burn some of them off instead of getting around by motorized means, Sage Paddle Company offers bike rentals as well. They are perfect for the bike/pedestrian path that runs throughout the National Seashore.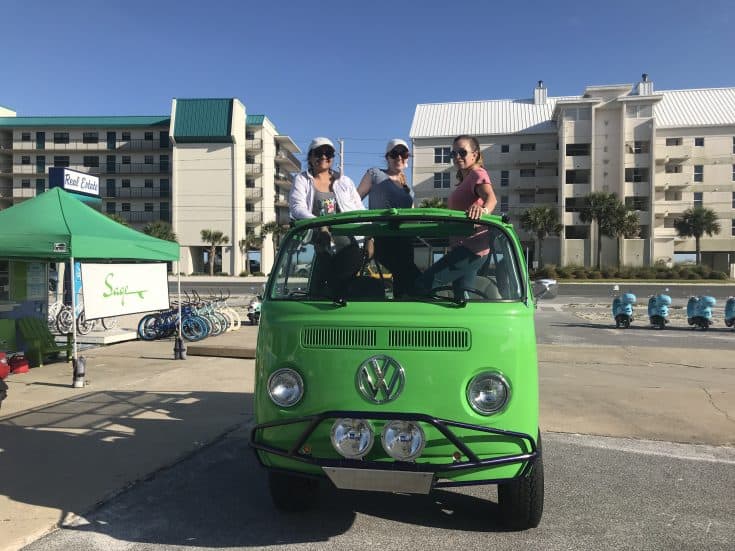 Navarre Beach Sea Turtle Conservation Center

– Navarre cares about sea turtles and their nests (lights off at night during nesting season!) so check out the Navarre Beach Sea Turtle Conservation Center to learn more about how to help.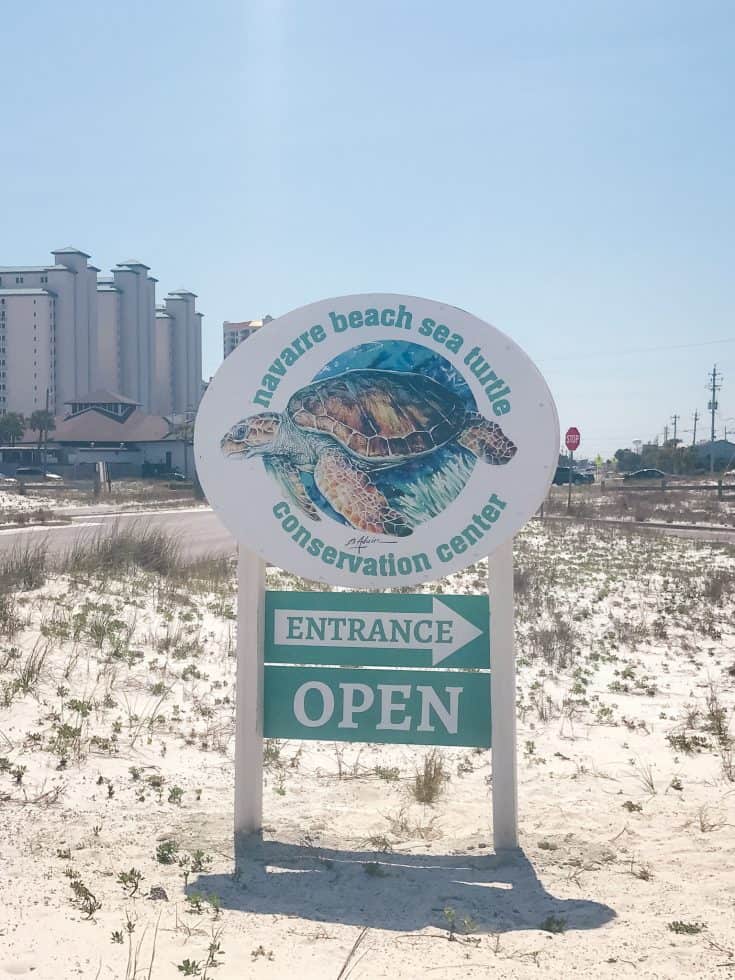 You'll get to meet Sweet Pea, who calls the Center home as well as Safari the African Spurred Tortoise.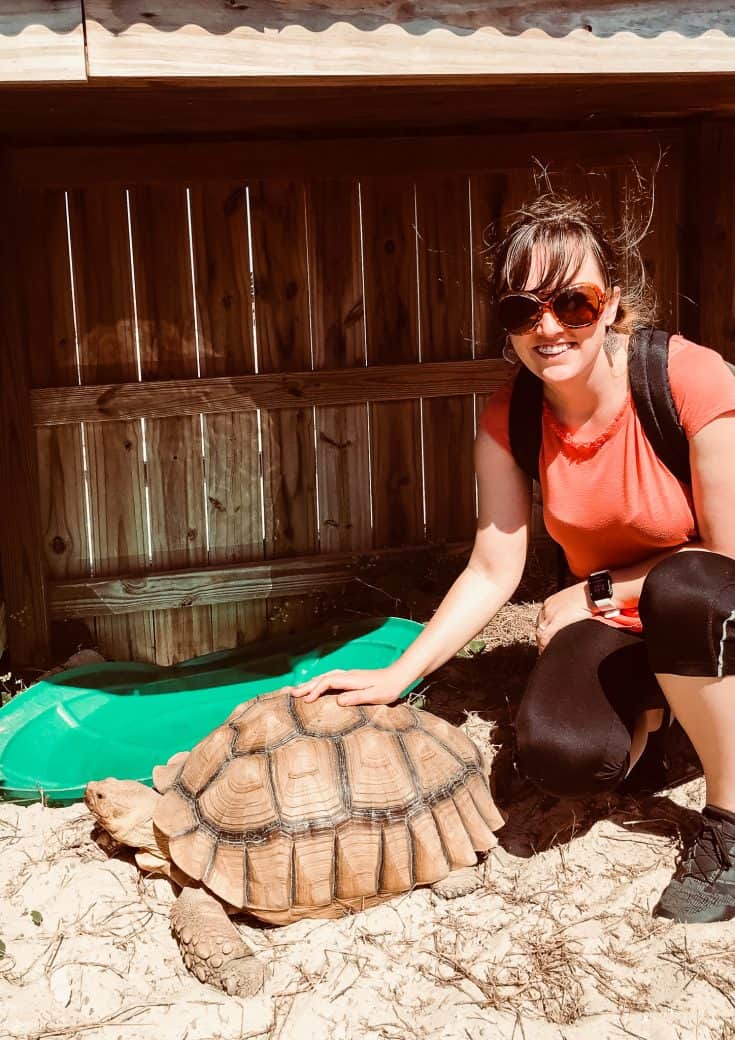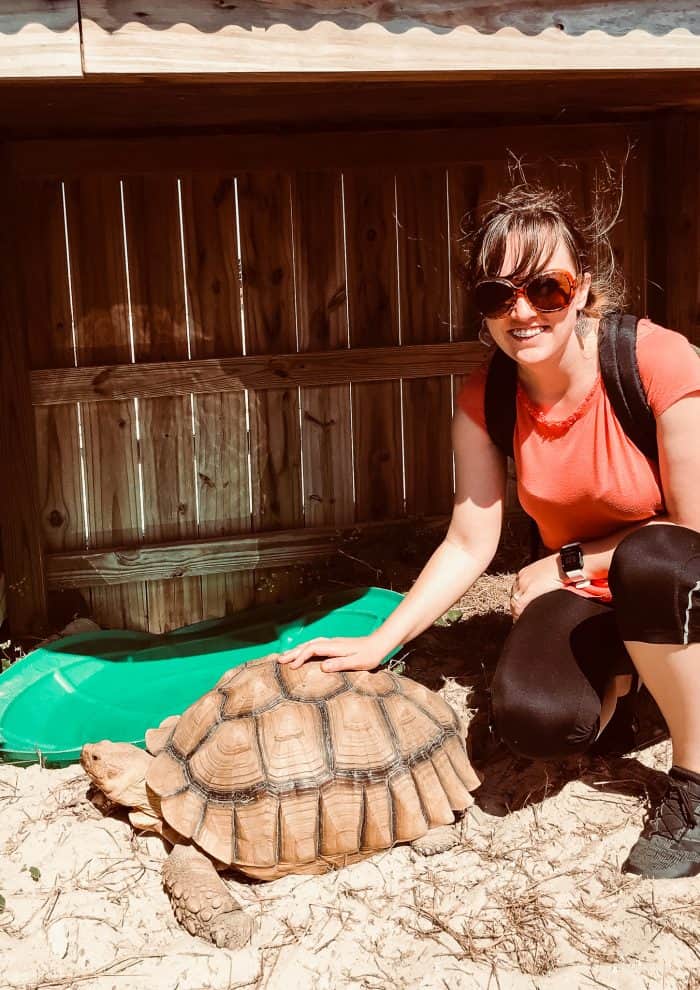 I got much better video than pictures of Sweet Pea as well as lots of information from a marine biologist at the Center. Check it out in my Navarre Beach video below
Navarre Beach
Coldwater Gardens – While still in Santa Rosa County, Coldwater Gardens is located about 30 minutes from Navarre in Milton, Florida. It's worth the drive, especially if you're ready to relax and experience nature in the Panhandle other than the beachfront. You just might bring some succulents or produce that's been grown on site!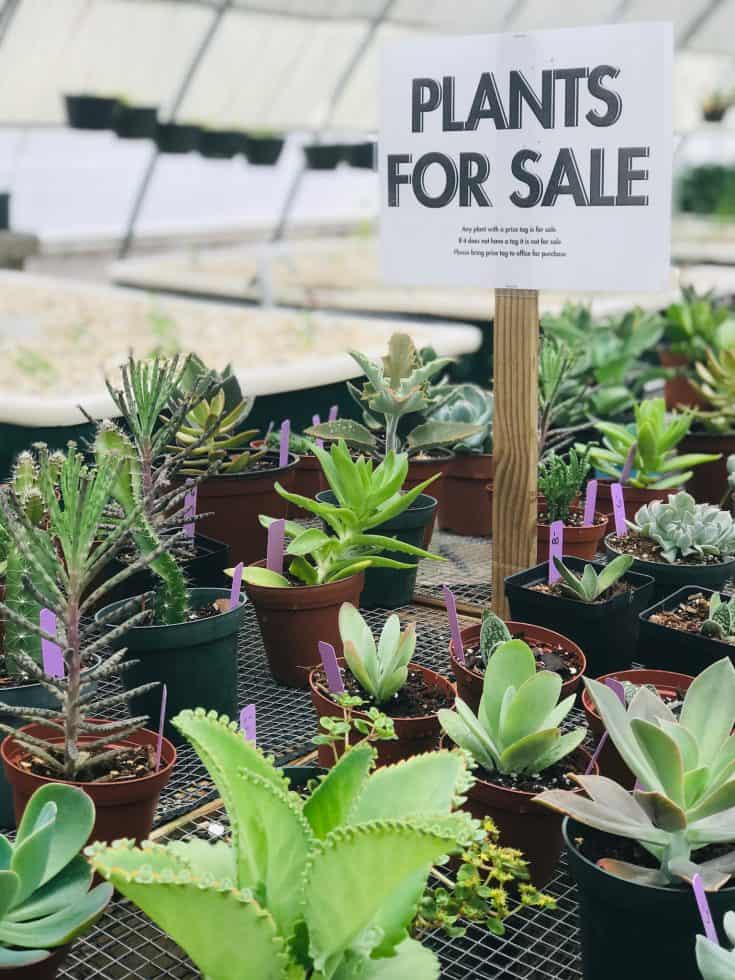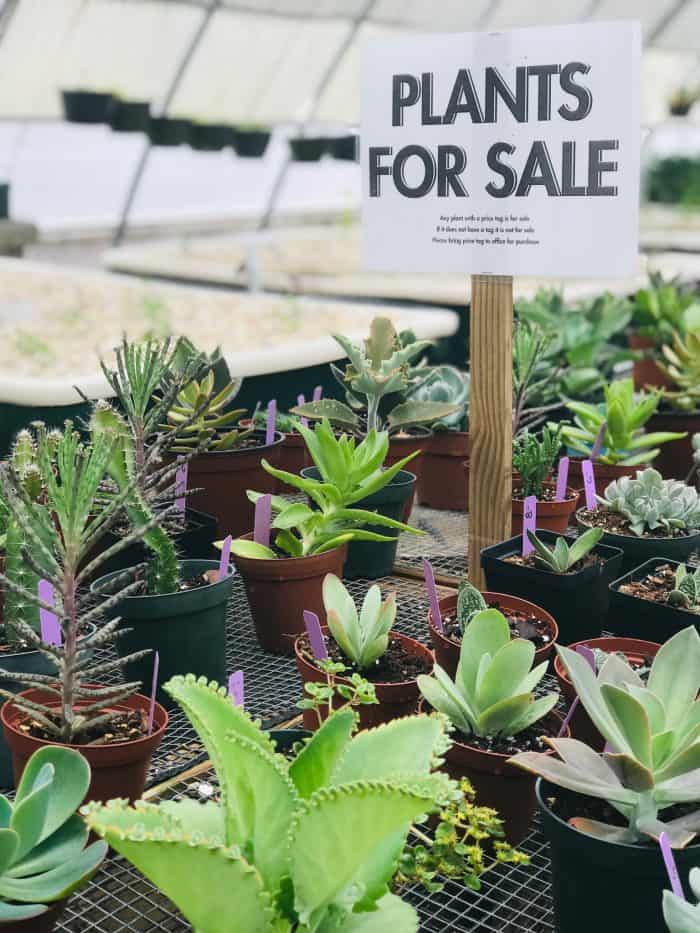 We started off our day at Coldwater Gardens with a tour of the accommodations offered. Will you stay in…
A Glamping Tent?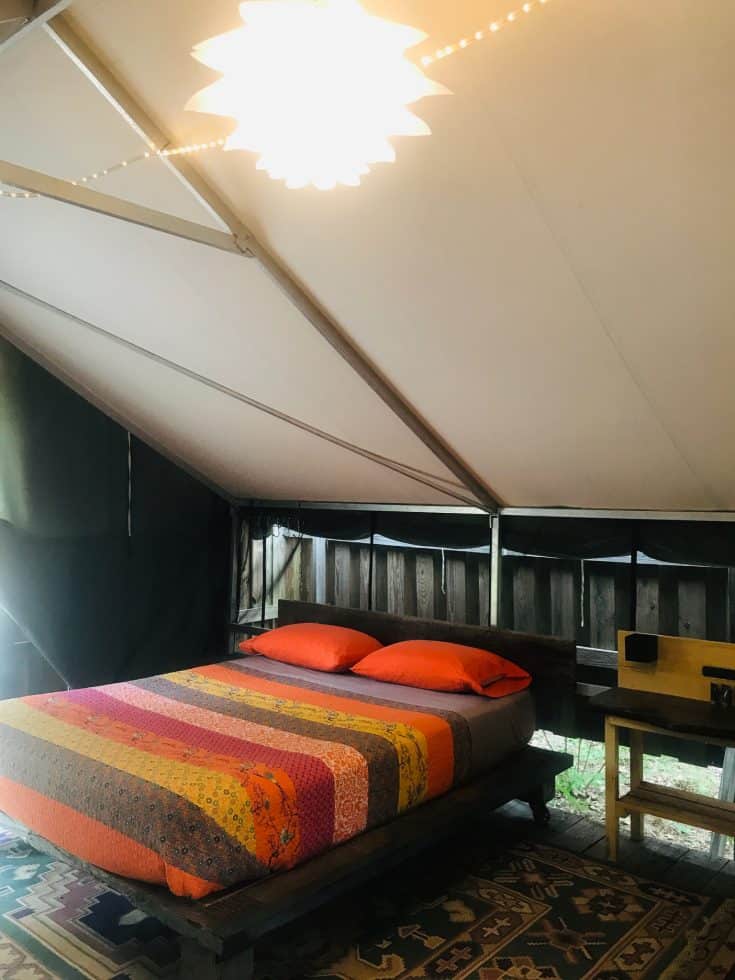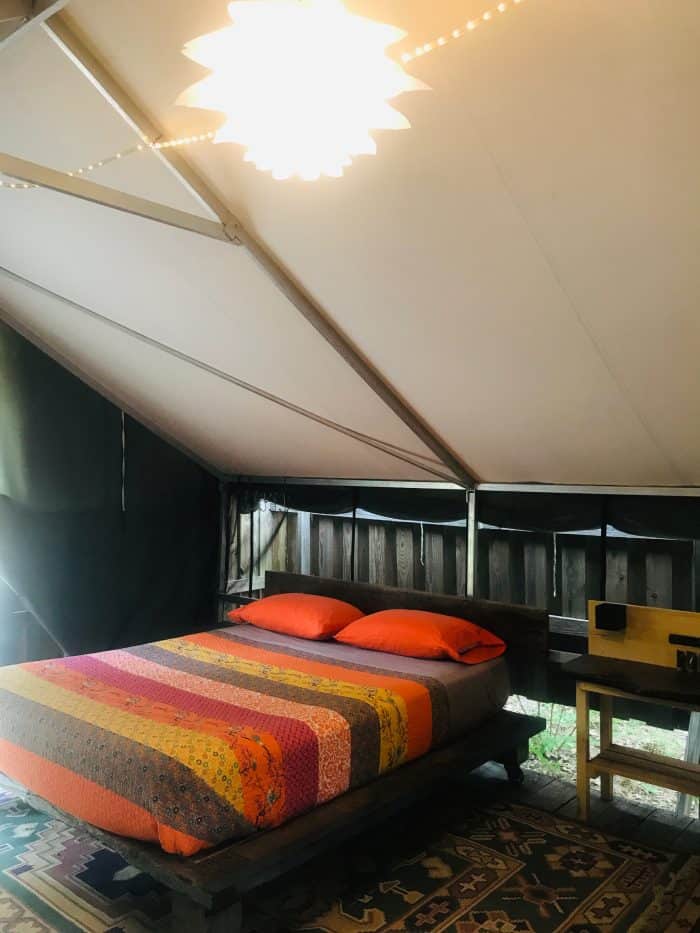 An Eco-Design Cottage?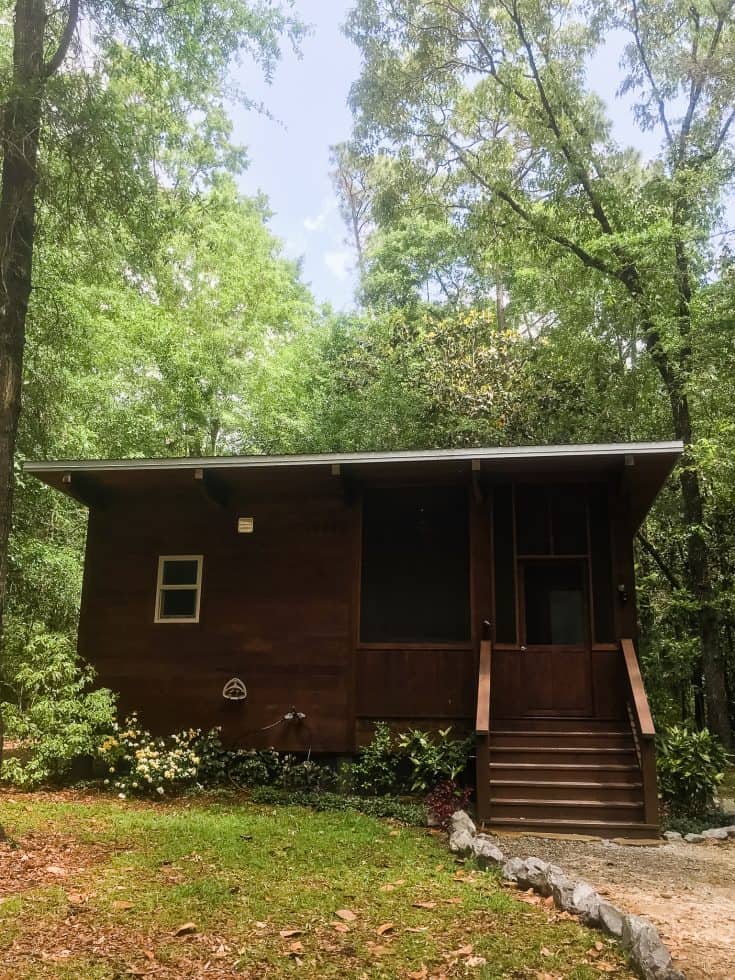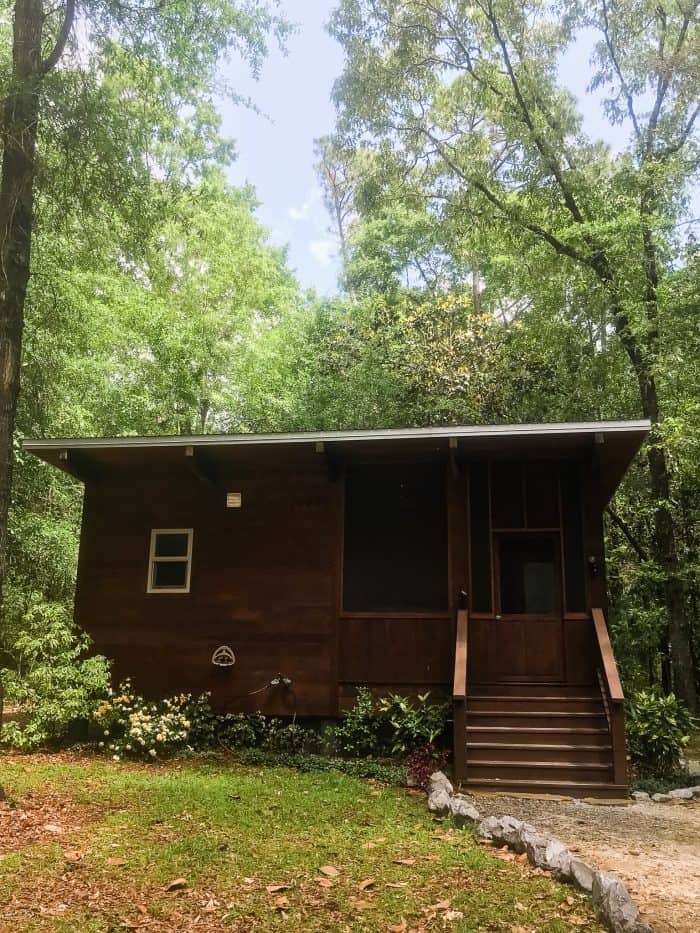 Or the Modern Treehouse?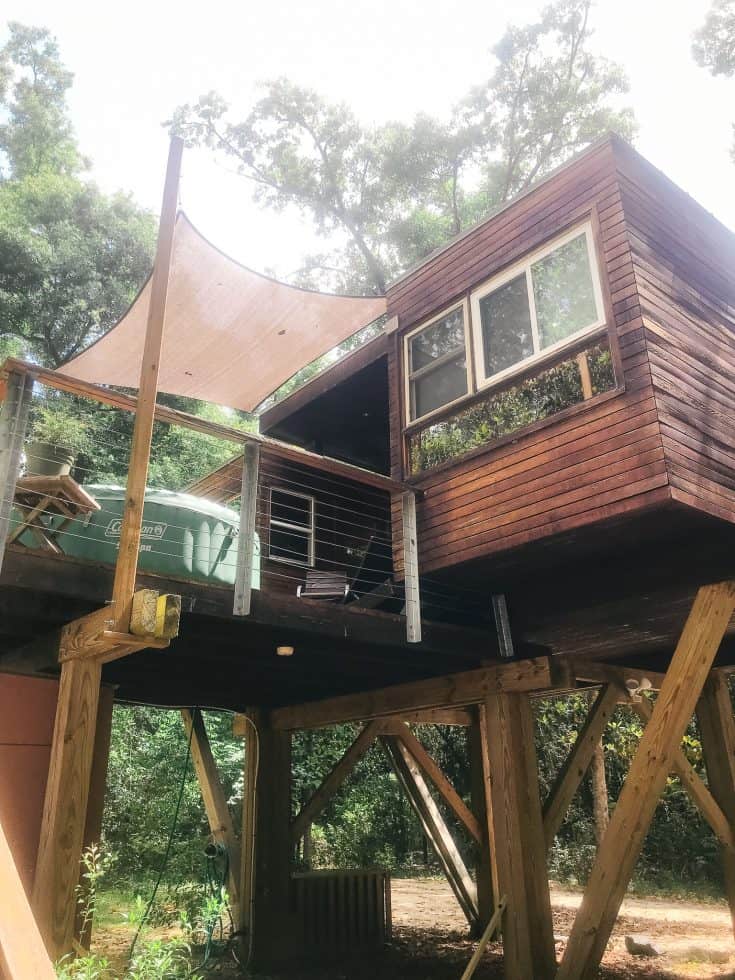 See my video below for walkthroughs of the accommodations at Coldwater Gardens as well as a tour of their greenhouses.
Coldwater Gardens
After a yoga session at Coldwater Gardens, I was more relaxed than I've been in a very long time.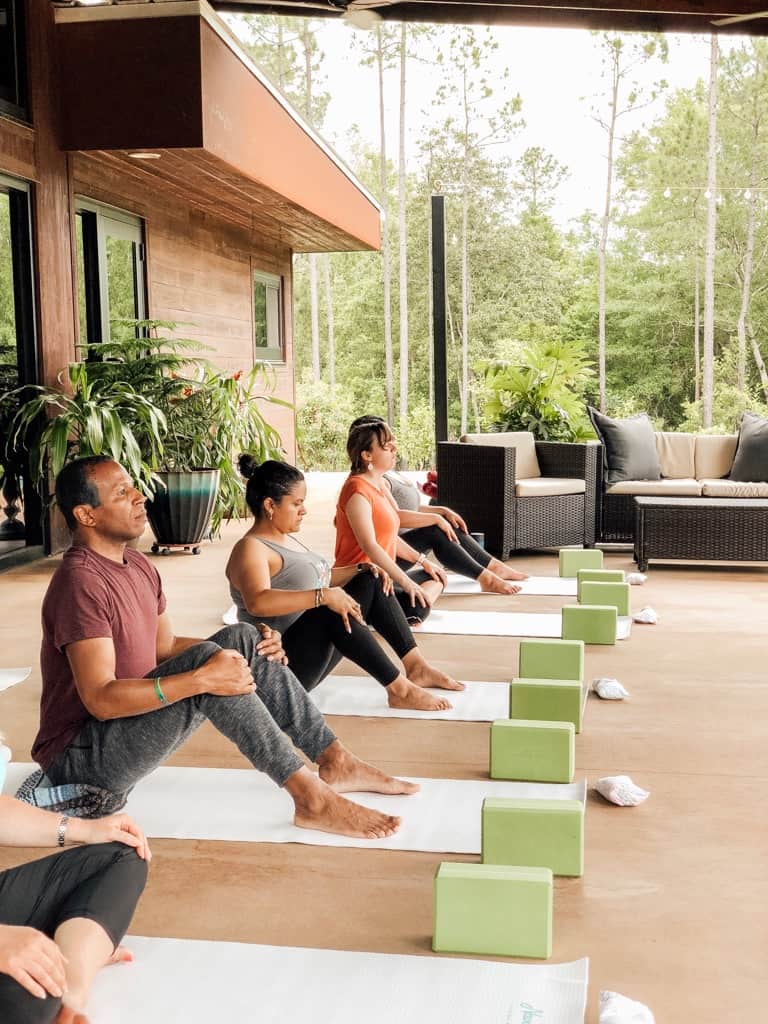 We followed up our yoga session with a vegan lunch prepared by the event staff at Coldwater Gardens. Much of our meal was grown on site.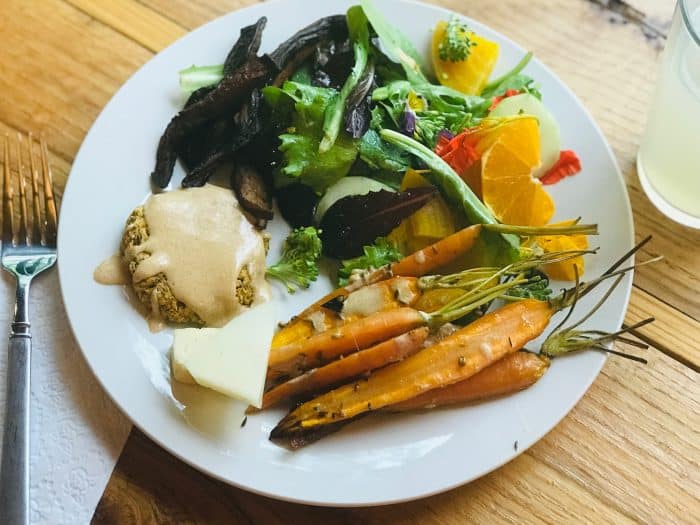 There is a yoga retreat being held at Coldwater Gardens this fall and I'd really like to attend.
Because I want to glamp
Because yoga!
Umm….the food obvs.
To get a chance to swim in Coldwater Creek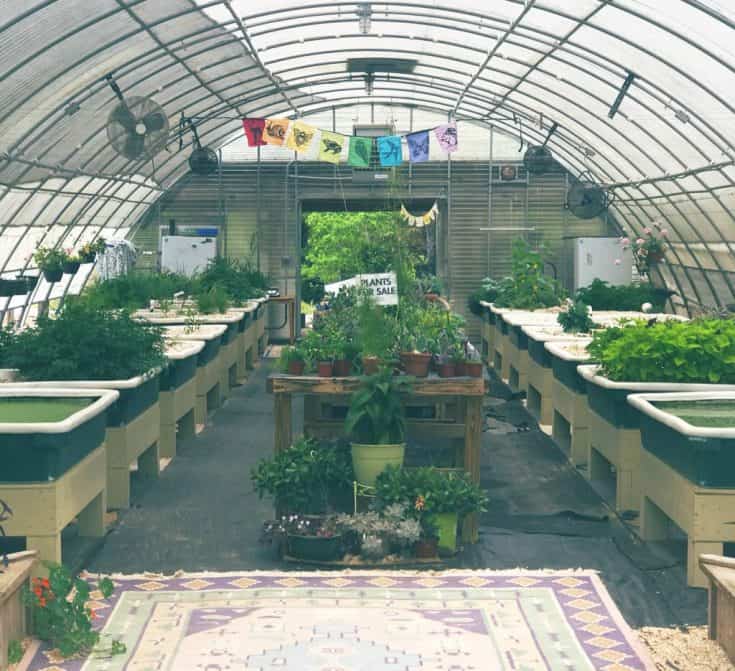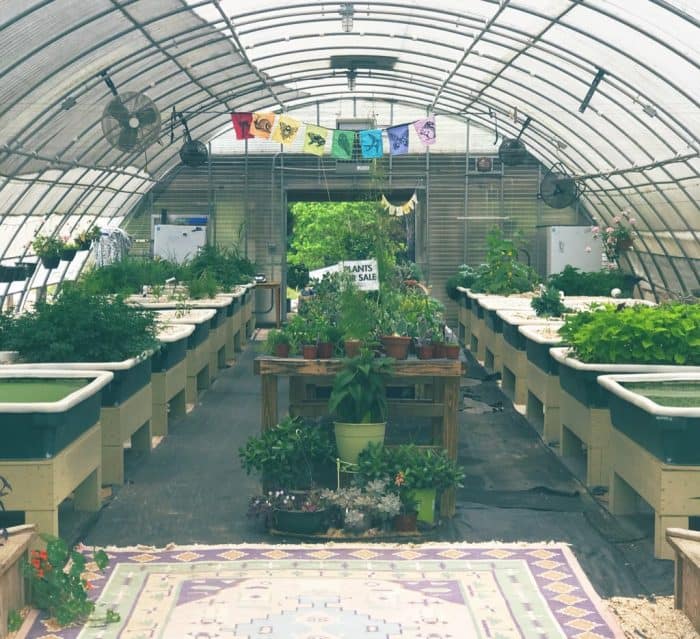 Hopefully, this guide gives you a good overview of where to stay in Navarre, Navarre Beach restaurants, and things to do in Navarre, FL. We can't wait to revisit this peaceful slice of paradise.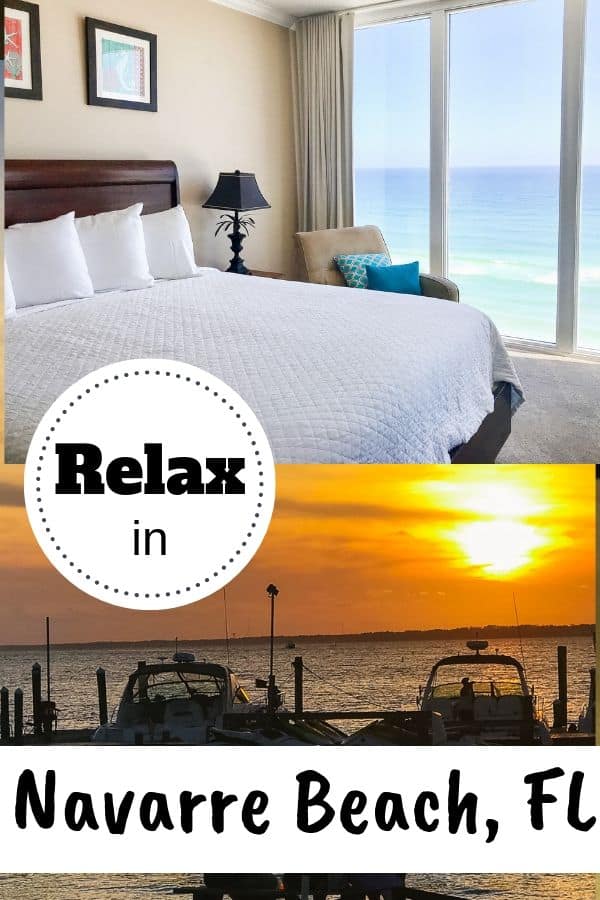 Accommodations, as well as some of the food and activities presented in this post, were compliments of Navarre Beach. All opinions are my own.