Over the years we've gotten to experience some of the best places to eat in Gulf Shores. We've even visited a couple of the best restaurants Gulf Shores and Orange Beach have to offer twice during one trip. Whether we loved the food, location, atmosphere or all three, we recommend you check out these Gulf Shores and Orange Beach restaurants on your next Alabama Gulf Coast vacation.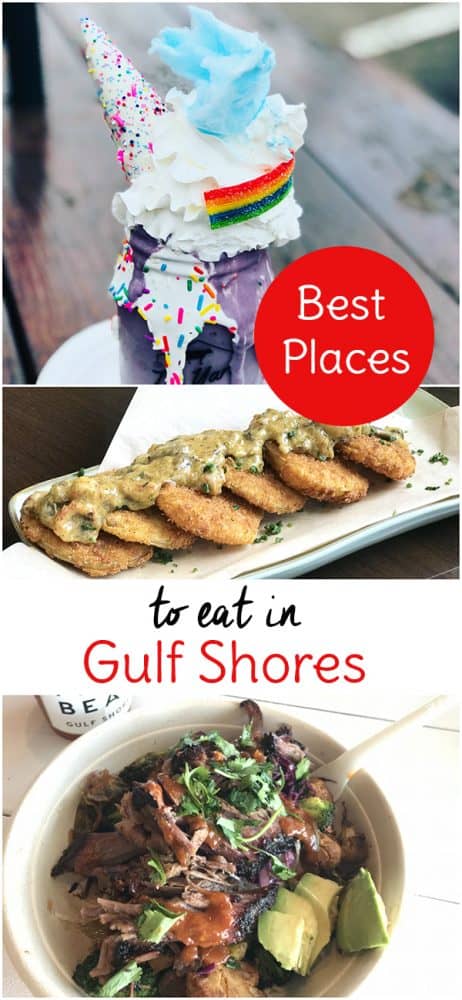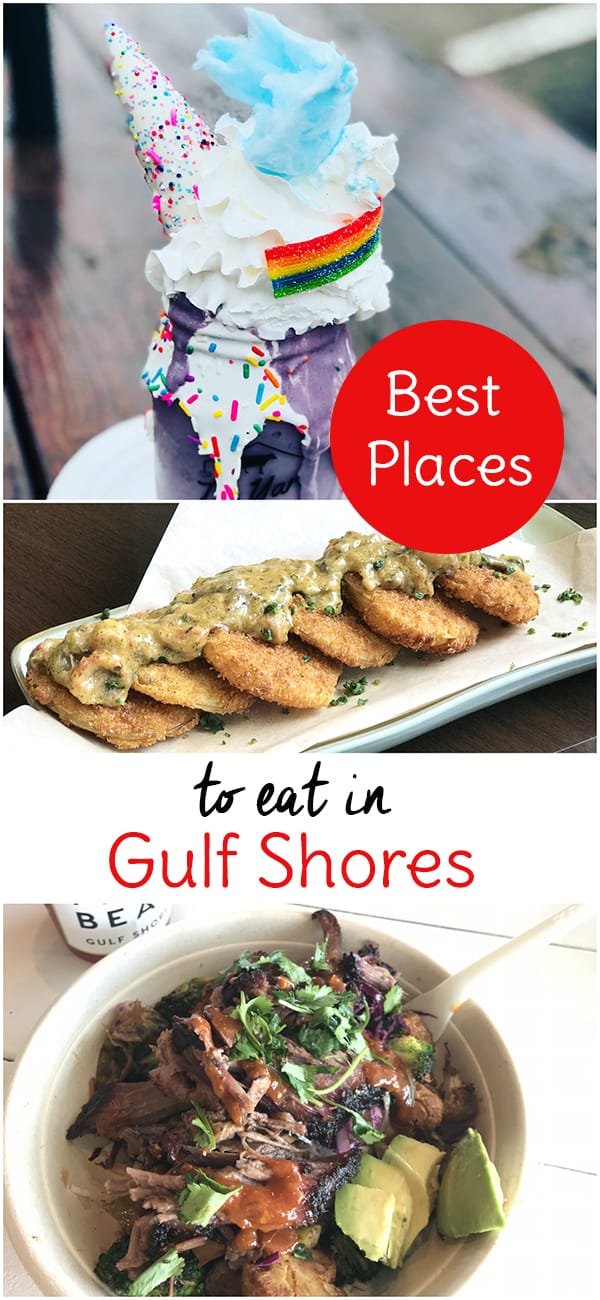 Gulf Shores Restaurants
The Yard Milkshake Bar
The Yard opens at noon and you'll want to be there when they do. It's a popular place and the line can back up quickly, especially during peak season. It's among the best places to eat in Gulf Shores for satisfying your sweet tooth. Read more about The Yard Milkshake Bar and check out the video below.
Picnic Beach
Picnic Beach had been open for less than two weeks when we visited. Word is going to travel fast though so be prepared for a crowd when you plan your visit. You'll love the (health department-approved) AstroTurf that you can picnic on if you choose! Or be like us and eat on a picnic table and create a spread for the kids to lounge on while you enjoy your meal in peace.
Hubs declared the ribs at Picnic Beach the best he's ever put in his mouth, then proceeded to fanboy over the pitmaster. I'd be jealous, but they are that good!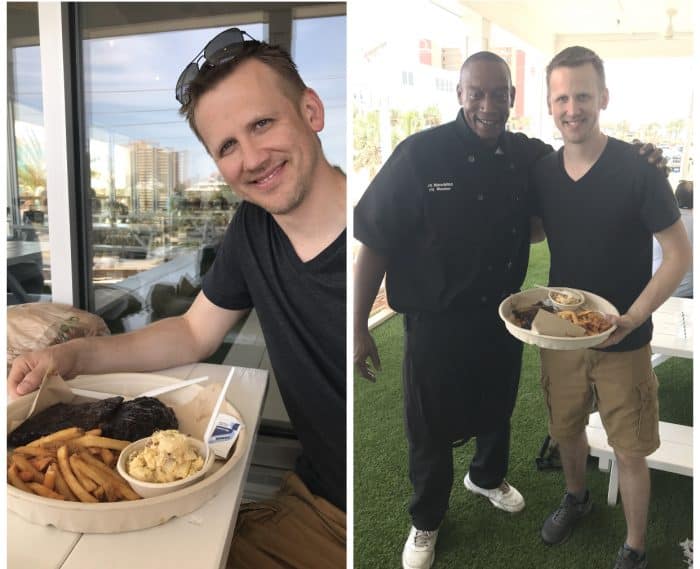 In addition to delicious smoked meats served picnic style, Picnic Beach is host to a bevy of health-conscious menu items as well. If you're vegan, gluten-free, or paleo, it's one of the best Gulf Shores restaurants for you. There's so much on the menu that Hubs could have which was refreshing.
I had an acai bowl and the Beach Bowl while the kids enjoyed smoothies on their picnic blanket.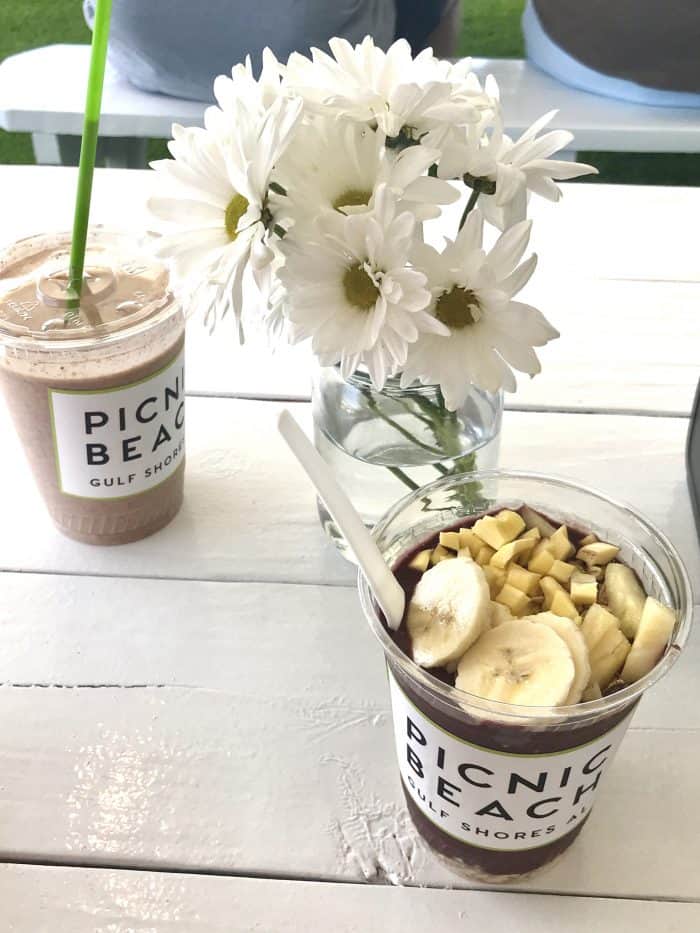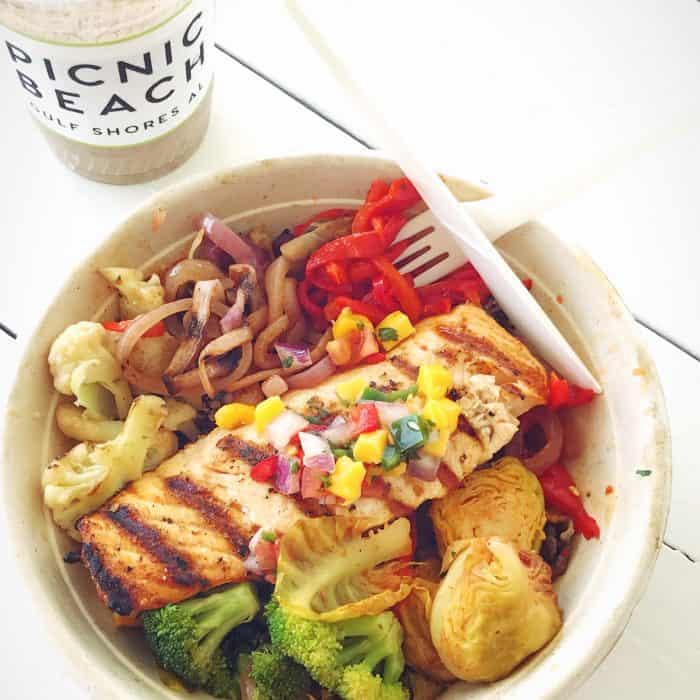 As one of best places to eat in Gulf Shores for BBQ, we returned a second time and brought Hubs' parents during their quick visit with us. Can you guess what Hubs ordered? More ribs! I branched out a little and tried the brisket bowl and a cold-pressed juice.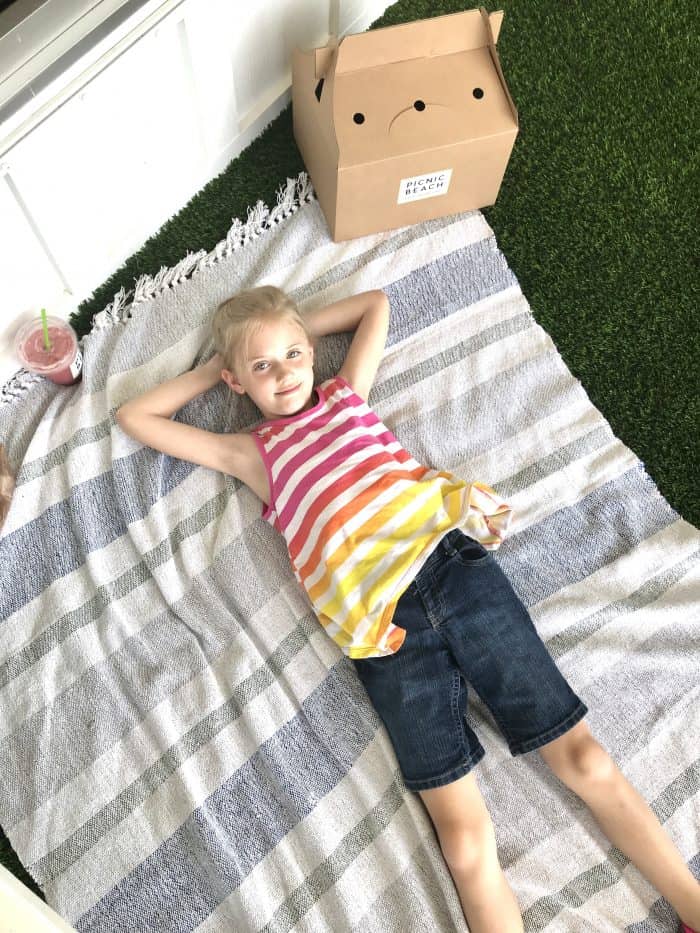 The Hangout
The Hangout is pretty hard to miss since it's located right on the Gulf Shores public beachfront. You can even walk up from the beach at your leisure when the sun and surf have your tummy growling.
We went for a very light lunch with the kids before heading on our kayak adventure. The Chips, Salsa, and Queso appetizer was just right for the kids and me to nosh on and Hubs had the gluten-free Alabama Cobb Salad which was…well, see for yourself.
Lunch was quite tame and we enjoyed exploring some of the fun things on site.
With live music and drinks, I can see things really cranking up at dinnertime though so plan for lunch or dinner accordingly depending on your group and what you're in the mood for.
Sunliner Diner
Two words: Candied + bacon. Is it breakfast? Is it a sweet treat? Either way, it's a great way to start your day. Served up in a parfait glass, this candied bacon is meant to share but you may not want to!
Sarah's Homemade
While not technically a restaurant, I have to include Sarah's Homemade on this list of Gulf Shores restaurants for those of you who like to stay in vacation rentals during your visit. Here you can pick up a variety of main dishes, sides, and desserts that are ready to go. Just heat and serve in your Gulf Shores condo and enjoy a night in!
That's exactly what we did on the second day of our stay just to enjoy a little more beach time and relaxation at The Beach Club. There are gluten-free options available, and we enjoyed the hearty chicken and rice casserole (and not having to get cleaned up for dinner!)
Gulf Shores Seafood Restaurants
COASTAL
You can walk to COASTAL after your adventure at Alabama Gulf Coast Zoo and just might see zoo staff there. You know it's one of the best places to eat in Gulf Shores when you see locals there.
We started off with the COASTAL Tomatoes with every intention of taking a few of them to go. That didn't happen since they were just too tasty.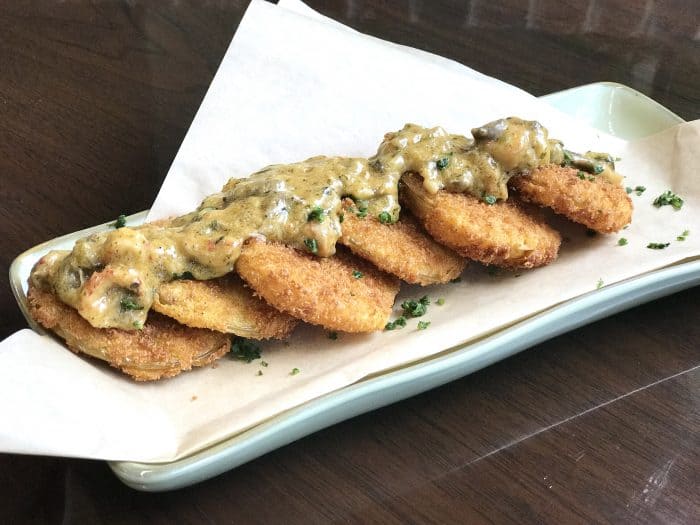 Chef Chris Sherrill studied in Charleston so you know he makes some mean shrimp and grits! Hubs declared them the best he's eaten to date which is high praise coming from a connoisseur. I think the applewood bacon absolutely MADE this dish.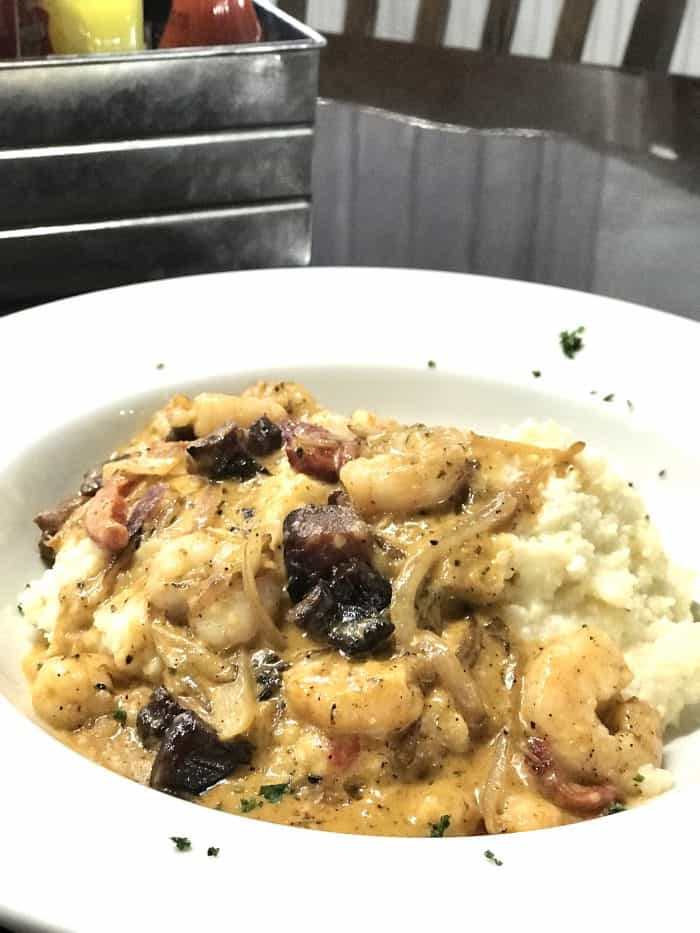 My medium-rare tuna was cooked just right and I even polished off the squash which is unusual for me.
I'll let Gus' expression speak for the kid's menu!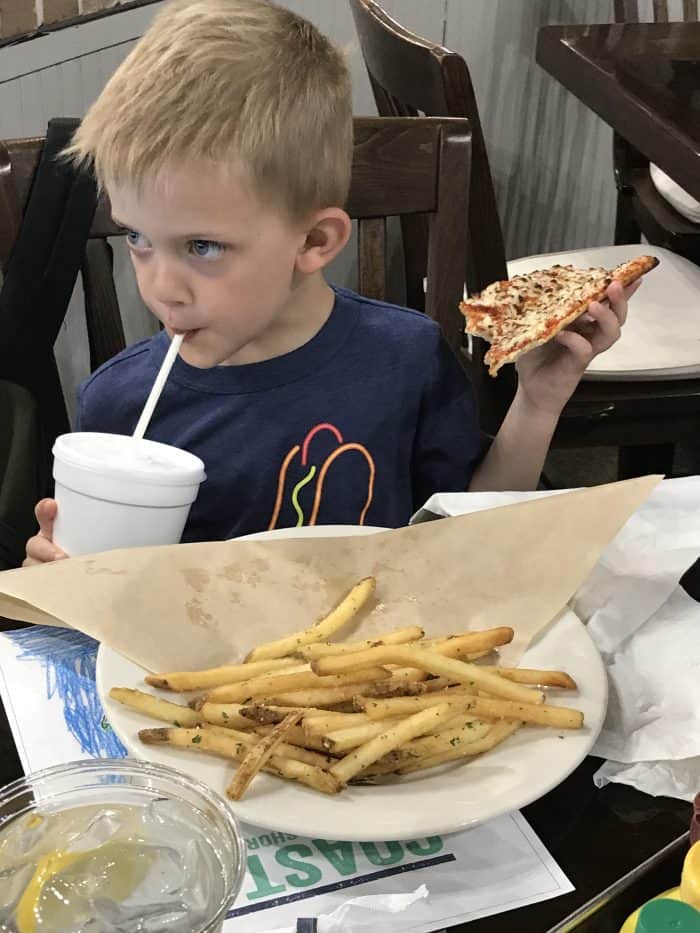 Be sure to follow COASTAL on Facebook as they often add things to the menu, create specials, and feature all sorts of live musical performances.
Coast Restaurant
Located in the clubhouse of The Beach Club, Coast Restaurant provides beautiful beach views and a locally-sourced menu. Reservations are recommended so if you're headed out to Fort Morgan, plan a sunset dinner at Coast Restaurant on your way back to Gulf Shores proper.
I enjoyed the Crab Crusted Redfish with Cheese Grits while Hubs had the Beef Tenderloin. Surf and Turf between the two of us!
Don't forget dessert! It was dark outside by the time we indulged in our sweet treats so my pics taken in candlelight just don't do them justice.
Coast Restaurant is elegant, but kids are more than welcome. They even have Wikki Sticks ready for them to play with!
The Original Oyster House
We had a great experience at all the Gulf Shores restaurants we visited and would definitely each at each one again, but I think I saved the very best one for last. I almost feel guilty picking favorites, but The Original Oyster House was simply phenomenal for our family.
First of all, the kids' drinks and entrees came with gators which absolutely made their days.
Second of all, they had the option of cheese pizza and fries which is pretty much all they'll eat at restaurants besides bread, chips, and desserts of course (Our pediatrician is aware and sympathetic.)
Thirdly, this gator on the porch is a Pokestop.
Let's just say the Original Oyster House ranked a solid #1 for the kids, but how about Mom and Dad?
Behold…
Fried green tomatoes topped with blackened popcorn shrimp with a side of cheese grits and turnip greens better than mama's (sorry, Mom.) I'm kind of upset that I'm not eating this again right now. Order The Pleasure Island Stack and you won't be disappointed.
I took mercy upon Hubs and actually let him dig into his Fried Shrimp without waiting on me to take a picture. He "cheats" on his GF diet just a couple of times per year and probably hadn't had fried shrimp in about 365 days so it was a pleasure to watch him enjoy it. He raved about it and just to make sure it wasn't just the deprivation talking, I sampled one and it was indeed rave-worthy.
Of course, I couldn't visit an oyster house without delighting in a dozen on the half shell. Let me assure you there will be a second visit for our family and at that time I'll be sampling their famous fire-roasted oysters.
Key Lime or Chocolate Chip Peanut Butter Pie anyone? Hubs is still talking about them.
Note that we went for an early dinner and while we didn't have to wait to be seated, there was a healthy crowd there. It's a popular place (with good reason) so plan accordingly.
Lucy Buffett's Lulu's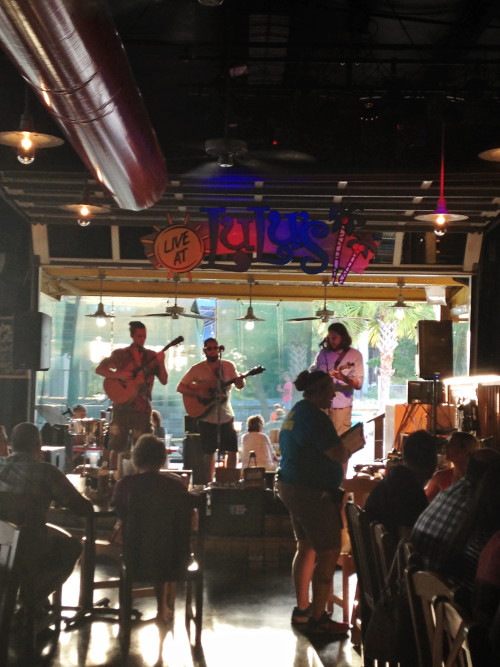 Lulu's is a great place to bring the whole family. With beach activities and live nightly music, you don't have to worry about your little wiggle worms getting bored.

The shrimp salad was great, but my favorite taste at Lulu's was the crab melt nachos. I even brought the leftovers on the 6 hour trip home!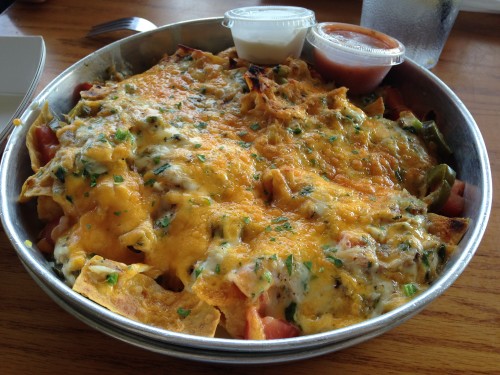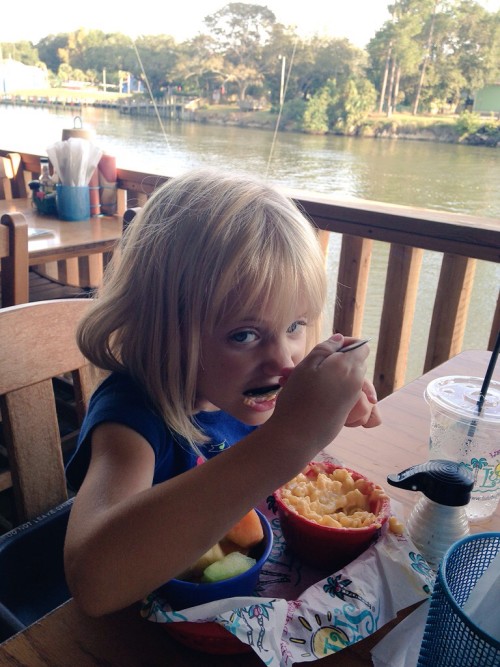 Sweet T declared their macaroni and cheese "the best ever."

Lulu's boasts another location in Destin, and I plan to eat there next month during my visit. What should I try next?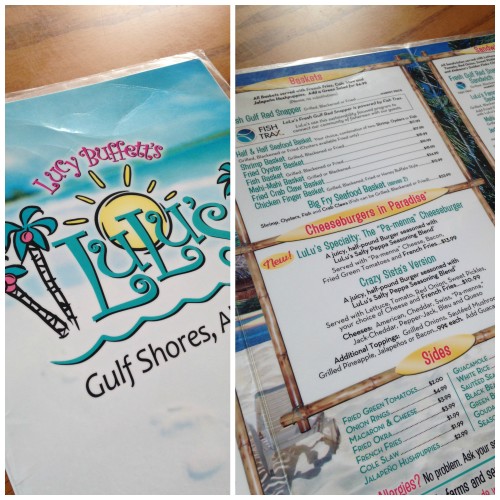 De Soto's Seafood Kitchen
No list of best places to eat in Gulf Shores would be complete without including De Soto's Seafood Kitchen. De Soto's serves up the traditional, Southern seafood you've just got to eat at some point during your Gulf Shores vacation. In addition to frying just about anything to perfection (including gator tails!), there are fresh oysters on the half shell and a variety of Cajun favorites.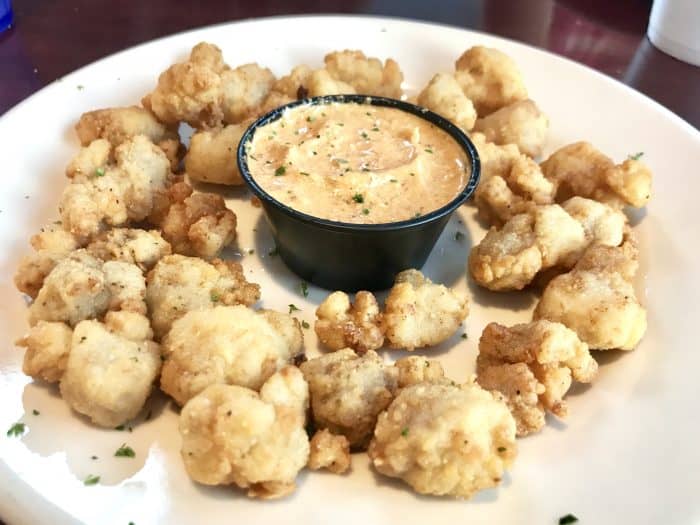 I had the crawfish étouffée and Hubs enjoyed a personal favorite: butterfly fried shrimp.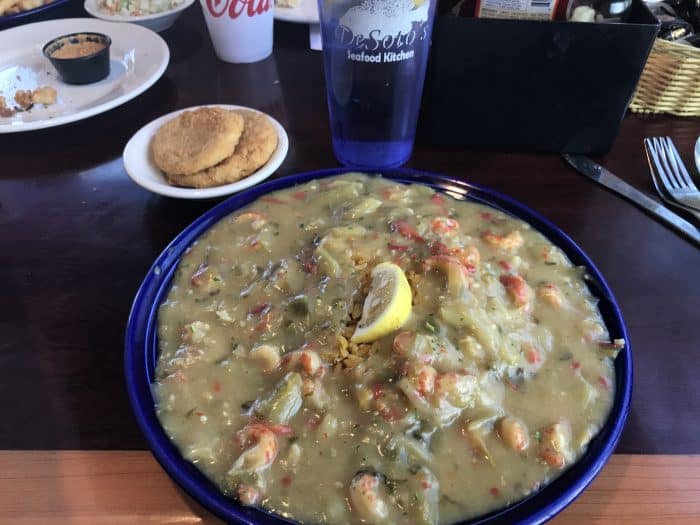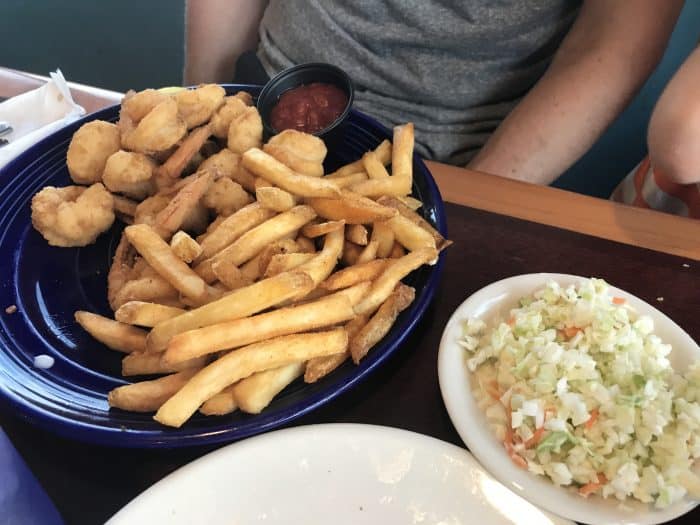 De Soto's is laid back and family-friendly so don't hesitate to bring your little ones. Ours even found Nemo and Dory.
Tacky Jack's
With separate locations at both Gulf Shores and Orange Beach, there's sure to be a Tacky Jack's close to your rental!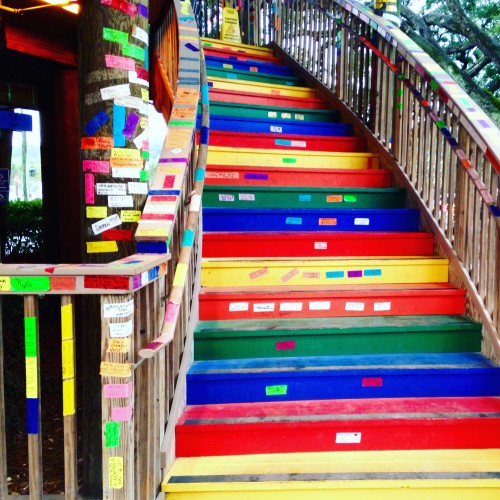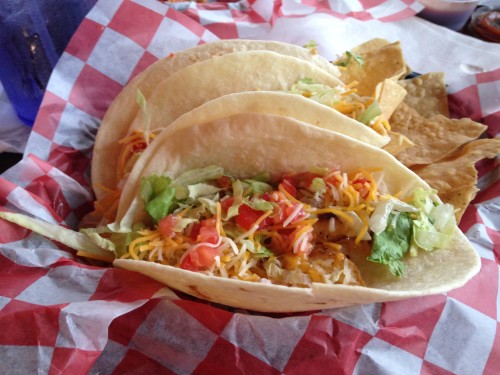 The Gulf Shores location overlooks the Intracoastal Canal and self-proclaims the best breakfast on the beach. We visited for dinner one night and the kids loved the funky feel of the place and Gus was a big fan of the homemade potato chips.

Be sure to ask for duct tape to leave your mark on this Gulf Shores restaurant. Remember where you placed it and it's all the more reason for a return visit to, right?

Orange Beach Restaurants
Big Wave Dave's
Once you're seated at Big Wave Dave's, a tub of popcorn is brought to your table. This was right up Gus' alley. They won him over for the favorite restaurant of the trip for the popcorn alone.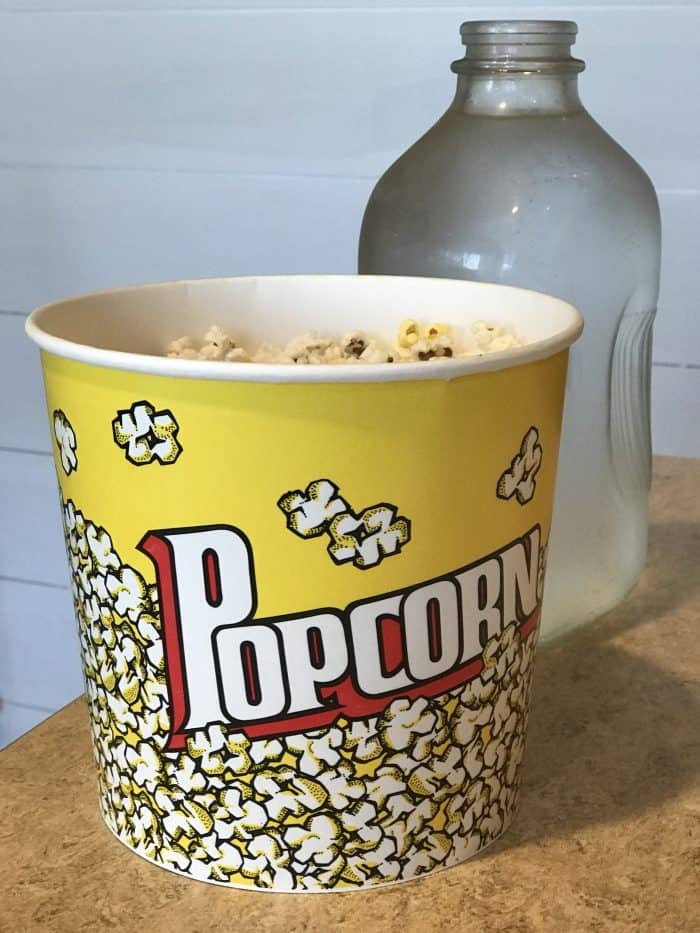 The live music and cheese pizza just sweetened the pot.
I had the Hong Kong Tacos which were just the right blend of spicy and sweet, and Hubs enjoyed the Gulf Fried Shrimp. Sweet T…colored. Kids, man.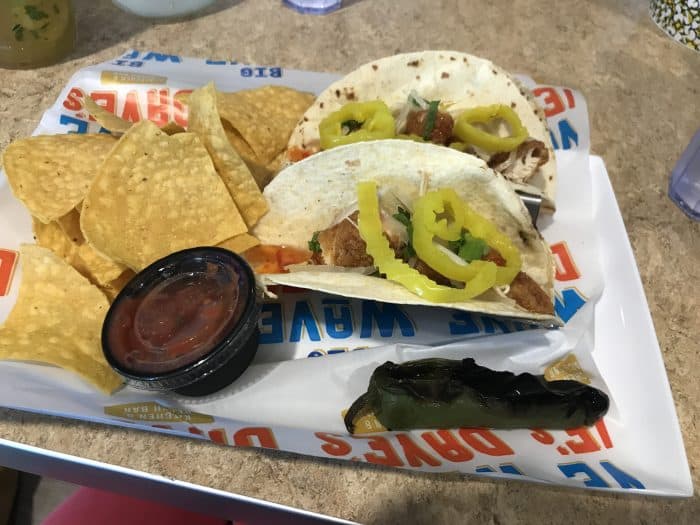 Hubs wound up bringing the kids back to Big Wave Dave's a second time while I was finishing up my Scuba certification. This was easily one of the best restaurants Gulf Shores and Orange Beach has to offer as far as they are concerned!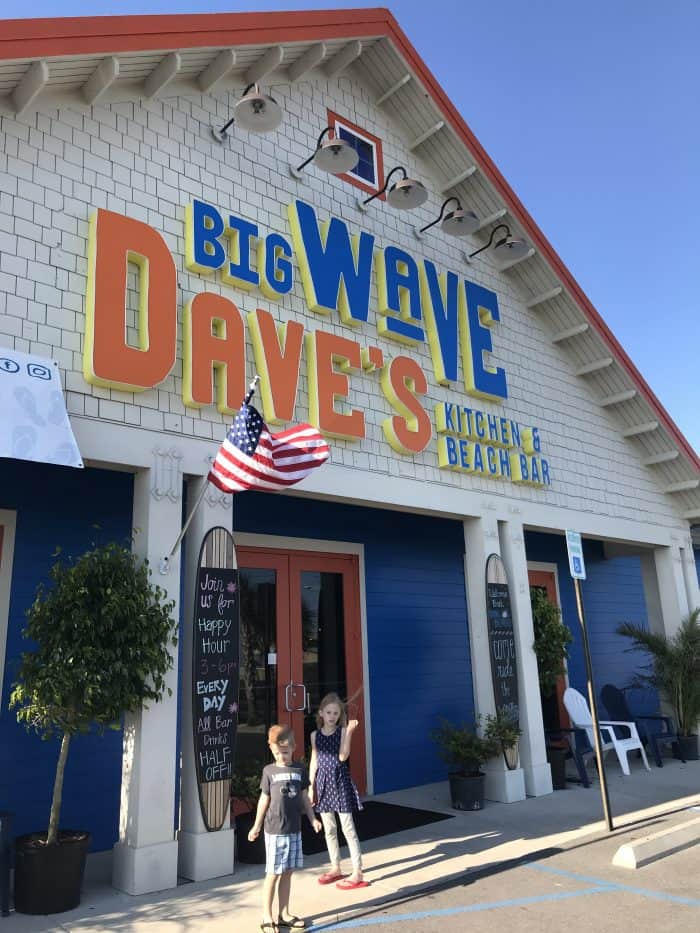 Cobalt The Restaurant
Under the Perdido Key Bridge in Orange Beach you'll find a hidden gem: Cobalt The Restaurant. Whether you choose to arrive by land or water, you'll enjoy daily fresh-caught seafood and waterfront dining.
Maybe you'll want to start off with the Cobalt Crab & Shrimp Dip which is a delicious marriage of fresh blue crab. bay shrimp, and two different cheese. Spread it on grilled french bread and you just might have a hard time saving room for your entree.
Since Hubs is gluten-free, I don't make many pasta dishes at home anymore so it's nice to enjoy it while we're out and about. Cobalt's Shrimp Fra Diavolo combines several of my favorite flavors like mushrooms, spinach, angel hair pasta (I miss you old friend!), and hello fresh SHRIMP!
Fisher's Dockside
Actually two different restaurants under one roof, Fisher's Dockside and Upstairs both offer fresh, locally-sourced fare. The Murder Point Oysters with their natural buttery taste were some of the best I've ever eaten!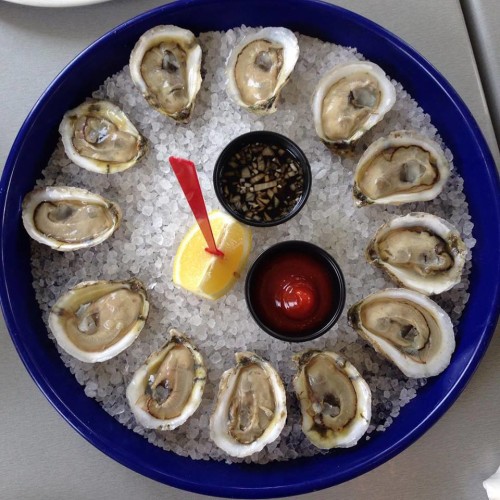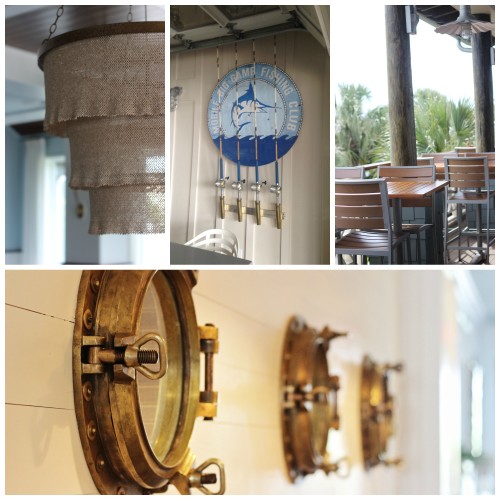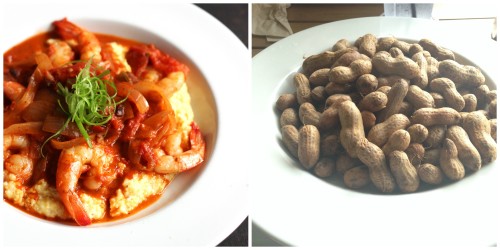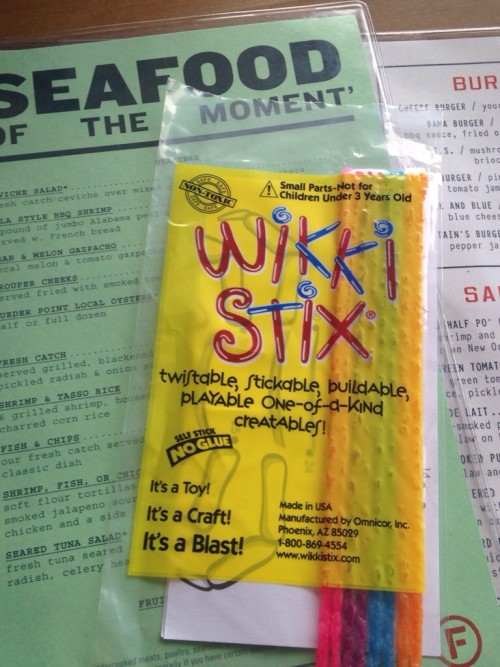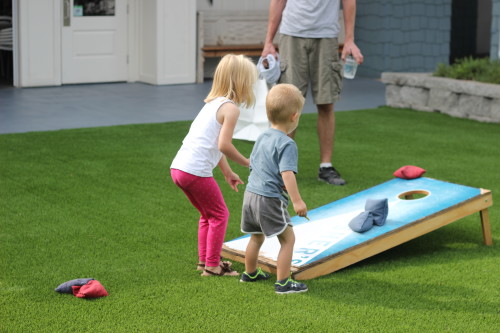 Fisher's Dockside and Upstairs both have a trendy, contemporary feel without seeming pretentious. Owner Johnny Fisher provides guests with gourmet fare without loosing that laid-back Orange Beach vibe.

The shrimp and grits were amazing! I also had the boiled peanuts for an appetizer. If you feel like being really Southern order the fried okra too.

Dockside has a more casual feel and lower menu prices than Upstairs, but children are welcomed in both. Nothing says, "We're so glad the whole family came" than Wikki Stix with the kids menu!

If you visit during peak season, expect to wait a while for a table as Fisher's is a popular place with lots of returning visitors: both locals and tourists. Play some cornhole while you wait or enjoy the beautiful view of the docks.

Ginny Lane Bar & Grill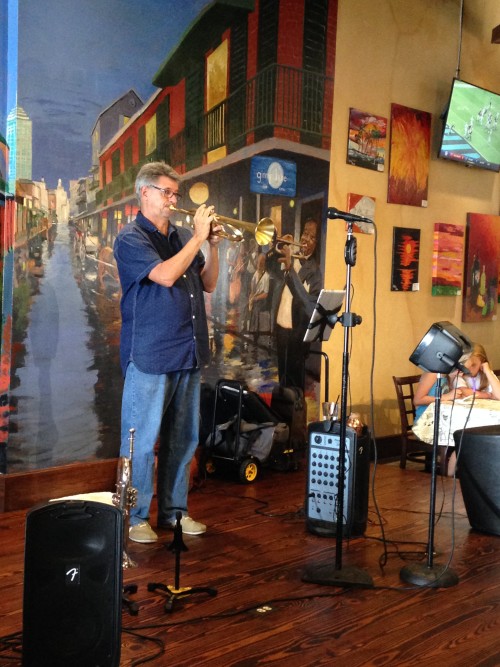 Enjoy waterfront views at The Wharf Marina and live music while you dine!

We conducted our #StayALBeaches at this Orange Beach Restaurant after savoring Sunday brunch. I had the Cajun Omlette with crawfish and we shared blackened shrimp atop fried green tomatoes for an appetizer (whatever special sauce they drizzle on top is to die for!)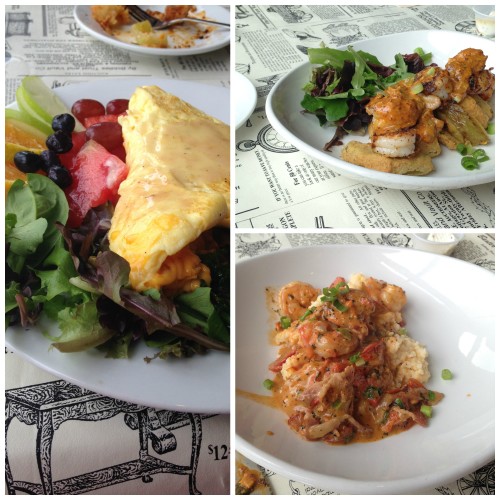 Their key lime pie was almost too pretty to eat…almost.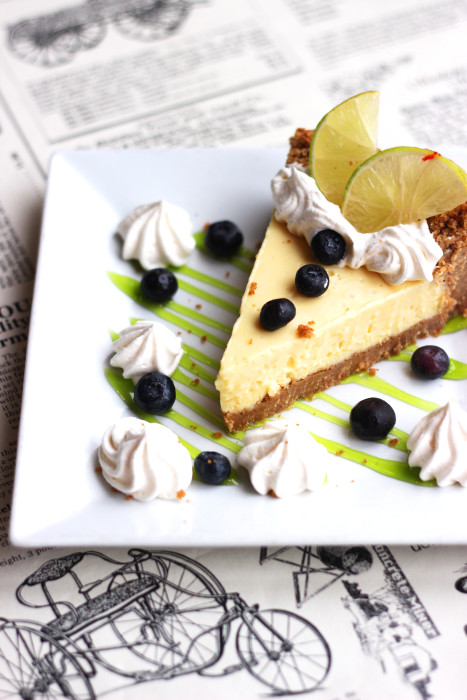 Blue Water BBQ
Blue Water BBQ Company is one of best restaurants Gulf Shores and Orange Beach have to offer for traditional barbeque. Served up cafeteria-style on butcher paper, their fare will have you coming back for seconds.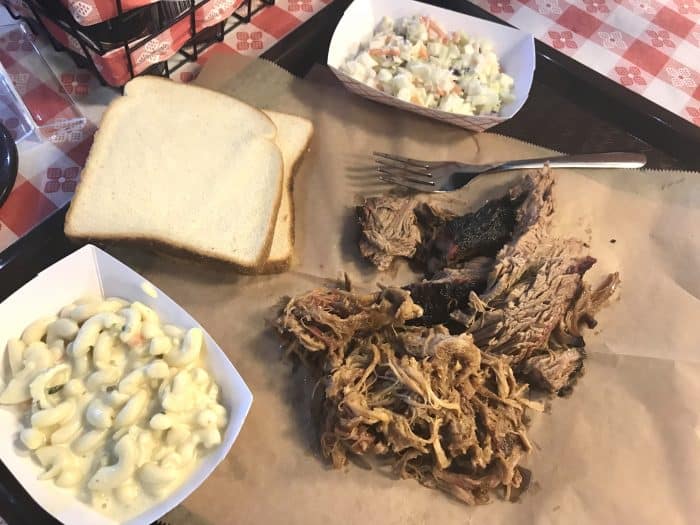 Take a peek at each of the meats before you decide what to order and watch them carve up the slow-smoked goodness right before your eyes. We were in a rush to get to my Scuba class when we ate at Blue Water BBQ and it worked out perfectly since the service it so fast.
Blue Water BBQ is ridiculously kid-friendly from the PB&J and pizza on the menu for picky eaters like mine to the jukebox and quick service. Don't miss it if you're at The Wharf in Orange Beach. The $5 kids meals come with banana pudding for dessert that you can pilfer from your little ones if they are as picky as mine. Yum!
The Ruby Slipper Cafe
The Ruby Slipper Cafe is famous for its brunch menu which includes bloody Marys and stuffed French toast
They are lick-your-lips good as Gus is proving here.
Fin and Fork
Fin and Fork's menu varies based on season and availability. All of their food is made from scratch to order, so you really can't go wrong. However, if you order the Spicy Panko Shrimp, you're in for a memorable treat.
Other Orange Beach Restaurants:
Cayman Grill
Cayman Grill boasts an exhibition kitchen and utilizes fresh, local ingredients. The restaurant offers views of the Bay and there is an 8,000 gallon stingray pool in the center of the restaurant. Greg Buschmohle is the owner and executive chef.
The Gulf
The Gulf is constructed from shipping containers and offers views of Alabama Point. All seating is outdoors, and there is a large fire pit in the evenings.
These are just a few of the best places to eat in Gulf Shores and Orange Beach. Where will you go first?