Great Wolf Lodge Georgia is open and I'm so excited to finally have a Great Wolf Lodge close to home! Nestled just outside of Atlanta in La Grange, Great Wolf Lodge Georgia is just over a three-hour drive for us so we were eager to check it out as a family. Read on for Great Wolf Lodge tips, tricks, and walkthroughs of the new Georgia location.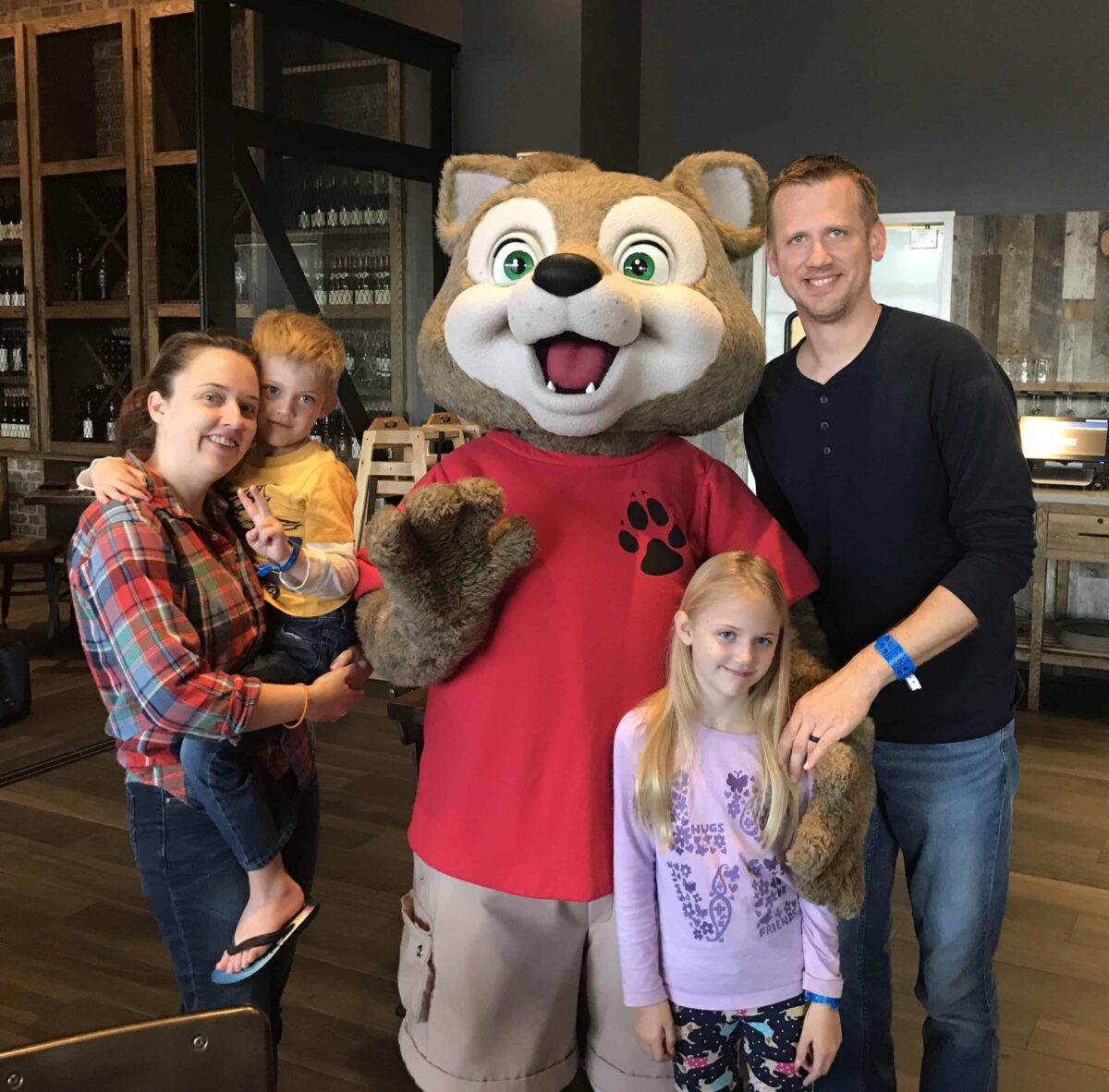 In the past when I thought of Great Wolf Lodge, "indoor waterpark" is what first came to mind. But Great Wolf Lodge has so much more than just the waterpark that it's a destination unto itself. There's no need to leave the property during your stay unless you choose to. This is good news for families because it means more time for fun and rest on your vacation and less time spent getting from place to place.
Great Wolf Lodge tips, tricks, and more
Check for special offers – Book 60 days in advance to save up to 50%, plus check out more special offers and deals you can take advantage of.
Spring for Paw Passes – While it's possible to visit Great Wolf Lodge and just enjoy the waterpark, your kids are going to want to bowl, putt-putt, mine for gems, play in the arcade, play MagiQuest, and more. Go ahead and choose a pass (Paw Pass, Wolf Pass, or Pup Pass) that's right for their age and interests.
You'll save a ton by purchasing as a bundle. Paw Passes also make it easier to set limits with activities if you need to. We pretended that once something was marked off their Paw Pass, that that was it! *wink*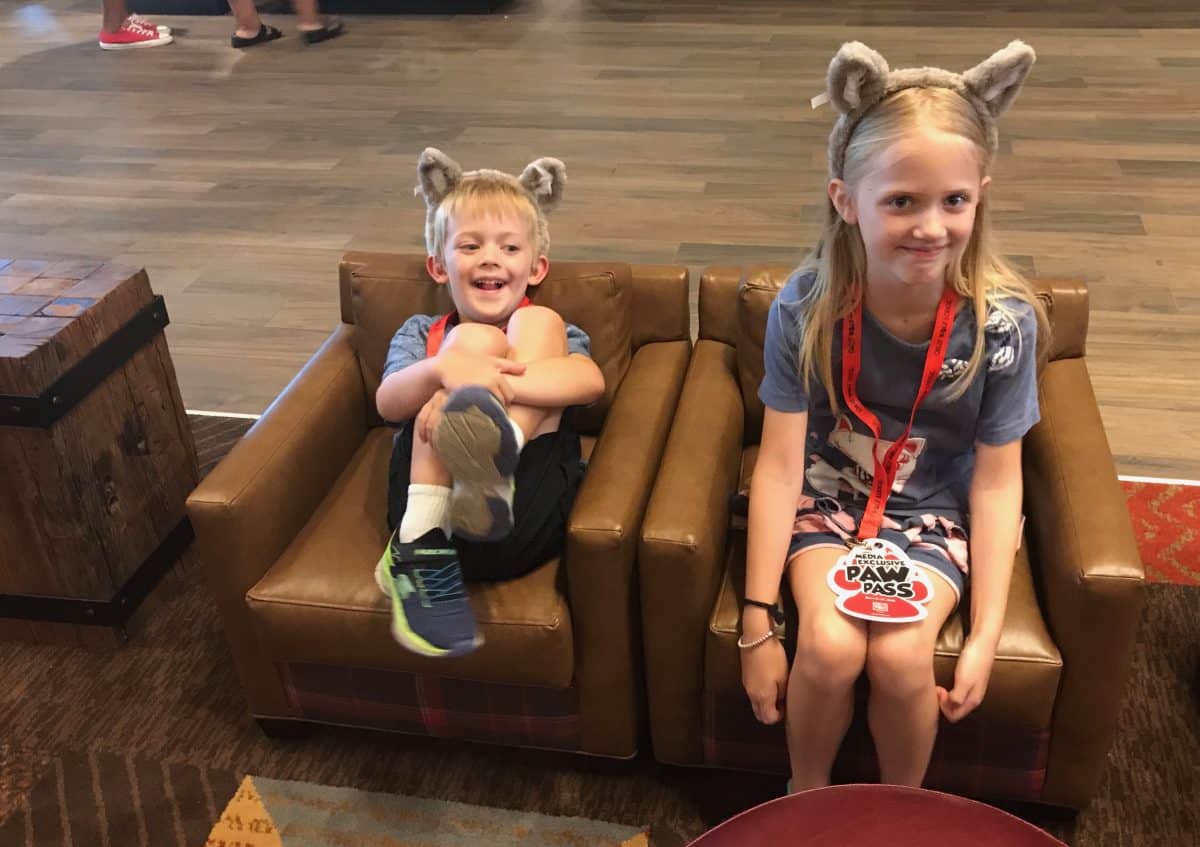 Feel free to bring outside food and drinks to your room – Each suite at Great Wolf Lodge comes with a mini-fridge and coffee maker.

There's also a microwave oven on each floor in the vending/ice room so you can heat up leftovers or pop some popcorn if you like.

Allow time for Great Wolf Lodge activities rotation – Activities vary by day and location. At check-in, you'll receive a schedule with daily activities so you can plot your strategy.

Our stay was over Father's Day weekend and they had a #1 Dad button-making activity as well as their regular face-painting, balloon animals and character greetings. More on Great Wolf Lodge Activities later.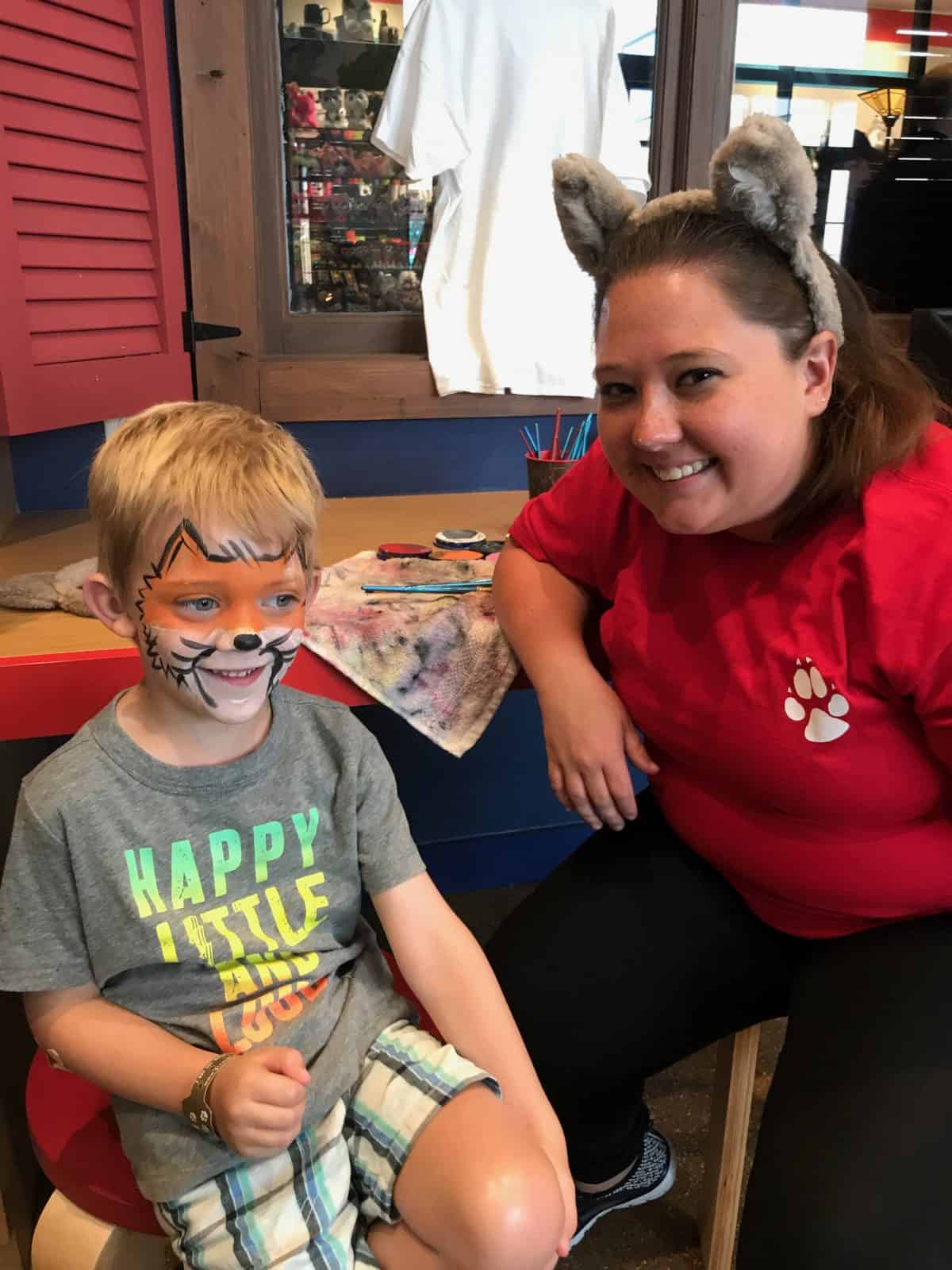 Wear supportive shoes – I only brought flip-flops for this trip due to my "it's mostly an indoor waterpark" mentality. After hours of playing MagiQuest with Sweet T, I was wishing for my sneakers. Wear your Fitbit too or put one on your kids if they are old enough to play solo.

A full game of MagiQuest and some of the other locations will have you walking about 4 miles total over the course of the quest. If only I could get the kids to be that active at home!

Play on Checkout Day – Late checkout is available on Great Wolf Lodge rooms for an extra fee. Even when you check out of your room at the regular time, you'll still have resort access for the entire day though. We hit the waterpark as soon as it opened at 8:30 and got an extra two hours of swim time in before heading up to our room to pack up.
After checkout we played Magiquest, bowled, and played putt-putt for another 2 hours. There are also showers and changing rooms available in the waterpark. If you want to splish splash all day, just bring a day bag down and use the showers and changing rooms to clean up before the drive home. Catching a flight? Bell services is happy to hold on to your luggage.
Great Wolf Lodge Rooms
Standard Suites – We stayed in a standard suite for our two nights at Great Wolf Lodge. Check out our walkthrough below:
Themed Suites – Both Wolf Den and KidCabin Suites feature bunk beds and a private area for parents.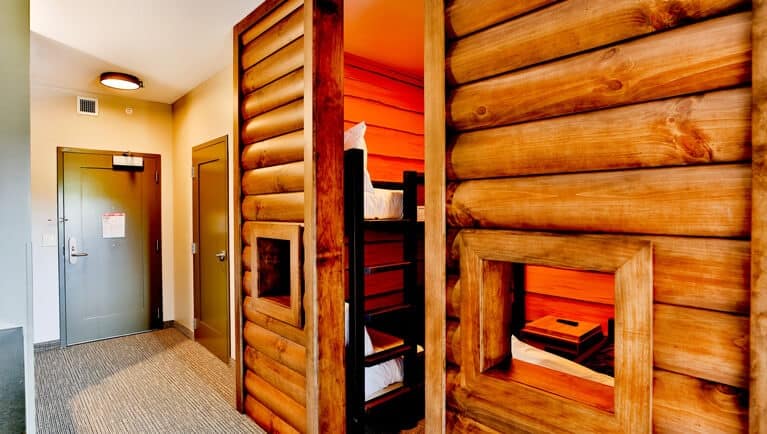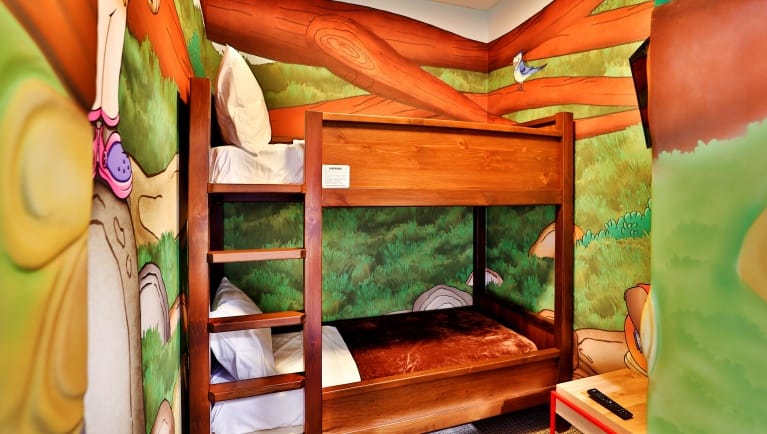 Premium Suites – Bring the whole pack with suites that sleep up to 13!
Whichever Great Wolf Lodge rooms you choose, I guarantee your little pups will sleep well. Mine both huffed and puffed and wore themselves out.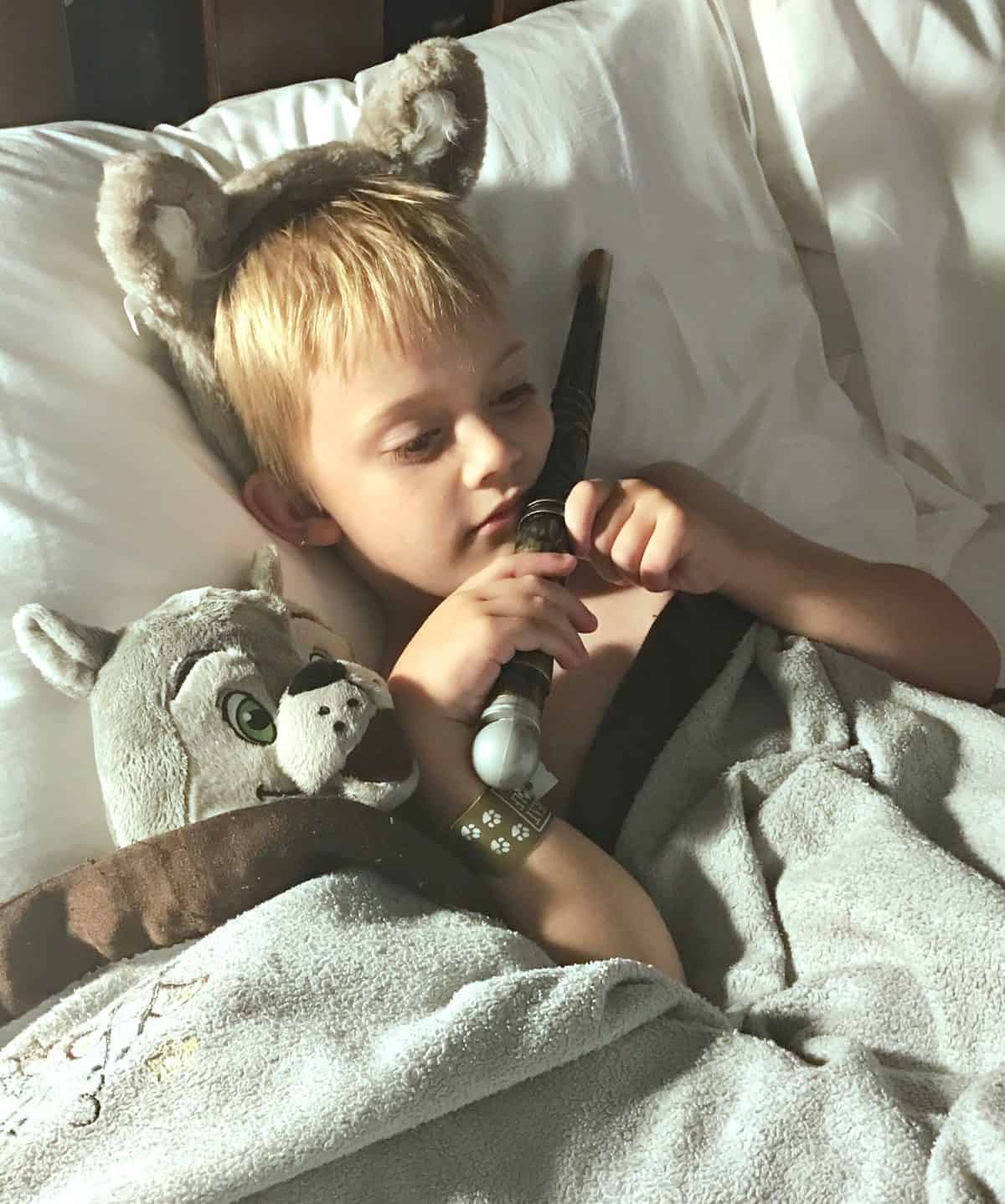 Great Wolf Lodge Activities
Great Wolf Lodge Activities include: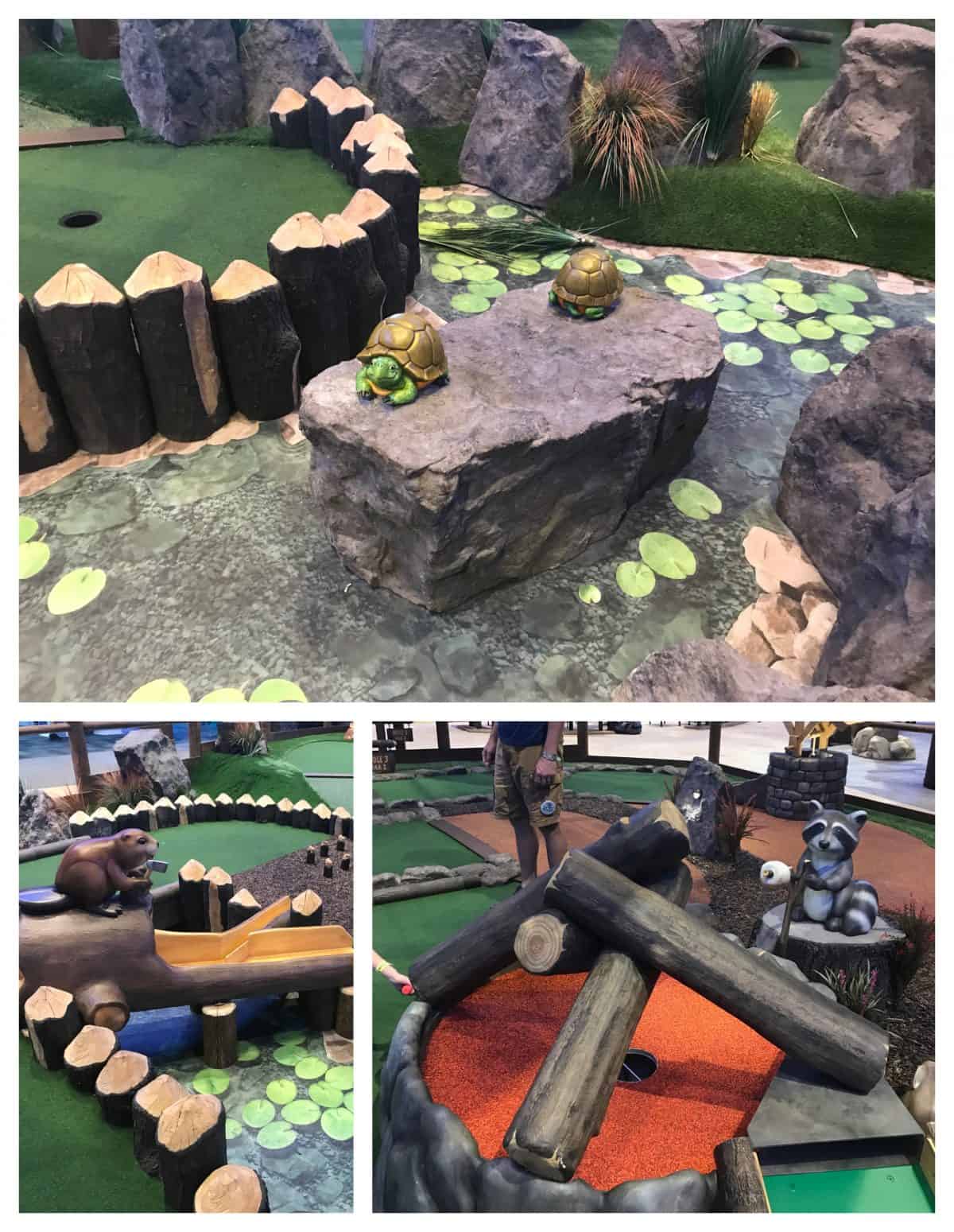 Ropes course
Arcade
MagiQuest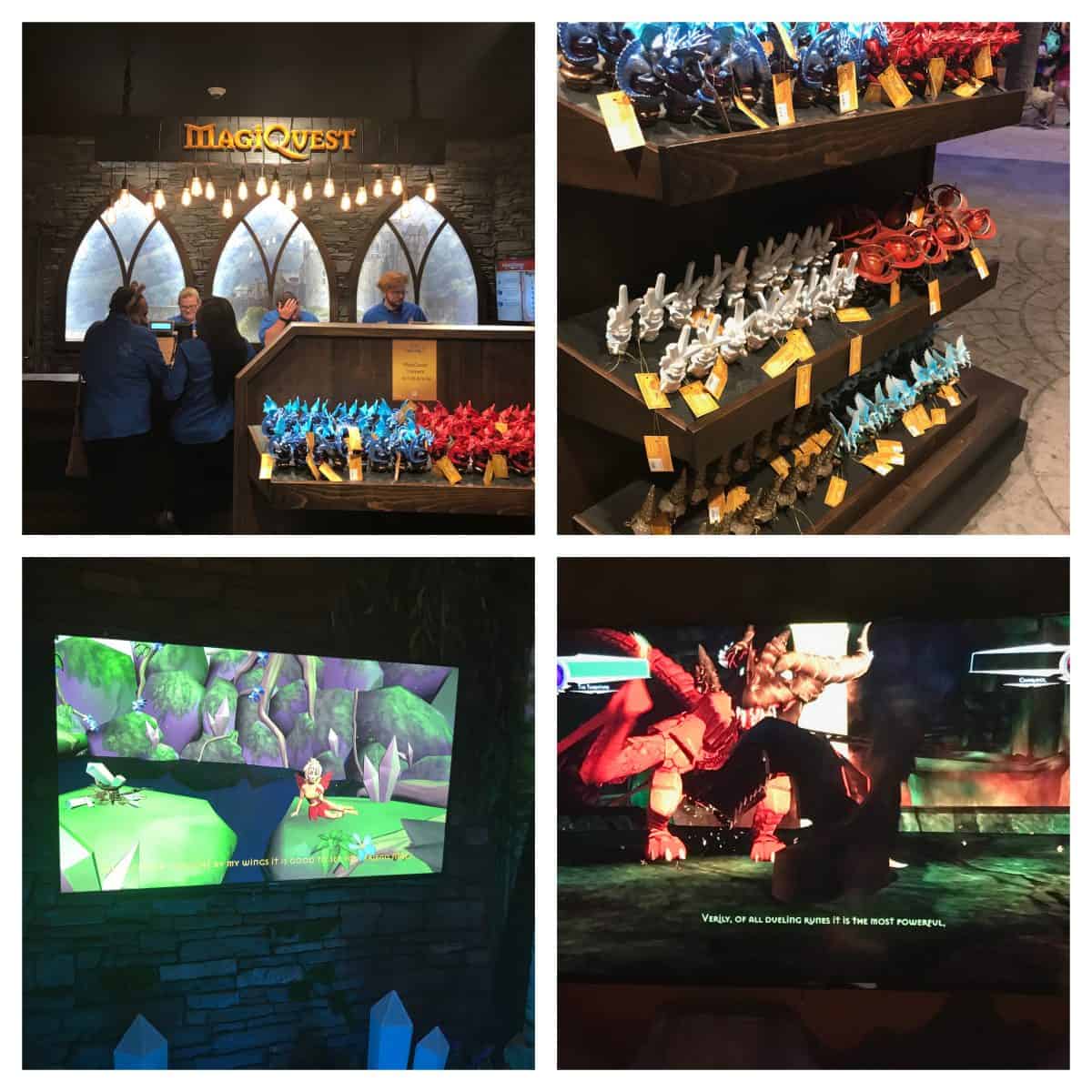 Gem Mining
Rock Climbing Wall
Camp H.O.W.L. Kids Club + Programming
Flip Flop Workshop (coming soon)
Creation Station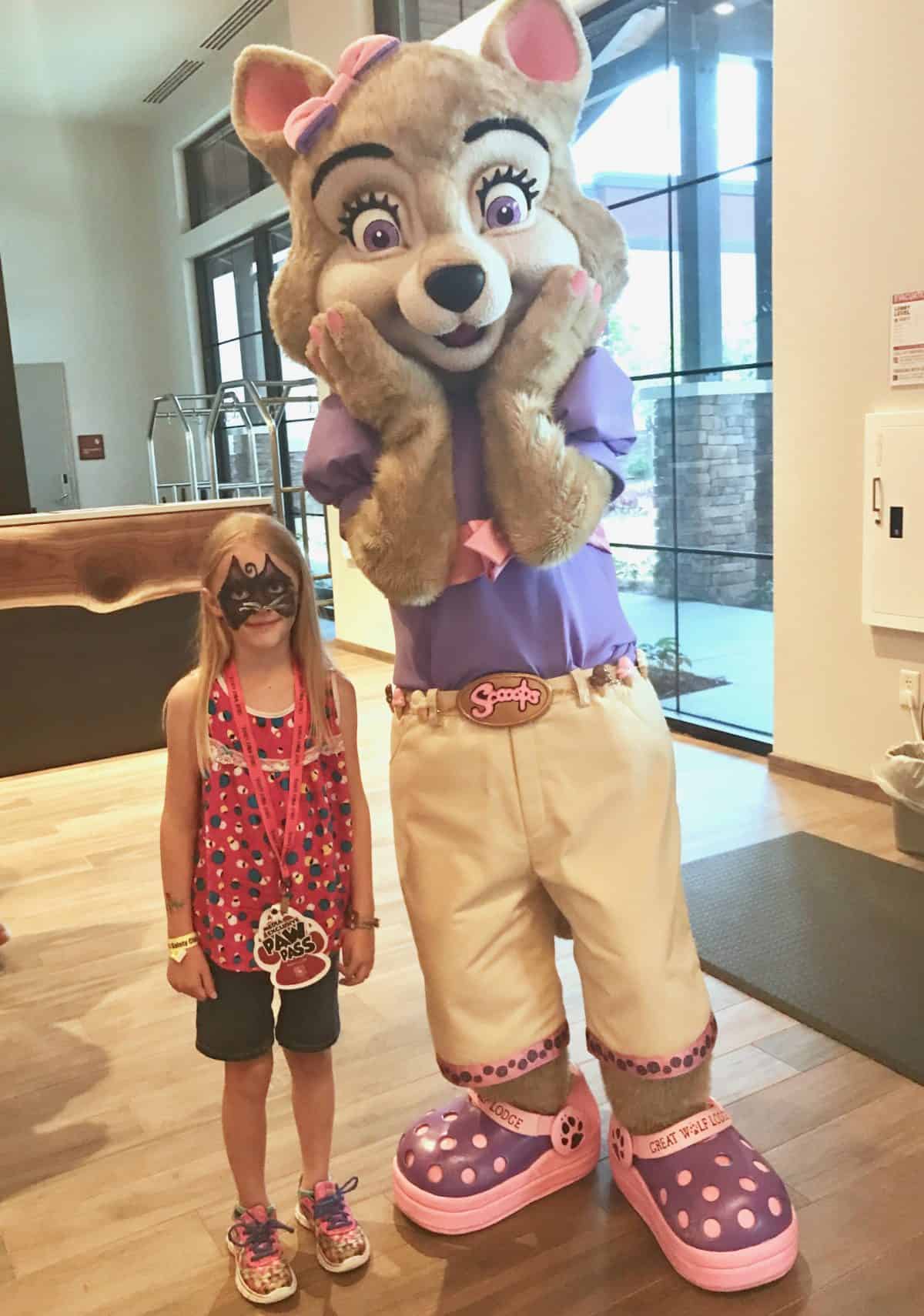 Check out the video below to get an idea of all the Great Wolf Lodge activities besides the waterpark.
Great Wolf Lodge Waterpark
While anyone is free to pay and play in the Adventure Park, the indoor waterpark and outdoor pool areas are exclusively for resort guests.
I can't tell you how much I enjoyed not applying (or constantly reapplying) sunscreen and actually being able to swim without a long-sleeved rash guard for once. The kids had zero meltdowns about bugs during this trip. We also noticed that all four of us were less tired and cranky than we would be after hours at a traditional waterpark. My guess is because we weren't being drained by the sun and heat.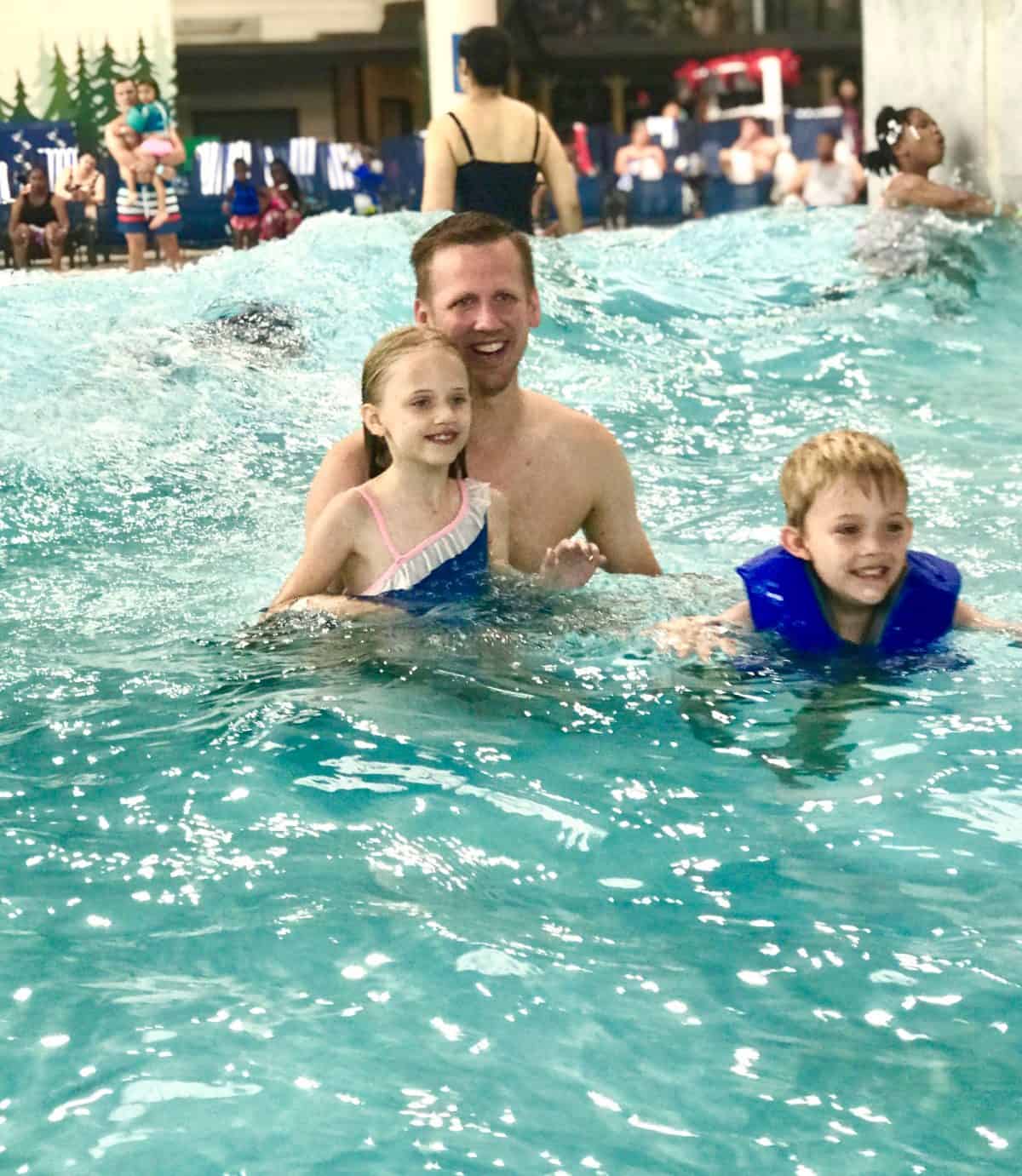 Safety Standards – Lifeguards at Great Wolf Lodge are never seated or stationary. While they are never a substitute for parental supervision, I felt like my kids had eyes on them at all times due to the number of lifeguards and their vigilance.
The first time I saw them doing "the sweep and nod" with their heads I was a little confused until I asked someone and they told me about the 10/20 rule. The 10/20 rule means a lifeguard has 10 seconds to recognize an aquatic emergency and another 20 seconds to perform a rescue and begin care. This requires a high concentration of lifeguards even in smaller areas and doesn't allow for any of them to be sitting or standing still. They've got to make sure "10/20" is possible at any given time for the area they are responsible for.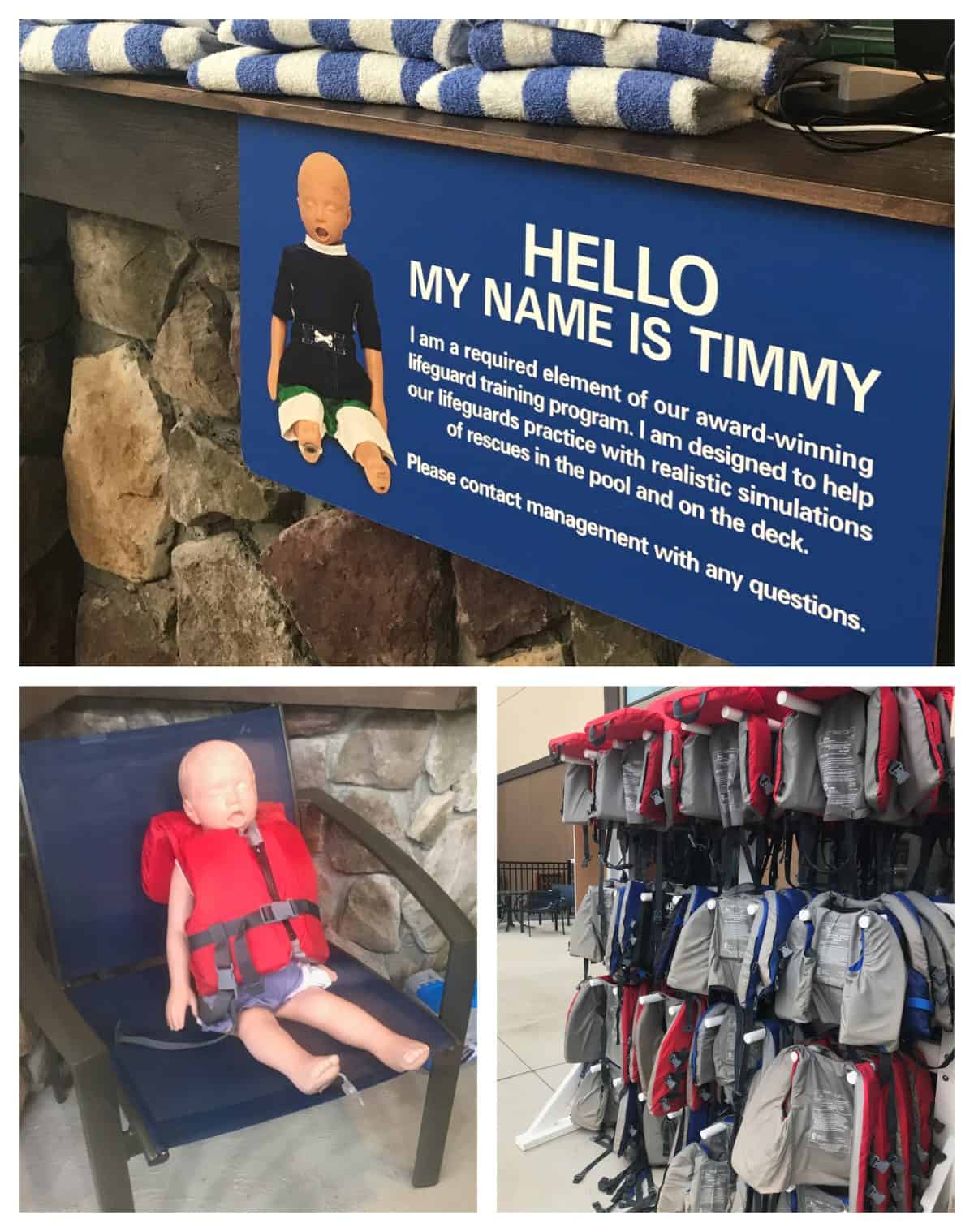 Timmy gets brought out for daily practice. Lifeguards are regularly assessed by both Great Wolf Lodge Georgia and by Ellis & Associates.
Helicopter moms like me can fully enjoy their waterpark visit knowing there are helicopter lifeguards hovering too. Love it!
Great Wolf Lodge Georgia Food
I went in with really low expectations for the food. Theme park prices and fast food quality was basically what I had in mind, but I was pleasantly surprised.
Wiley's Pizza is wood-fire baked and there are a variety of salad and pasta options as well.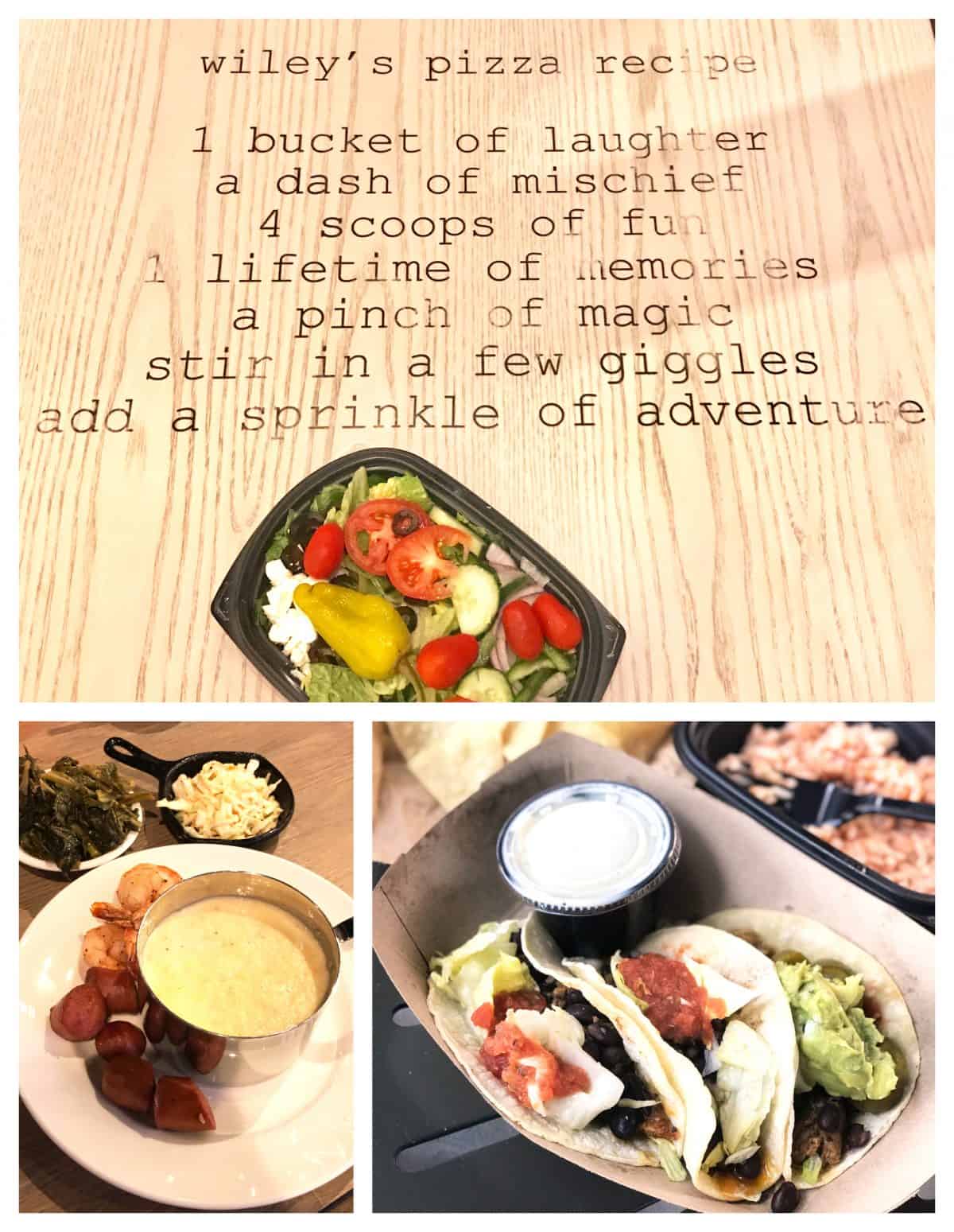 My favorite meal was dinner at Campfire Kitchen where we enjoyed Southern food at its finest. The shrimp and grits, collard greens, ribs, mac & cheese were all home-cooked and authentic.
Timbers Tacos is exclusive to the Georgia location and was a welcome option for us since Hubs is gluten-free. It's perfect to grab and go while you're in or out of the waterpark. You'll have lots of choices for meats and toppings.
Yes, prices are higher than on "the outside" due to the convenience factor. You'll pay more for donuts at their Dunkin' Donuts and more for ice cream at their Ben & Jerry's, but I didn't feel the markup was exorbitant; certainly, less than you'll pay at an amusement park.
Remember too that you are welcome to bring outside food and drink to your room or the lobby area, just not into the waterpark itself.
FAQ
How has Great Wolf Lagrange changed since COVID-19?
Great Wolf Lodge has taken so many extra measures for cleanliness and safety since reopening after the first wave of the pandemic. I actually wrote a whole post about it! Check out our experience at Great Wolf post-COVID.
Are Great Wolf Lodge reservations refundable?
The short answer is it depends on location and the type of reservations. Read up on their terms and conditions before you commit.
Is Great Wolf Lodge pet friendly?
No. Per their terms, "Guests with animals not qualifying as service animals under applicable law will be asked to check out and will forfeit their deposit. A minimum $250 cleaning charge will also be applied."
That being said I have seen service animals during our visits. Opt for a room on the ground floor with a patio so that you can easily take your service dog out for potty breaks as needed (and avoid the 257 children who will want to pet them while they are working!)
Where is Great Wolf Lodge in Georgia?
Great Wolf Lodge Georgia is located southwest of Atlanta in Lagrange, GA. Though the Atlanta metro area is the closest major city, it's definitely not in Atlanta.
This works out well for us coming over from Alabama, but plan on an hour and 45-minute drive from the heart of Atlanta to get to Great Wolf Georgia.
Hopefully, you found these Great Wolf Lodge tips helpful for your upcoming trip. The kids are already asking to go back so we just might see you there!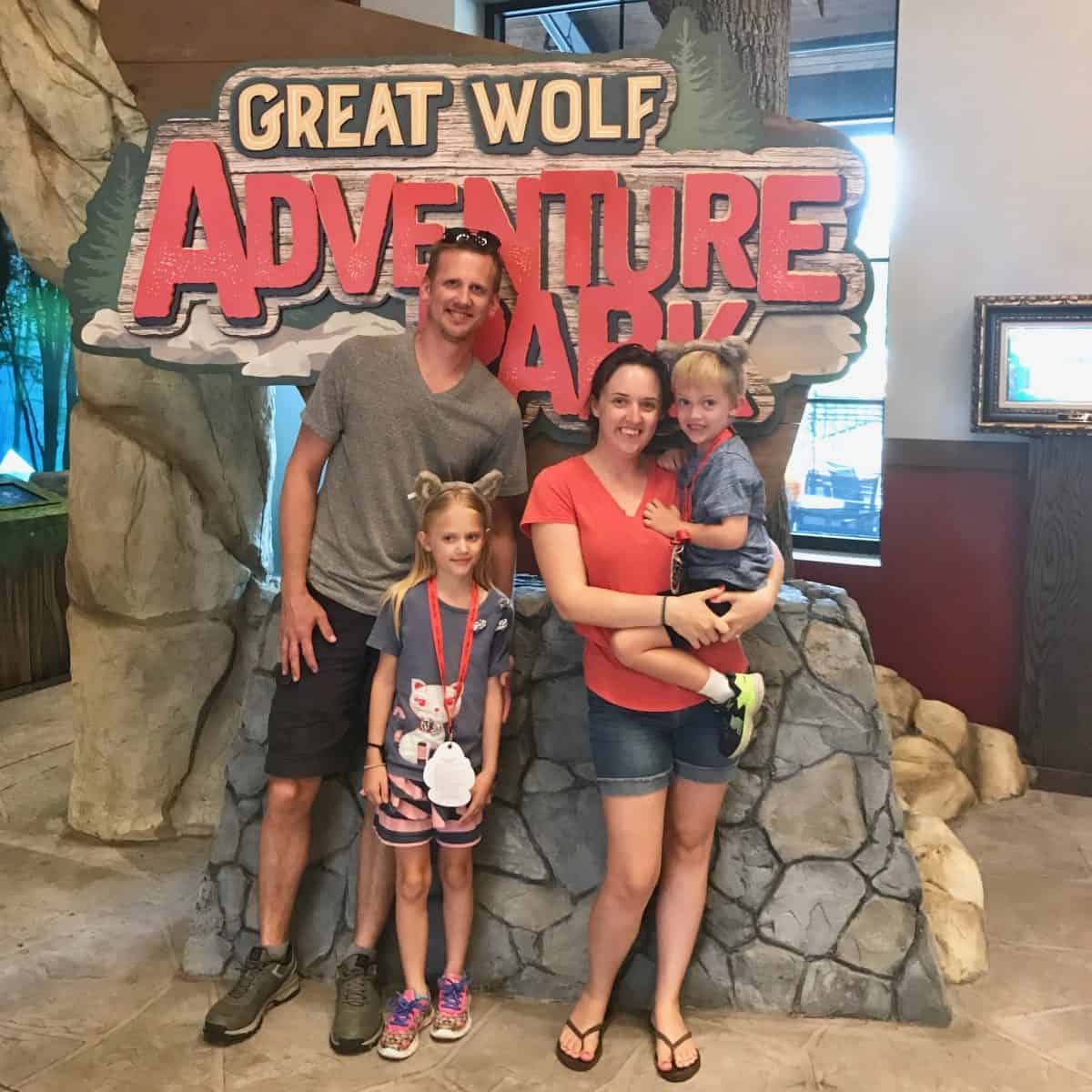 Accommodations, activities, and meals provided by Great Wolf Lodge Georgia. All opinions are my own.