Learning how to cool off in the summer heat is something every Southerner has to master in order to thrive here. Y'all will be glad to know that Schlitterbahn Waterpark Resort in New Braunfels, Texas has "chill" down to a science. Let's take a look around and go over a few tips and tricks to make the most of your visit to Schlitterbahn this summer.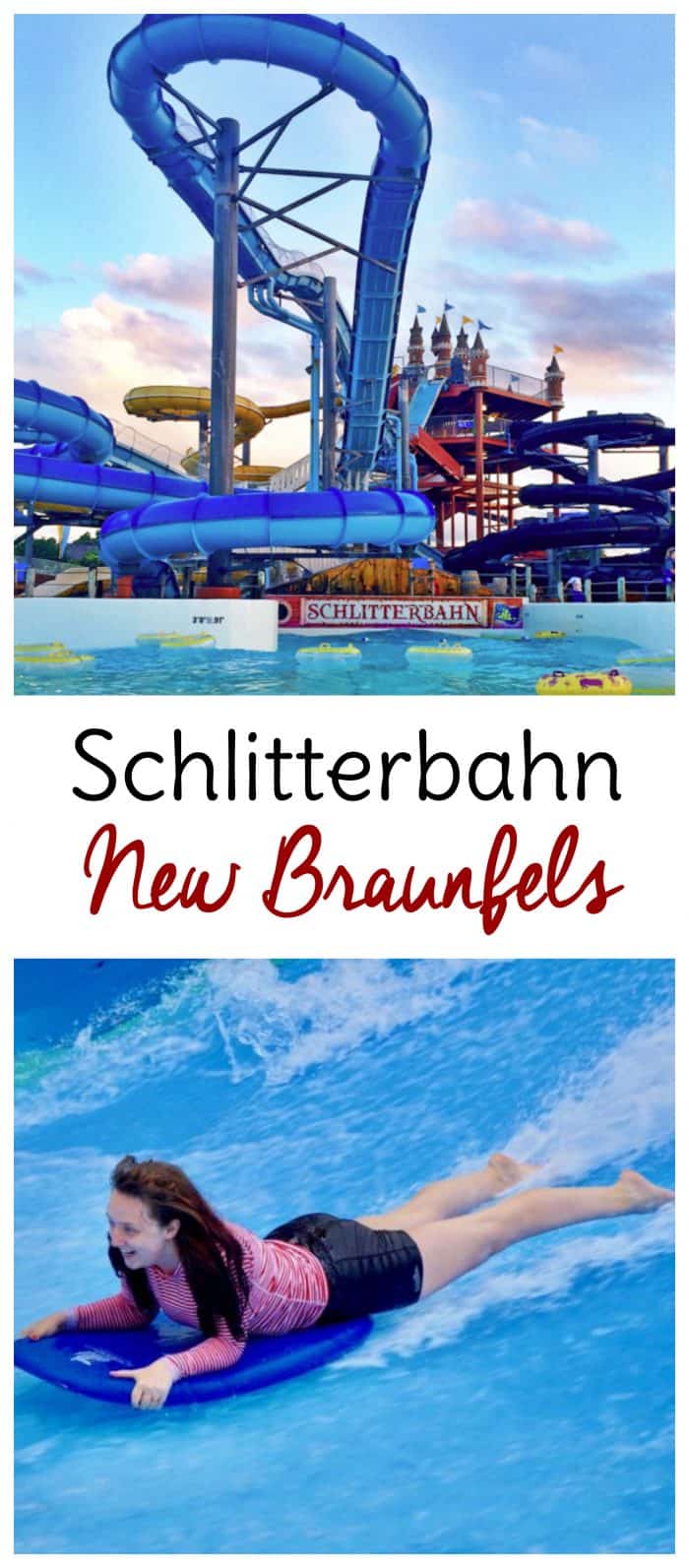 Where to Stay
Overnight resort guests are the recipients of some pretty cool perks including:
Early ride time and extended ride time
Access to certain resort pools that are open until midnight
Two-day park passes for each guest even if you only stay one night
Activities, games, s'mores, popcorn and a movie at the resort office (or Bavarian Halle in case of rain)
Plus the convenience of staying right on site can't be beaten.
Accommodations at Schlitterbahn vary in size, luxury, cost, and location. Here are a few of your options:
Original Resort at The Bahn
Condos at Boogie Bay
SchlitterStein Lofts
Riverbend Cabins – This is where I stayed. Check out my walkthrough below:


Cabins Schlitterbahn New Braunfels

Treehaus Luxury Villas – My friend stayed here and let me do a walkthrough of her Treehaus.


Schlitterbahn Treehouses
I enjoyed my stay at the cabins and loved the convenience of being able to go straight to my room to use the bathroom or just take a little rest. I floated by my cabin several times on the Kristal River. That's how close an convenient they are! Plus, for those evenings when you're not ready for the fun to end, the Bamboozle Bay heated pool is just a short walk from your door and open until 10:00.
What to Eat
One of these for sure…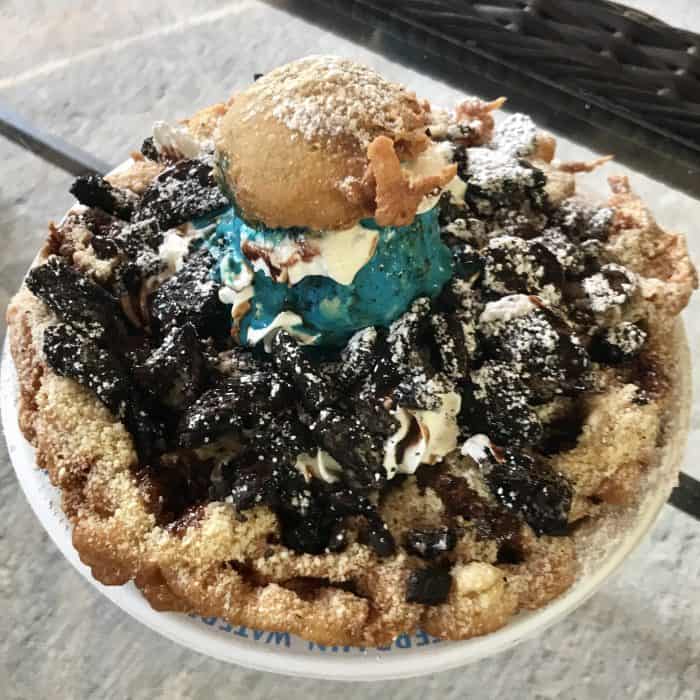 The Cookie Blaster is a funnel cake with chocolate syrup, Oreos, whipped cream & blue ice cream, topped with a fried Oreo and powdered sugar. Don't miss out! It's big enough to share with 5-6 people.
There are healthier options of course like this chicken finger salad (you can get the chicken grilled. I just didn't. Hush.)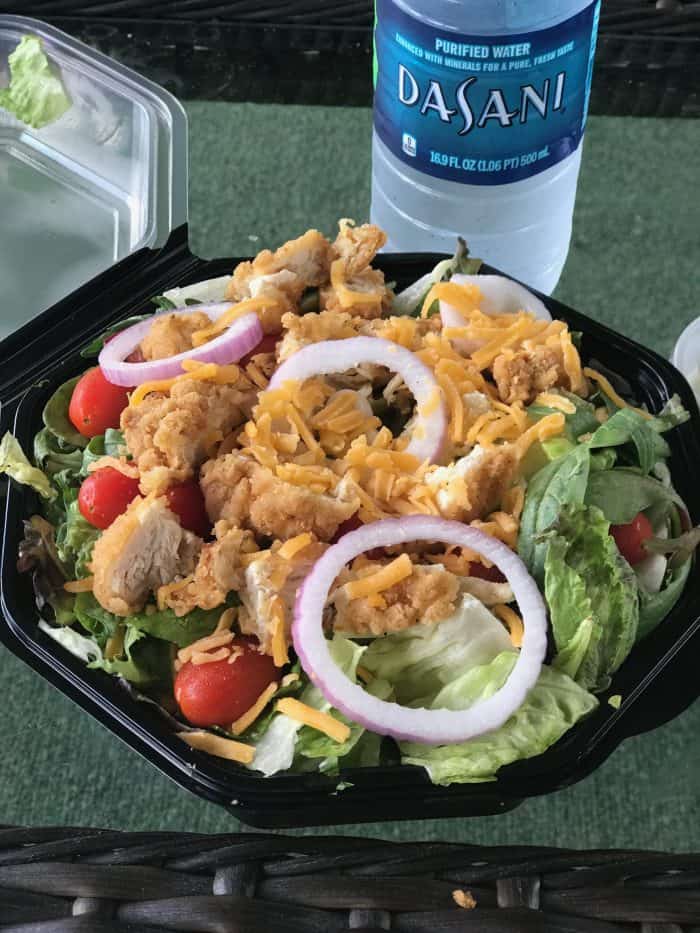 Of course, there's a wide variety in-between the extremes of deep-fried cake and salad. Choose from pizza, burgers, chicken tenders, BBQ, roast meats and more.
What to Do
West Section
With 51 rivers, rides, slides, and chutes, Schlitterbahn has something for everyone in your group from toddlers to thrill-seekers. The New Braunfels location is divided into East and West sections. Many of the water attractions in the Original Schlitterbahn (West section) uses spring-fed water from the bordering Comal River. Don't miss:
Congo River Expedition – My personal favorite because I love theming.

Raging River Tube Chute – You'll get 45 minutes to lounge in your tube in this not-so-lazy-river!
Hillside Tube Chute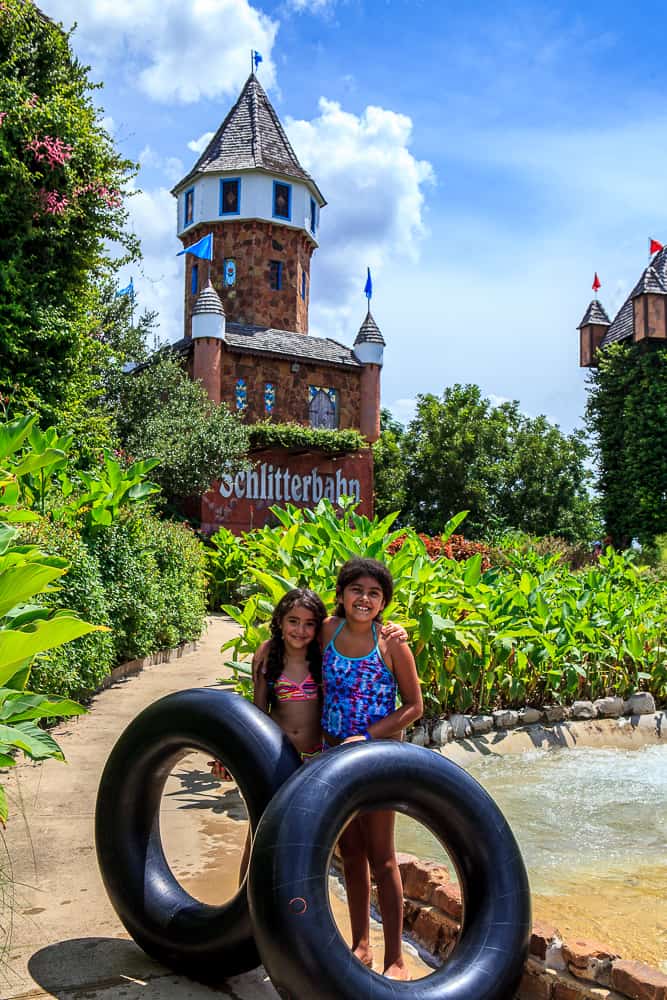 If the Comal River spring water gets a little too brisk for you, hop into the heated pool with swim-up bar to warm up.
East Section
A tram can take you to the East Section when you're ready where you'll find a few more of my personal favorite attractions like:
Dragon's Revenge – Fun, but not as wild as Master Blaster. Again, I just love the theming and special effects.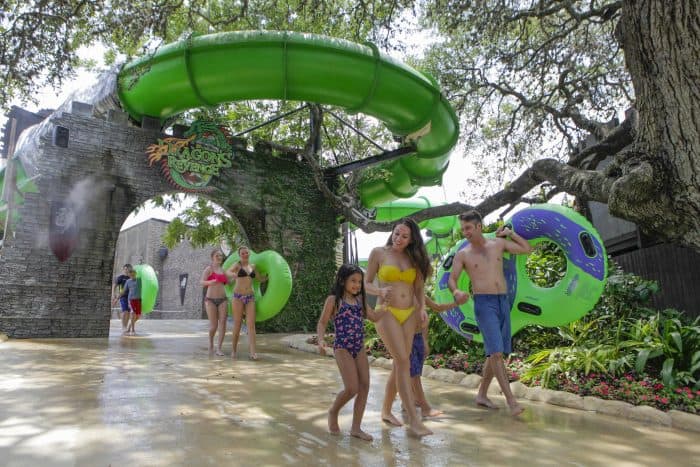 Wolf Pack – Up to three people can ride together on this exciting tube slide.
Torrent River – This is a great place to hang out and "wait in line" if you're using Blast Pass. More on that later. I really like this mashup of lazy river and wave pool. You can relax, but don't have to worry about getting stuck since a wave will come along and help everyone out.
Dark Knight – The darkness brings up the thrill factor for this enclosed tube slide.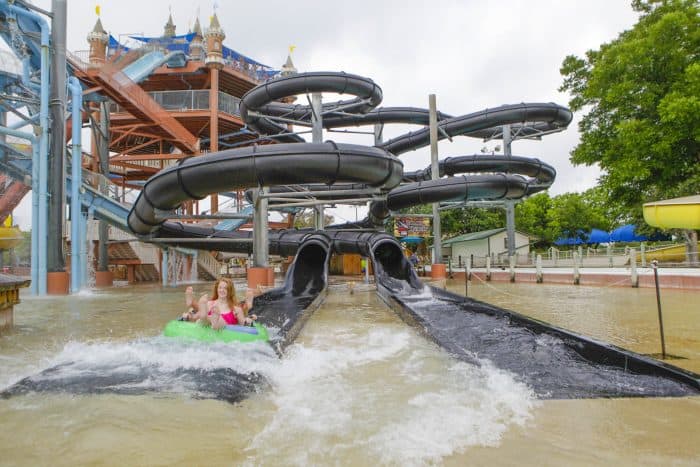 Master Blaster – Similar to Dragon's Revenge but a little more intense thanks to that 3-story plunge! It's been voted best water ride in the US multiple times. I loved it enough to ride twice.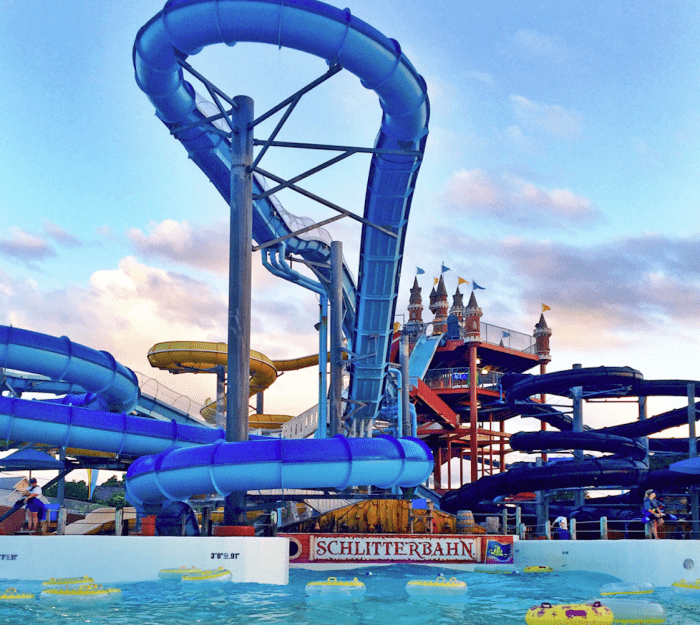 Check out some of these attractions in my video below:
Both east and west sections have plenty for babies and toddlers in case your wondering about bringing the littlest members of your family. Don't forget to meet Schatze!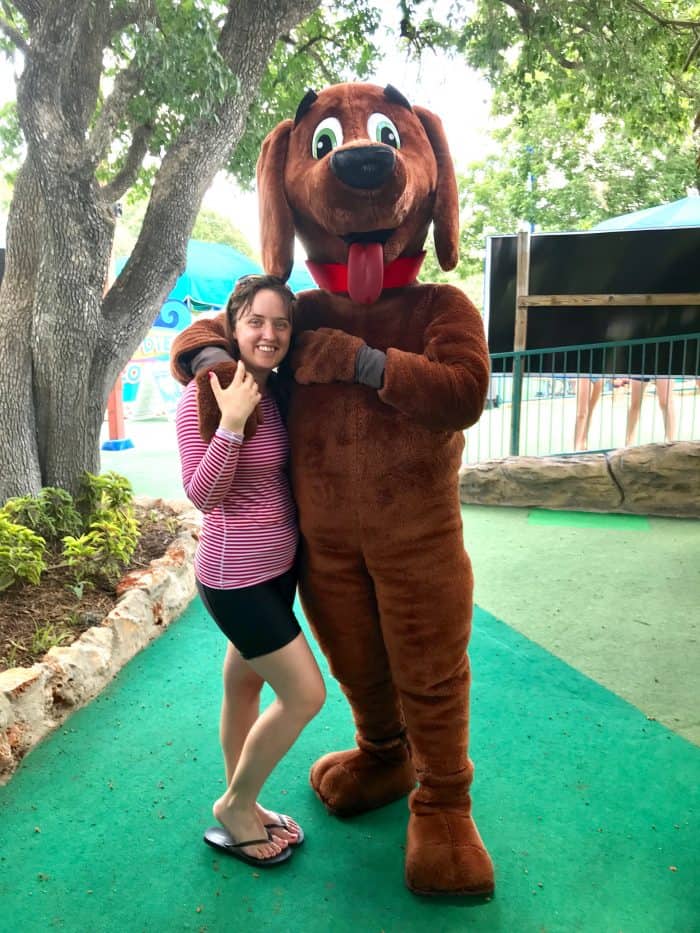 Schlitterbahn isn't ranked the #1 Kid-Friendly destination in the state of Texas without good reason. Check out some of the Schlitterbahn New Braunfels attractions just for kids in the video below.
Schlitterbahn New Braunfels Attractions for Kids
How to Save
Schlitterbahn Waterpark already provides excellent value considering:
Parking is free
You can bring outside food and drinks in a cooler and picnic for meals (no alcohol or glass)
Kids 2 and under are admitted free
There are changing rooms and showers provided for guests
Complimentary life jackets are available for kids and adults
Save even more by purchasing tickets online rather than at the gate, taking advantage of the group rate if you have a large party, or considering a season pass.
Being nickeled and dimed once you've paid admission is no fun, and unless you just want to pay for extras you don't have to. Love this built-in value!
Where to Splurge
Speaking of extras, here are a few you might want to consider.
Private Cabahnas – This will be your happy place, especially if you're traveling with kids. Take a time-out with lounge chairs, a mini fridge, electrical outlets for charging your phone, and the TV.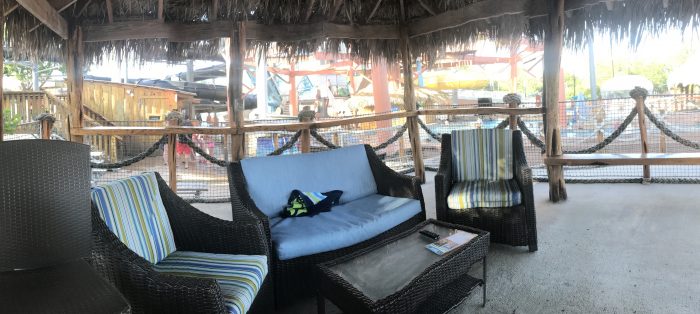 You can order food directly from your Cabahna attendant and have it brought to you.
Blast Pass – Blast Pass is a ride reservation system that allows you to queue up for rides electronically while you enjoy other attractions. There's nothing quite like "being in line" while you're floating around all chilled out in your tube. Click the link for all the details and to make an informed decision about whether Blast Pass is needful for your visit.
If you're only getting a day at Schlitterbahn or if your visit will fall during the busiest season on the busiest of days (weekends) then you'll want to consider Blass Pass for sure.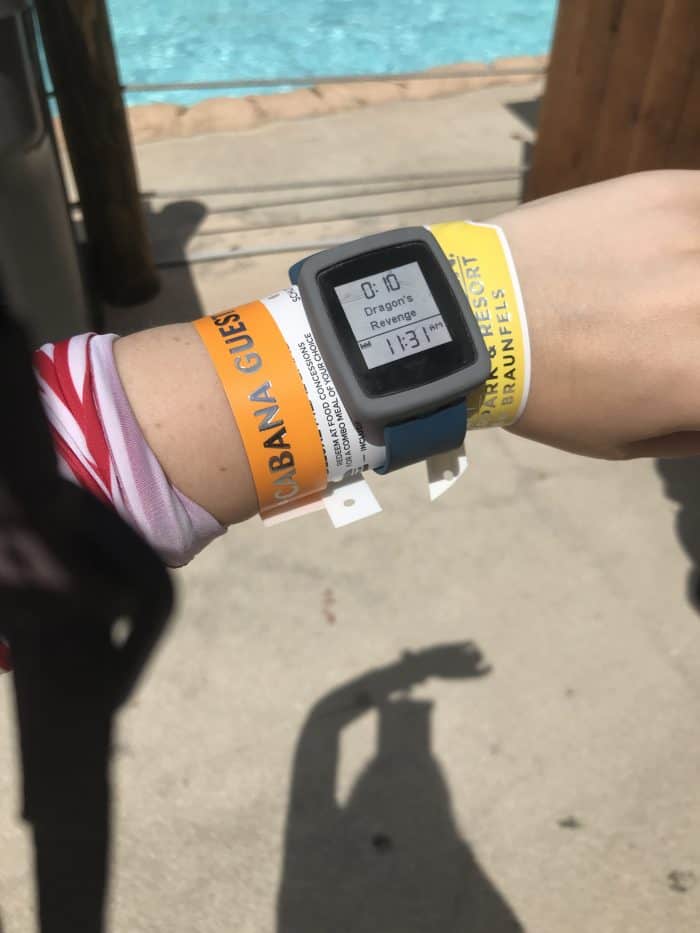 Boogie Bahn Lessons – What a difference a lesson makes in your ability to ride ad enjoy the Boogie Bahn! I didn't wipe out once. Boogie Bahn lessons are available for an extra fee to resort guests before the park opens to the public and will definitely enhance your experience.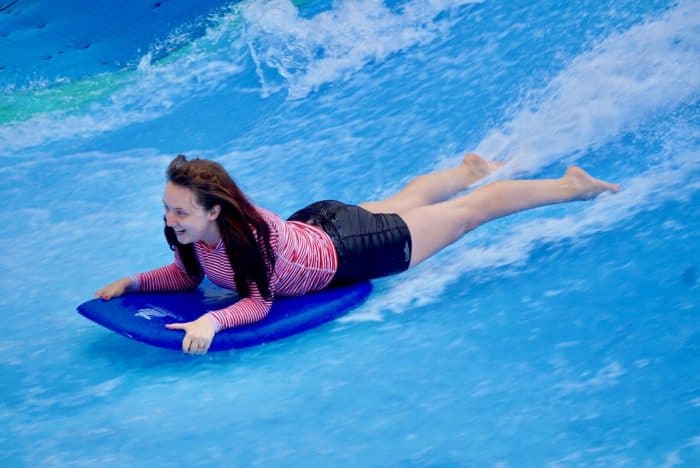 Skycoaster – If watching my ride doesn't give you sweaty palms, you're braver than me! I'd totally do it again though. Time has made me brave! The Skycoaster is exclusive to the New Braunfels location.
Schlitterbahn New Braunfels Skycoaster Ride
Obviously, I didn't cover all 51+ attractions at Schlitterbahn New Braunfels. Hopefully that makes you want to visit in person to experience it all!
Travel, accommodations, and attractions were provided by Schlitterbahn. All opinions are my own.