I decided to use my new Crock Pot to bring back a favorite taste from childhood, and I'm really happy with how my Crock Pot Pepper Steak turned out!
One of my fondest memories as a kid was visiting our neighborhood Chinese restaurant each Sunday for lunch. Creature of habit that I am, I ordered the same meal each week: green pepper steak.

I still remember that the menu item number for green pepper steak was L17. (But if you ask me for a date of birth for either kid, I have to think about it for a minute. Brains are funny things.)
Crock-Pot SCBAG Travel Bag for 7-Quart Slow Cookers, Black
Reynolds Slow Cooker Liners, 4-Count (Pack of 12)
This Green Pepper Steak recipe calls for sirloin. However, nearly any lean or well-trimmed cut of beef will do. I have a pretty strict food budget, so I often plan my meals around the yellow-tagged meats I find on the "reduced for quick sale" rack. Since sirloin is a versatile and popular cut, it rarely makes its way onto that particular shelf. If you're on a budget, a replacement cut can help save you money.
Choosing Beef for Pepper Steak
Here are some things you need to keep in mind when choosing meat other than sirloin for this dish.
Sirloin is a cut of beef that comes from roughly the upper middle portion of the cow. This is a muscle group that produces more tender cuts of meat, since it doesn't get much exercise (After all, when was the last time you saw a cow using a row machine at the gym?).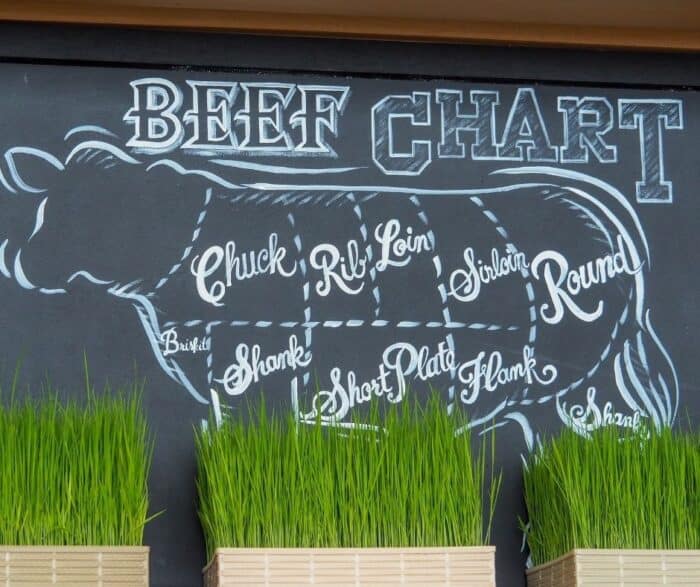 The problem with using more budget-friendly meats in some recipes is that they're taken from muscle groups that get a lot of use, such as those attached to the front and rear legs.
Cows do a lot of walking over the course of their day, and while all of this exercise is great for the cow, it creates a piece of meat that can be tough and challenging to cook well.
I still vividly remember one Christmas when my oldest was three. She dearly wanted to eat her piece of chocolate pie, but I told her she had to try a bite of her steak first.
At the time, I had very little knowledge of how to cook beef, and this poor child spent over ten minutes just trying to work that bite down before I took pity on her and let her spit it out. That was a memorable meal, but not for the reasons I would like!
Stories like these lead many inexperienced cooks to choose not to utilize these cuts with the mistaken belief that they aren't worth the effort needed to cook them correctly.
They couldn't be more wrong, though, as this budget beef can actually be just as, if not more flavorful than their more expensive counterparts (especially if they still have the bone attached. Yum!). You just need to know how to cook them.
Cooking Pepper Steak in a Slow Cooker
Sirloin cooked in a slow cooker will come out tender and delicious and a CrockPot is perfect for cooking tougher (and usually cheaper) cuts of meat such as shank, bottom round, and brisket. This is because its low heat and long cooking time slowly break down the connective tissue in these cuts.
This is similar to the tenderizing process that you get when braising a roast on the stove top, but is magnified by the longer cook time. This is also why, in some recipes, it's better to use the "low" option on your slow cooker rather than the "high" one
(It's actually good practice to choose your cooking time and temperature based on the meat you are using. If you're worried about your other ingredients turning to mush, you can always add them later on in the cooking process. Just set an alarm on your phone so you don't forget!).
When it comes to beef, moisture is the name of the game. Cooking less-expensive cuts of meat in your CrockPot means that you can have juicy, flavorful meals even when you're strapped for cash. That, my friends, makes this recipe a real winner in my book!
My Crock Pot makes it so easy to use fresh ingredients to get dinner on the table with minimal hassle. That's a huge priority in my life right now with kids, work, etc. If you're reading this, you probably are in a similar boat.
I love the features of my newest Crock Pot. Check them out!
Easy-Grip Handle For Single-Hand Carrying
Countdown Digital Timer
Convenient WARM setting
Removable Stoneware
Cord Management Keeps your cord securely wrapped for transporting
Secure-Fit Locking Lid
Dishwasher-safe stoneware and glass lid
Serves 7+ people
6-quart capacity
The locking lid and single hand carry handle are my favorite features. It's very sturdy and you can tell the lid isn't going anywhere. Perfect for taking to potlucks or bringing meals on the go.
Of course, this Crock Pot pepper steak recipe will work in whatever slow cooker you currently have in your kitchen, even if it's one from the '80s passed down from your mom (I can see those cute country geese with blue ribbons encircling it now.). However, now that I've switched to this model I'm really liking it because of the locking lid feature.
Have you ever noticed that while your Crock-pot is cooking, there is a thin ring of water between the lid and the rim of the pot itself? Believe it or not, that little ring of water helps your food to stay moist!
It does this by creating a seal that prevents water and aerosolized fats from escaping the pot and evaporating onto your countertop and cabinet doors (Yeah. That's where that sticky film comes from.). Instead, it gathers on the lid and sides and drips back down onto the delicacies inside.
You can see similar action with the little teeth on the underside of the lid of your favorite cast-iron Dutch oven.
Crock Pot Pepper Steak Ingredients
thin-sliced sirloin steak beef strips (or a budget cut chosen based on the guidelines above)
sliced green bell peppers
sliced fresh mushrooms
sliced onion (white or red)
soy sauce
sesame oil
minced garlic
freshly grated ginger
crushed red pepper
How to Make CrockPot Pepper Steak
*Optional – use a slow cooker liner before adding your ingredients to the Crockpot in order to make cleanup a cinch!
The first thing that you're going to want to do is trim your piece of meat of any large pieces of fat.
Fat brings flavor, but in the Crock-pot, too much of it can turn your "braise" into soup.
Eek! Soups are great, but it's not what we're going for here.
After you're done trimming, slice your steak into beef strips- much like you see in restaurant stir-fry. I'd keep them at about ¼"-1/2" thick. Remember, they'll shrink a bit as they cook
Cut your green peppers and onions in the same way (I prefer a sweet onion for this recipe. They just take on such a delicious, caramel flavor!).
I like my veggies to stay a little more on the firm side for meals like this, so I tend to make my strips a little wider than the ones I made with the meat.
This helps to keep them from turning to mush while they're bathing in all that delicious beef juice.
Add the first four ingredients to the Crock Pot
In a small bowl, mix together the remaining ingredients to create a sauce – This is actually a very versatile recipe. The one I've chosen is seasoned with more traditional ingredients, but you could change it up according to your own tastes. Some other versions I've tried included toasted sesame seeds, honey, lime, lemongrass, or even peanut butter if you'd like a little bit of Thai flair for your supper!
For this particular sauce, though, you'll want to gather up soy sauce, minced garlic, sesame oil, crushed red pepper, and ginger (Fresh is best, but ginger paste works, too!)
Pour the sauce over top of meat and vegetable mixture
Cook on low for 6-8 hours (or whenever the meat and veggies are done to your liking),
Serve over white rice if you aren't watching your carbs. (Learn how to use a rice cooker to make amazing sticky rice every time.) If you're watching your carb intake, it's also tasty in a low-carb wrap or even rolled into your favorite leafy green. It's absolutely satisfying no matter how you choose to eat it.
Yield: 4
Slow Cooker Pepper Steak
This Crockpot pepper steak makes a nutritious, easy dinner recipe for busy weeknights. Serve it over brown or white rice for a complete meal.

Prep Time 15 minutes

Cook Time 6 hours

Total Time 6 hours 15 minutes
Ingredients
1lb thin sliced sirloin steak
1 thinly sliced green pepper
1 cup sliced fresh mushrooms
1 thinly sliced onion (white or red)
1/4 cup soy sauce
1Tbsp sesame oil
1 clove minced garlic
1 tsp fresh grated ginger
1/2 tsp crushed red pepper
Instructions
Add first four ingredient to the Slow Cooker
In a small bowl, mix together remaining ingredients
Pour over top of meat and vegetable mixture
Cook on low for 6-8 hours
Serve over rice
Recommended Products
As an Amazon Associate and member of other affiliate programs, I earn from qualifying purchases.
Nutrition Information
Yield
4
Serving Size
1
Amount Per Serving Calories 345Total Fat 20gSaturated Fat 7gTrans Fat 0gUnsaturated Fat 10gCholesterol 104mgSodium 726mgCarbohydrates 8gFiber 2gSugar 3gProtein 33g

Why does my family need to eat dinner every single night, right? Whether you cook for the joy of it or out of pure necessity, this slow cooker pepper steak recipe will satisfy hungry tummies without sacrificing on taste. It's easy to make and one of my favorite ways to save time on busy weeknights.
Steak fans, check out this chuck eye steak recipe too and you'll be glad you did, especially if you love budget beef cuts.
Serve your delicious Crock Pot Pepper Steak with Chinese Green Beans for a Chinese-style meal that's heavy on the veggies.