These homemade rainbow bath bombs for kids to make have toy surprises inside! Inspired by a homemade Lush bath bombs recipe, these relaxing bath bombs for kids use essential oils to help kids calm down before bedtime. These are easy homemade bath bombs kids will enjoy creating with you!

So how do you make a homemade bath bomb? I used a homemade Lush bath bombs recipe with just a couple of modifications.
Homemade Rainbow Bath Bombs for Kids
You will need: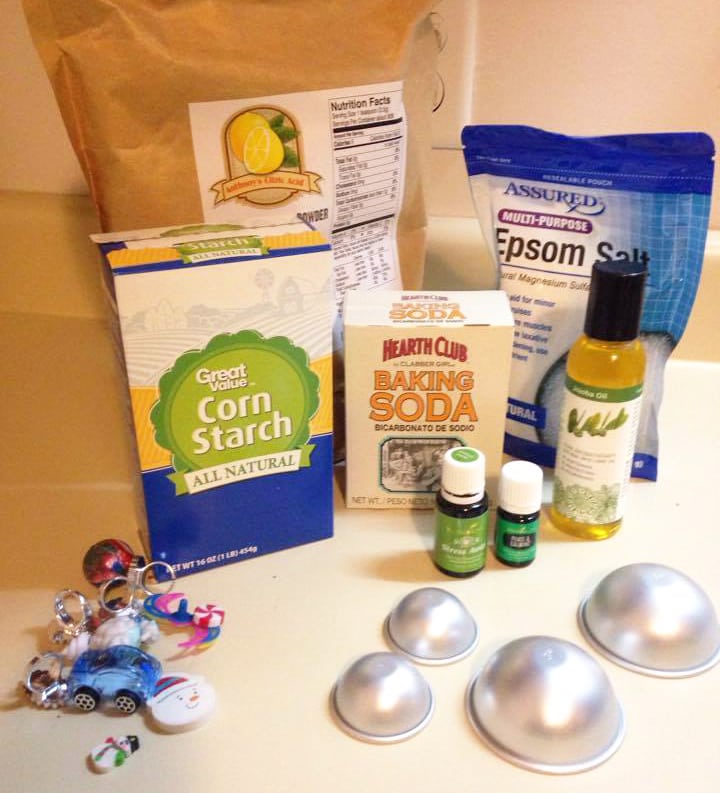 1 cup baking soda
1/2 cup citric acid – It's much cheaper to buy citric acid on Amazon than to get it in the canning section of the grocery store! Plus you can buy in bulk and make a lot more of these fun bath bombs with toys inside.
Citric Acid to Make Homemade Bath Bomb
1/2 cup Epsom salts
1/2 cup cornstarch
1 tsp. water
2 tsp. Young Living Essential Oil (use Stress Away, Lavender or Peace and Calming for relaxing bath bombs for kids)
1.5 Tbsp oil (jojoba, olive, grapeseed, etc)
Food coloring
Small toys that won't be ruined in water
Bath bomb mold –  You can get two molds for $6.99 with Amazon Prime or one mold for .86 cents and .22 cents shipping through AliExpress. Allow a month of travel time from China and enjoy the exact same product while cutting out the middle man. That's what I did since I wasn't in a rush to make homemade bath bomb. AliExpress can be hit or miss, but the one pictured below came through for me just fine. (All the junk I buy on AliExpress is a different post for a different day. Stay tuned!)
Metal Bath Bomb Mold – DIY – Make Lush Bath Bombs – 2 Molds (4 pieces) – 2.56
Bath Bomb Mold for easy homemade bath bombs 65 mm
Now that you have all your supplies gathered, it's time to get started on these easy homemade bath bombs.
Step 1 – Mix dry ingredients together in a medium bowl
Step 2 – Mix wet ingredients (except food coloring) in a separate bowl
Step 3 – Whisk wet ingredient mix into dry sloooooowly. I mean 1-2 drops at a time here. Otherwise your DIY essential oil bath bombs will fizz out before their time. When you're done, the mixture should hold together when you squeeze it, much like damp sand.
Step 4 – Divide mixture into 6 separate bowls for homemade rainbow bath bombs, tinting each one a different color. If you are making them one solid color, you can skip this step.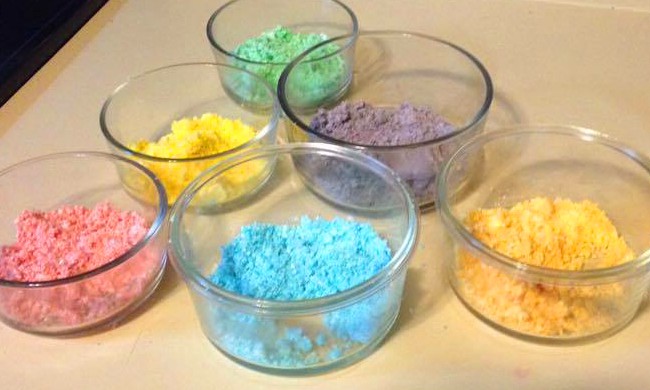 Step 5 – Start tightly packing one half of your bath bomb mold. I put red, orange, and yellow in one half (in that order) then squished a toy inside. Then I overpacked it a little so it would squish nicely with the other side.
Step 6 – Pack the other half of the mold with purple, blue, and green (in that order.) You'll need to overpack this side a little bit too.
Step 7 – Place both halves of the mold together and press tightly.
Step 8 – Remove each side of the mold one at a time and you've got rocking homemade rainbow bath bombs with toys inside!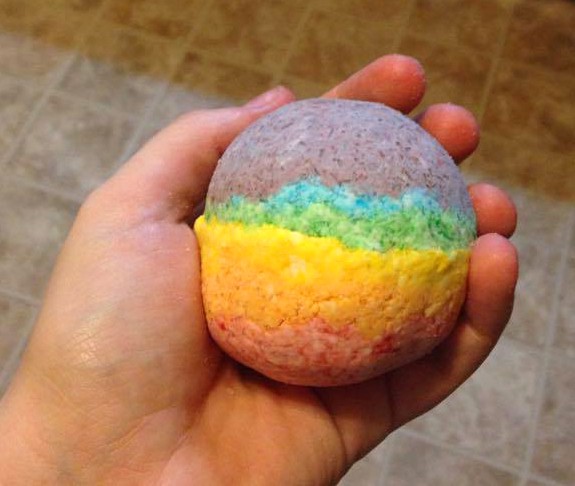 Step 9 – Allow to dry. If you are packing them to give away, allow to dry at least 48 hours before you package them. These are homemade bath bombs kids will want to use right away (especially if they helped you make them!) so it's also find just to toss one in the tub before it's dry. It will still fizz up nicely and deliver their toy.
I was really surprise that this homemade Lush bath bombs recipe only yielded three bombs so double or triple the recipe if you need more. I had a tiny bit left over and used my little 45mm mold that I also got on AliExpress to make a mini bath bomb with all the leftovers. I think it looks a like sherbet and may try to do another easy homemade bath bombs post – ice cream style.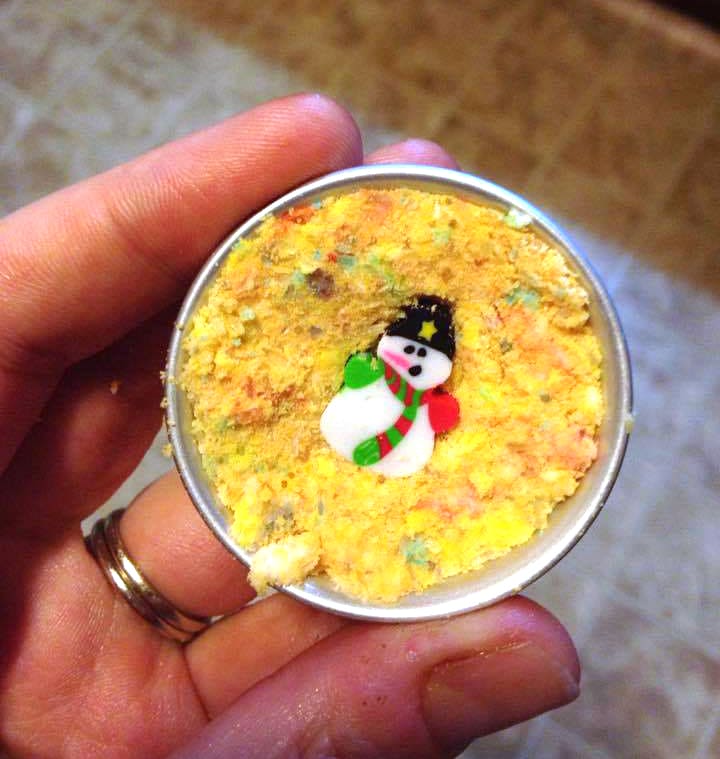 Now you can make homemade bath bomb surprises for gifts or party favors too! Don't feel like going to the trouble of making your own homemade bath bomb? There are some really cool options from sellers on Etsy.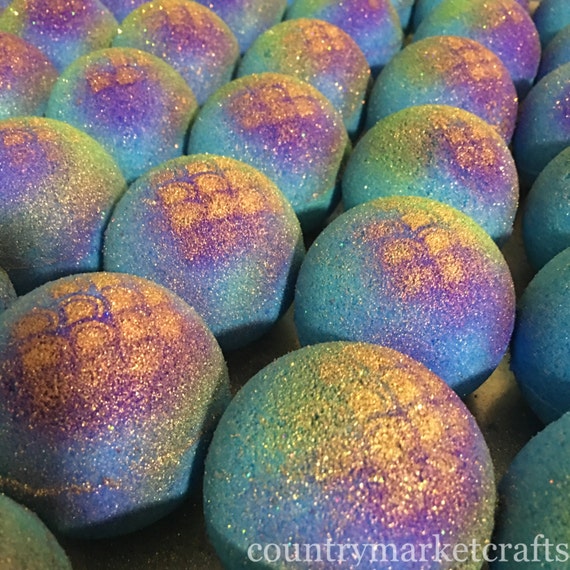 Mermaid Bath Bombs for Kids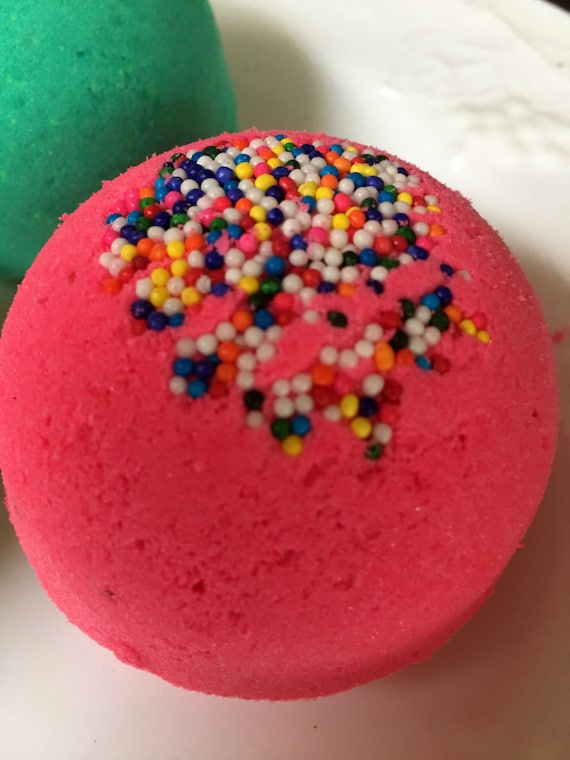 Birthday Cake Bath Bomb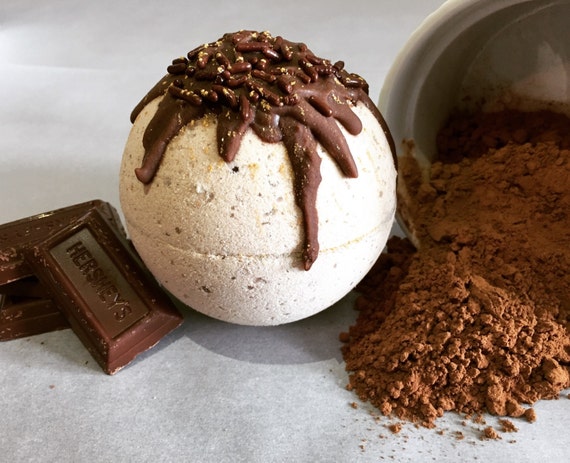 Creamy Chocolate Butter Bomb