This post was Sponsored by M&M'S®
It's football season and whether you have kids playing on youth teams, you're anticipating college football, or you can't wait to cheer for your favorite pro team, one thing you're probably looking forward to is football parties. I know I love the food and snacks just as much as game day itself! The dips, the finger foods, the sweet treats….ahh.
If you're the one in charge of party planning or tailgating, stop by CVS and pick up some bags of limited edition M&M'S® Brand Game Day Mix for a sweet treat for your gathering. They are available exclusively at CVS and only while supplies last. Hurry because you won't want to miss out on the cool factor of these special M&M'S®!
Here's how to make some fun and free printable football party favor boxes to hold your M&M'S® Brand Game Day Mix.
Free Printable Football Party Favor Boxes

Fun right? The little helmets with "m" on them are my favorite.
You will need:
Directions
Print the template below onto card stock. Two boxes will fit onto each 8.5X11″ sheet. Cut out along edged making sure not to cut the dotted lines.
Next, score along the dotted lines. If you don't have a scorer, you can get the job done with a butter knife and something flat and soft like a mouse pad or yoga mat. Place the cut-out on top of your soft surface of choice and run the butter knife along the dotted lines until well creased.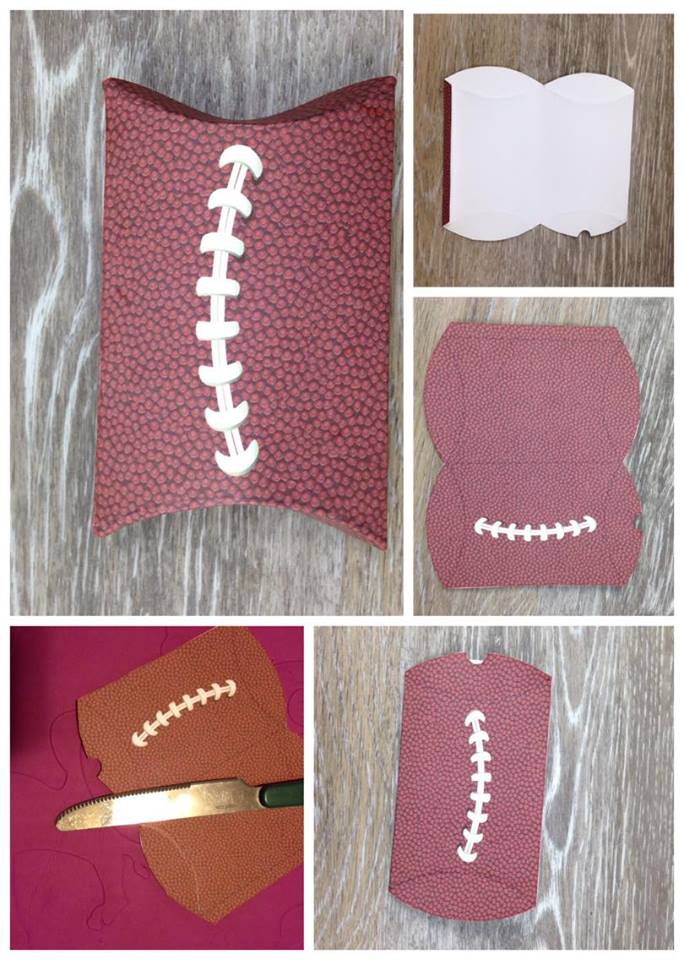 Now fold the line on the side of the print-out that does not have the lacing along the dotted line as pictured top right above. This creates a glue tab.
Fold the box in half down the middle and glue the opposite edge to the tab. Make sure the tab is inside the box before you use the craft glue to glue it down. Allow to dry.
Once completely dry, fold the two box flaps in at each end of the box. This should be a simple task if you've scored it properly. If it's too hard, try scoring it a little more and using your fingers to place them in the right position.
You can fill the boxes with M&M'S® Brand Game Day Mix and place them on your table as a party decoration or use them as party favors for your guests to take home. They make great little treat bags for your guests or they can serve as a way to divide out portion sizes. How cute are the limited edition icons mixed in with the traditional "m" we know and love?
Will you make separate M&M'S® Brand Peanut Chocolate Candies Game Day Mix favor boxes and M&M'S® Brand Milk Chocolate Candies Game Day Mix favor boxes or will you mix it up and combine both varieties in one box? Swing by CVS for any last ­minute tailgating needs and most important of all, remember to enjoy the game!