This post is sponsored by Disney Book Group. All opinions are my own.
If you've been following along you know that we've been going through the Percy Jackson and the Olympians series by Rick Riordan this summer as a read-aloud with both Sweet T and Gus. We're now on book #3: The Titan's Curse so if you've finished up the series already, no spoilers! We're taking our time and really enjoying reading it together. I appreciate the series for having just the right amount of adventure and action without being too scary for my sensitive readers.
Gus was a big Greek mythology fan before we started this series and reading the books out loud has only increased his love for his favorite god in the Greek pantheon, Poseidon.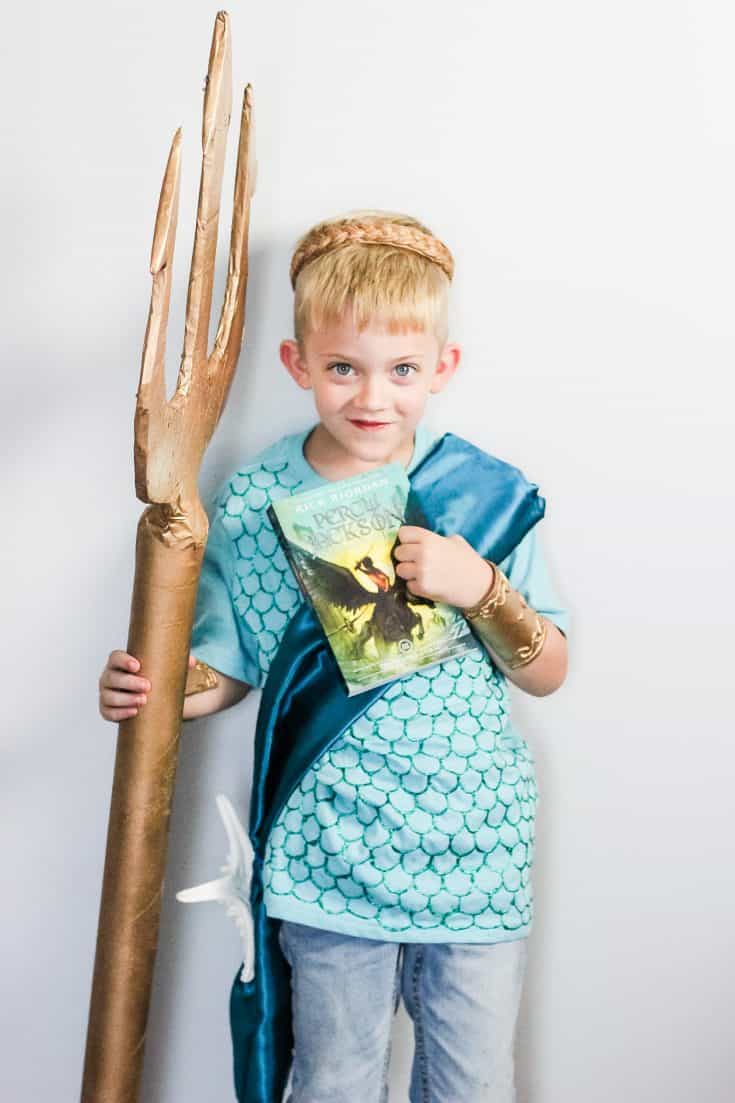 The beach is one of Gus' favorite places to be so it doesn't surprise me that Poseidon would stand out to him as a character. When I asked him exactly why he loves Poseidon so much he said, "Because he's powerful and has cool stuff like a trident." Apparently, it's all about the swag, y'all. Poseidon's portrayal in the Percy Jackson and the Olympians series only solidified Gus' perception of him as a powerful, cool dude so of course, he wants to be Poseidon for Halloween this year! Since we've always done themed family costumes, he's trying to convince me to be Medusa. I think the trident power has gone to his head.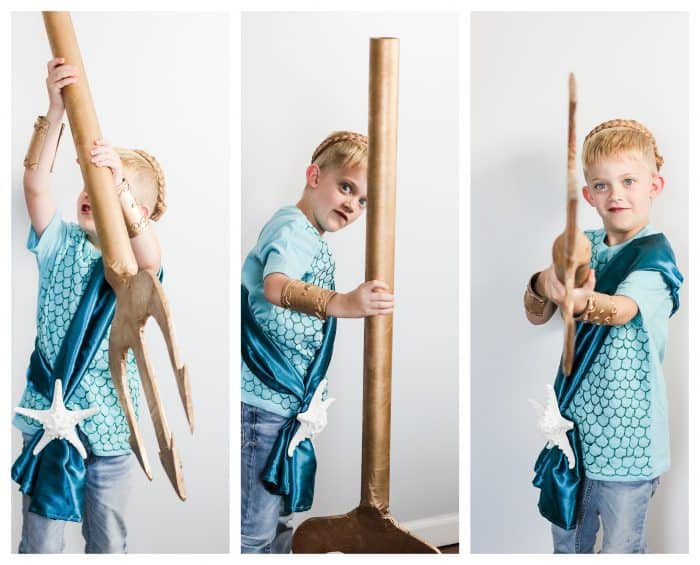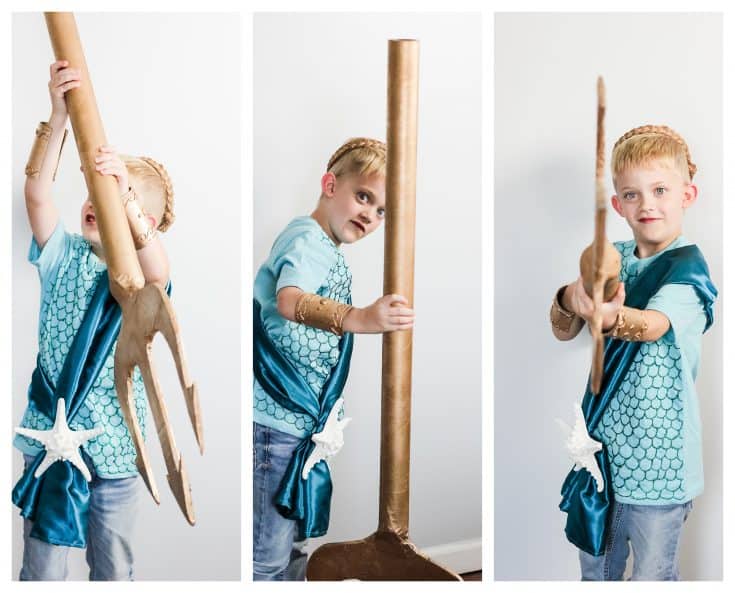 Gus really wanted a classic Poseidon look for his Halloween costume this year, but if you'd like a more Percy Jackson-style Poseidon, just don your Hawaiian shirt and keep reading so you'll know how to make a trident to go with it. Gus is serious about his trident!
How to Make a Poseidon Costume
Supplies Needed:
Plain, solid color T-shirt

Dimensional glitter fabric paint

Cardboard or plastic bag

Large sheet of cardboard

Cardboard tube (a wrapping paper tube will work in a pinch)

Scissors or box knife

Masking tape

Permanent glue

Pencil or marker

Gold spray paint

4 small cardboard tubes (Such as a paper towel tube or TP tube)

Hot glue gun + glue sticks

¾" wide elastic

Twine/jute

Needle + thread or sewing machine

Fabric

Hairband/scrunchie

Faux starfish or seashell (

optional)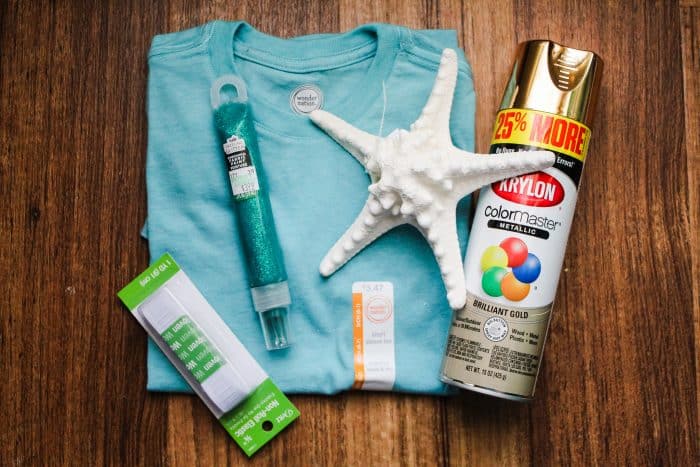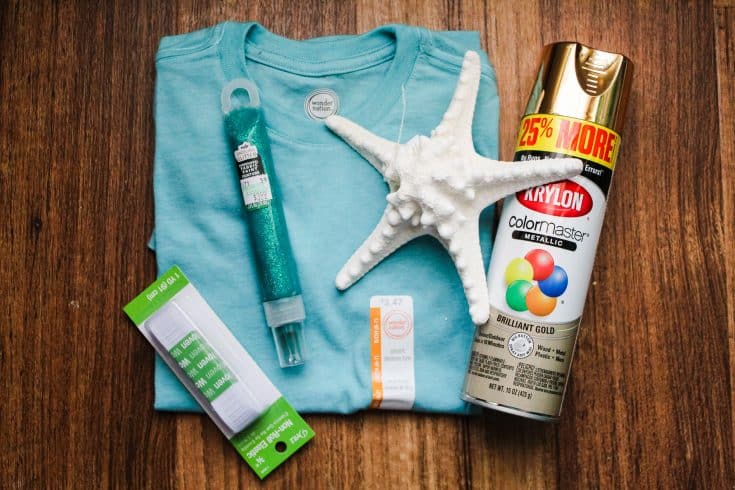 Poseidon Shirt
Step 1:
Place cardboard inside of T-shirt.
Step 2:
Use the fabric paint to draw U-like shapes to make scales along the front of the shirt. Continue in rows until the front of the shirt is covered.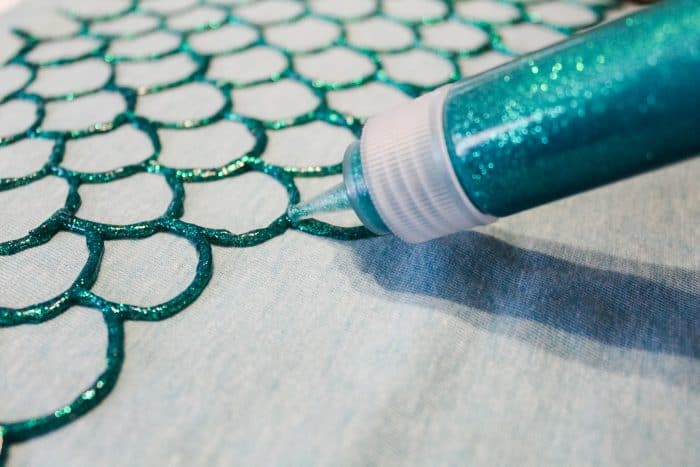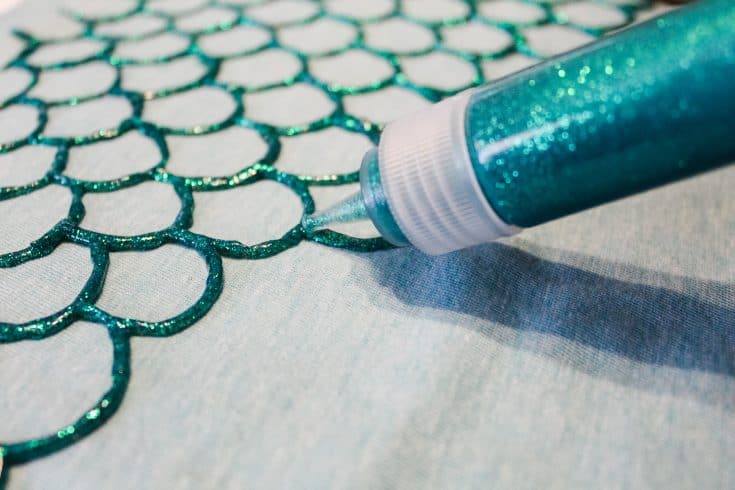 Step 3:
Let dry at least 5 hours. Preferably overnight.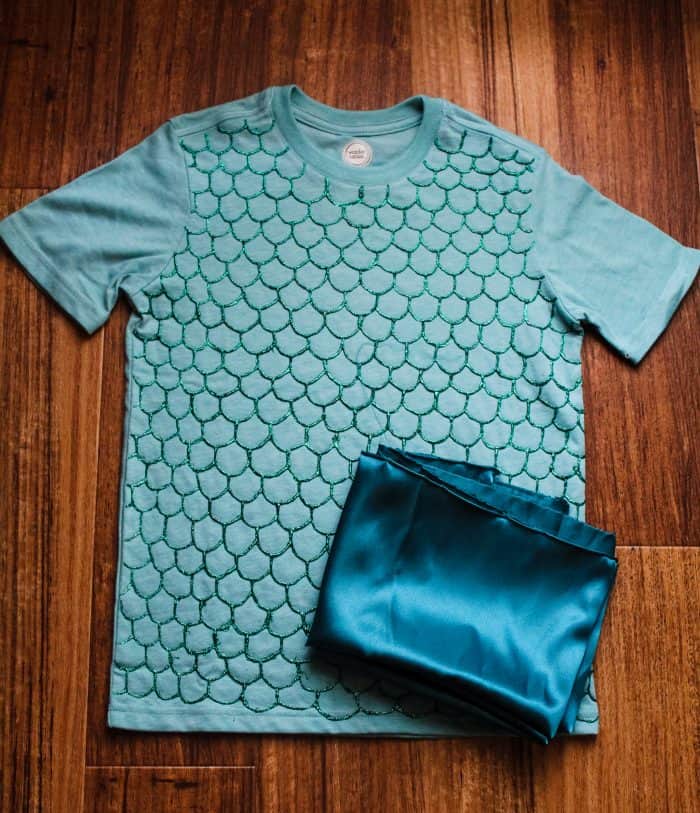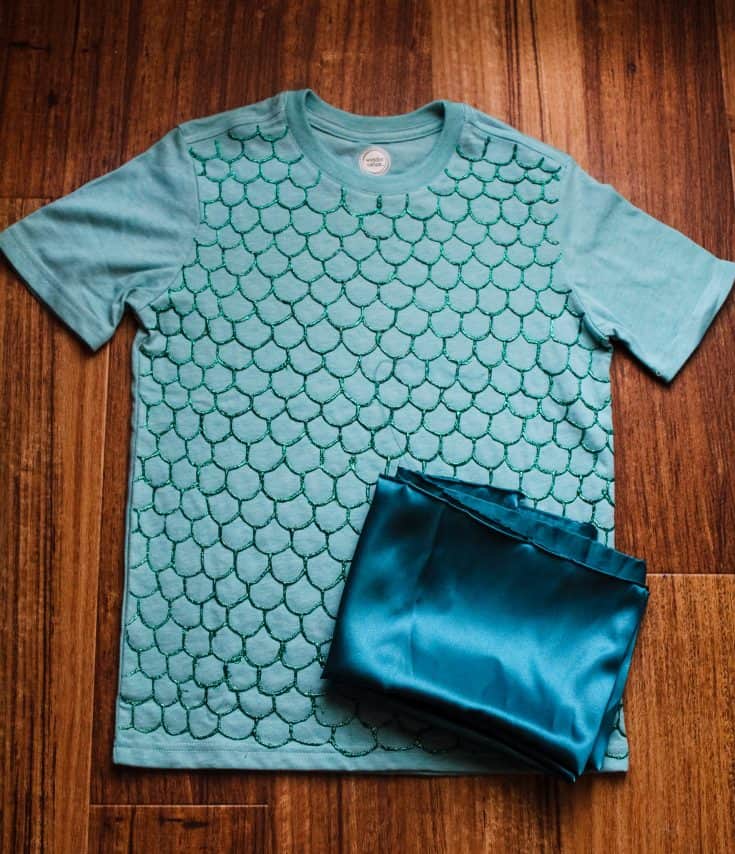 The Trident
Step 1:
Draw the outline of the top of the trident on a sheet of cardboard. Be sure to draw a rectangle (the same width of the inside of your cardboard tube) underneath the trident as you will need to slide that inside of the tube to connect the trident head and handle together.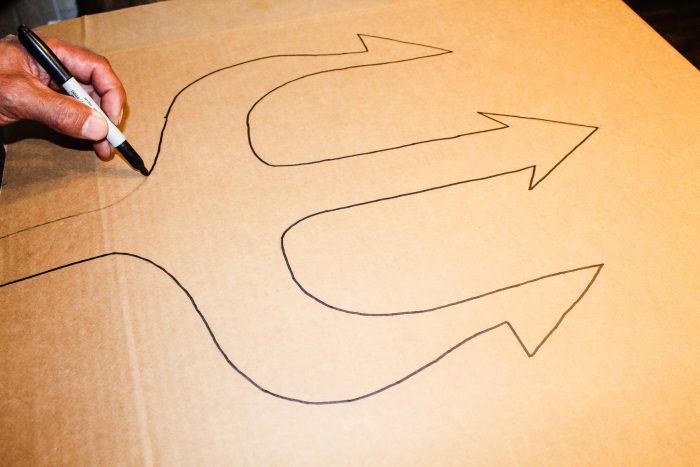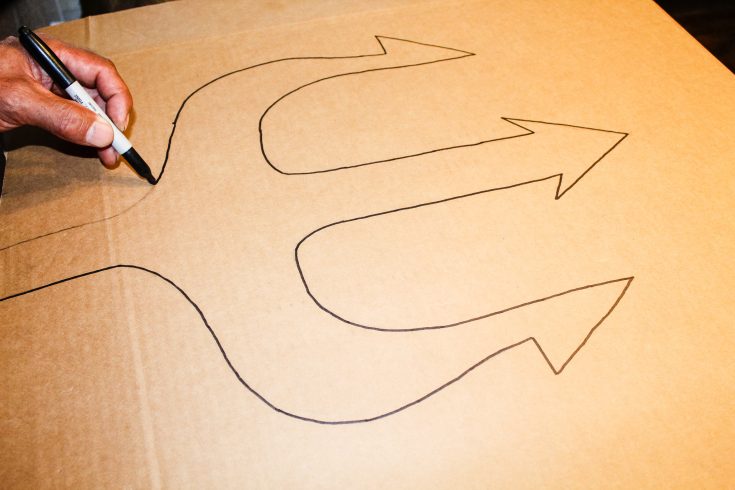 Step 2:
Once cut out, use the trident as a stencil and draw 2 more outlines and cut out. The more layers of cardboard you use, the sturdier it will become.
Step 3:
Stack all 3 pieces of cardboard and glue together.
Step 4:
Once the glue has dried, completely wrap the trident in masking tape. Optional: When wrapping in masking tape, I decided to glue down the tails of each strip of tape because I wanted to be completely confident that the tape would stay in place over a longer period of time. However, it isn't necessary.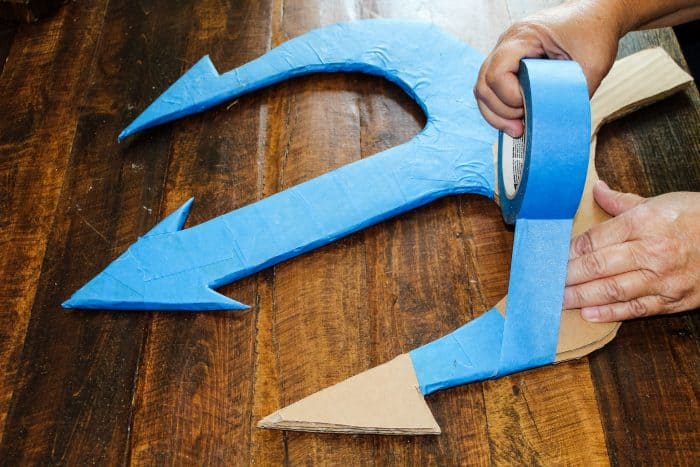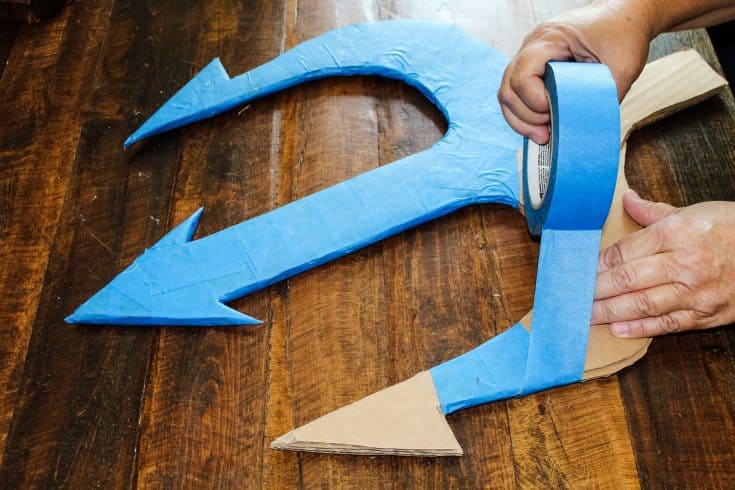 Step 5:
Insert trident head into the cardboard tube to attach.
Step 6:
Cut out 2 small triangles (equal sizes) from cardboard. Flip triangles upside down and glue to trident where the handle meets the head. Once dry, wrap the top of the handle in masking tape (Again, I glued down the tails but that isn't necessary if you don't wish to).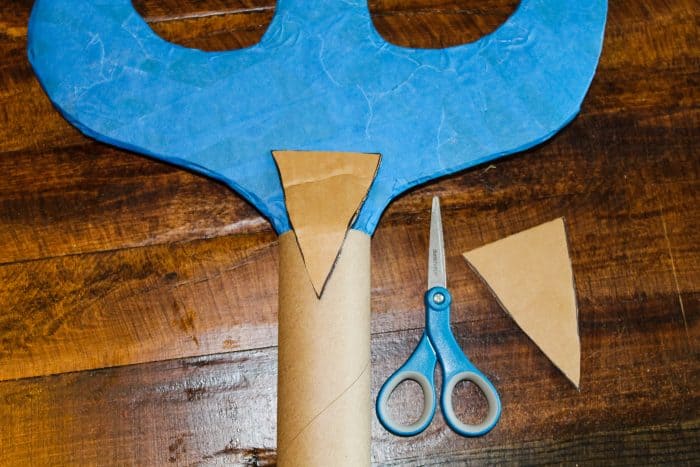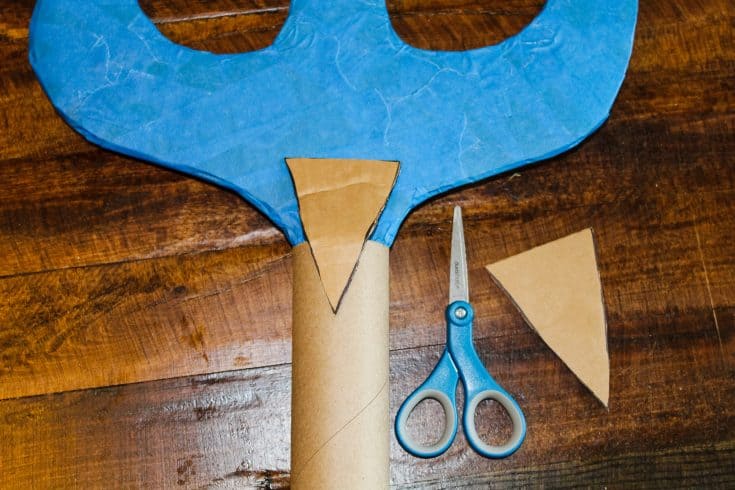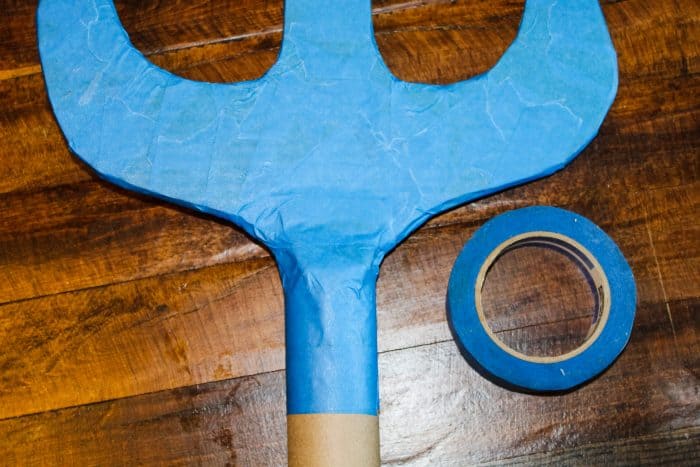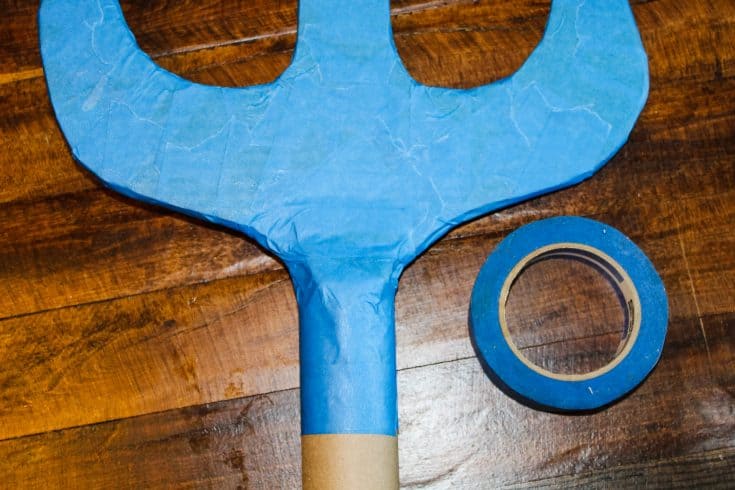 Step 7:
Spray paint the trident with gold spray paint
The Wrist Cuffs
Step 1:
Cut each tube down the center lengthwise on one side.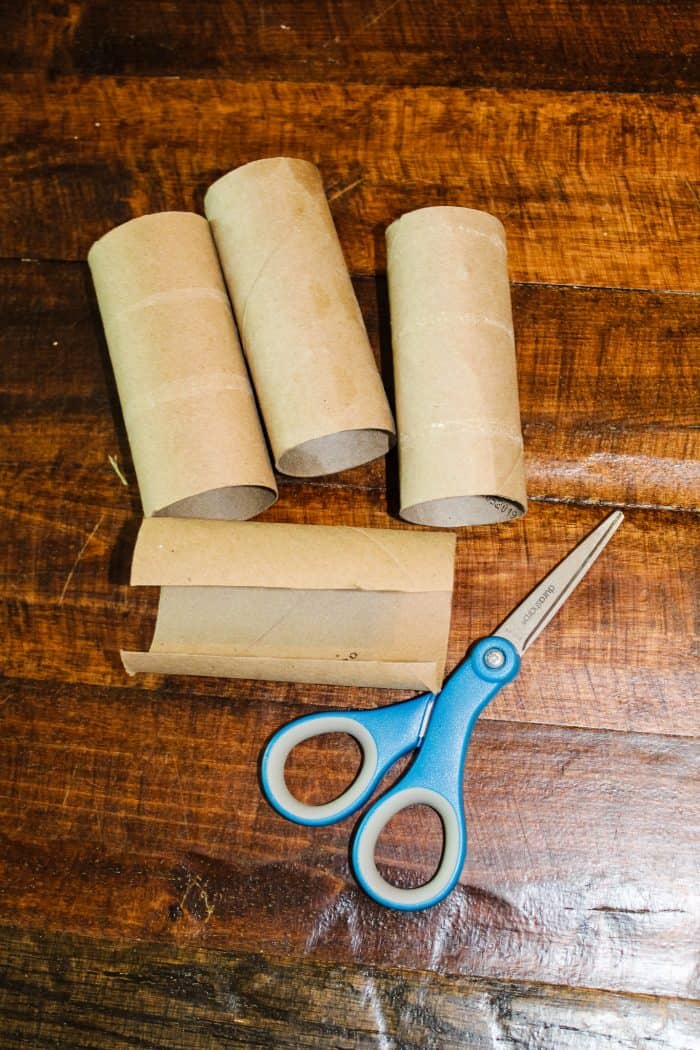 Step 2:
Insert 1 tube inside the other and glue together. Repeat. You should now be left with 2 sturdier tubes.
Step 3:
Draw desired pattern onto cuffs with a pencil or marker, then take the hot glue gun and trace over the drawn pattern with hot glue so that your patterns are now 3-dimensional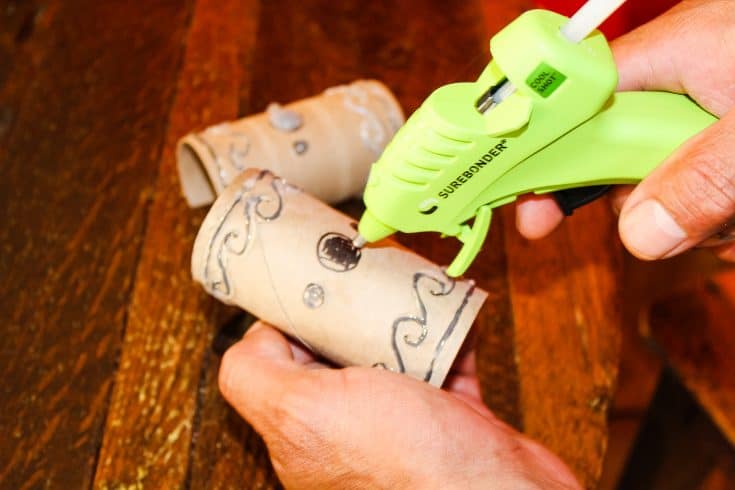 Step 4:
Once the glue has completely cooled and dried, spray paint both cuffs with the same gold spray paint you used on the trident.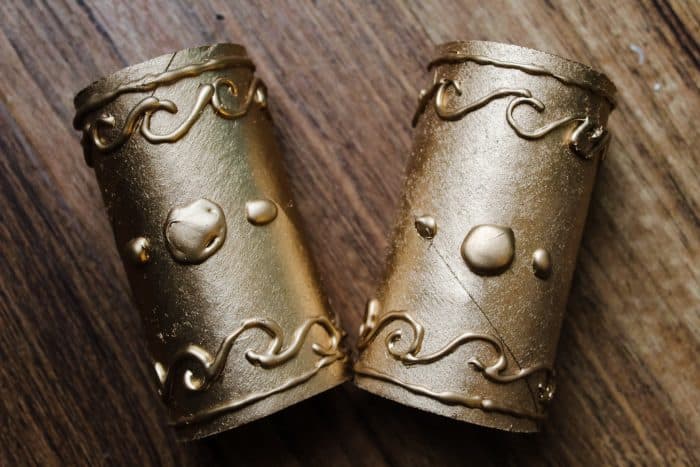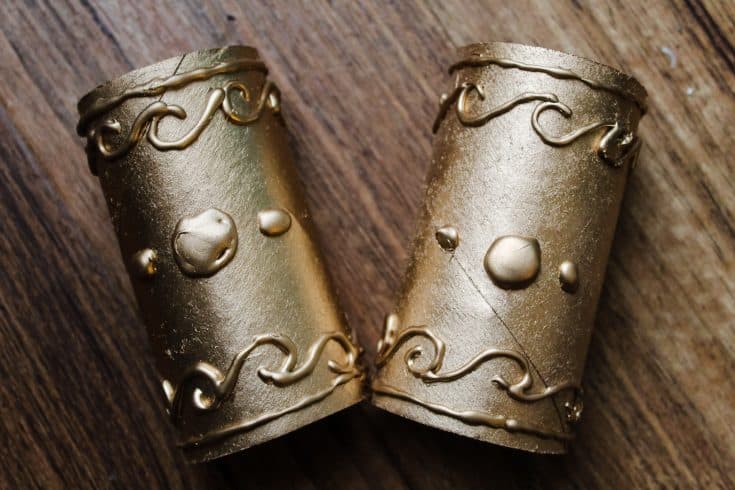 They are just the right size for little arms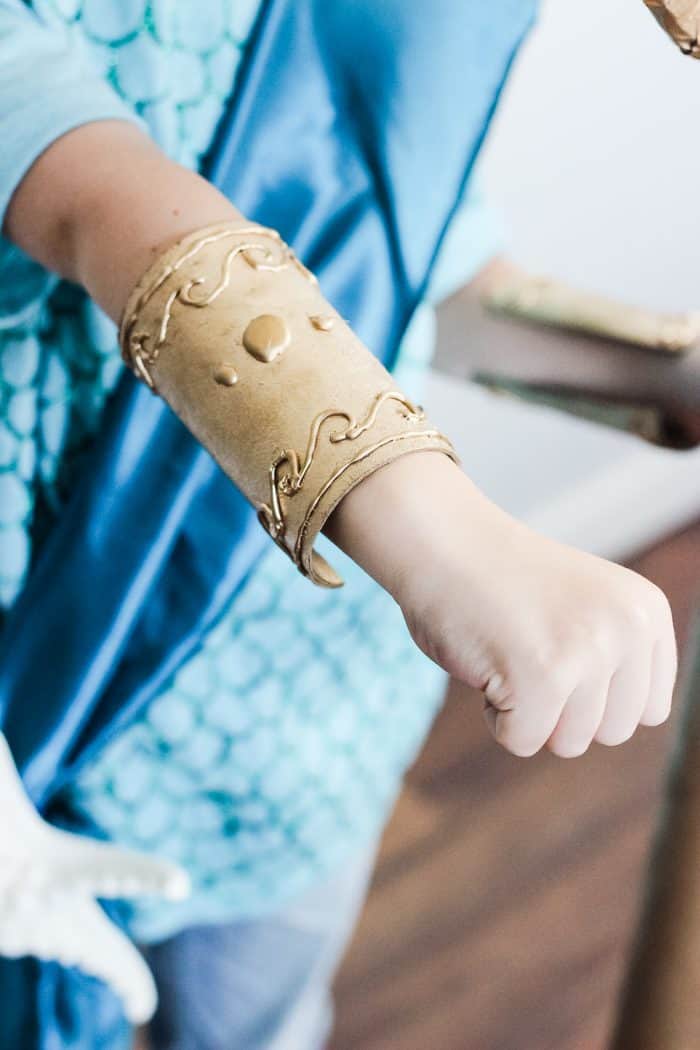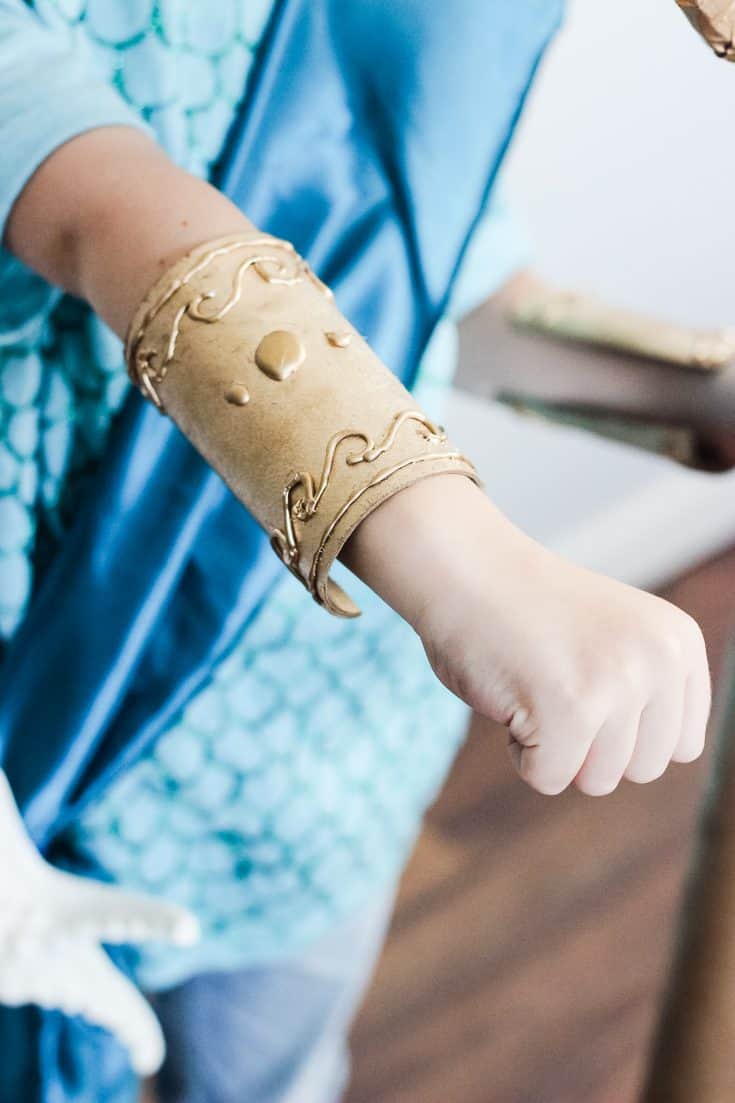 The Crown
Step 1:
Cut 15 equal length strands of twine (quantity will fluctuate depending on the desired thickness of crown). These will need to measure bigger than the circumference of your head because you will be making them shorter.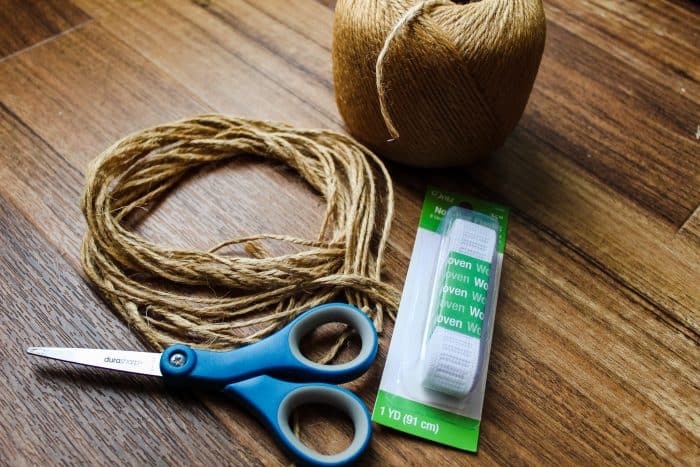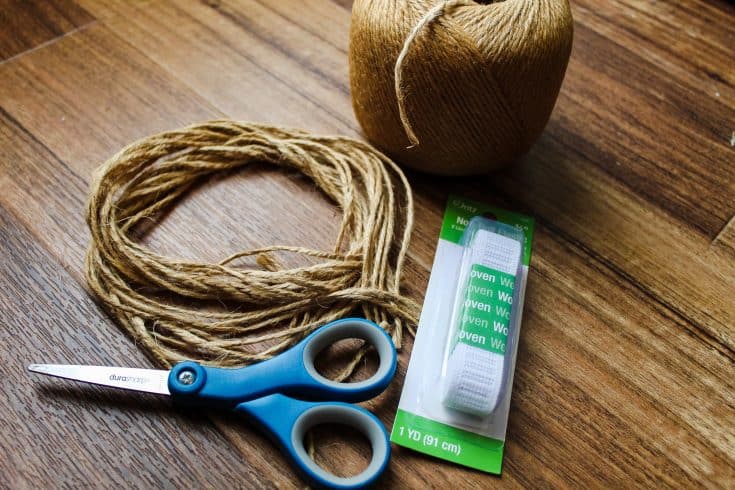 Step 2:
Tie together all 15 strands of twine on one end and braid (3 sections of 5 strands) until the desired length is achieved, and trim off any unwanted excess.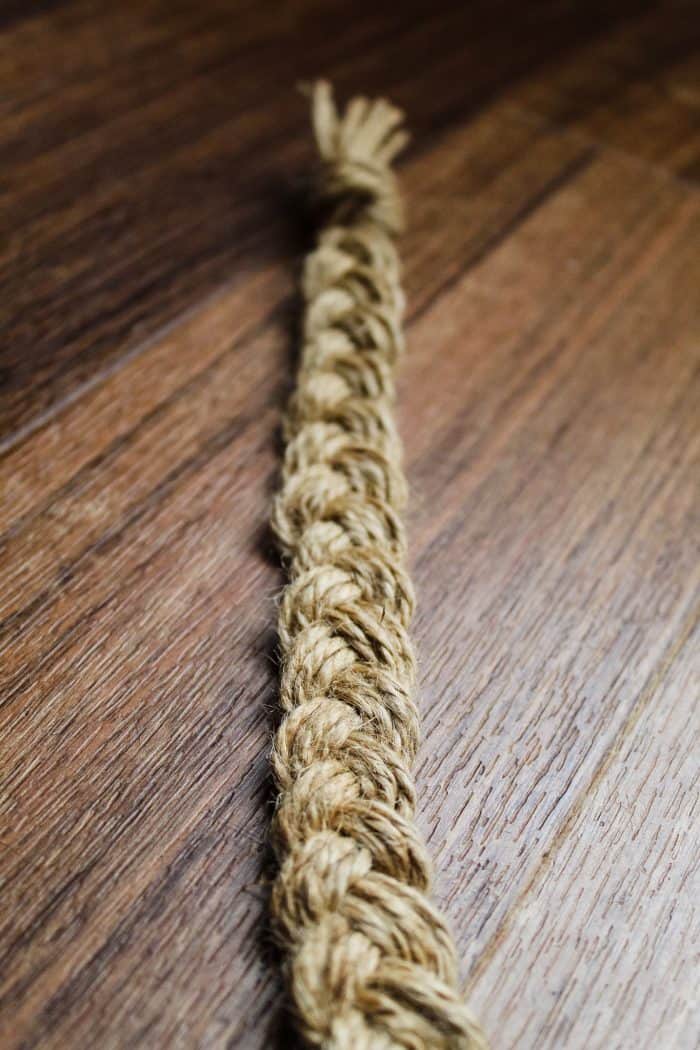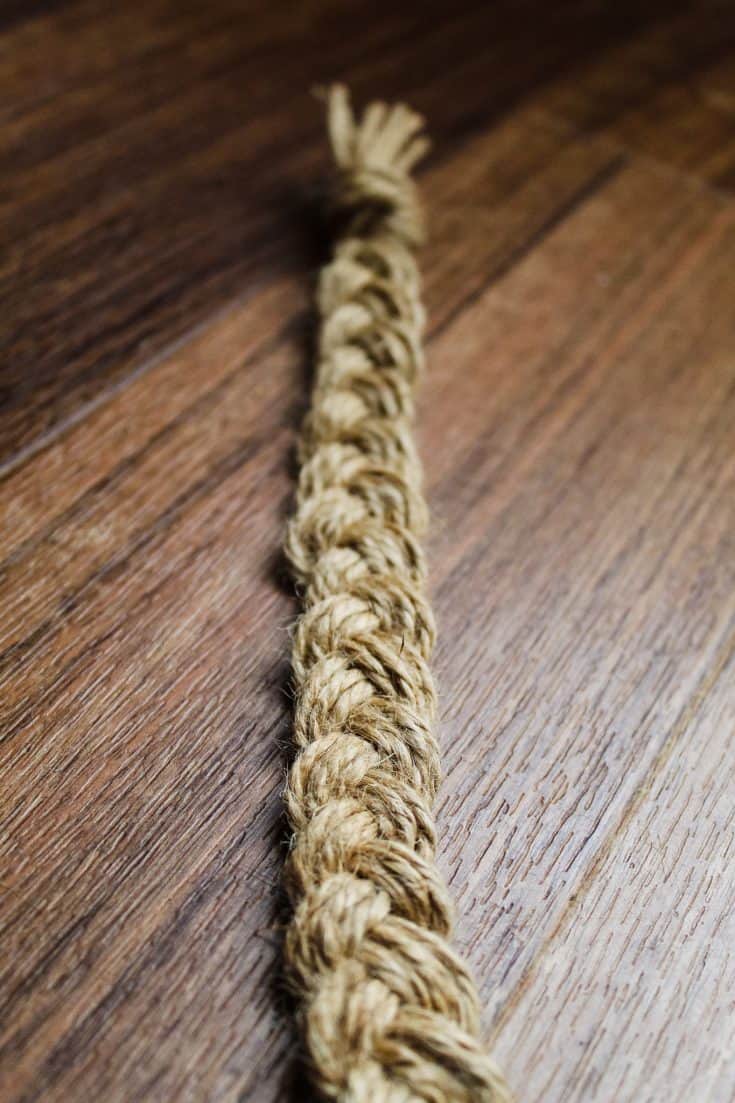 Step 3:
Cut elastic from ½" to 1" longer than twine.
Step 4:
Use the hot glue gun to attach the elastic to the back of the braided twine.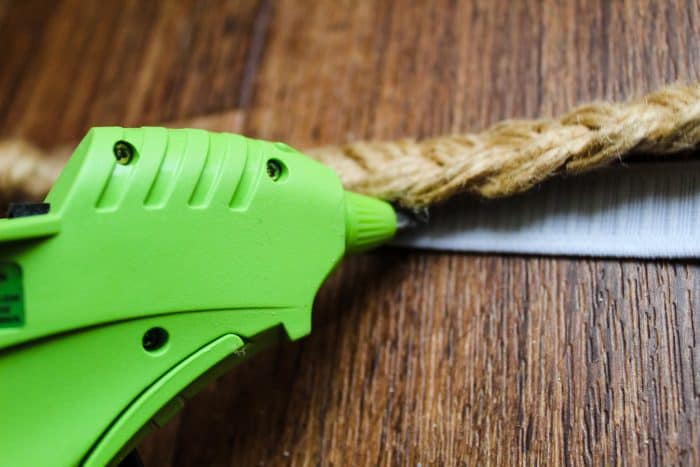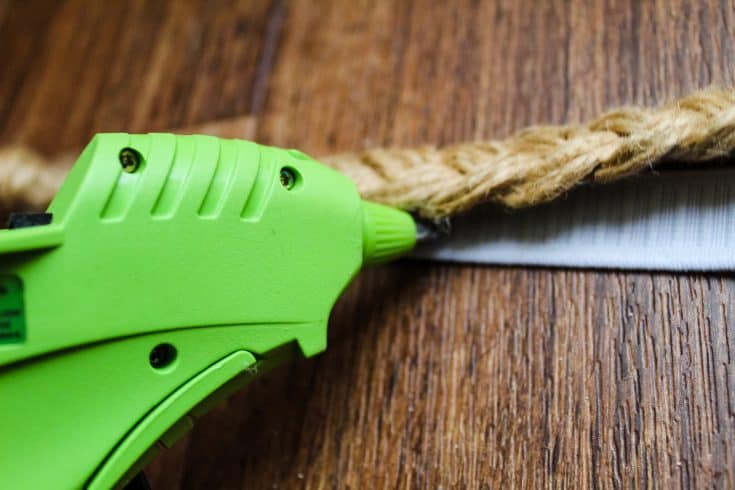 Step 5:
Overlap the two ends of elastic and sew together. If you do not wish to sew, you can glue strands together but it may not be quite as strong.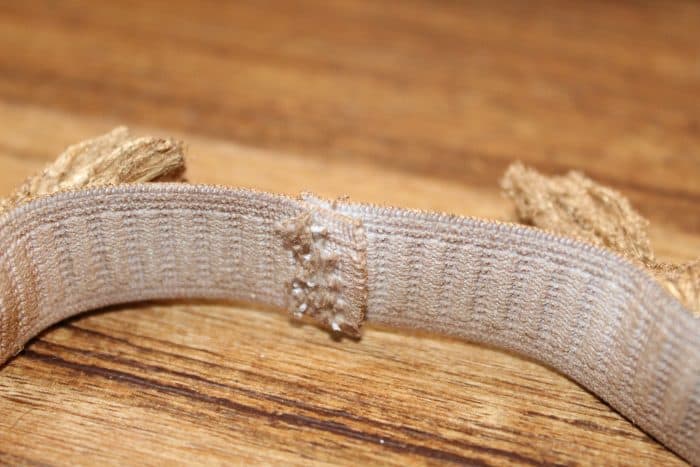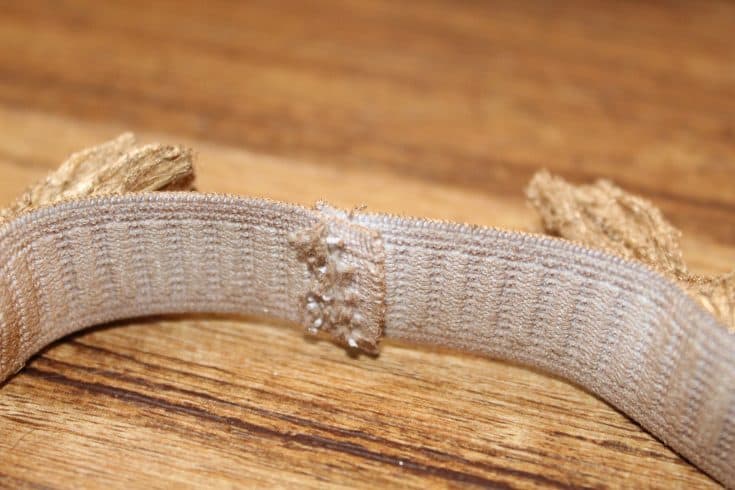 Step 6:
Spray paint gold if desired
The Sash
Step 1:
Cut fabric to the desired length and twice as wide as desired.
Step 2:
Fold the 2 short ends over to make a hem and sew.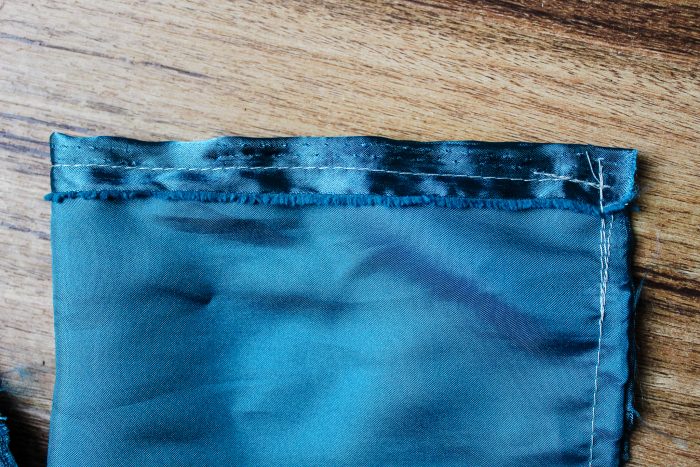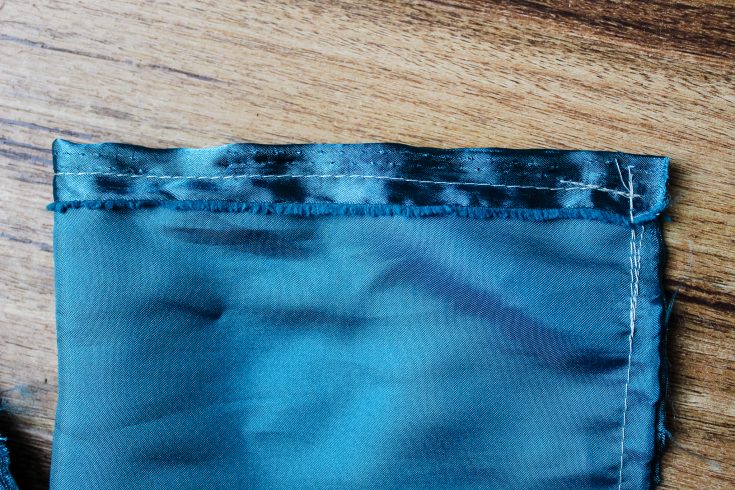 Step 3:
Fold the fabric in half lengthwise, inside out. Sew down 1 long side to make a tube.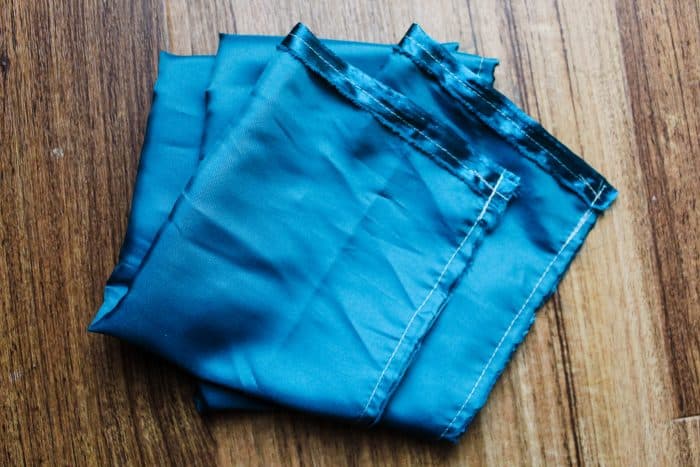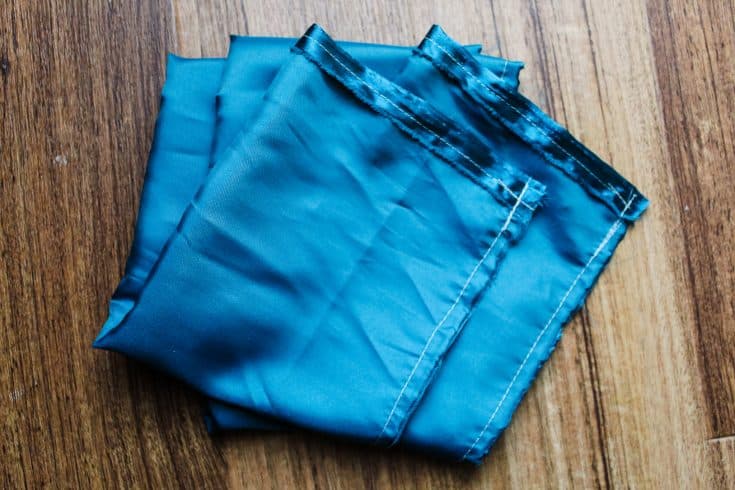 Turn right side out.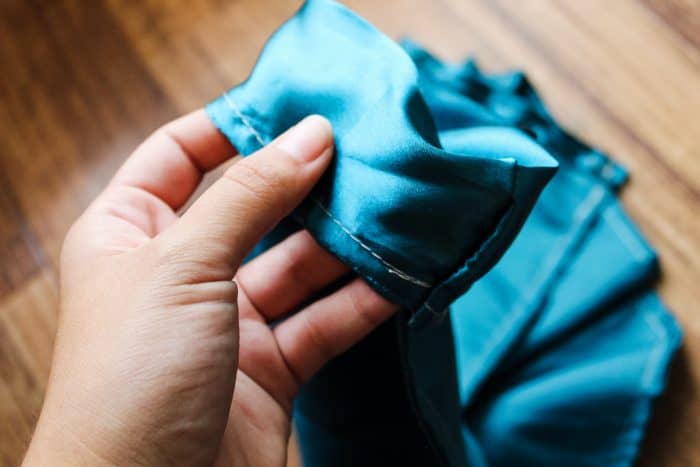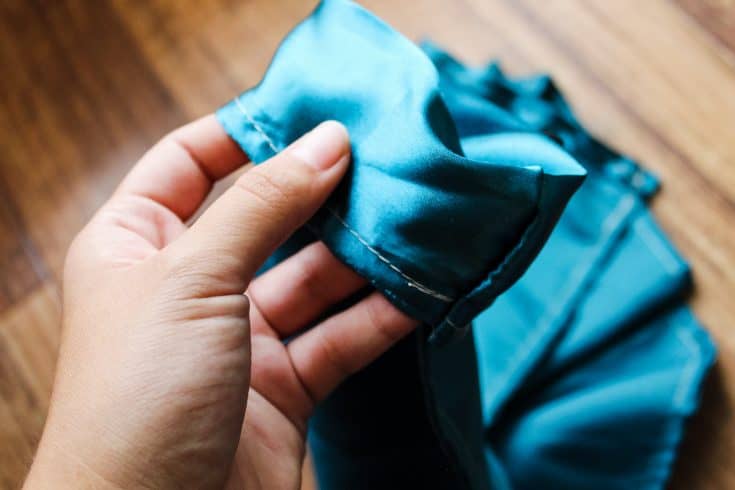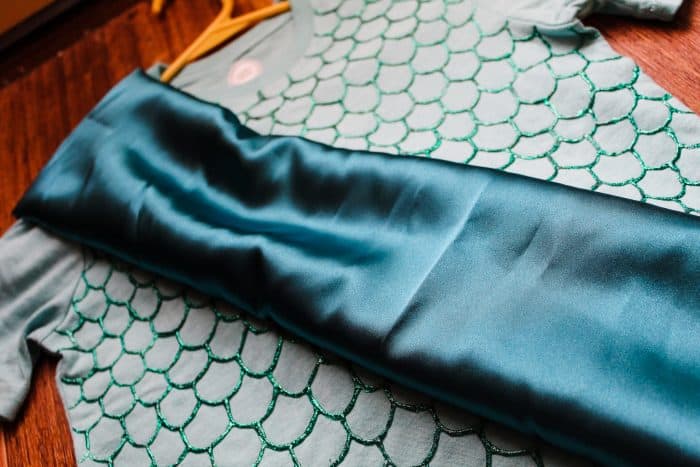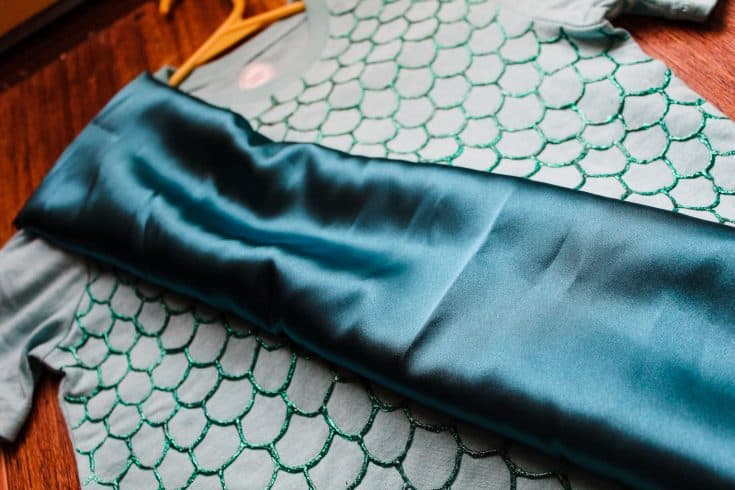 Step 4 (optional):
Use the hot glue gun to attach the hairband to the back of the starfish. Once completely dry you can use this to tie the sash to the side.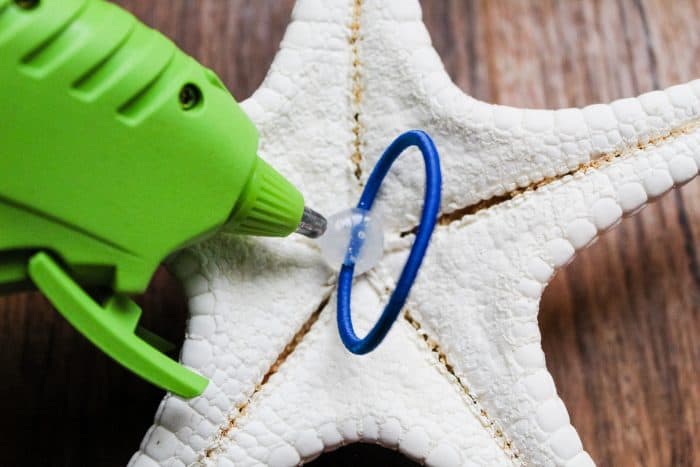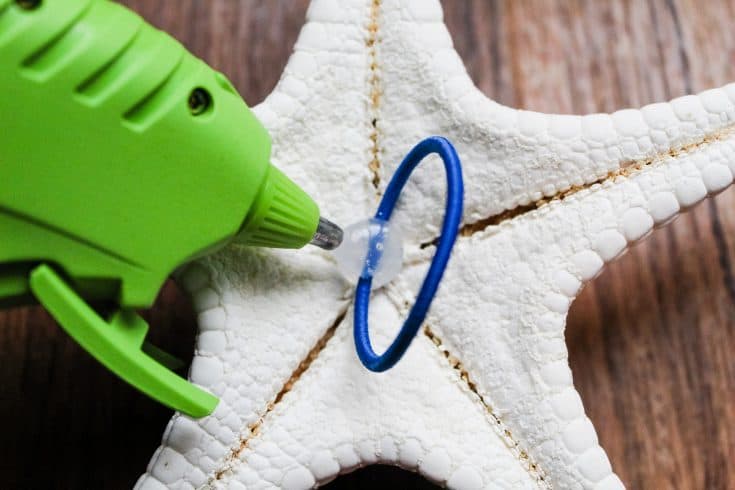 Now you have a dazzling Poseiden costume!
My challenge is going to be keeping this DIY Poseiden costume clean and intact until Halloween. Gus likes to dress up in it like it's a superhero costume and show everyone he's lord of the sea by bouncing off the furniture and chasing us with his trident.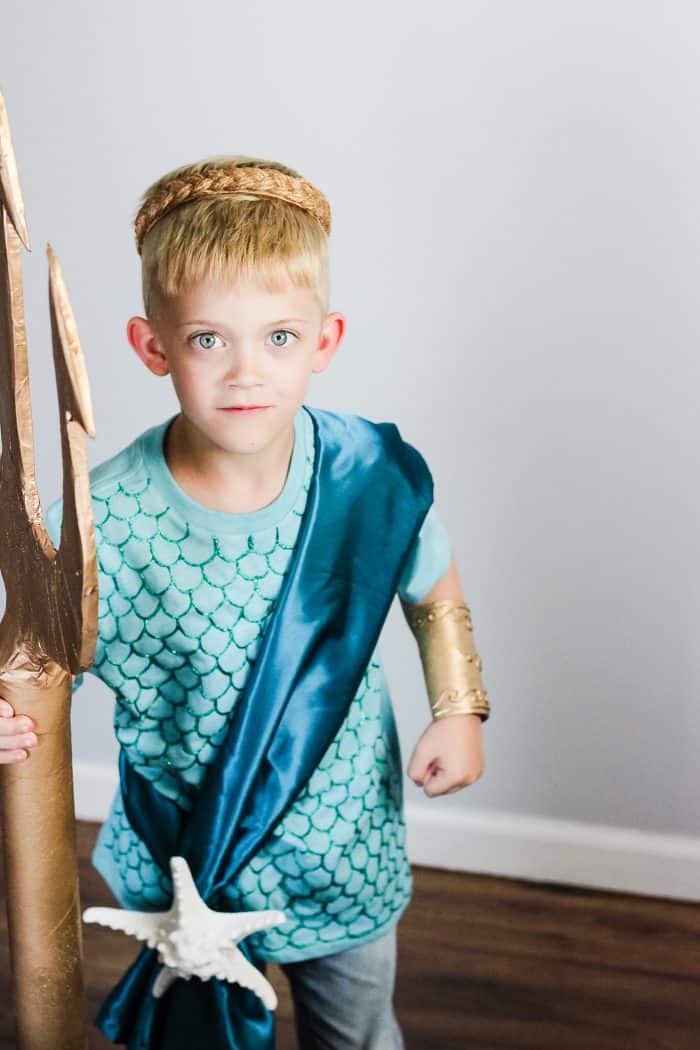 This little Percy Jackson and the Olympians fan is ready for whatever comes his way. If you have a little Percy fan, be sure to check out my Percy Jackson and the Olympians Birthday Party Theme and print out your free The Lightning Thief word search, too.