Here's how to make a DIY Kristoff costume for men that is cheap, easy and comfy. We always do family Halloween costumes and for our Frozen theme, I needed a Kristoff costume for Hubs that wouldn't break the bank.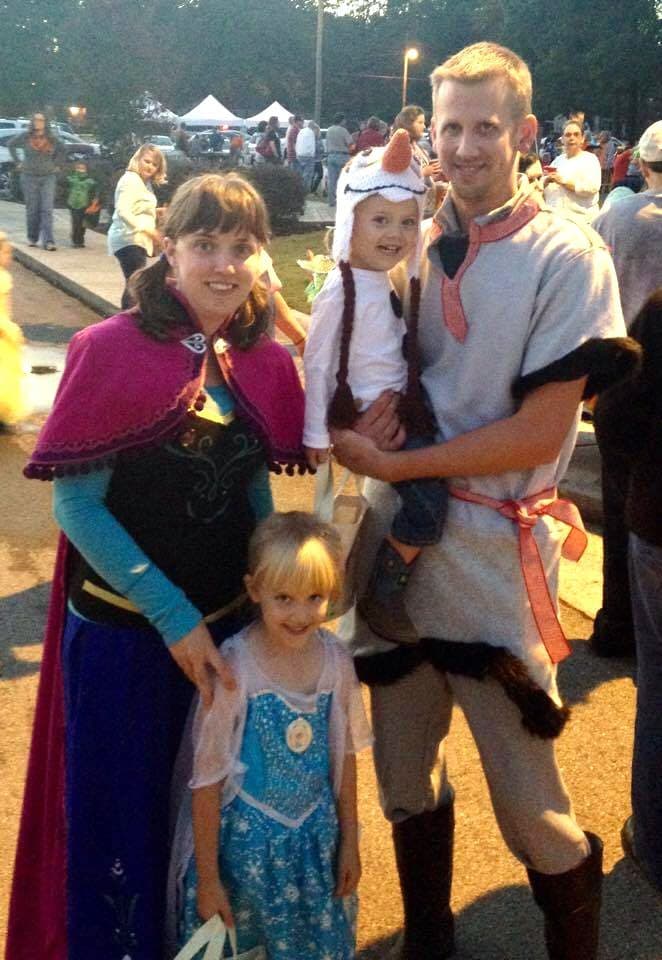 When I started shopping around for an adult Kristoff costume, I didn't have many options. Most of them were for boys and the Frozen costumes for adults were amazing but pricey!
We're not into cosplay (or cosplay prices) so I just wanted something that would make Hubs recognizable as Kristoff in context with the rest of the family. We won't be breaking out into show tunes and videoing it anytime soon so there was no need for extravagant Frozen costumes for adults in our case. Mad props to these people though. Wow!
Frozen Costumes for Adults
This DIY Kristoff
costume is cheap and simple
and will look great with your Frozen-themed family Halloween costumes. Best of all it's comfy so Hubs actually had no problem wearing it. Put some reindeer antlers on your friend's dachshund and you've got a Sven too!
Here's how to make a Kristoff costume for men that is cheap, easy and comfortable. I spend maybe $15 because I found a grey fleece scrap on clearance and used 40% Hobby Lobby coupons for everything else (no shame in going through the check out several times, people.)

DIY Kristoff Costume
You will need
1 Sweatshirt with ½ yard of matching fleece or 2 sweatshirts
2 spools ribbon for collar trim and belt/sash
2 spools faux fur trim
scissors
optional: liquid stitch
Cut sleeves about 4 inches from the shoulder seam. Remove ribbing around the bottom of sweatshirt (save this piece). Cut a 3″ slit in the front center of the neck. For the textured look, flip the sweatshirt wrong side out.
(Optional – sew the ribbing around the collar to create a high neckband, trim even with the slit. Sew or use liquid stitch and attach ribbon around the neck, across the shoulders, and around the slit.)
Using the ½ yard of fleece, sew a tube the same diameter as the edge of the sweatshirt. With right sides together sew shirt edge and tube together using a stretch stitch. Cut a slight upward curve at the lower front edge of the bottom. Attach faux fur to armholes and bottom edge of the shirt.
Hubs wore this grey thermal underwear that he already owned under the finished tunic. For boots, he just wore a black pair of mud boots you can find for dirt cheap at Tractor Supply or your local co-op. Or if you want to get fancy…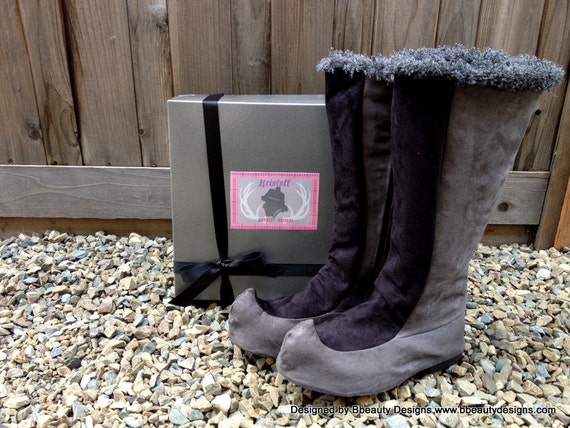 Kristoff Grey/Black Faux Suede Custom Frozen Spat and Boots in Faux Suede Adult Costume
&
♪ Reindeers Dachshunds are better than people ♪
Don't forget Elsa and Olaf…
I just used a white shirt with felt circles and a brown pair of sweats for Gus. His grandmother crocheted the hat for Christmas last year. Sweet T wore her dress up Elsa dress she got for Christmas
My friend Jamey dresses up as Anna for birthday parties and she was kind enough to let me borrow her old homemade Anna costume and the super cool cape from her costume upgrade (see bottom of post)
We were the talk of the town at the local trunk-or-treat and all on a dime! Hubs skipped the long sleeves since it's usually 80 degrees at 6:00 PM on an Alabama Halloween. Le sigh.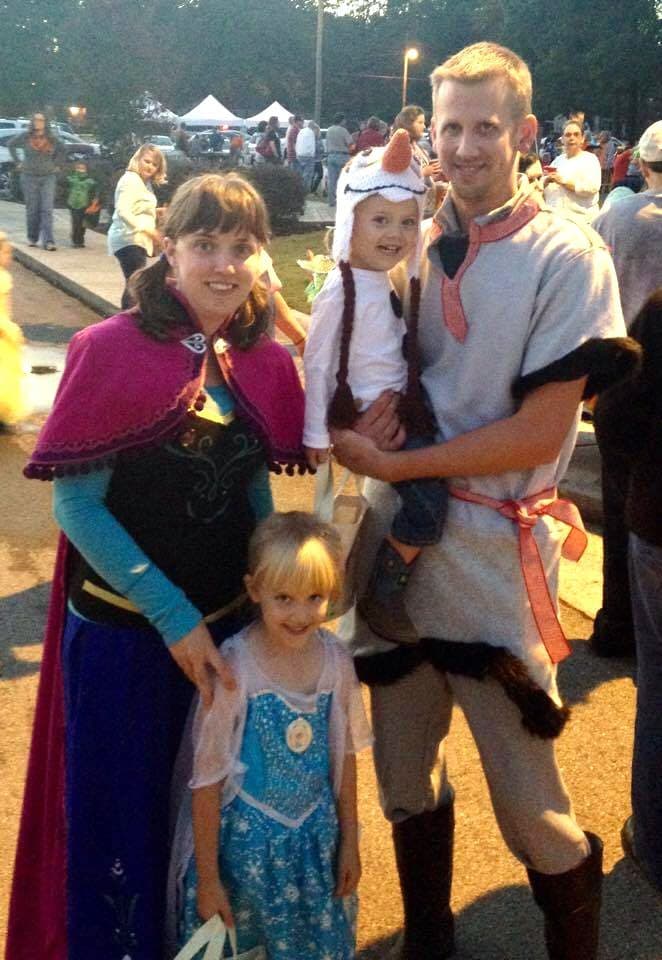 Happy Halloween! Now I've got to figure out what we'll be this year while the kids will still dress to match us. Ninja Turtles maybe?
Love Moana? Check out this Kakamora costume DIY I made for Hubs too.