This post is sponsored by Disney Book Group. All opinions are my own.
How has your summer been so far? We're beating the Alabama heat by staying indoors or venturing out to the pool or splash pad. It's really the only way to survive Southern summertime. Fortunately, we've enjoyed the company of good friends all summer long and as a bookworm, I count books as our friends too! Our local library has a fantastic summer reading program with lots of fun activities and incentives for young readers. Sweet T has been reading through the Percy Jackson and the Olympians series by Rick Riordan and is now on book #2: The Sea of Monsters.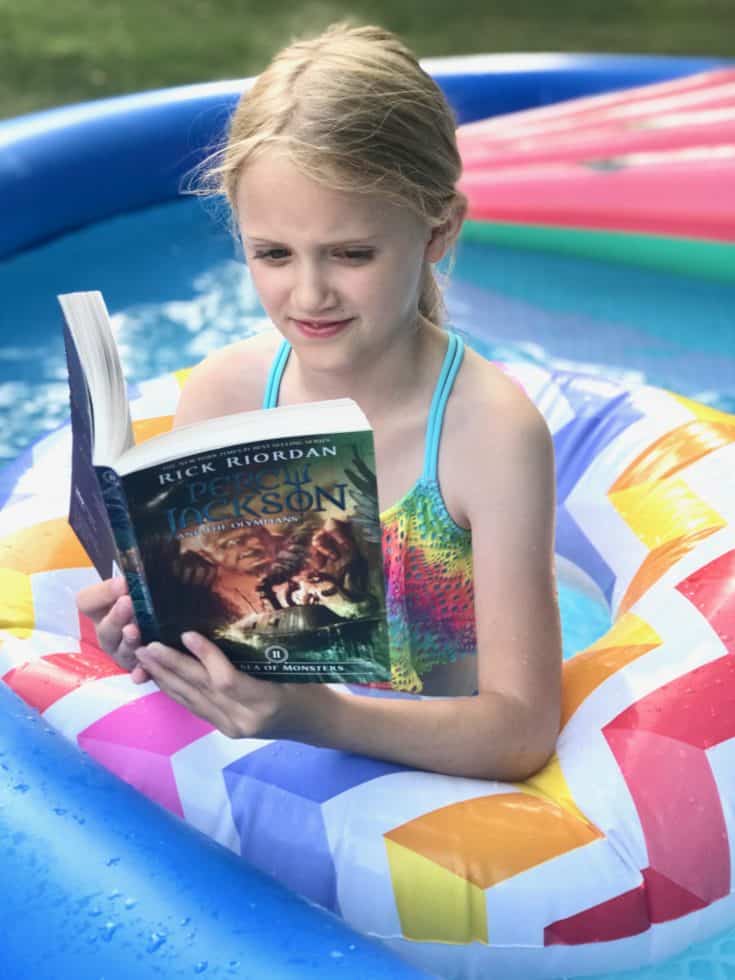 We celebrated our love of our friends (both in real-life and fictional) by hosting a fun Percy Jackson party and sleepover.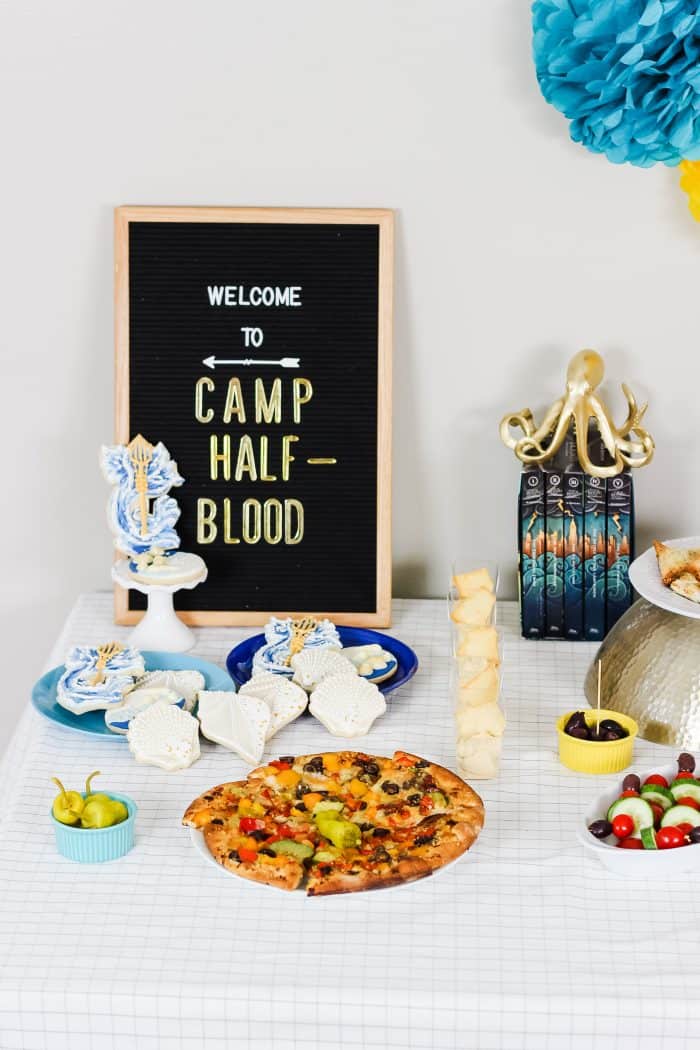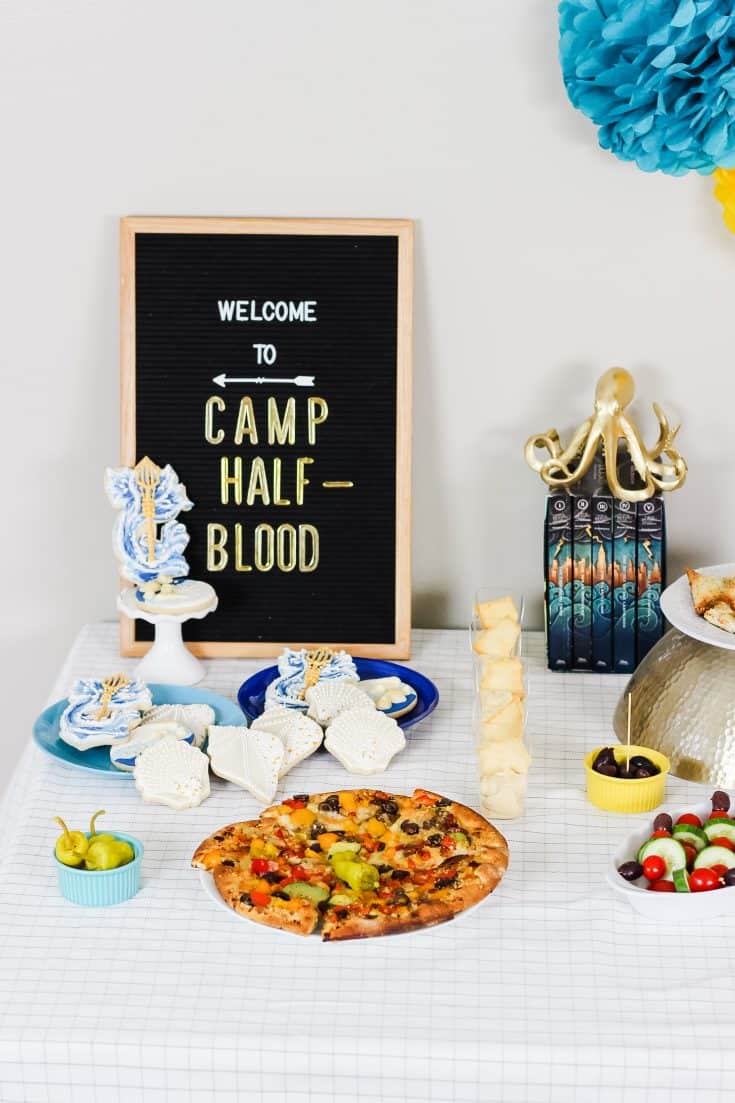 Here's what we did and how you can throw a Percy Jackson Party that's fit for the gods! First of all, we have to talk about these Poseidon-inspired cookies that stole the show. I wish I could take credit for them but I enlisted the help of a good friend who has a lot more talent than me when it comes to creating beautiful baked treats that taste as good as they look.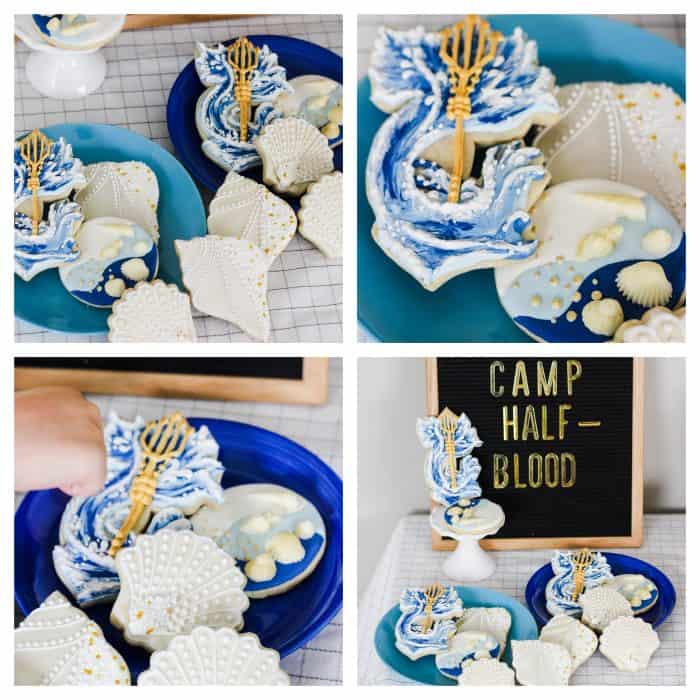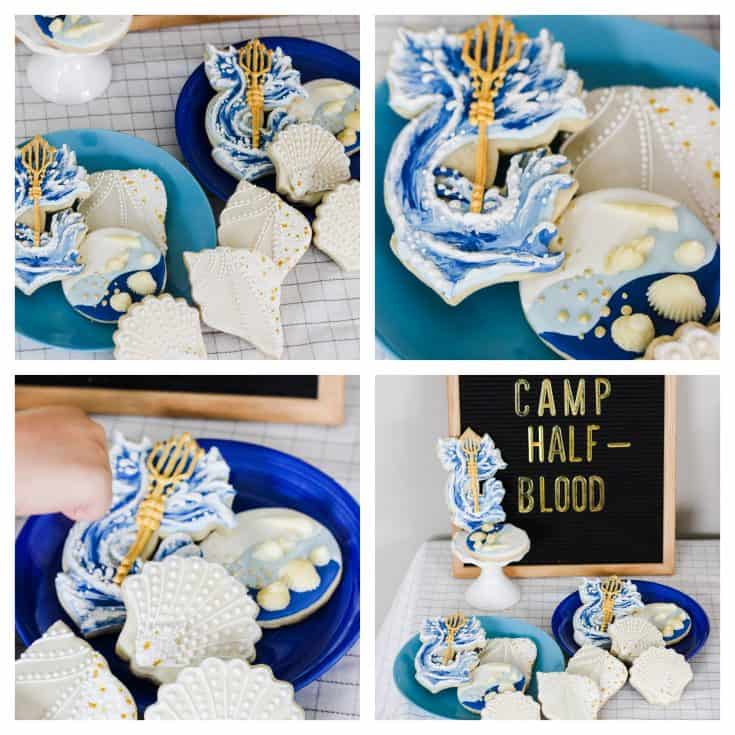 If you're throwing a Percy Jackson birthday party you might want to opt for a cake instead, but our Percy Jackson cookies were a huge hit. Gus could hardly contain his excitement about eating one but of course, he had to wait until I finished taking pictures before he could indulge. They were worth his wait. Poseidon is his favorite character from Greek mythology and from the Percy Jackson series so you can guess which cookie he went straight for…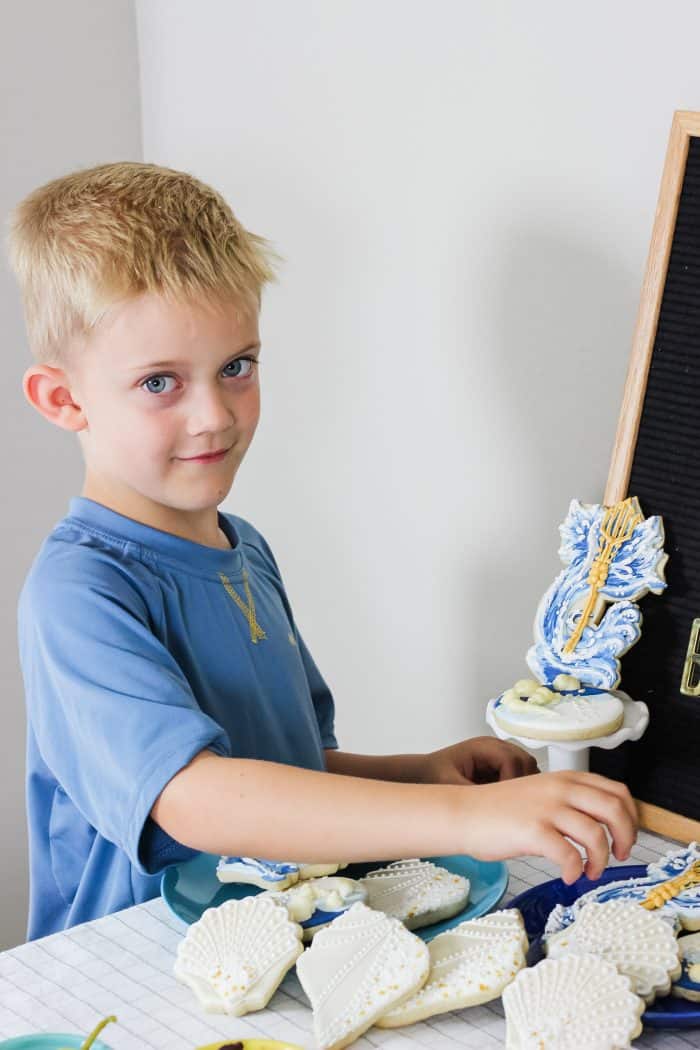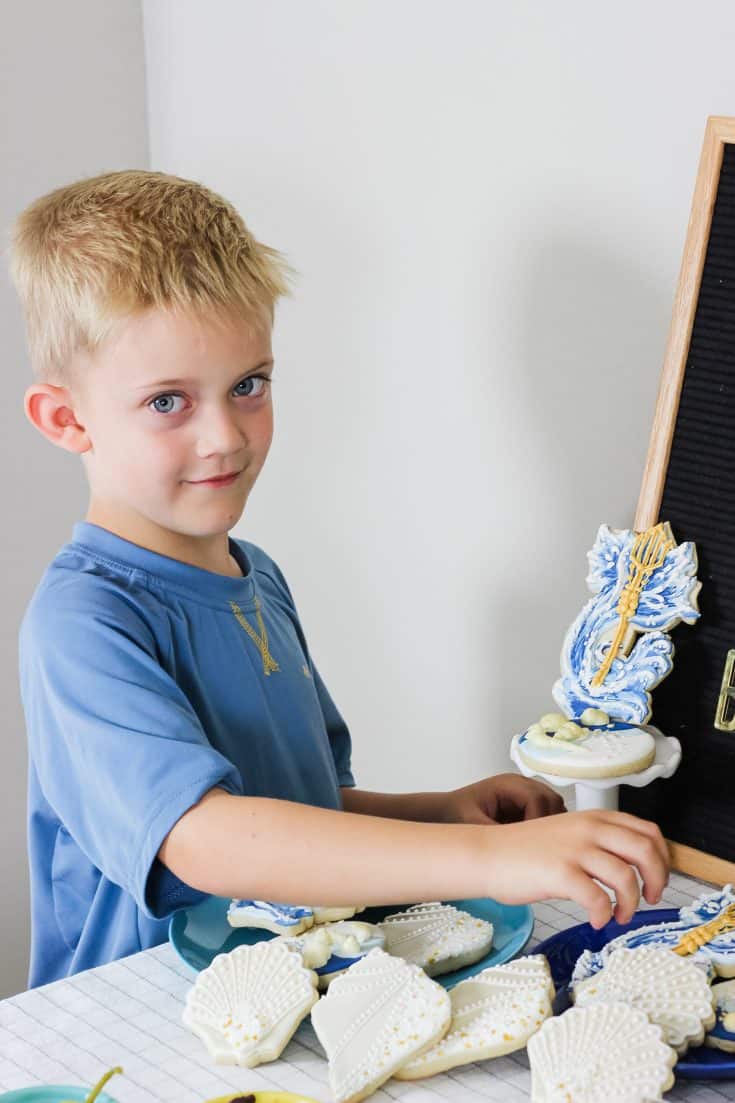 The trident of course! Yes, I let him eat dessert first since he was so patient through my photo shoot. When you're a blogger's kid you learn delayed gratification pretty quickly when it comes to food. 😉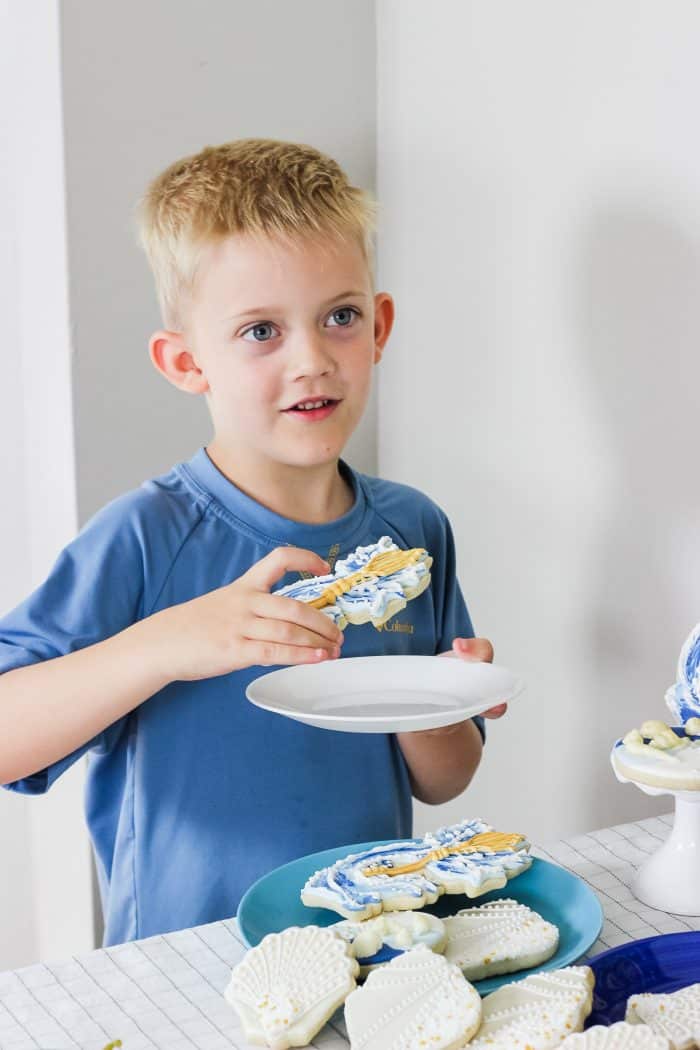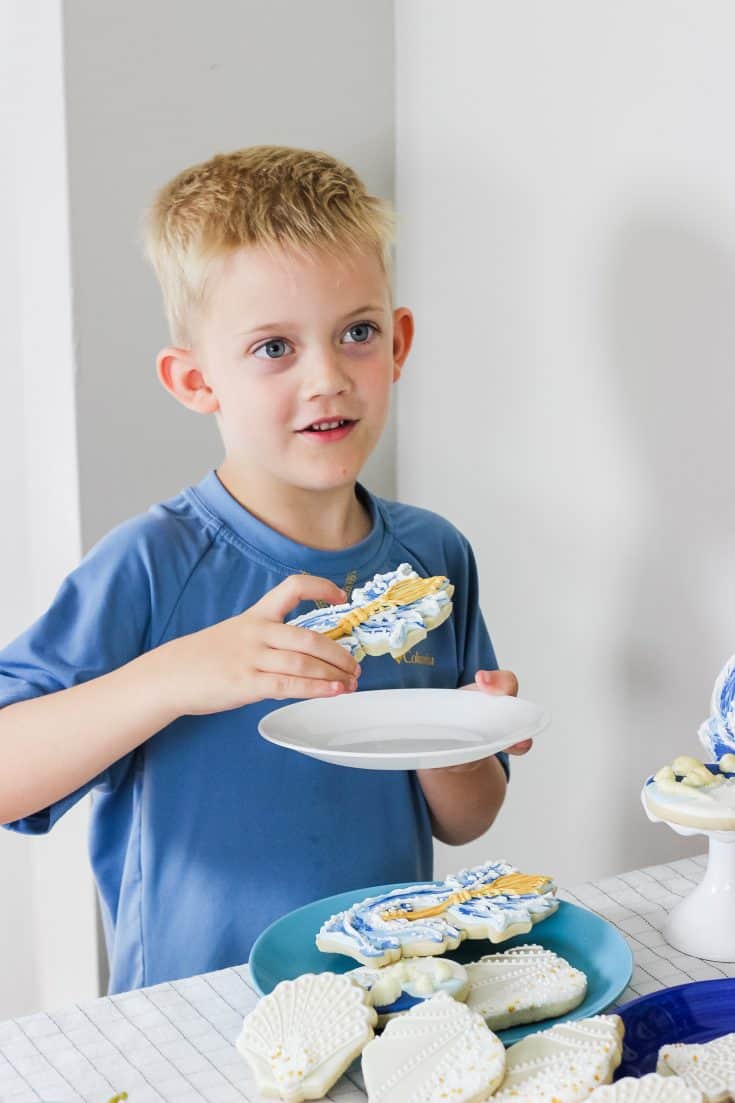 So now that we've had dessert first (life is short!) let's look at how I themed the rest of the food for our Percy Jackson party. I could have gone with seafood or beach party fare but really wanted to emphasize the "Greekness" of the Percy Jackson series so I went with kid-friendly Mediterranean -inspired dishes.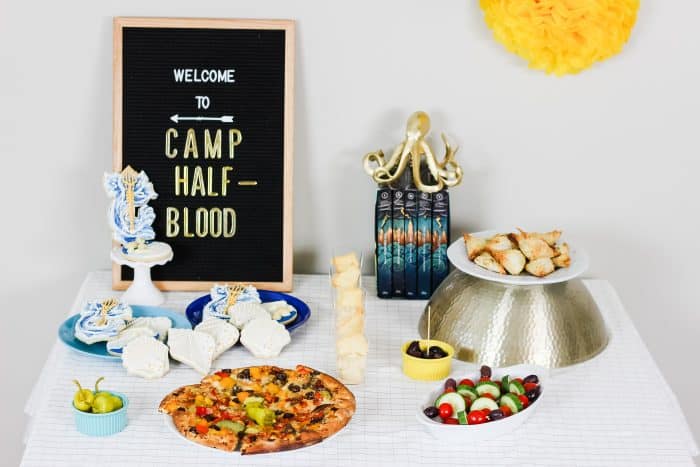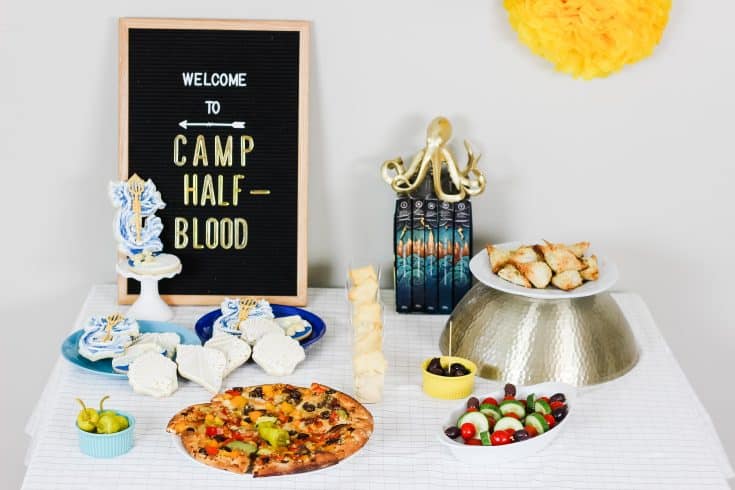 My kids are notoriously picky eaters but they do love pizza. It's simple enough to purchase a store-brand Mediterranean pizza and just let kids pick off anything they don't like. I garnished with some peperonicci peppers because they are one of my favorites. The party host gets to party too, right?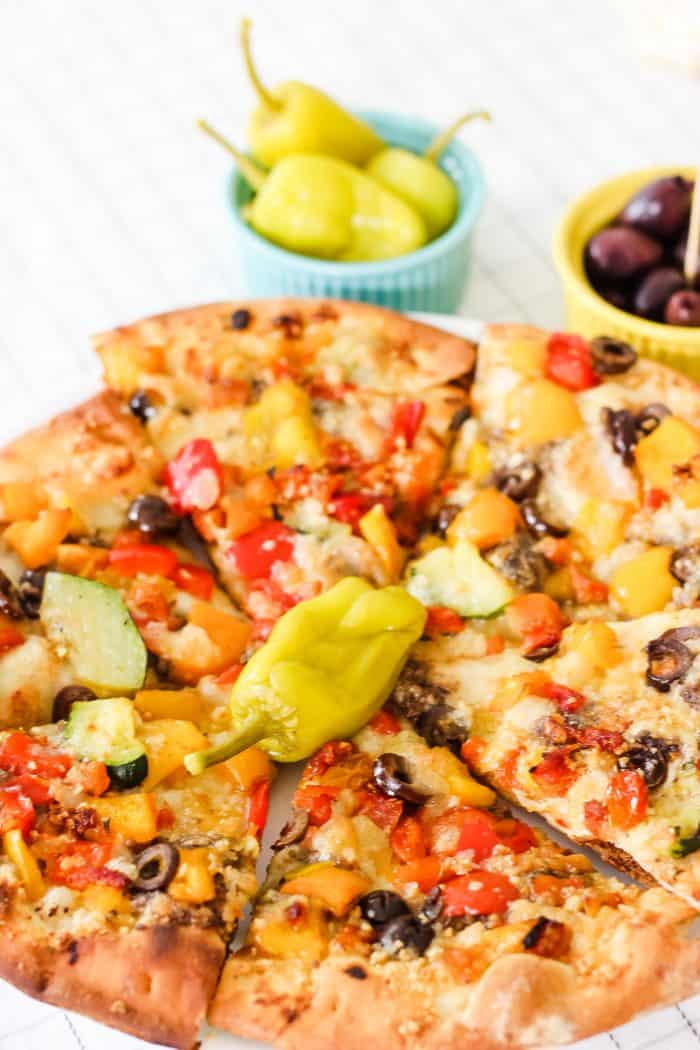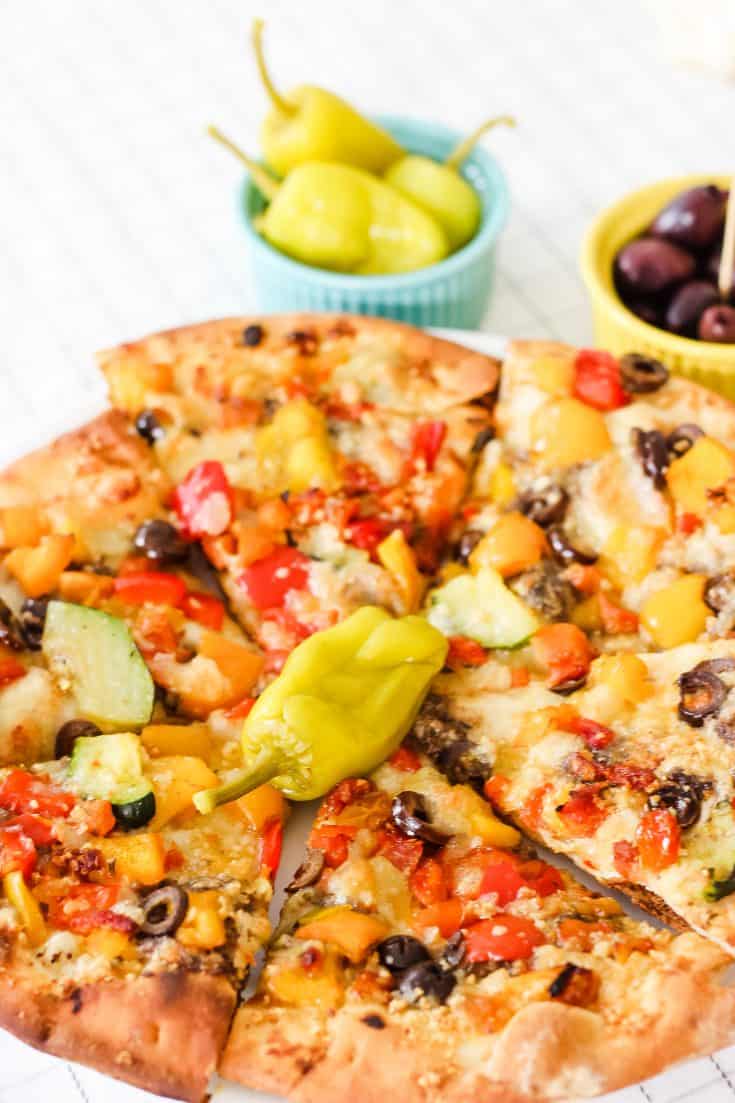 Our sleepover guest is a very adventurous eater and was thrilled with the menu, especially the artisanal olives. I stacked them on mini-skewers with grape tomatoes and cucumbers for nutritious finger food.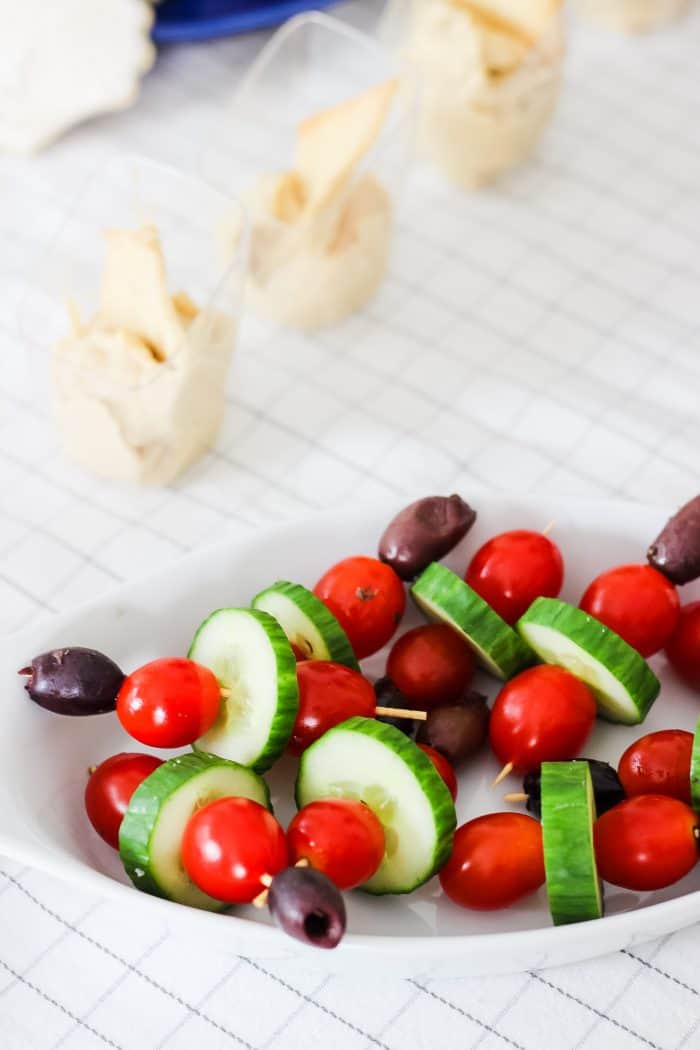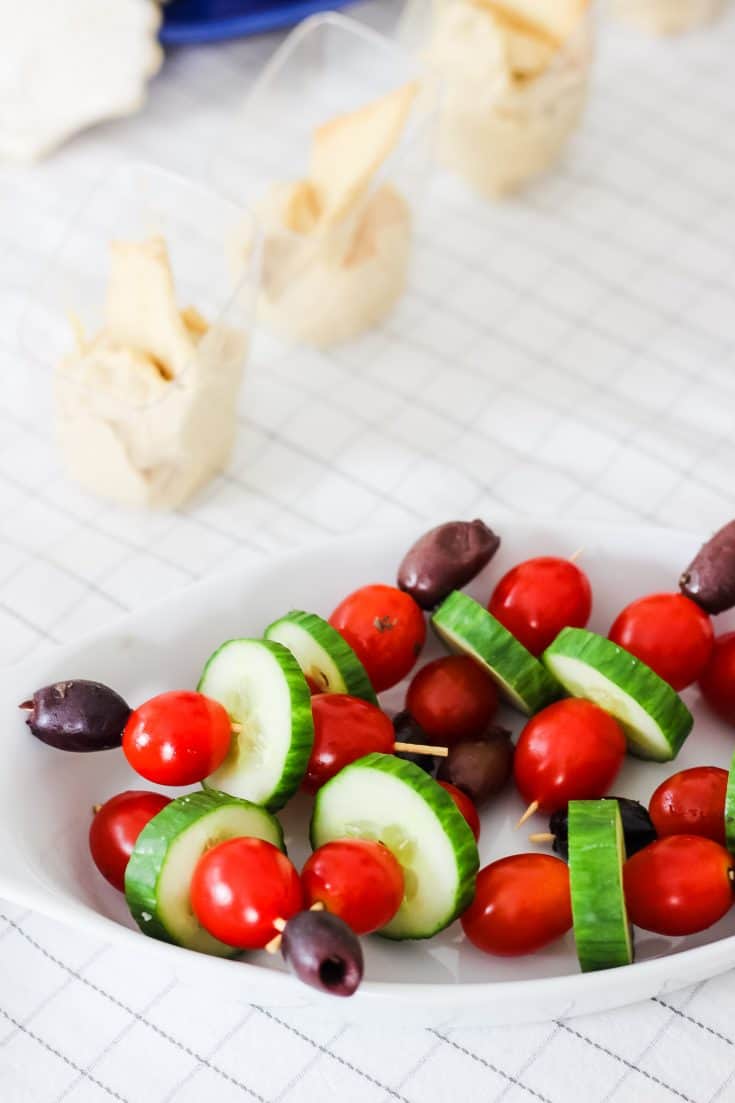 Picky though he may be, one of Gus' favorite foods is hummus so I made these little hummus cups just for him. Add a pita chip and you're all set!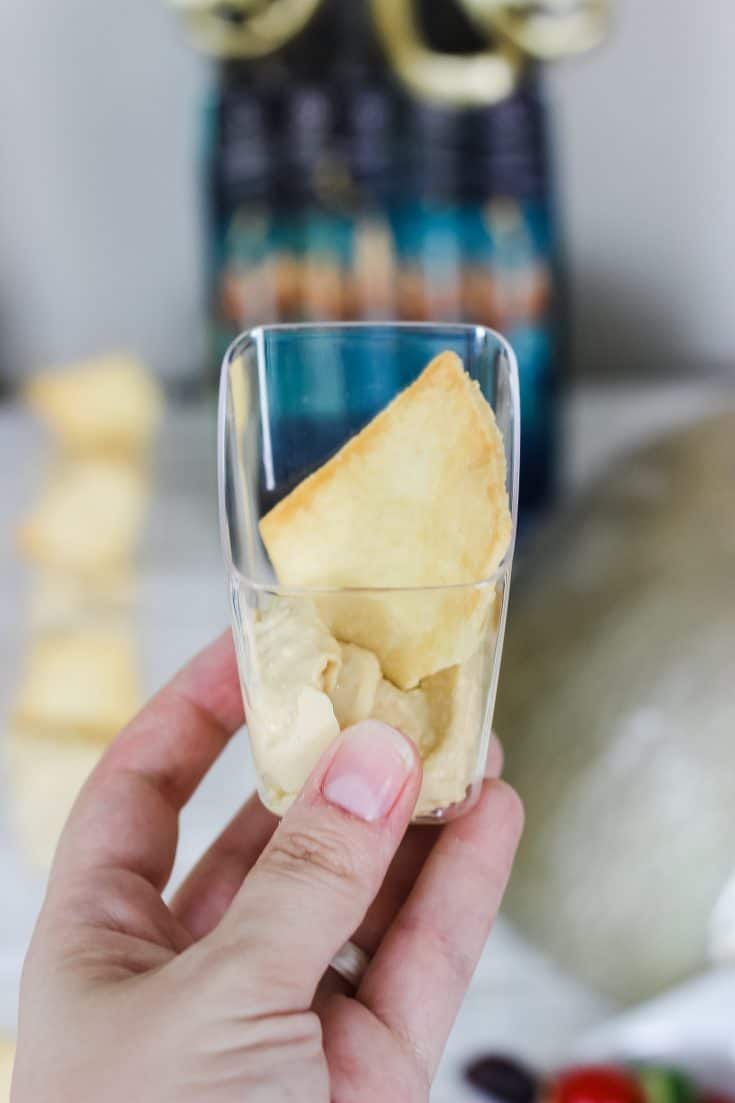 These chicken phyllo triangles (just heat in the oven and serve!) were Hubs' favorite. It's a good thing I ate one before he tried them or I would have been out of luck.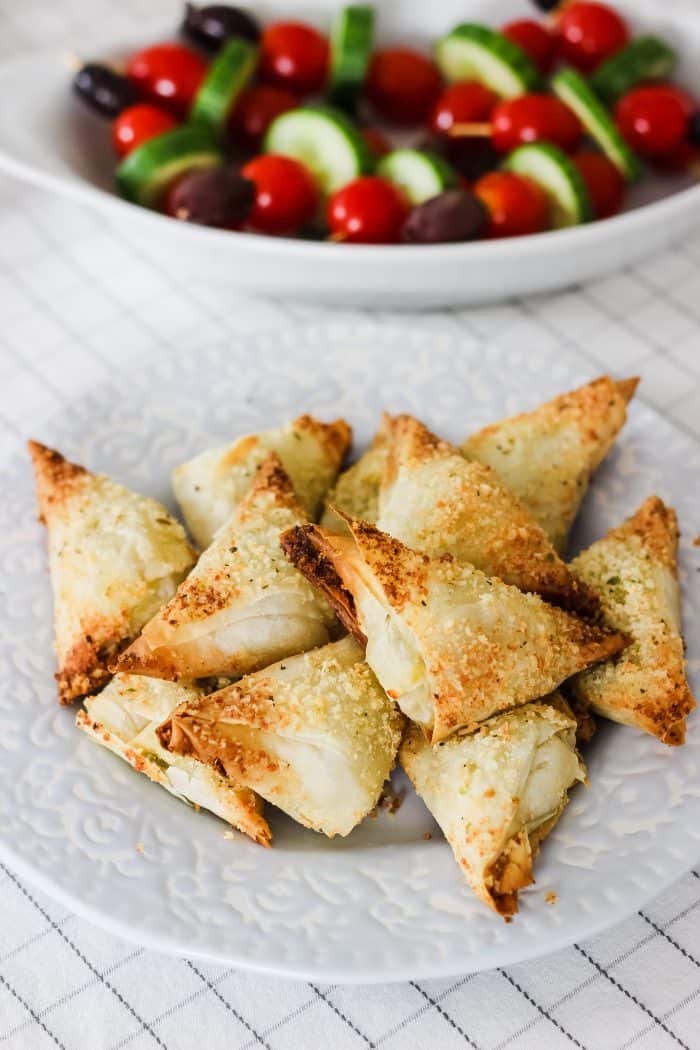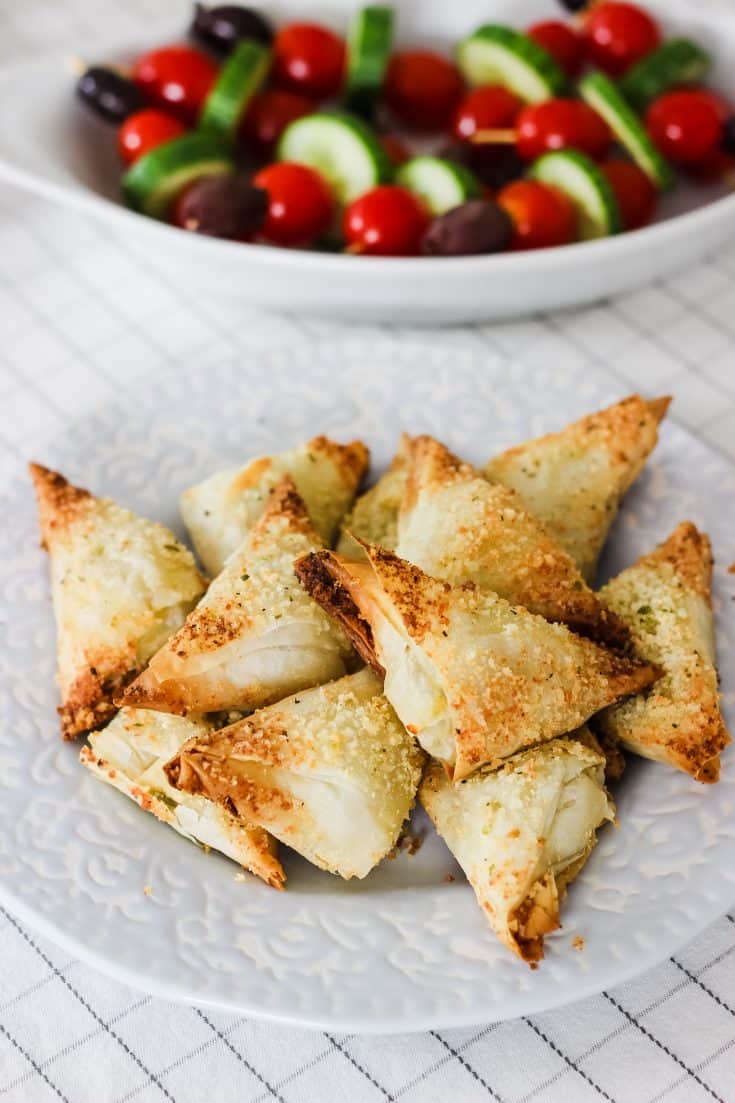 I kept decorations pretty simple using the Percy Jackson and the Olympians boxed series as part of our table decor along with this golden octopus that I just had to have.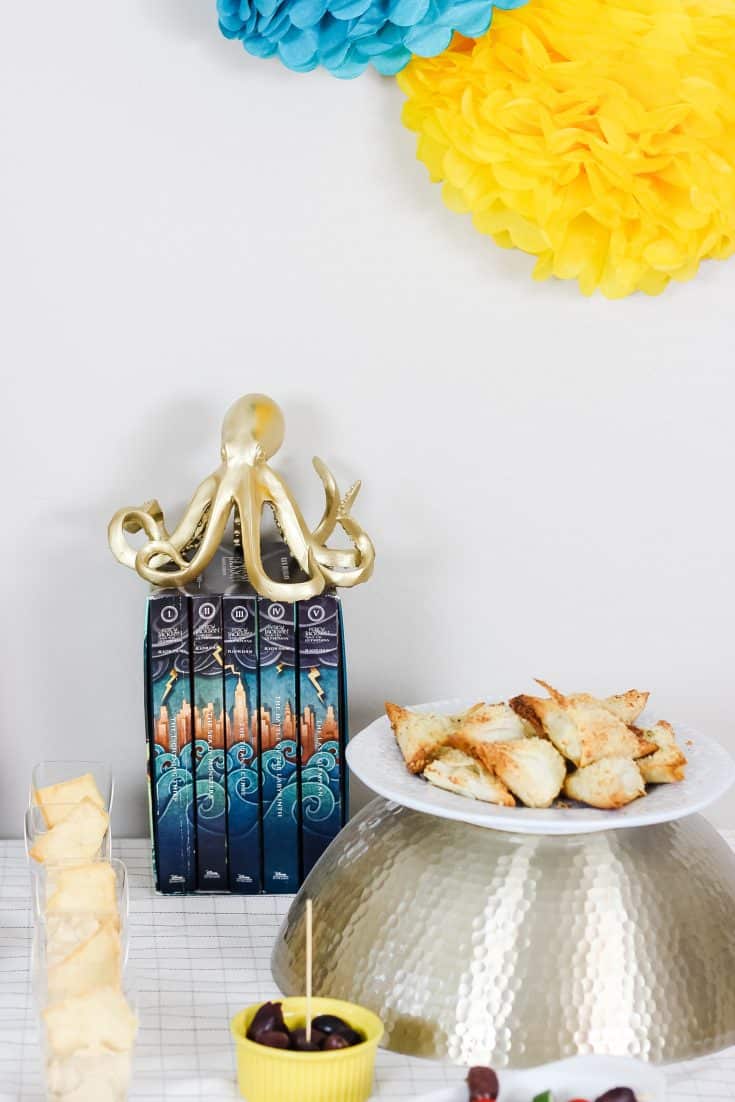 Welcome your party guests/campers with a letterboard sign letting them know that they've just entered the world of Percy Jackson and you're all set!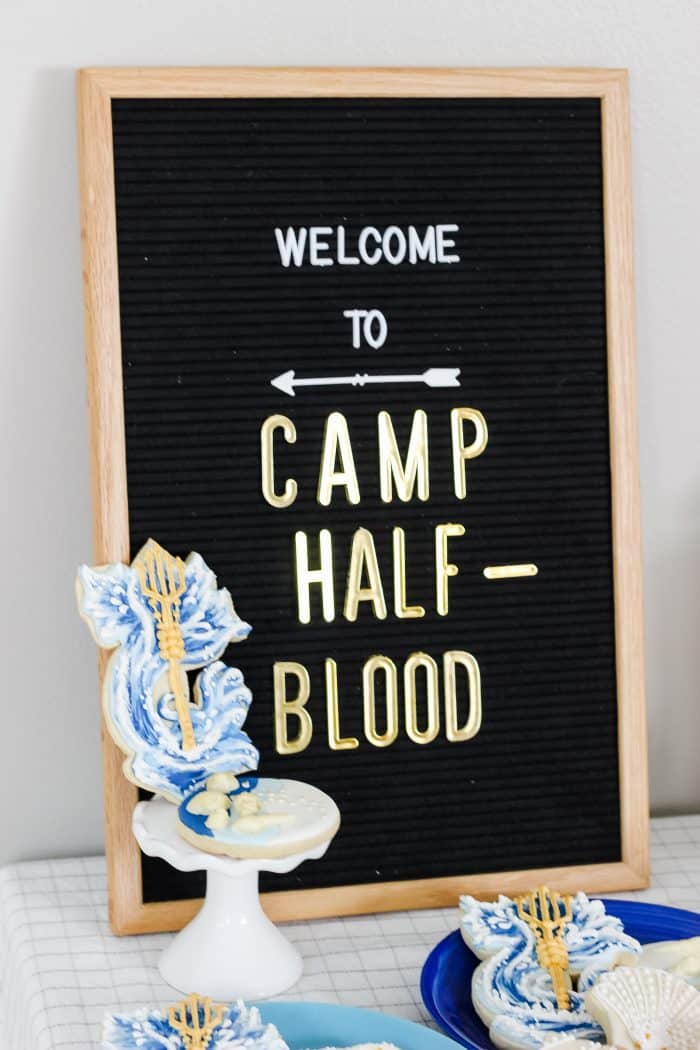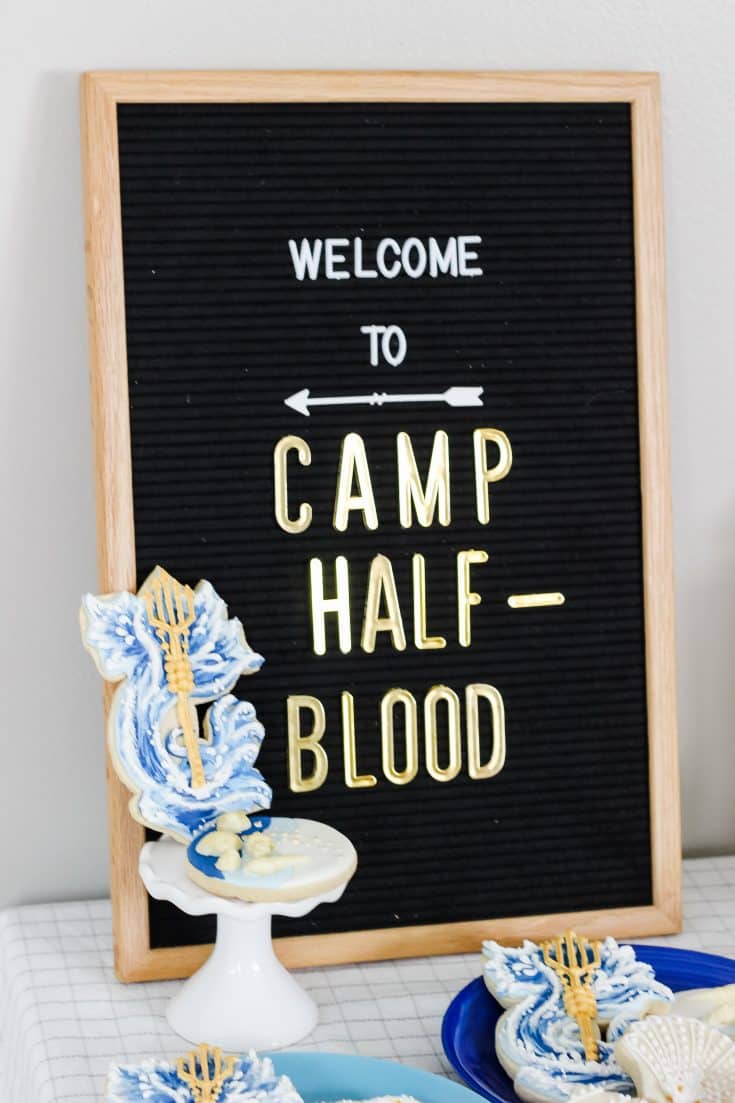 I hope our Percy Jackson party inspired you and your youngsters to read the Percy Jackson and the Olympians series and maybe even throw a Percy Jackson birthday party or playdate of your own!