Country Cascades Waterpark Resort is built with families in mind with everything from the waterpark to the guest rooms. If you're planning some Pigeon Forge family fun this summer, here are 5 reasons we love Country Cascades Waterpark Resort.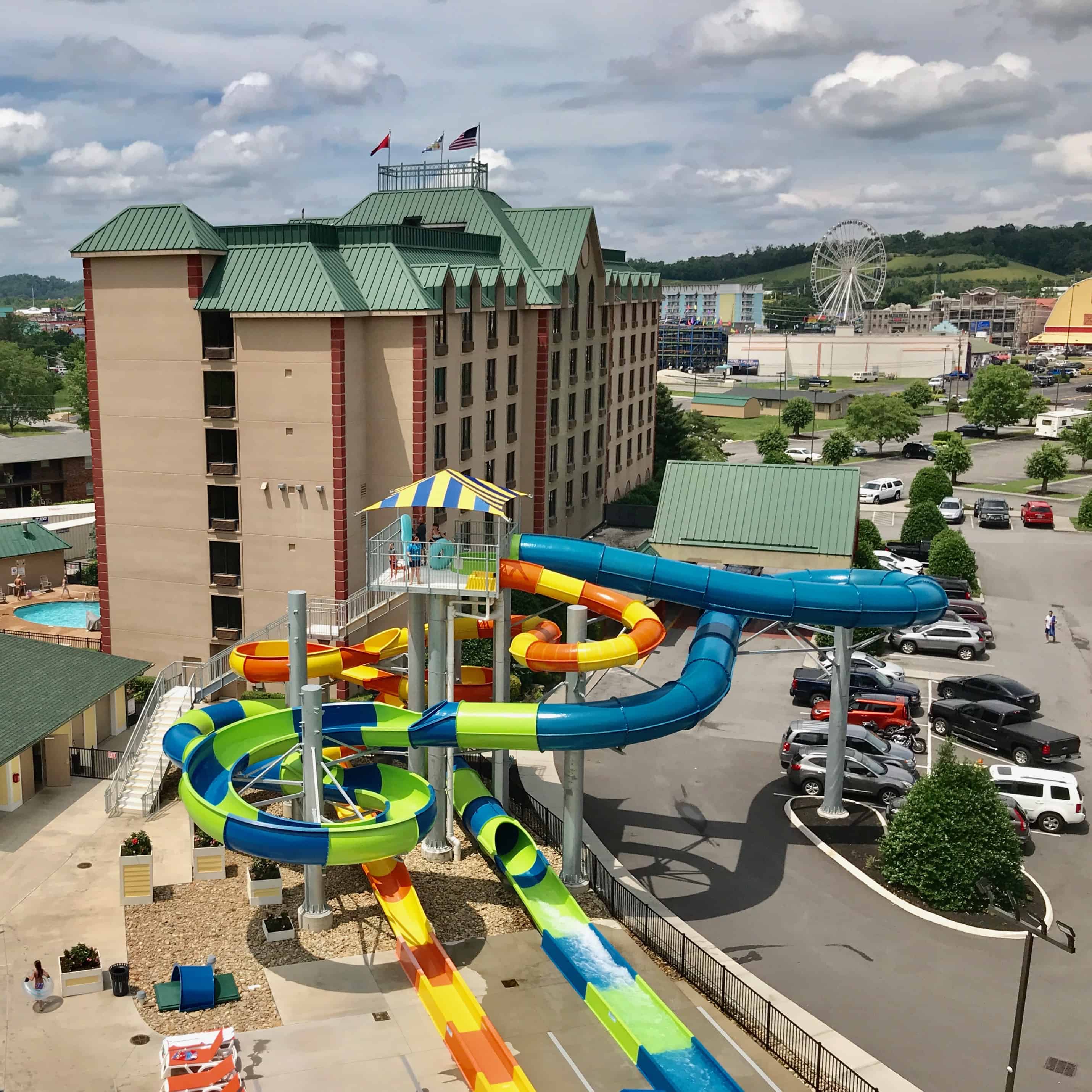 There's lots to love at this family-friendly hotel. Country Cascades is more than just a hotel. It's a waterpark resort! Here are 5 reasons to stay here with your kids on your next visit to Pigeon Forge.
The Outdoor Waterpark
The outdoor waterpark area features the sweeping thrill of the River Run water slides with 4-story twists, a beached entry leisure pool, and the convenience of The Snack Shack concession stand. Splashaway Bay, the splash pad, features a bucket that dumps 350 gallons of water out to cool you right off.
Obviously, this is a huge pull during the summer months. Families can cool off and really spend a whole day just swimming with no need to spend money on Pigeon Forge family attractions every day of the trip. Some days you'll be able to take it easy and not leave Country Cascades if you choose. This makes it a great place to stay with little ones.
Check out our video below to see more!
Complimentary Buffet Breakfast
A full free buffet breakfast is included in your stay at Country Cascades. During our Memorial Day Weekend stay the daily breakfast buffet included:
Scrambled Eggs
Sausage
Home-style Potatoes
Fresh Baked Biscuits & Gravy
Grits
Oatmeal (with lots of toppings. I ate my weight in walnuts)
Blueberry & Belgian Waffles
Vanilla Yogurt with strawberry and cranberry toppings
Granola
Tropical Fruit Salad
Bagels and Toast with flavored or regular cream cheese, butter spread, strawberry, and grape jelly
Powdered donuts
Cereal including Fruit Loops, Rice Krispies, Frosted Shredded Wheat, Raisin Bran, Frosted Flakes, and Lucky Charms
Milk
Fruit Punch, Apple Juice, Cranberry Juice, Orange Juice
Hershey's Cookies and Cream Cappuccino, French Vanilla Cappuccino, Hot Chocolate
House Blend Coffee, Decaf Coffee, Specialty Coffees, and Hot Teas
The hot breakfast at Country Cascades is self-serve, buffet-style so you can power up for the day and eat as much as you want!
Location
As fun as this waterpark resort is, you're going to want to take advantage of the many activities Pigeon Forge has to offer. Luckily, you'll be close to them all thanks to the convenient location of Country Cascades. Located in the heart of Pigeon Forge you'll even be within walking distance of a few things like The Island and The Comedy Barn Theater.
This is good news since traffic on the Parkway can get gridlocked on a seasonal basis. Walking is a good option to have! Even if you're fine with driving you'll appreciate not having far to go whenever you're ready to try the local restaurants or see some tourist attractions.
Microwave & Fridge in Every Room
Besides the convenience factor, having a mini-fridge, microwave, and coffee maker in the room can help you save money. At Country Cascades, you've got a place to store and reheat leftovers and a way to keep picky eaters' favorite snacks on hand.
This is also handy for when you're kids aren't hungry for complimentary breakfast during the time you're down at the eating area. I mean, are they ever? Just grab them some fruit, milk, and bacon to have an hour later when they actually want it.
Kid-Friendly Design
Country Cascades was built with families in mind. We noticed lots of little details from the metal chairs in the breakfast area that kids can't possibly damage to the difficulty of opening the heavy balcony door (there's no way a little one will be strong enough to open it while you're taking a bathroom break.)
The friendly staff was buzzing like bees, cleaning up after guests and keeping us fed. I never worried about my kids being too loud or wet or wild. We could just be!
Tips for Your Stay at Country Cascades
Get an early morning breakfast – There are signs located in the elevators and other areas around the resort letting you know what breakfast hours are (this probably changes seasonally) and what wait times are like.

The first hour of the buffet breakfast moves leisurely while the later hours can back up due to the volume of people being served, keeping the breakfast team on their toes! Get up early, enjoy your deluxe breakfast, and head over to The Titanic Museum or Dollywood right when they open and you'll be doing Pigeon Forge like a pro.

If anyone back home complains about crowds, you can just mutter "bless your heart" under your breath because they obviously don't know how it's done, son!

Request a late checkout – While not a guarantee, it never hurts to ask. The front desk staff was able to give me a noon checkout time which gave us more time to enjoy the complimentary water park and indoor swimming pool.

The indoor swimming pool opens 30 minutes before the outdoor pools – If you want to maximize pool time you can bring the kids down to breakfast in their swimwear then head to the indoor heated pool for a half-hour before transitioning to the waterpark area. Treat yourself to a soak in the hot tub while you're there.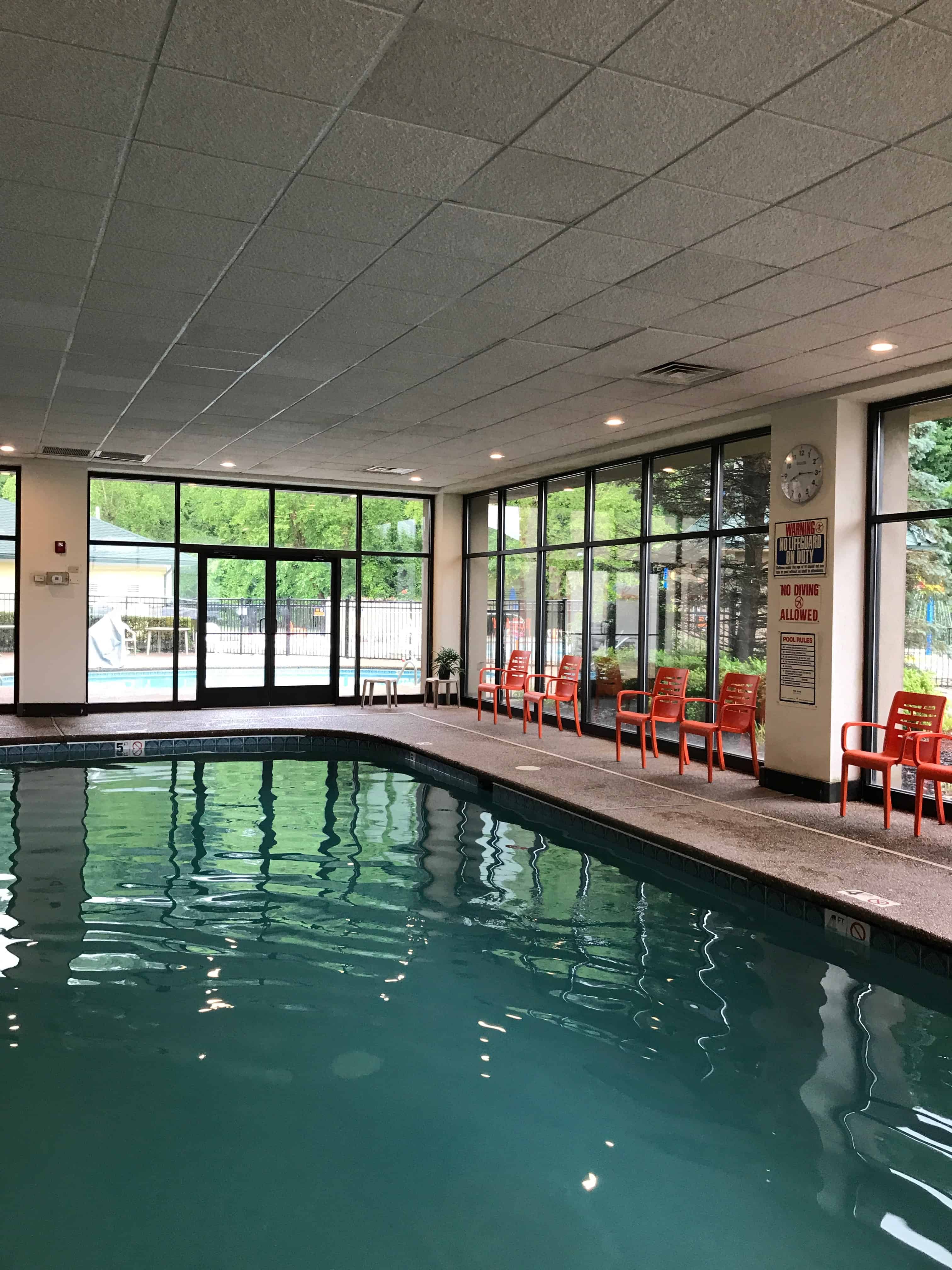 Additional Features for Guests of Country Cascades
Complimentary wireless internet access
Flat-screen TVs in each room
Hair dryers in each room
Fitness center
A computer station
Kids Camp Country scheduled activities
FAQ
Is Country Cascades water heated?
The indoor pools are heated. The seasonal pool outdoors is not. Don't worry though. If you're visiting in the summer you'll probably wish the outdoor pools were cooled if anything!
What is check-in time for Country Cascades Waterpark Resort?
Check-in is at 4:00 PM Eastern time. If you happen to arrive early, feel free to ask if your room is available. Ours was!
Are waterpark day passes sold?
No. Only overnight guests of Country Cascades Waterpark Resort are given wristbands to access the waterpark.