Thinking about a vacation to Georgia's Golden Isles? St. Simon's Island just might turn out to be a family favorite. Read about our experience there and learn where to stay, where to eat, and what to do while you're there.

Where to Stay
The King and Prince Resort graciously hosted us during our visit to St. Simon's, and I couldn't have been happier with our accommodations. Our villa was as spacious as a small home with all the amenities you could expect for a long stay.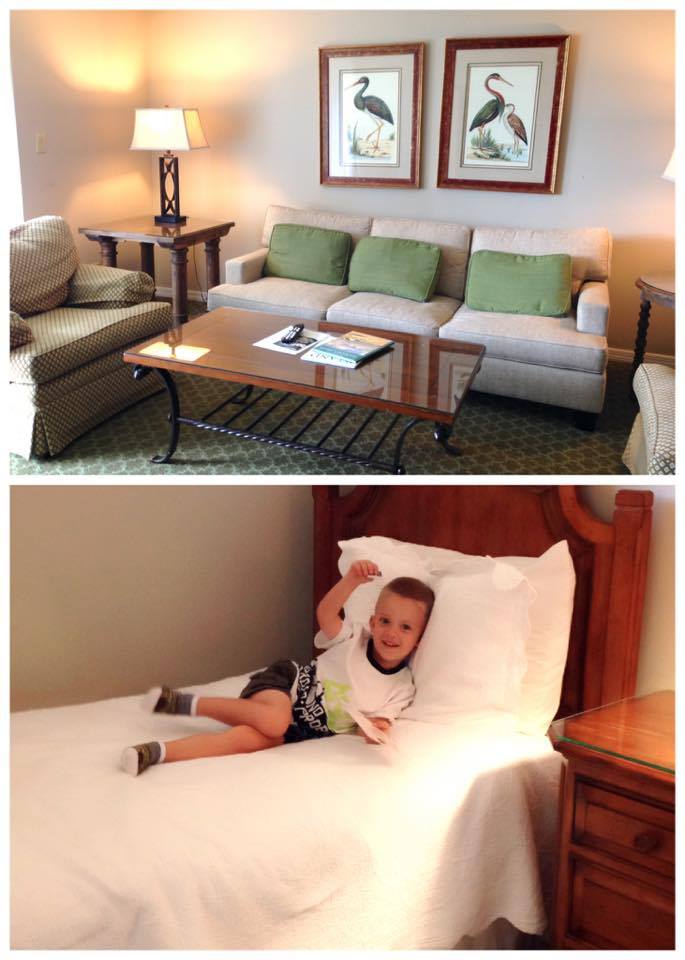 The washer/dryer and full-sized kitchen was a life saver!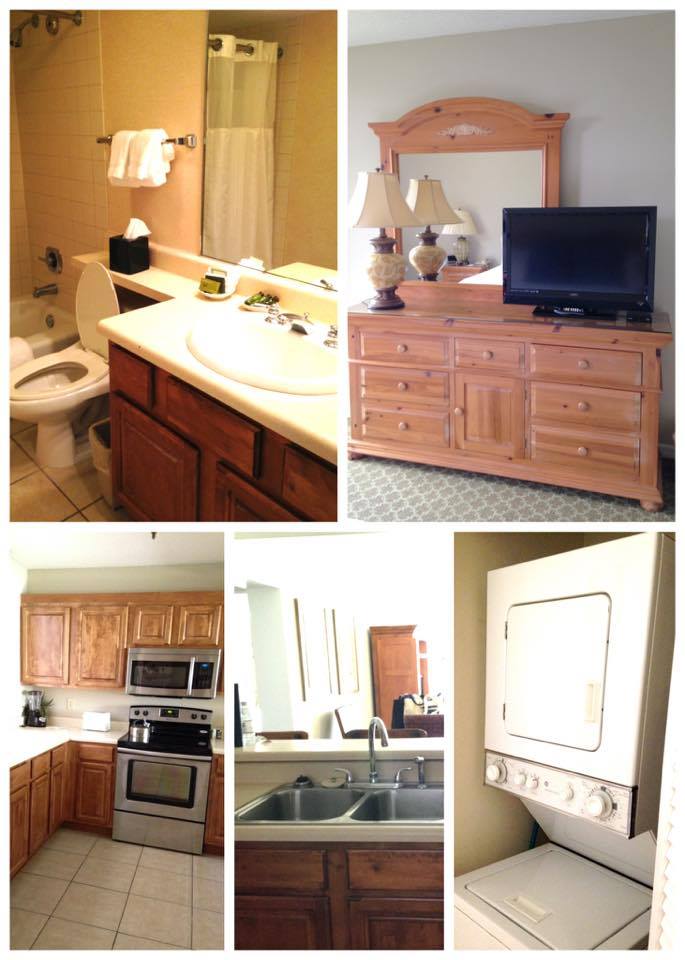 In addition to having their own bedroom & bathroom the kids had a grassy backyard to play in!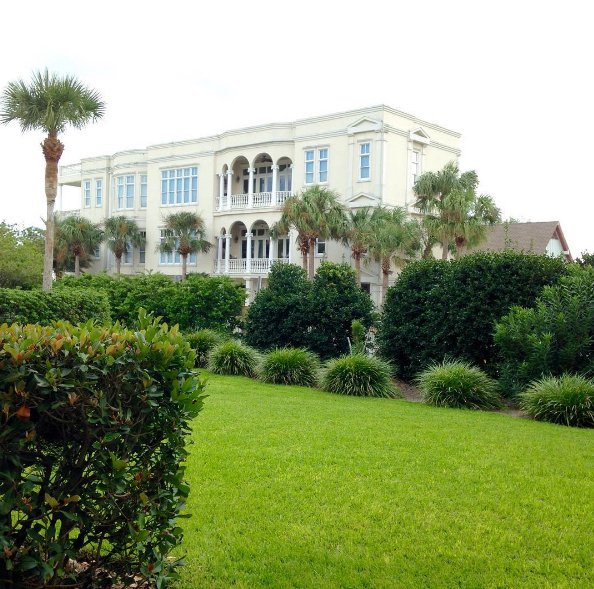 Our villa was steps away from a pool and the ocean too.
The common areas of the resort are luxurious as well while still maintaining a family-friendly atmosphere
Where to Eat
You're going to work up an appetite during your stay at The King and Prince, and thankfully the resort's own restaurant is a great choice. Not only is ECHO convenience to guests, but it's the only ocean side dining establishment on St. Simon's Island.
We enjoyed breakfast and dinner there, and I've got to say for such elegant style, quality fare, and ocean view I was amazed at the reasonable price point. You can check out their menus by clicking the link.
I enjoyed the Seafood Omelette Breakfast served with breakfast potatoes and a mini parfait.
Since pancakes make the short, short list of things my kids will actually eat, you can guess what Sweet T and Gus had. Sweet T also made sure her garnish didn't go to waste.
Wouldn't you love to enjoy your coffee every morning with a view from ECHO? I'm missing the serenity already.
Now we have to talk about dinner at ECHO, and boy is there a lot to talk about!
Let's start clockwise from top left:
Chilled Seafood Bowl
Kid's Flatbread Pizza with Fruit
House Sausage
Lobster Ravioli
Braised Beef Pot Roast
All of the entrees were so phenomenal, it's impossible to choose a favorite. However, the Braised Beef Pot Roast surprised me the most. It was so tender you could eat it with a spoon, not the mention the rich flavor.
We brought Key Lime Pie and Fudge Brownie Cheesecake back to the room since we were pretty stuffed, and I forgot to take a picture before we devoured them. Sorry. Shame on me, I know, but they were impossible to resist.
ECHO is a St. Simon's dining experience that you don't want to miss!
Just around the corner from the Resort, easily within walking distance, is Beachcomber BBQ where Hubs declared he enjoyed the best brisket he's ever tasted. I was skeptical since he's a Jersey boy and you just aren't going to school a lifelong Southerner on her BBQ. So I decided to be the judge of it myself the next day. I got The Ultimate so I could sample not only the brisket but their pulled pork and ribs as well. You know what? Hubs was right and I was wrong to doubt him. That was some fine BBQ all around. Beachcomber BBQ is great for grab-and-go for a picnic or to take back to your suite at The King and Prince.
We also had the opportunity to eat at Mullet Bay while we were out and about.
I had the Coconut Crusted Mahi Sandwich with mashed potatoes and gravy. The salty/sweet combo was just what I wanted.
The kids enjoyed coloring on the paper table cloth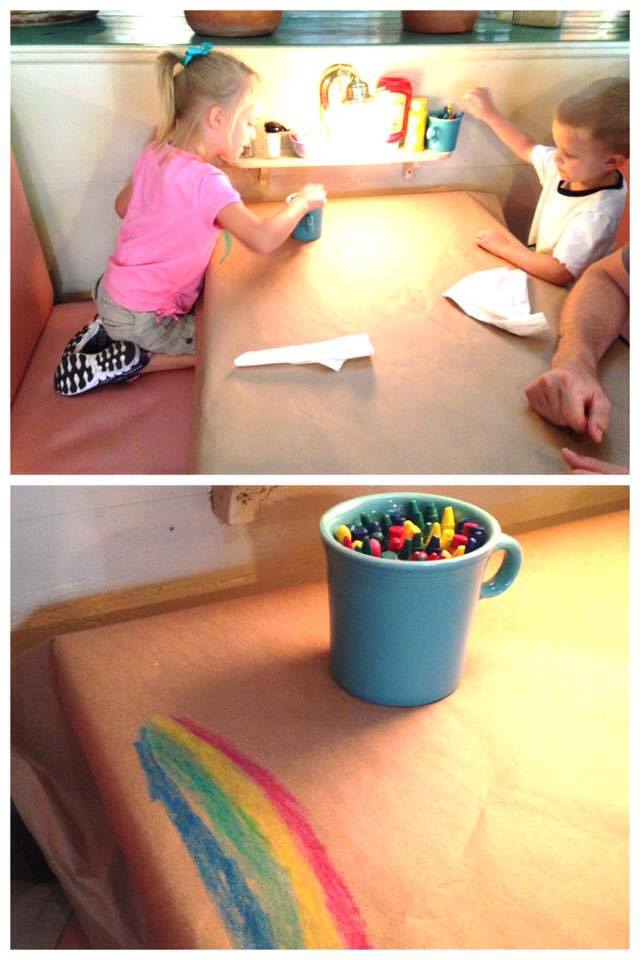 Things to Do (if you can pry yourself off the beautiful beach)
Rent a bike at Ocean Motion and explore St. Simon's Island. Ocean Motion is within walking distance of The King and Prince so you won't have to worry when it's time to return your bikes. They have a large variety of options including trikes, bicycles built for two adults or one adult and one child, kids bikes, and bike trailers.
You can see what we opted for.
The neat thing about St. Simon's is that in addition to having plenty of sidewalks and bike racks, you can also ride right on the beach!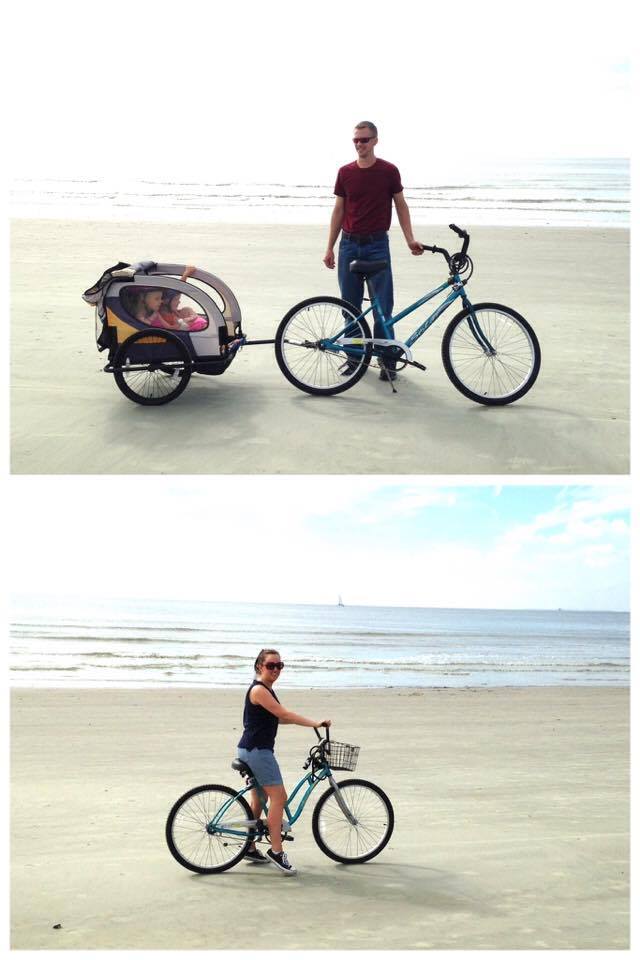 Definitely the most beautiful bike ride I've ever experienced. The closest entry point to the beach is just down the street from Ocean Motion and provided the kids a chance to run off some energy while Mom and Dad rested.
St. Simon's Lighthouse
While you've got your bikes, take the opportunity to ride down to St. Simon's Lighthouse.
While photography is not allowed inside the lightkeeper's home, let me assure you that the feeling of stepping back in time you get from entering is both profound and educational. I loved being able to show Sweet T the kid's room and explain the ways people lived differently that us so many years ago and how some things are still the same.
Then we climbed all 129 stairs in the light tower…
And took in the beautiful view. The water park you can see is open seasonally, and notice the playground behind it?
That was our next stop as soon as we were back on the ground.
If you're trying to decide where to bring your family on your next beach vacation, St. Simon's will not disappoint. I hope you'll decide to experience it with your kids soon. We certainly have!
This is a partnered post. All opinions are my own.