The Yard Milkshake Bar is one of Gulf Shores' latest claims to fame. The beautiful white beaches have been enjoyed by Alabamians for decades and now there's another beautiful thing to look forward to on a vacation to Gulf Shores: The Yard Milkshakes!
See what I mean? Gorgeous.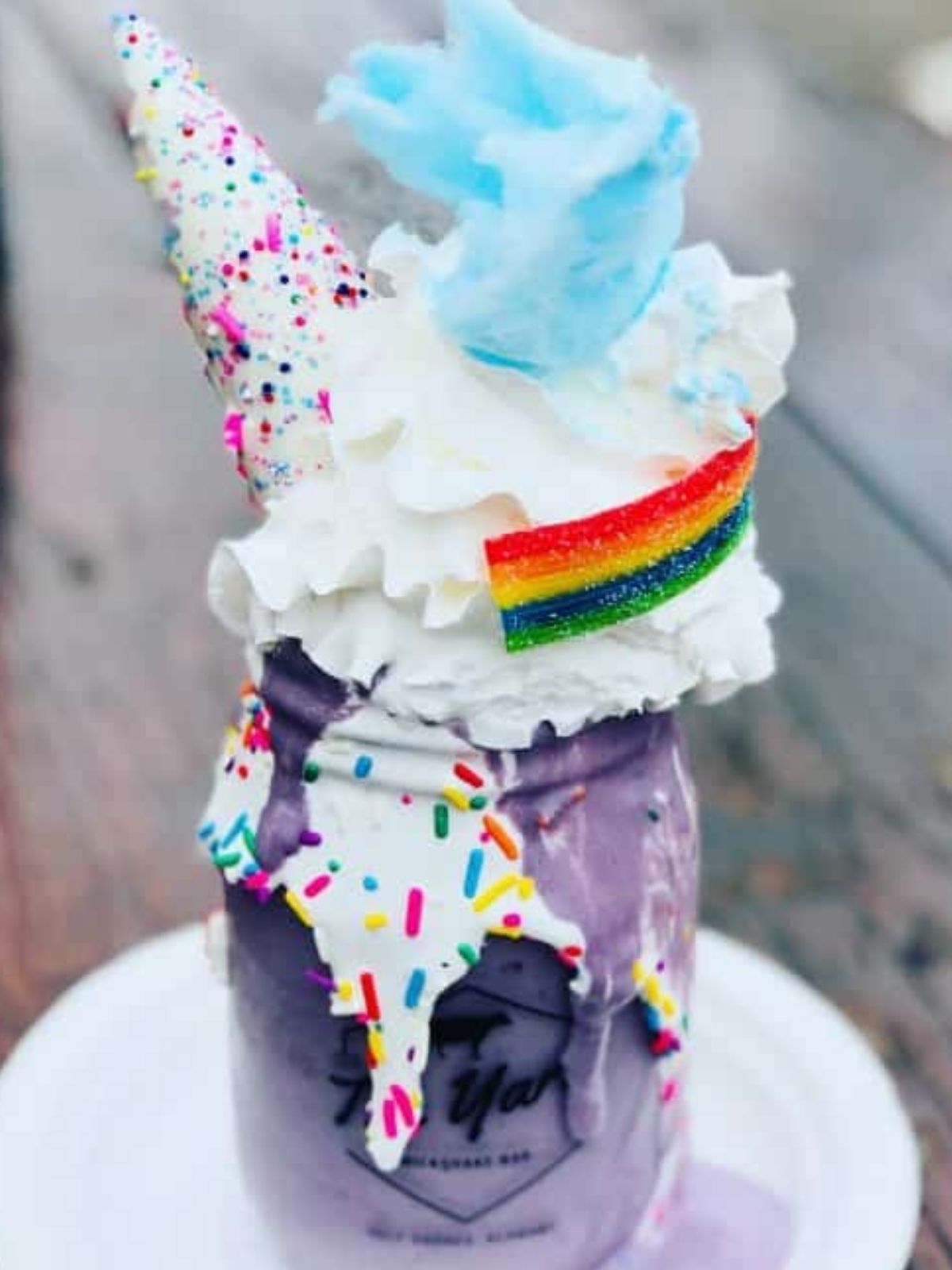 The Yard Milkshakes
Bring your sweet tooth and get ready to experience the most indulgent milkshakes ever created. Sweet T had "The Unicorn" pictured above. She was in heaven!
I opted for the "Doughnut Touch My Coffees and Cream" and had to have a little help eating the doughnut. I mean look at it!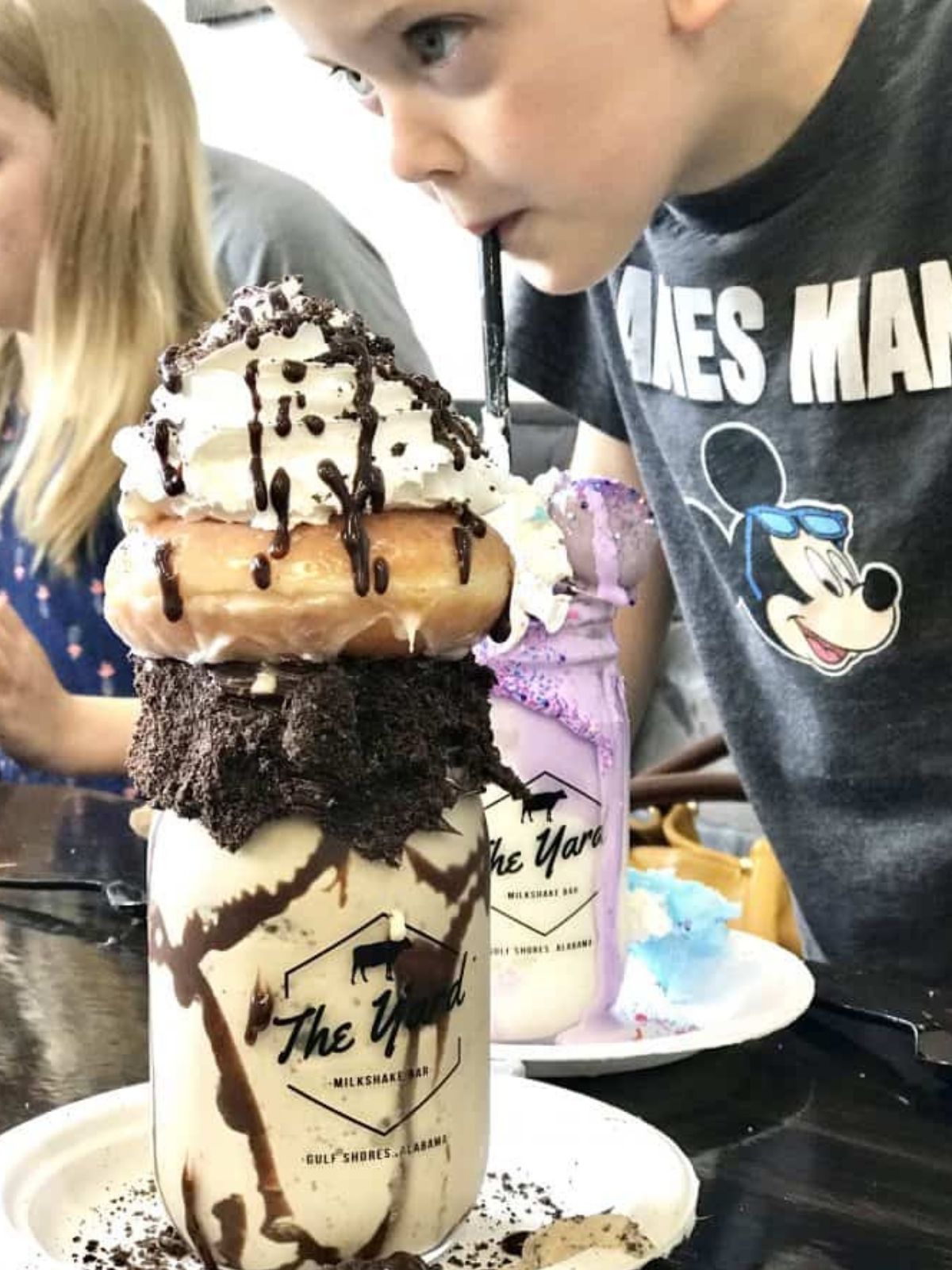 Gus had the off-menu special "The Mad Hatter" just for the unicorn poop (cake balls) of course! He thought waving our number around would help them make the milkshakes faster. This is before the sugar rush. Imagine afterward (totally worth it by the way.)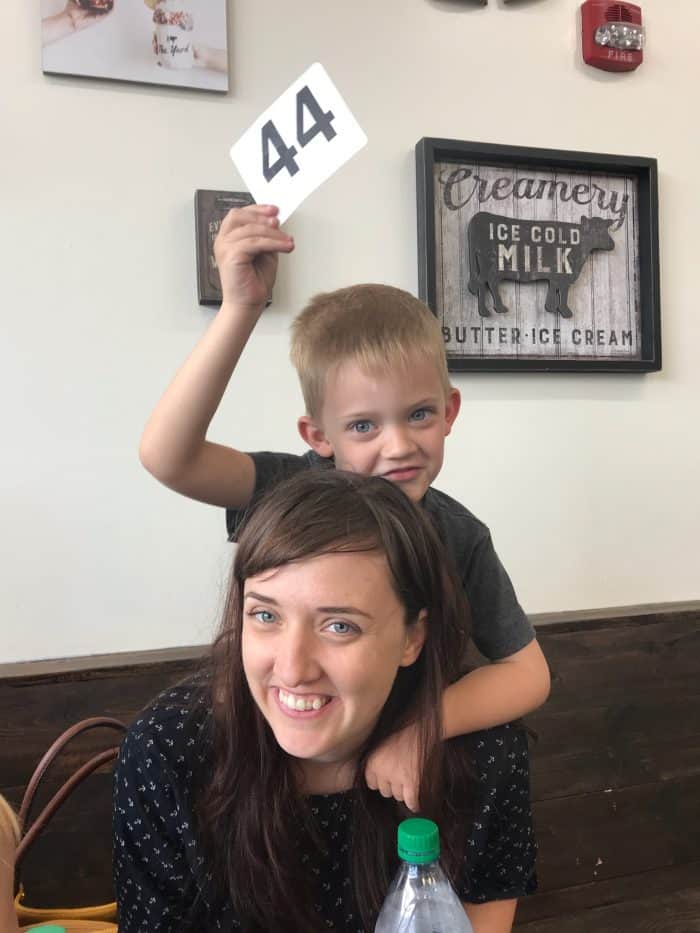 Check out our video below to learn more about The Yard Milkshake Bar
The Yard Milkshake Menu
You'll find a wide variety on The Yard's milkshake menu from their regular offerings to off-menu specials that rotate. You can also build your own milkshake or ice cream cones exactly as you want them. There's zero judgment here for choosing to mix cotton candy with Butterfinger bar. Ok, maybe a little judgment from me personally but you don't have to let me know.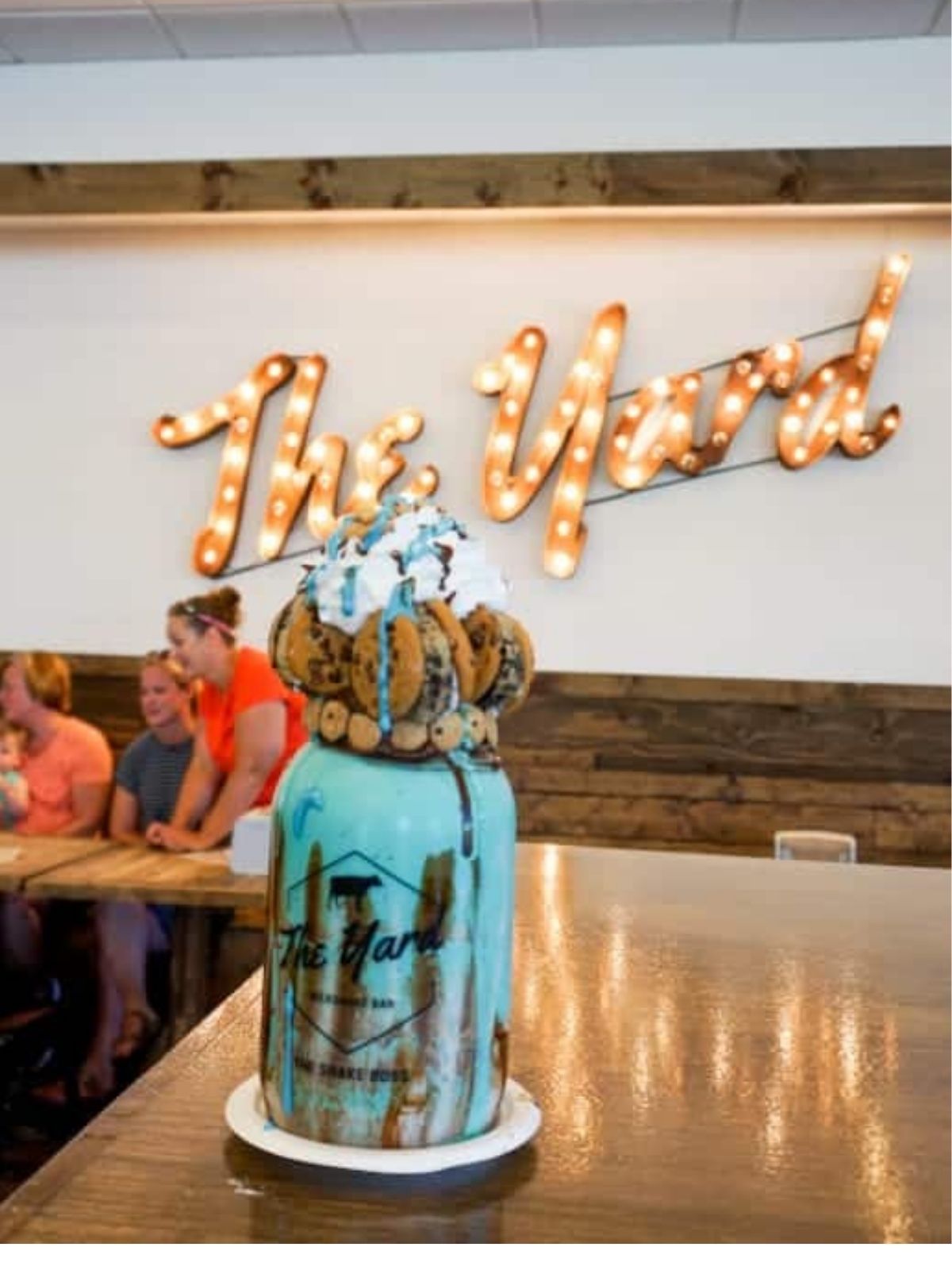 The Yard Milkshake Bar actually has three different menus to choose from:
Specialty Milkshakes Menu – Choose from build-your-own and specialty shakes off this menu
Everything Else Menu – Order regular milkshakes, bowls, cones, floats, sundaes, and more off this menu
Shake Boss Menu – If your sweet tooth is jumbo-sized or you feel like sharing order a Shake Boss Shake from this menu. It's a half-gallon!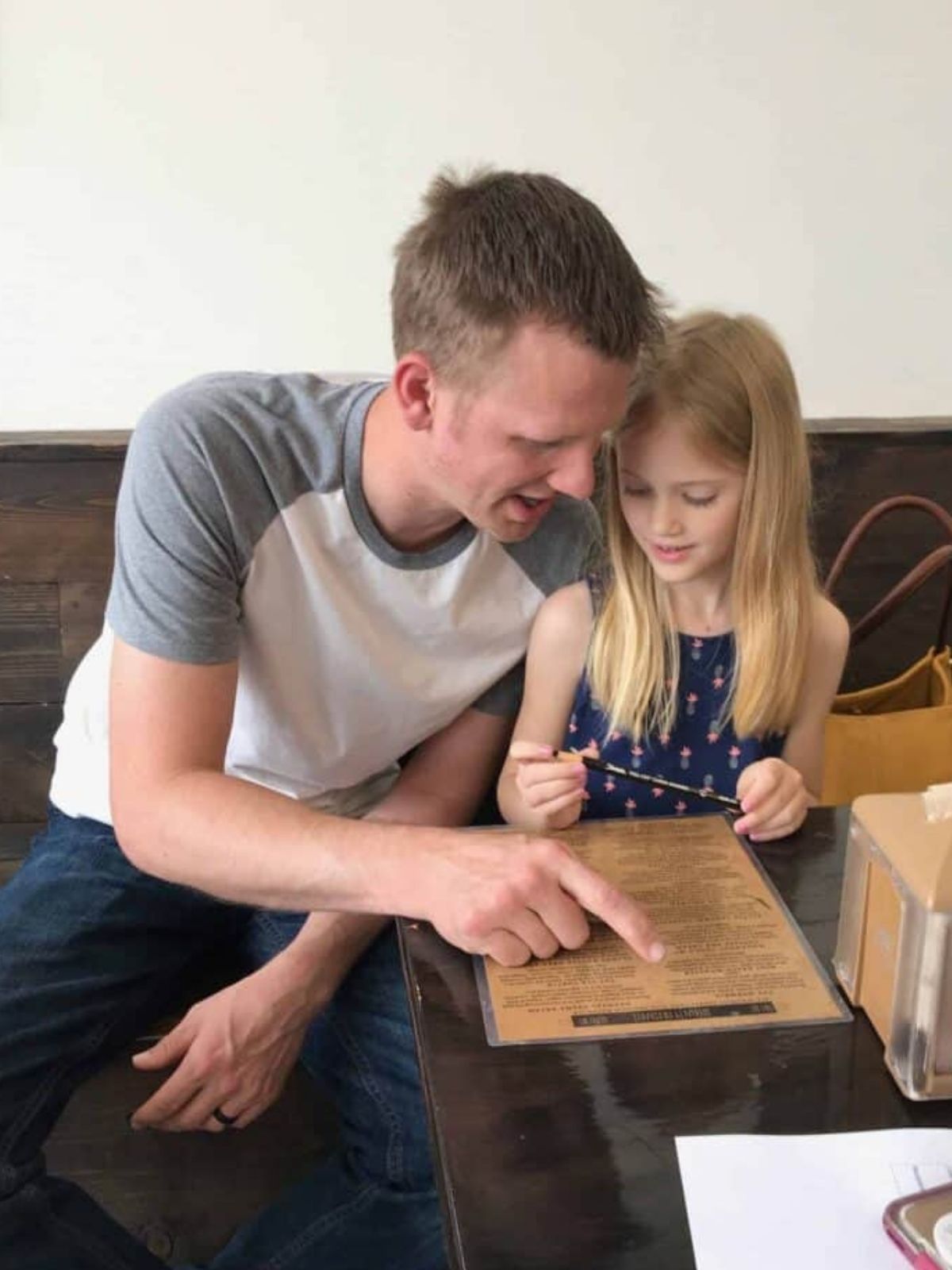 You'll also find Gluten-friendly options on The Yard milkshake menu. Just mark your selections on one of the three menus and they'll get started on it! You can watch while they make your milkshakes too which adds to the experience.
The Yard Milkshake Bar Prices
The Yard Milkshake Bar prices can seem a little hefty which is a deterrent for some. Personally, I say you're on vacation so budget for these one-of-a-kind milkshakes in advance on at least one of your trips. Shakes at The Yard run around $8-$12 each depending on what you order. With specialty milkshakes you get to keep the branded Mason Jar your milkshake is served in. We're "drink out of Mason Jar Southerners" and drink out of our milkshake jars nearly every day.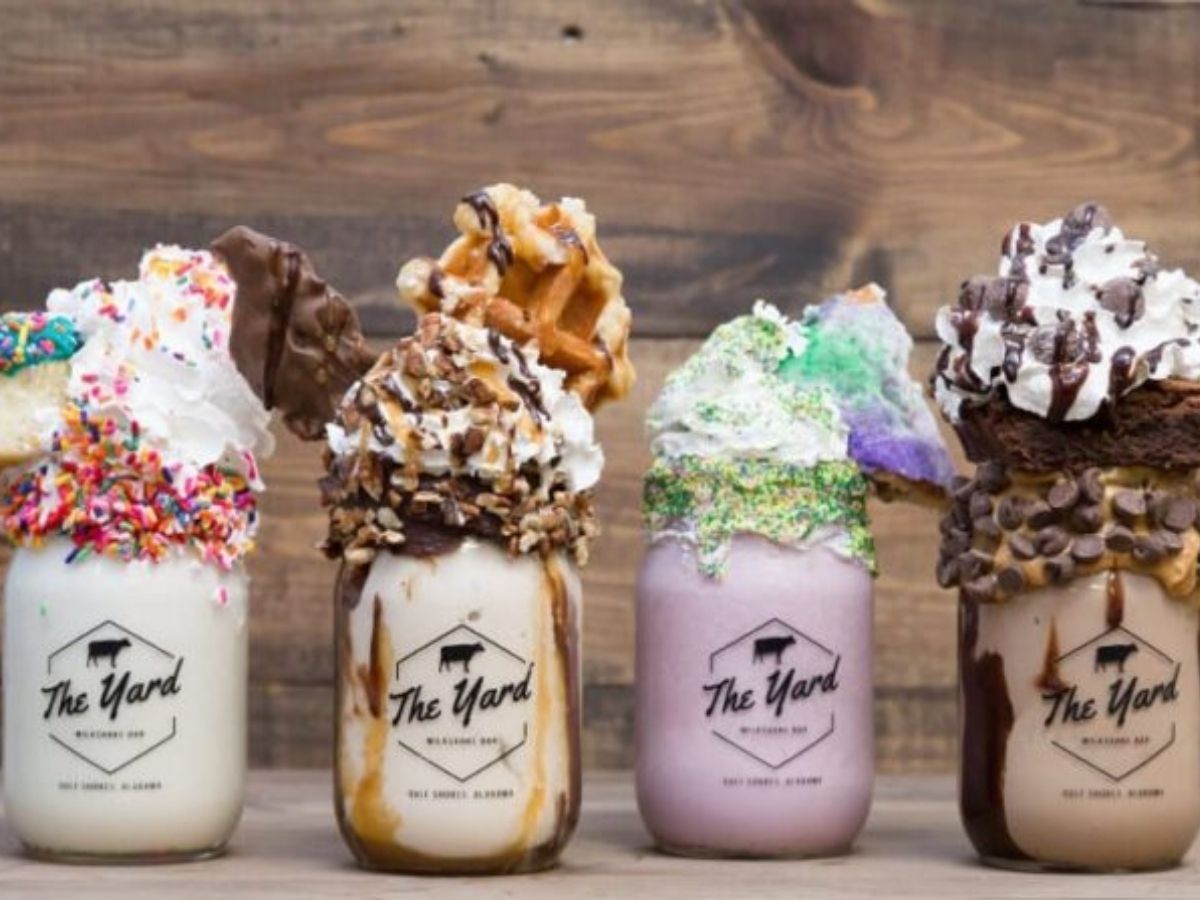 If you're on a budget, consider sharing a milkshake. The Yard Milkshakes are rich and calorie-dense and I challenge you to finish a whole one by yourself anyway!
Another money-saving tip is to order a cone or scoop instead of a shake.
The Yard Milkshake Bar Locations
Gulf Shores is original The Yard Milkshake Bar location, but if that's too far away from you I have good news! You can find several other locations across The South:
Fairhope, AL
Madison, AL
Austin, TX
Panama City Beach, FL
D'iberville, MS
Hattiesburg, MS
Austin, TX
Atlanta, GA
Georgetown, TX