We've been taking trips to the beach with a small child since Sweet T was 9 months old. There's nothing quite like a beach vacation with baby! I can't remember if this past beach vacation with kids was our 4th or 5th, but at any rate…this wasn't our first rodeo. Below are 7 tips to help you prepare for a beach vacation with kids.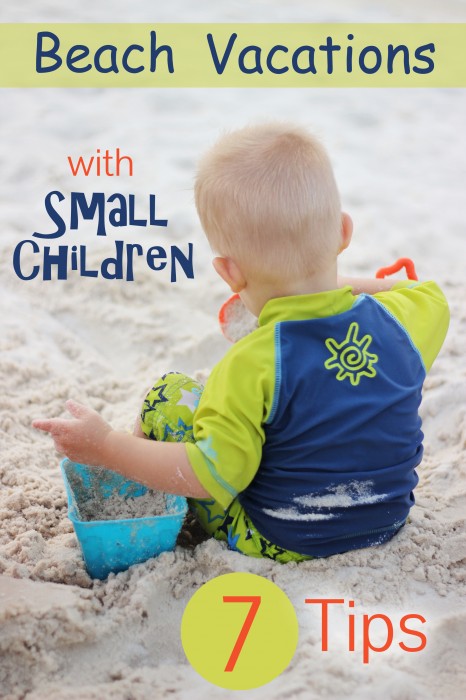 Tips for a Beach Vacation with Kids
1. Rent a condo rather than a hotel room – So many reasons for this
A washer/dryer so you're not wrestling little bodies into damp suits
A kitchen to store bottles, baby food and snacks so you don't have to eat out every single meal
Separate rooms for naps and early bedtimes. Mom and Dad don't want to have lights out by 8:00 pm just because the kids are wiped out!
Room for toddlers to run around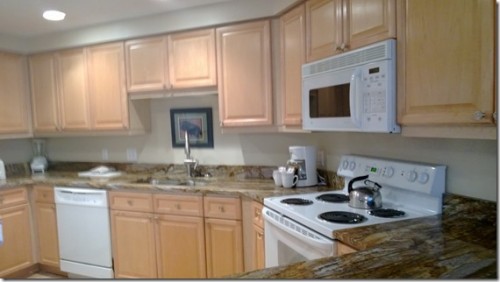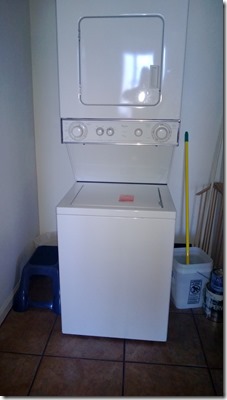 2. Make sure your accommodations are right on the beach – You don't want to have to take a tram or a hike to get to the water. Walking down from your room and across the sand to the water with your kids and all their gear is going to be hassle enough.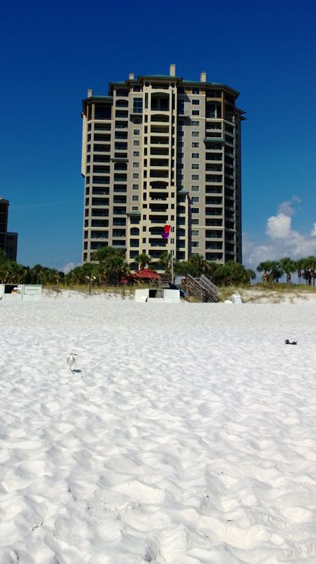 3. Over pack – If you're flying this isn't an option, but for road trips to the beach pack more than you think you'll need. Grocery stores and mass merchandisers are often scarce in beach towns, and those that can be found usually have higher prices than other locations. Better to "have it an not need it" in this case. Who wants to pack up wet, sandy, exhausted children for a ride to the overpriced beachside grocer in search of swim diapers or band-aids? Not this mama.
4. Prepare to remain on the beach hours at a time – Running back up to the condo is one thing if you are alone, but dragging a couple of kids up there and back because they're hungry or you forgot the sunscreen will wear you out faster than the sun and salt water.
Bring a large tote and an insulated cooler bag to bring down to the beach each day. Fill it with snacks, bottled water, baby food, sippy cups, diapers, swim diapers, dry clothing, towels, an extra pacifier, an additional bottle of sunscreen, beach toys….you get the idea. Anything to keep from making trips back to your suite. Also bring a beach umbrella and chairs or spring for the hourly rental rates. This way little ones can crash and burn when they need to. They will probably fall asleep before their usual nap time!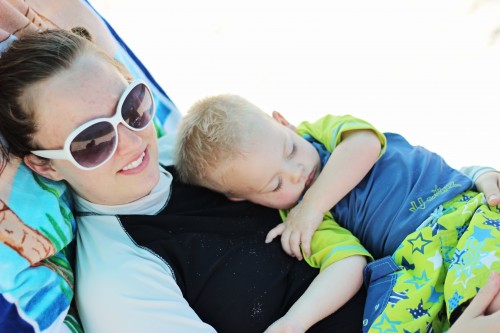 5. Wear UV protective clothing – The kids' UV Skinz give me peace of mind while we're spending hours in direct sunlight.
Uv Skinz Boys' 3-piece Swim Set, UPF 50+ Sun Protection
UV Skinz Girls' 3-piece Swim Set. UPF 50+ Sun Protection Swim Set
I don't have to worry about them getting a severe burn because sunscreen washed off due to salt water, sweat and sand or I failed to reapply often enough. I still use sunscreen on their faces and hands, but it sure beats total rub-downs every couple of hours.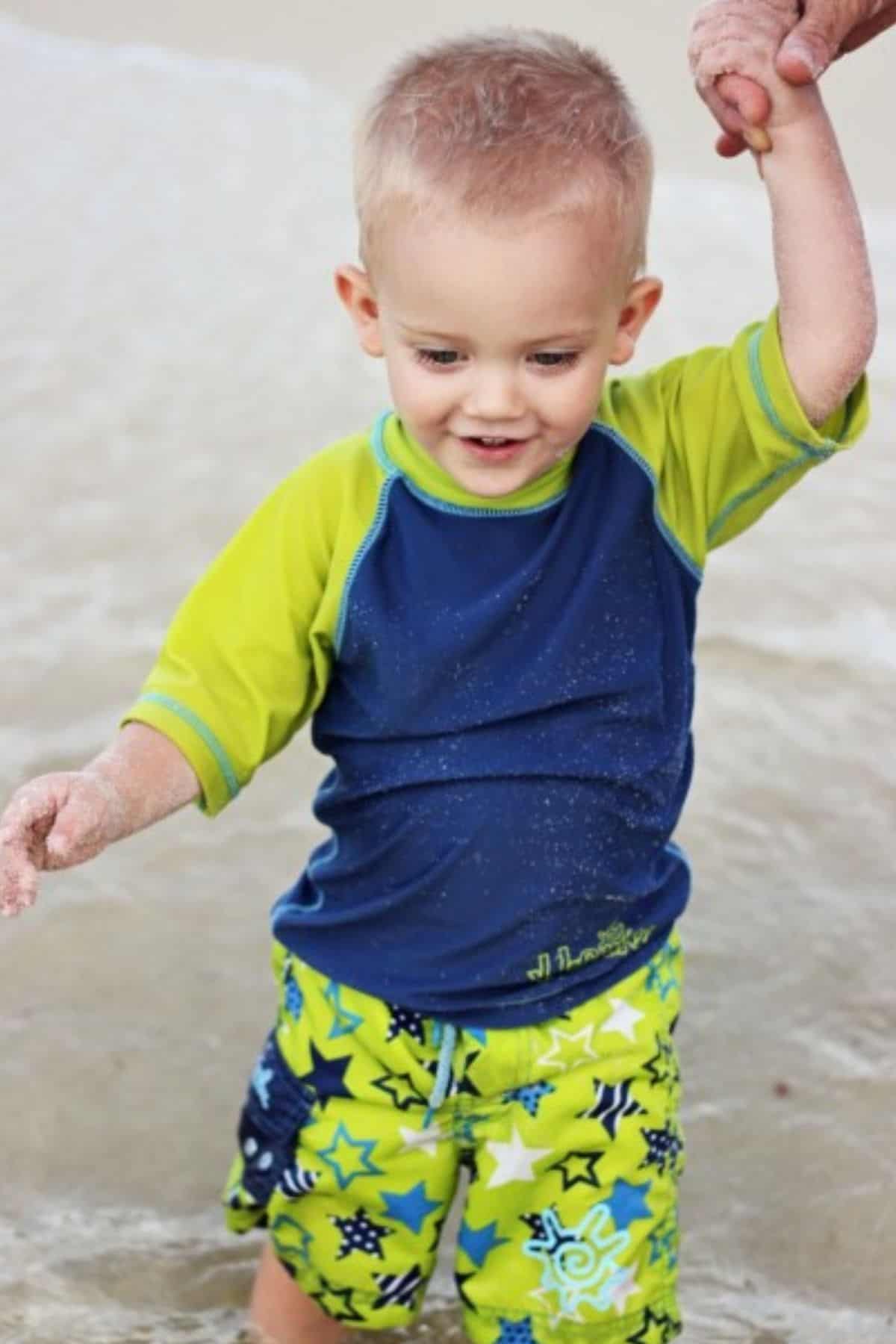 6. Bring Puddlejumpers – Best. Invention. Evah.
Stearns Puddle Jumper Basic Life Jacket, Blue Starfish, 30-50 lbs
Once your child has reached 30 pounds, suit them up if you are anywhere near water. Puddlejumpers make it so much easier to wrangle small children in the water, even in gentle waves. They are more effective than water wings, but nowhere near as bulky and uncomfortable as a life vest. And they are really easy to take and on and off a wet child. Sweet T was comfortable enough in hers to leave it on while she played in the sand. Even though Hubs and I were both watching the kids like hawks, you can never have too much peace of mind when it comes to kids and water.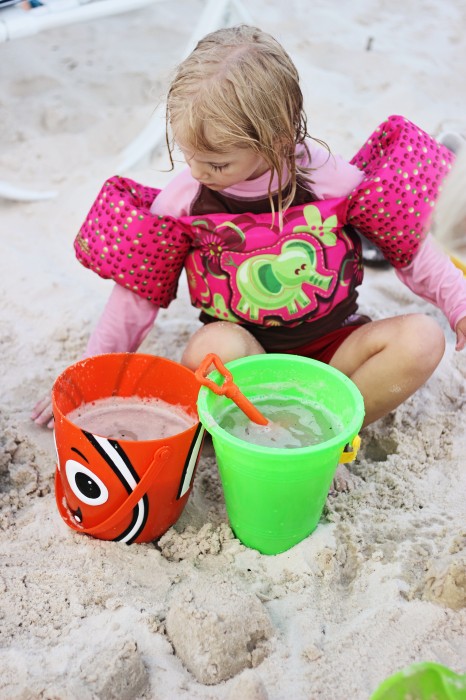 7. Essential Oils, Baby Power, Detangler – Essential oils in case of jellyfish stings or sunburn, baby power to remove sand from bodies, detangler so the sand and sticky sea water don't leave your little girl's hair a painful mess.
Have you taken a beach vacation with kids? What tips would you add?