We've made so many fantastic family memories at Great Wolf Lodge, Lagrange. On this trip, we made even more plus added some cousins into the fun! Great Wolf Lodge is the perfect place for multi-generation vacations and family travel. We're glad our kids made memories with their cousins that will last through adulthood.
The first question on your mind is probably, "How can we best enjoy a Great Wolf Lodge trip right now with all the social distancing requirements in place?" Let's take a little tour, talk about our recent experience at Great Wolf Lodge in Lagrange, Georgia and see exactly what you can expect on your visit.
Great Wolf Paw Pledge Program
How has COVID-19 affected the Great Wolf Lodge experience? I'm glad you asked! Great Wolf Lodge has implemented their Paw Pledge Program in an effort to help keep your family safe during your visit.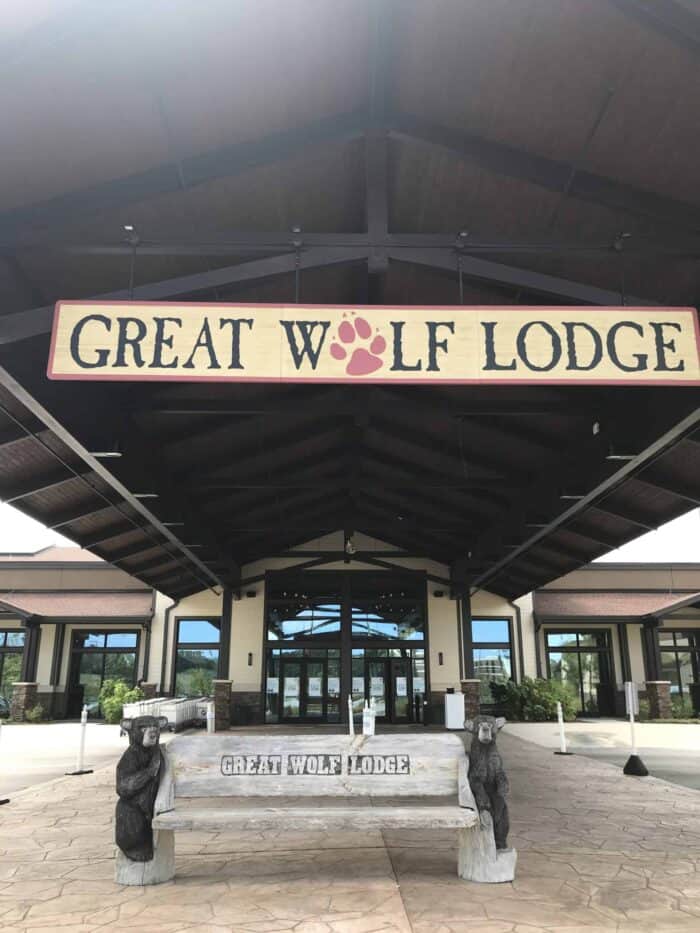 Here's an overview of the Paw Pledge Program along mixed with some of my own commentary as well as photos so you can see what we experienced on our recent trip to Great Wolf Lodge Lagrange.
1. Great Wolf Lodge has partnered with disinfectant experts to determine the best virus eliminating agents for use in
its resorts and the most effective sanitization methods. Resort staff sanitizes all frequently touched surfaces in the waterpark, attraction areas, restaurants, and all other public spaces continually using hospital-grade disinfectants.
I was sure to stop and thank all the employees that we saw constantly wiping things down from hand-rails in the waterpark to elevator buttons.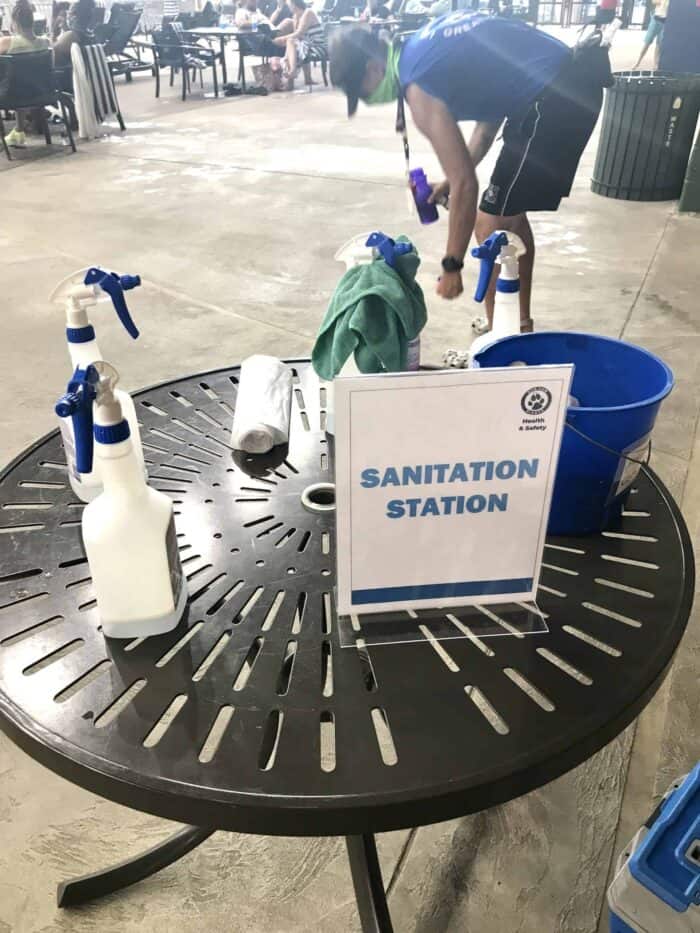 Speaking of elevators, only family per elevator! We never had to wait for a ride.
2. All guest rooms are disinfected and sanitized prior to check-in, with room attendants paying special attention to high touchpoint areas such as door handles, light switches, in-room phones, thermostats, and television remotes.
Additionally, housekeeping does not make regular rounds during your stay right now. You can request a visit from housekeeping and they'll schedule a time to come when you are not in the room. For our 2-night stay, we just opted out of housekeeping to help do our part. We stayed in a Wolf Den room this time and the kids loved it. I did too since it gave us a little privacy and two TVs!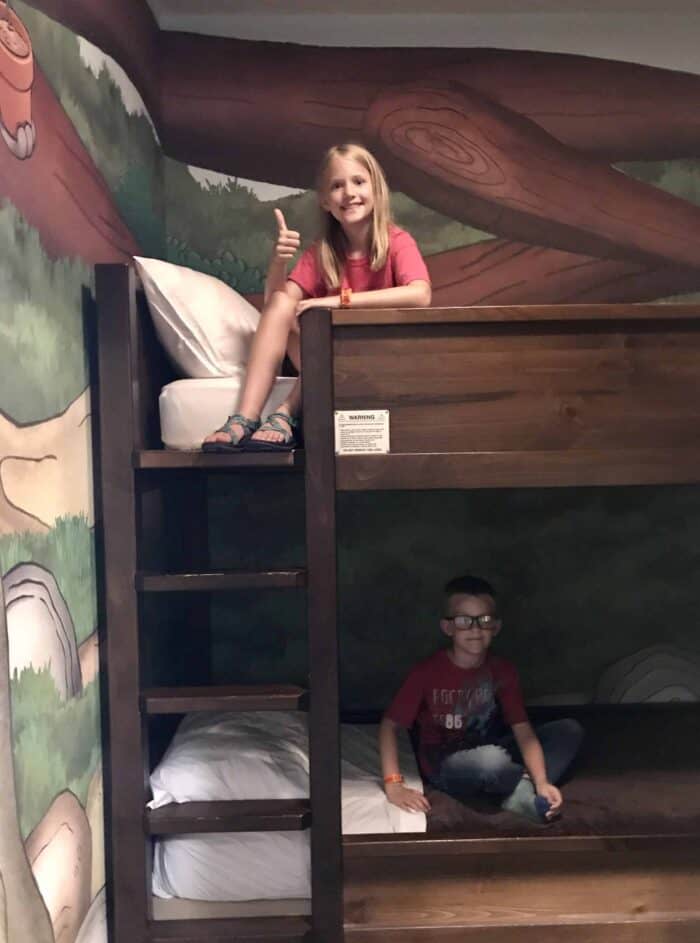 3. Great Wolf Lodge will initially reduce occupancy levels at its resorts to 50% or less to provide an abundance of space so families can easily navigate the resort and waterpark with a minimum of six feet of separation from those outside of their traveling party.
We found it pretty easy to maintain distance from others. I can think of two times during our whole stay where it was difficult (both in the main hallway when the waterpark closed and everyone was leaving at the same time), but mask-wearing is enforced religiously so I never felt unsafe. I'm not going to lie. Half capacity was NICE.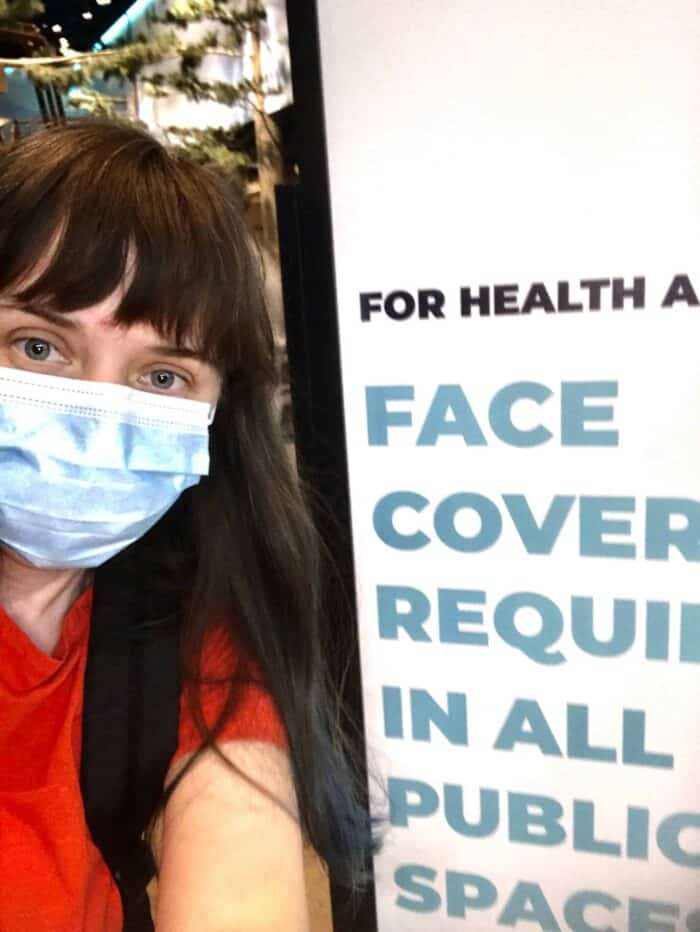 4. Markers will be placed in queues for waterslides, attractions, retail shops, food outlets and front desk measuring six-feet of distance between guests, and the resort will remove, reposition or place out-of-service, chairs and tables throughout the water park and resort to ensure family groups can properly social distance themselves from other guests.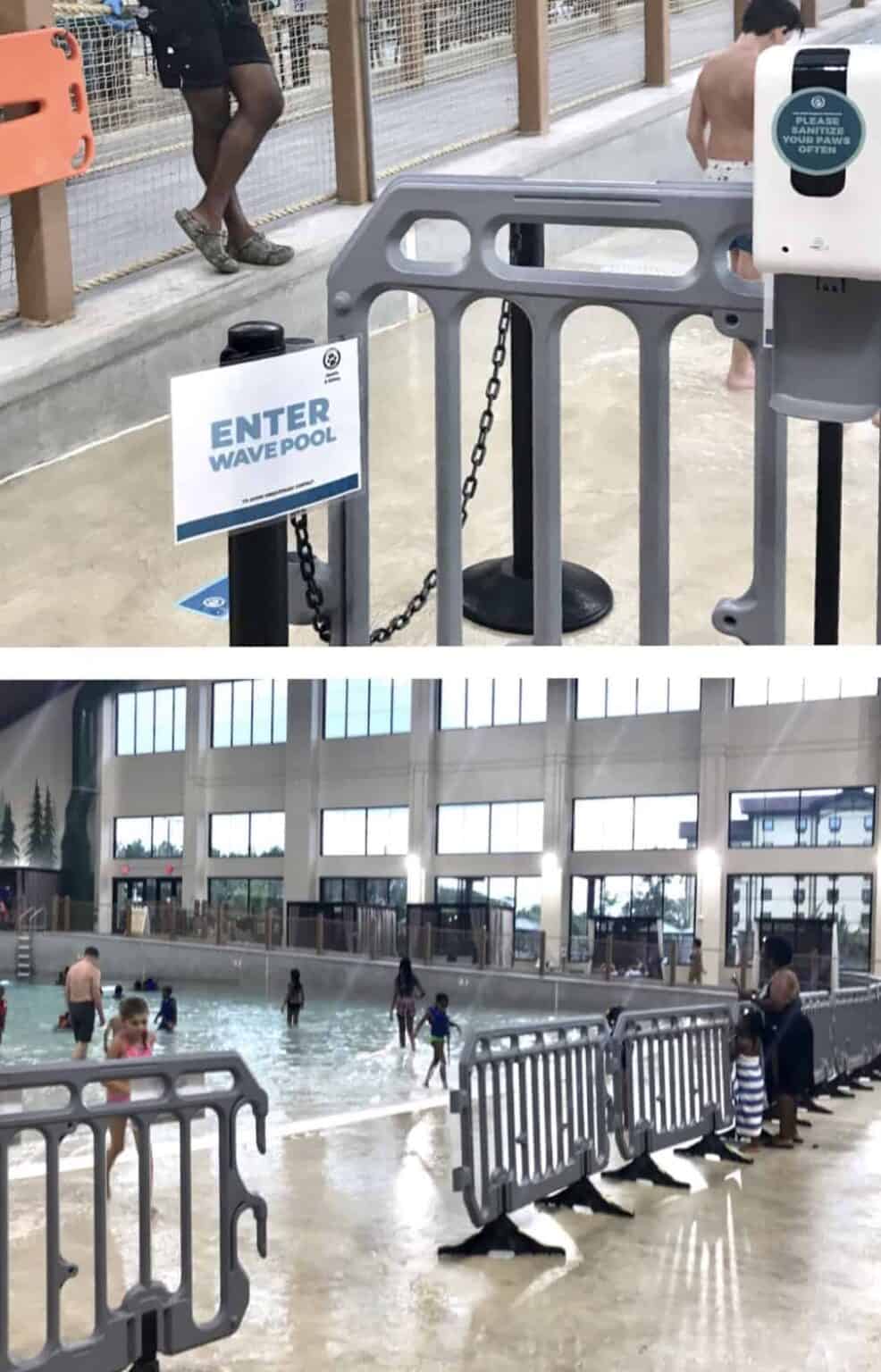 Above is an example using the wave pool. There were times we had to wait a couple of minutes to enter since they keep count of how many people are in the pool at one time. I'm not sure with the maximum occupancy is, but we didn't have any difficulty keeping to ourselves. People enter at one point, exit at another, and the barrier is there to keep people from gathering around and lounging in groups around the wave pool "shoreline."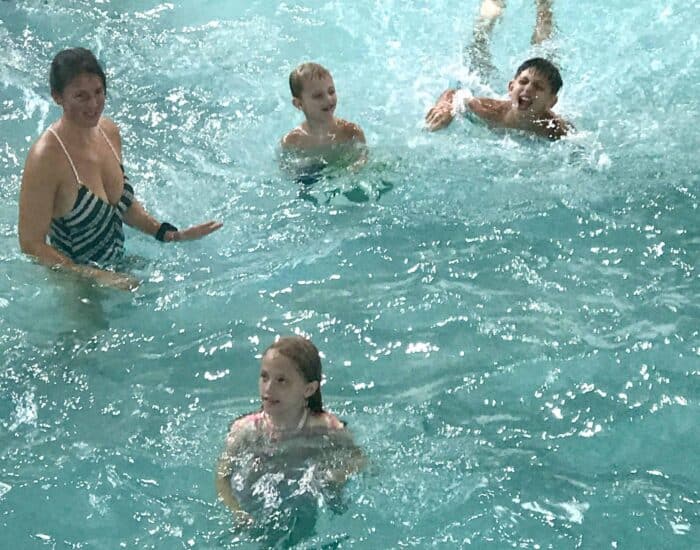 5. The number of hand-sanitizer stations throughout the resort will increase significantly and Great Wolf Lodge is providing personal protection amenities for its guests such as disinfectant wipes, sanitizer, and face coverings. Guests can request a complimentary mask at the front desk.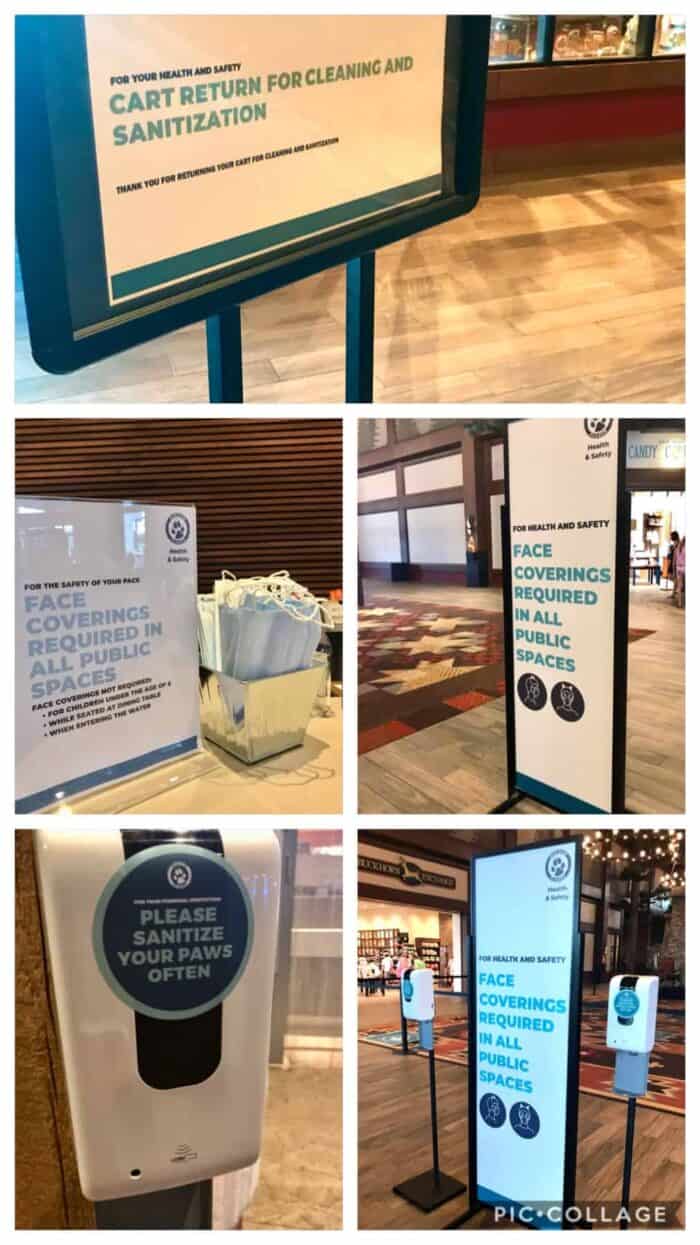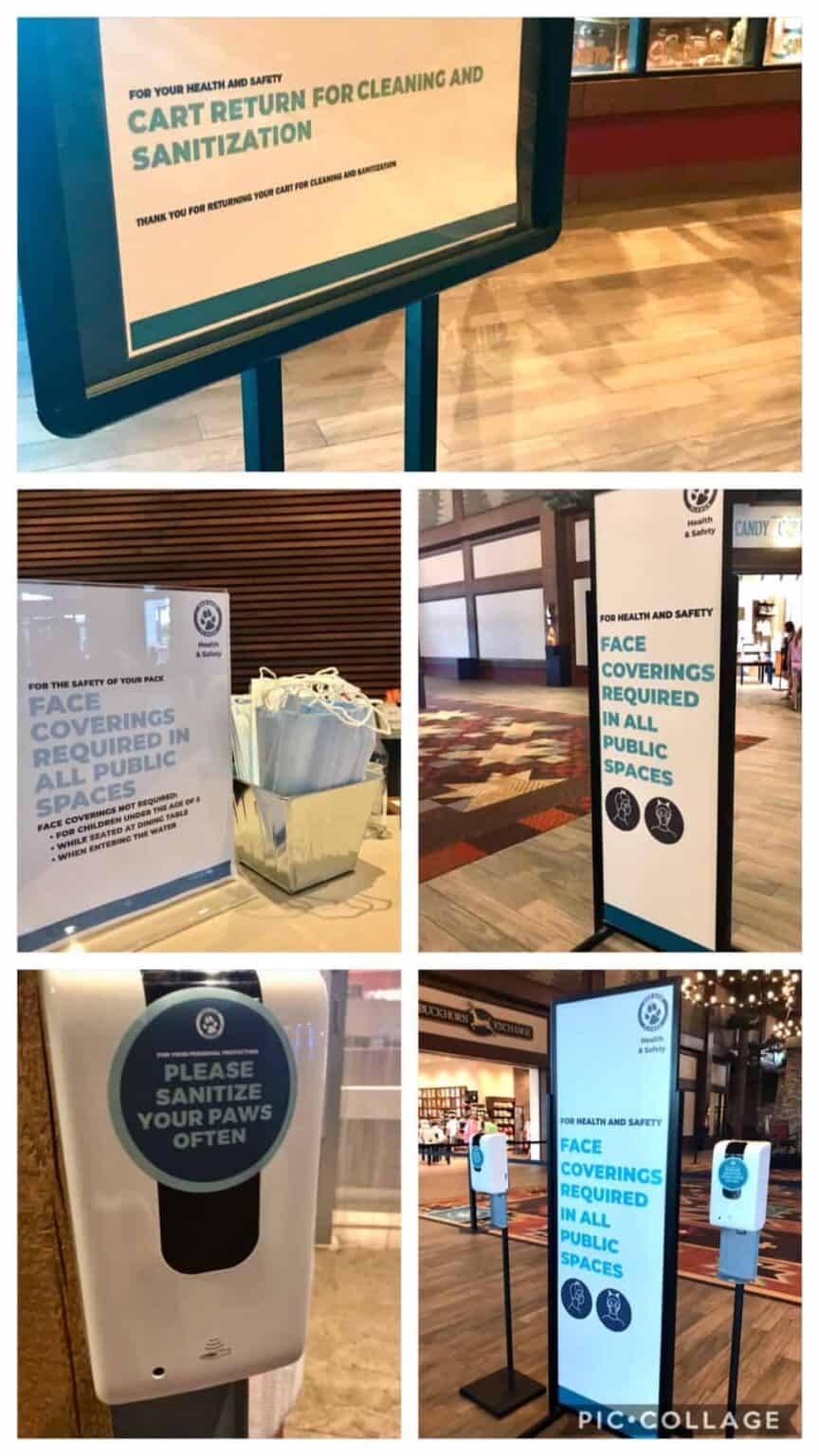 Having masks available for free was a life-saver. If you're a parent you know why! Not only were free masks available at the front desk but I also found them at the front door, with employees behind the Barnwood host station, and at the gift shops. I'm still getting into the habit of grabbing a mask when I walk out my door whether it's at home or a hotel. Add kids to the mix and there were several times we needed to grab a fresh one after we left our rooms.
6. In locations where a slightly longer interaction between pack members and guests is expected, and where social distancing may be a challenge, Great Wolf Lodge is installing plexiglass barriers to provide adequate separation.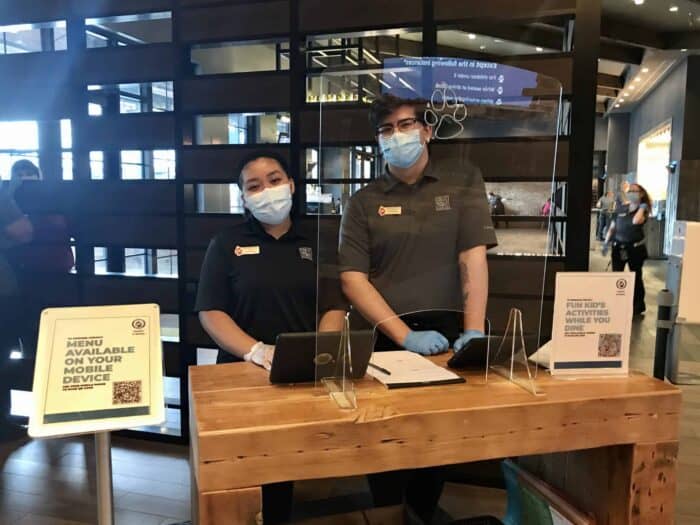 See an example above with plexiglass at the reservation table at Barnwood. The same barriers are at the front desk and anywhere there's a transaction to be made.
7. Great Wolf Lodge will implement additional contactless payment options at the resort. Guests can use a credit card, debit card, or their resort wristband for purchases to minimize touchpoints associated with cash transactions.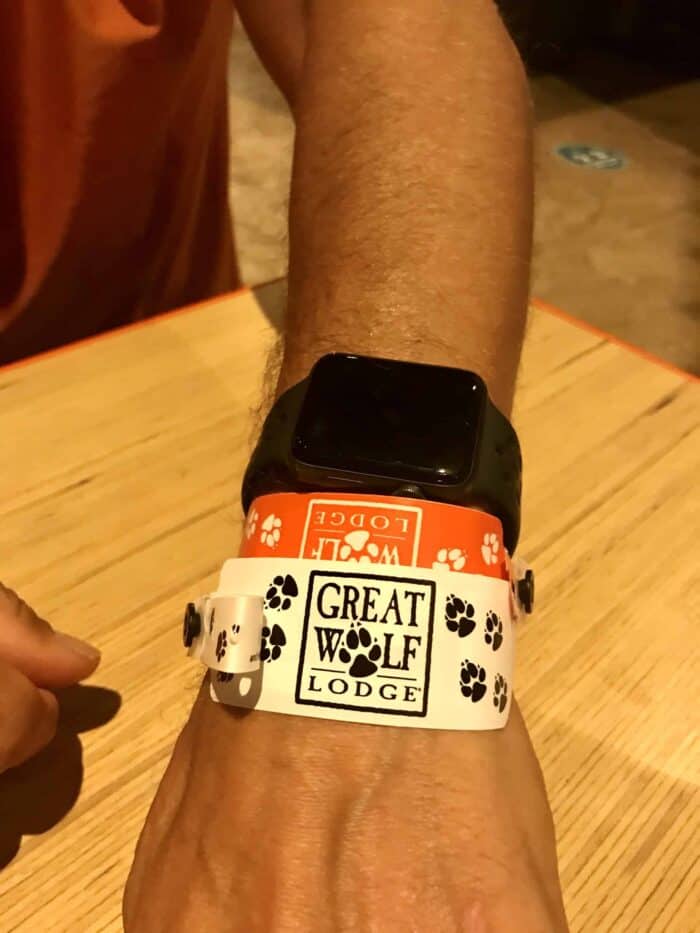 The orange wristband is your room key and adults in your party can also charge things to the room with it. Great Wolf also recognizes that some people cannot wear a mask due to medical issues. This was the case for one member of our party so he just stopped by the front desk for a white wristband. The face mask rule is well-enforced so wearing a white wristband lets employees and guests know that you aren't just flouting the rule.
7. Food outlets will offer remote ordering with pick-up options so guests can enjoy their meals in the comfort of
their rooms.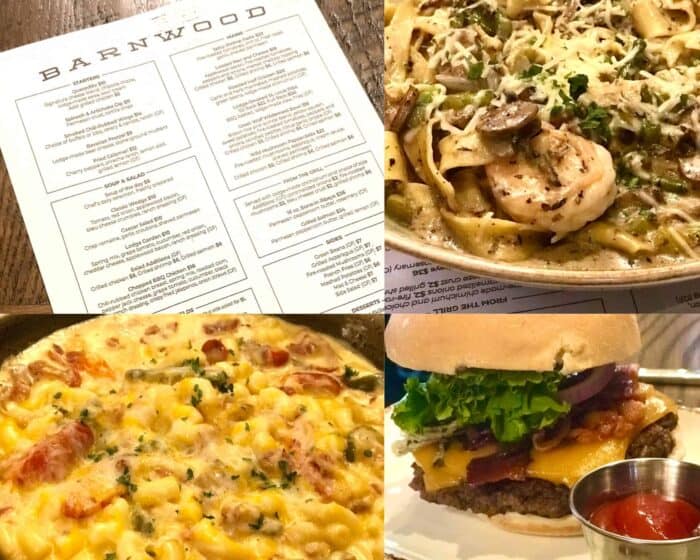 Table seating is VERY limited due to social distancing guidelines. However, we made a reservation at Barnwood and enjoyed an adults-only meal while my kids played with their big cousins. Yay for cousins and grown-up time!
8. All pack members will undergo a wellness and temperature check before reporting to work. Anyone presenting a fever, having recent ailments, or indicating a possible exposure to COVID-19 will be sent home. Pack members will also be required to wear masks in situations where always maintaining social distancing may be difficult.
In addition to these measures, the CDC continues to state "there is no evidence that COVID-19 can be spread to
humans through the use of pools, hot tubs, or water playgrounds" and that "proper operation, maintenance, and
disinfection of pools, hot tubs and water playgrounds should inactivate the virus that causes COVID-19." Great
Wolf Lodge's filtration and chemistry system used at the waterparks is considered industry-leading.
Great Wolf Lodge Discounts
Every year, for one day only (August 4th), rates are dropped to a starting price of $84 (with certain restrictions) at Great Wolf Lodge Georgia. Great Wolf Lodge's annual sale is in honor of the water park's year-round temperature set at 84-degrees and gives families an opportunity to plan a convenient and close road trip staycation with loved ones through the fall at significant savings. Get it? $84 for a stay at their 84° waterpark on 8/4? I love it!
The $84/night rate is available for stays Monday-Thursday; blackout dates apply. To book, use promo code 84DEGREES online at greatwolf.com, or mention code at booking over the phone, for new reservations only.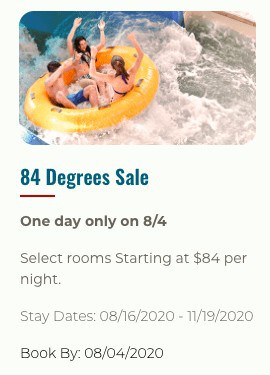 Great Wolf Lodge Atlanta Location
If you missed the annual sale this year, keep checking on the Great Wolf Lodge deal page to find other available discounts that can help you save throughout the year.
My household received complimentary accommodations at Great Wolf Lodge. All opinions are my own.