When we go to our favorite Chinese buffet, my picky eaters will eat their weight in fried rice. Therefore, Mama learned to make Chinese Restaurant Fried Rice at home. Because it's either that or another peanut butter sandwich for them for dinner. Sigh.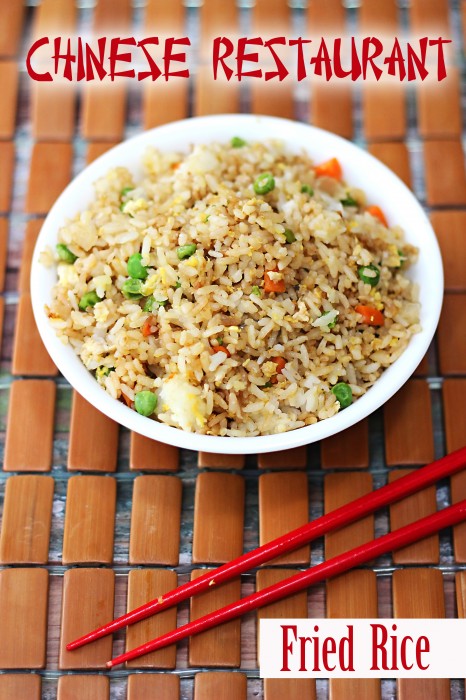 There are a few key elements to perfect Chinese Restaurant Fried Rice. They are:
1. The right rice. Go to the Asian section of your grocery store or order from Amazon. We love Uncle Ben as much as the next person but he has no business in this particular recipe no matter how much cheaper he is.
2. Preparing it correctly – Check out my rice cooker tip to get perfect rice every time.
FYI, there are some fancy, schmancy (read: expensive) rice cookers out there. This Rival model has changed slightly over time but the basic design is the same. I've used mine for 15 years and couldn't be happier with it.
Rival RC101 5-Cup uncooked resulting in 10-Cup cooked Rice Cooker with Steaming Basket, White/Black
3. Chilling the cooked rice – An easy way to do this is to use leftover rice. We'll enjoy plain, steamed rice on a weeknight as a side dish with our meal. I'll refrigerate the leftovers and use it the next day for our dinner of Chinese Restaurant Fried Rice.
Chinese Restaurant Fried Rice
Chinese Restaurant Fried Rice
Author:
Prep time:
Cook time:
Total time:
Enjoy Chinese Restaurant Fried Rice at home with this
copycat recipe
and a few simple tricks
Ingredients
4 cups steamed white rice, chilled
1/3 cup chopped white onion
1/2 cup frozen green peas
4T coconut oil. divided
4 eggs
2T sesame oil, divided
Soy sauce to taste (I use gluten-free)
Instructions
Heat large skillet over medium heat.
Add 1T coconut oil
Add carrots, onions, and peas
Cook about 3 minutes or until carrots are tender and peas are thawed.
Push vegetable mixture to the side of the skillet.
Add remaining coconut oil and turn burner up to medium-high heat.
Add rice and cook until warmed leaving vegetables to the side.
Push rice to the side with the vegetables.
Add 1T sesame oil to the small remaining free space in the skillet
Crack eggs into the sesame stirring quickly until you have very runny scrambled eggs (see photo)
Thoroughly mix eggs in with rice and vegetables
Stir in soy sauce and remaining sesame oil until heated through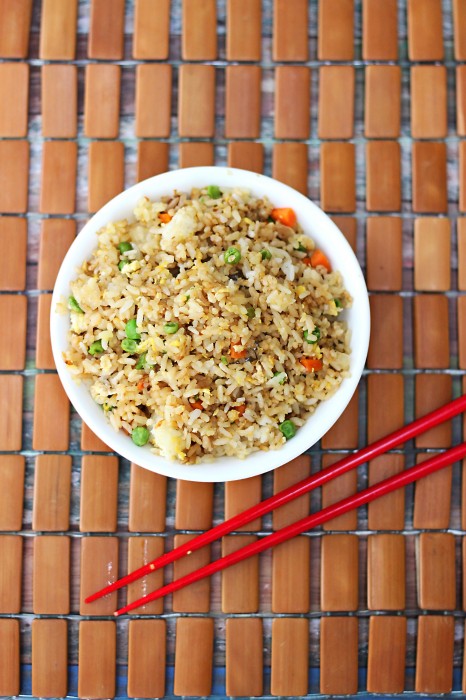 This gives you an idea of what the eggs should look like before mixing them in the rice. You want them cooked enough that there are egg pieces in your rice, but runny enough that some of the liquid egg coats the rice before it finishes cooking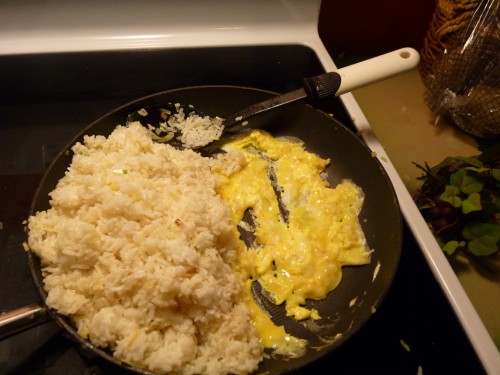 We enjoy our Chinese Restaurant Fried Rice as a meal by itself. You can pair it with Chinese Restaurant Style Green Beans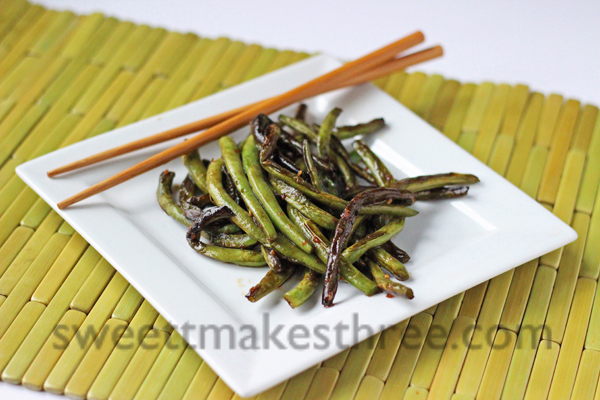 and these easy slow cooker Sweet and Sour chicken wings to make a larger meal