Wondering where to eat in Asheville? Let me be your guide! While I consider myself quite the foodie, Hubs is gluten and dairy-free and my kids (ages 4 and 6) are the pickiest eaters known to man. This downtown Asheville restaurant guide will reflect my more adventurous palate, our hunt for gluten-free offerings, as well as which restaurants we experienced that were especially family-friendly.

Where to eat in Asheville
Let's take a look at restaurants in downtown Asheville first, then I'll share a couple of spots we enjoyed outside the downtown area.
Downtown Asheville Restaurant Guide
Mayfel's – Confession: We wanted to have brunch at Honey Tupelo Cafe, but the wait was 20 minutes and we were hangry so we opted for Mayfel's next door. It was a great decision! I loved my Lobster Omelette with Goat Cheese and vowed to start incorporating goat cheese and eggs together at home.
Hubs stuck to traditional breakfast fare in order to avoid gluten and dairy.
Mayfel's has a fun, Mardi Gras vibe and a bloody mary bar for brunch if that's your jam.

Posana – Posana is an upscale farm-to-table dining experience, but don't let that shy you away from bringing your kids. Ours weren't the only ones there and there's a kid menu with typical "kid food" as well as options for more adventurous little palettes. Reservations are available but not required, so we made an early one for 5:00 which worked out well with the kids. I had Scallops which were excellent.
Hubs enjoyed Lentil Soup and Roasted Duck.
Fun fact: Posana's entire menu is gluten free! 
Farm Burger – We were worn out after our arrival at The Lofts during our first night in Asheville so I called Farm Burger for take-out. You can pretty much throw a rock from Loft 101 and hit Farm Burger with it so Sweet T and I walked down to pick up our order. She wrote on the wall while we waited.
Hubs chose the "build your own" option and got a gluten-free bun while I stuck with #5 exactly as it was. I'm glad I didn't mess with perfection.
French Broad Chocolates– We pretty much had chocolate for brunch and didn't feel a lick of guilt over it.
Any kind of chocolate you could want can be found here, right down to "sipping chocolate" if you need it.
I had the Peanut Butter Chocolate Mousse Parfait
Trudy ate half of a giant slice of Carrot Cake (then ate the other half after dinner) and Hubs had the Gluten Free Chocolate Torte.
Gus loved the Vanilla Bean Ice Cream as you can see.
Where to eat in Asheville (not downtown)
The Hop West – We drove to Haywood Road specifically for the vegan ice cream option at The Hop. Hubs hasn't had a milkshake in too long to remember and loved being able to indulge along with the rest of us.
I had their Espresso Chip flavor with a shot of espresso poured over it (I was assured this was not overkill, y'all. Enablers they are.)
Gus stuck with his usual vanilla but we shouldn't have gotten him the kiddie cup because he gobbled it down and we wound up getting him another. Sweet T loved her Cookie Butter flavor.
Standard Pizza Co. – We happened upon Standard Pizza quite by accident as we were visiting Haywood Street a second time to return our Redbox movie at Ingles.
Hubs very much enjoyed their 14″ gluten-free pizza as well as the price tag on it (way more affordable than Mellow Mushroom.) The kids each ate every bite of slices of pizza as big as their heads and enjoyed playing with toys and games provided during our wait. They also have patio seating and chalk to draw with.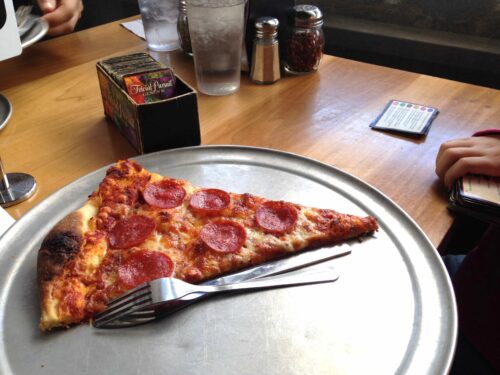 There are so many delicious places to eat in Asheville. What would you add to this downtown Asheville restaurant guide?
Before your trip to Asheville, check out my 11 Tips for Visiting Biltmore too!