Confession: I had not visited the capital of my own state since a 5th-grade field trip to the capitol building. Do you think Montgomery has changed just a little in all those years? The city of Montgomery has certainly undergone a revitalization including its foodie scene and civil rights history. Let's take a look at things to do in Mongomery as well as what to eat and where to stay. I think you'll enjoy your visit to Alabama's capital as much as I did!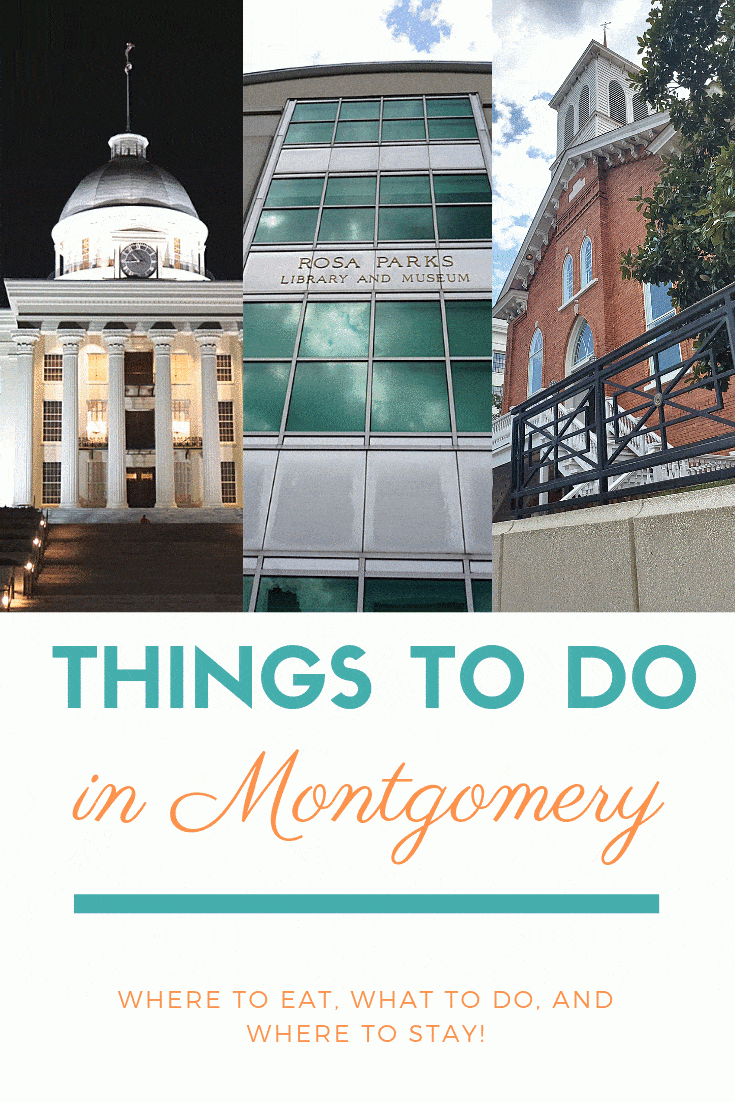 Things to do in Montgomery Alabama
Dexter Avenue King Memorial Baptist Church – Named after it's 20th pastor, Dr. Martin Luther King, Jr., Dexter Avenue King Memorial Baptist Church still holds services every Sunday that are open to the public.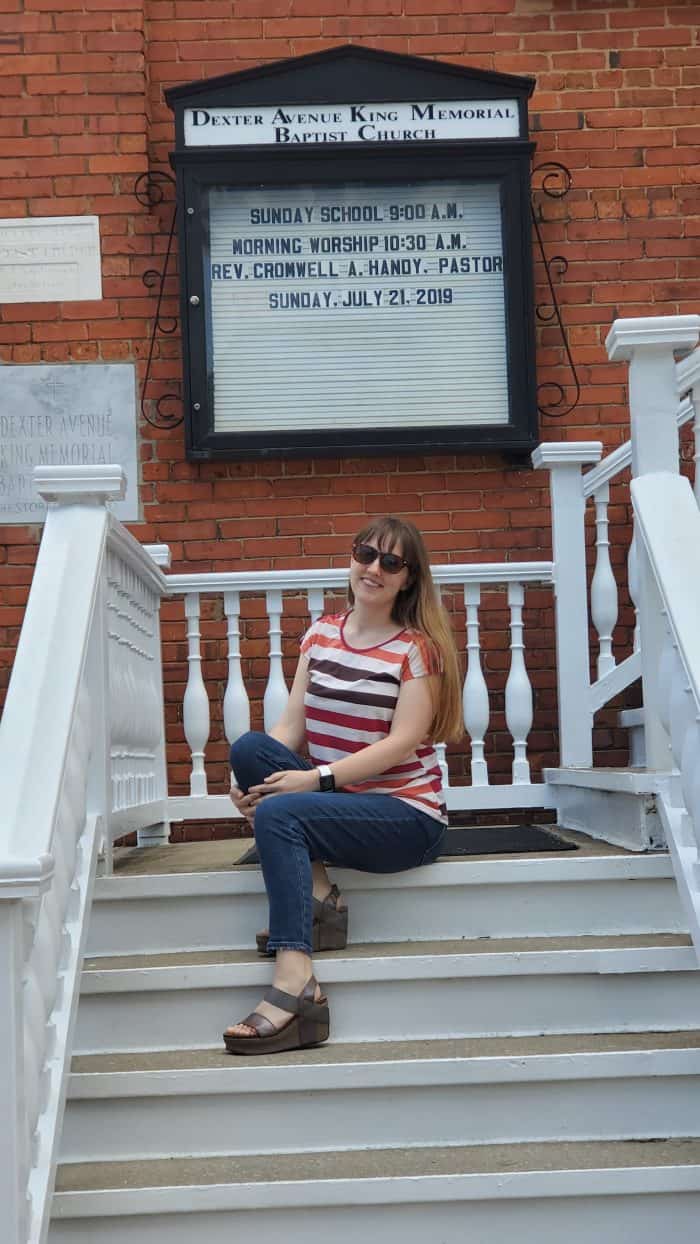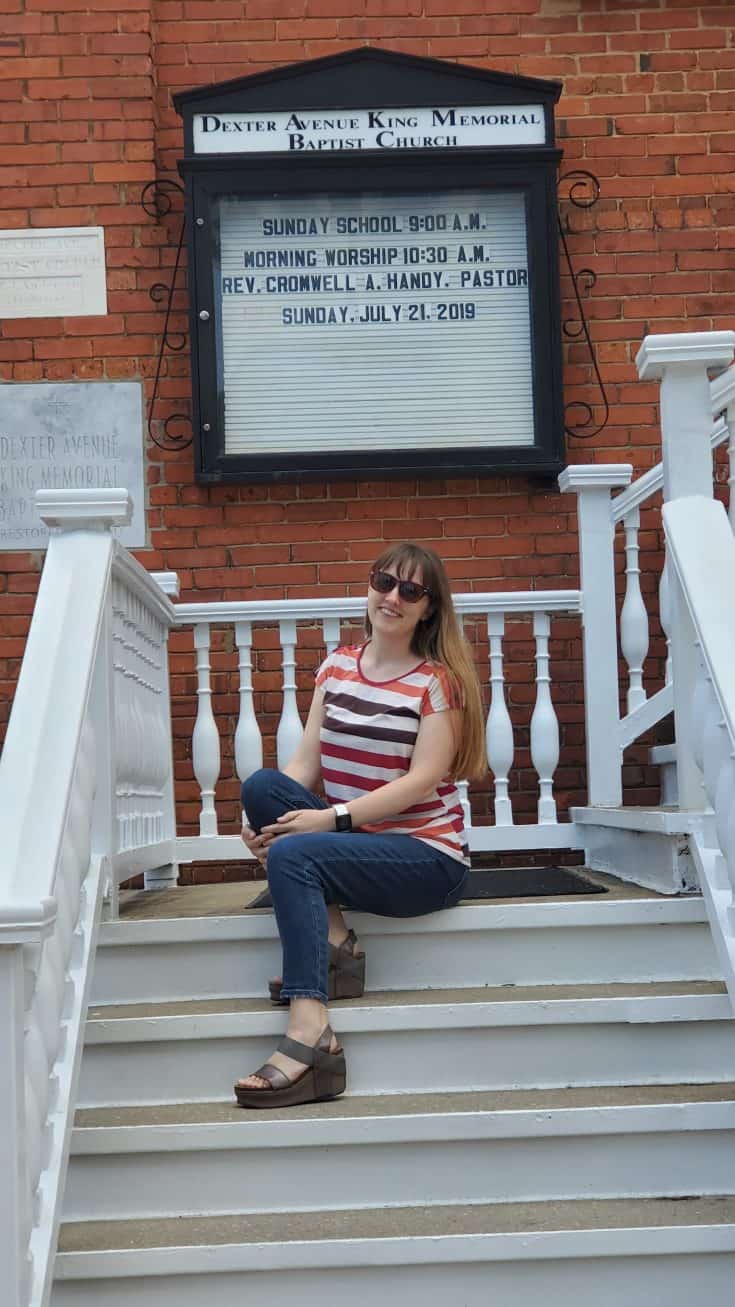 If Sunday worship isn't your thing, you can take a guided tour of the church during the week and walk in Dr. King's steps without attending a service. My advice is to call ahead and find out when Ms. Wanda is working because having her as your tour guide will make the experience a transcendent one. She loves her job and really knows how to bring a group together for an unforgettable experience.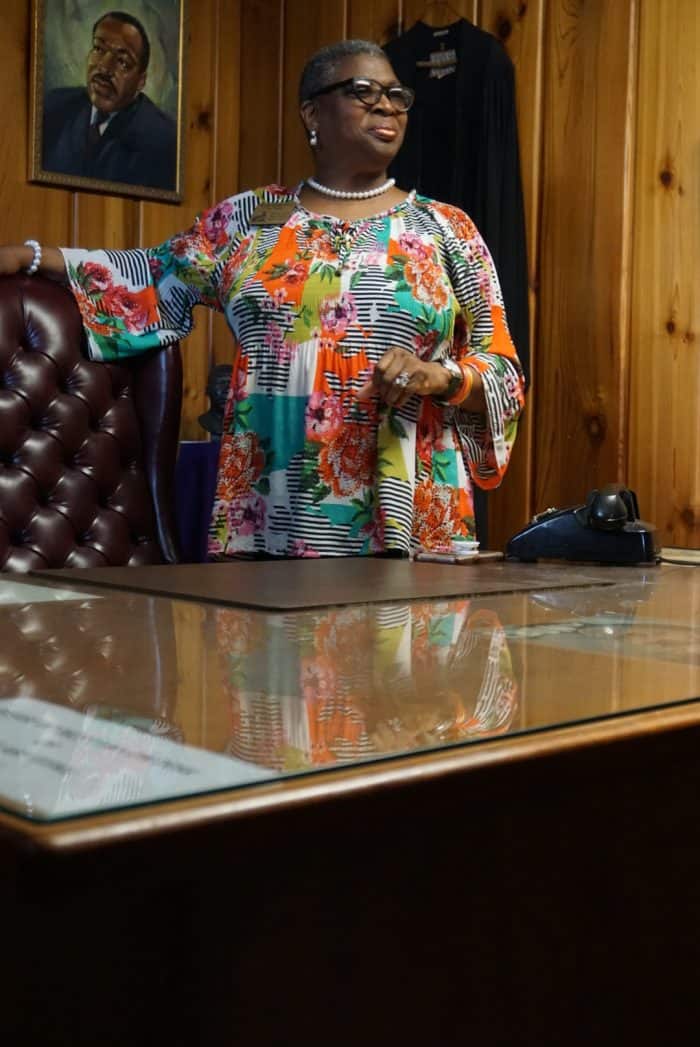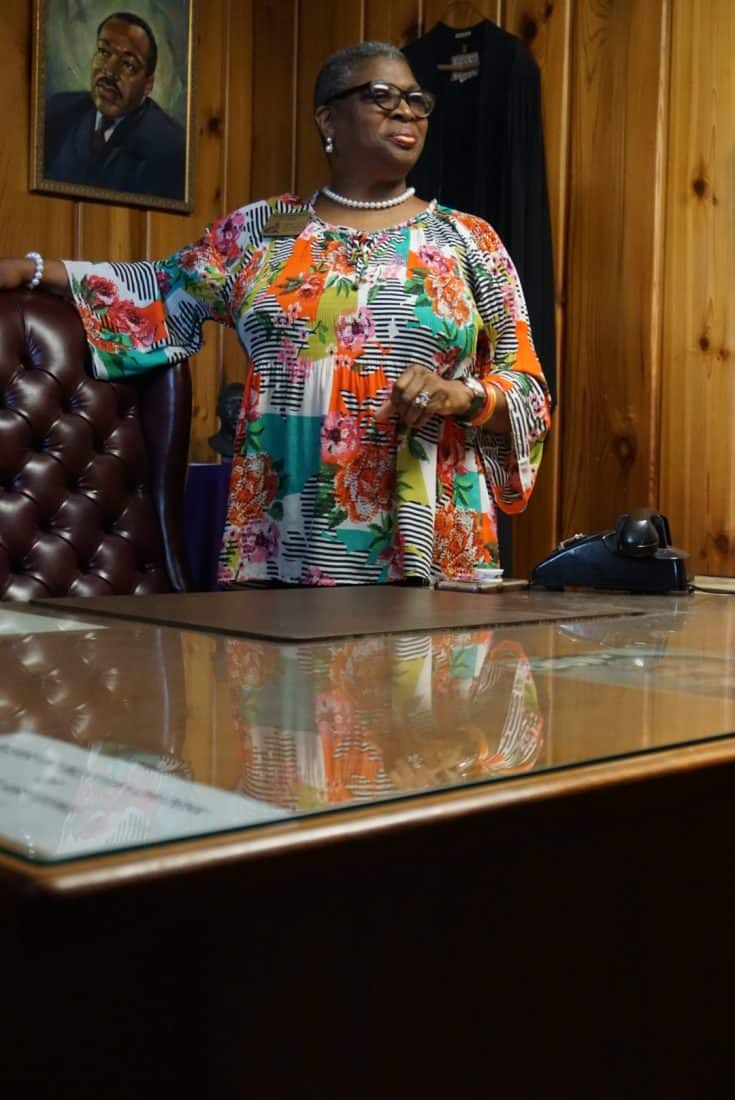 There were tears, laughter, singing, shouting, hugging, and dancing during our group tour and I think I might have personally met Jesus.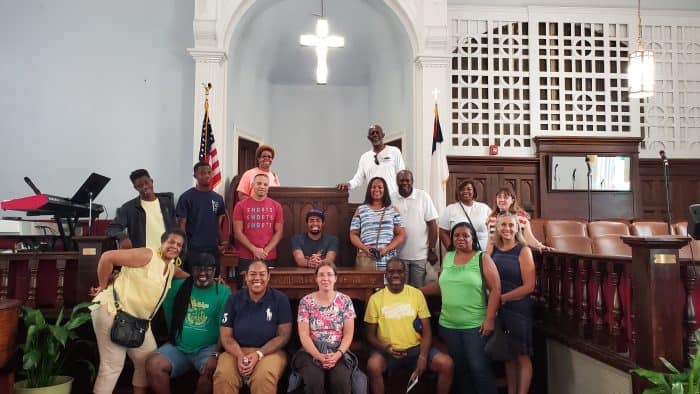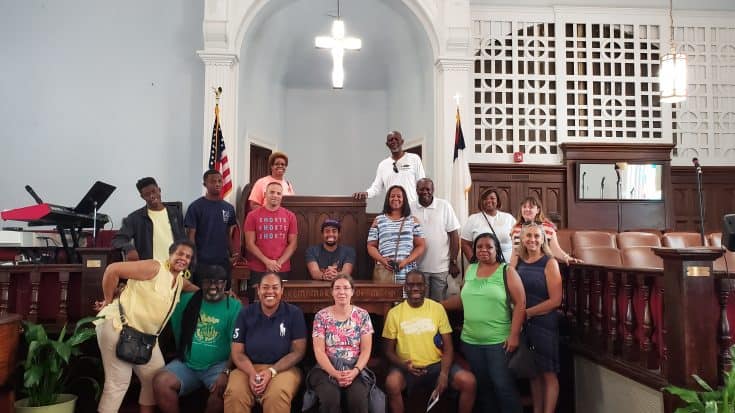 If you've lost faith in humanity, Ms. Wanda will restore it and you'll leave wanting to be a better person than when you arrived. I think I need to take one of her tours annually just as a sort of mini spiritual retreat. Be sure to experience the history of Dexter Avenue King Memorial Baptist Church and the staff so passionate about it while you're scheduling things to do in Montgomery, Alabama.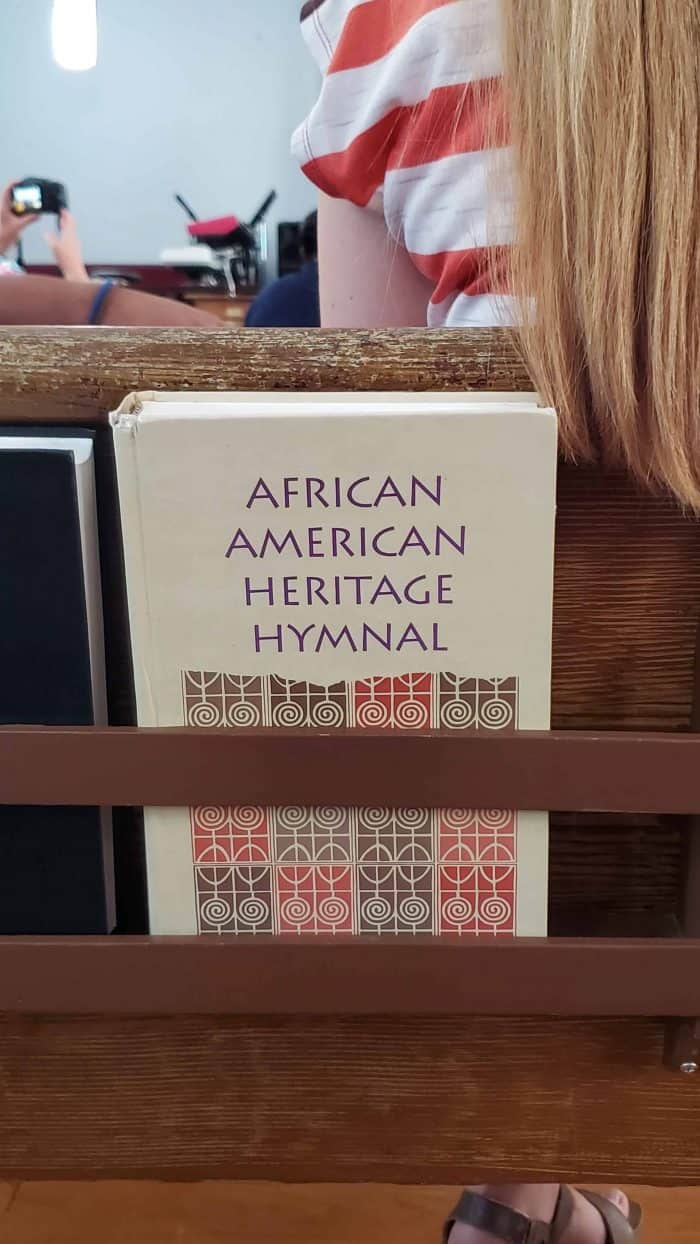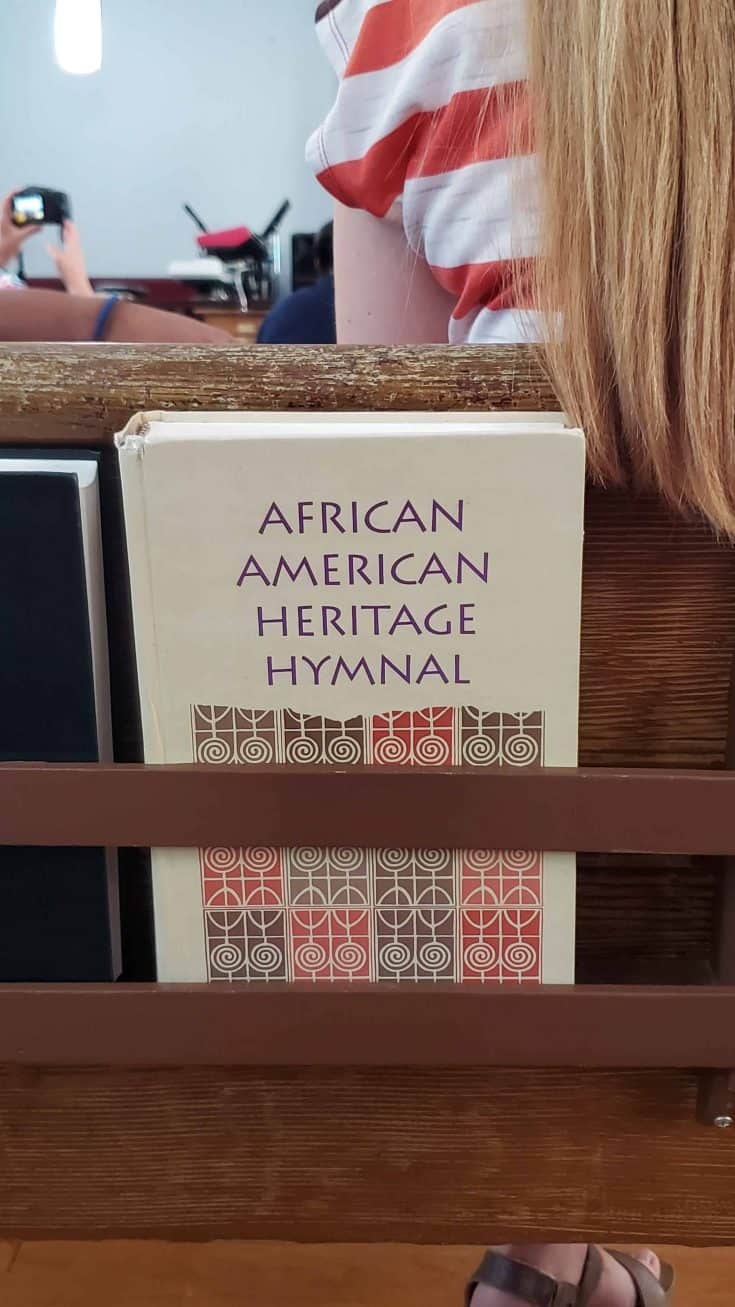 Fitzgerald Museum – Great Gatsby fans, aspiring writers, and lovers of literature will enjoy this quick tour.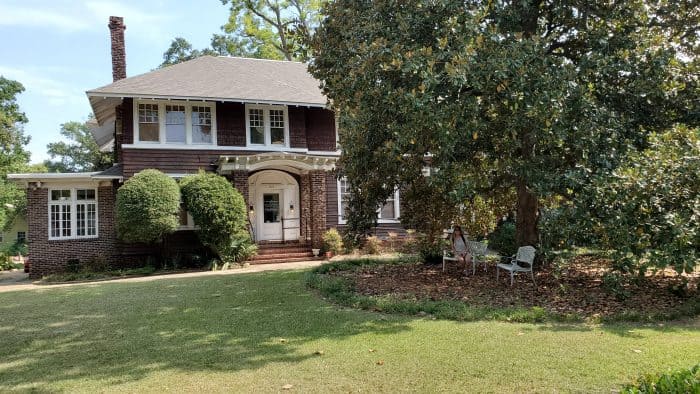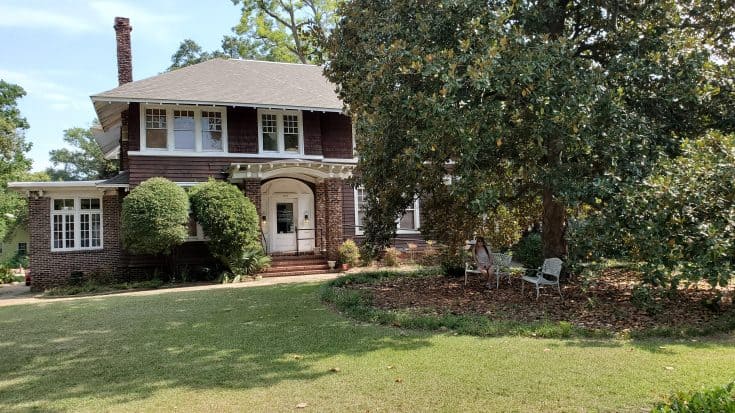 If you really want to immerse yourselves in that 1920's – 1930's feel, book the unique Airbnb that stays occupied for most of the year. Book well in advance for your stay in Montgomery!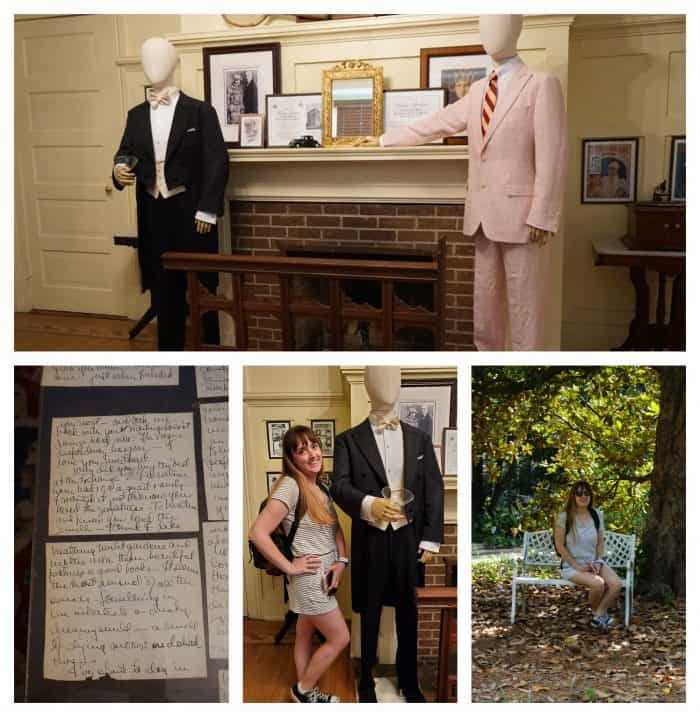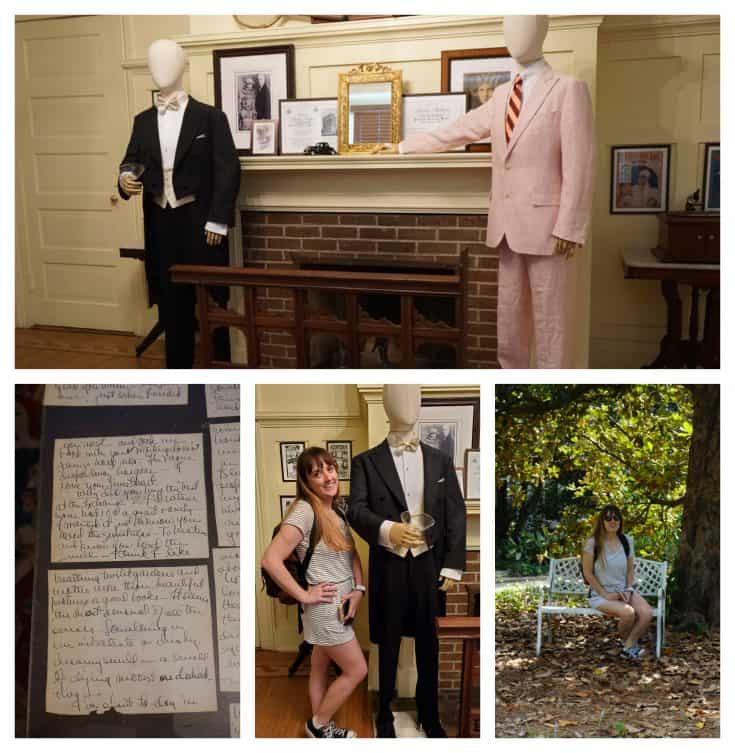 Visit the Fitzgerald Museum site to learn about rotating exhibits and seasonal community events.
Freedom Rides Museum – Follow the Freedom Riders' journey and view historic images of the protest and voices of those who supported and opposed the Freedom Rides.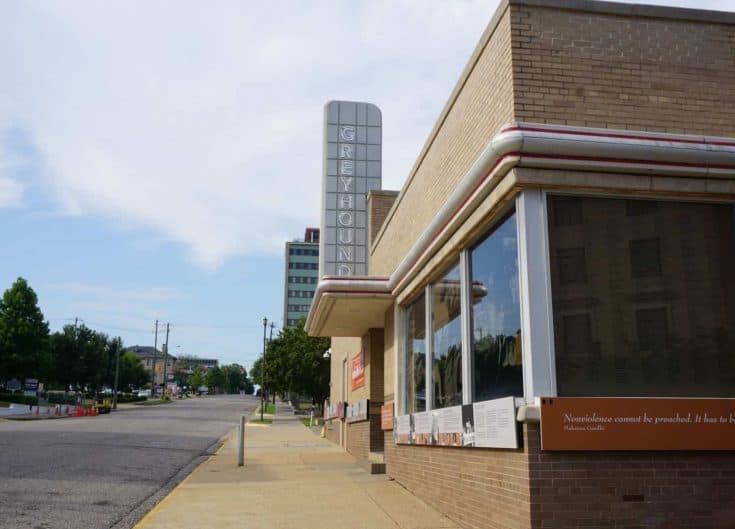 The exterior museum exhibit is always open but you'll need to check their website to plan your visit to the interior portion of the Freedom Rides Museum.
Hank Williams Museum – Country music fans flock to the Hank Williams Museum much like The Ryman Auditorium or The Grand Ol' Opry. However, it's Montgomery, Alabama, not Nashville, that holds the honor of housing the most complete collection of Hank Williams' Memorabilia in the world. Much of it is on loan from Bocephus himself!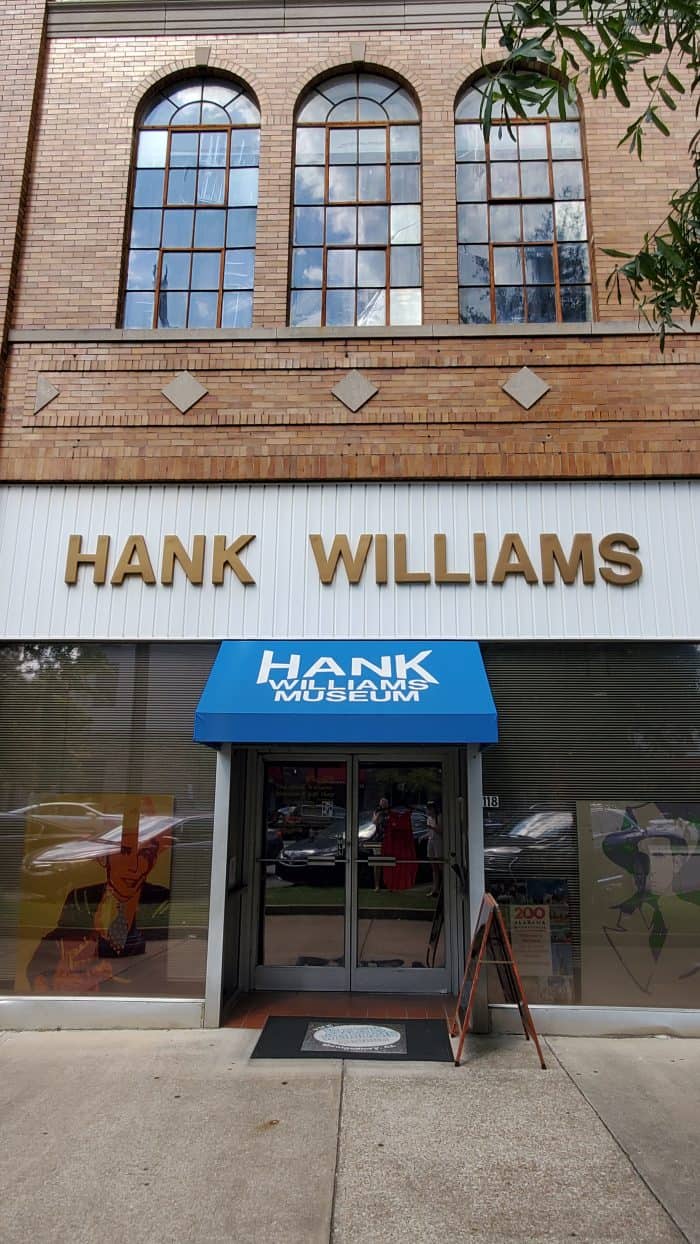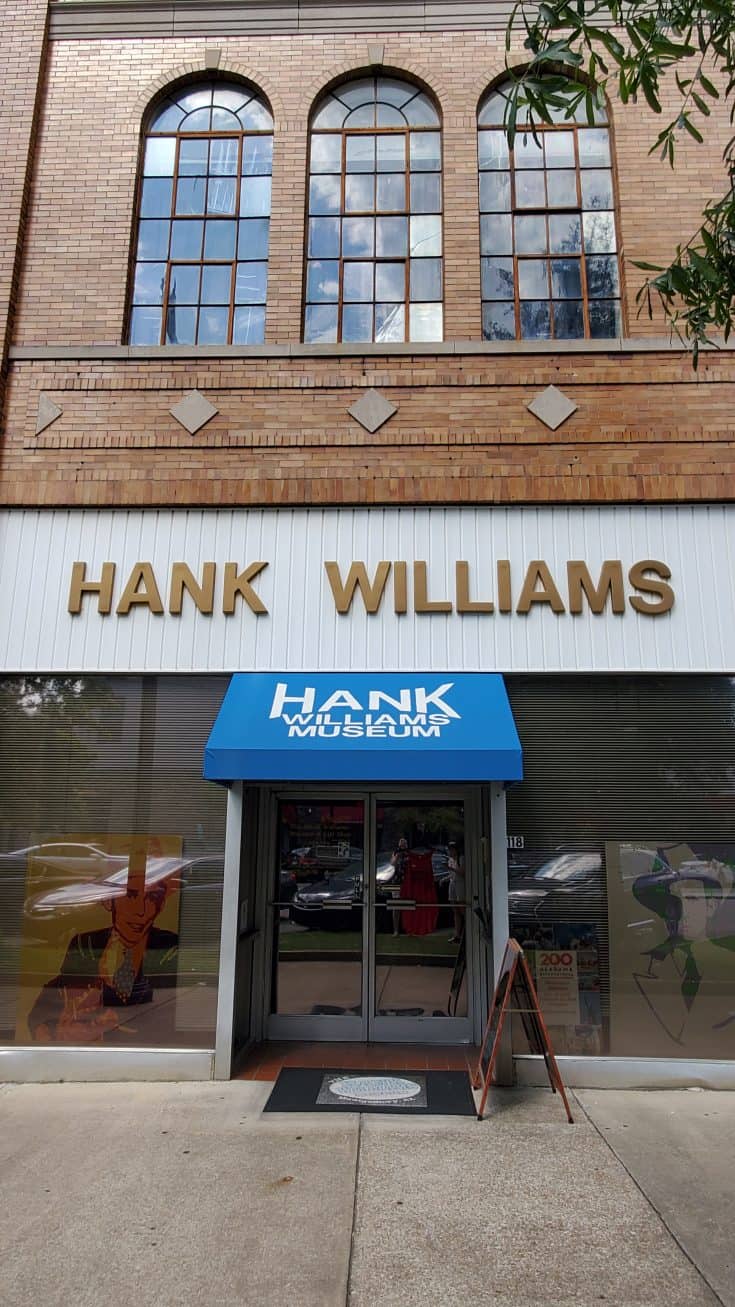 Photography is not permitted in the museum itself, but if you're a Hank or Hank Jr. fan this is not to be missed. I mean, they even have the car he died in and the outfit he was wearing at the time!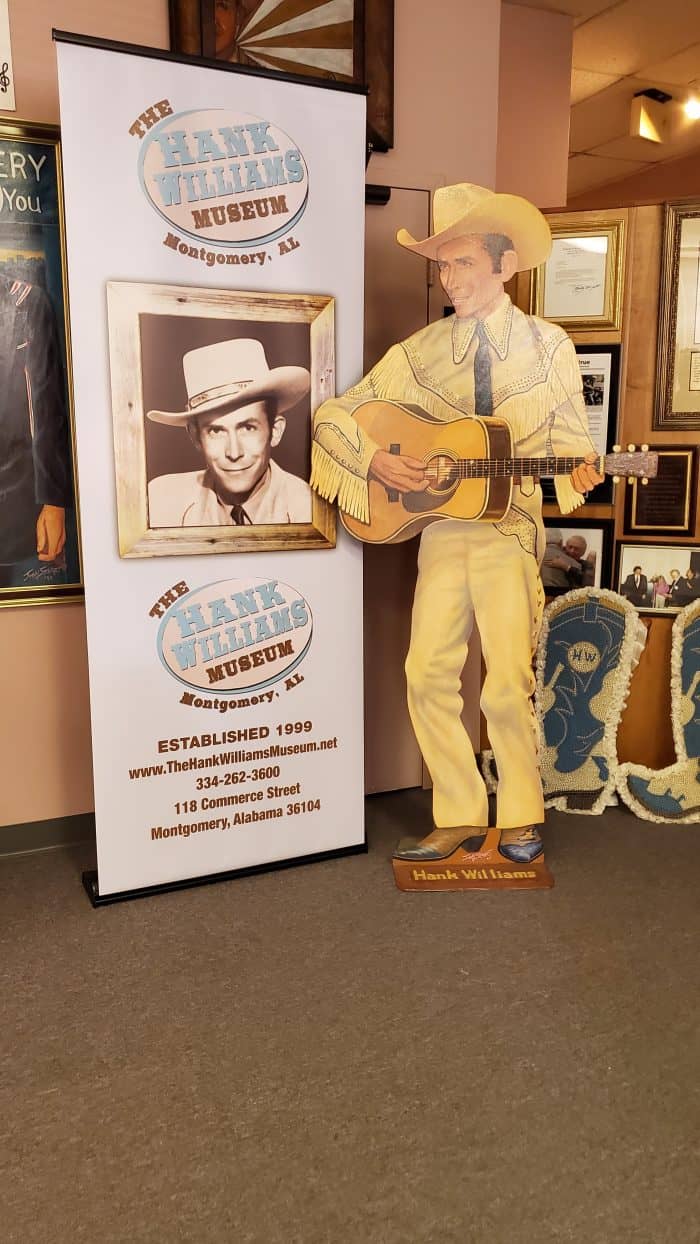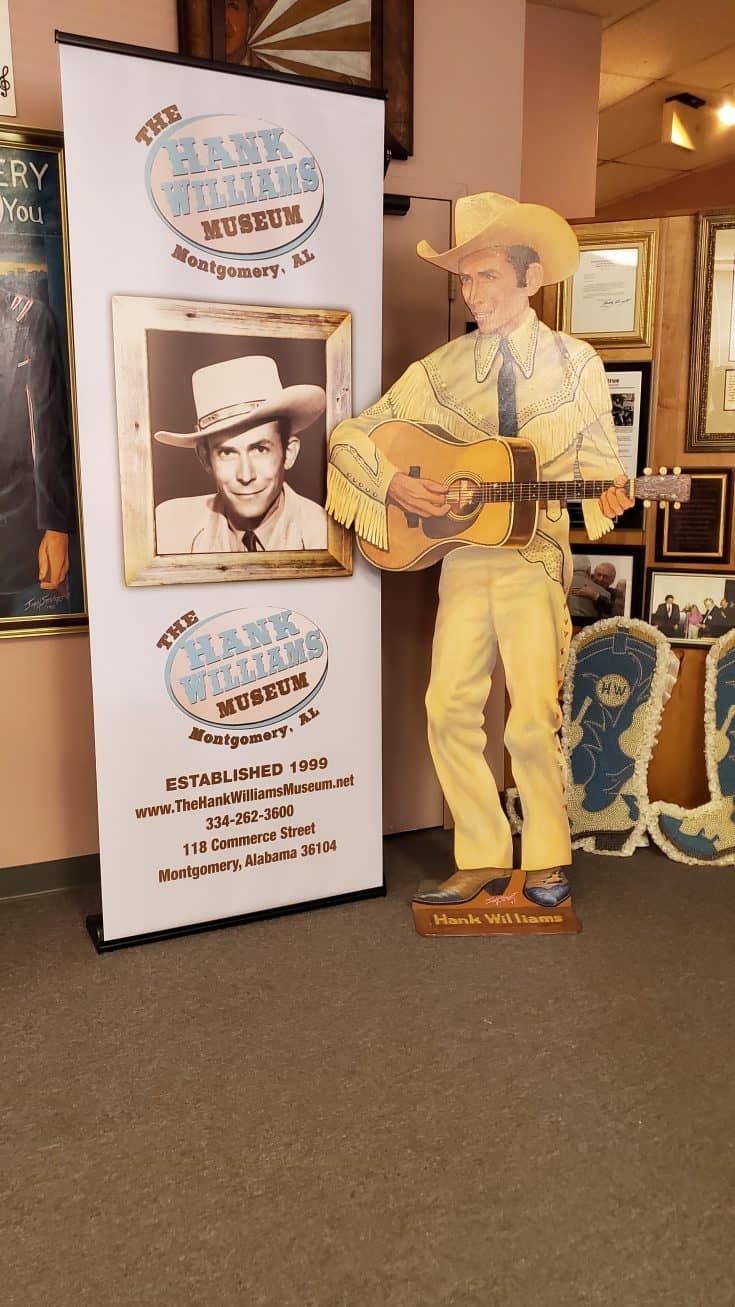 Cross the street to the Riverwalk entrance while you're there and take a photo with his statue. His gravesite is a short car ride away.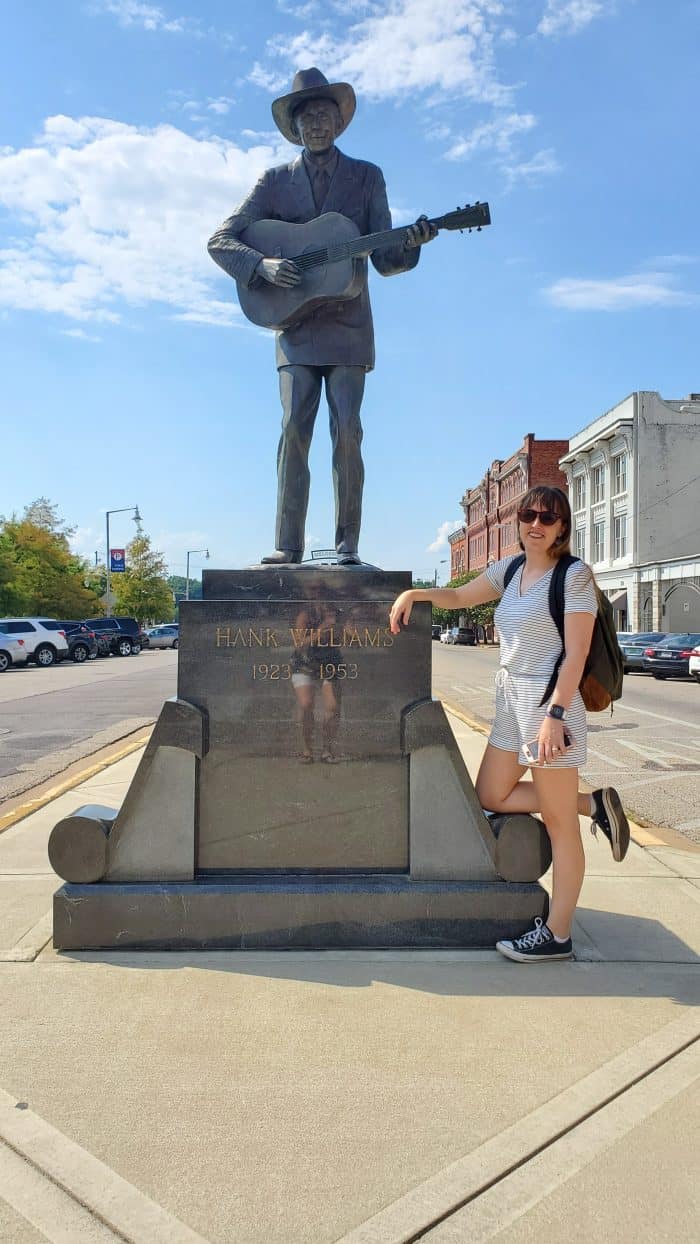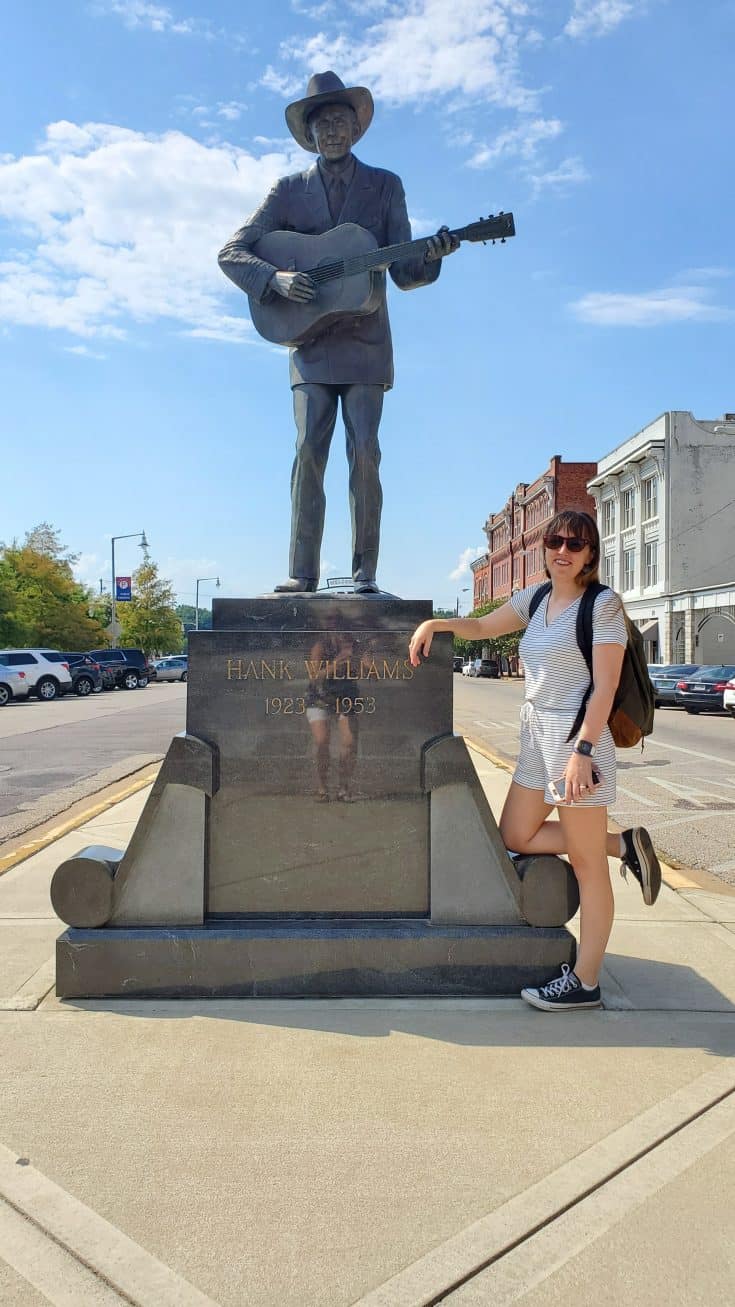 The Legacy Museum – Located on the site where enslaved people were once warehoused and steps away from one of the most prominent slave auction sites in the U.S., The Legacy Museum seeks to document the history of racial injustice in America and educate visitors about its lasting effects on our society today.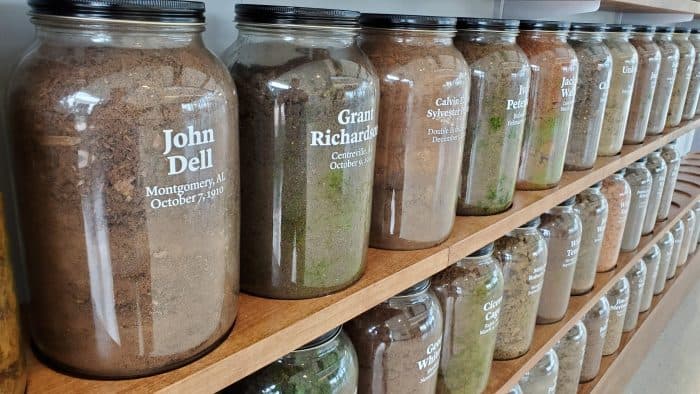 The Legacy Museum is incredibly well-done and incorporates a variety of technology, art, and personal interactions from the staff to get its message across. Allow a couple of hours to see and experience everything.
If you've read the best-seller Just Mercy by Bryan Stevenson, you'll appreciate The Legacy Museum and the stories behind it even more.
The National Memorial for Peace and Justice – The National Memorial for Peace and Justice is a 6-acre site that was also created by the Equal Justice Initiative. The Memorial is located a little over a half-mile from the Museum and a shuttle is provided between the locations.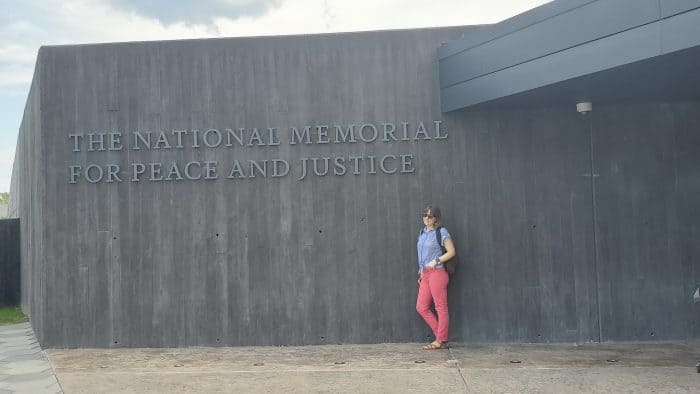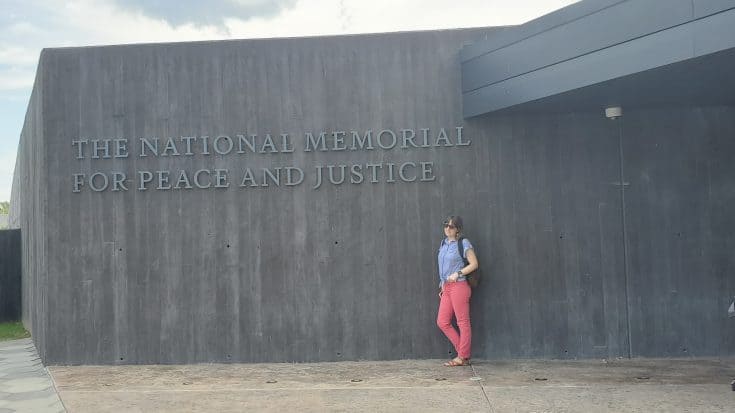 Photography is not allowed inside the Museum but you're free to take respectful photos at the Memorial.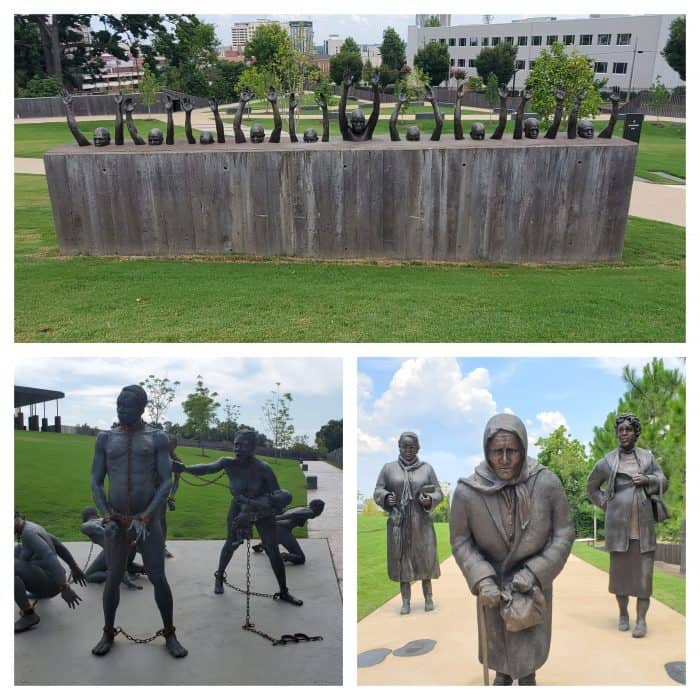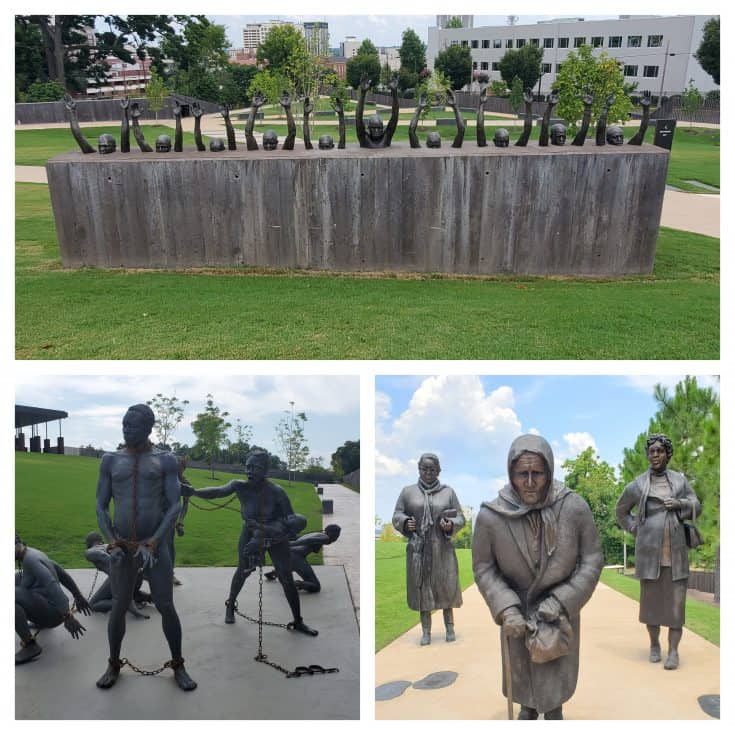 You'll need to go through a security checkpoint at both locations similar to what you'd experience at an airport (minus the long lines, unfriendly TSA agents, and pat-downs.)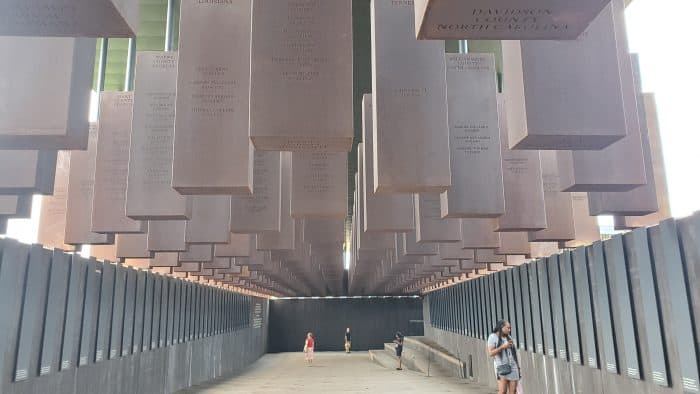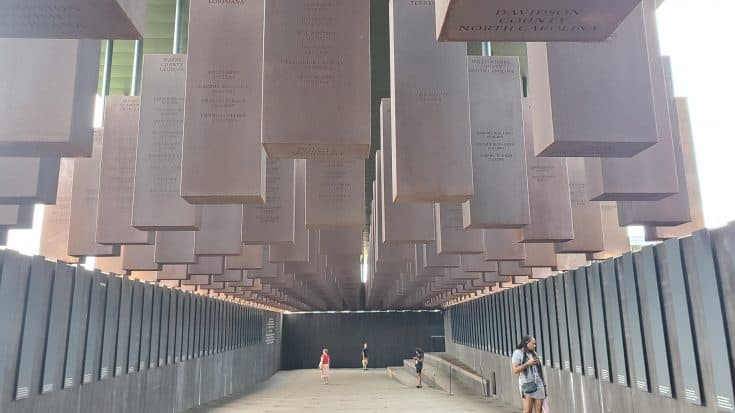 Montgomery Biscuits Baseball – During baseball season, watch the Montgomery Biscuits play at their stadium conveniently located at the Riverwalk.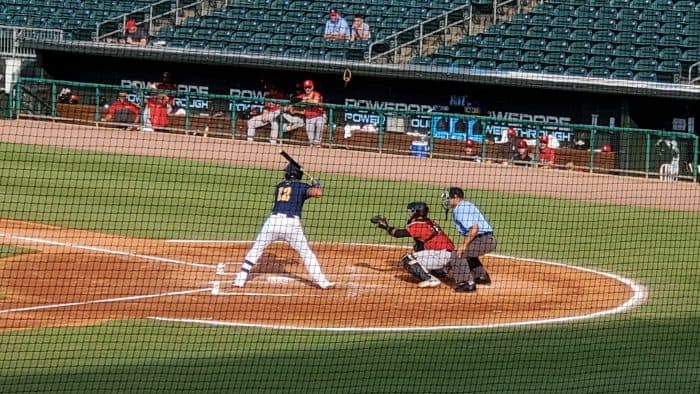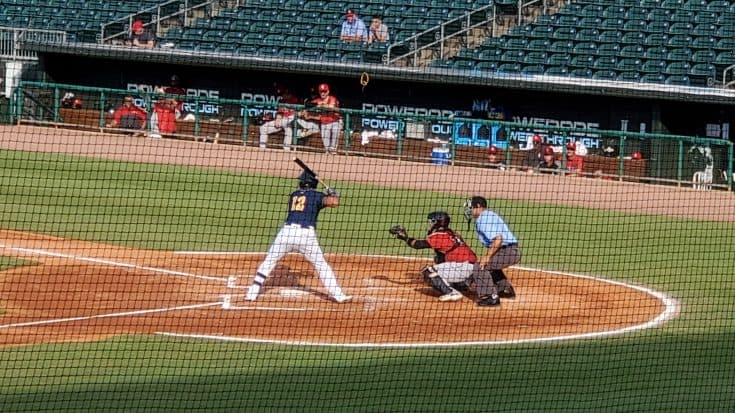 Y'all, the team mascot is a biscuit with a pat of butter for a tongue and sometimes bacon in his mouth. I'm so here for it. Is there anything more Southern?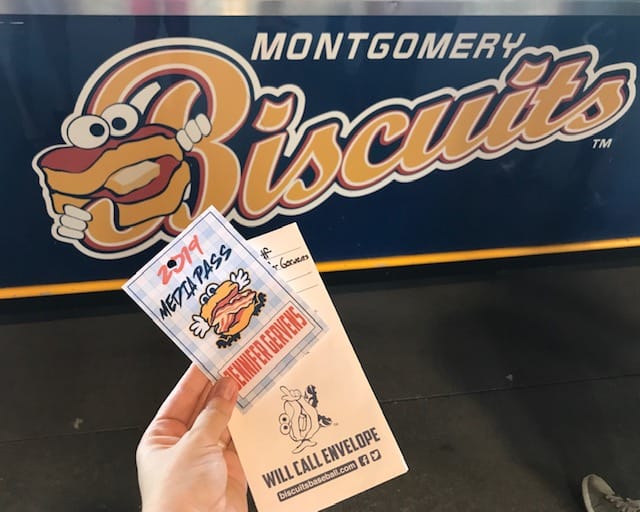 You won't lack for delicious dining options while you're watching a game. There are biscuits (of course!) and a wide variety of other foods to choose from like cheesesteaks, BBQ, and funnel cakes.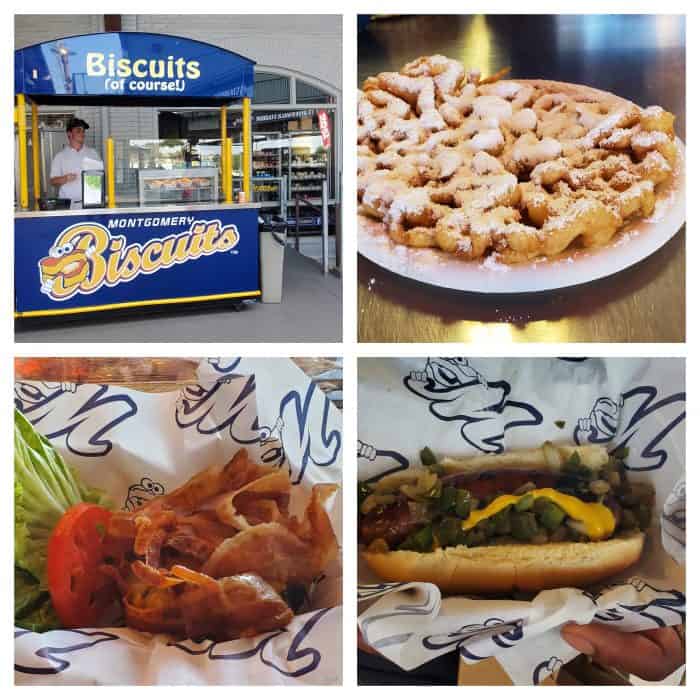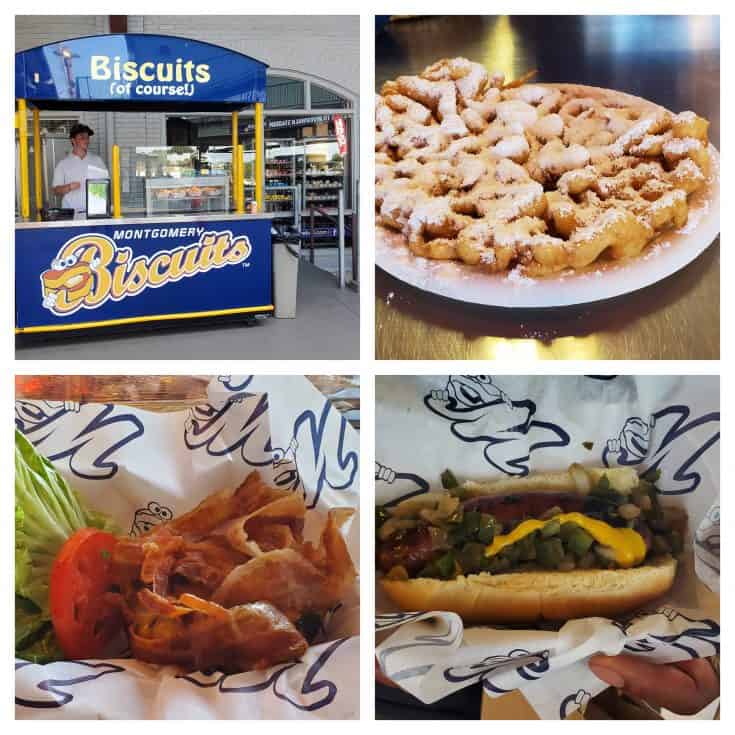 Check the Montgomery Biscuits schedule to catch a game while you're in Montgomery.
Rosa Parks Museum at Troy University – Located in downtown Montgomery, Alabama at the site where Rosa Parks was arrested, The Rosa Parks Museum is the nation's only museum dedicated to Rosa Parks.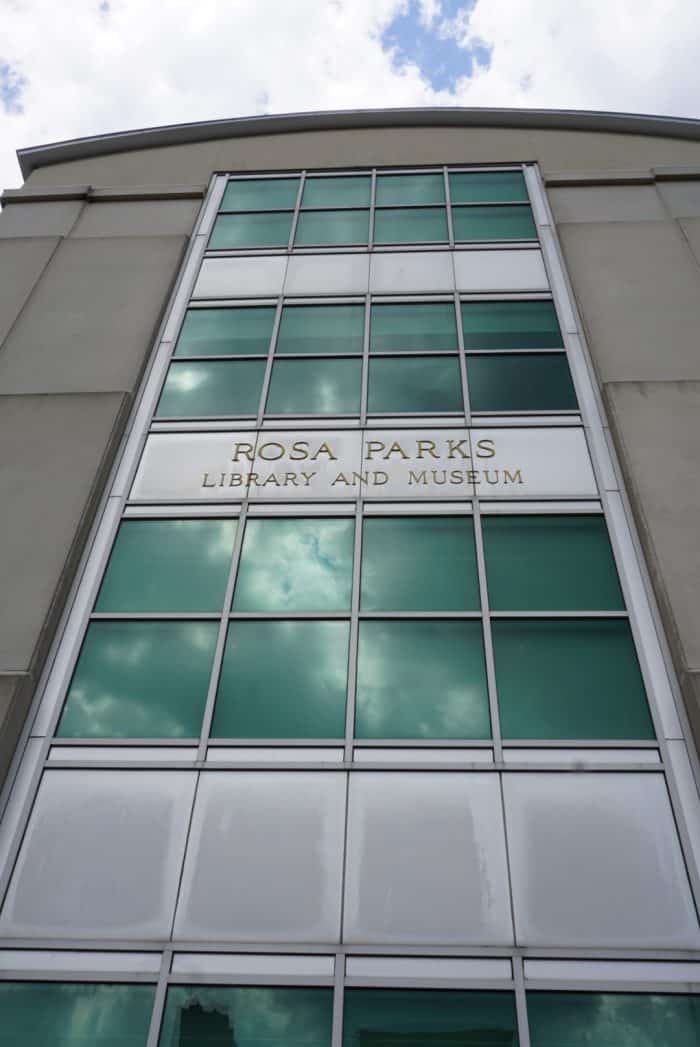 You'll feel like you've been brought back in time once you step inside. They even have a multi-media reenactment that allows you to "witness" Mrs. Parks arrest.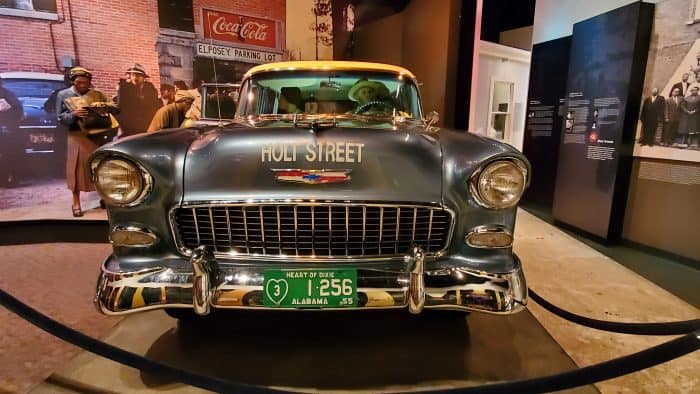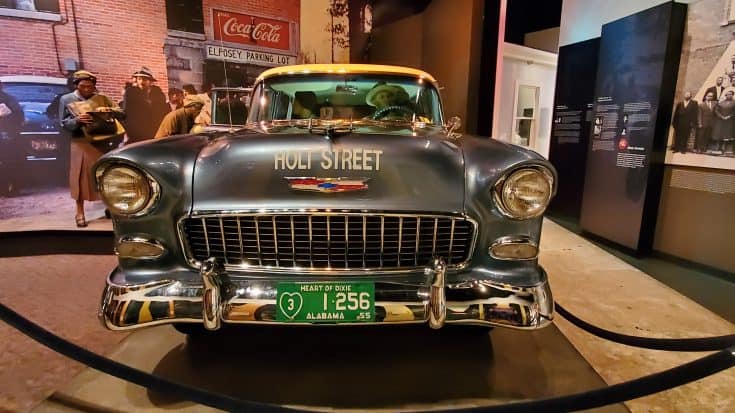 You'll learn about the Montgomery Bus Boycott, the events leading up to it, and its lasting impact on The Civil Rights Movement as a whole.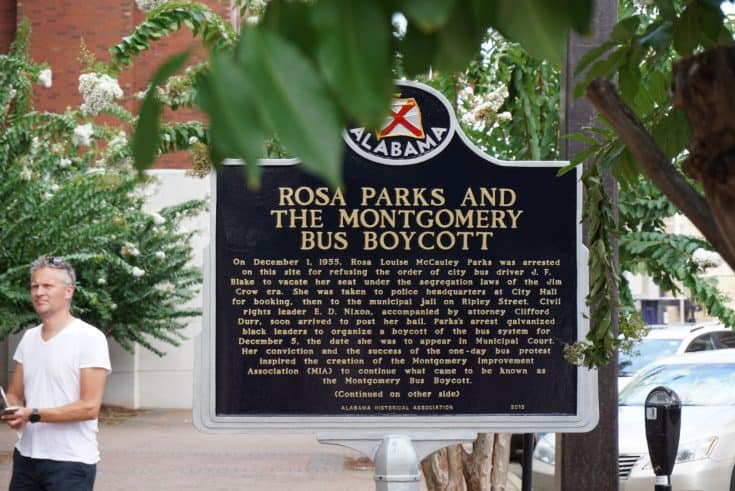 Check out my video below of thing to do in Montgomery, Alabama and keep scrolling to find out where to eat in Montgomery and where to stay.
Montgomery, Alabama Attractions
Montgomery Restaurants
Wondering where to eat in Montgomery? You won't have a lack of choices, that's for sure. Here you'll find some of the great eats we enjoyed during our visit to Montgomery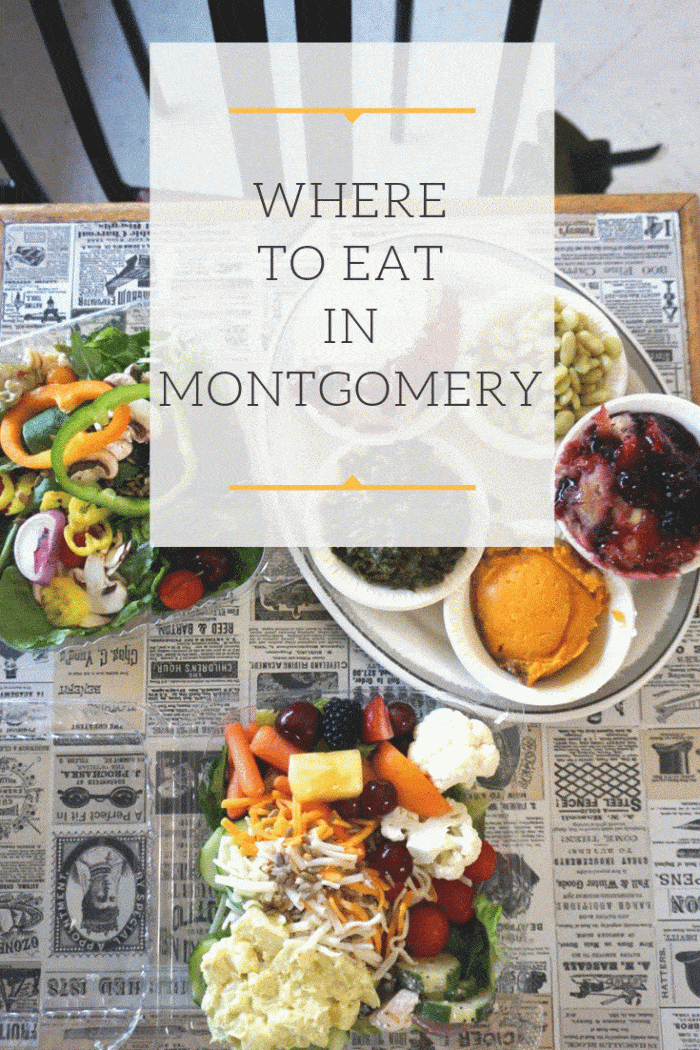 Capitol Oyster Bar – If you're looking for deep South ambiance, look no further than Capitol Oyster Bar. Overlooking downtown Montgomery as well as the Alabama River, Capitol Oyster Bar is usually full of locals.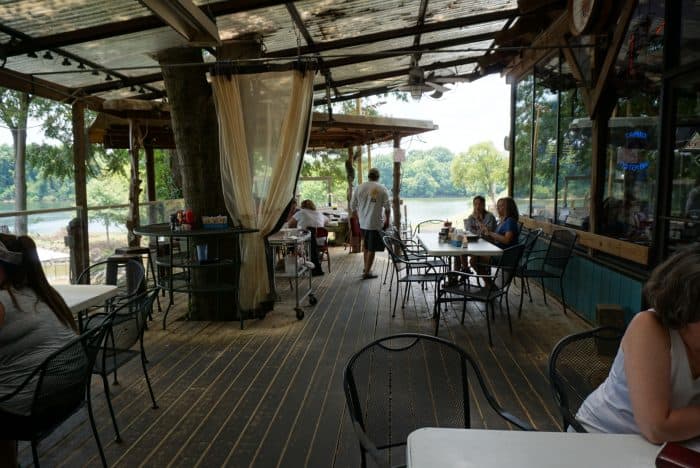 Cats laze around the outdoor deck while servers dodge them automatically. It's a place that makes you want to take your time there! The live jazz dinners on Sunday evenings are especially popular so be sure to get there well in advance of 5:00 if you want a seat.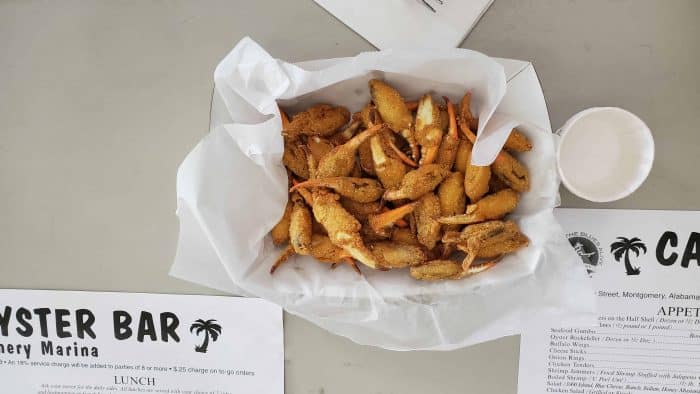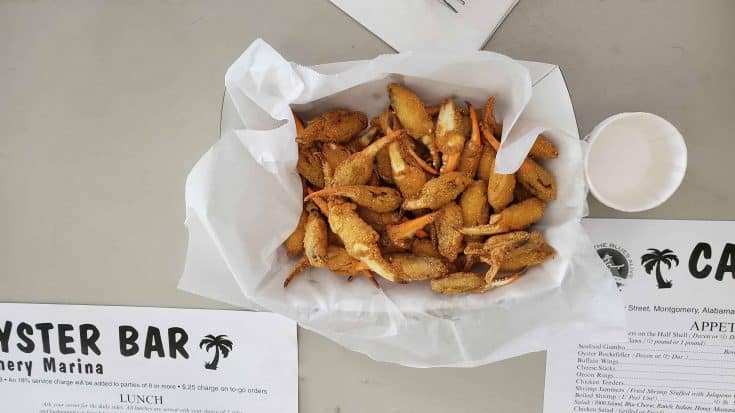 Vintage Cafe – Have you ever considered salad for breakfast? Neither had I until our visit to Vintage Cafe.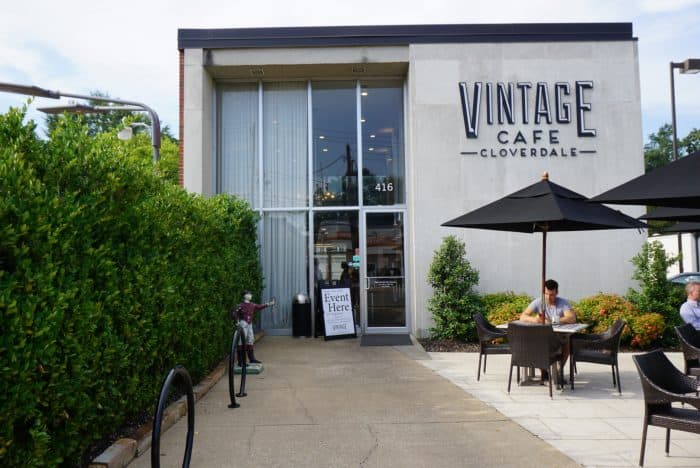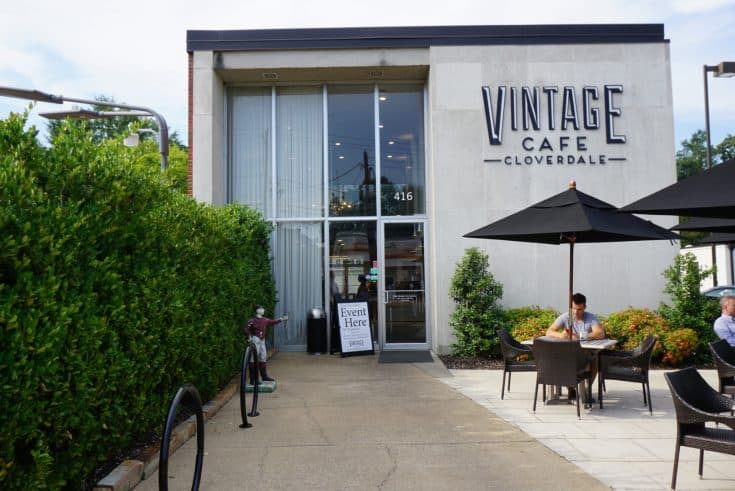 It's a great way to start the day and I think I'm hooked! The local kombucha was the best I've tasted too.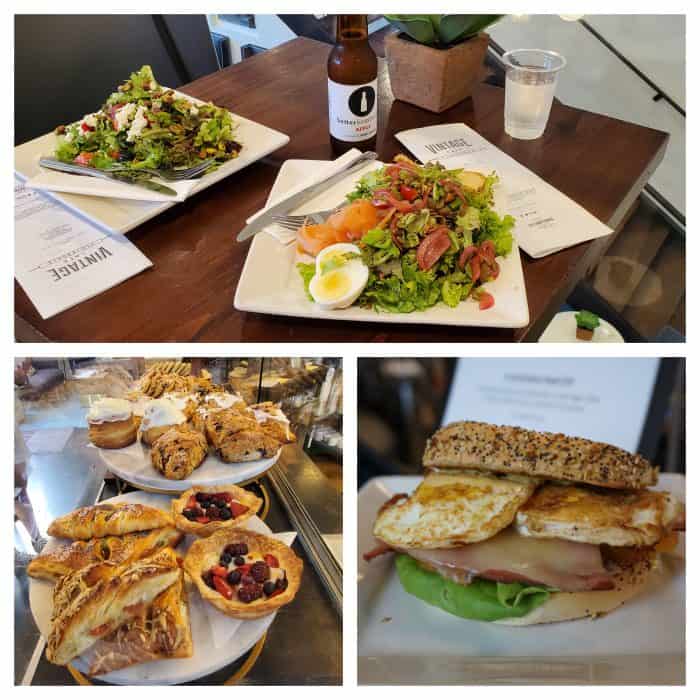 If a salad for breakfast doesn't sound appealing to you, there are plenty of more traditional options. Click to check out their breakfast and lunch menu.
Vintage Year – Reservations are a must for this popular fine dining establishment. Vintage Year is the perfect location for a romantic date night or girls' night out.
There's every drink imaginable to be had including custom ones made just for you!
Our server was very knowledgable about the ever-changing menu and suggested a mocktail creation based on a series of questions about my preferences. Talk about royal treatment!
This lamb t-bone with creme freche is a meal I'll never forget.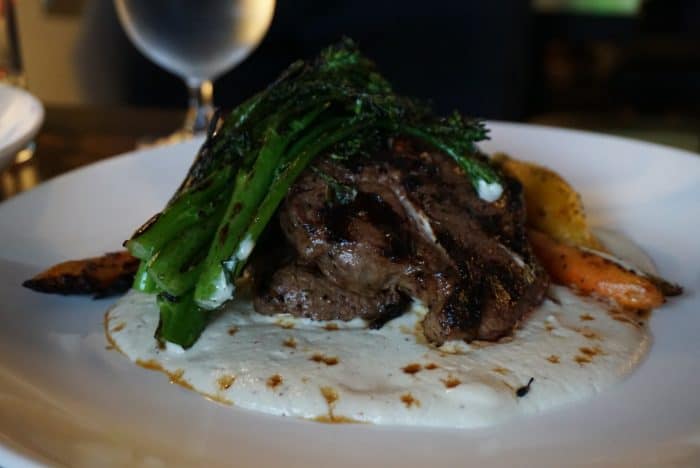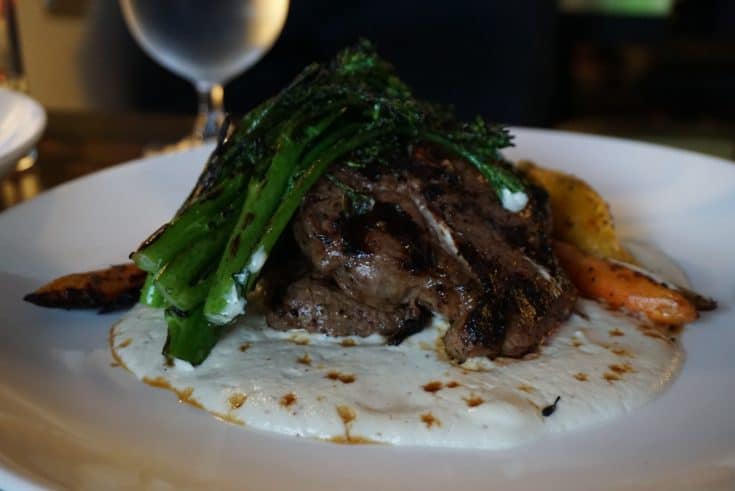 See Vintage Year's current menu here.
Central – I think Central ties with Vintage Year for the absolute best food we had on our trip to Montgomery. My favorite? These Cajun Seafood Corndogs. It sounds a little strange, but if you knock them before you try them you'll regret it.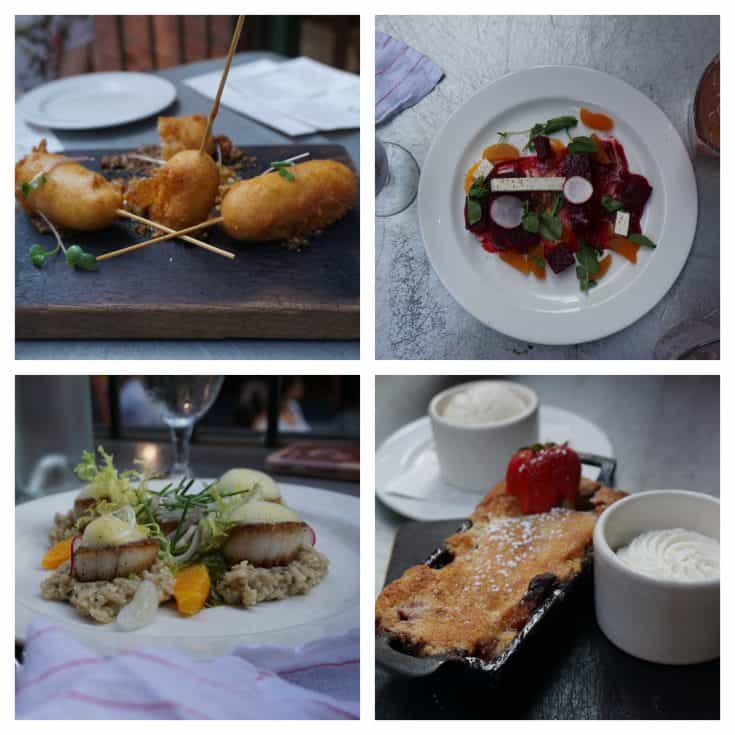 Central's deck overlooks The Alley so you can enjoy people-watching if you choose to dine al fresco. There happened to be an art festival and live music while we were there so we definitely took our time over dinner. Central is rated the #1 Montgomery restaurant on Trip Advisor for a reason.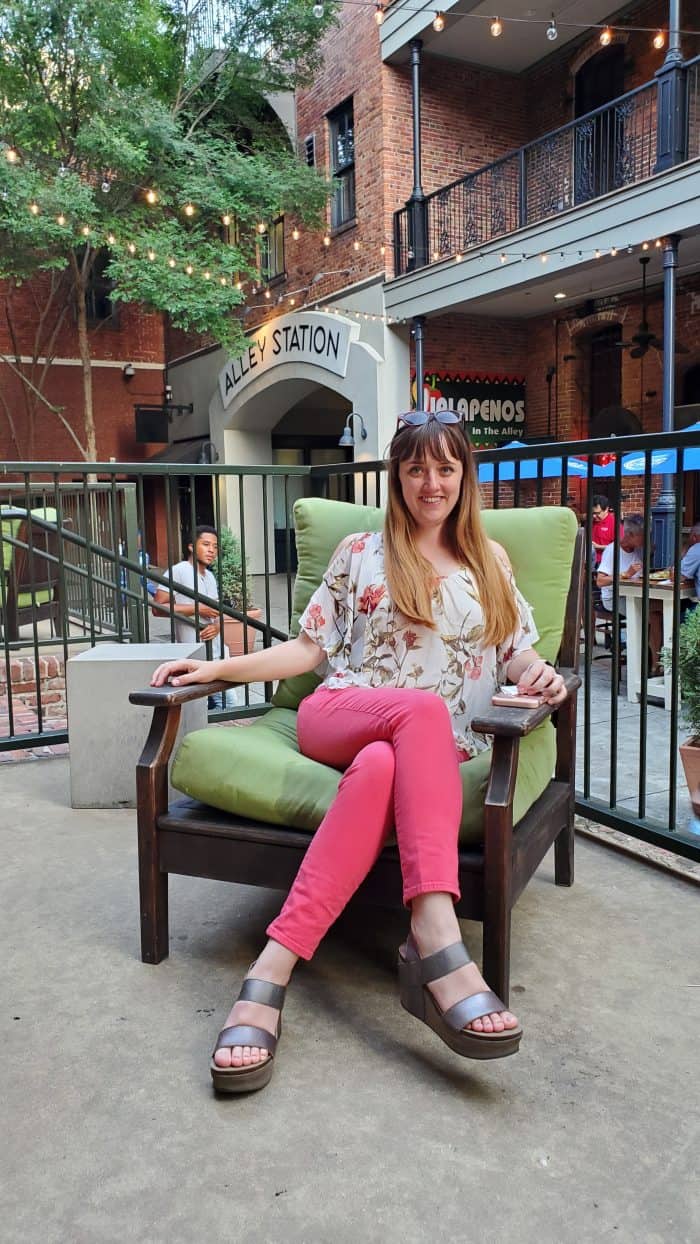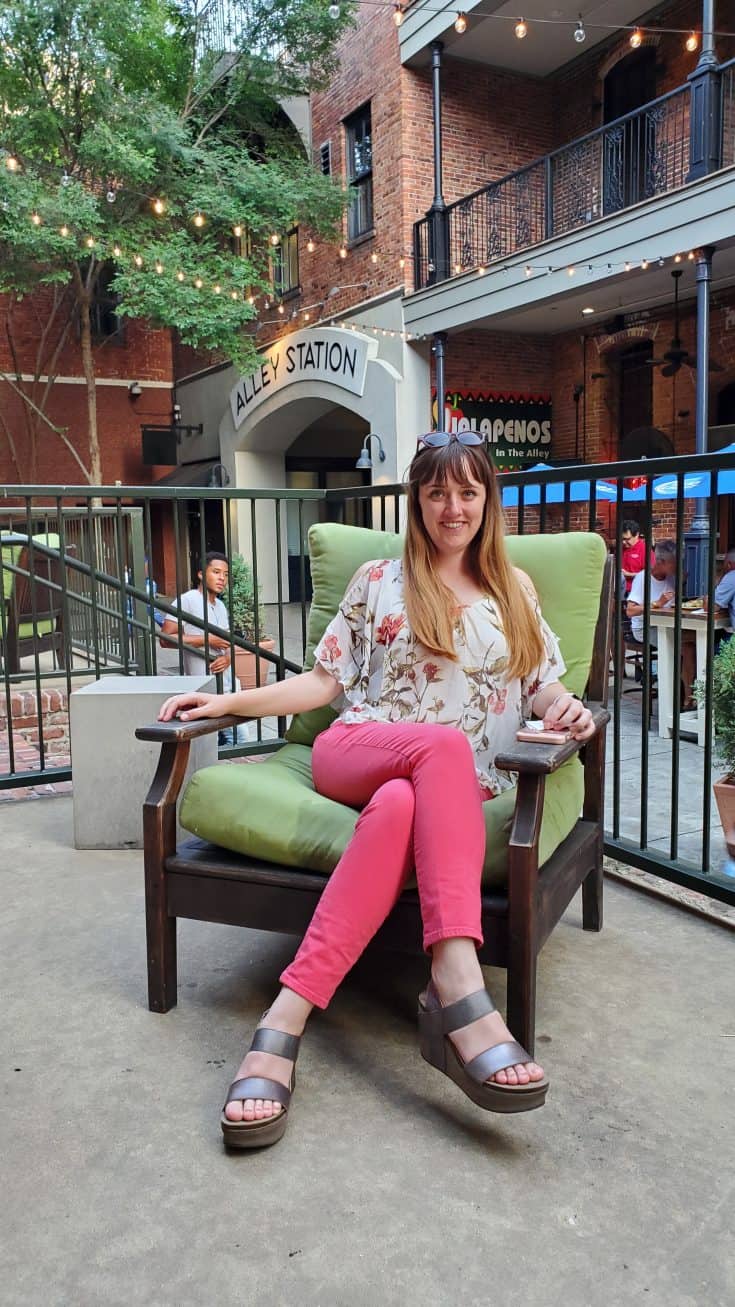 Dreamland BBQ – The original Dreamland in Tuscaloosa kicked off an Alabama legend that had people driving for miles just to taste the ribs. Thankfully, Dreamland has expanded to several locations throughout Alabama so that those of us in other parts of the state can enjoy it without having to make a pilgrimage.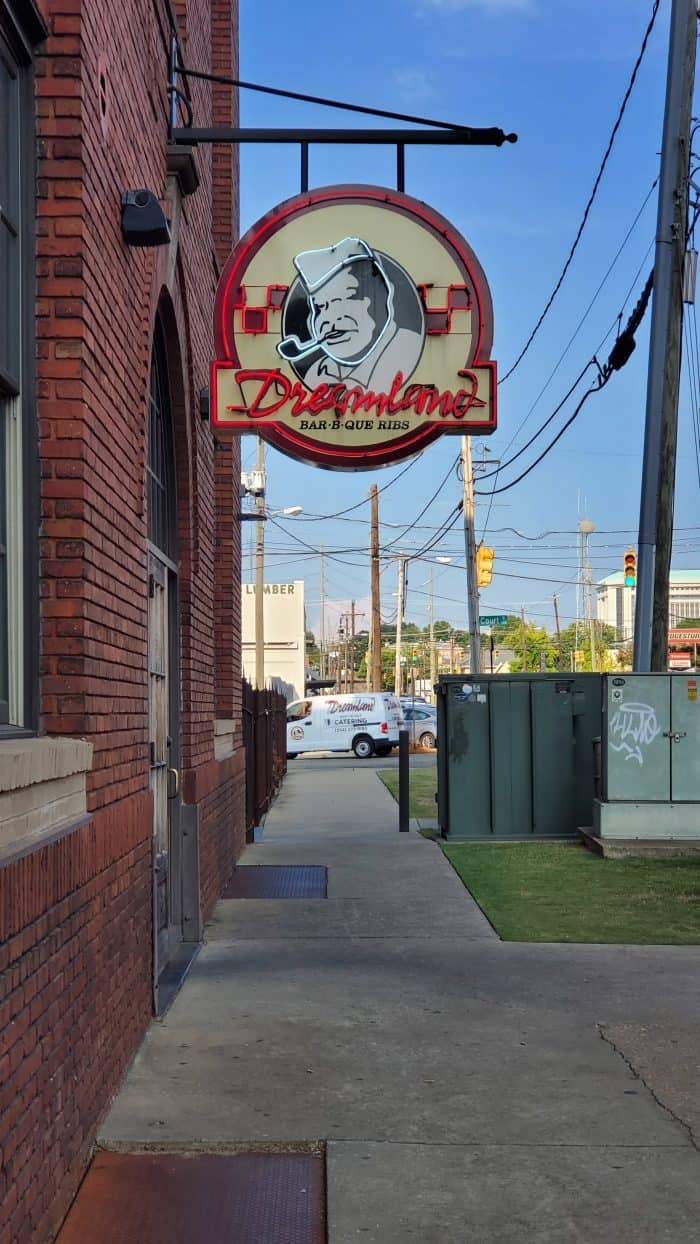 I've had their delicious ribs many times before, but during this visit, I decided to get the BBQ salad instead in order to get a few veggies in.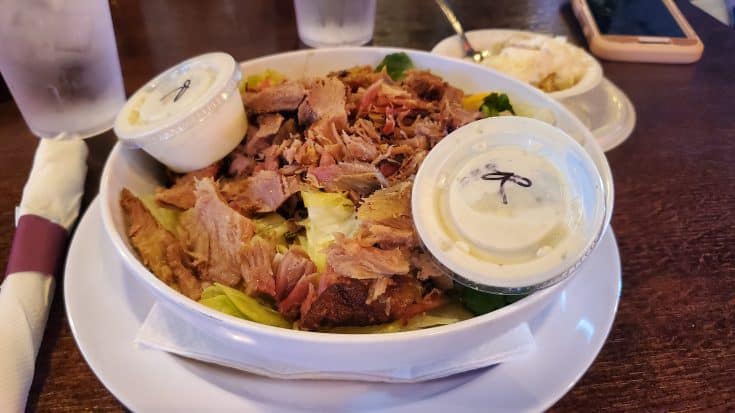 That didn't stop me from ordering banana pudding for dessert though! Dreamland is a short walk from the Riverwalk Stadium which makes it the perfect place to enjoy a meal before or after a Montgomery Biscuits ballgame.
Filet and Vine – I was a little skeptical before walking into Filet and Vine. Is it a wine store? Grocery? A gas station minus the pumps? What is going on here?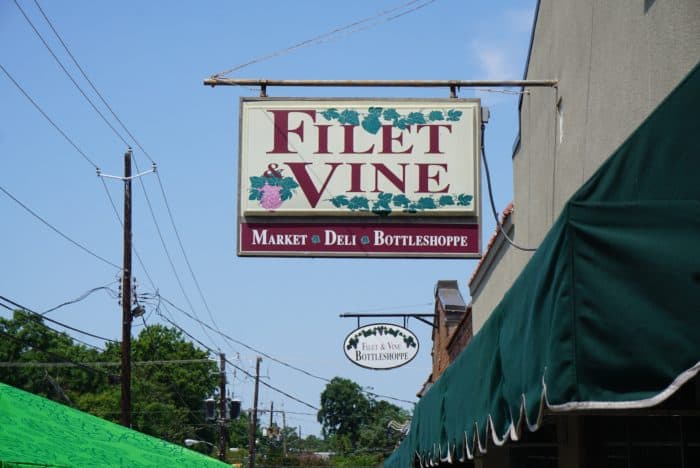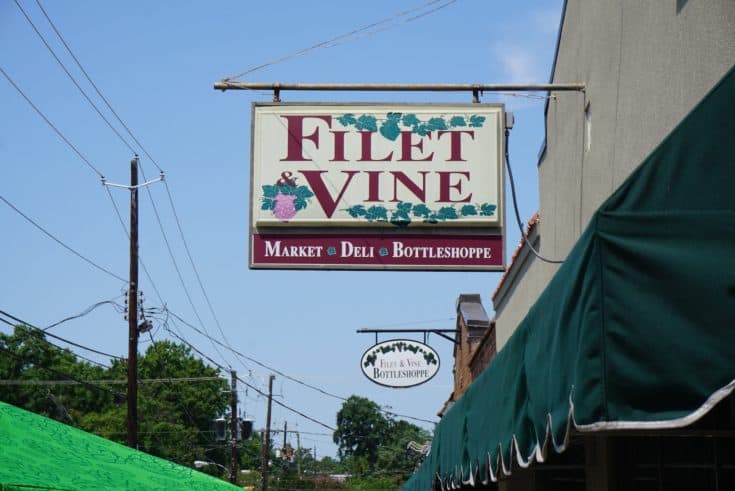 Deliciousness is what's going on here. There's a wonderful salad and soup bar as well as a hot bar with Southern, home-cooked entrees that you can enjoy a la carte.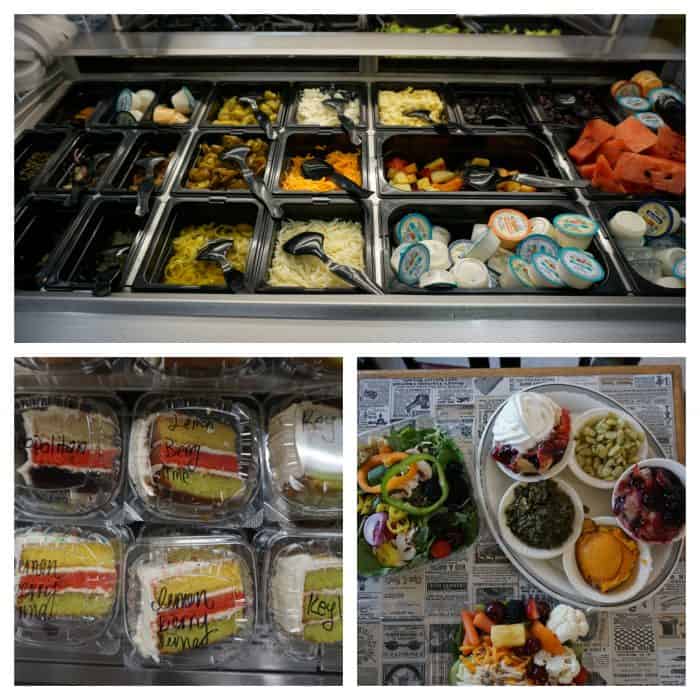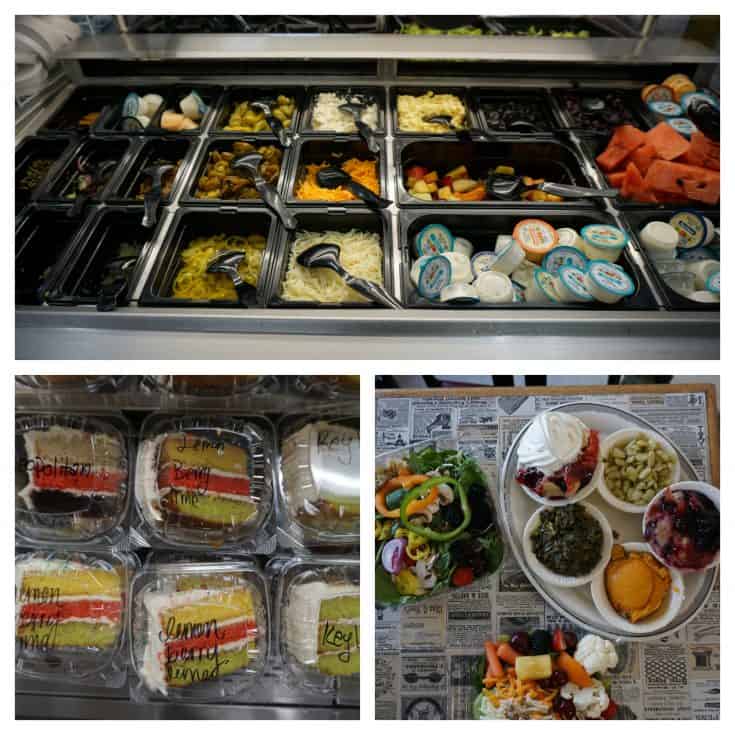 Blackberry cobbler AND sweet potato casserole to go with my collard green and butter beans? Don't mind if I do. Filet and Vine is a great place to stock up on drinks and snacks to bring back to your hotel. They even have freezer meals to bring home or back to your rental if it has a kitchen. Lynda and I made sure to stock up on our new favorite kombucha while were there.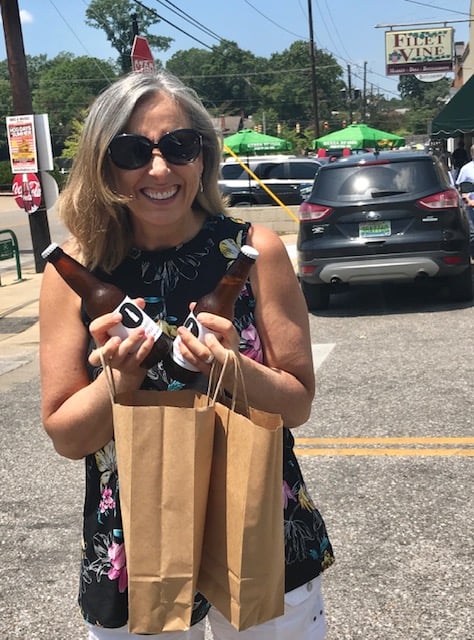 (For more details about good eats in Montgomery, check out Lynda's post too!)
Cahawba House – We arrived at Cahawba House for Sunday breakfast around 9:30 am and only had to wait in line 5 minutes. Once we were seated and had our food, the line of customers was out the door! Arrive early on weekends if you're in a hurry.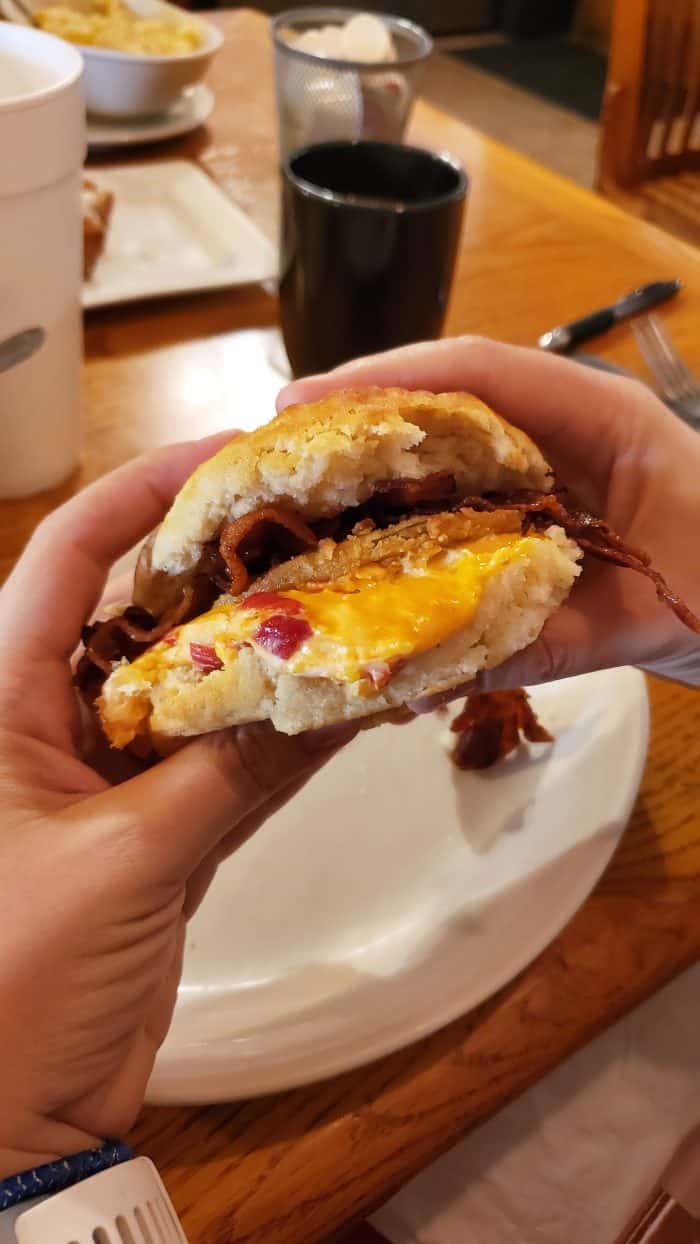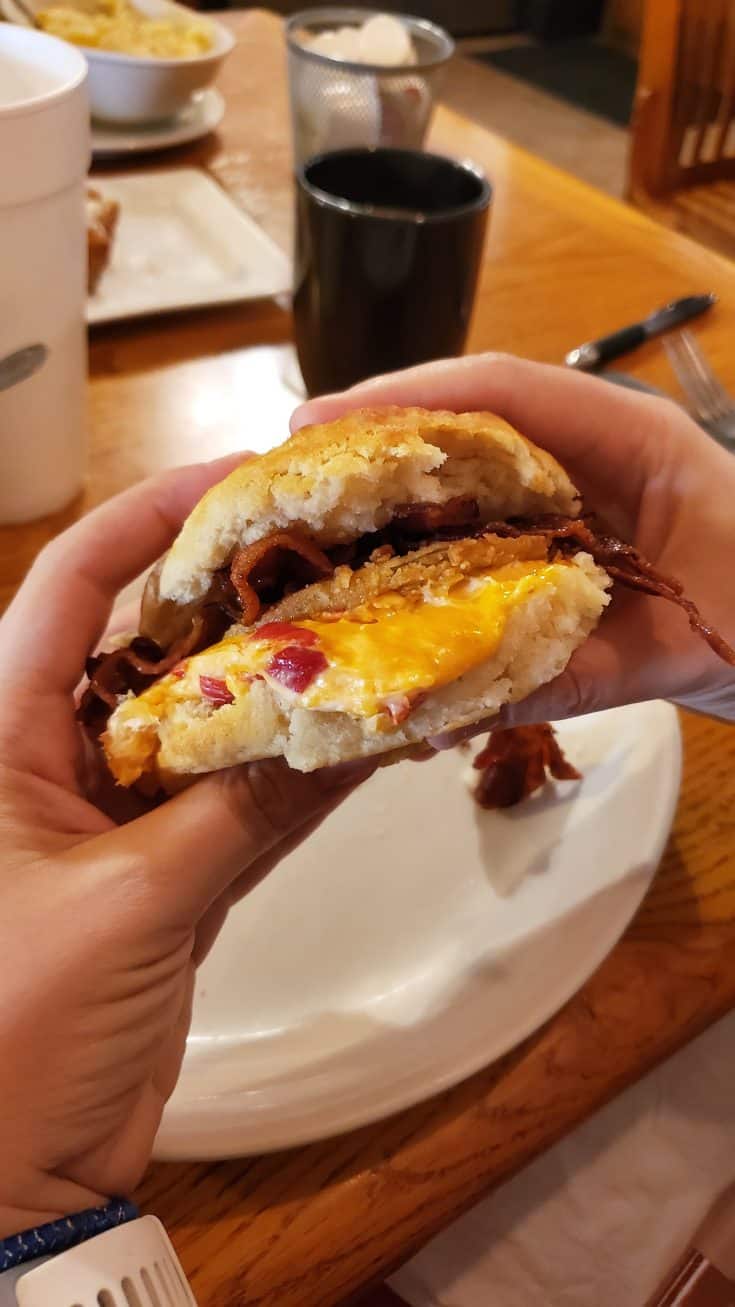 This fried green tomato and pimento cheese biscuit with bacon is going down as the stuff of legends because I keep talking about it to everyone in my little town. You'll also want to try the Cinnamon Beignets as "dessert" since they go so well with coffee (see a video of them below.)
Lunch is served as well and the prices are very reasonable.
Best restaurants in Montgomery, AL
Now that you know some fun things to do in Montgomery and where to eat while you're there, let's talk about where to stay.
Where to Stay in Montgomery
We stayed at the Renassaince and I can't recommend it enough, not only for the luxury and service but for the excellent location.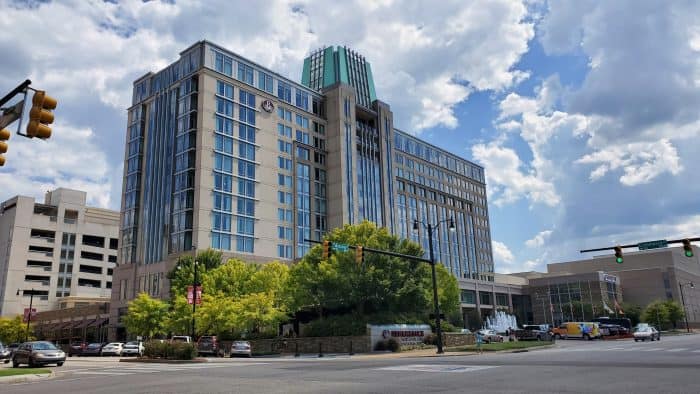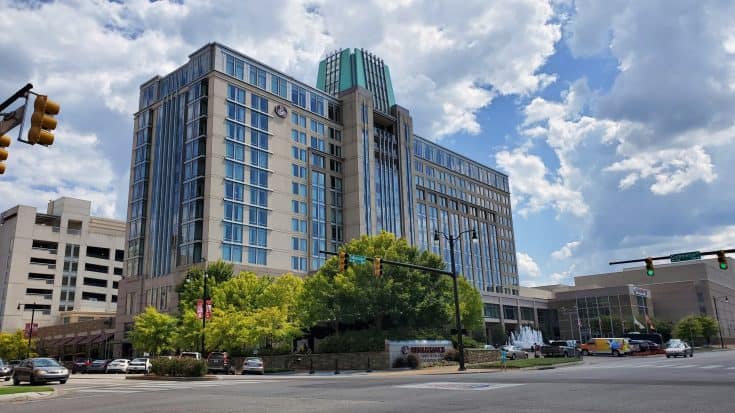 We were able to walk to almost every attraction and restaurant mentioned in this post with only a couple of exceptions. Those exceptions are only a short ride by your car or Uber. In my opinion, it really makes a vacation less stressful if you don't have to do much driving and the Renassaince delivered that for us.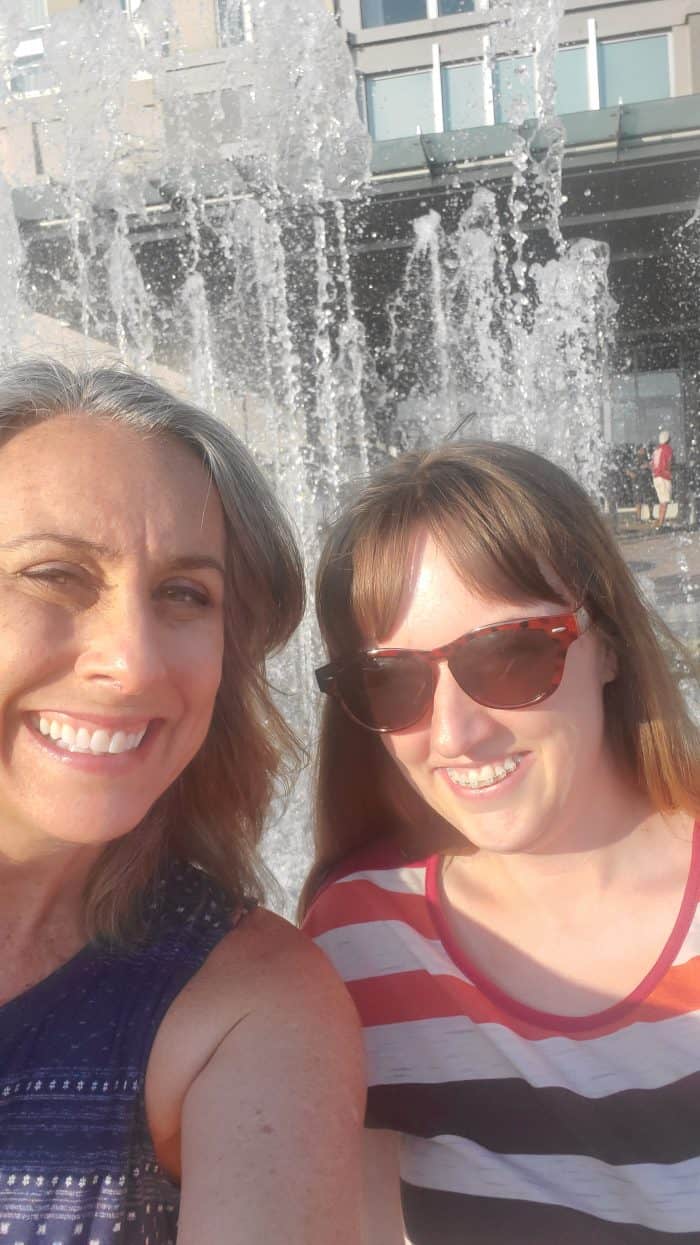 Besides the convenient, waterfront location you'll also enjoy the amenities the Renassaince has to offer including their spa and rooftop pool!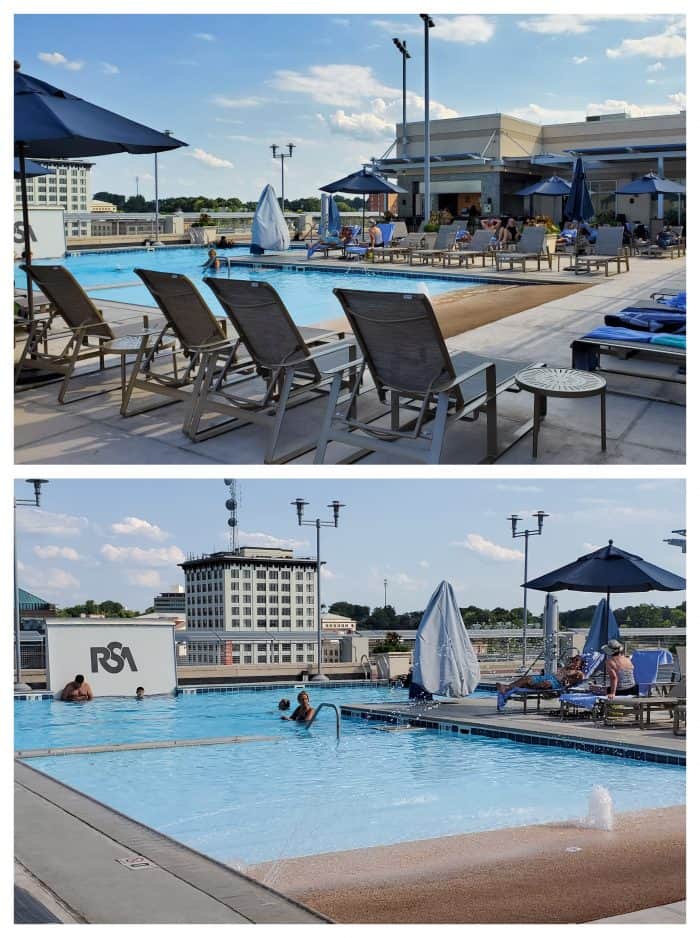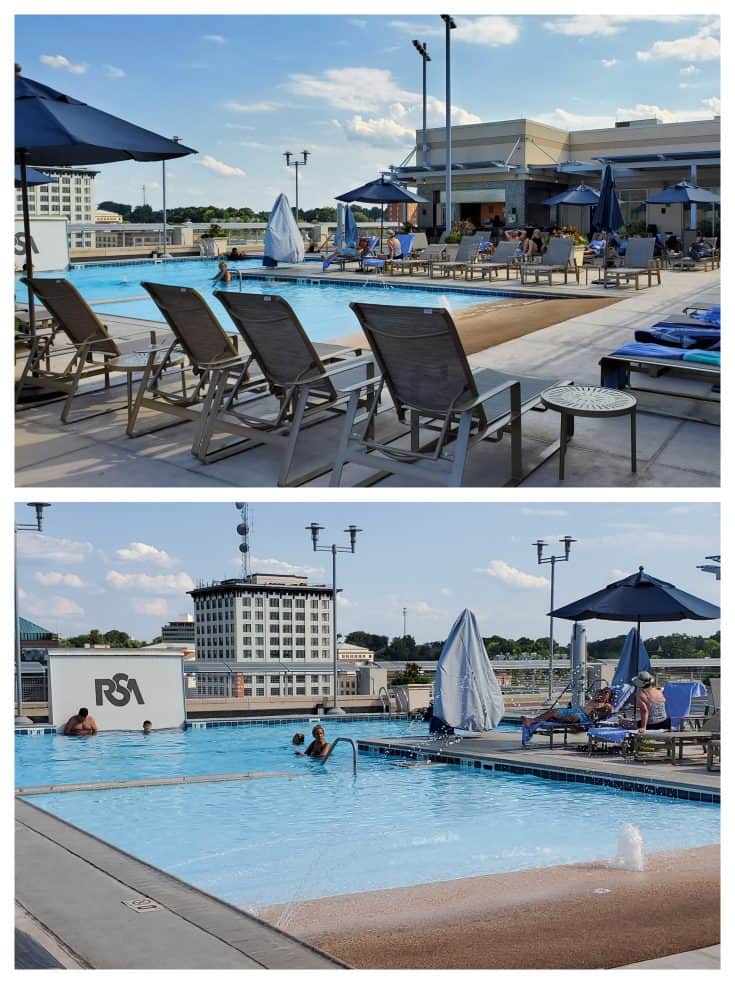 Ask for a view of the Riverwalk and you'll enjoy the beautiful view and people watching as tourists snap pics with the Hank Williams Sr. statue.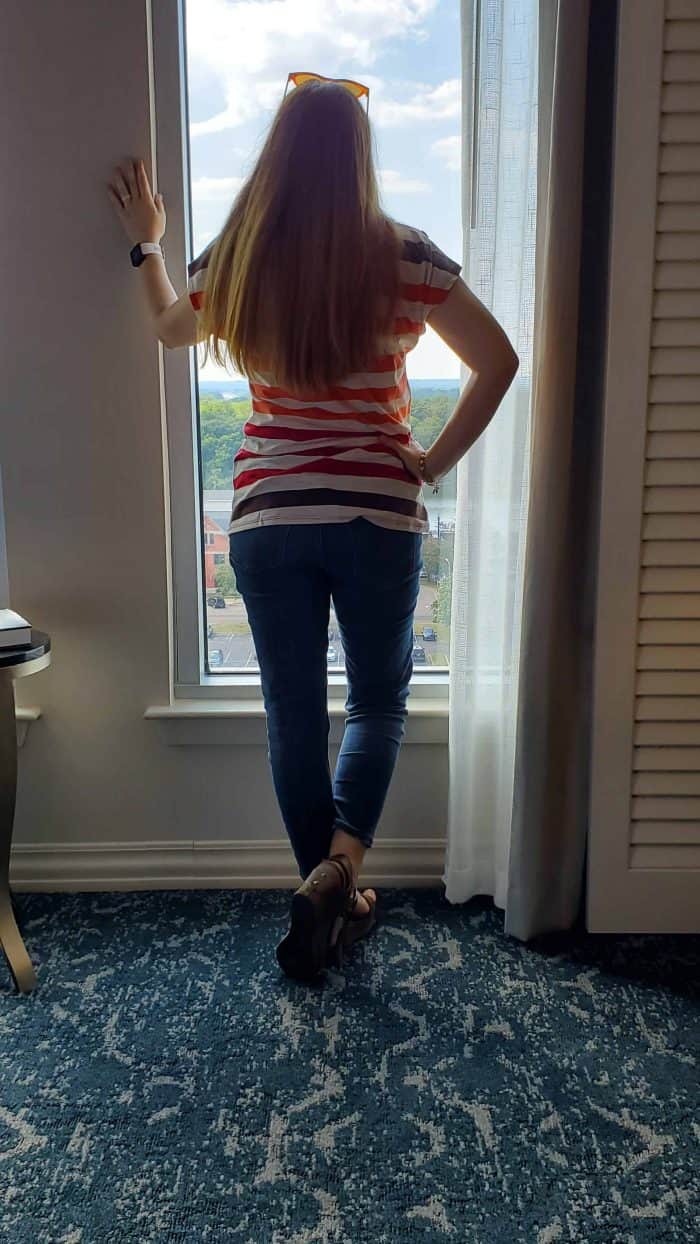 In the evening, get cozy and rest up for your next day of fun in Montgomery!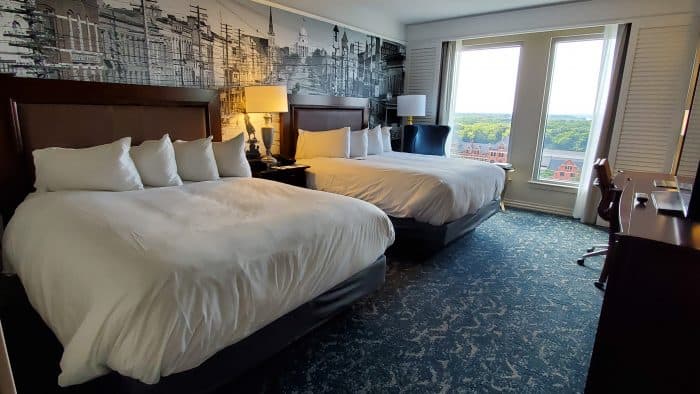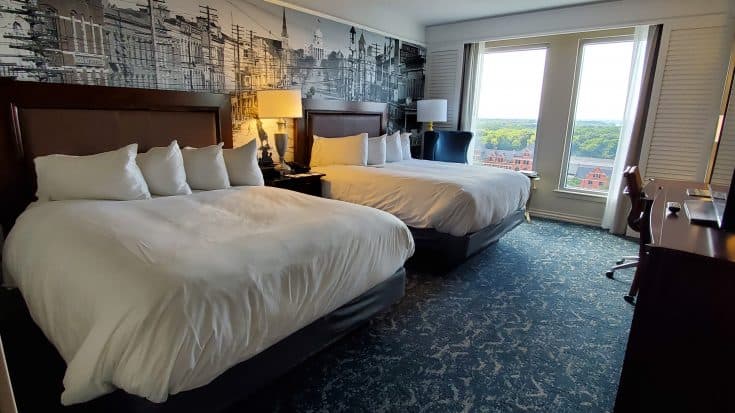 Which Montgomery, Alabama attraction or restaurant is on your bucket list?