These 35 keto Crockpot recipes make life on a low carb, high fat way of eating just a little easier. Fix it and forget it with slow cooker keto recipes! Be sure to check out these Keto Freezer Meals too if you really want to turbocharge your meal prep.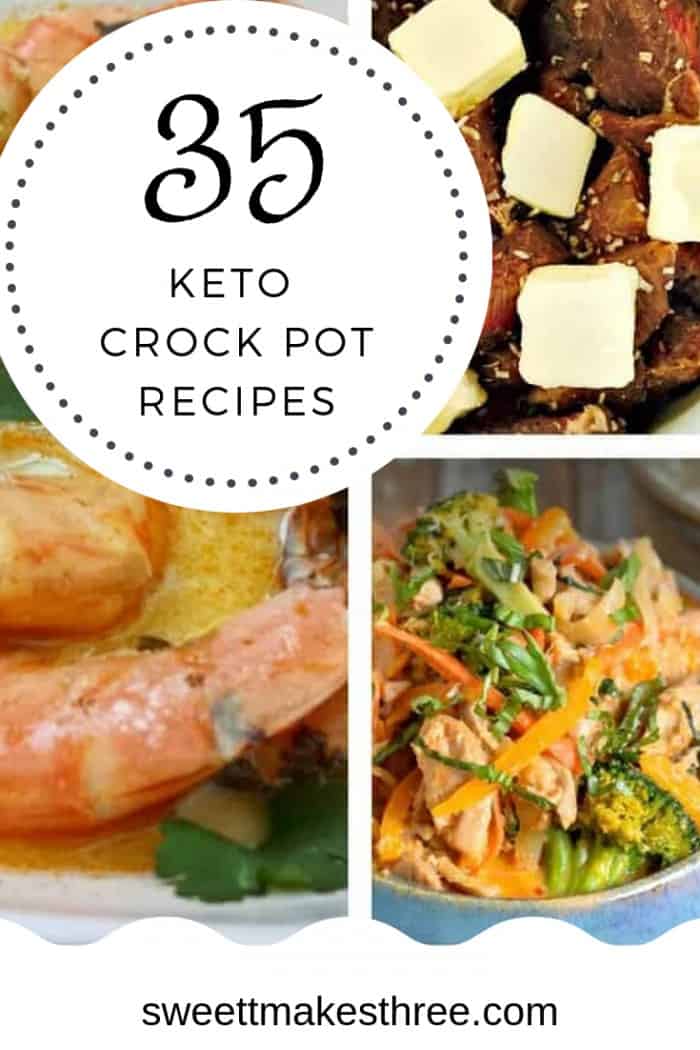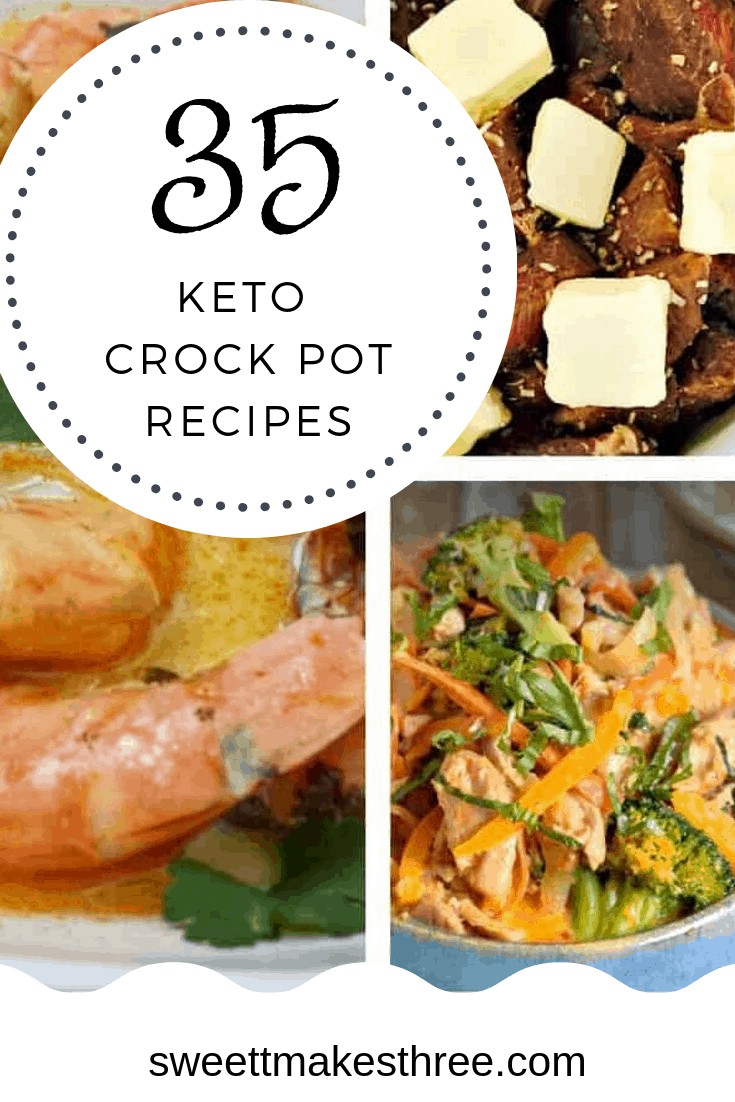 Slow cooker liners make cleanup a snap and this travel tote ensures you can bring a keto meal with you on the go!
Crock-Pot SCBAG Travel Bag for 7-Quart Slow Cookers, Black
Reynolds Slow Cooker Liners, 4-Count (Pack of 12)
Keep reading for ways to meal prep even faster on your ketogenic way of eating by investing in an Instant Pot. I just mine at least 3 times per week.
You can adapt pretty much any slow cooker recipe for the Instant Pot and cook it a fraction of the time. This is ideal for procrastinators like me who wait until 4:00 to even think about dinner. It's also nice for when you just don't have time in the morning to get your Crock Pot keto meal going. We all have mornings where we're barely getting out the door so let the Instant Pot save the day on those occasions.
20 Keto Crockpot Recipes
1.Crock Pot Cheese Stuffed Turkey Meatballs
2. Slow Cooker Cheesy Adobo Chicken
3. Slow Cooker Deep Dish Pizza with Cauliflower Crust
Speaking of cauliflower, try my easy keto snacks that you can make in the microwave to save even more time!
4. Garlic Butter Chicken with Cream Cheese Sauce
5. Low Carb Crock Pot Pizza Chicken
6. Loaded Cheesy Cauliflower Soup
7. Low Carb Crock Pot Coconut Curry
8. Crock Pot Bacon Cheeseburger Casserole
10. Slow Cooker Low Carb Mexican Lasagna
11. Dill Pickle and Brat Soup (this actually sounds really good. You know how you crave salt and pickle juice during keto, especially in the beginning? This seems classier than drinking straight from the pickle jar. Not that I've ever done that or anything.)
12. Slow Cooker Chicken with Bacon Gravy
Keep scrolling for more keto recipes for your slow cooker. Here are 20 low carb veggie recipes to complement these keto Crockpot recipes!
13. Low Carb Zuppa Toscana Soup
15. Mississippi Pot Roast
16. Slow Cooker Bacon Cheeseburger Meatloaf
Ready to try pressure cooking? Use these 20 Instant Pot keto recipes to save even more time!

You can even place frozen meat in your Instant Pot and have it ready for dinner within an hour or so. Life changing!
18. Slow Cooker Coconut Cilantro Curry Shrimp
19. Healthy Slow Cooker Butter Chicken
20. Slow Cooker Creamy Tuscan Chicken
21. Keto Chili
22. Keto Chicken Enchilada Bowl (works well in Crock Pot. See comments)
23. Crock Pot Garlic Ranch Mushrooms
24. Keto Slow Cooker Lamb Shanks
25. Crock Pot Turkey Smash
26. Keto Slow Cooker Beef and Broccoli
27. Keto Crock Pot Salsa and Cheese Chicken
Ready to try pressure cooking? Use these 20 Instant Pot keto recipes to save even more time!
28. Crock Pot Bacon Broccoli Chicken
30. Cajun Low Carb Chicken Gumbo
32. Keto Slow Cooker Short Ribs
While you're saving time with your Crock Pot, try these easy keto snacks that you can make in the microwave while you wait!
33. Ratatouille in the Crock Pot
34. Slow Cooker Cashew Chicken
35. Savory Slow Cooker Brisket
Which of these keto Crock Pot recipes will you make first?