Chicken salad is a Southern tradition and now it's easier than ever for the chicken salad lover to enjoy it thanks to Chicken Salad Chick. With 12 different chicken salad varieties to choose from on their regular menu, Chicken Salad Chick has a flavor of chicken salad for everyone.
The company's first location was started in Alabam near Auburn University, and now there are various Chicken Salad Chick restaurants all over the Southeast.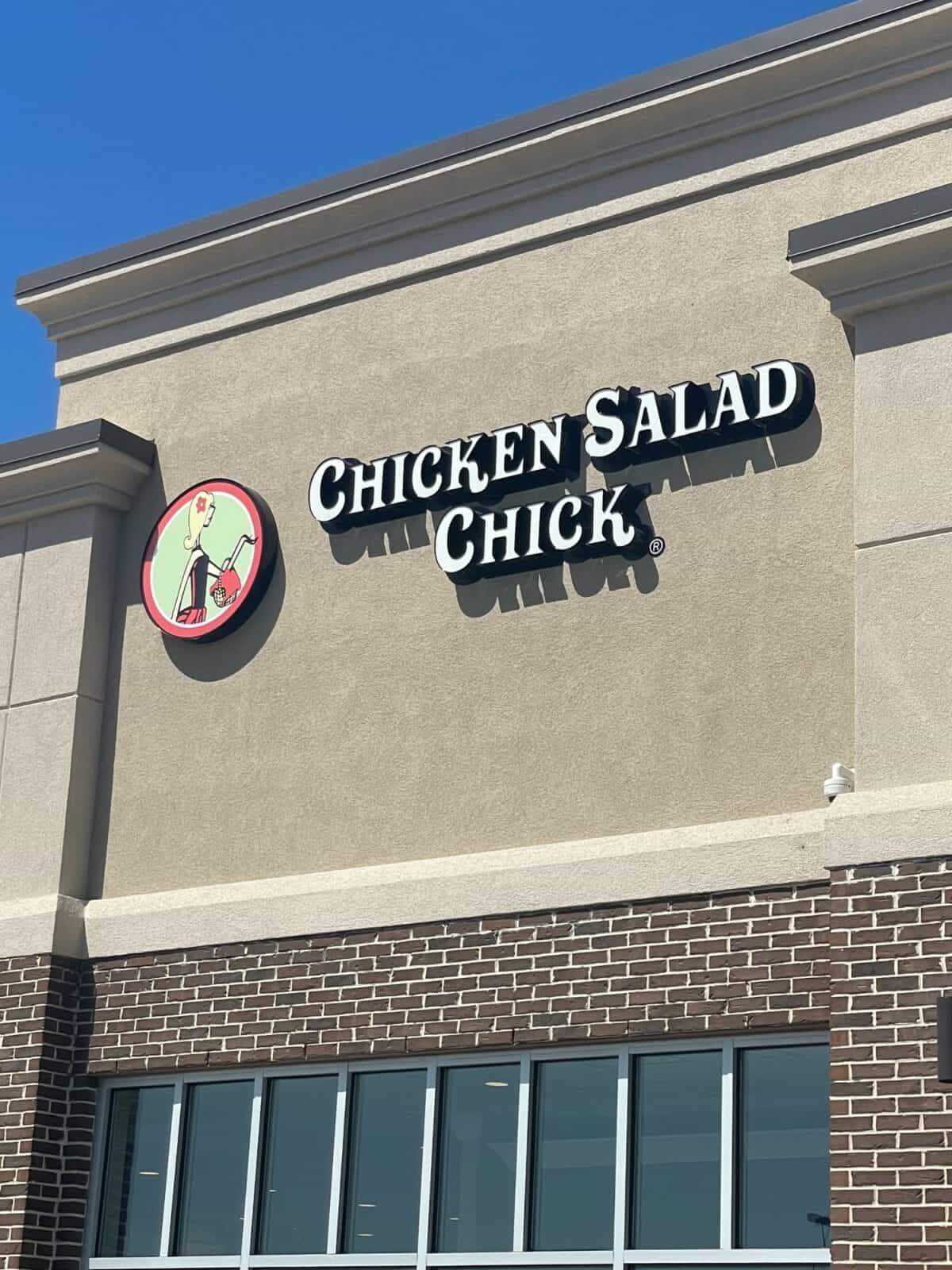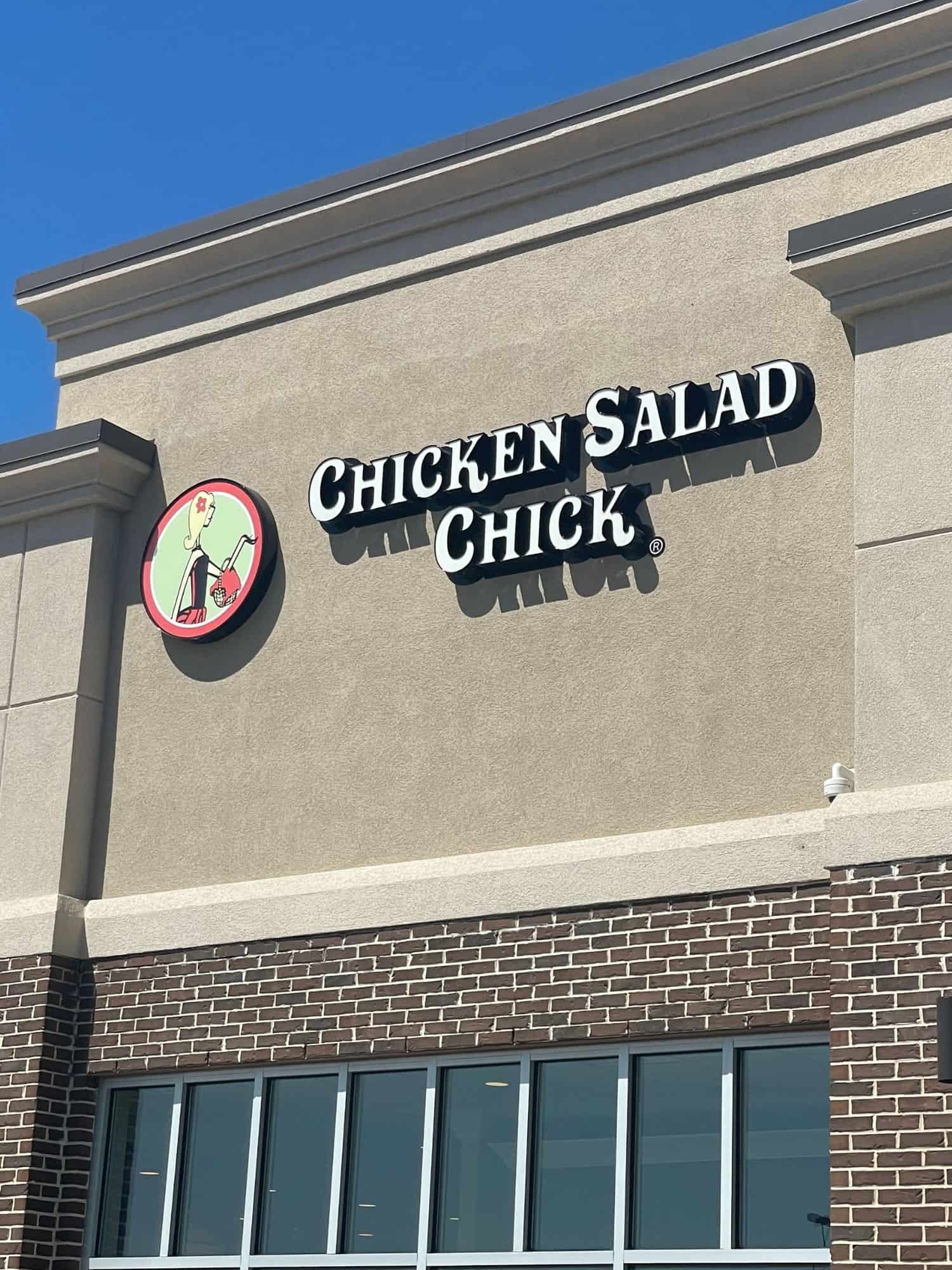 The Chicken Salad Chick concept has loyal guests coming back for more than just fresh chicken salad. Their signature sandwiches, fresh side salads, sides, gourmet soups, pimento cheese, egg salad, and delicious desserts are on my list to try. Not to mention the high-quality meals offered by their full catering options!
I'm trying to eat my way through the whole menu of chicken salad and let you know my thoughts. Then on to the homemade pimento cheese!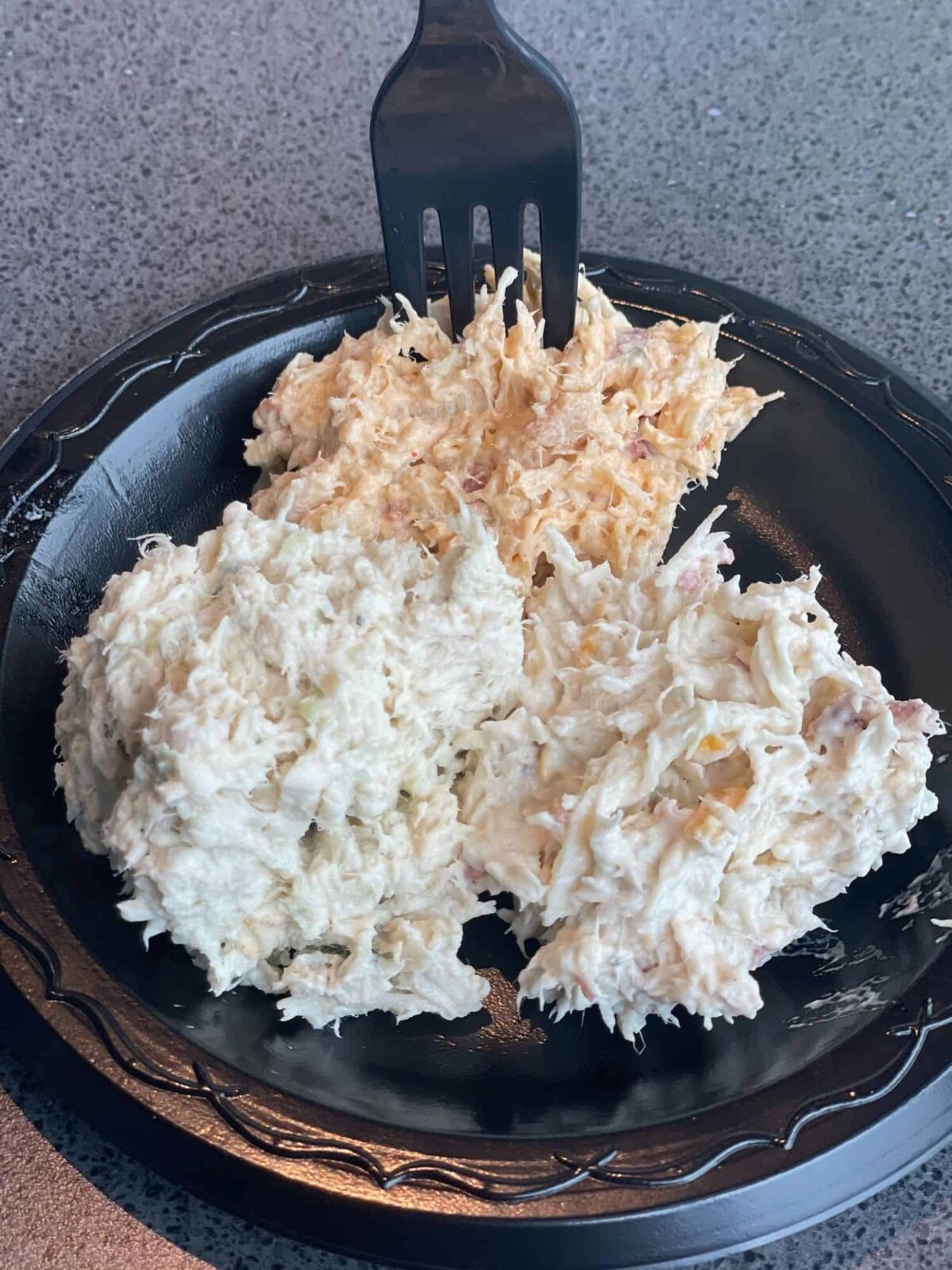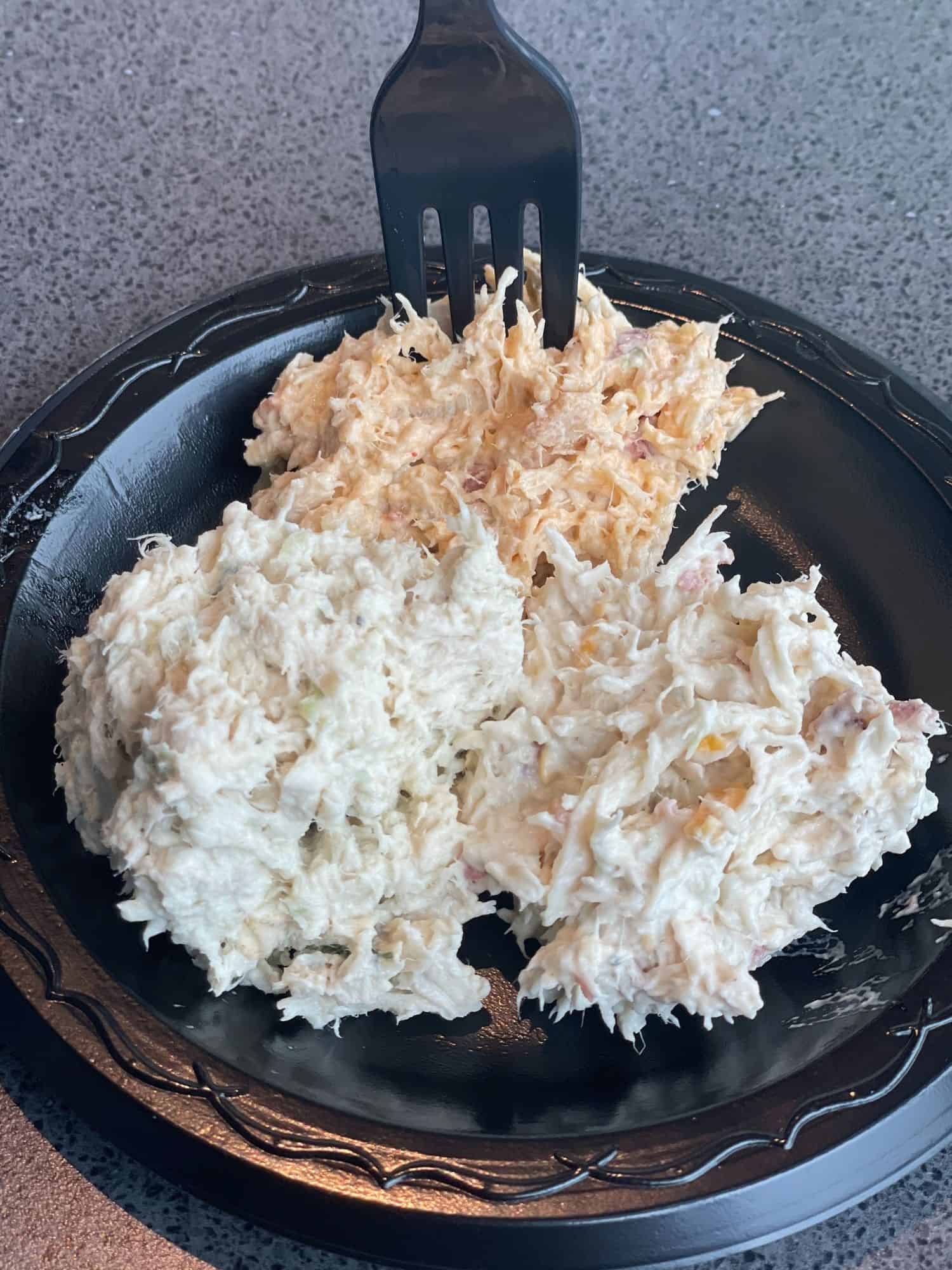 From Chicken Salad Chick's robust menu you can order a variety of options and sizes of their chicken salad flavors. Choose from scoops of chicken salad, chicken salad sandwiches, or "Quick Chick" to-go packages that are a perfect fit for feeding larger groups.
Each Chicken Salad Chick location makes between 240 and 400 pounds of their perfect chicken salad recipe per day. That's a lot of chicken!
Let's work our way through the varieties of chicken salads from Traditional to Spicy. I mostly opted for preordered Quick Chicks to share with friends and family. They were happy to get free chicken salad and I was happy to have their feedback.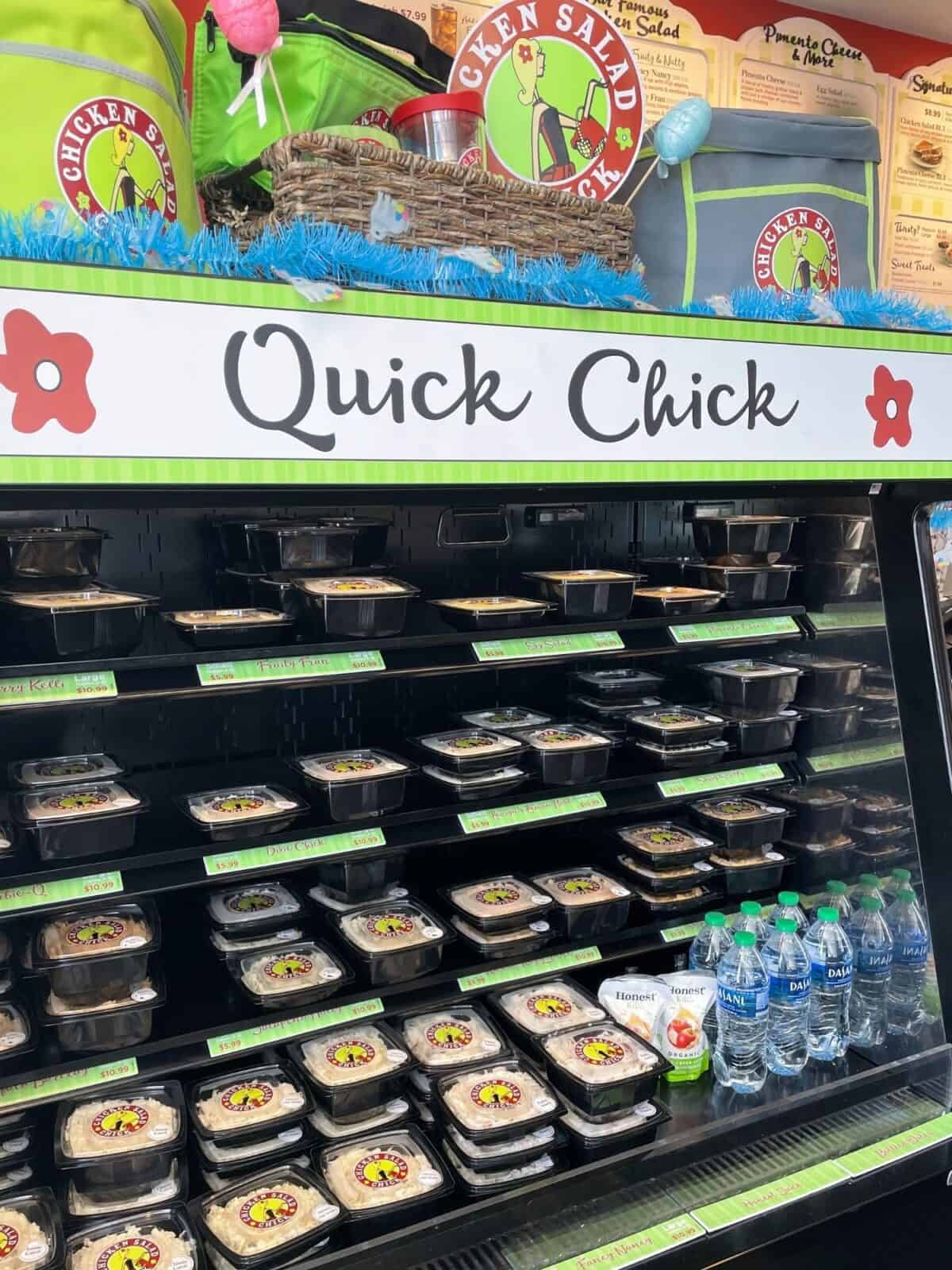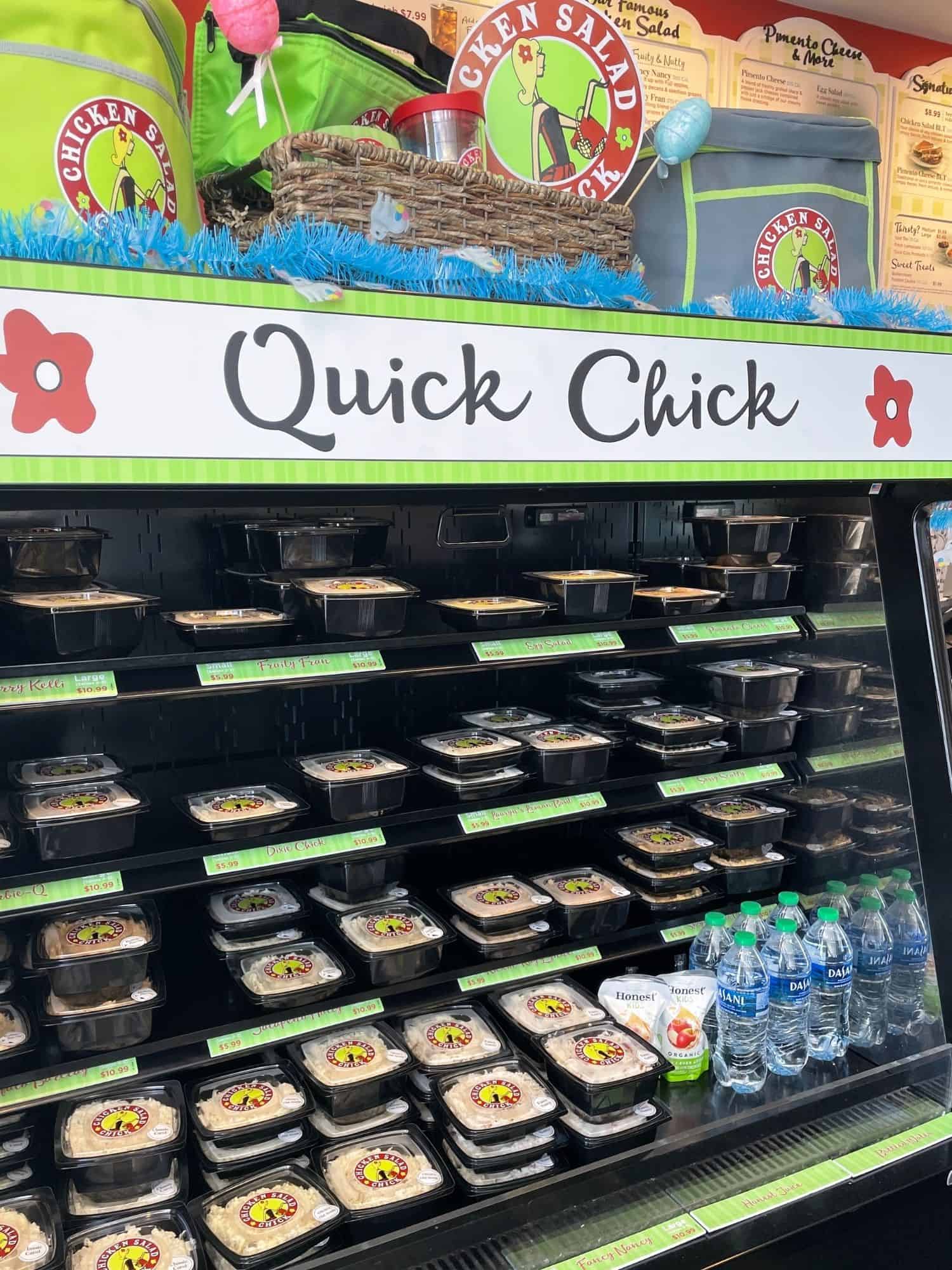 Chicken Salad Chick Chicken Salads
The Chicken Salad part of the Chicken Salad Chick menu is divided into four categories: Traditional, Savory, Fruity and Nutty, and Spicy. Each salad is named after a woman who supported and inspired the founder. Cute, right?
If you're really curious and want to put a face with each of the flavor names plus learn a little about the people that inspired them, check out Meet The Chicks.
Traditional
Much like with potato salad, the chicken salad debate can get heated in the South. Not college football heated but heated nonetheless. The traditional chicken salad menu only has two options but they're brilliant ones. Both recipes stay true to tradition but can satisfy both the purists and the pickle and egg lovers. You know who you are.
Classic Carol
Classic Carol contains all-white-meat shredded chicken, finely minced celery, mayonnaise, Chicken Salad Chick's secret seasoning. It's a truly traditional recipe and the one to order when you're sharing if you're in doubt about what people like. The finely shredded chicken is key to all Chicken Salad Chick recipes starting with this one.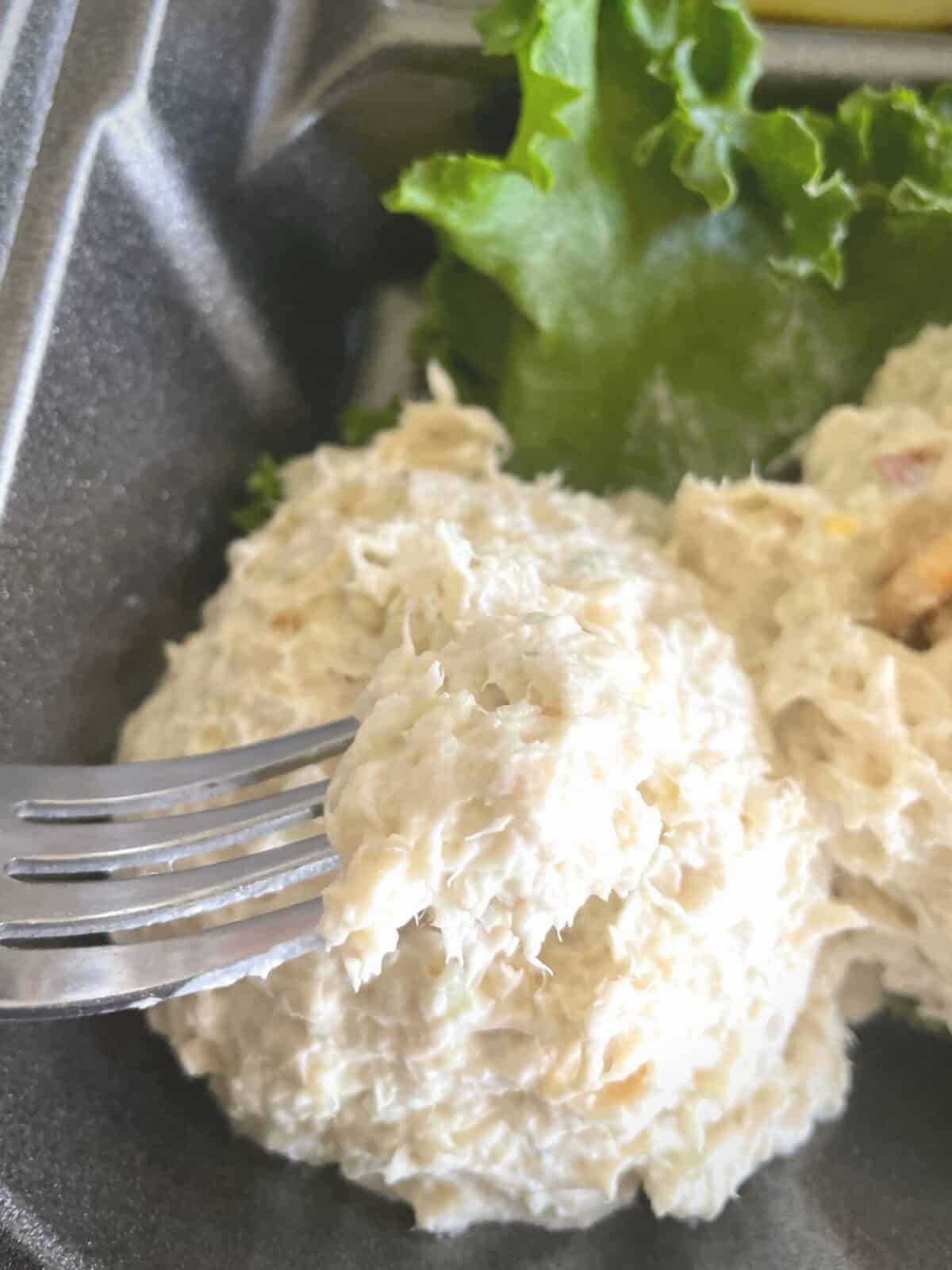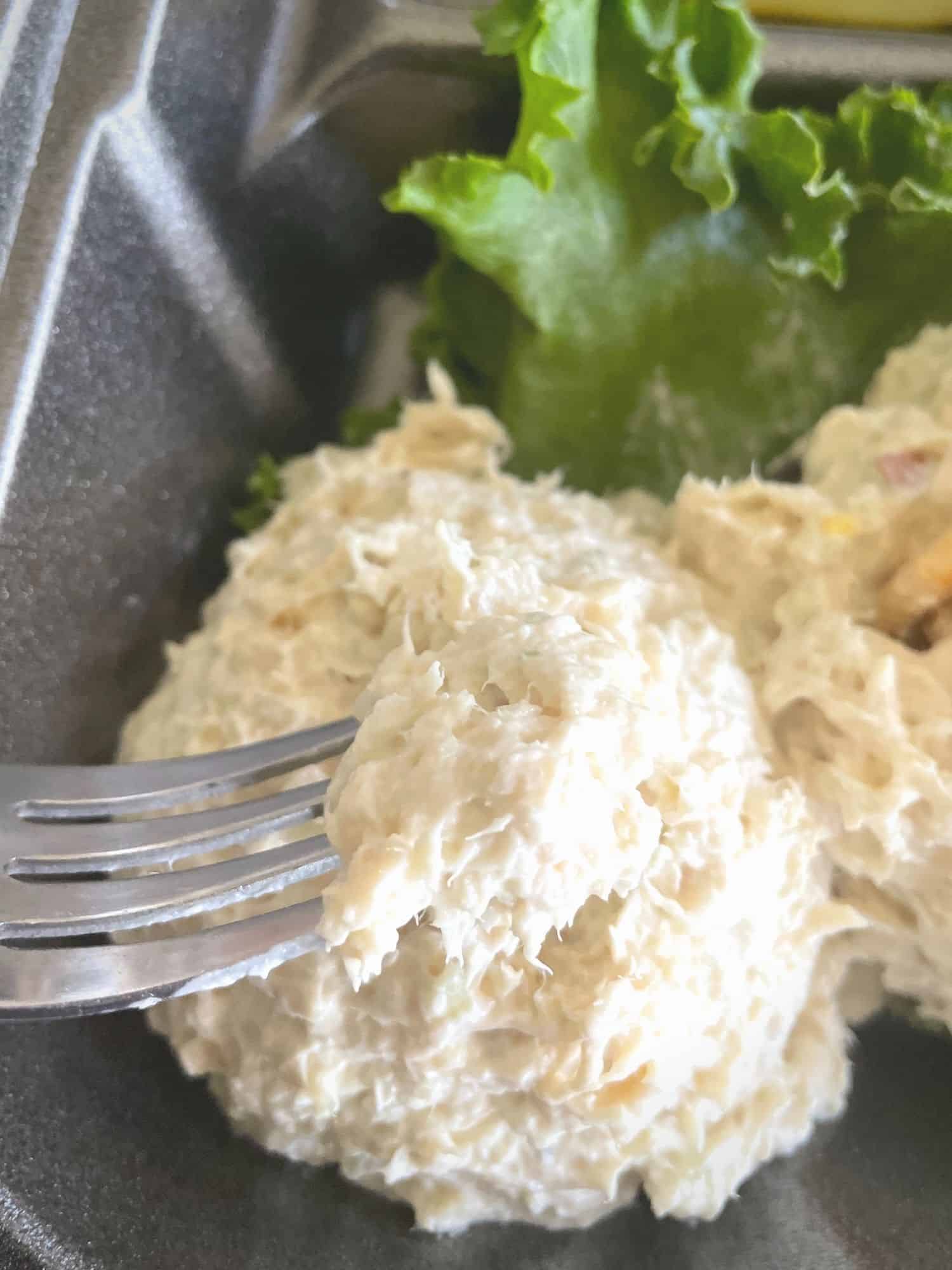 A serving of Classic Carol contains 400 calories, 0 carbs, and 16 grams of protein
Olivia's Old South
If you love traditional chicken salad but you're in the egg and pickle camp, you'll want to order Olivia's Old South which is basically the Classic Carol plus sweet pickles and hardboiled eggs. Note that the pickles are sweet and not dill.
A serving of Olivia's Old South contains 380 calories, 6 carbs, and 14 grams of protein
Savory
Those who are up for a little deviation from classic chicken salad will be happy with the four savory options on the Chicken Salad Chick menu. Trying new flavors is practically a hobby of mine so I jumped right in there!
Lauryn's Lemon Basil
Among my crew, Lauryn's Lemon Basil was voted best chicken salad to make a sandwich with. It had a light, summery taste that made me feel like I was at a fancy tea party. We recommend it for sandwiches for a women's luncheon. Add some cucumbers to the chicken salad sandwiches for a complementary flavor.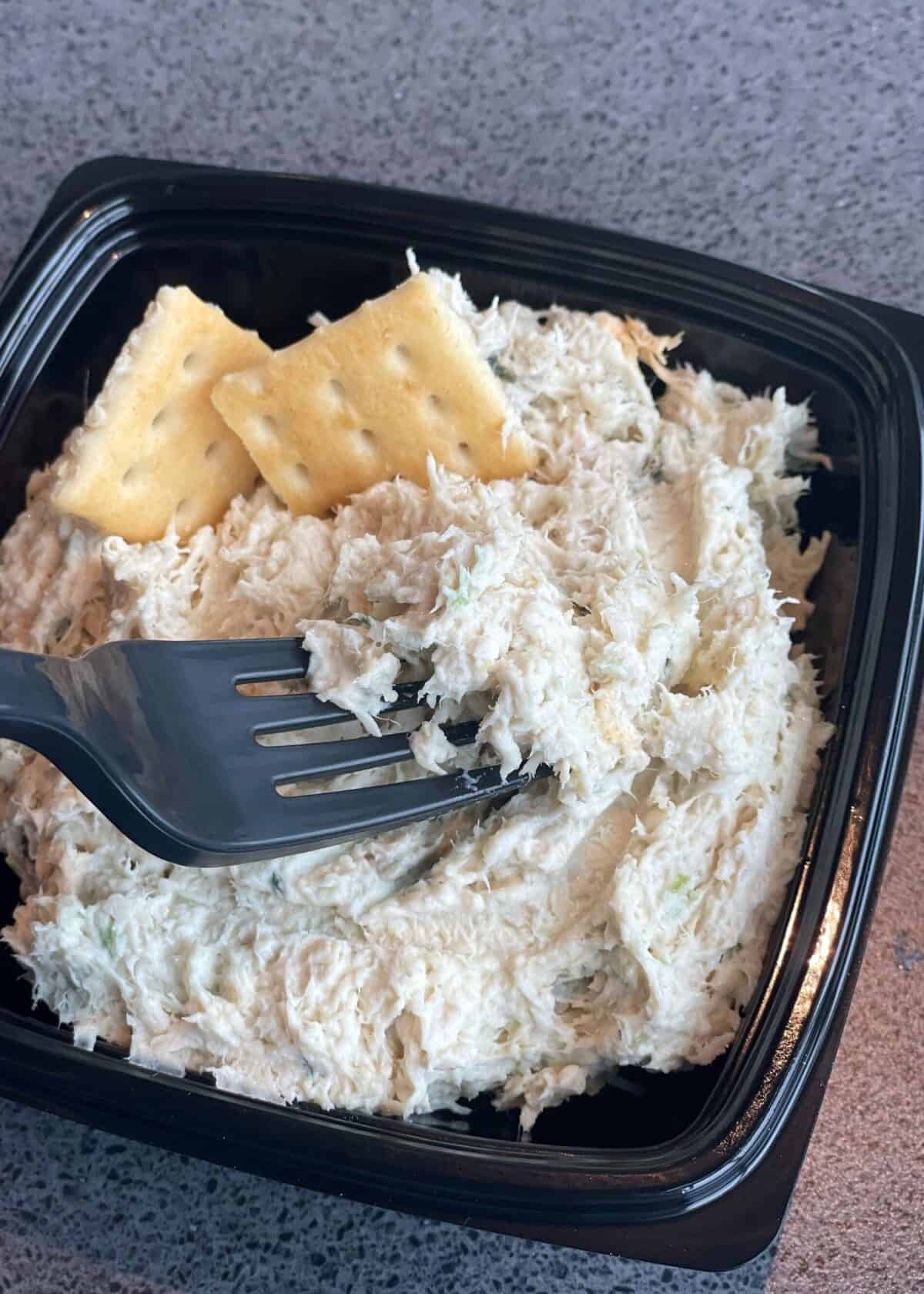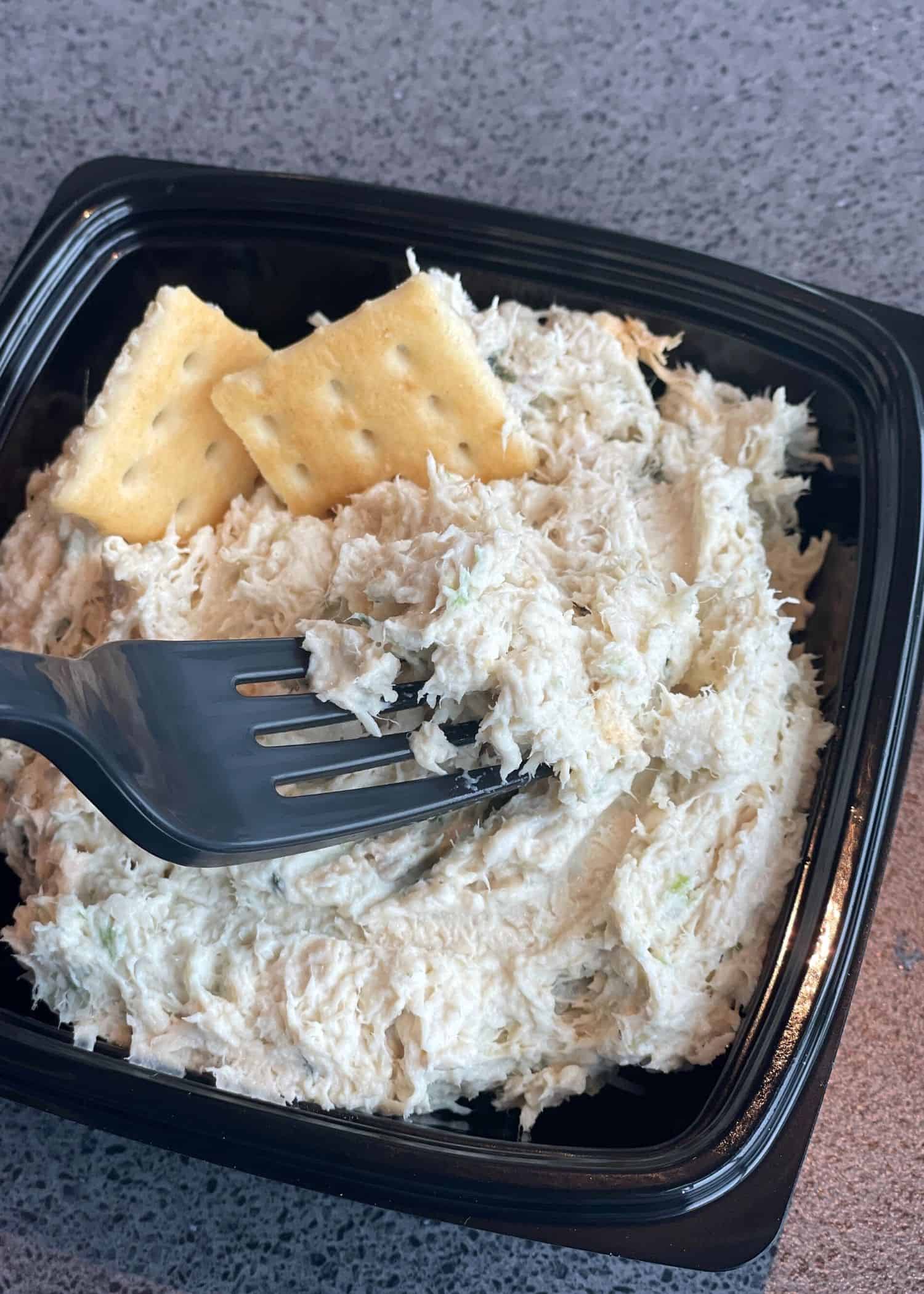 A serving of Lauryn's Lemon Basil contains 390 calories, 1 carb, and 15 grams of protein
Dixie Chick
Dixie Chick is the only Chicken Salad Chick recipe with onions. This is genius because we Dixie chicks generally either love or hate onions and we have enough chicken salad controversy in Alabama without adding to it. I'm in the onion-lover camp so I'm a fan. Yes, it will give you onion breath. Yes, it's completely worth it.
A serving of Dixie Chick contains 370 calories, 2 carbs, and 15 grams of protein.
Sassy Scotty
A zesty blend of ranch, bacon, and shredded cheddar cheese. Sassy Scotty was voted by our little group as best to eat with Ruffles Potato Chips.
The combination tastes like the generously stuffed potato that goes with your steak at your favorite restaurant. Eating chicken salad with potato chips instead of crackers or on bread is a good option for those eating gluten-free too.
This Chicken Salad Chick recipe doesn't stray so far from its roots that it no longer tastes like chicken salad. We're just saying it would make an amazing dip too. Bring Sassy Scotty it to a potluck or serve it as an appetizer for your next gathering.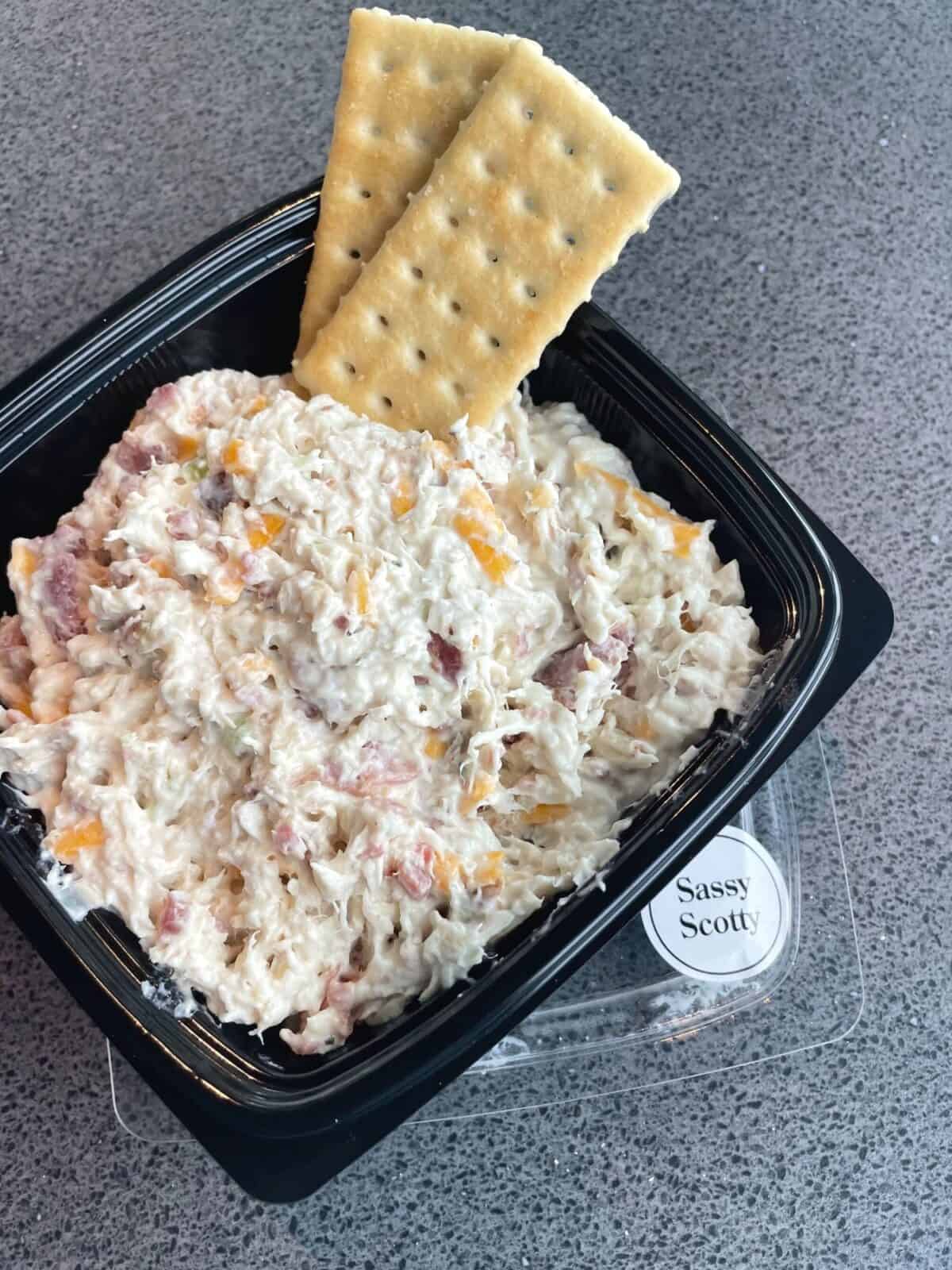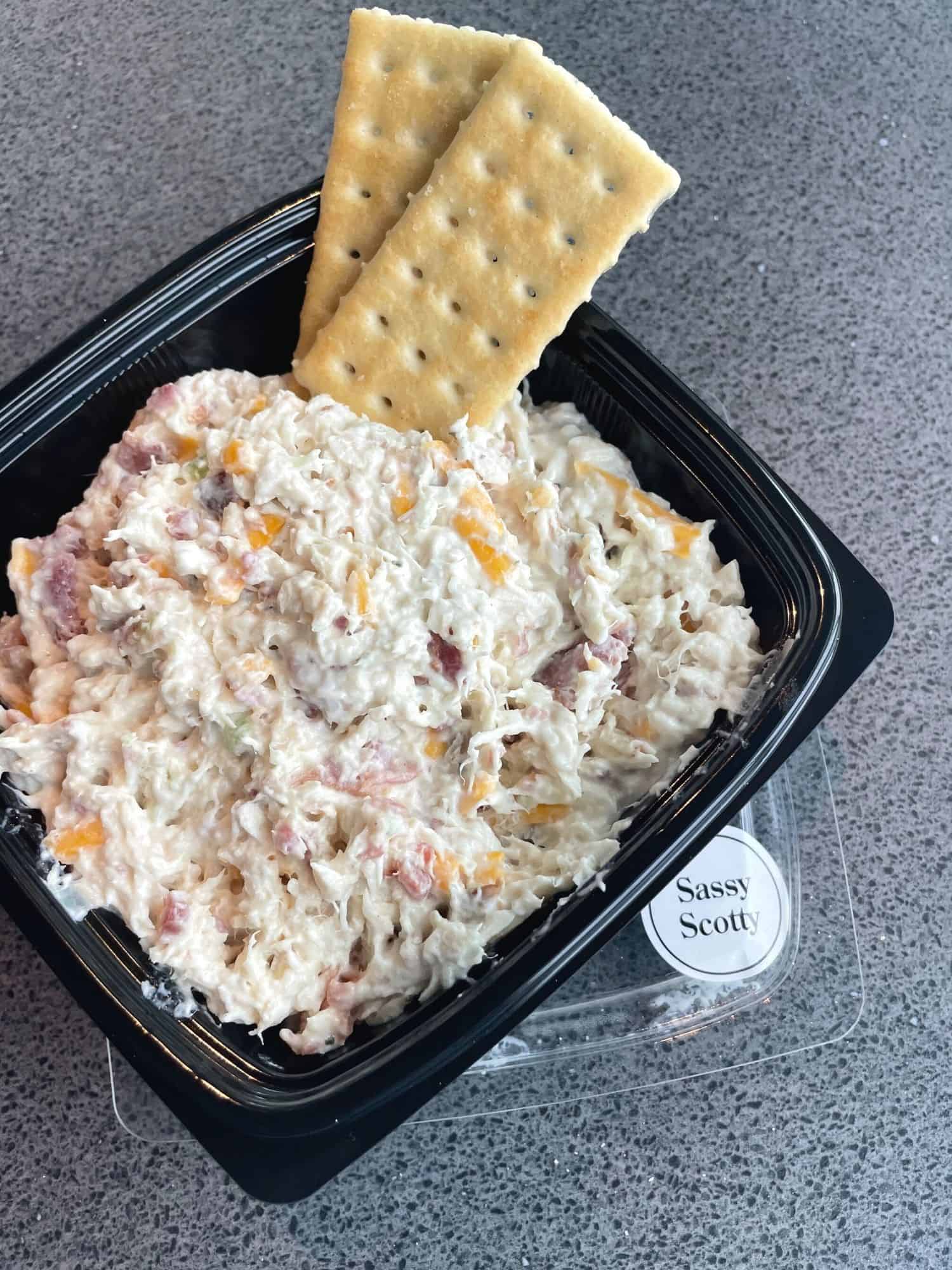 A serving of Sassy Scotty contains 450 calories, 1carb, and a whopping 17grams of protein. A great choice for low-carb diets!
Barbie-Q
Barbie-Q is a traditional chicken salad that's been zhuzhed up with a hickory-smoked BBQ flavor. Also on my shortlist of Chicken Salad Chick recipes to try, Barbie-Q sounds like it would taste great on a hamburger bun.
A serving of Barbie-Q contains 390 calories, 11 carbs, and 14 grams of protein.
Fruity and Nutty
Much like the pickle/egg vs. plain debate, there's sometimes a fruit/nut vs. plain debate too when it comes to chicken salad in the South. The Chicken Salad Chick team knows Southerners very well!
Fancy Nancy
Second only to the classic, Fancy Nancy is the most popular salad on the Chicken Salad Chick Menu. If you like your chicken salad with nuts and fruit, you won't be disappointed with Fancy Nancy. She's here for you with Fuji apples, seedless grapes, and pecans.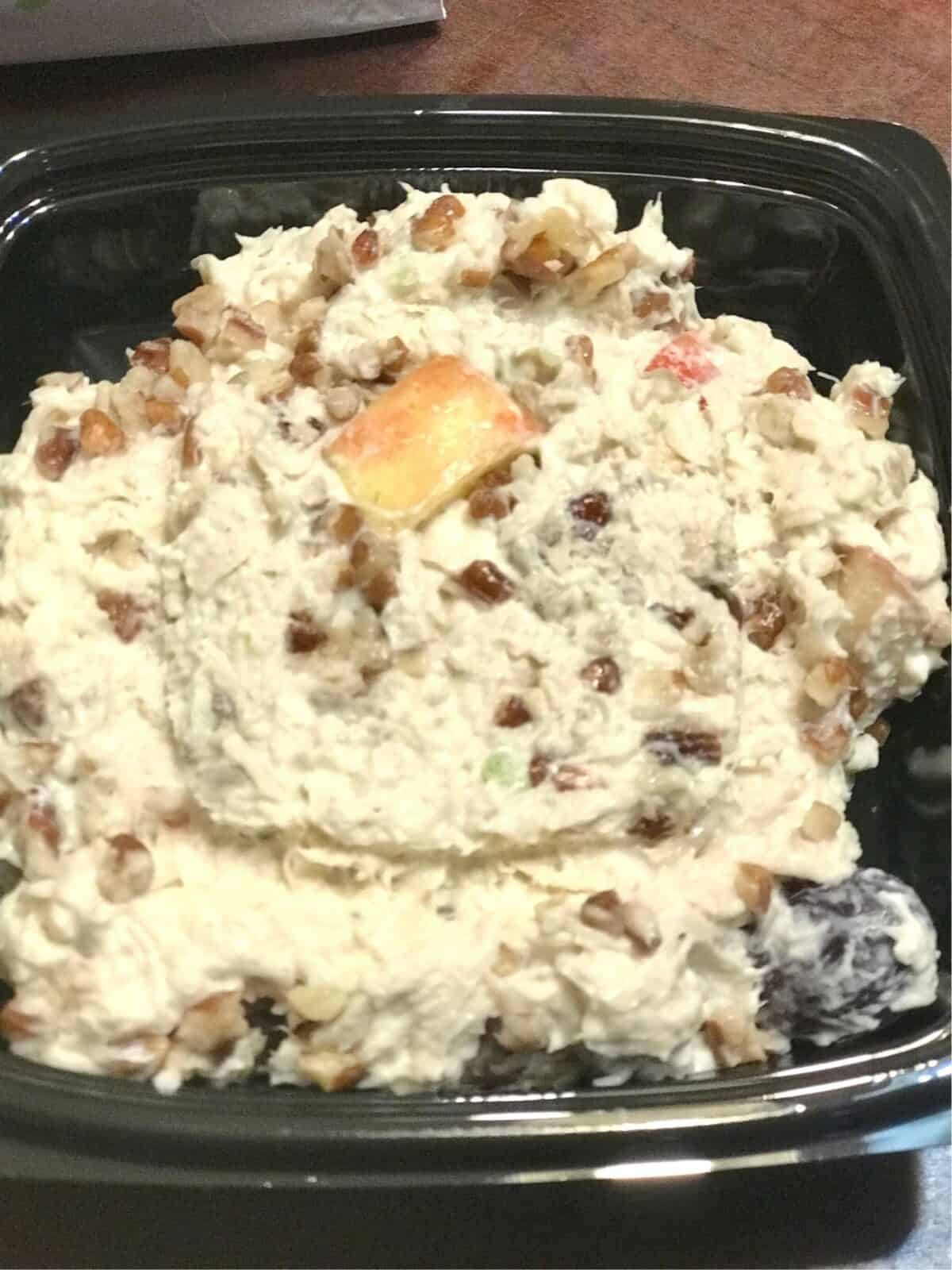 A serving of Fancy Nancy contains 410 calories, 5 carbs, and 14 grams of protein.
Fruity Fran
If you love fruit in your chicken salad but you aren't a fan of nuts (or can't eat them no matter how much you'd like to) check out Fruity Fran. The blend of Fuji apples, seedless grapes, and pineapple gives it more than a hint of sweetness.
This Chicken Salad Chick recipe surprised me since I prefer savory to sweet and thought three different fruit additions might be a bit much. I was wrong. The amount of sweetness is just right. I'm thinking Fruity Fran will be a go-to for summer!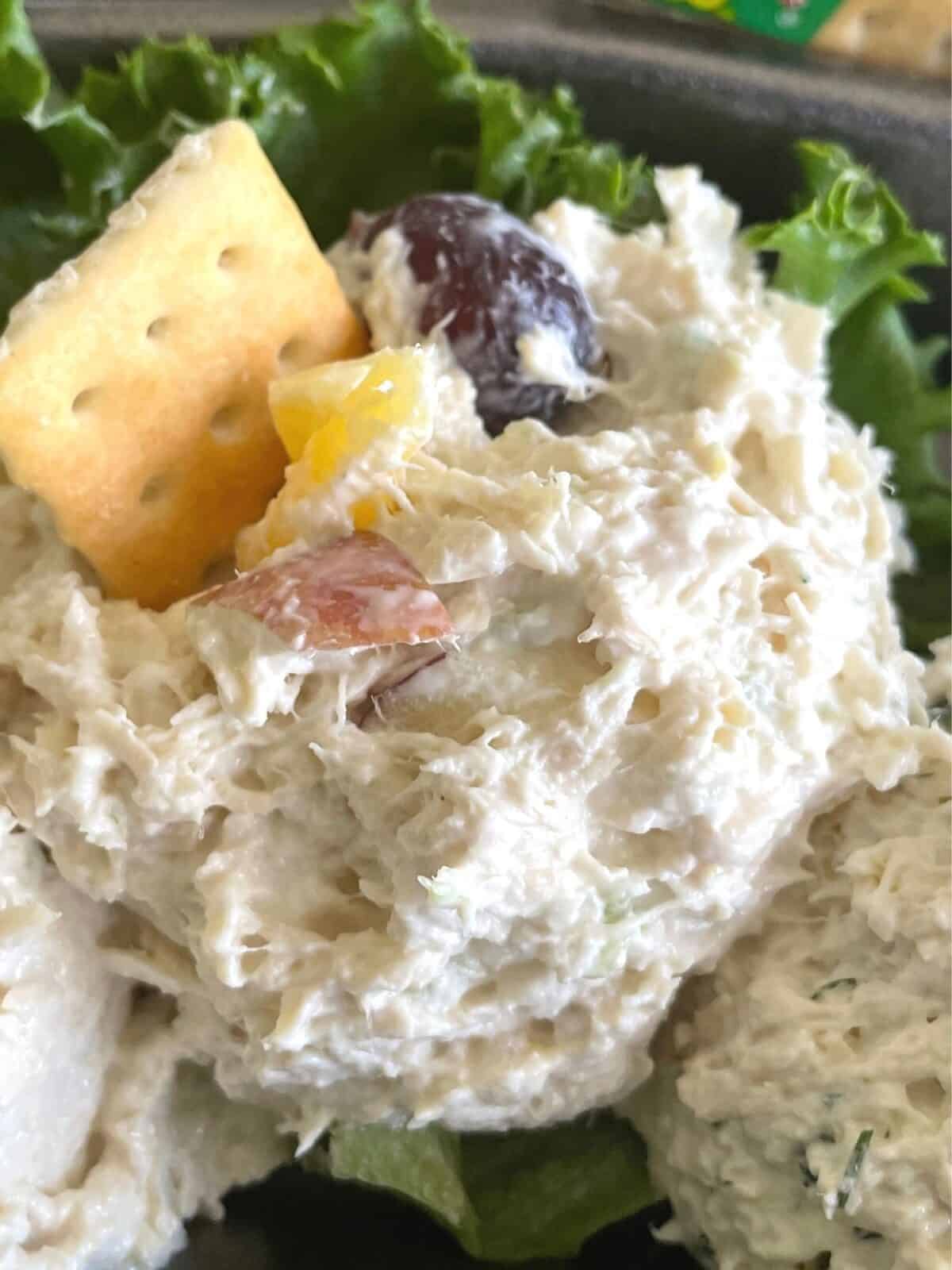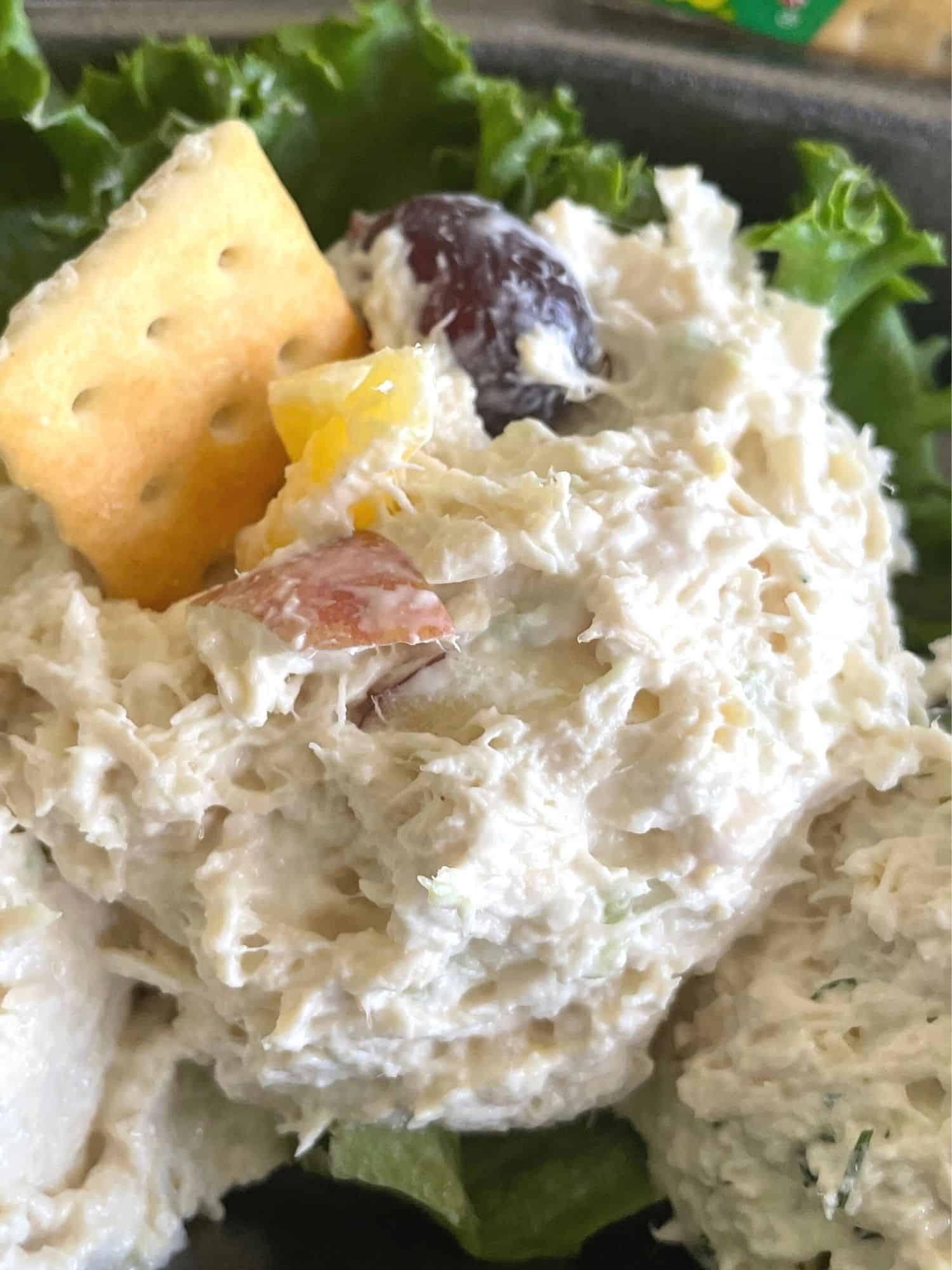 A serving of Fruity Fran contains 340 calories, 7 carbs, and 12 grams of protein.
Cranberry Kelli
This Chicken Salad Chick recipe has a mixture of dried, sweetened cranberries and slivered almonds. It tastes a bit like Southern Thanksgiving minus the cornbread. What if they served it with cornbread instead of crackers?? Oh corporate…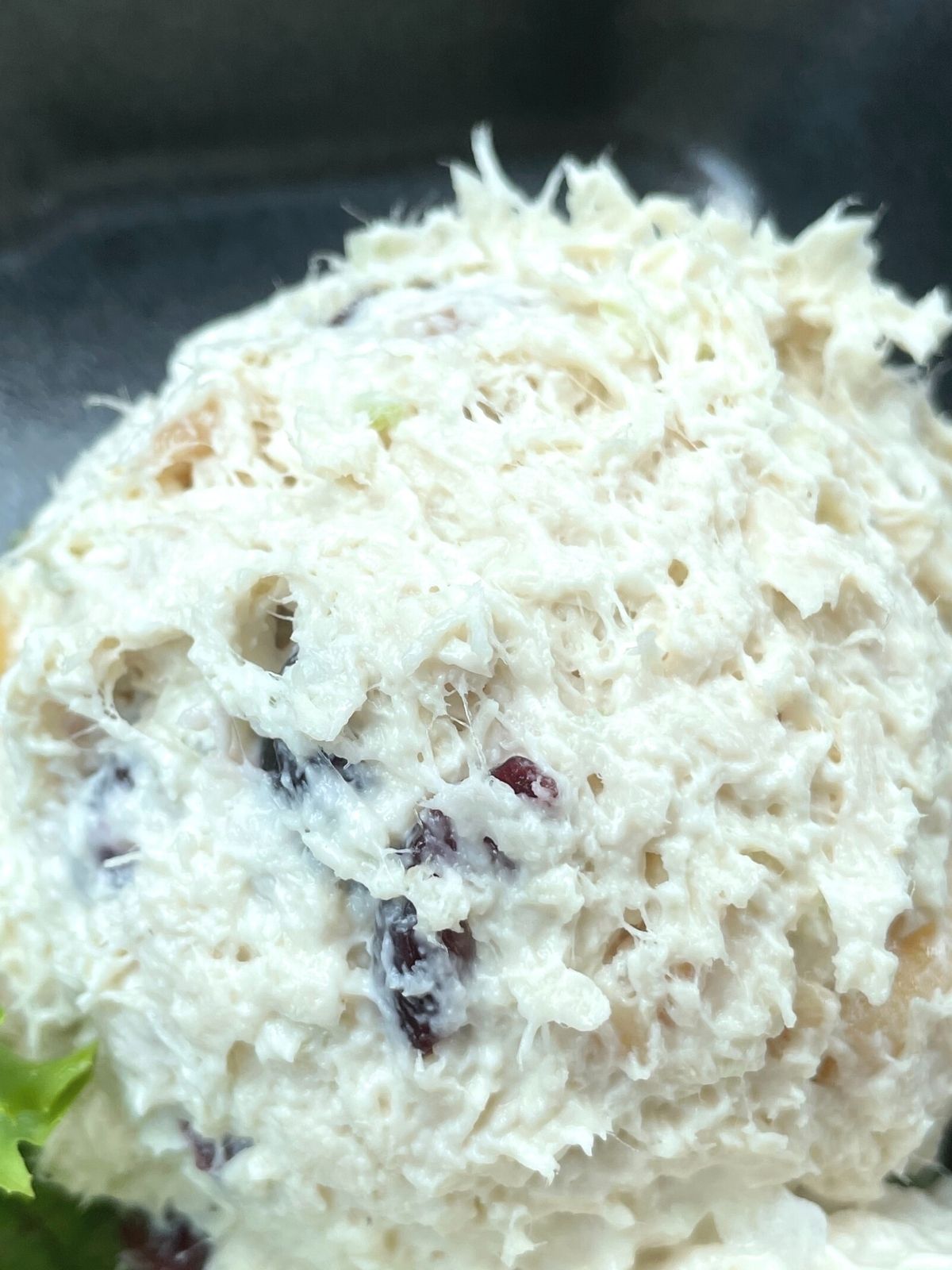 A serving of Cranberry Kelli 460 calories and 16 grams of protein.
Spicy
I love spicy food and so naturally I've tried all of Chicken Salad Chick's spicy chicken salads. All of them delivered on flavor and different kinds of spice but none were too spicy to be enjoyable. (Bear in mind this is coming from someone who doesn't mind food being so spicy that her eyes water. Still, I don't think any of the recipes would rank over medium-spicy even for sensitive palates.)
Buffalo Barclay
This chicken salad recipe tastes just like your favorite buffalo dip. I can see serving Buffalo Barclay up at a party with celery instead of crackers. It's a great choice for those eating low carb/high fat too.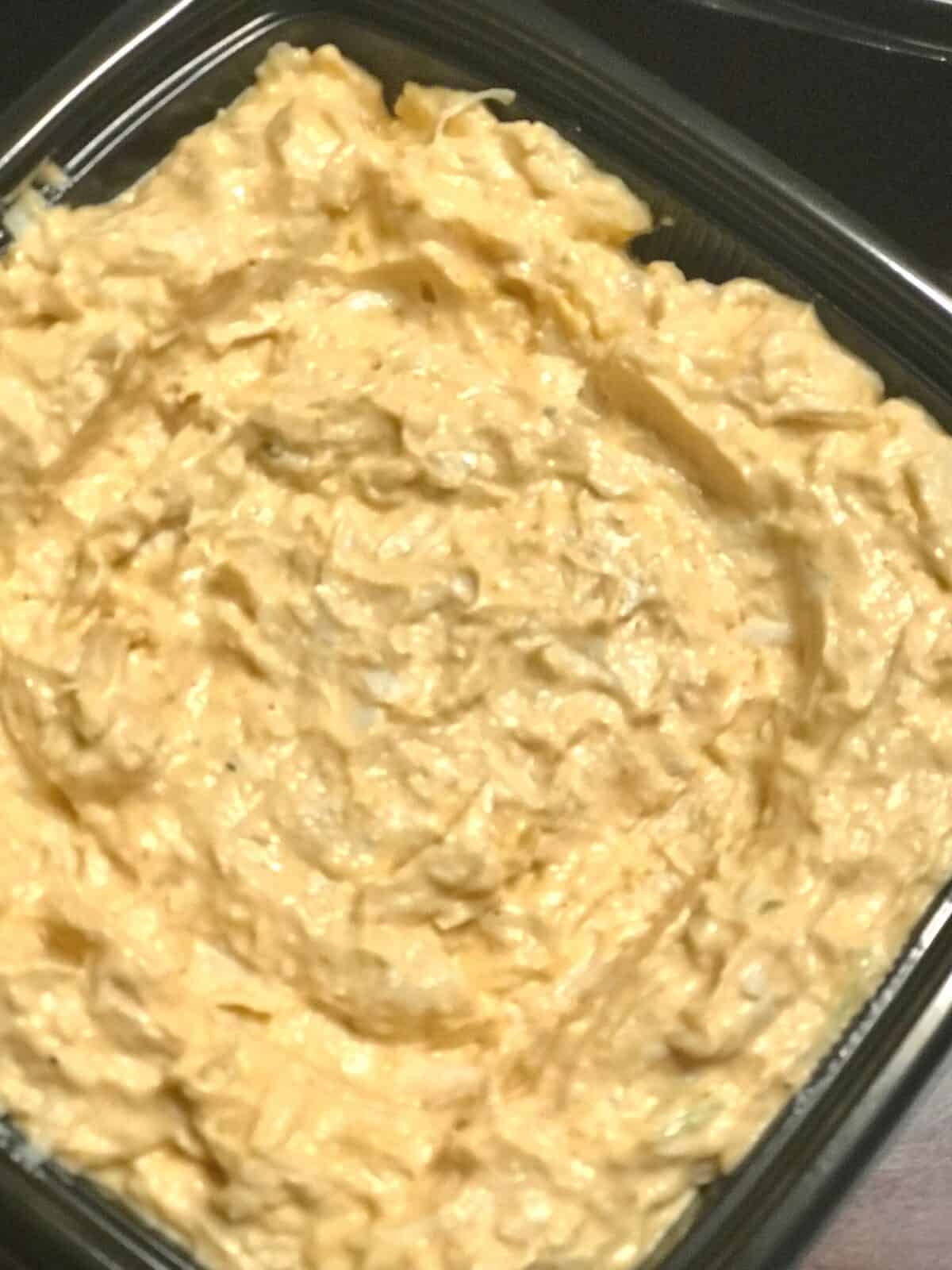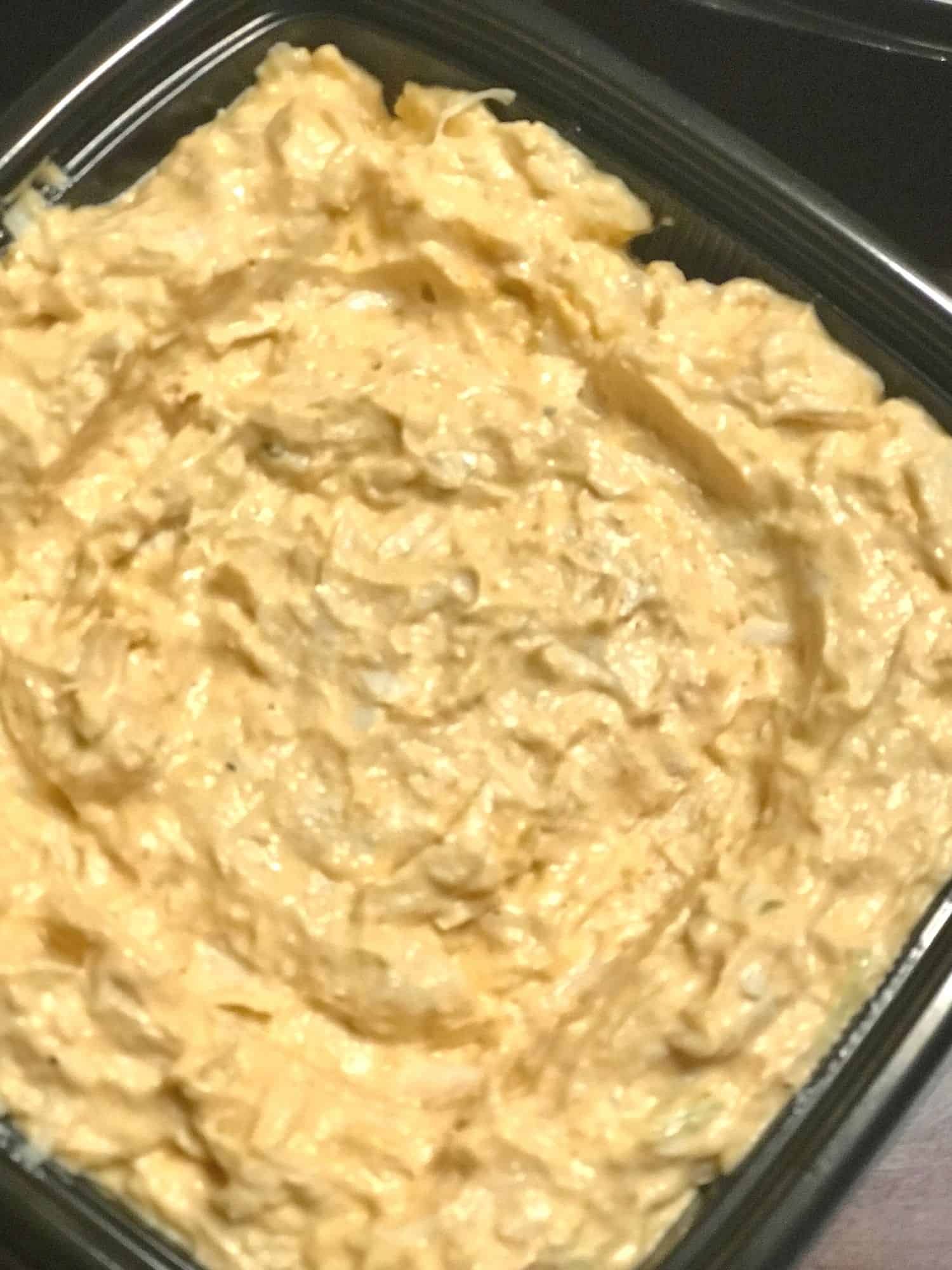 A serving of Buffalo Barclay contains 390 calories, 19 grams of protein, 1 carb, and 35 grams of fat making it ideal for keto diets.
Jalapeno Holly
True to its name, Jalapeno Holly chicken salad is packed with jalapeno flavor, so much so that it's a little green in color. Despite the jalapeno infusion, this chicken salad recipe isn't overly spicy. Chicken Salad Chick must be diligent about removing any seeds!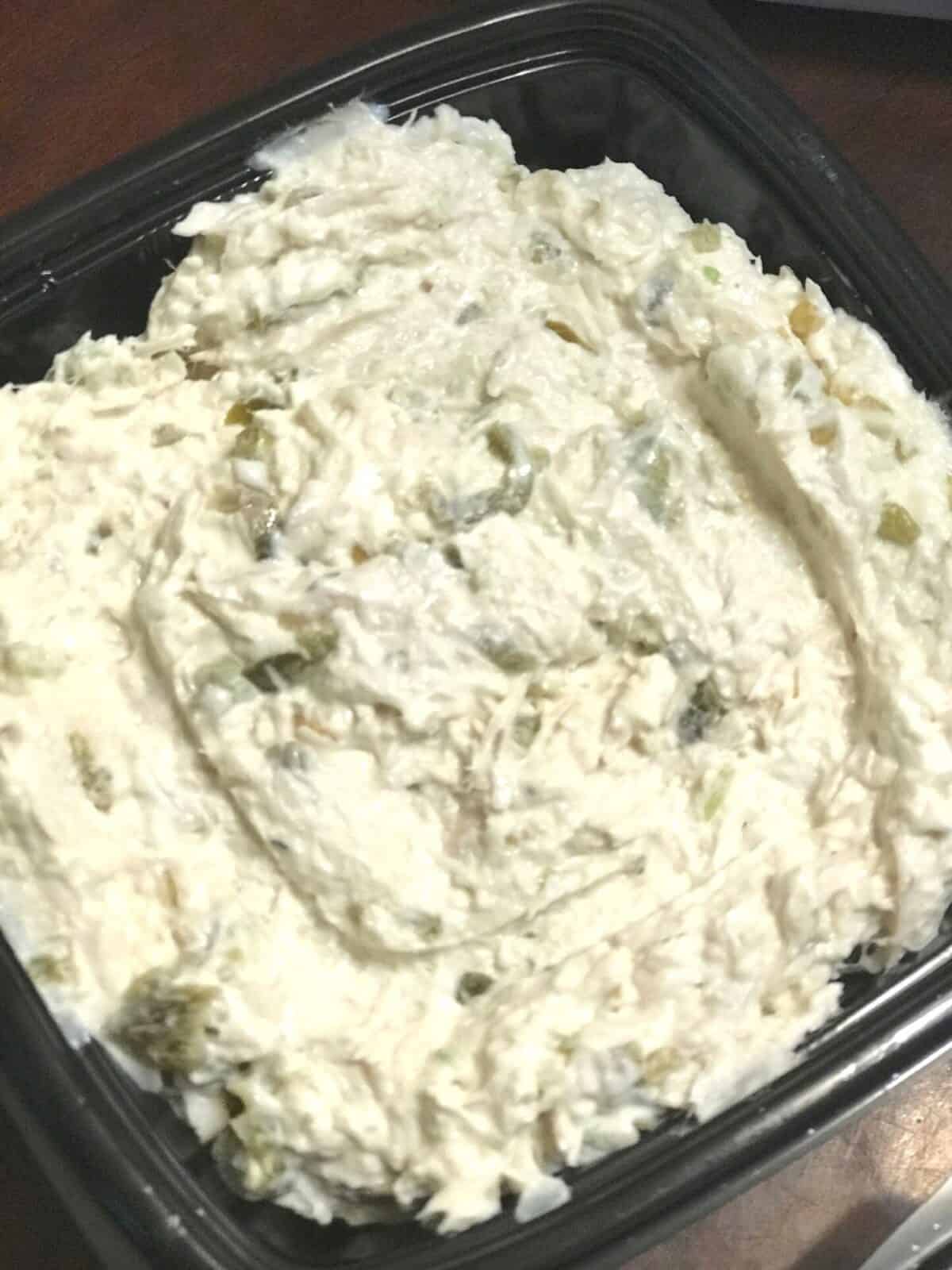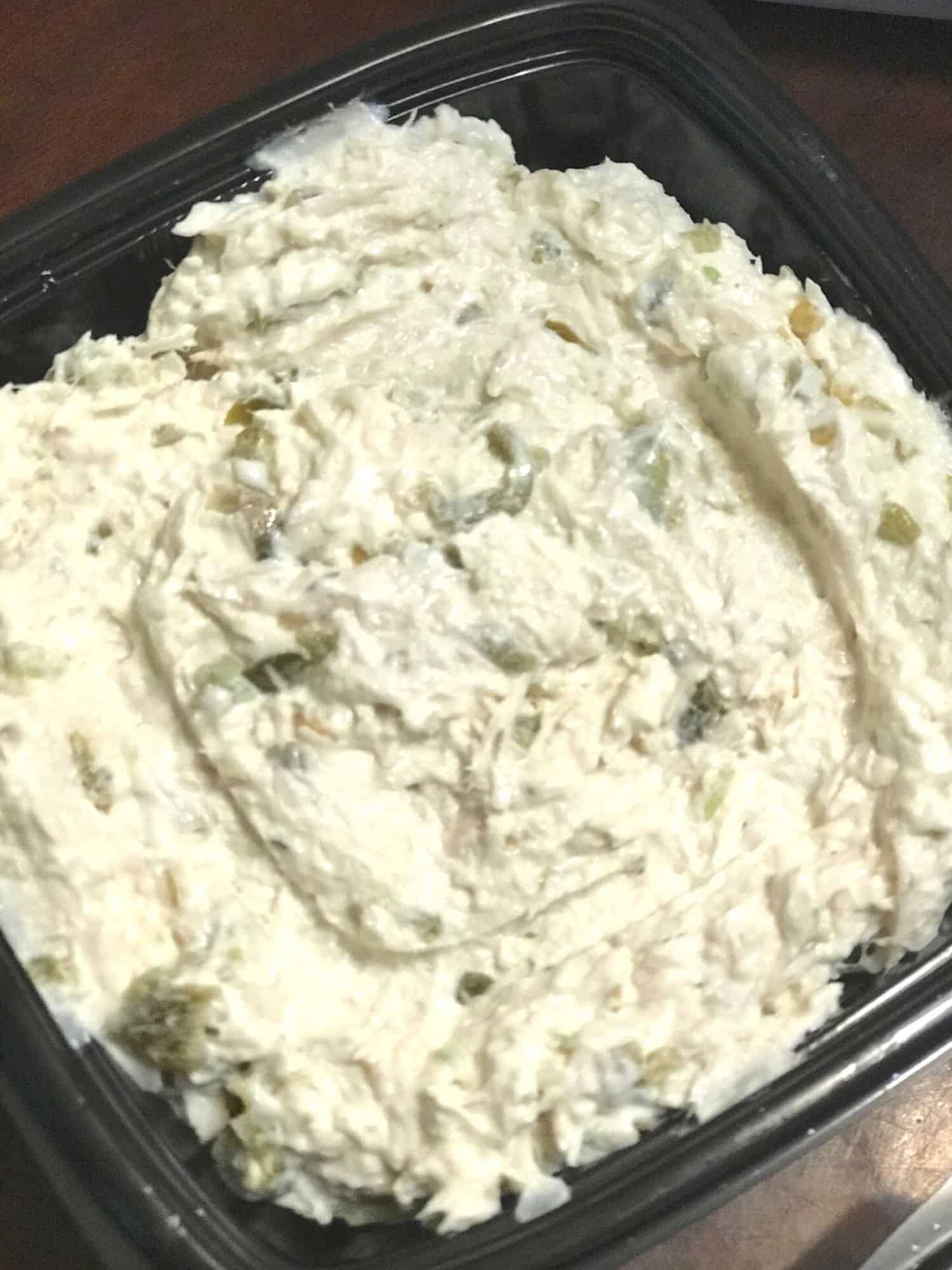 A serving of Jalapeno Holly contains 370 calories and 15 grams of protein.
Kickin' Kay Lynne
I saved the best for last! Kickin' Kay Lynne is my favorite of all the Chicken Salad Chick recipes I've tried so far. For me it was like a combination of Buffalo Barclay and Jalapeno Holly bringing both spicy flavors together…plus cheese and sriracha. I enjoyed it with crackers but would like to try it with tortilla chips next.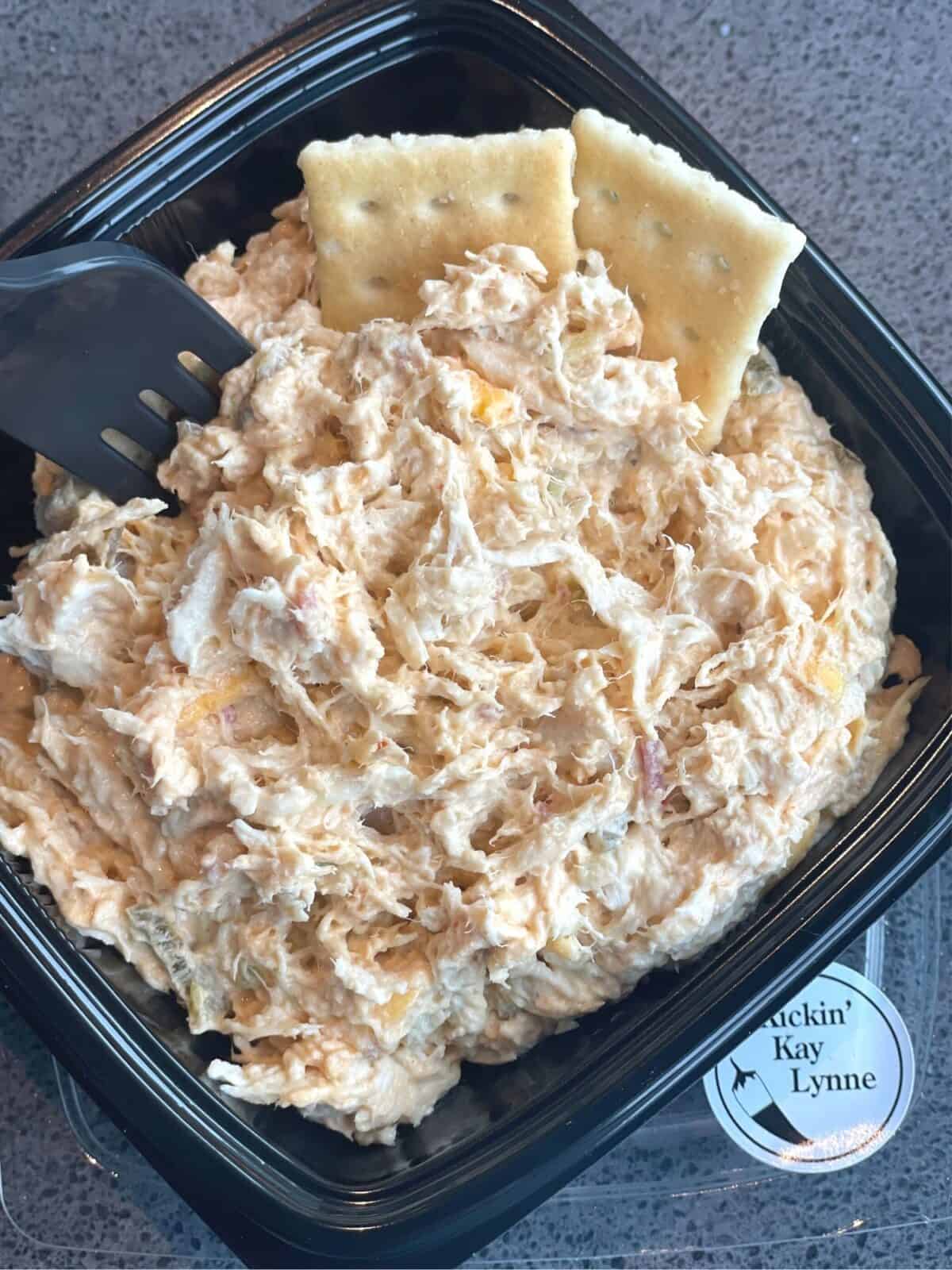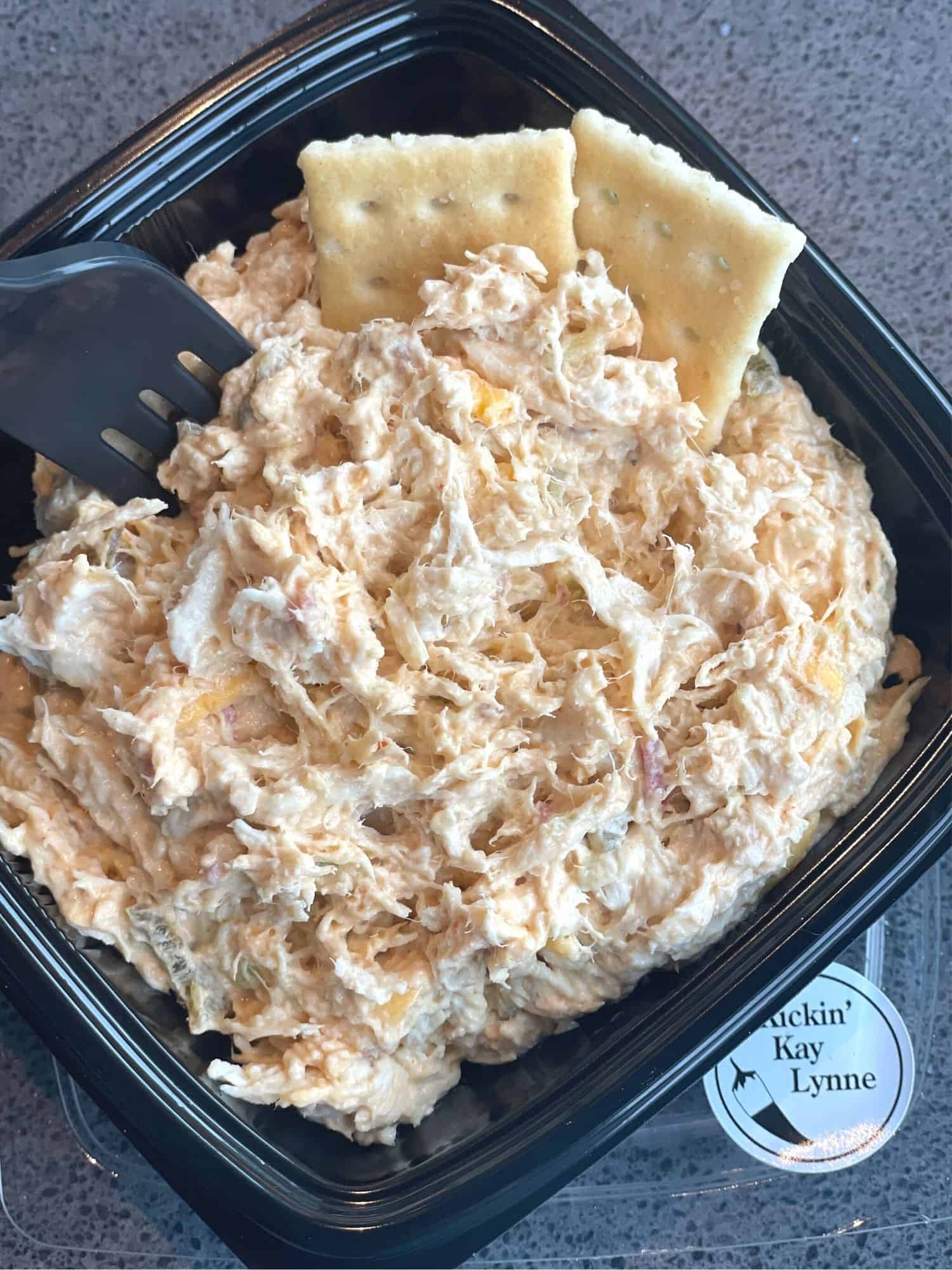 A serving of Kickin' Kay Lynne contains 380 calories and 14 grams of fat
Seasonal
The Chicken Salad Chick menu also features some seasonal offerings not always on the regular menu.
Dill-icious Diva
I got to try Dill-icious Diva in March the week before Easter. I'm guessing it's their spring seasonal flavor. The dill flavoring wasn't overpowering and I actually wouldn't mind there being a few dill pickle chunks inside if the CEO of Chicken Salad Chick is open to suggestions.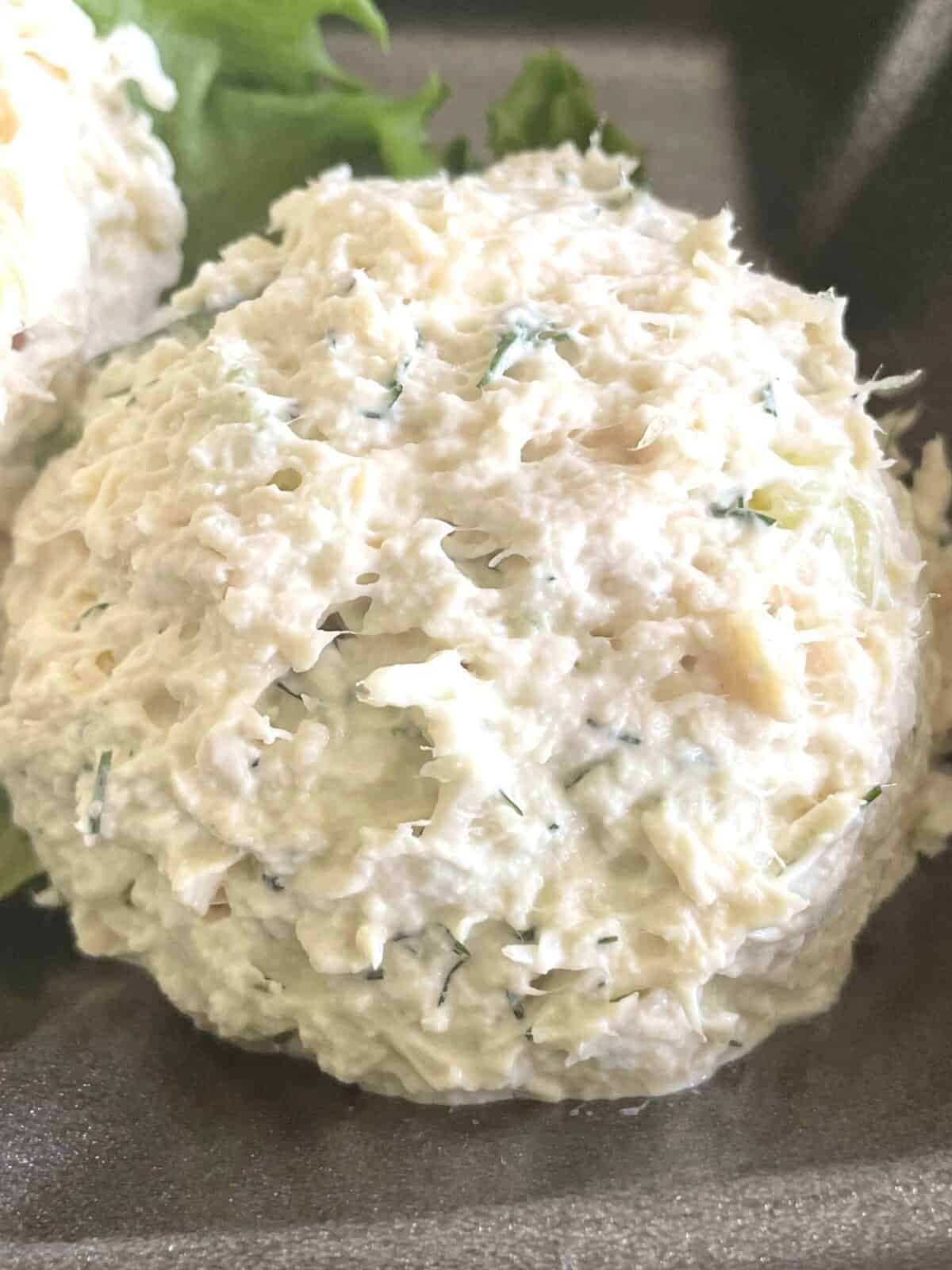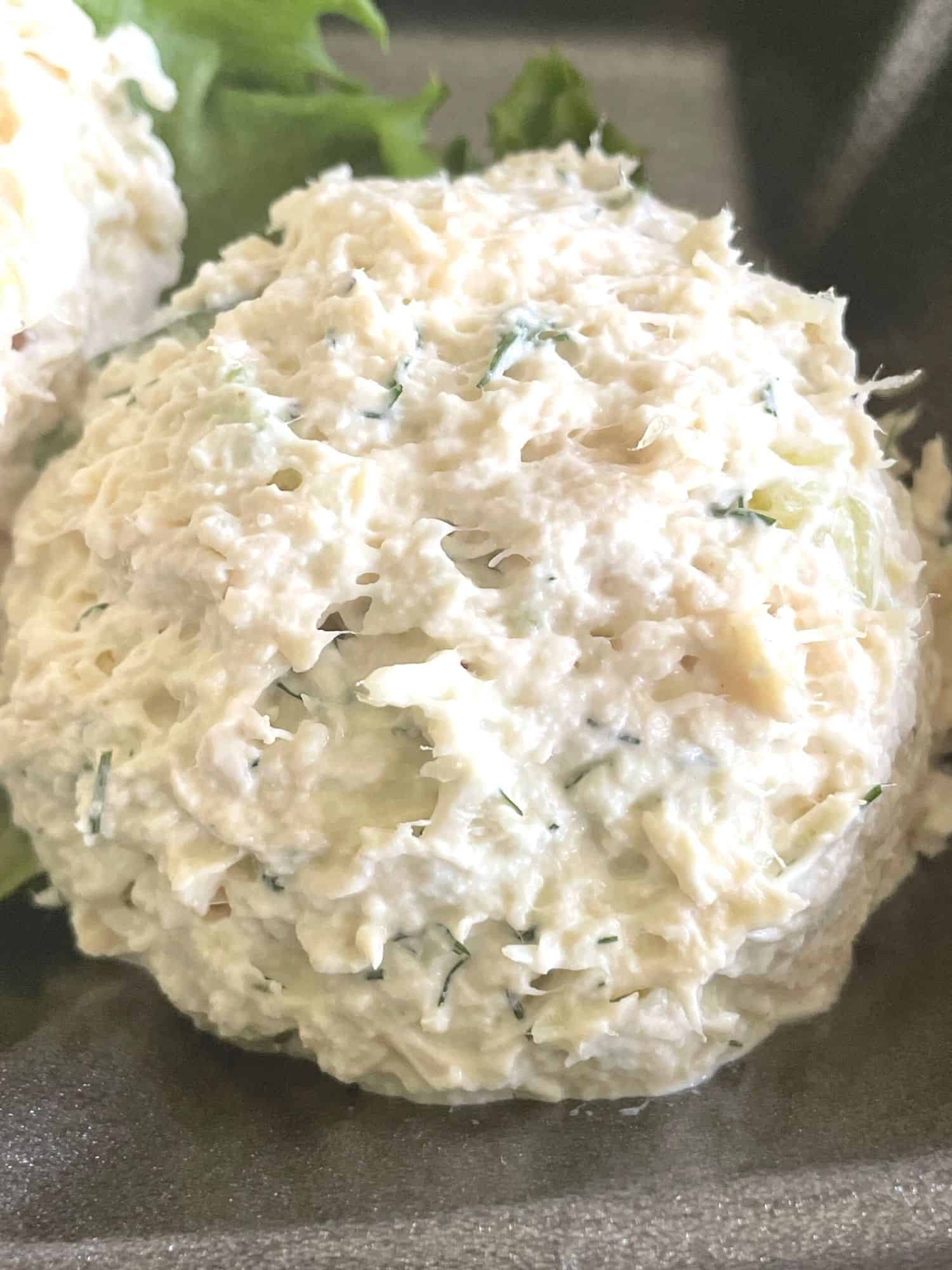 A serving of Dill-icious contains 380 calories, 1 carb, and 15 grams of protein.
Pam's Parmesan Caesar
Pam's Parmesan Caesar is a new flavor for the summer of 2021. As a Caesar salad fan, I didn't hesitate to order it during my last visit and while I wasn't disappointed, I wasn't that impressed either. I was expecting more of a distinct Caesar flavor and instead, it tasted more like a classic chicken salad flavor to me.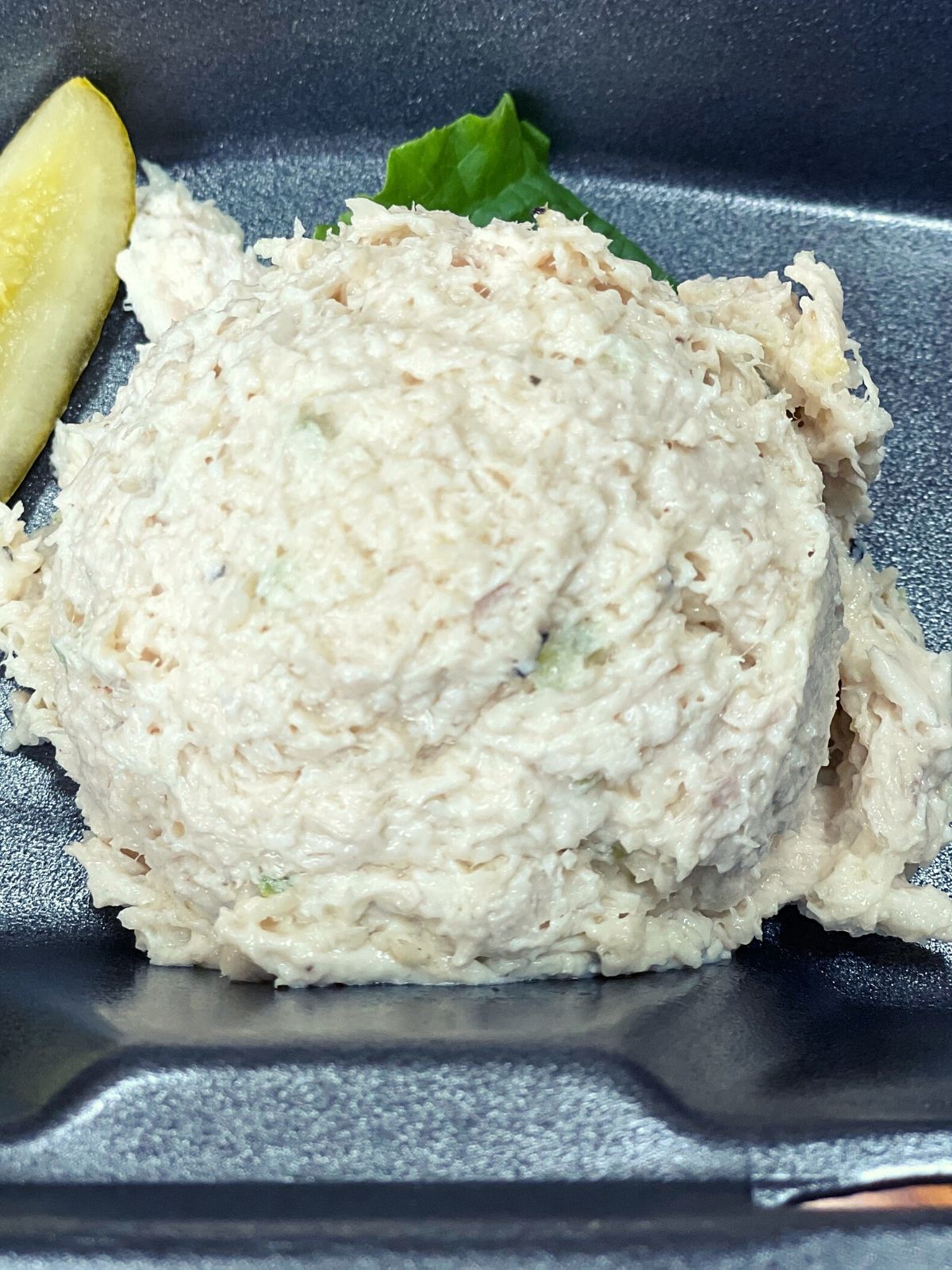 Fan of bold flavors, like me, might want to skip this one. However, if you're a fan of the classics and are looking to mix things up a little bit, definitely give Pam's Parmesan Caesar a try.
Madame Curry
Coming soon!
A serving of Madame Curry contains 460 calories, 11 carbs, and 17 grams of protein.
Luau Lydia
Coming soon!
A serving of Luau Lydia contains 370 calories, 4 carbs, and 12 grams of protein
Jazzy Julie
Coming soon!
A serving of Jazzy Julie contains 440 calories, 1 carb, and 19 grams of protein.
So far I've tried eight out of twelve of Chicken Salad Chick's chicken salad recipes that are on their regular menu and two of their seasonal recipes. Looks like we have a lot of chicken salad to try!
Chicken Salad Chick Locations
With 183 company locations across the Southeast and plans to have over 200 by the end of 2021, Chicken Salad Chick is undergoing a period of rapid expansion.
Select locations are offering curbside pick-up and quick chick deliveries in order to limit interaction with front-line workers during this period of social distancing. Be sure to check with your restaurant's franchise owners for local quick chick delivery options, online ordering, special offers, and the latest news.
About Chicken Salad Chick
Chicken Salad Chick is a casual chicken salad restaurant concept that operates under the leadership of CEO Scott Deviney. For additional information on their corporate team, numerous accolades, charitable promotions, and partnerships with local food banks check out the Chicken Salad Chick website.
What other Chicken Salad Chick menu items would you like to see featured here? Let me know in the comments below.