DIY bath and body product and chocolate are two of my favorite things, so…why not combine the two? Got dry lips? Try this coconut oil sugar scrub recipe for a delicious chocolate lip scrub for dry lips. Use regularly for soft, smooth lips. As a bonus, you'll be amazed at how much better your lipstick glides on and wears.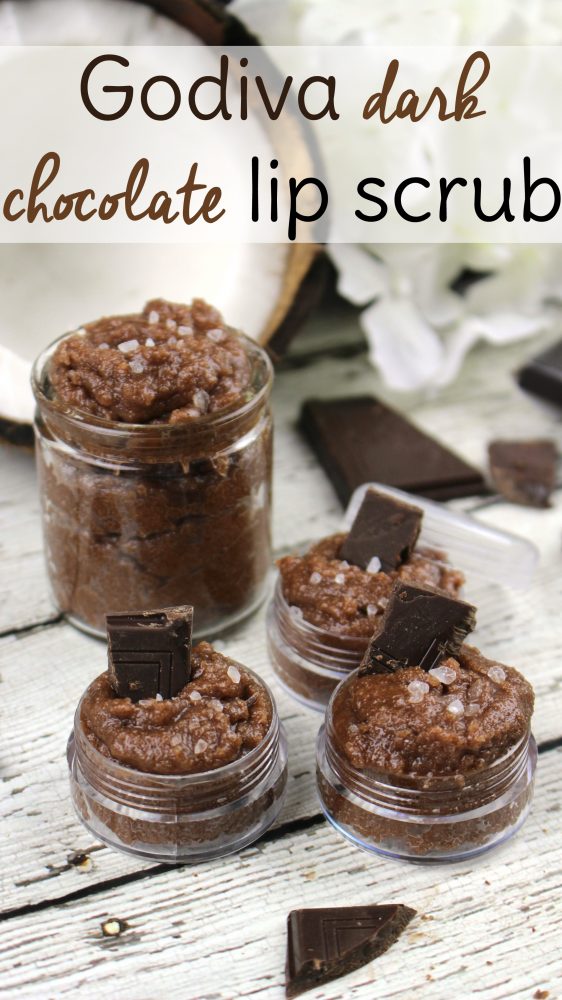 This coconut oil sugar scrub recipe will make enough Godiva dark chocolate coconut lip scrub to fill two small lip balm containers – perfect for keeping one for yourself and giving one to a friend.
This lip scrub does two things:  1) it helps to gently exfoliate the dry skin off of your lips, and 2) it moisturizes. The sugar does the work of exfoliating, the coconut oil moisturizes, and the Godiva chocolate – well that's a little bit of extra luxury because you deserve it.
How To Make Homemade Chocolate Lip Scrub for Dry Lips
INGREDIENTS
6 Tablespoons granulated sugar
4 Tablespoons coconut oil
1 square Godiva dark chocolate with sea salt- grated
1 teaspoon Hershey's dark cocoa
½ teaspoon coconut extract or flavoring
Optional: 2 drops Vitamin E oil
DIRECTIONS
1.  In a small mixing bowl, add the sugar and coconut oil. Stir to blend well.
2. Add the grated chocolate and cocoa powder. Stir again to incorporate.
3. Add the coconut extract and Vitamin E oil (optional). Mix well to blend the coconut flavor throughout the scrub.
4.  Transfer to an airtight container(s) and store up to three months.
How to use lip scrub for dry lips
1.  Wet lips with warm water.
2.  Generously apply the Godiva dark chocolate coconut lip scrub to lips (it's so tempting to lick it off!).
3.  Massage in a circular motion to allow the sugar granules to gently exfoliate any dry or dead skin and the coconut oil to moisturize.
3.  Rinse with warm water and pat dry with a towel.
4.  Apply your favorite lip balm moisturizer.
Enjoy your silky-smooth lips (and maybe the rest of that chocolate bar) and try my DIY Microdermabrasion Paste next!