This rainy day activity jar has over 50 easy ideas for keeping little ones busy on days when playing outside isn't possible. Most are fun or crafty but there are a couple of chores mixed in too. Whenever you hear "I'm bored" just reach for a slip of paper and complete the activity. Repeat as necessary.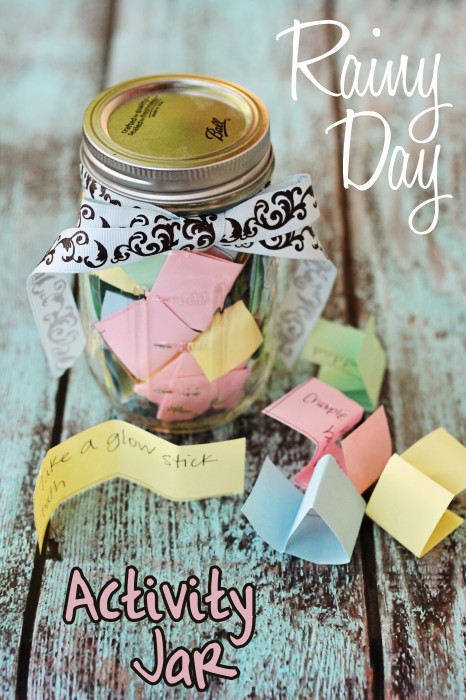 Rainy Day Activity Jar
You will need:
1 pint Mason jar
colored copy paper
Ribbon
Scissors
Handwrite or copy/paste/print the list below onto colored copy paper.
Cut out so that each activity is on a separate strip of paper.
Fold each strip and place in the jar
Place lid on the jar and attach ribbon if desired.
Rainy Day Activities for Kids
Playdoh
Bake Cookies
Crumple paper: play indoor basketball
Paint
Glow stick bath
Make s'mores
Puppet show
Letters to soldiers
Library trip
Craft time
Relay races
Play in big boxes
Clean out under the bed
Dress up
Color
Organize shoes in all the closets
Movie night
Build a fort
Eat fast food
Read out loud
Dance to the radio
Make greeting cards
Museum trip
Picnic in living room
Put on sock and "skate" on the floors
Ride bikes in the house
Play date at a friend's house
Play with tractors and trucks in dry beans
Flash cards
Make super hero capes from T-shirts
Take blanket rides through the house
Movie afternoon with popcorn
Puzzles
Take Glamour Shots
Dust the furniture
Costumes
Play ball with a balloon in the hallway
Dance-off
Laundry day
Fashion show
Play beauty shop
Make a card or craft for Daddy
Crumpled paper snowball fight
Tie dye something
Have a sock ball fight
Reading time
Fill the water table with beans or beads
Blow bubbles
Bubble bath
Cleaning day
Make handprints