This Gluten Free Dairy Free Weekly Meal Plan will feed a family of 2 adults and 2 children for $100. No couponing required! You'll also get to use your slow cooker several times to make things easier.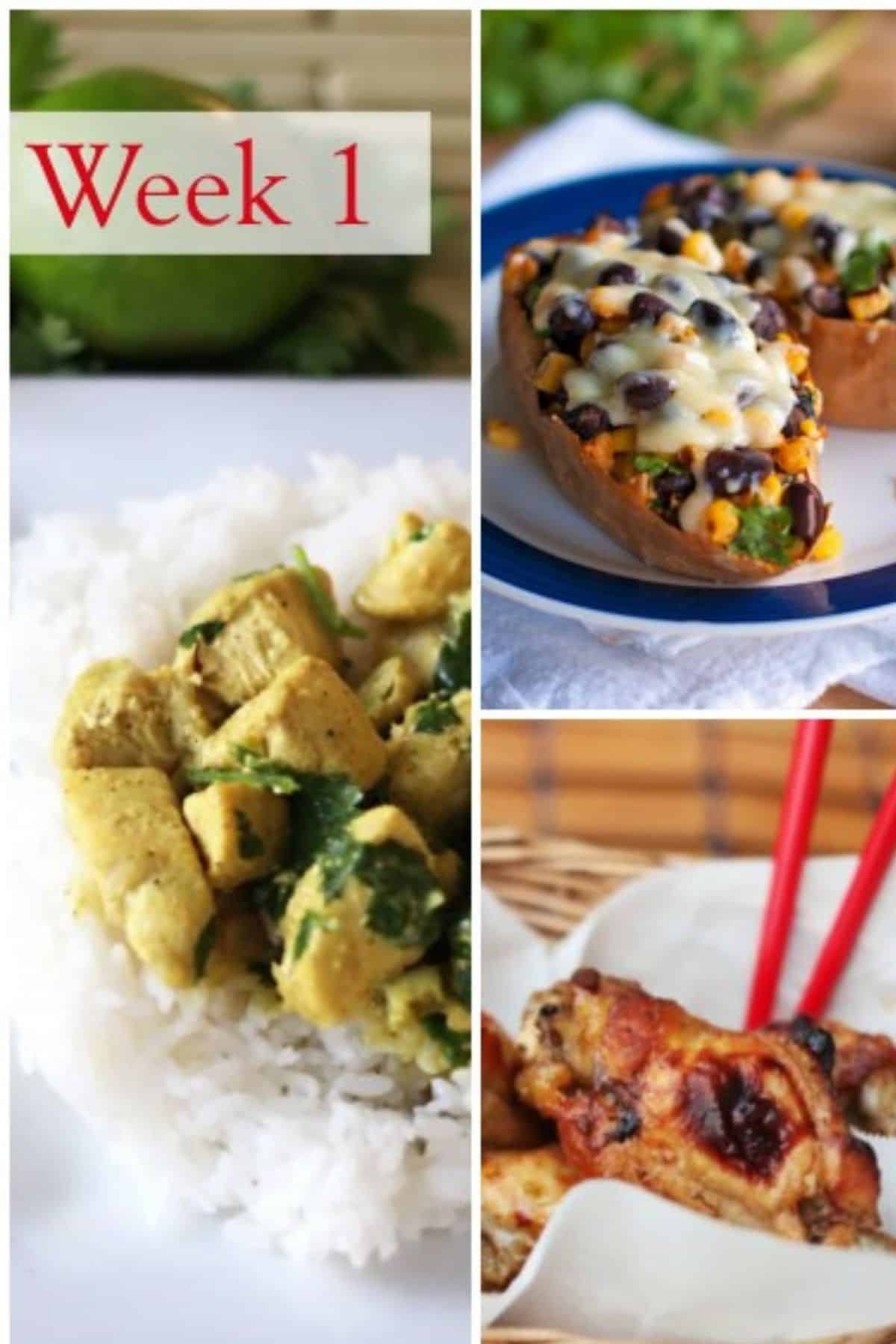 During the moving process we've slipped into survival mode and have spend way too much time at the drive-through. It's taken a toll on my pocketbook, waistline, and family time together. My goal is to eat gluten-free, dairy-free for a week with meals that come out of my own kitchen. No eating out!
This menu is:
Inexpensive
Gluten and Dairy-free
Filling
Quick and easy
It is NOT:
Organic
Low fat or low cal
Gourmet
Gluten Free Meal Plan: Week 1
Monday
Slow Cooker Sweet and Sour Chicken Wings
Asian Style Green Beans
Mashed Cauliflower
Tuesday
Chicken Nachos – Skip the cheese and sour cream for dairy-free. With the addition of black beans and cilantro, we didn't miss it.
Spanish Rice – I make this recipe in my rice cooker
Refried Beans – heat up a can of refried beans in an iron skillet with coconut oil or lard for a restaurant-style taste
Wednesday
Ultimate Paleo Chili – I use only 1 lb of beef and substitute beans for the other pound for cost-effectiveness
Cornbread
Thursday
Peanut Butter Chicken
Black-eyed peas – cook from frozen according to package directions
Roast Brussels and Beets – If you're on a budget, skip the beets and roast a bag of frozen Brussels sprouts (99 cents at Kroger.) Thaw, slice in half, and roast in the oven or air fryer.
Friday
Baked tilapia – Buy frozen fillets bagged in the freezer section at Walmart. Bake with salt and pepper according to package directions. Easy!
Ranch Potatoes – Skip the rosemary and use Russet instead of Yukon Gold if you want to save $$
Salad
Saturday
Crock Pot Santa Fe Chicken – skip the cheese for dairy-free. Serve with tortilla chips or gluten-free corn tortillas
Mexican Sweet Potato Skins – Omit the cheese for dairy-free, substitute coconut milk for cream cheese and sour cream until the texture is desirable
Sunday
Thai Chicken Curry
Steamed Rice
All shopping was done at Walmart and Aldi reflecting Southeast pricing
Dinner servings were adjusted so that there were leftovers for everyone for lunch the next day
Breakfast on weekdays was oatmeal with pomegranates since pomegranates are 29 cents each at Aldi right now. Use whatever fruit is in season. Breakfast on weekends consisted of sausage and eggs.
Need more gluten-free meal ideas? Check out my Week 2 Gluten-free Weekly Meal Plan Eventually I'll get a whole month's worth up. Yay! Until then you might find these 25 Easy Gluten Free Crock Pot Recipes helpful.