Yesterday I was giddy with excitement over my gluten free dairy free biscuits, but what's a good Southern-style biscuit without some breakfast gravy on top? This gluten free, dairy free sausage gravy makes gluten free biscuits and gravy possible! Hubs is thrilled to say the least.
Gravy making is a skill that's best learned from observation rather than directions, and the more you make the more "knack" you develop for getting it just right (and everyone's "just right" is a little different.)
Gluten Free Biscuits and Gravy Recipe
Ingredients
1/2 tube Tennessee Pride Breakfast Sausage*
1/4-1/2 cup gluten-free flour blend of choice
1 cup cashew milk (I've tried it with almond and coconut. Just trust me on the cashew)
salt to taste
One recipe gluten free dairy free biscuits
*If you use a different brand that has more fat in it, you'll need more flour and wind up making more gravy. So if you're making gluten free biscuits and gravy for a crowd, it will be a good idea to use a "greasier" brand. For the two of us, I like Tennessee Pride.
Directions
Brown sausage in a medium skillet
Sprinkle gluten free flour over sausage just enough to soak up the grease. This will be between 1/4 and 1/2 cup for the particular brand of sausage I used. Below is a picture of what it should look like. Notice how there's not so much flour that you see any white, but there's enough that there's no longer visible, shiny fat on the sausage or in the pan. (That goes for whatever brand you are using and however much fat is produced. This was the biggest part of getting the "knack" of it for me.)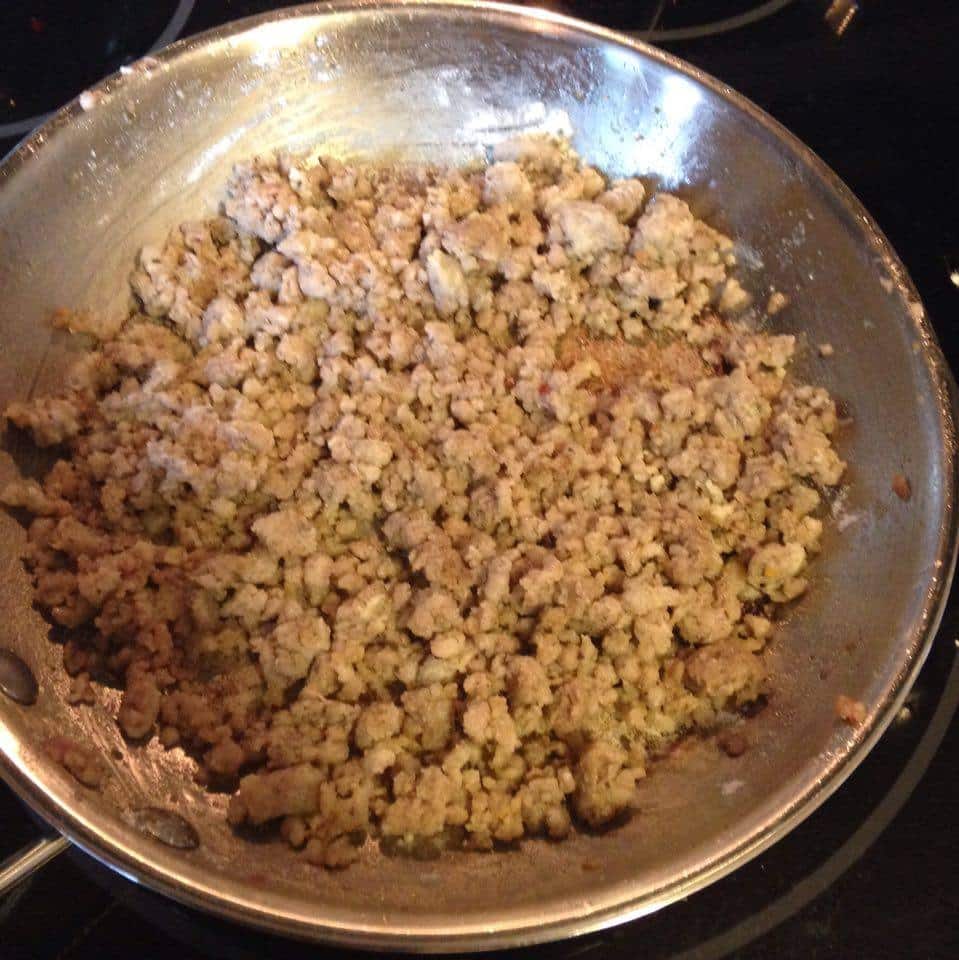 Pour 1/2 cup cashew milk over sausage mixture and stir. Pour remaining 1/2 cup cashew milk and observe consistency. If you like thicker gravy, add less milk and if you like thinner add more. Note that the gravy will thicken slightly as it cools.
Salt to taste. Since you're using nut milk, you might want to salt it more than usual to bring out the savory and mask the slightly sweet taste. Hubs is good with it either way.

If you love this gluten free biscuits and gravy recipe, check out my gluten free dairy free meal plans to make feeding your family GF affordable!