Is there anything better than nachos? I don't think so. The best part of nachos is that you can put all sorts of toppings on them, and they are always delicious. These BBQ chicken nachos are a twist on traditional beef nachos and they cook quickly and easily in the oven on a sheet pan.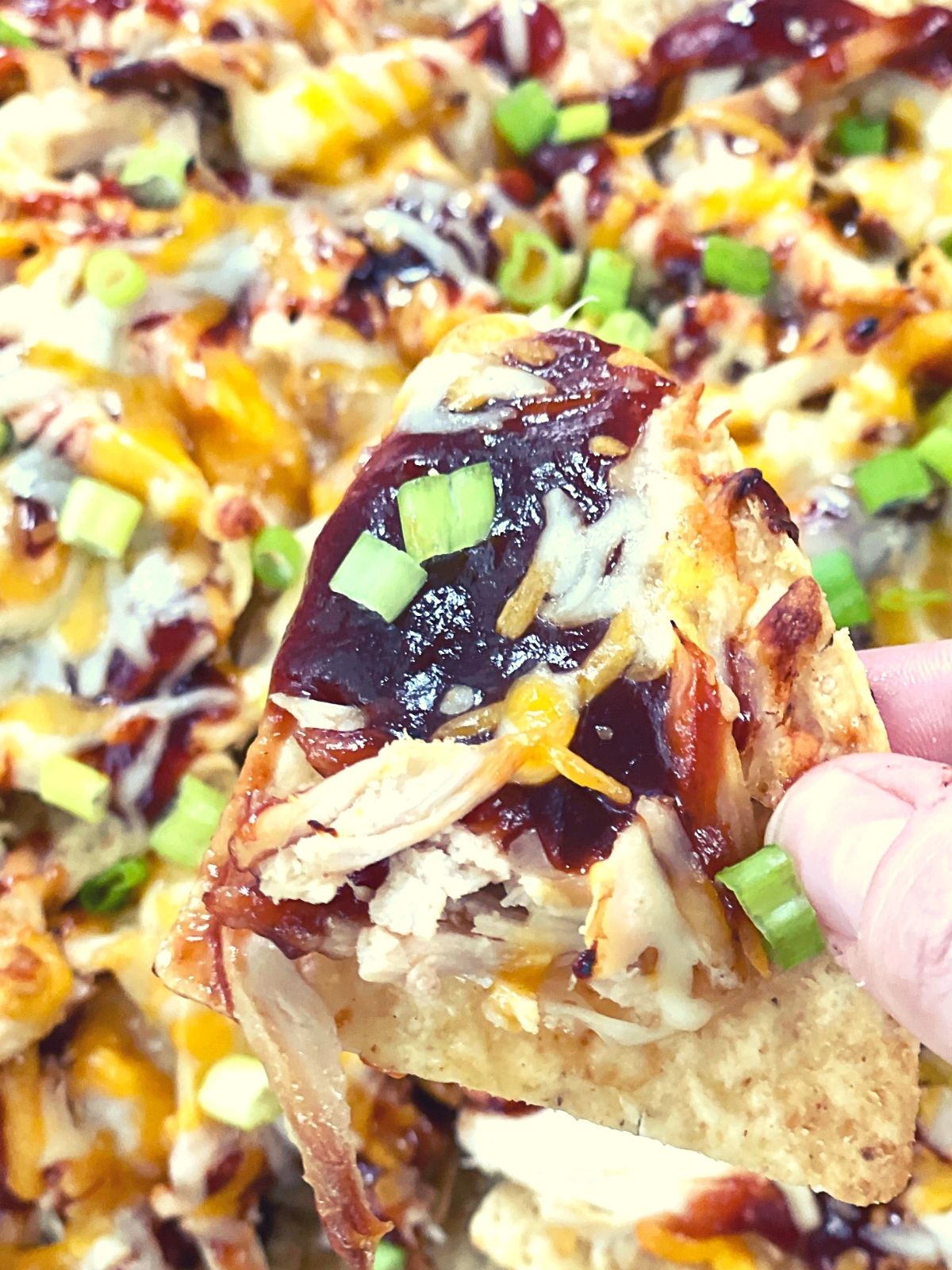 When it comes to nachos, they are perfect for any occasion, but BBQ chicken nachos have a special little kick that'll get your taste buds going! The best part of making these is they only spend 8 minutes in the oven. Just add your favorite toppings to tortilla chips on a sheet pan and voila – ready in no time.
Chicken Nacho Toppings
The great thing about nachos is that you can top them with pretty much anything you like. My BBQ chicken nachos are pretty simple because I like to get dinner on the table in a hurry and move on with my life. You too? Here are the simple toppings I went with.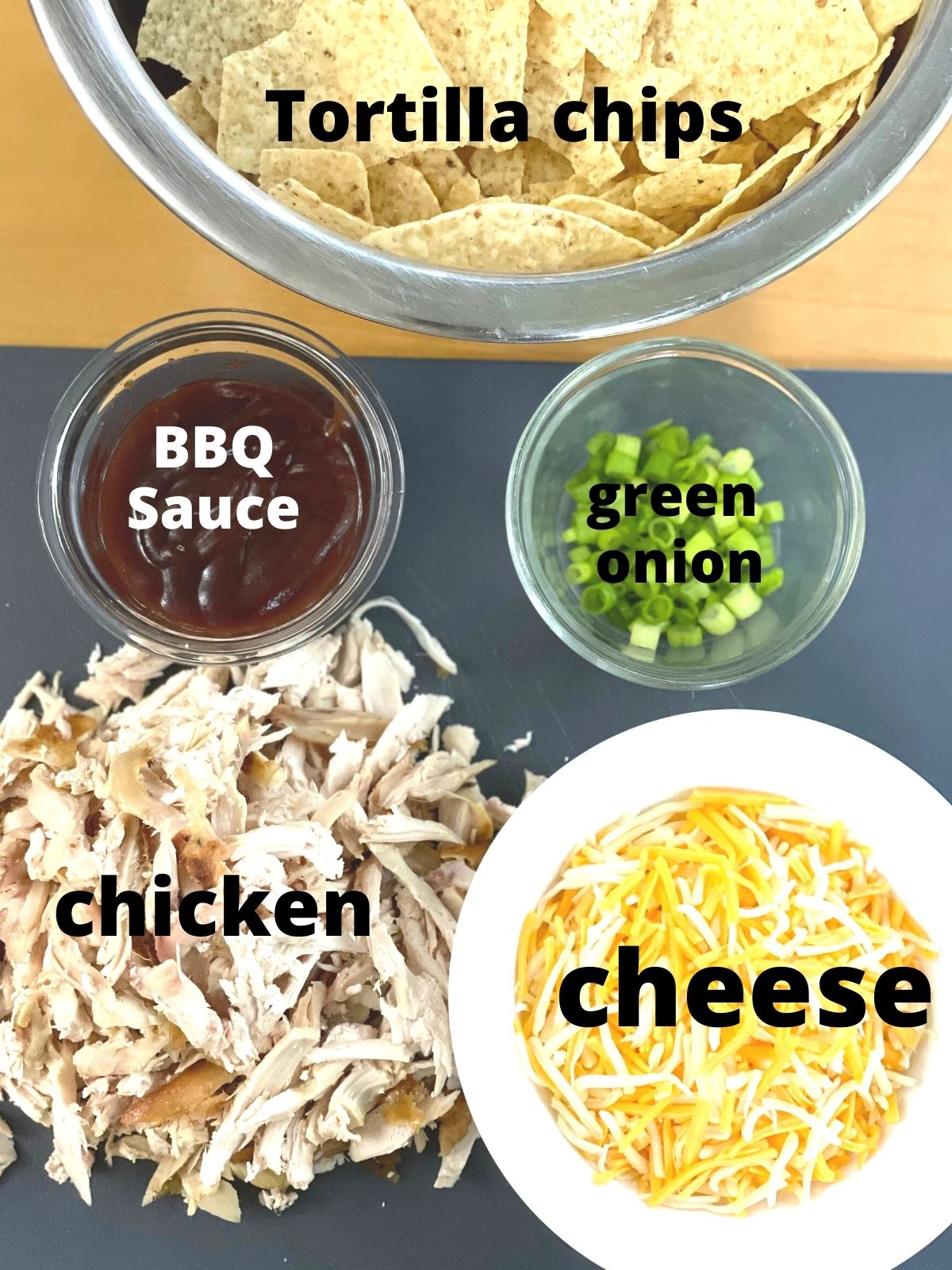 Shredded chicken – Use a pre-cooked rotisserie chicken from the hot bar at the grocery store if you want to take advantage of a real time-saver. I used the breast and wing meat and left the rest for Hubs who is a fan of dark meat over white.
BBQ Sauce – Your favorite bottle of BBQ sauce will work as long as it's thick enough. I use Sweet Baby Ray's as it's pretty popular down South. Some of the more vinegar-based, savory BBQ sauces you might find are going to be too thin to use and will make the tortilla chips soggy. You probably only have to worry about this in Southern states where the BBQ sauce aisle is as varied as the cereal aisle. You can also make your own in the Instant Pot with my recipe.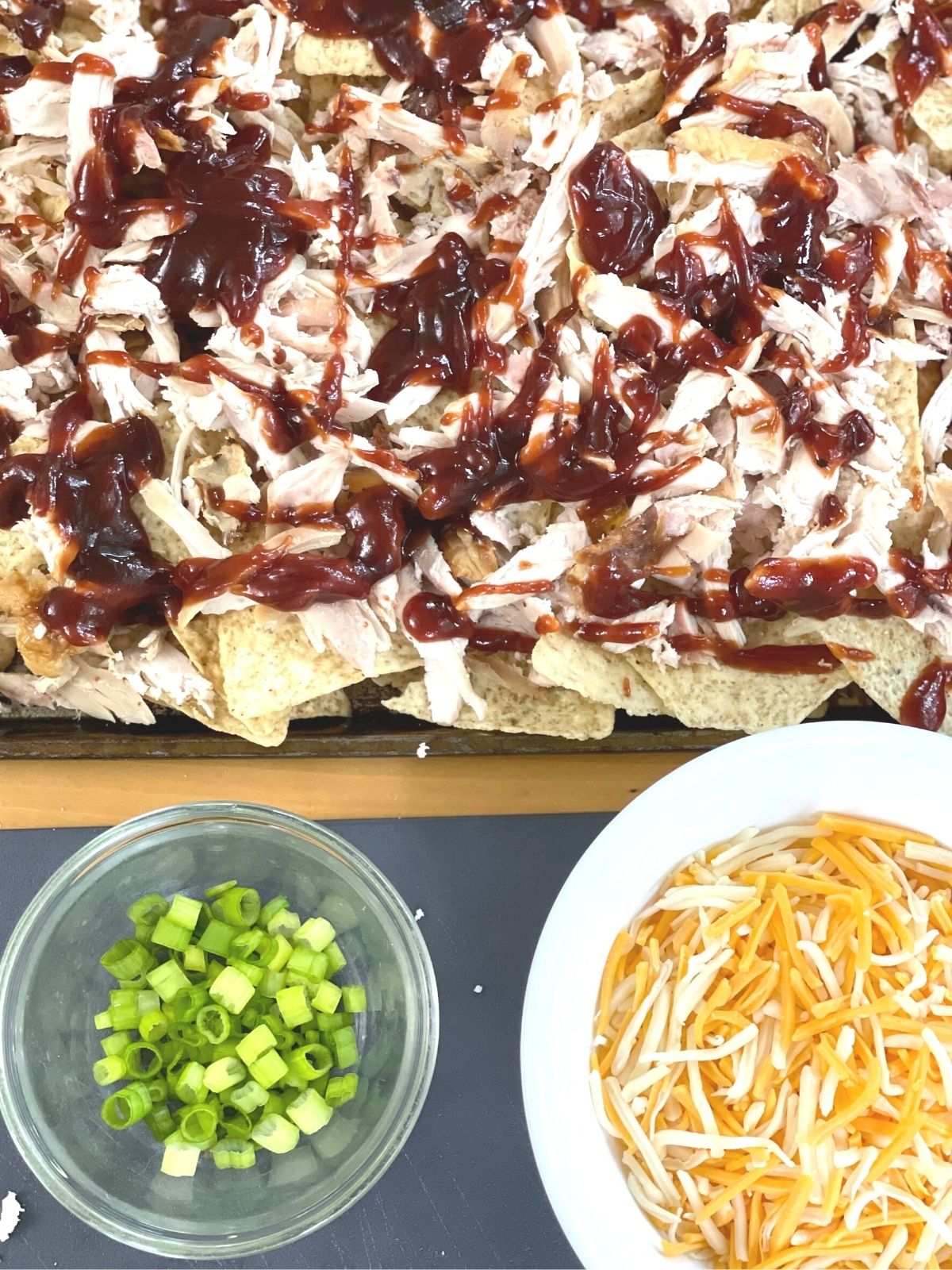 Shredded cheese – Finely shredded Mexican cheese blend is my default!
Green onion – Just use the green portion of the stems.
Alternate Topping Ideas
If you feel like switching things up or getting a little fancier with your chicken nachos, there are a host of other toppings you can use that go well with chicken. Here are some ideas.
Jalapeno Peppers – Top with fresh jalapenos to bake them in the oven with the nachos. If you're using jarred jalapenos, place them on top after baking the nachos.
Sour Cream – Use after baking, obviously
White Sauce – Instead of traditional, red BBQ sauce consider using one of Alabama's favorite things to put on roast chicken. White sauce. Invented just down the road at Big Bob Gibson's BBQ, white sauce has a cult following here. You can make your own white sauce from scratch or buy the original in the bottle!
Pulled pork – If you swap out the shredded chicken for pulled pork they won't be chicken nachos anymore but will still taste amazing with BBQ sauce.
Black beans – Add a little extra protein with these legumes.
Tips for Making the Nachos
Line your sheet pan with aluminum foil or parchment paper to make cleanup easier. I did not do this when I made these nachos. Great is my regret.
Be sure not to pile the tortilla chips up too much. Making a single layer isn't practical but you want each chip to come into contact with the toppings. It's ok to smoosh them down a little too as long as you are just breaking them into more bite-sized pieces and not pulverizing them into crumbs.
Make sure your rotisserie chicken has cooled down enough to shred by hand without burning your fingers!
Cook time is approximate. Your goal is for the nachos to be warmed through and for the cheese to be melted. If your chicken and BBQ sauce came out of the fridge you'll have to cook the nachos a little longer than if you're using a warm chicken and a brand new bottle of sauce from the pantry.
If you heat any leftovers up in the oven or air fryer, the are surprisingly good! I thought they'd be too soggy but the flavors actual meld overnight (kind of like lasagna) and the crunch comes right back if you re-heat them in a single layer on a sheet pan.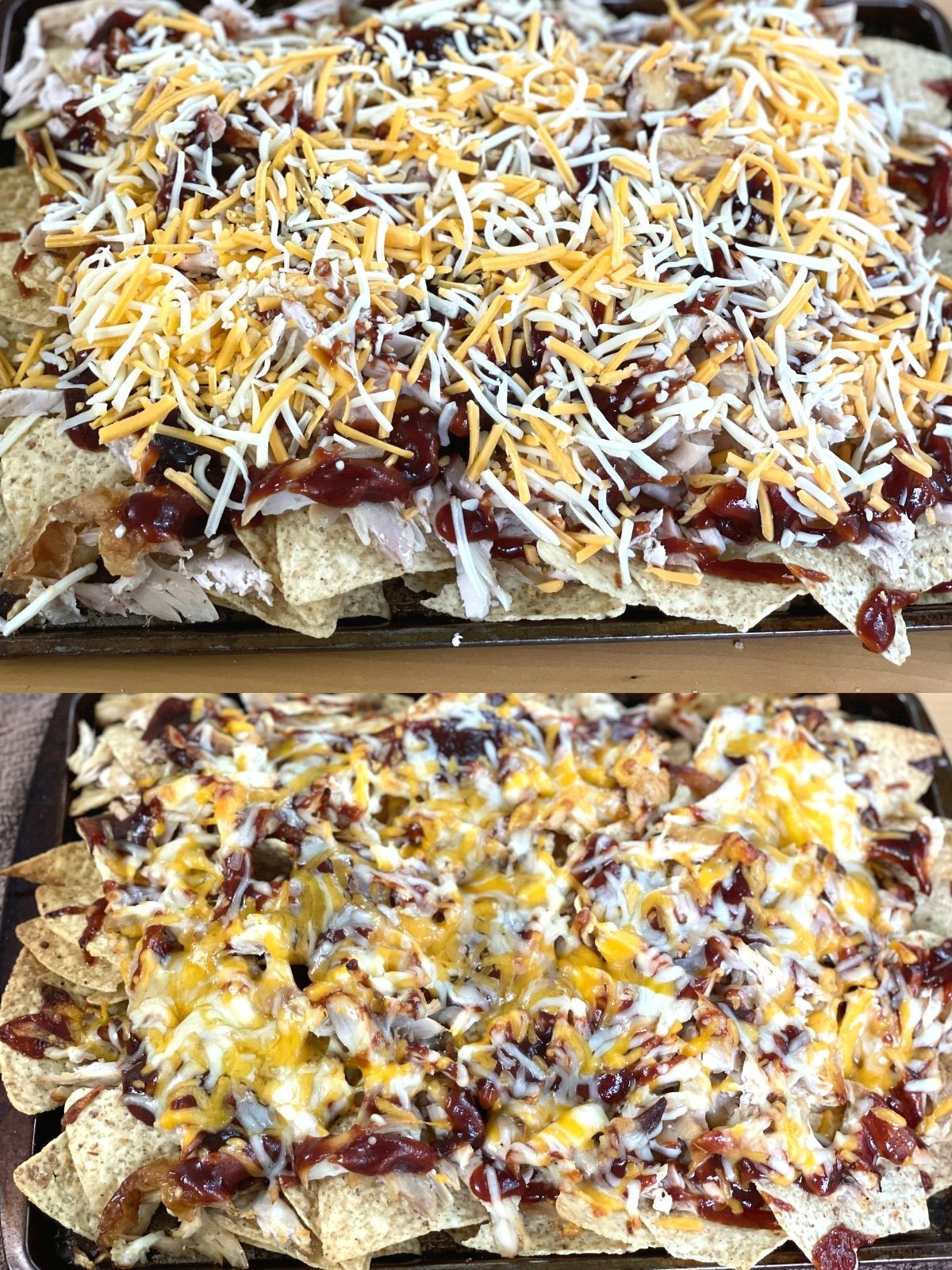 How to Make Chicken Nachos in the Oven
Serve these BBQ Chicken Nachos as a party appetizer or as a full meal for dinner. It might just be the easiest one you've ever made (besides a PB&J of course.)
📖 Recipe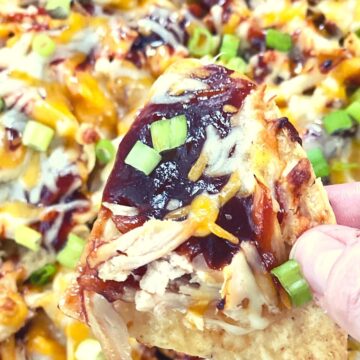 BBQ Chicken Nachos
These BBQ Chicken Nachos as an easy dinner, snack, appetizer, or party food. They are gluten free and ready in minutes.
Ingredients
1

11oz

bag of tortilla chips

1 ½

cups

rotisserie chicken

shredded

¾

cup

bbq sauce

1

cup

cheddar cheese

shredded

2

green onions

sliced
Instructions
Preheat oven to 400 degrees.

Spread tortilla chips on a baking sheet lined with foil or parchment paper.

Top chips with chicken, sauce, and cheese.

Bake 8-10 minutes or until cheese is melted and the nachos are heated through.

Sprinkle with green onion and serve immediately.
Notes
Line your sheet pan with aluminum foil or parchment paper to make cleanup easier.
Spread the tortilla chips out evenly without piling them too high. 
You can use hot, warm, or cold shredded chicken in this recipe. Just be careful not to burn your fingers if your rotisserie chicken came straight from the store.
The nachos are done when warmed through and the cheese is melted. You may only need 5 minutes in the oven depending on the temp of the chicken and BBQ sauce.
Nutrition Facts
BBQ Chicken Nachos
Amount Per Serving
Calories 372
Calories from Fat 153
% Daily Value*
Fat 17g26%
Cholesterol 115mg38%
Sodium 1036mg45%
Potassium 169mg5%
Carbohydrates 23g8%
Protein 32g64%
Vitamin A 463IU9%
Vitamin C 1mg1%
Calcium 226mg23%
Iron 1mg6%
* Percent Daily Values are based on a 2000 calorie diet.
Did You Make This Recipe?
Please leave a comment below or share on Pinterest