Disney World vs Disney Cruise: How do you make a decision when the answer can't be both?
Here's a simple answer for you…It depends.
Factors such as the size of your group, age of the members, your vacation budget, and what time of year you'd like to travel all affect the kind of experience you'll have.
After visiting Walt Disney World more than 20 times and having just arrived home from my third Disney cruise, I thought I'd break down Disney World vs Disney Cruise to help with your decision.
Disney World vs Disney Cruise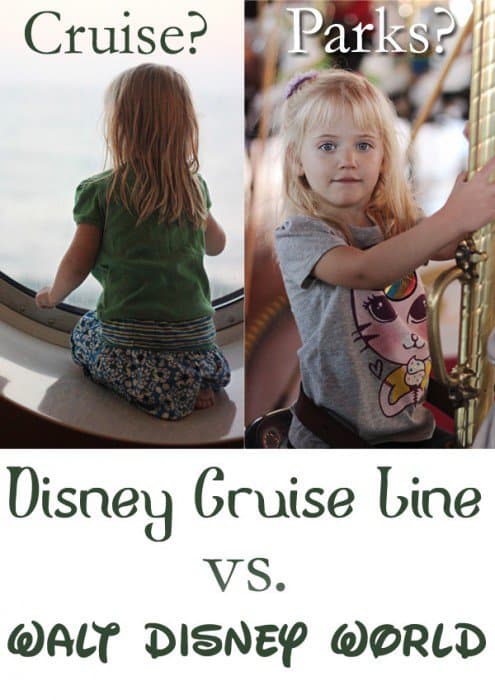 Here's a little background info for you. We cruised on the Disney Dream during the first week in December for four nights. Our party consisted of four adults, a 15 month-old, and a 3 year-old. My previous Disney Cruises have been without kids.
Disney Cruise or Disney World
Advantages of a Disney Cruise vs Disney World:
Price – Our cruise actually started out as a trip to Walt Disney World, but after comparing prices we wound up getting more bang for our buck with a Bahamian cruise. Issues like the hike in park ticket prices, resort room rates, and meal prices steered us toward DCL.
Value – Cruising on Disney Cruise Line is a luxury experience. To replicate it at WDW, you'd have to stay at the Grand Floridian and eat at Disney signature restaurants three times per day.
Relaxation – Usually after I return from a trip to Disney World it feels like I need another vacation just to rest from all the fun. After cruising on the Dream or the Wonder (the Magic and the Fantasy are on my bucket list!) I'm actually well-rested upon returning home. There's no pressure to wake early, arrive at the parks before the crowds, and plan a Fast Pass strategy. If you're debating Disney World vs Disney Cruise and relaxing is more important to you than theme park fun, choose the cruise.
Dining – One of the best parts of any cruise is the food, and Disney has really stepped up the quality of their onboard cuisine in the last 5 years. Not only were the adults in our party impressed with the fare, but having 24-hour access to food without having to pay (extra) for it made vacationing with two picky preschoolers a delight.
Characters – If one-on-one time with characters is important to you or your children, you'll experience more of it on board the ship than you will the parks. Not only are character greetings scheduled daily in the common areas, but they also make appearances in the kid's clubs. Sweet T got to toss bean bags with Goofy and do the Hokey-Pokey with Pluto in the Oceaneer's Club.
Travel Experience – Thanks to the various ports of call offered, you're actually seeing part of the world rather than imagining it at World Showcase.
Advantages of Disney World vs Disney Cruise Line:
Rides – If you're a lover of thrill rides or iconic favorites from your childhood you'll find them here and not on board a DCL ship.
Ease of Access – No early morning debarking, customs officials, passports, or birth certificates are involved with a domestic trip to Walt Disney World. If you're thinking Disney Cruise or Disney World and wanting to go pretty quickly, you might want to pick WDW.
Variety – DCL does a great job of providing something for everyone, and you won't have to worry about boredom. However, as anyone who's been to the Disney Parks can attest, "there's more to see than can ever be seen, more to do than can ever be done." It's impossible for a ship to compete with all the stimulation the parks offer.
Spaciousness – While Disney ships provide the largest staterooms in the industry, being in such close quarters with your family for an extended period of time may be a nightmare for some. Others feel a bit claustrophobic at the thought of being "trapped" on a boat.
Connectivity – Whether you view it as a pro or a con, you have the ability to stay plugged in at Walt Disney World. Free Wi-fi is available in all four parks and you'll certainly be able to get at least a bar of cell service during your stay. No days of dead zones while out to sea, roaming charges, or exorbitant prices to access the internet.
So tell me what your next Disney vacation will be. Disney Cruise or Disney World?
If you're going to be in Orlando, check out Universal Orlando in one Day if you are pressed for time on your trip!