Ruby Tuesday took their Chocolate Tall Cake off the menu a few years back and Hubs and I are still mourning the loss. During our dating days and early years of marriage we'd often stop by to share a Tall Cake and talk about our days. This Valentine's Day we were reminiscing about our favorite dessert and starting rattling off the ingredients which are fairly simple. I don't know why I've waited this long to replicate it! Hubs will enjoy a special treat after dinner tonight. I'd help him eat it just like old times but…I sort of ate the one pictured all by myself. Can't let it go to waste!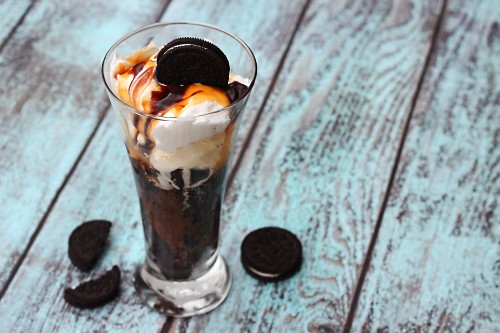 I'm pretty sure the Ruby Tuesday original Chocolate Tall Cake had chocolate mousse instead of chocolate frosting. Since was trying to create, photograph, eat (ahem), and post this during naptime…I decided chocolate frosting in a can was just as good. And a cake from scratch?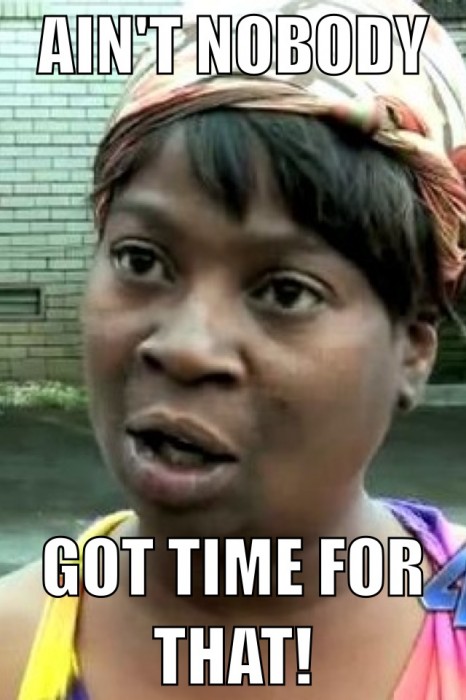 Chocolate Tall Cake
Ingredients:
Chocolate Cake Mix (plus water, oil and eggs!)
Chocolate Frosting
Oreo cookies
Vanilla ice cream
Whipped cream
Caramel Syrup
Hot fudge
Directions: Bake cake mix in a 9×13 pan according to package directions. Cool slightly.  While cake is still warm, spread (I use this term loosely) 3/4's of the frosting onto one half of the warm cake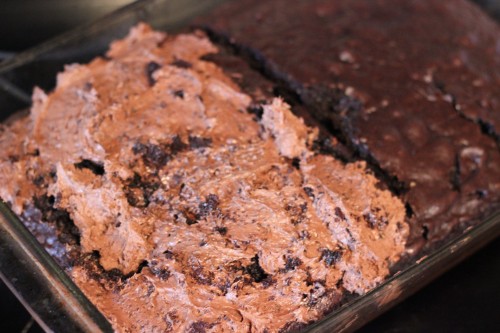 Use a spatula to lift the "naked" half and place on top of the frosting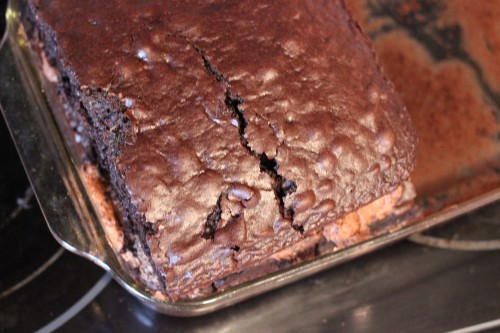 Isn't it nice not to worry about letting the cake cool, creating layers with a serrated knife, or making the frosting look perfect? You're welcome. Slice off a rectangular piece and  cram it into a glass. I bought mine at the Dollar Tree and I'm pretty sure it's for flowers…or booze.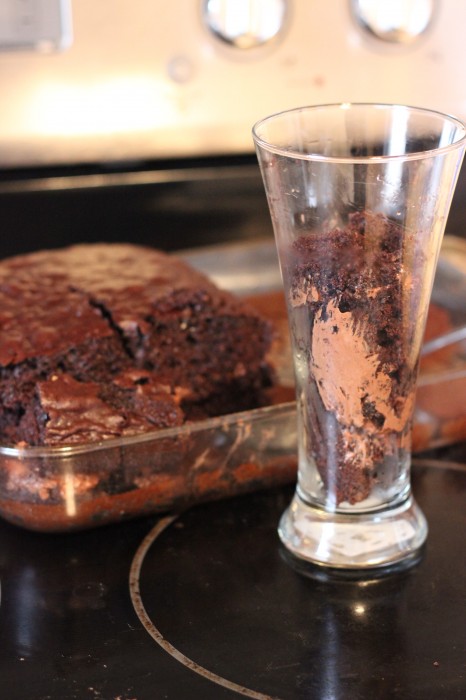 Break an Oreo in your hands and sprinkle on top of the cake.
Add a big scoop of ice cream, a dollop of whipped cream, and drizzle with caramel and chocolate. Serve immediately.