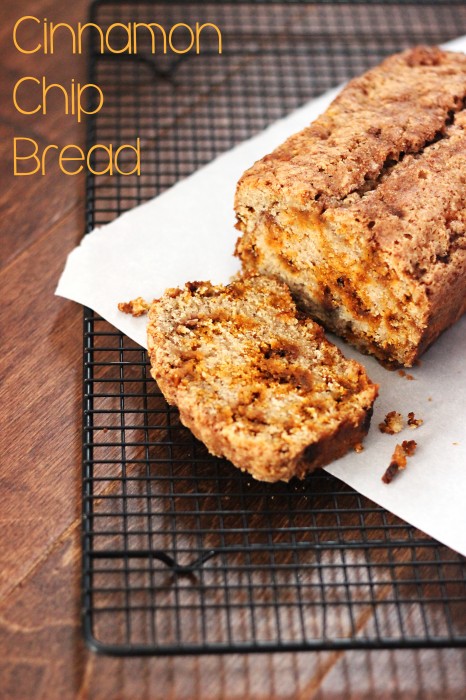 Hubs' parents were in town last weekend and my mother-in-law was the ideal houseguest as always. She brought food for the visit so I wouldn't have to cook and she always leaves a place cleaner than she found it. What a blessing! This cinnamon chip* quick bread is what she brought for us to enjoy in the mornings. The kids both loved it and so did we.
Cinnamon Chip Quick Bread
Cinnamon Chip Quick Bread
Author:
Prep time:
Cook time:
Total time:
Ingredients
2 cups all-purpose flour
1 cup sugar
4 tsp. baking powder
1 1/2 tsp. cinnamon
1/2 tsp. salt
1 cup almond milk
1/3 cup oil
2 tsps. vanilla
1 cup of cinnamon chips (Find them with the chocolate chips. Often seasonal.)
4 tbsps sugar
2 tsp cinnamon
4 tsp butter, softened
Instructions
Preheat oven to 350 F
Grease & flour bottom of loaf pan
In a large bowl, combine first 10 ingredients.
Beat 3 minutes at medium speed with an electric mixer.
Set aside
Combine 4 tbsps sugar, 2 tsp cinnamon, and 4 tsp softened butter to make streusel topping
Pour 1/2 the batter into pan then pour 1/2 of the streusel topping over the top. Add the remainder of the batter and top with remaining streusel topping.
Bake for 55 – 65 minutes or until toothpick inserted into center comes out clean. Cool 15 minutes then remove from pan.
Cool completely on wire rack.
Wrap tightly and store in refrigerator.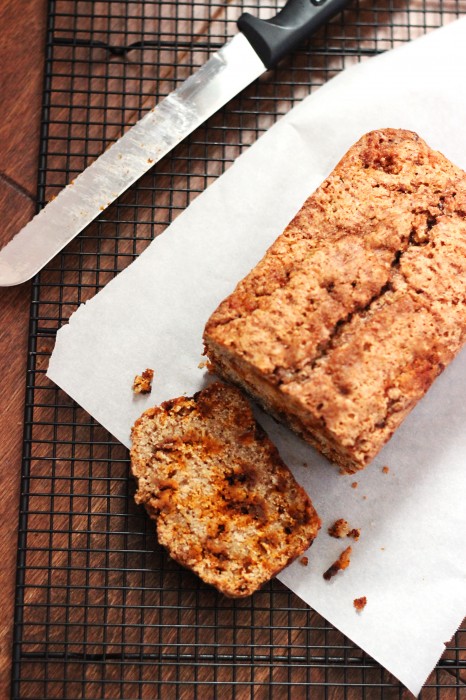 * Update: Some have commented about availability. I found cinnamon chips at our rural Walmart yesterday (2/17/14) Good luck!