Last week we got to visit Biltmore for the first time. Here are a few tips for visiting Biltmore that will be useful whether it's your first visit or your fifth!
Tips for Visiting Biltmore

1. Purchase and print tickets in advance at home – This will allow you to bypass the ticket parking lot/ticket line and drive straight through to the main parking area. This is a Biltmore tip I knew about in advance but since we were uncertain about whether or not we were going up until the day before, I held off until it was too late to access a printer. Opting to have them picked up at will call might have saved a little bit of time, but not much.
2. Don't waste time hunting for a Biltmore coupon code – The promo code section of the ticket purchase page is used for group sale discounts issued individually by the Biltmore to groups. They are very clear that if you find a promo code somewhere on the web, it's fraudulent. Many site offer tips for visiting Biltmore as a front to offer coupons or promo codes. Don't fall for it.
3. Consider an annual pass if you are somewhat local – If you're within reasonable driving distance you might consider an annual pass or annual pass upgrade. One-time admission tickets to Biltmore are not cheap and since there's so much to do and see, you might be better off just getting the annual pass. Seasonal exhibits ensure there's always something new to see, and you'll feel more free to pony up the charlie for all those extras when you aren't having to pay the steep cost of admission every time.
4. Opt for the kid's audio tour – The Biltmore house tour is self-guided and you'll receive a brochure that gives you a few paragraphs about each room/area that you'll be seeing. Since we were wrangling kids in a crowd we wouldn't have had a free hand to hold the telephone-like device to our ear very often anyway, so I knew better than to pay the extra $20-something apiece for the adult audio for each of us. However, Sweet T (age 6) really enjoyed the kid's tour narrated by Cecil the Vanderbilt family St. Bernard. We would often be ready to move on to the next room and she would insist on staying until she'd heard everything Cecil had to say. $13.98 well spent for her, especially since her ticket was free.
5. Arrive early to park/walk – This is especially important during peak season. We arrived early in the day, but not at opening (which would have been even better.) If you can park in lot A5, you can easily walk to the house. They say it's an 8 minute walk, but we managed in 5 completely on foot with little kids. If you have to park in the lots further out, there is a shuttle available to the house.
6. Be ready to have your bag inspected – Just like at a theme park, there will be a security guard there to check your bag. Not really an issue unless you are planning something illegal, but it's always nice to know. If you can get away without carrying a bag at all, you'll save a little time that way by bypassing the inspection.
7. Use the bathroom before you do the house tour! – The bathroom building is to the right of the house so make sure your family empties their bladders before your start your house tour. Yes, it's self-guided tour and you can go back outside then come back in as long as you have a ticket stub to present, but you'll be fighting crowds and have to go through the back check again. The tour lasts an hour and a half so taking care of business beforehand will make sure you're all set.
8. Stay ahead of or behind the tour groups  – Or mingle in! Remember those special group sales we talked about? You'll see tour guides talking into a microphone that transmits to the group's audio devices. Group members are easy to spot because they'll have red, hands-free audio devices hanging from their necks. It's best if you can lag behind or skip ahead so you aren't viewing rooms at the same time as these groups. It's really hard to see anything with 20 people moving together as one unit. However, if you're seeing the Biltmore solo, you might want to discreetly tag along. I picked up some cool facts along the way whenever I was near the tour guide.
9. Allow time for the gardens, greenhouse, farm, winery, village, etc. – There's so much more to Biltmore Estate that just the house. I really enjoyed the greenhouse and gardens and the farm is great for kids who are ready to stretch their legs after the house tour. It's a beautiful place for family photos too!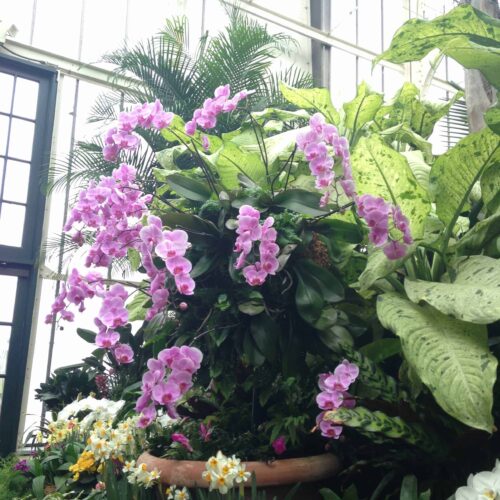 10. Plan to eat on-site – Guests often underestimate the expanse of the 8,000 acre estate. You have a 3 mile drive from turnoff just to get to the parking lot for the house. Popping over to eat in Asheville probably isn't going to happen. You're going to be hungry after all the walking you've done. Thankfully, there are several dining options right next to the house! Prices are what you'd expect to find at theme parks, but there was something even our picky eaters enjoyed so we were happy. There's also a discount for annual passholders. Seating was outdoors, but there was shelter and heaters going to keep us comfortable. Oh plus…ice cream.
While you're visiting Asheville, check out my Downtown Asheville Restaurant Guide for some tasty restaurant ideas!
These are my tips for visiting Biltmore from the perspective of a first-time guest. Hopefully they will save you a little time and effort!
Staying at Biltmore? Get the best price on your accommodations!