This is another of my Aunt Katy's fantastic original recipes. She's been making Southern stewed tomatoes longer than I've been alive and we had the privilege of enjoying this treat over Labor Day. Now you can too!
The great thing about this tomato dish (besides the wonderful taste) is the convenience. Stewed tomatoes can cook for as little as 15 minutes or as long as several hours making them easy to bring hot to the table at the same time as the rest of your dishes.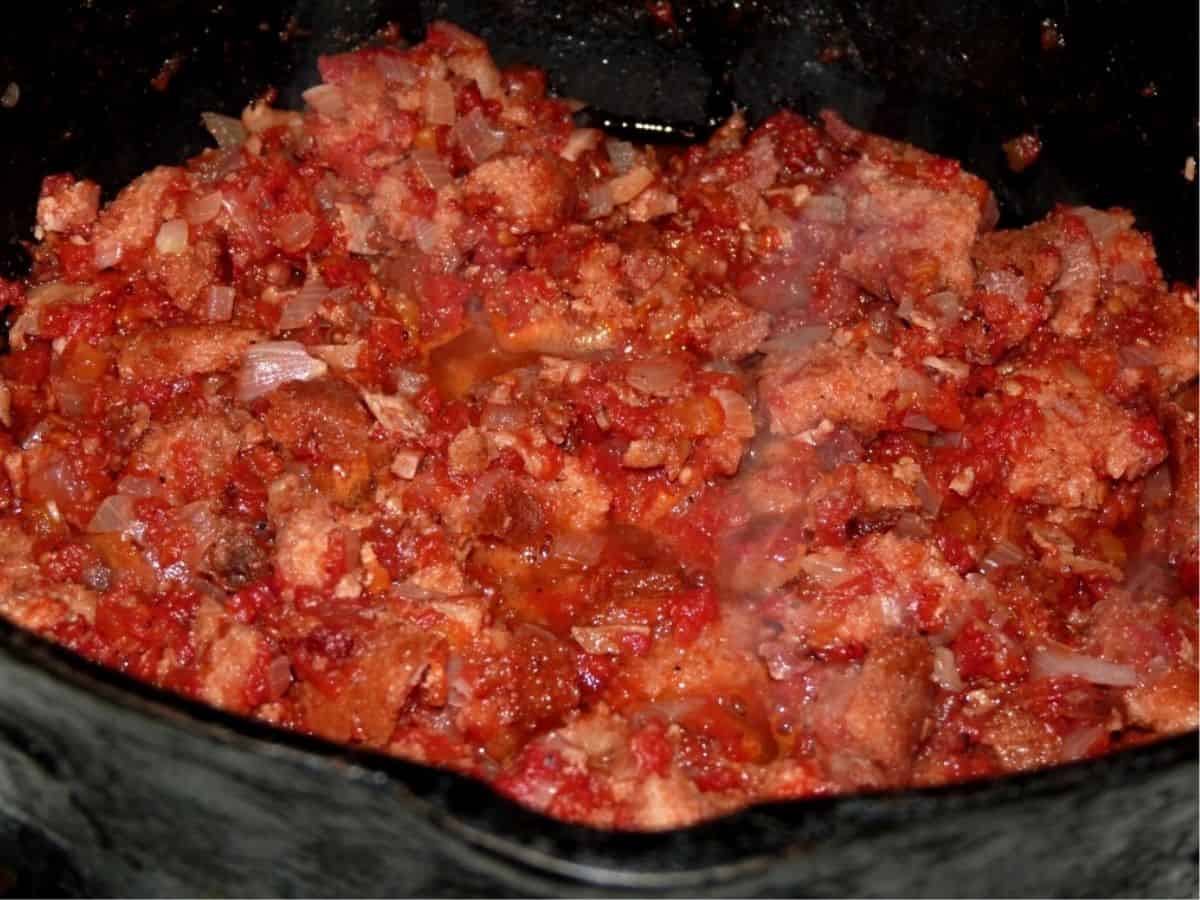 These Southern stewed tomatoes with bread can easily be made with fresh tomatoes, but the recipe below calls for canned just for convenience. My grandfather always made them with tomatoes he had canned from the garden. Let's learn how to make stewed tomatoes the Southern way! Be sure to cook them up in a well-seasoned dutch oven for the most authentic taste.
How to Make Stewed Tomatoes
Ingredients:
1 large onion
1T butter or oil for sauteing
4 bacon slices, cooked and crumbled (or a package of Real Bacon bacon bits)
3 14.5 oz cans petite diced tomatoes
4 slices of bread (toasted, cut into bite-size pieces)
salt and pepper to taste
Directions:
Saute onions in a dutch oven.
Add bacon (or Real Bacon bacon bits) and continue sauteing until onions are translucent.
Add tomatoes, salt, and pepper.
Cover and cook over low heat for 15 minutes. (You can actually cook the stewed tomatoes as long as you like. The longer you cook it the more flavor these Southern stewed tomatoes develop.)
Just before serving, add toasted bread pieces to absorb the juice and make a thickened tomato stew.
Southern Stewed Tomatoes Recipe
Enjoy your stewed tomatoes and serve them up with other traditional Southern favorites like fried cabbage or skillet cornbread.