The great thing about this tomato dish (besides the hearty flavor) is the convenience. Stewed tomatoes can cook for as little as 15 minutes or as long as several hours making them easy to bring hot to the table at the same time as the rest of your dishes.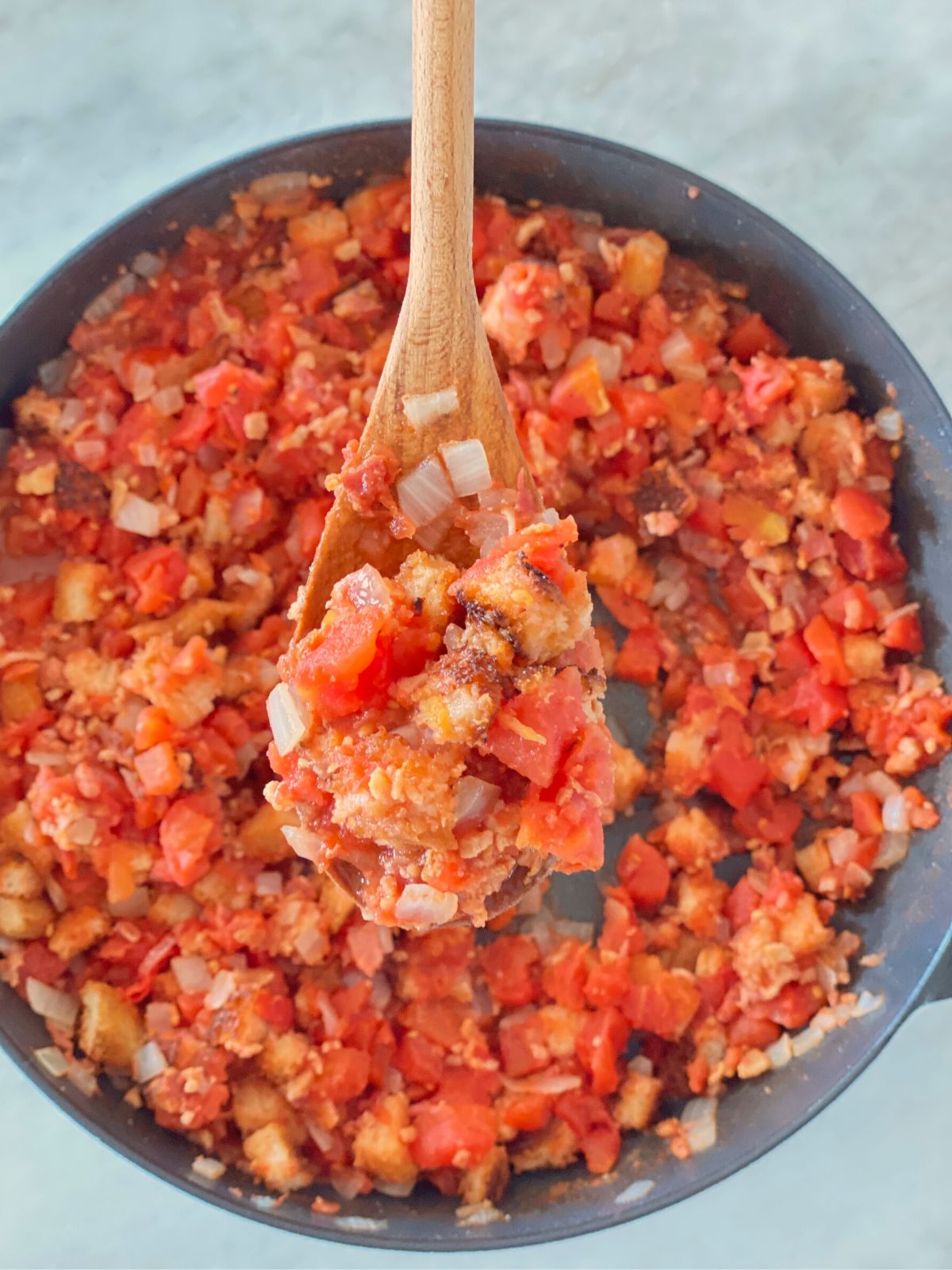 This is another of my Aunt Katy's favorite recipes passed down from generations before her. She's been making Southern stewed tomatoes longer than I've been alive and we had the privilege of enjoying this treat over Labor Day. Now you can too!
Jump to:
When I was a child, my grandfather would make this family recipe for stewed tomatoes with bread. He used ripe tomatoes from his garden when tomatoes were in season to create the most authentic taste possible but if you don't have access to garden tomatoes right now, you can absolutely use canned tomatoes instead.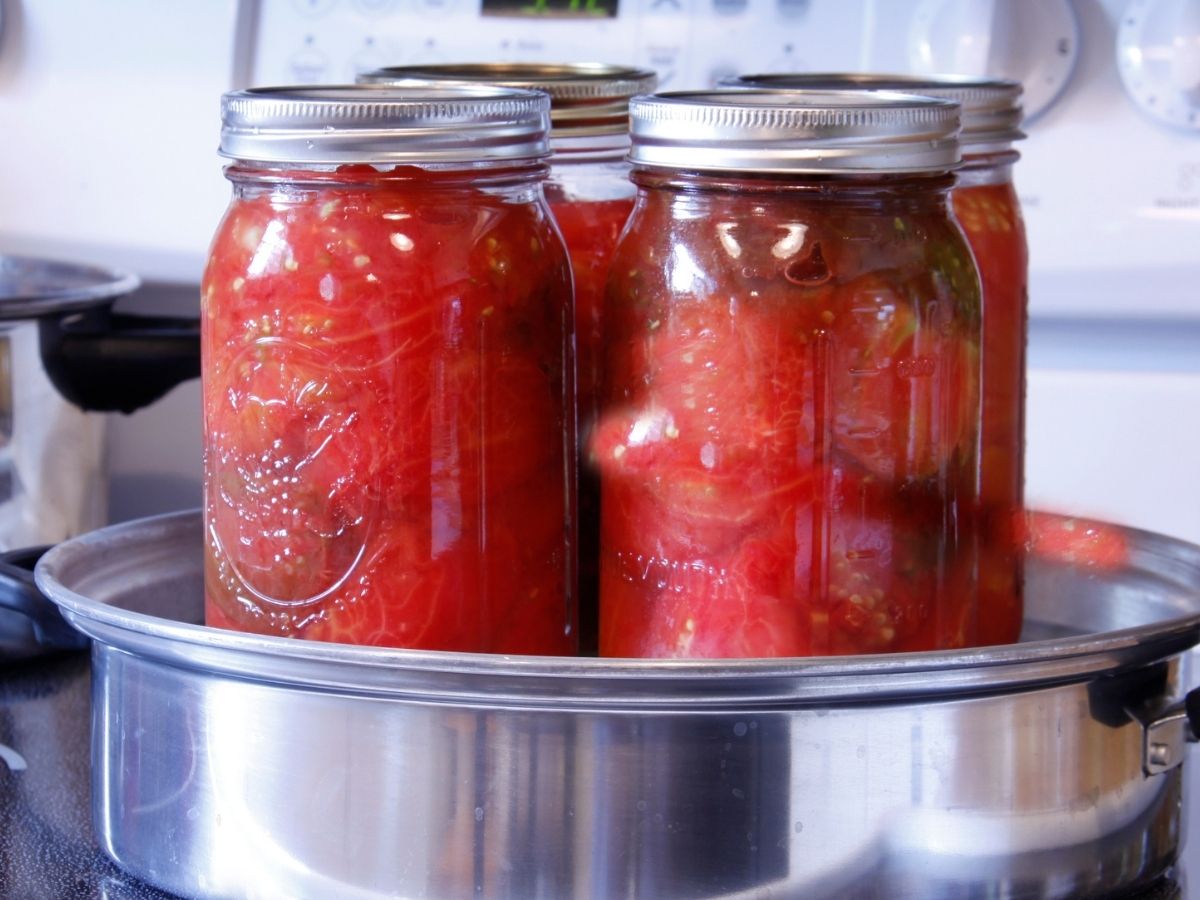 My grandfather would make stewed tomatoes year-round with fresh heirloom tomatoes he had canned from the garden but petite-diced from the grocery store will do just fine. In the recipe below I'm going to call for canned just for convenience and availability. Let's learn how to make stewed tomatoes the Southern way!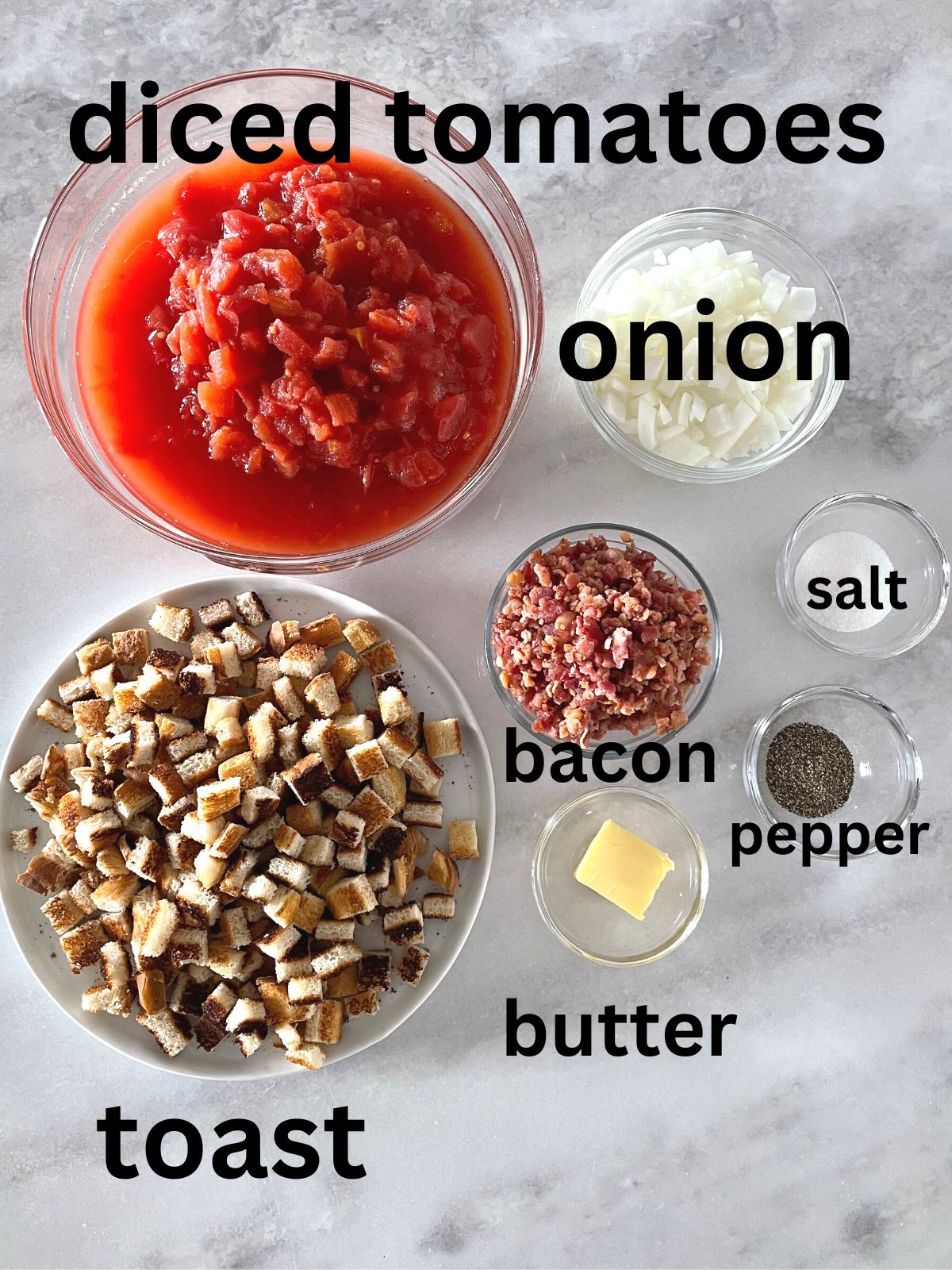 🍅 Ingredient Tips
While you can use either butter or oil, I recommend straight-up butter rather than margarine or oil. It's just the Southern way!
Either cook bacon slices to well done and crumble them or just use a package of Real Bacon bacon bits. Microwave the bacon bits on a plate for 30 seconds or so to make them extra crispy. I love this shortcut but make sure you're using Real Bacon Bits and not the dehydrated, artificial ones you often find on salad bars.
You will need petite diced tomatoes for this recipe. If you're using fresh tomatoes or ones canned whole from your garden you'll need to dice them by hand. If your tomatoes are coming from the grocery store just make sure to buy ones labeled "petite diced" and you're good to go.
If you're using canned tomatoes, hold off on adding salt until just before adding the toast at the end. Since canned tomatoes are already salted, you may not need any salt at all.
For the toast, you can use either wheat or white loaf bread. Be sure to toast it fairly dark without burning it.
🥫 Cooking The Tomatoes
Like most Southern recipes, stewed tomatoes are simple and cheap to make. There's no need to complicate or overthink this recipe. However, here are a few recommendations if you want them to taste "like mama used to make."
To get that traditional, Southern flavor just right be sure to cook stewed tomatoes in a cast-iron, well-seasoned Dutch oven. Stewing the tomatoes in a Crueset isn't going to ruin them but they'll taste best in a good old-fashioned dutch oven like this one from Lodge.
Having well-seasoned cast iron is key here since you'll be simmering acidic food. You don't want a metallic taste to leech into your recipe during the cooking process.
Seasoning your cast-iron cookware prevents this. Plus, as an added bonus, cooking with cast iron (especially foods high in citric acid and vitamin C like tomatoes) creates an easy source of iron for your diet.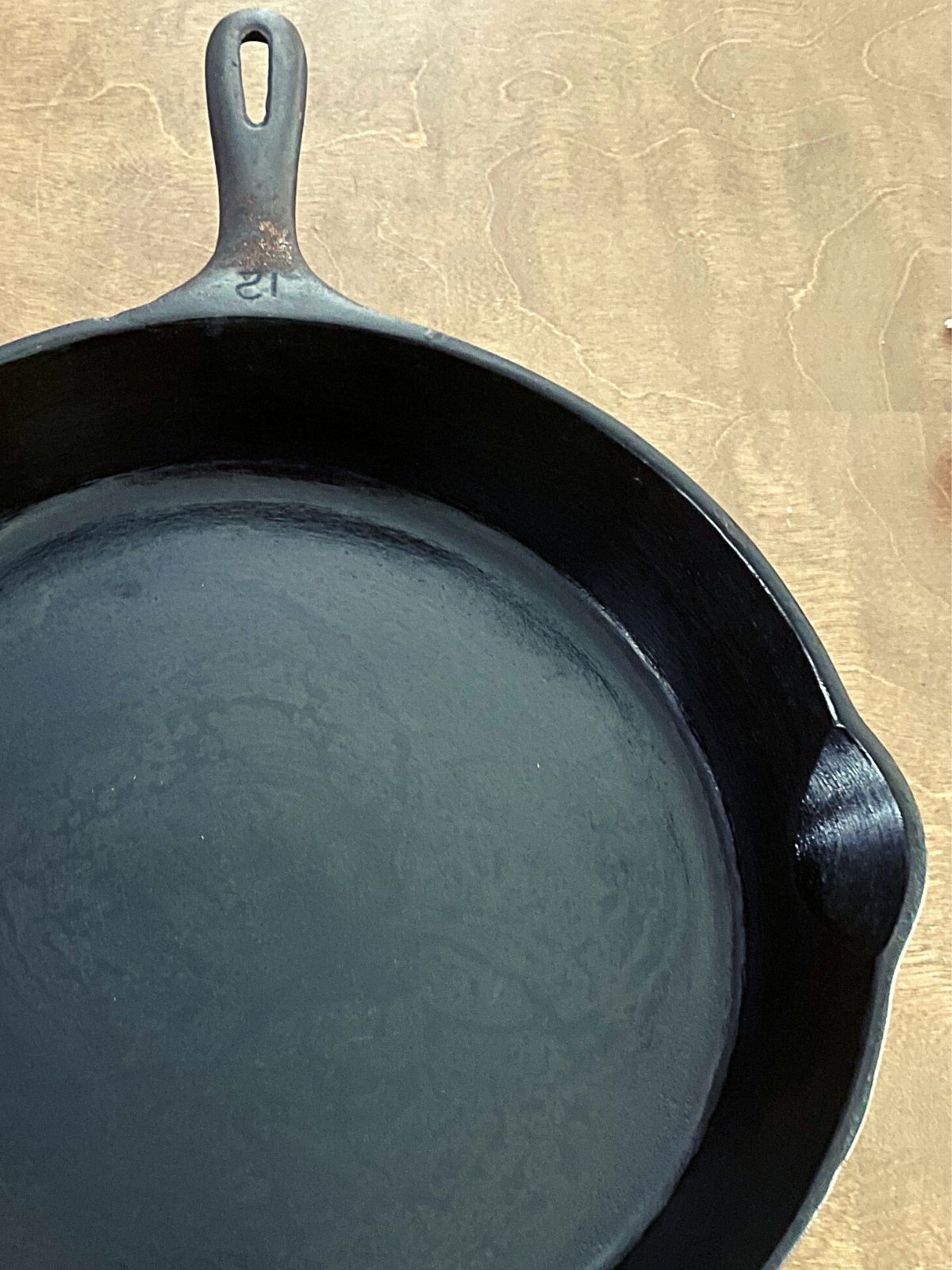 If you purchase a pre-seasoned iron skillet, some of the work will be done for you but you'll still need to season it on your own before using it. A pre-seasoned skillet just gives you a bit of a jump start.
If you've ever cooked with heirloom cast iron you know that there's nothing like cooking with a pan that's been used and seasoned consistently over the course of years, decades, or even centuries. I have a 100-year-old cast-iron skillet that's been passed down in my family and nothing will stick to that thing! It's amazing.
Whether you're making stewed tomatoes with garden-fresh produce in cast iron that's been seasoned for decades or an enameled pot from Williams Sonoma with store-bought tomatoes you will love this Southern Stewed Tomatoes Recipe!
✍️ Step-by-Step Directions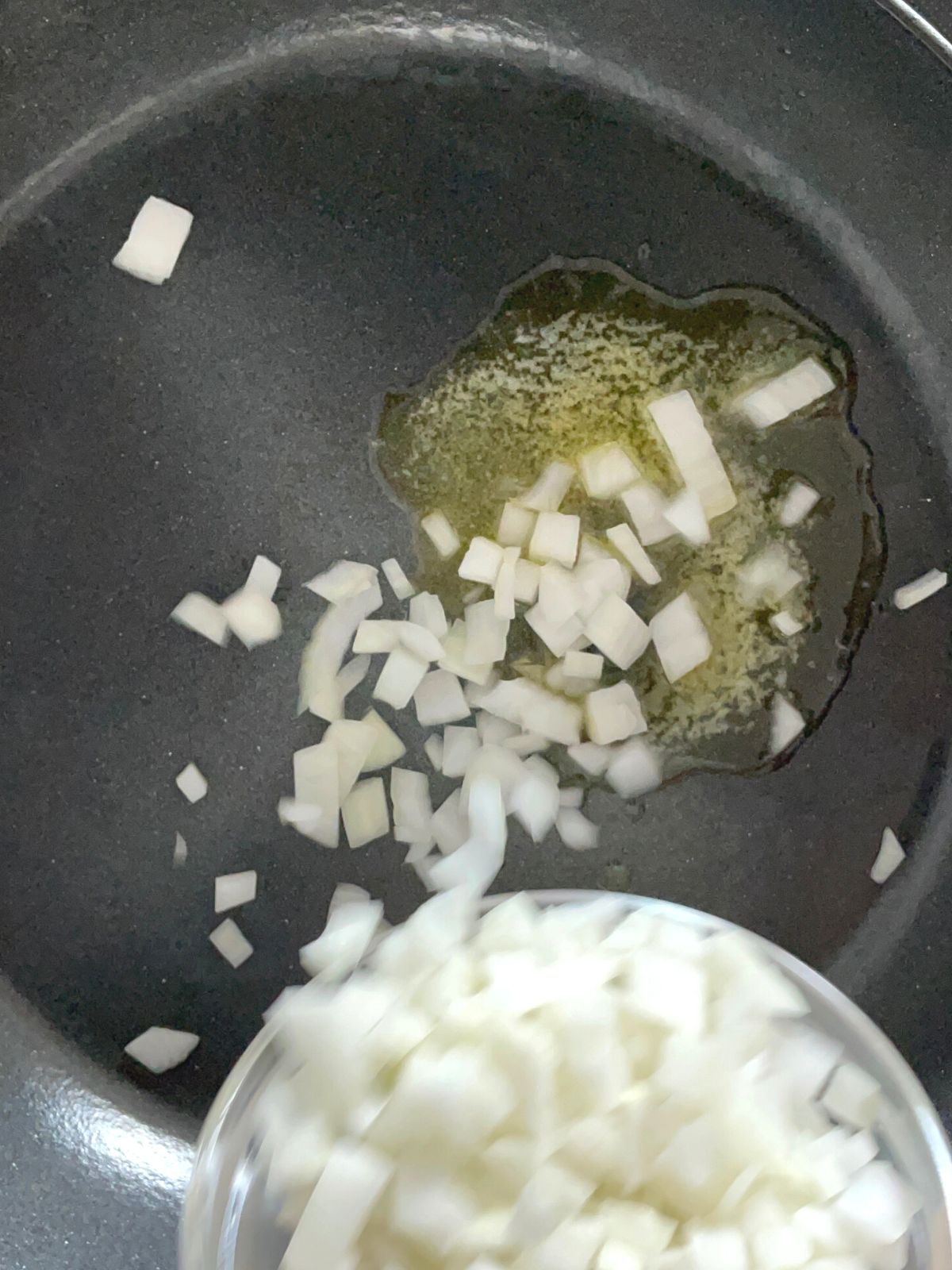 1. Melt butter in a large iron skillet or Dutch oven. Add onions and saute for 2-3 minutes on medium heat.
2. Add bacon pieces and saute until onions are translucent.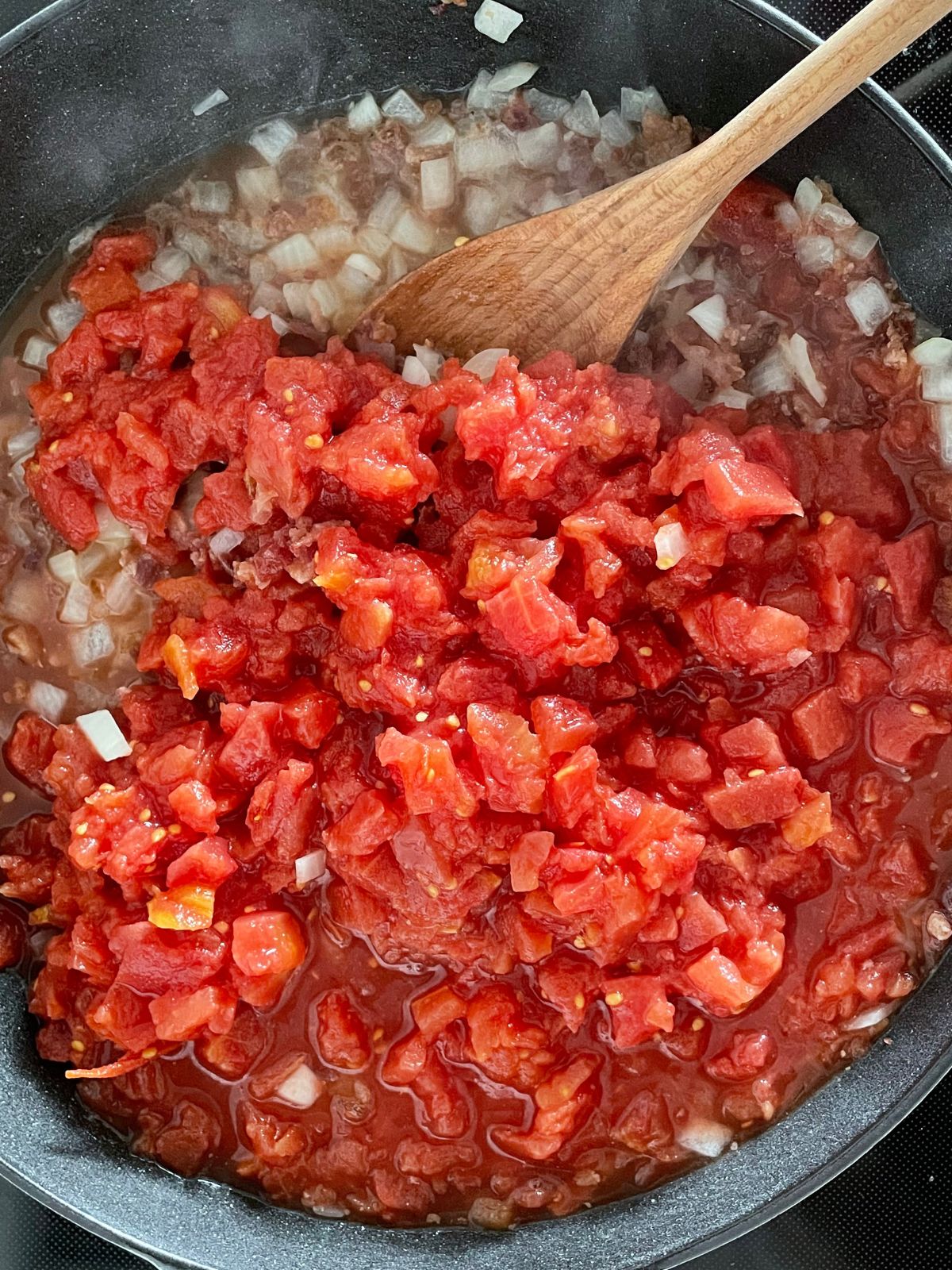 3. Add tomatoes and season with salt and black pepper to taste.
4. Cover and cook over low heat for at least 15 minutes.
5. Just before serving, add toasted bread pieces to absorb the tomato juice and make a thickened tomato stew.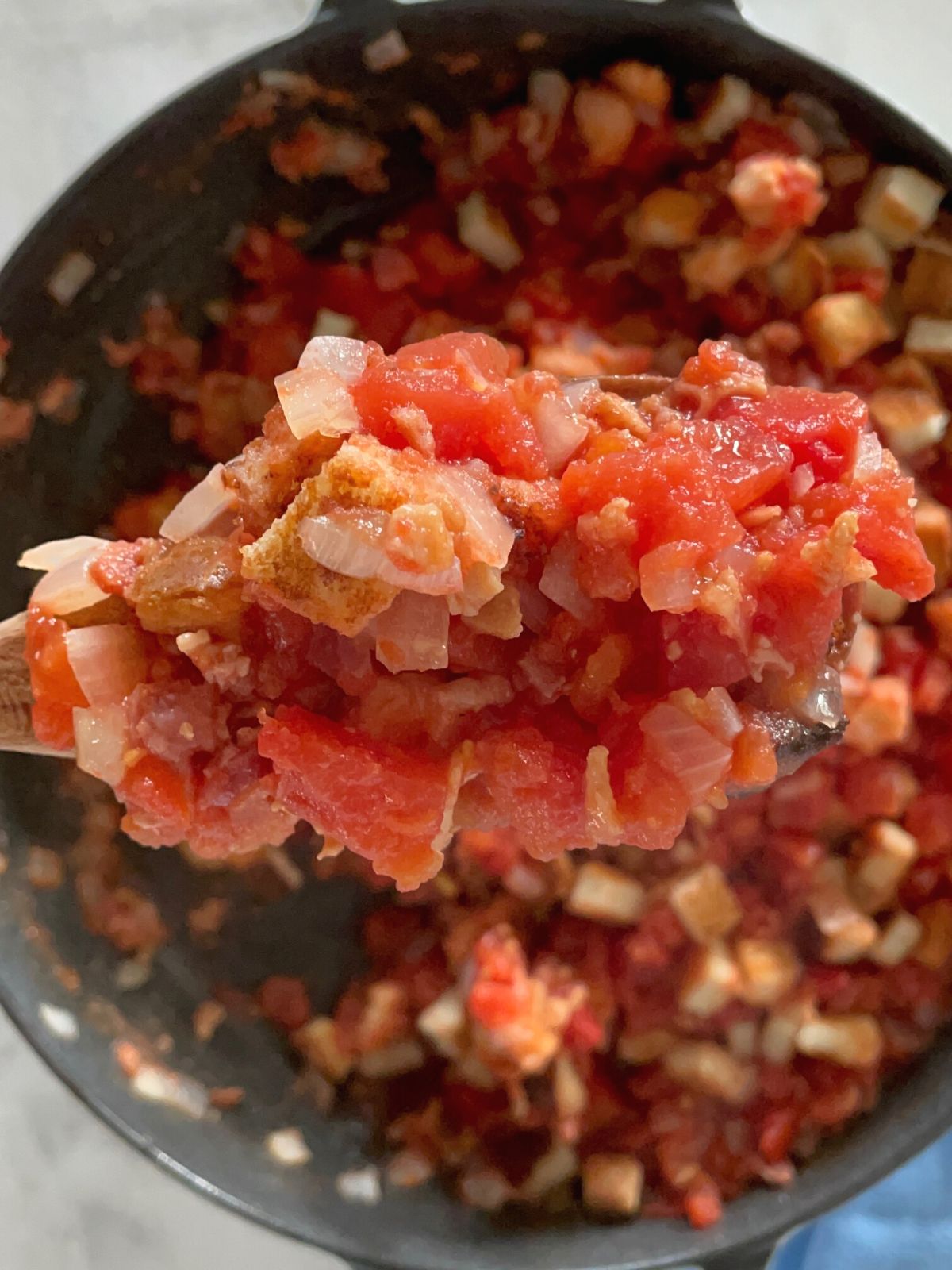 🍽️ How to Serve Stewed Tomatoes
Enjoy your stewed tomatoes as a dinner side dish and serve them up with other traditional Southern favorites like fried cabbage or skillet cornbread.
Crock Pot Chicken and Dumplings is a perfect recipe for your main dish.
For dessert, enjoy this easy peach cobbler recipe.
❓ FAQ
Can stewed tomatoes be frozen?
Yes! Stewed tomatoes are freezer safe. They freeze quite well for up to 3 months. You can either freeze stewed tomatoes in a mason jar with a lid (or an airtight container of your choice) or freeze them flat in freezer storage bags and stack them in your freezer.
Are stewed tomatoes gluten-free?
This stewed tomatoes recipe is not gluten-free due to using toasted bread for texture. You can try using gluten-free bread instead of regular but may need to adjust the amount you use.
How do I thicken gluten-free tomatoes?
If your stewed tomato texture is too thin, you need to stew them longer in order to remove more moisture. If you've stewed them down, allowed them to cool slightly, and they are still too thin, you can thicken them with cornstarch.
📖 Recipe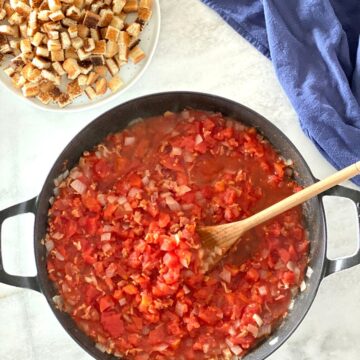 Southern Stewed Tomatoes
Stewed tomatoes can cook for as little as 15 minutes or as long as several hours making them easy to bring hot to the table at the same time as the rest of your dishes.
Ingredients
1

large onion

1

T

unsalted butter or oil for sauteing

4

bacon slices

cooked and crumbled (or a package of Real Bacon bacon bits)

3 14.5

oz

cans petite diced tomatoes

4

slices

of bread

toasted, cut into bite-size pieces

salt and pepper to taste
Instructions
Saute onions in a dutch oven.

Add bacon (or Real Bacon bacon bits) and continue sauteing until onions are translucent.

Add tomatoes, salt, and pepper.

Cover and cook over low heat for at least 15 minutes.

Just before serving, add toasted bread pieces to absorb the juice and make a thickened tomato stew.
Notes
You can actually cook the stewed tomatoes for several hours. The longer you cook it the more flavor these Southern stewed tomatoes develop. 15 minutes is the minimum.
Shortcuts I love are using store-bought tomatoes and using Real Bacon Bits instead of cooking and crumbling raw bacon.
Don't be afraid to heavily toast the bread. You want it almost, but not quite, burned.
Nutrition Facts
Southern Stewed Tomatoes
Amount Per Serving (1 serving)
Calories 151
Calories from Fat 72
% Daily Value*
Fat 8g12%
Cholesterol 13mg4%
Sodium 391mg17%
Carbohydrates 15g5%
Protein 5g10%
* Percent Daily Values are based on a 2000 calorie diet.
Did You Make This Recipe?
Please leave a comment below or share on Pinterest