I'm writing this in the time of quarantine when boredom is running high and needs to be busted – busted without screens or leaving the house. The struggle is real, moms. Use Boredom Buster Bingo whenever you hear "I'm bored," when you want kids to take a break from screens and earn that Xbox time with a bingo (or blackout!), or bring it out on a rainy day for a few ideas.
These kids' activities are ones they can do on their own for the most part and don't involve screens. You'll need to adjust for their age and what you currently have access to, but I tried to make Boredom Buster Bingo full of ideas that are practical for most of us.
Find the link for this free printable kids' activity bingo at the end of this post and keep reading for some ideas on how to implement the activities during this time of cabin fever.
Everybody gets a free space for getting dressed! We're setting the bar pretty low here during all this social distancing.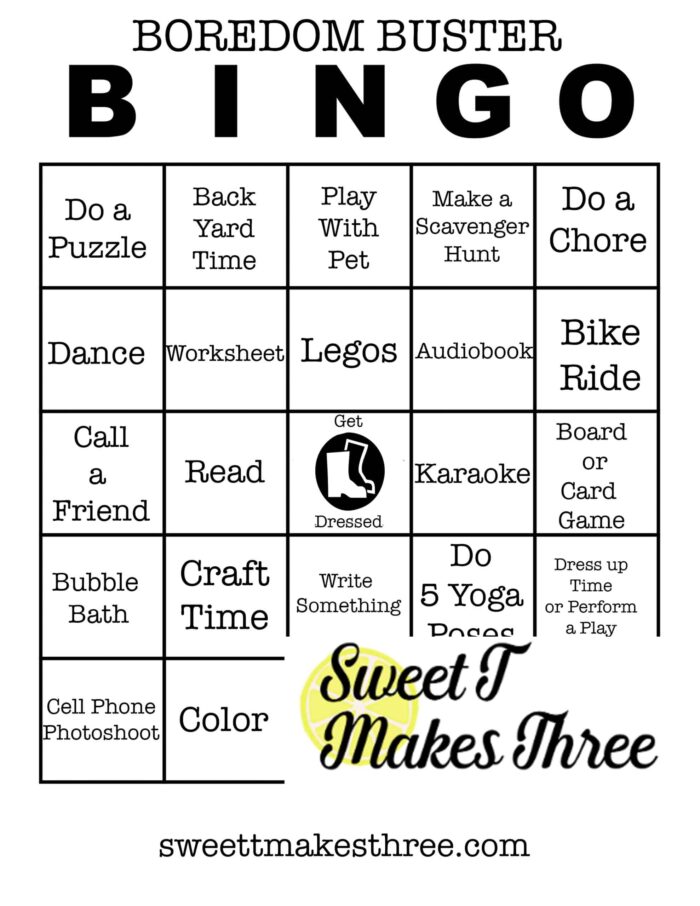 Do a puzzle – Put a complex one together as a family or bring out kids' puzzles if your kids are younger
Back yard time – We have a swing set, trampoline, and Power Wheels that are all getting some extra use. If you have a small yard or need to play in the front, here are a few ideas:
Bubbles
Sidewalk Chalk
Splash in puddles
Pick weeds
Play with your pet – Bring the dog in the back yard with you, offer kitty a treat, make these DIY cat toys.
Make a scavenger hunt – Sweet T likes to make scavenger hunts for Gus around the house and outside. If your kids are younger, make a really simple one for them.
Do a chore – You already have a list in your mind. Assign one!
Dance – Put on some music and let loose! If you turn on the Wii for dancing I won't judge.
Worksheet – If you have worksheets from school, break them out. If not, you can find plenty of free printable worksheets online.
Legos – My kids play with Legos longer if I give them a challenge. Who can build a car the fastest? Who can build the biggest house? Make your favorite animal or food.
Audiobook – Audible is offering lots of free books and stories for kids right now. If you have a library card you can borrow audiobooks from your library with the Overdrive or Libby apps.
Bike Ride – If your neighborhood is conducive, have the kids ride bikes or go with them on a ride around the neighborhood. If not, have them ride in the grass or driveway or take them to a park.
Call a friend – Sweet T is missing her school friends and likes to use Kids Messenger app to video chat, play games, and just talk. It's technically a screen if you're Facetimeing but…eh. They can call grandparents and other family members too!
Read – Have your kids read quietly in their rooms for a set amount of time or read aloud to them. Our current read-aloud is Race to the Sun and then we're starting The Lion, The Witch, and The Wardrobe.
Karaoke – Break out a karaoke video game (I said this was mostly screen-free) or turn on your favorite music streaming app and sing along.
Board or Card Game – Your family probably has a few favorites. Right now we like Yahtzee and Sushi Go
Bubble Bath – Sometimes playing in the tub is the best way to mix things up. Make these surprise bath bombs if you're feeling extra crafty.
Craft Time – See this post for some of our favorite crafts that you can order on Amazon for kids to do themselves.
Write Something – Anything!
a thank you card
practice cursive worksheet
help with the grocery list
3 things you're thankful for
Yoga – There are some fun kids' yoga YouTube channels out there or you can lead them in a few of your favorite poses.
Dress up time or Perform a Play – If your kids are young enough to still enjoy pretend dress-up play, break out the costumes. If they're a little bit older, tell them that YOU are bored and would like them to entertain you with a play that they made up.
Cell phone photoshoot – Give them your phone if they don't have their own or a camera, and have them take lots of pics. They can do glamour shots, a fashion photoshoot, take pictures of pets, or do a photo scavenger hunt.
Color – Break out the coloring books or print off a free coloring sheet.
Stargaze or Cloudgaze – Find constellations or get creative with what you see in the clouds.
Clean Your Room – Is your room clean? It's the classic answer to "I'm bored."
Draw – My kids are loving Art Hub for Kids on YouTube and judging by their 2.5 million subscribers I'd say a lot of other kids are too.
Boredom Buster Bingo
Click the link or image below to print Boredom Buster Bingo and stick in on your fridge.