A DIY, home decor blogger I am NOT, but I like to think I don't have total crap for taste when it comes to making my house a home. 😉 Our little house feels pretty "broken in" most of the time thanks to having two preschoolers under its roof, so it was important to me to carve out a space just for Hubs and me. Whether you live in your dream home or a tiny apartment, you can create a romantic bedroom with these 7 romantic small master bedroom ideas.
7 Romantic Small Master Bedroom Ideas
1. Brings on the pillows – Pillows can invoke a sense of comfort, luxury, and relaxation. We love our burlap Mr and Mrs pillows that my aunt made for us. If you're not a DIYer, you can buy similar ones.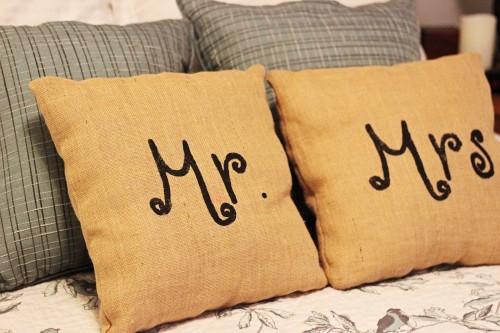 2. Install a Dimmer Switch – This is a cheap and easy way to create some mood lighting
3. Skip the family photos – Your kids are so darn cute! And there's plenty of wall space in other parts of your home to hang their little likenesses. That goes for heritage photos too. What should you hang in your romantic master bedroom? Wedding photos are a great idea.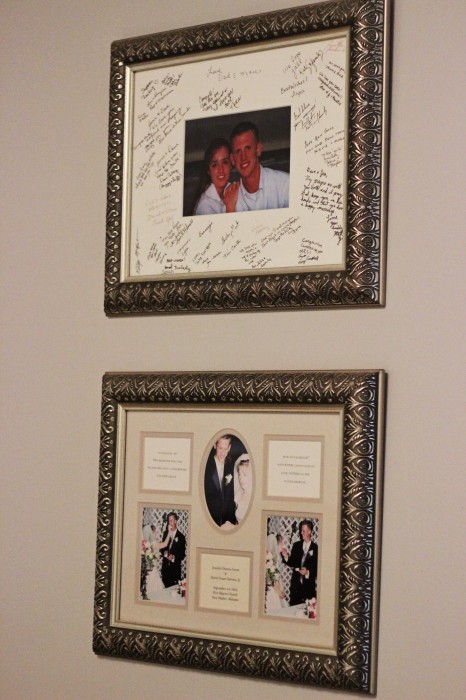 And pictures of the two of you together.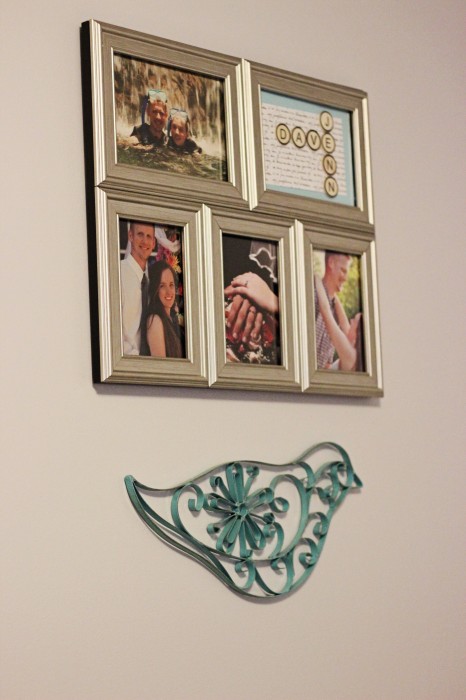 4. Invest in Luxurious Sheets – There's nothing like going from $20 polyester sheets from Ross to 1,000+ thread count luxury to make you want to linger in bed. *wink*
If you're feeling adventurous…
Maybe save those bad boys for special occasions like Valentine's Day. 😉
5. Ban the kids – *ducks from flying tomatoes* Not only do we not co-sleep, but Sweet T and Gus are not allowed in our bedroom without an invitation. Ever. The door remains closed at all times. Sweet T gets her hair brushed and styled for the day at my mirrored dresser and that's about it! Nothing kills romance like tripping over a toy, finding a stuffed animal under the sheets with your feet in the middle of the night, or having your luxurious bed bounced on. All of which we dealt with before "the bedroom ban." This is particularly important for a small master bedroom like ours. It's our one little place of respite in the whole house and I refuse to feel guilty about this boundary.
Also…this happened once: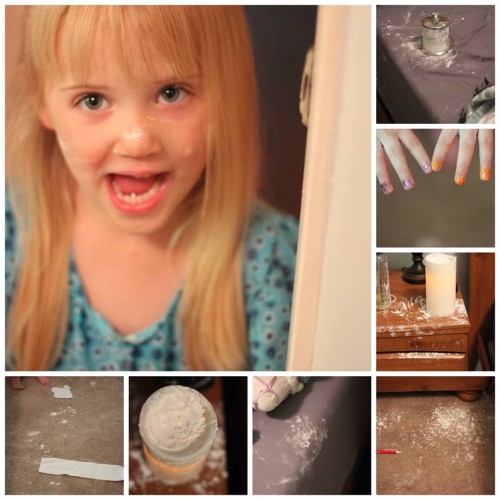 The kids have another 1,100 square feet of space to terrorize and haven't seemed to miss marking their territory in our bedroom.
6. Get Sentimental – Incorporate tokens of your luuurve into the decor. Dave gifted me with this set of bridal shoe figurines after we returned from our honeymoon (I collected Just the Right Shoe in my teens and early 20's.) The figurine was an anniversary gift.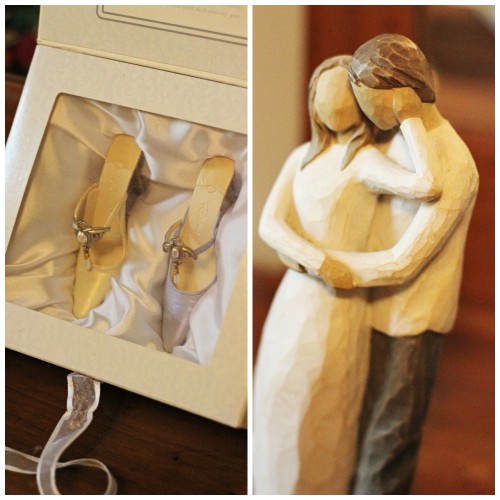 7. Keep Distractions Out – Instead of throwing the basket of laundry on your bed to fold and put away, use the couch in the living room instead. If you want to watch a movie in bed, use a laptop or tablet and keep the TV from being a permanent fixture in your master bedroom.
Clutter is a huge distraction! Learn how to declutter a bedroom to make yours a place of rest and romance.
What romantic small master bedroom ideas would you add?