While these Meatball Mini Phyllo Cup Appetizers are delicious all year round, I especially like to make them as holiday appetizers due to the festive colors. The cranberry pecan relish adds a cheerful red to these cute Christmas appetizers and topping them with fresh mint brings the (edible) "evergreen" to this Christmas finger food.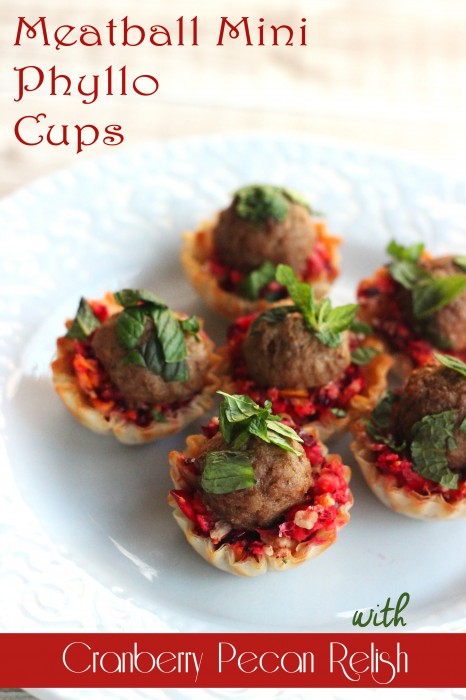 Christmas will be here soon and this year, I'm focusing on easy Christmas appetizers and finger foods to bring to events or serve to guests. All I want for Christmas is my sanity intact. Can I get an amen? Here's how these easy holiday appetizers made my December easier.
Holiday Appetizers for a Progressive Dinner Party
A few years ago I hosted the appetizer course of a progressive dinner. What is a progressive dinner? I'm glad you asked! Progressive dinner parties can look a little different depending on who is hosting, but the basic idea is to caravan to the homes of party hosts for each course of a meal.
In the case of this particular progressive dinner, I was the first stop on the route and I made these phyllo cup appetizers for the guests.
By the way, if you're participating in a progressive dinner as a host or hostess, I recommend signing up for easy Christmas appetizers over any other course. Why? After your cute Christmas appetizers have been wolfed down, you can hop in someone's car and join the rest of the caravan! It's like getting to be a host and a guest at the same time.
Easy Christmas Appetizers
I wanted to serve my guests a Christmas finger food that was original and impressive without biting off more than I could chew for my first progressive dinner.
That's how my Meatball Mini Phyllo Cups with Cranberry Pecan Relish recipe was born! These mini phyllo cup appetizers were a hit and easy enough to make that I didn't have much prep work.
Cleanup was a cinch too so I could join the rest of the party at the remaining houses on the route without dreading coming home to a messy kitchen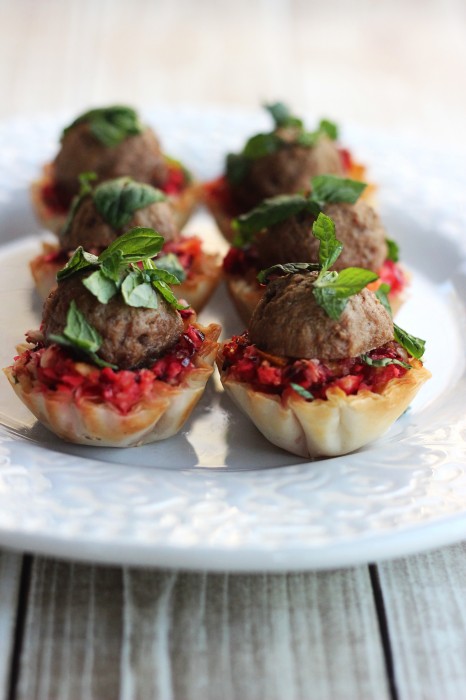 Christmas Finger Food Recipe
This festive Christmas
finger food
looks much more labor-intensive than it really is and will impress your guests with
little effort
on your part.
Meatball Mini Phyllo Cup Appetizers with Cranberry Pecan Relish
30 frozen meatballs, thawed and sliced in half
60 Mini Phyllo Cups
2 Clementine Oranges, cut into wedges
1 12oz package cranberries
1/2 cup pecans
1/2 cup sugar
1/2 tsp salt
Fresh mint to garnish
Heat oven to 350 degrees
Use a food processor to grind clementines, (peel and all!) cranberries, pecans, sugar, and salt together into a relish
Place a spoonful of prepared relish into the bottom of each cup
Top with 1 meatball half per cup
Bake 10 minutes or until meatball is heated through
Sprinkle with chopped mint leaves and serve warm
Tips for your phyllo cup appetizers
Use clementines instead of oranges. They don't have seeds! Be sure to wash the peels with a veggie wash before putting them in the food processor
Farm Rich meatballs are precooked and fully seasoned. Save time by using them instead of making meatballs from scratch. They are gluten-free too!
If nut allergies are a concern, just leave out the pecans. The relish texture won't suffer.
Serve these cute Christmas appetizers warm from the oven, but don't worry if they cool over the course of your progressive dinner or party. They are bite-sized and definitely can't be eaten piping hot without someone burning their mouth. This is ideal for holiday parties where people tend to lollygag or you feel you have to wait for everyone to show up before you begin
Caveat – Don't leave these holiday appetizers out for hours and hours on end because…food safety. I know you don't need to hear that but someone might.
Reheat any leftovers in the oven, toaster oven, or air fryer, not the microwave. Phyllo dough appetizers don't play well with the microwave.
Yield: 60
Meatball Mini Phyllo Cup Appetizers with Cranberry Pecan Relish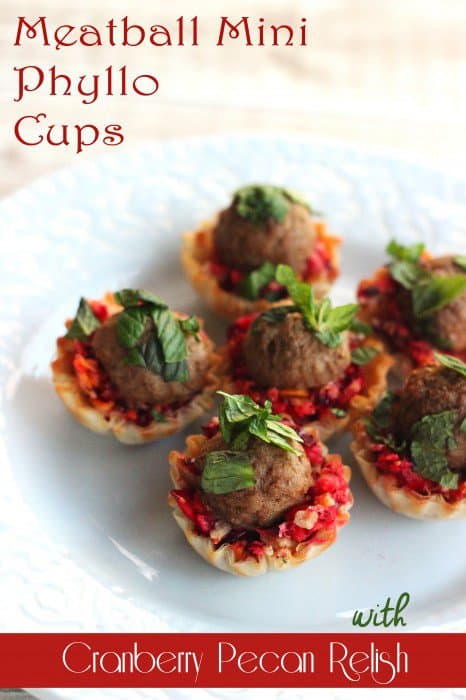 This festive Christmas finger food looks much more labor-intensive than it really is and will impress your guests with little effort on your part. 
Ingredients
30 frozen, precooked meatballs, thawed and sliced in half
60 Mini Phyllo Cups
2 Clementine Oranges, cut into wedges
1 12oz package cranberries
1/2 cup pecans
1/2 cup sugar
1/2 tsp salt
Fresh mint to garnish
Instructions
Preheat oven to 350 degrees
Use a food processor to grind clementines, (peel and all!) cranberries, pecans, sugar, and salt together into a relish
Place a spoonful of prepared relish into the bottom of each cup
Top with 1 meatball half per cup
Bake 10 minutes or until meatball is heated through and mini Phyllo cups are starting to brown
Sprinkle with chopped mint leaves and serve warm or at room temperature
Nutrition Information:
Yield:
60
Serving Size:
1
Amount Per Serving:
Calories:

136
Total Fat:

10g
Saturated Fat:

5g
Trans Fat:

0g
Unsaturated Fat:

4g
Cholesterol:

25mg
Sodium:

206mg
Carbohydrates:

9g
Fiber:

1g
Sugar:

3g
Protein:

3g