Cork crafts are a great way to upcycle used wine corks. You can make this DIY cork board in about an hour! Don't have an hour? You can make the pushpin DIY in 5 minutes or less.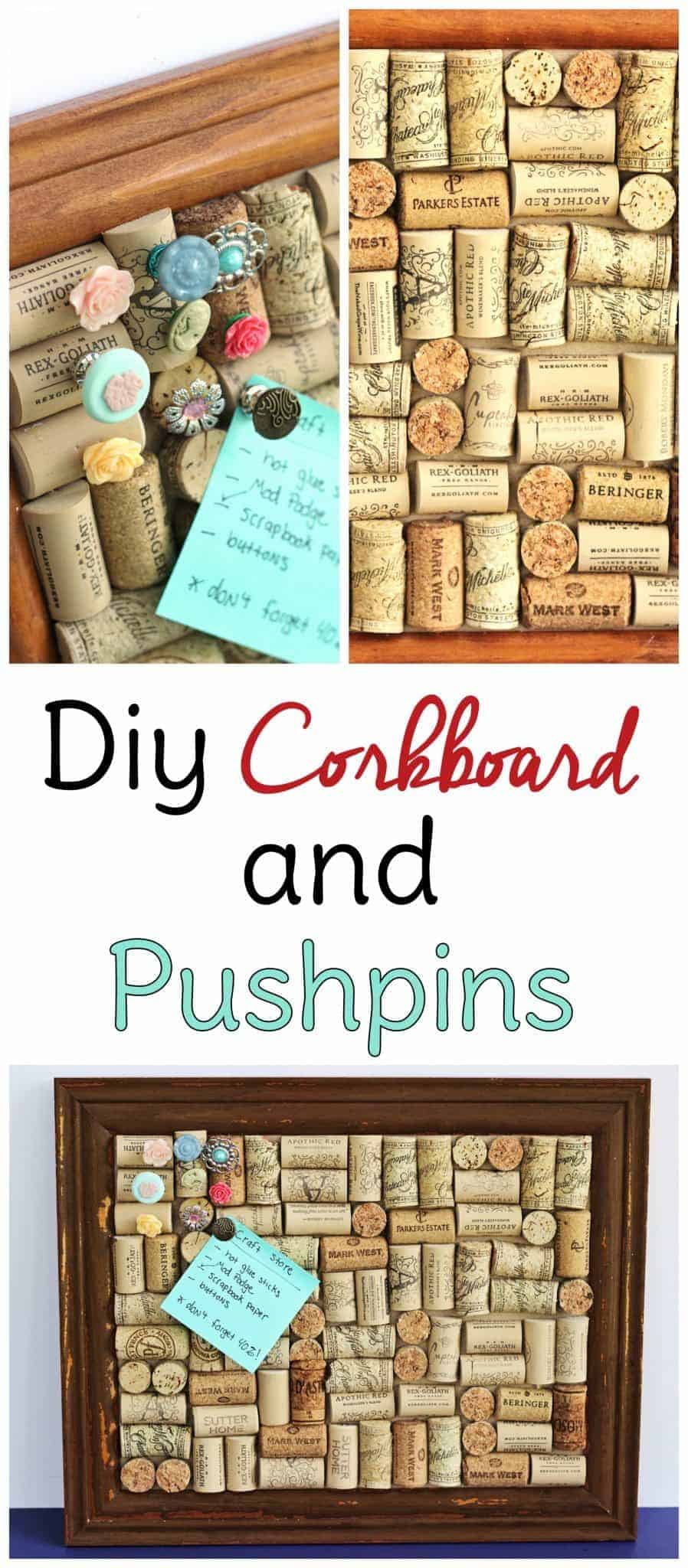 Supplies
You will need
An old picture frame with cardboard back (I used 11 x 14 size)
Wine corks (I love that these particular ones are recycled from all over the US!)
Scissors
Decorative buttons or pack of flat back odds and ends 
Thumbtacks and jumbo pushpins (I've seen the jumbo ones at both Hobby Lobby and TJ Maxx.)
Directions
Start by boiling the corks for about 10 minutes to make them easier to cut in half. I tried steaming them as recommended by others, but my thrift store corks wouldn't soften up enough with steaming alone. Only boiling got the job done.
After 10 minutes or so, drain the corks and cut them in half using a serrated knife. I also sliced some into discs just for visual interest.
Before you glue anything down, go ahead and lay out the corks how you want them (and however they will fit. You'll feel like you're playing Tetris.)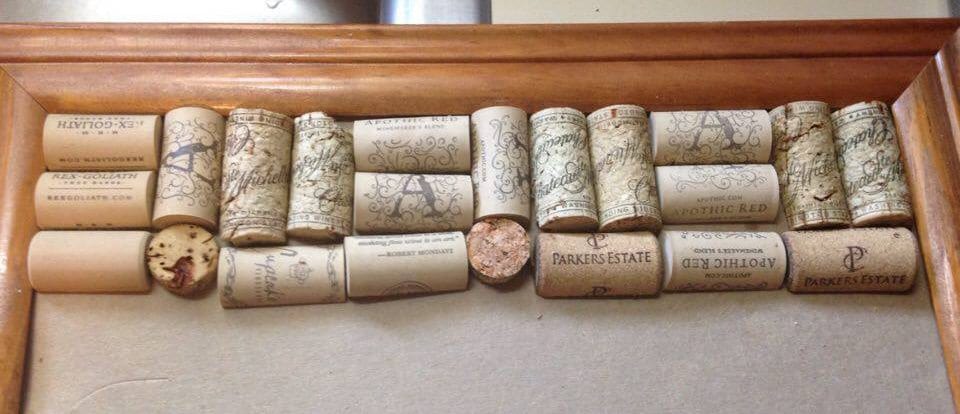 Once all the corks are laid out, glue each individual one to the cardboard with the E6000 (note that I placed the frame glass under the prongs behind the cardboard to make it sturdier.) You'll need to let the corks dry for a good couple of hours.
While you wait, get your DIY pushpins and thumbtacks made. Do I even need to explain this? The pictures say it all. Just use the same glue you're using for the corks and attach a button, beads, or a metal craft flat to the front of the pushpin or thumbtack.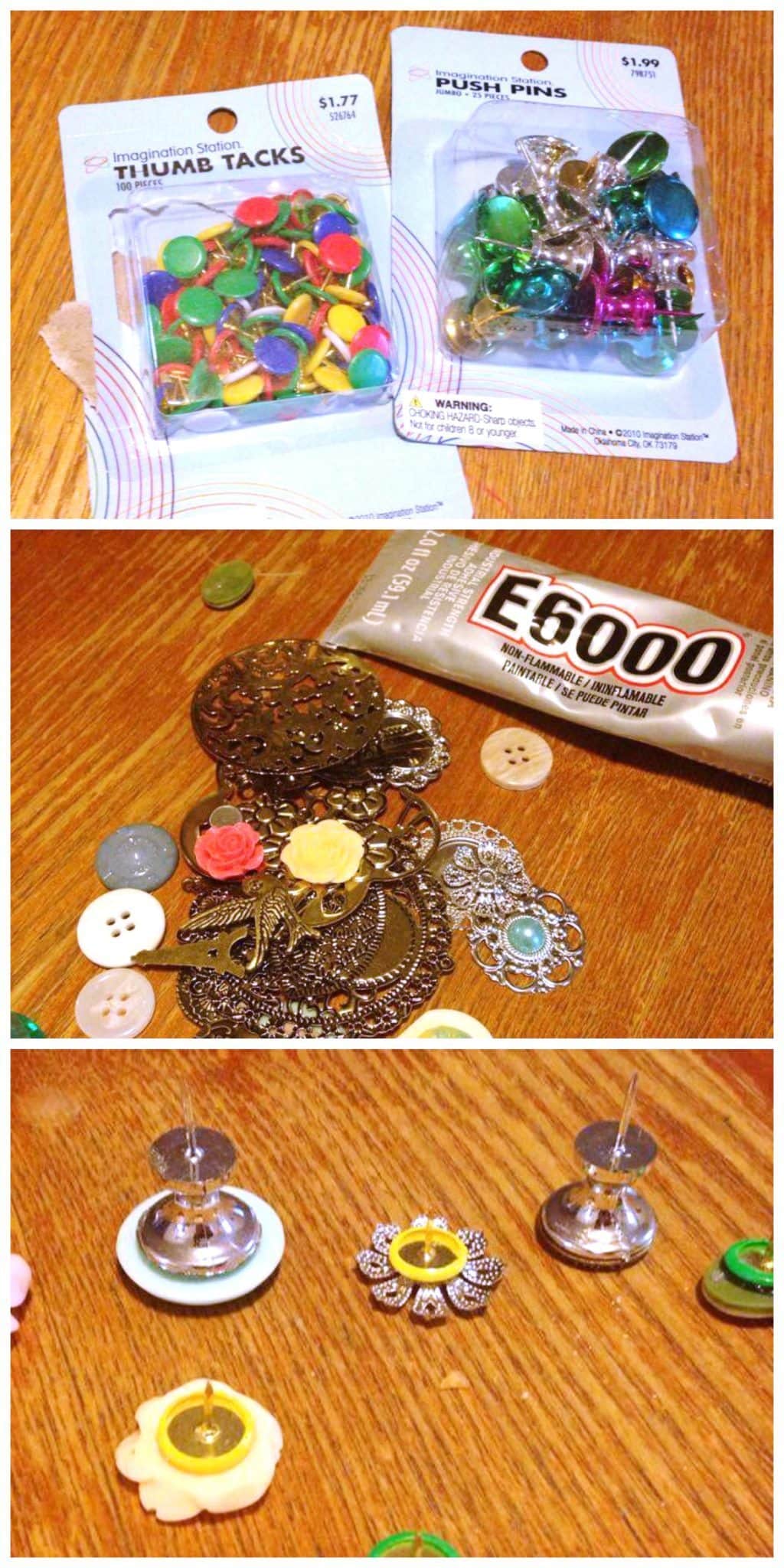 Once everything is dry, your corkboard is all ready! Ok, humor me here. How cool would it have been if I'd distressed the frame like this?
Since the frame is easily removable I might just do it. And by "I might just do it" I mean sending the frame to work with Hubs for him to spray in the shop and sand down for me. *grin*
Either way, I think this DIY cork board is lovely and a great way to upcycle old wine corks.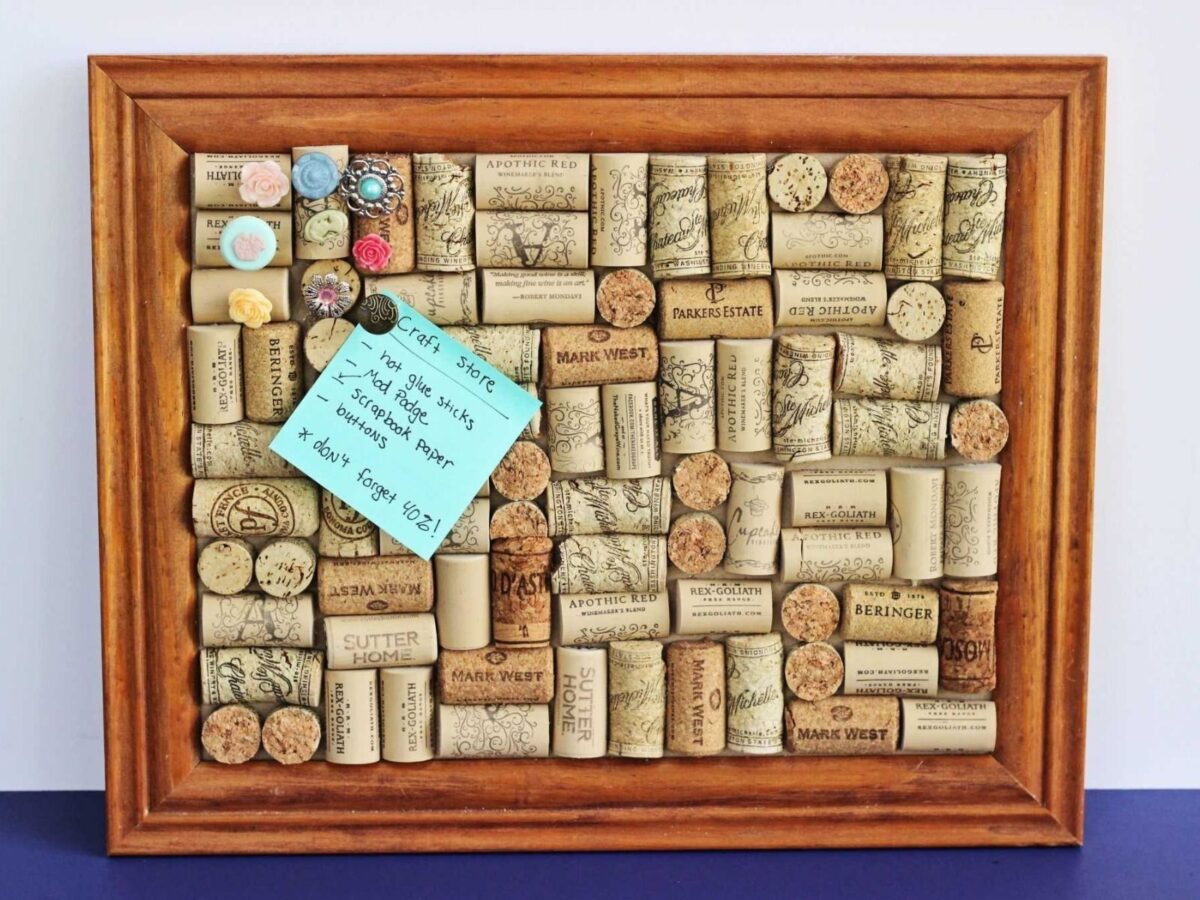 FAQ
Where do I find old wine corks?
Even if you're not a wine drinker, you can source corks pretty easily. Thrift stores will often have them for sale much like they sell old buttons in a jar. Also, you can put out the word to family and friends to save their wine corks for you until you have a collection. If you still can't find any old corks, you can purchase new corks at craft supply stores.
How do I clean old wine corks?
Boiling the wine corks for this project will clean them sufficiently. Note that if there's a good bit of wine has soaked into the corks, you'll smell it while the corks boil. This can be off-putting if the smell of wine bothers you. Newer corks have more of a wine smell than older, dryer corks.
Is there a different adhesive I can use for my DIY cork board?
You can try Amazing Goop Plumber's Glue (found at the hardware store) or Gorilla Glue. I wouldn't recommend all-purpose craft glues or hot glue because you need the hold to be not just strong enough to hold the corks, but strong enough to handle pins being inserted and removed frequently as well as the papers you attach.