This easy cookies recipe tastes amazing all on its own but sandwich some ice cream in between them to really make your taste buds sing!
 Lemon Cookie Ice Cream Sandwiches
Lemon Cookie Ice Cream Sandwiches
Author:
Prep time:
Cook time:
Total time:
The lemon zest in these cookies really set them apart. Sandwich ice cream in between two of them for a real treat!
Ingredients
1 1/2 cups flour
1/2 tsp baking soda
1/4 tsp baking powder
1/4 tsp salt
Zest of 1 large lemon
3/4 cup sugar
1/2 cup unsalted butter, softened
1 egg
1 1/2 Tbsp lemon juice
1/4 cup granulated sugar for rolling cookies
Sprinkles
Vanilla ice cream or frozen yogurt
Instructions
Preheat oven to 350 degrees
Zest lemon and squeeze juice into a bowl
Combine first 4 ingredients with the lemon zest and set aside
In a separate bowl cream butter and sugar. Stir in egg and 1 1/2 Tbsp lemon juice
Add flour mixture 1/2 cup at a time until dough forms
Divide dough in half and roll each half into a 12″ log
Cut each log into 12 equal 1″ pieces then roll each piece into a ball using your hands.
Lightly roll each cookie ball through granulated sugar until coated
Place each ball 1 1/2″ apart on ungreased cookie sheet and lightly press the center of each with your thumb
Bake at 350 for 8-10 minutes
Allow cookies to cool completely
Place a scoop of vanilla ice cream onto the flat side of one cookie then top with another and squeeze together lightly
Stand each sandwich on its side and roll through the sprinkles
Place cookie sandwiches back in the freezer to set before serving.
I love these lemon cookies all by themselves too. The lemon juice and zest really set them apart from your average cookie.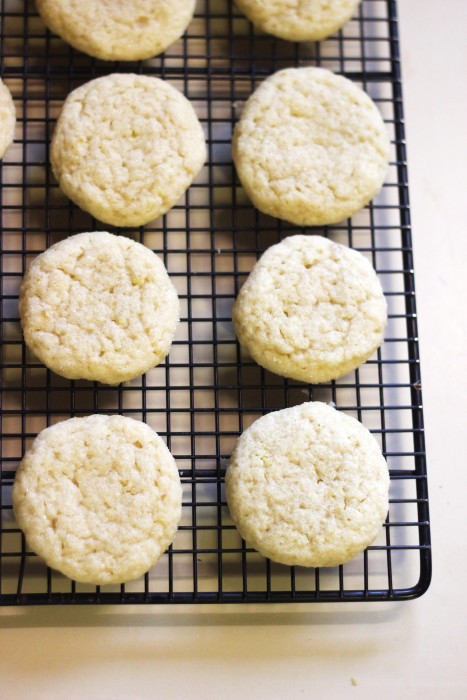 But if you want to make an ice cream sandwich out of them, you certainly won't regret it. 😉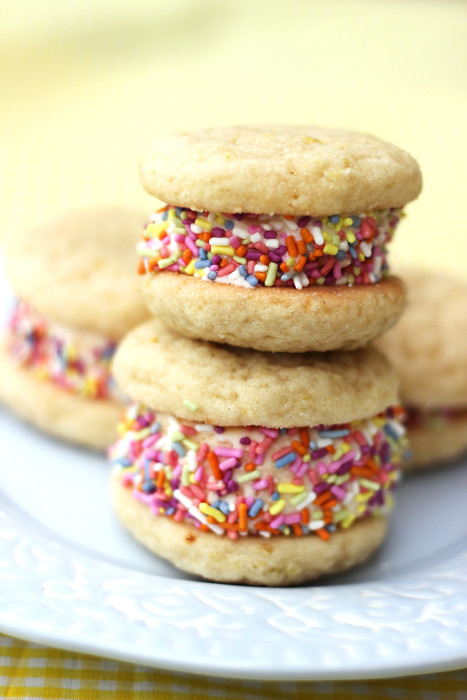 Foodstirs provides kits with easy recipes like this and most of the ingredients you need to get cooking with kids ages 5-12. The directions are simple and colorful and provide kids with step-by-step photos of the process. Ideal for young ones who are learning to cook!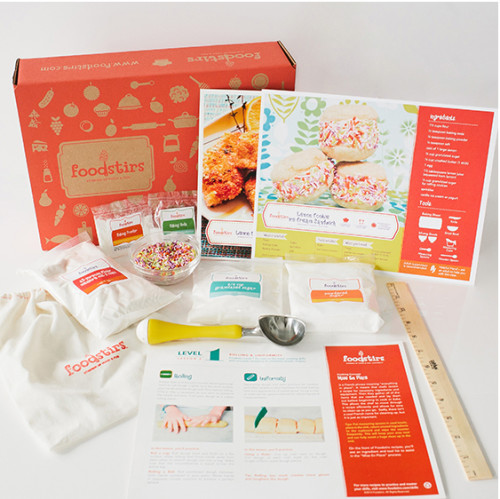 Follow Foodstirs on Facebook for coupon codes, fun recipes, and more!
Which Foodstirs kit is your favorite?
Disclosure: Foodstirs sent me one of their kits with no obligation to share with my readers, but I wanted to make this easy cookies recipe for my family and share anyway because…yum.