I have now found my favorite way to make a skirt. How else can you have a skirt with a waistband and pockets that you don't actually have to make? I LOVE IT!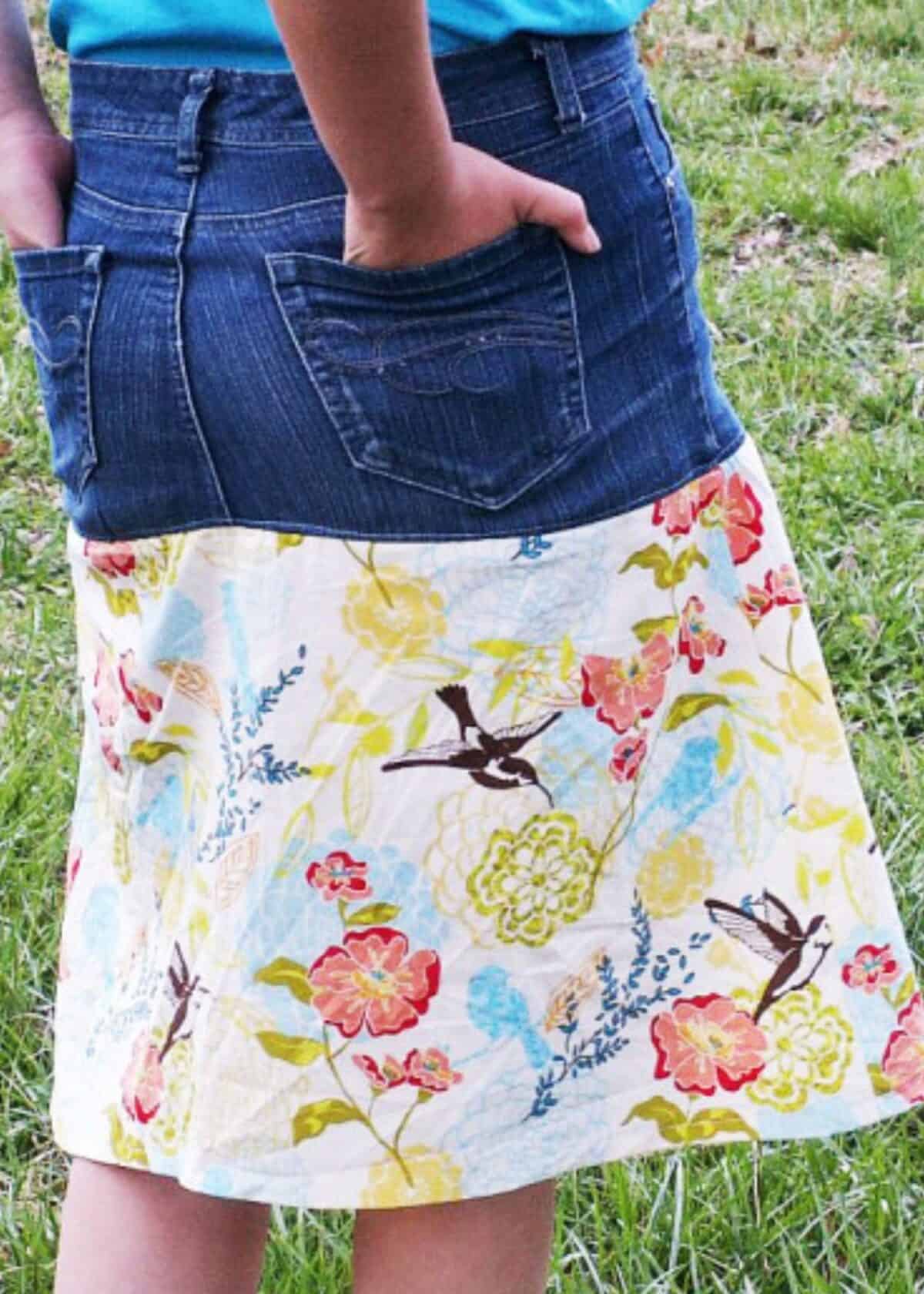 Free Sewing Pattern for Girls: 1-hour denim skirt
Materials:
Old pair of jeans
1/2 yard of fabric (I actually bought 1 1/2 yards and used some of it to make a pillow)
thread
Begin by flipping the jeans inside out and cutting off the lower section of the jeans 1 1/2 inches below the back pockets. Be careful not to cut the front pockets in the process. If the front pockets are longer than the back simply pin the front pockets toward the waistband to keep them out of the way while working on the project.
Next measure the bottom edge of the jeans. This will determine with width of the fabric.
Now you have two choices. You could simply make a rectangular shape twice the width you just measured by what ever length you choose (plus 3 inches for hem and seam allowance). This would make a gathered skirt.
Or you can make a simple pattern. I knew Bella wouldn't care for all the gathers so I created a pattern using freezer paper. Please know that this is a very simple, very crude pattern that isn't complicated yet worked perfectly. Here is how I accomplished my pattern:
Measurement of the lower part of the jeans was 47″ + 2″ = 49″ (this is the top section of the skirt fabric). I wanted a slight flare so I chose a bottom measurement of 60″ + 2″ = 62″ (I just picked this number out of the air, you can make it as full as you like). Remember this is all the way around the skirt (circumference). I created two identical pieces one for the front and one for the back. Each section would be half the original measurement. Since I cut the fabric on the fold I divided the measurement in half again, making my pattern piece 12 1/2 inches across the top and 15 1/2 inches across the bottom with a height of 18″. The measurements don't have to be exact.
Place pattern on fold, pin, cut, repeat for other section. Remove pins and pattern. Pin fabric right sides together and sew outer edges.
Remove pins. Press seams open. Run a gathering stitch across the top of the skirt about 3/4 inch from the top. Slightly gather fabric evenly around entire edge.
With right sides together pin top of skirt to bottom edge of jeans aligning side seams. Adjust gathers as needed. Stitch.
Press seam allowance toward jeans. I ran a 1/8″ top stitch across the lower section of the jeans.
Hem the skirt to the desired length and you are finished.
I enjoyed making this skirt so much that I am going to try it again with something other than jeans. I love not having to make a waistband and pockets! Have you tried making a skirt like this?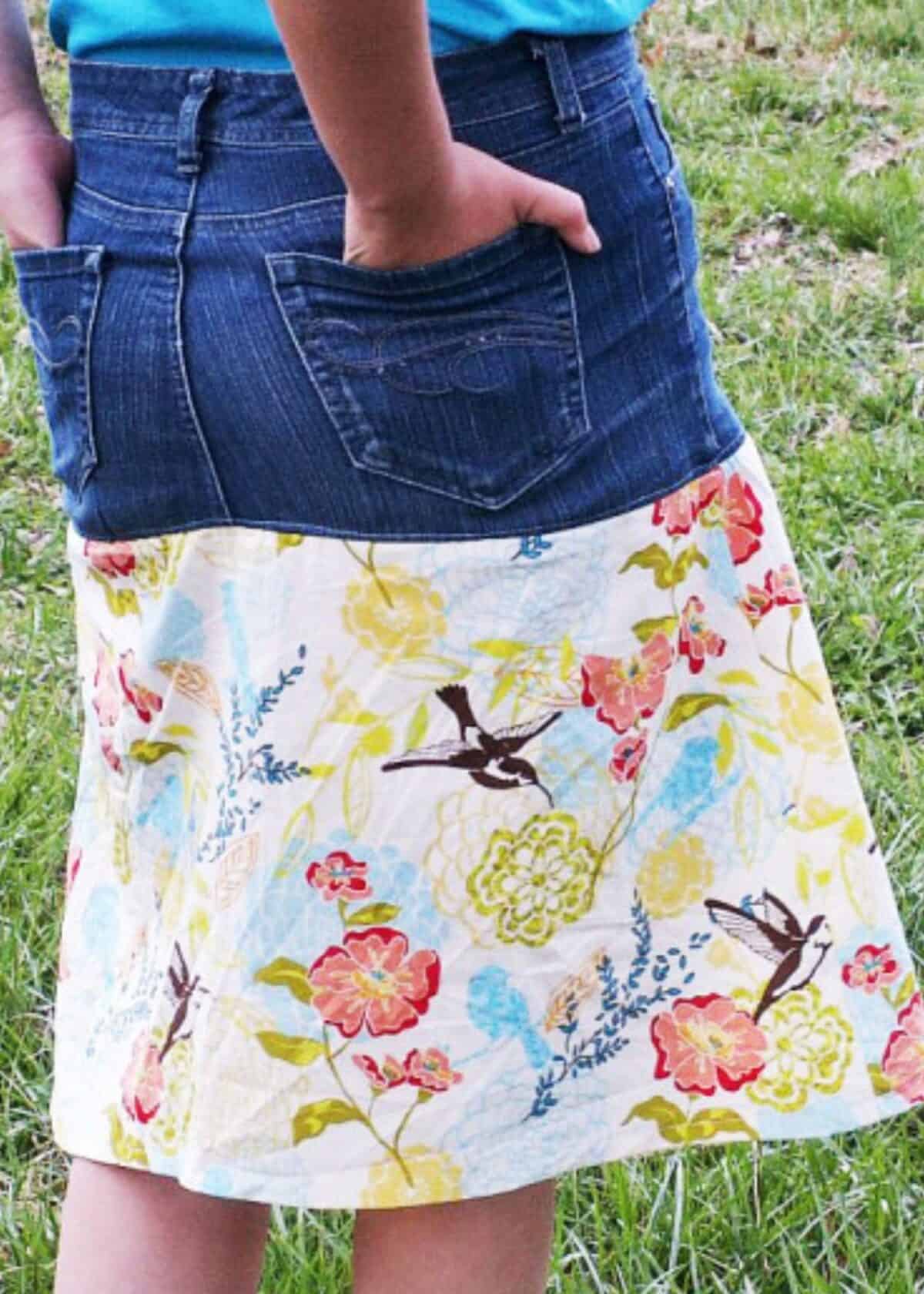 If you like this free sewing pattern, check out my free DIY Tote Bag Pattern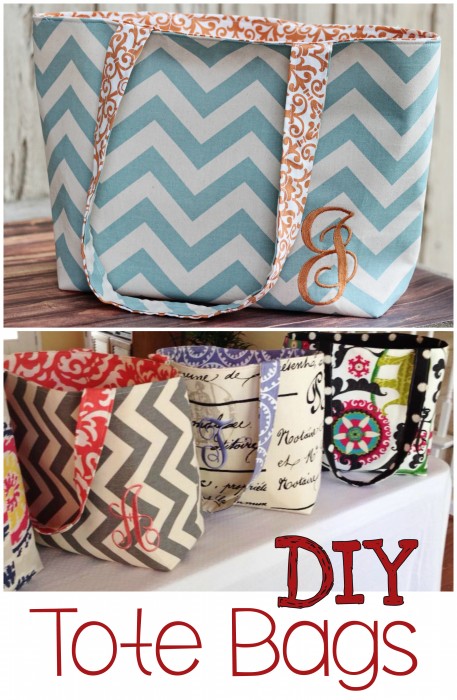 If you had fun with this sewing tutorial, check out these 100+ hobby ideas for women for more inspiration.