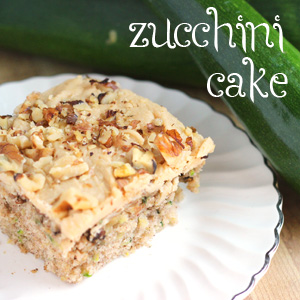 Zucchini season is here! Do you have so much that you can't even give enough of it away? Are you tired of baking zucchini bread? Try this zucchini cake recipe instead. It's incredibly moist and will give you a creative outlet for all that summer squash.
Zucchini Cake Recipe
Ingredients:
3 cups all-purpose flour
2 cups white sugar
1 teaspoon salt
1 1/2 teaspoons baking soda
1 teaspoon baking powder
2 1/2 teaspoons ground cinnamon
1 teaspoon vanilla extract
4 eggs
1 1/2 cups vegetable oil
3 cups grated zucchini
Directions:
Preheat oven to 325 degrees F. Lightly grease and flour a 9×13 pan.
In a medium bowl combine the flour, baking soda, baking powder, cinnamon, white sugar, and salt. Mix well.
In another bowl, beat eggs, vegetable oil, and 1 teaspoon vanilla together. Pour into egg mixture into the flour mixture and mix well. Stir in the shredded zucchini. Pour batter into prepared pan.
Bake in preheated oven 25-45 minutes or until a toothpick inserted in the center is removed clean. Cool before frosting.
Caramel Frosting (this is Paula Deen's recipe. My mom uses it to frost everything she bakes and hasn't had a complaint yet)
1/2 cup butter, softened
1 cup packed dark brown sugar
1/3 cup heavy cream
1 tablespoon pure vanilla extract
1 16-ounce box confectioner's sugar
2 cups finely chopped walnuts or pecans
Melt butter in a saucepan. Add brown sugar and cream. Cook over medium-low heat for about 2 minutes until the sugar is dissolved. Remove from heat and add vanilla. Transfer to a large bowl.
Using a handheld electric mixer, beat in confectioners' sugar until smooth. If frosting is too thick, add 1 tablespoon heavy cream at a time until consistency is right. Spread onto cooled cake. Top with nuts if desired.