From the East Coast to the West, no dessert is more loved than strawberry shortcake. It's a classic summertime treat that has been around for centuries but continues to be just as popular today.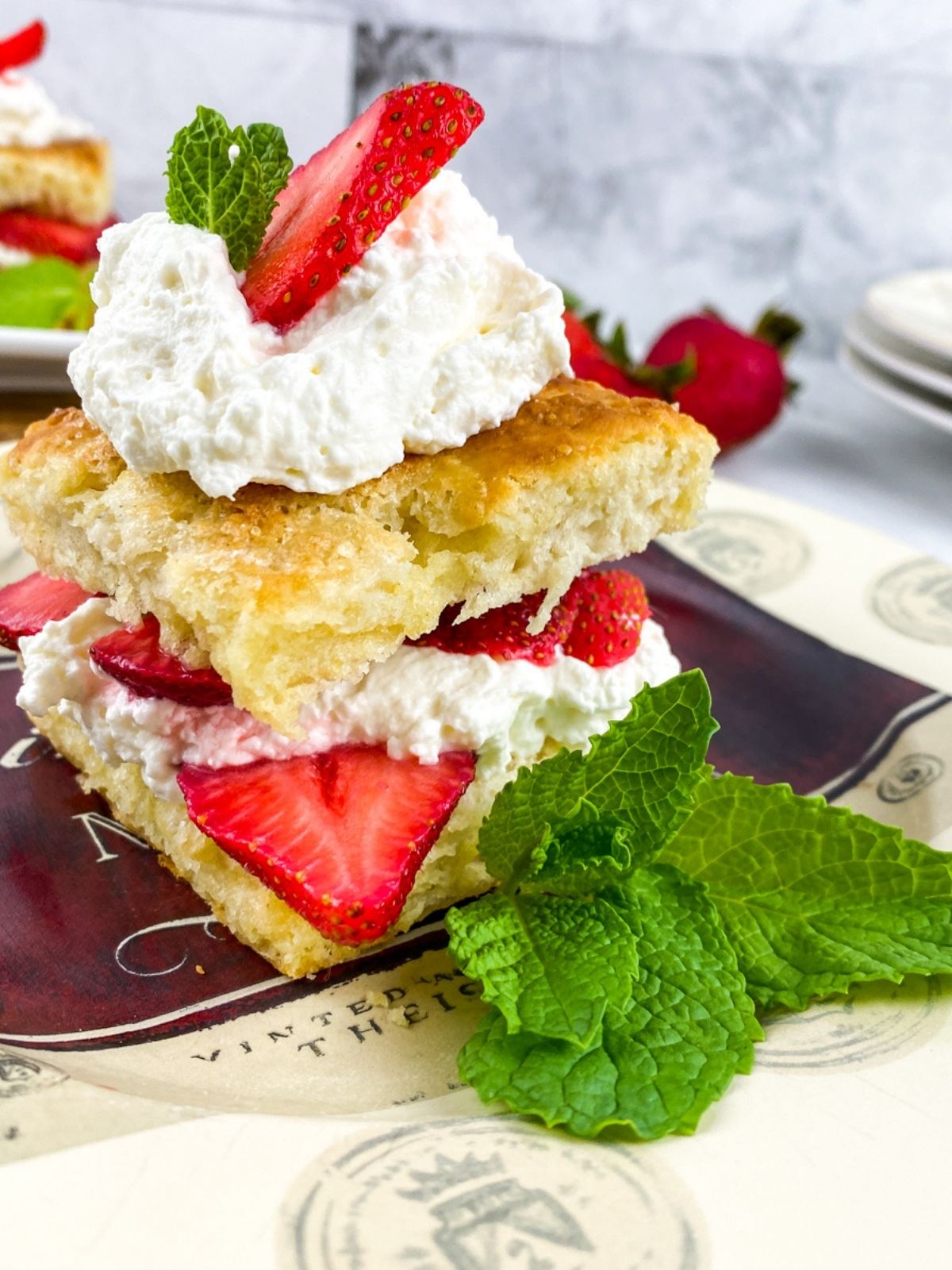 Different regions have different recipes. In the UK traditional strawberry shortcake is served as biscuits with whipped cream and fruit while in America we often use yellow cakes or sponge cake with strawberry syrup. Some other areas use an angel food type of batter topped off by fresh fruits like berries, peaches, raspberries.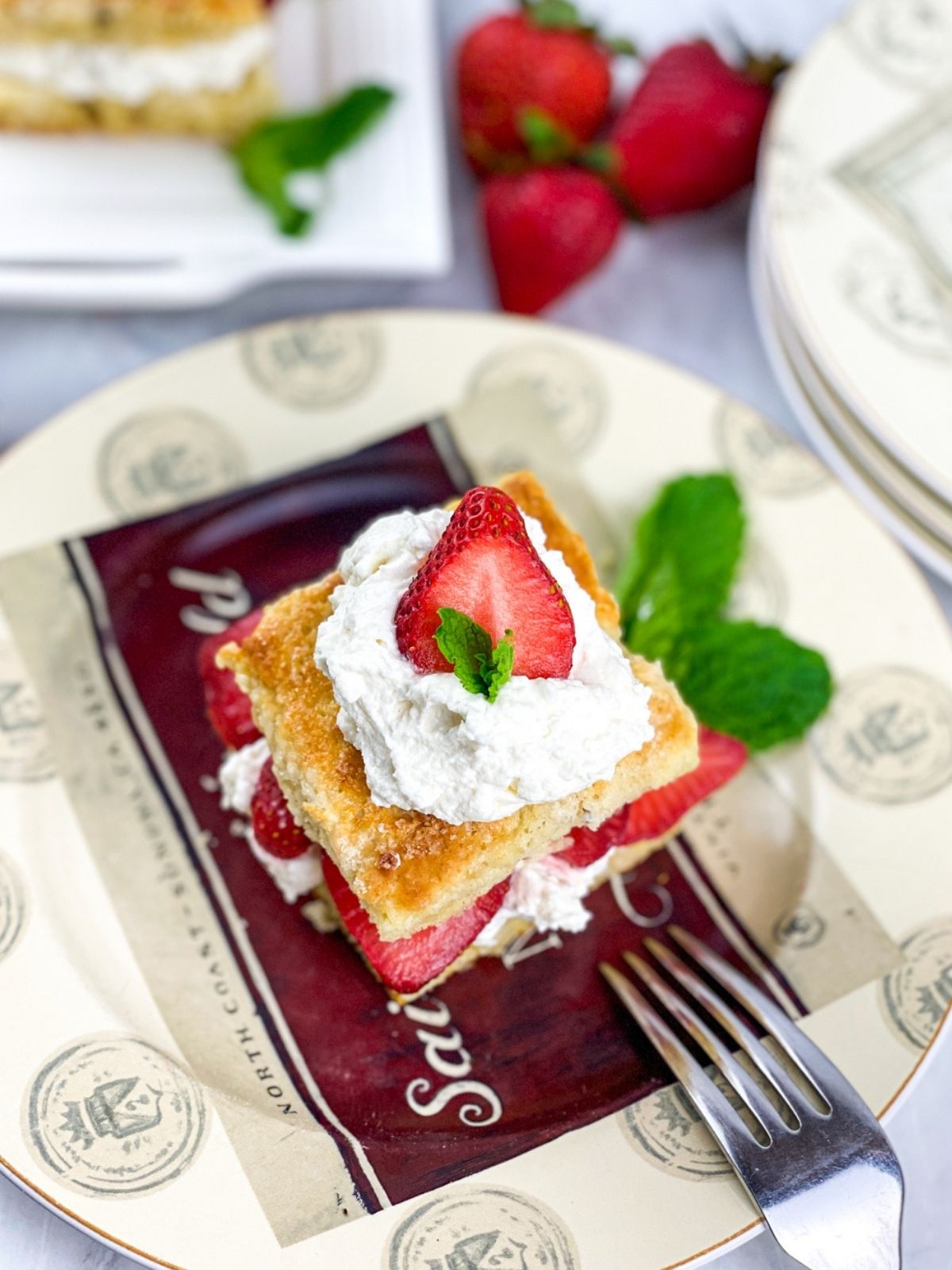 This recipe is for the traditional strawberry shortcake you'd enjoy in Britain, as well as parts of the Southern US thanks to the influence of the Scots-Irish people who emigrated here centuries ago. Everything is made from scratch and it's well worth the extra work, particularly when strawberries are in season!
Ingredient Tips
Aluminum-free baking powder – This will help prevent any metallic taste in your sweet biscuit recipe. The only caveat is that you can't mess around. Once your baking powder is added to the biscuit dough, into the oven they go ASAP
Cold Ingredients – from the butter to the buttermilk and the heavy cream your ingredients need to be chilly. The old biscuit-making adage of "Cold Ingredients, Hot Oven" is very true here. You'll want to start with very cold ingredients and not handle them too much before popping the biscuits into a very hot 500°F oven to bake.
Turbinado Sugar – Turbinado sugar is an unrefined, minimally processed kind of sugar that's made from the same plant as white and brown sugars. Unlike those two types of refined sugars though, it has a bit more molasses left in its final product giving it a subtle caramel flavor. One of the more popular brands in the US is Sugar In The Raw.
Orange Liqueur vs. Orange Juice – Liqueur will yield a stronger flavor and if you want to be authentic, go for it! You're making this recipe from scratch and it deserves the best. However, orange juice is more readily available, more affordable, and an alcohol-free option for those who require it. There's no shame in using OJ instead.
Homemade Whipped Cream – Don't shortchange yourself by using frozen whipped topping in this strawberry shortcake recipe. Use heavy whipping cream to make the "real deal" and you'll be glad you did.
Preparing Macerated Strawberries
"Macerating" is just a fancy word for soaking fruit in liquid to soften them and add sweetness. The berries will need to soak in sugar and juice in the refrigerator for at least 30 minutes, so get the process started before you begin making the biscuits themselves.
You can even prepare the strawberries the night before to save yourself some time the next day.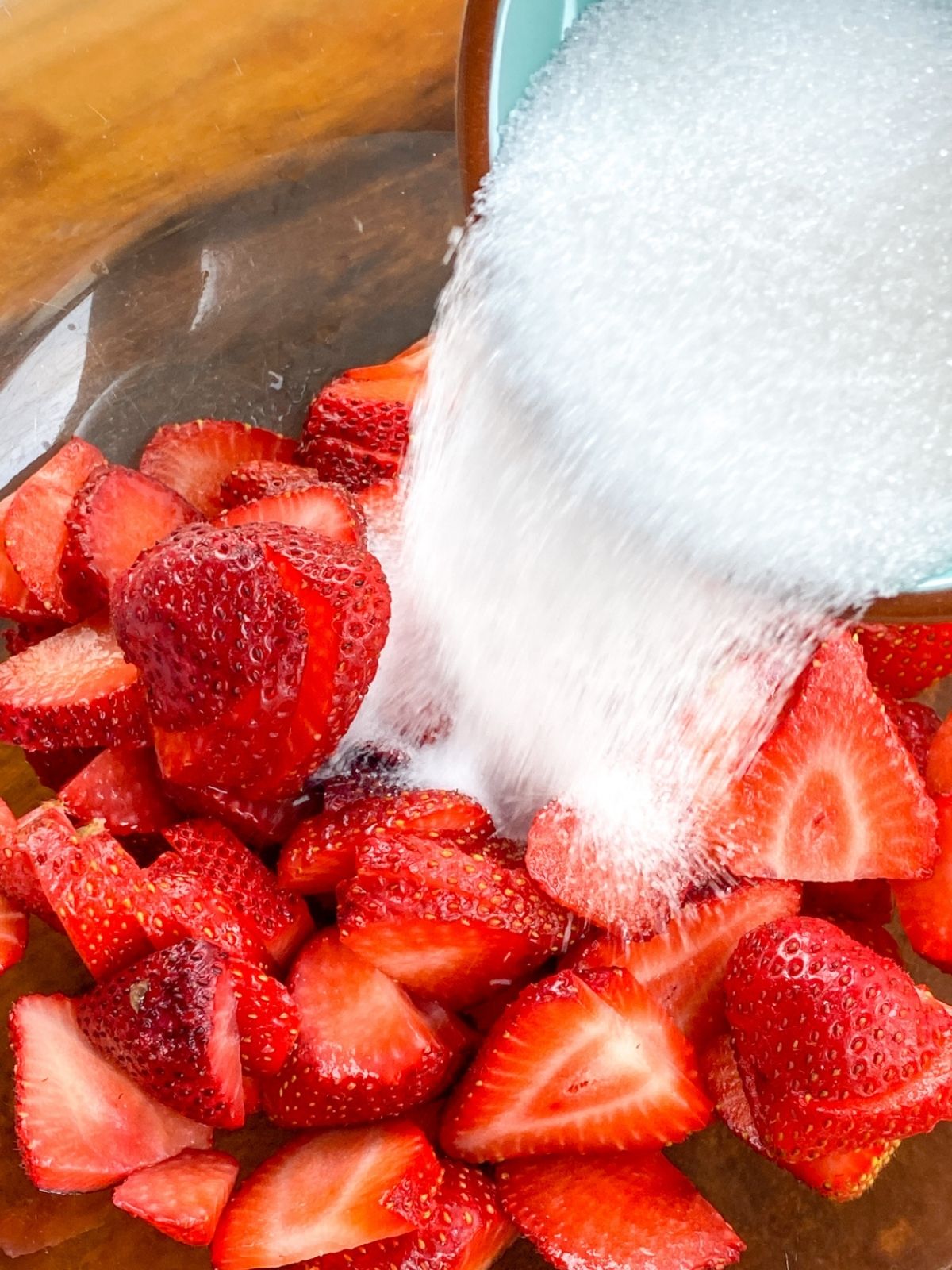 Preparing the Sweet Biscuits
Making biscuits is an artform and it's true that practice makes perfect. If this is your first time making biscuits from scratch, let's set you up for success with a few biscuit-making tips.
A large food processor or a pastry cutter are the recommended tools to prepare this dough. If you don't have either, simply chop the cold butter into small pieces or grate it on the largest holes of a box grater before placing it in the freezer for at least 30 minutes.
The biscuits can be cut into 2¾" – 3" rounds using traditional biscuit cutters or an appropriately sized empty can with both ends cut off (in case the dough gets stuck inside). Be sure to dip the cutter or can rim into flour before pressing straight down into the dough. Don't twist while cutting out the biscuits or they won't rise appropriately.
An easier (and more rustic-looking) alternative is to shape the dough into an even rectangle and cut it into squares, as shown here.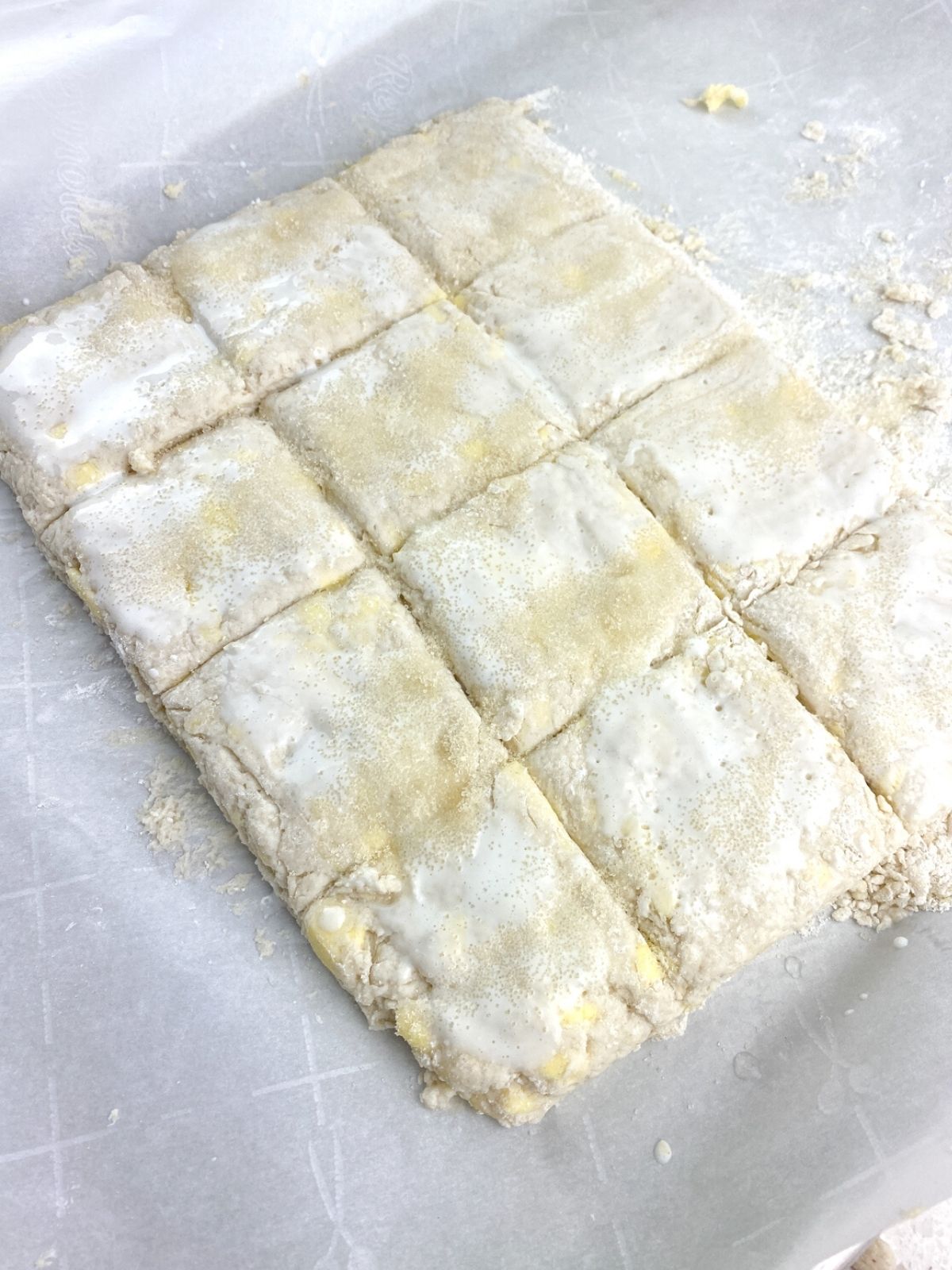 There is much less waste with this method and it limits the amount of time spent handling the dough – and warming it up – before baking.
Unlike when making bread dough where kneading is important, making good biscuits requires you to handle the dough as little as possible or they will be hard and tough. That's why cutting them into squares instead of using a round biscuit cutter can make for tastier biscuits, especially when you are just starting to learn to make them.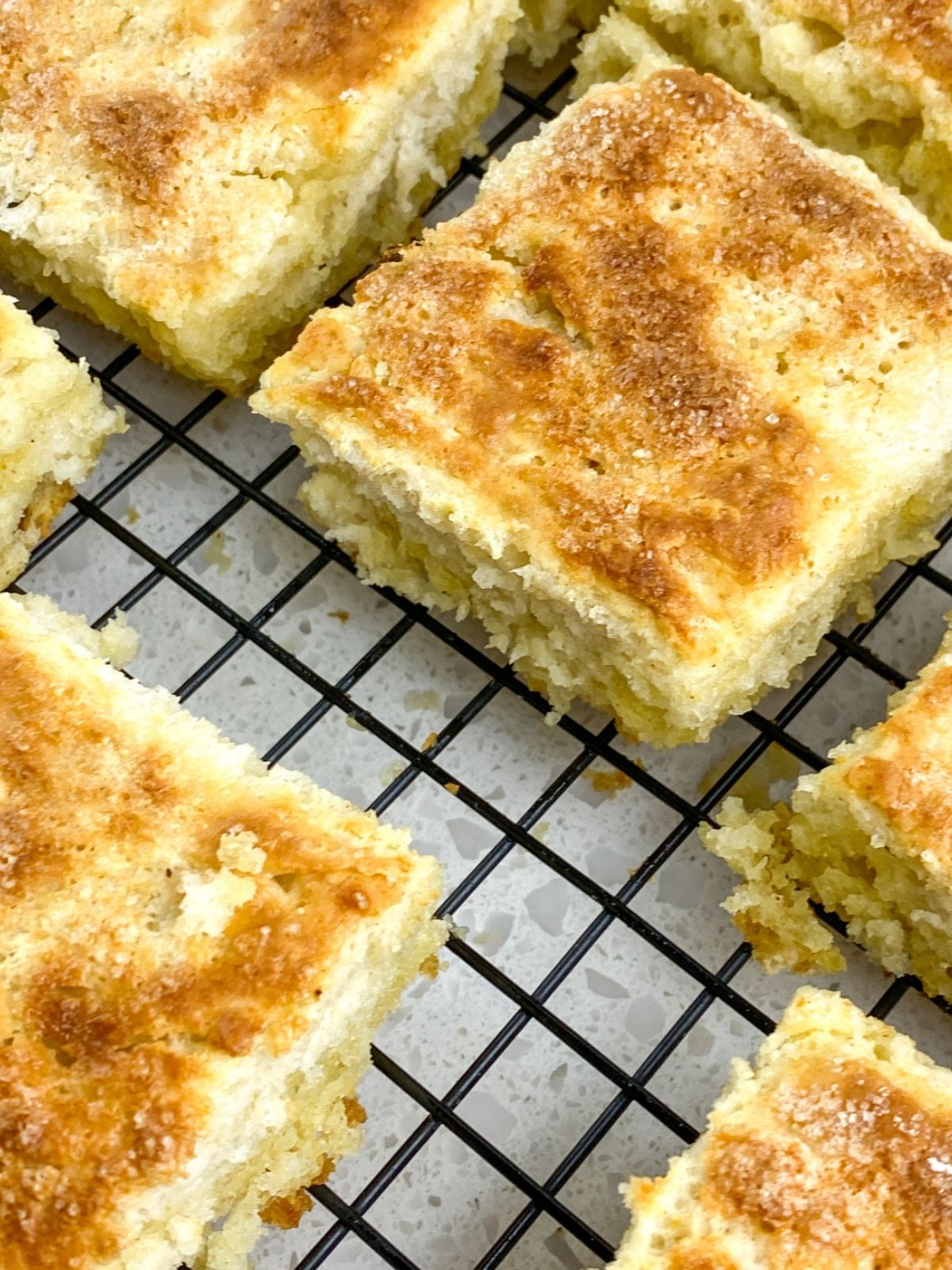 Either way, be sure to place the biscuits close together while they bake so they can help each other rise higher while they're in the oven.
Assembling Strawberry Shortcakes
Once the sweet biscuits are cool, assemble the shortcakes by cutting the biscuits in half and applying a generous scoop of homemade whipped cream to the bottom half of each biscuit.
Top with some of the macerated strawberries then add the top half of the biscuit to make a "sandwich."
Finish off each shortcake with another dollop of whipped cream and some more strawberries. Add a small sprig of fresh mint if you like for a gorgeous presentation.
Enjoy this classic summer treat! Let me know how yours turned out in the comments below.
You may also like…
📖 Recipe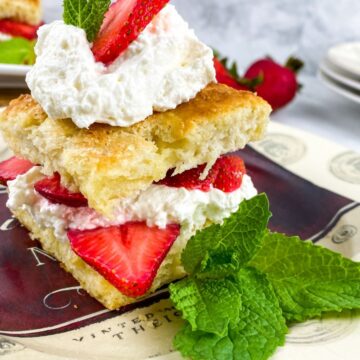 Traditional Strawberry Shortcake Recipe
The crispy outer crust of these sweet biscuits holds up well to the whipped cream and the juicy, sweetened strawberries, while the soft, buttery interiors absorb just the right amount of these incredible flavors without becoming too soggy.

Ingredients
3

c.

all-purpose flour

¼

c.

granulated sugar

2

T.

aluminum-free baking powder

½

t.

salt

1½

c.

cold buttermilk

divided

¾

c.

very cold unsalted butter

grated or chopped small

2

T.

turbinado sugar

4-5

c.

fresh strawberries

hulled and sliced

2

T.

granulated sugar

2

T.

orange liqueur or orange juice

2

c.

cold heavy cream

1

t.

vanilla extract

⅓

c.

powdered sugar

Sprigs of fresh mint

for optional garnish
Instructions
To prepare the strawberries, place the hulled strawberries top side down and slice from the tip to the base to create pointed slices

Combine the sliced strawberries, sugar, and orange liqueur or orange juice in a large glass bowl and gently toss to combine. Cover and place in the refrigerator anywhere from 30 minutes to overnight, stirring once or twice while they soak.

Place top oven rack in the center position and pre-heat oven to 500°F.


To prepare the biscuit dough, combine the flour, sugar, baking powder, and salt in a large bowl or food processor container. Stir or pulse briefly to combine.

Add the cold butter to the dry ingredients and cut it in with a pastry cutter or pulse with the food processor until the mixture is just combined and crumbly.

Add one and a quarter cups cold buttermilk to the mixture and pulse or stir until just combined. Do not overwork the dough. It should be a little wet, but still a bit crumbly.


Spread a sheet of parchment paper onto a clean work surface and sprinkle with a little flour. Dump the dough onto the prepared surface and roll into a rectangle shape approximately ¾" thick.


With a sharp chef's knife, trim the edges of the dough to make an even rectangle. Reserve the scraps to make extra biscuits, if desired.

Use the sharp knife to cut straight down into the dough to create 12 equal-sized squares, as shown. Lightly brush the remaining buttermilk on top with a pastry brush and sprinkle with the turbinado sugar.

Dust excess flour off the parchment paper (or aluminum foil) and transfer the sheet to a large, rimmed baking sheet. Place in the pre-heated oven and bake for 14-15 minutes or just until the biscuits are golden brown. (Check after 10 minutes and adjust final cook time accordingly).

While the biscuits are baking, prepare the whipped cream by beating all 3 ingredients in a large mixing bowl until light and fluffy. Cover and place in the refrigerator until ready to use.

Once golden brown, remove the biscuits from the oven and cool for several minutes before transferring to a wire rack.

Once cool, assemble the shortcakes by cutting the biscuits in half and applying a generous scoop of whipped cream to the bottom half of each biscuit. Top with some of the macerated strawberries. Add the top half of the biscuit and finish off each shortcake with another dollop of whipped cream and some more strawberries. Add a small sprig of fresh mint for garnish and serve immediately. Enjoy!

Notes
*Use caution while cutting to avoid tearing the parchment paper. If you have a gas oven, use aluminum foil instead of parchment paper. Line the baking sheet with another layer of foil in case the one you are working on tears while cutting
Nutrition Facts
Traditional Strawberry Shortcake Recipe
Amount Per Serving (1 serving)
Calories 521
Calories from Fat 243
% Daily Value*
Fat 27g42%
Cholesterol 77mg26%
Sodium 415mg18%
Carbohydrates 64g21%
Protein 8g16%
* Percent Daily Values are based on a 2000 calorie diet.
Did You Make This Recipe?
Please leave a comment below or share on Pinterest