I always thought home canning was time-consuming process that required special equipment, time, and patience in spades. This is case for many foods, but not for jalapenos. I had no idea it was this easy to pickle peppers until my dad enlightened me with this pickled pepper recipe. This is the way he cans jalapeno peppers, the way his dad (aka "Pa" when I was a child) canned peppers, and the way I now can peppers. Maybe Sweet T will use this pickled pepper recipe one day and we'll be four generations strong.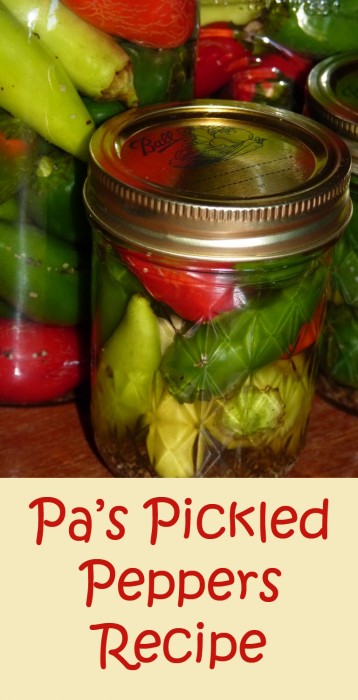 You will need:
Mason jars with lids and rims
Water
Vinegar
Garlic
Lemon Pepper
Salt
Fresh jalapeno and/or banana peppers
Quantities and jar sizes will depend on how many pepper you have. I used two quart jars and two pint jars. You can use seasonings to taste, just make sure to use a 50/50 ratio of vinegar/water mix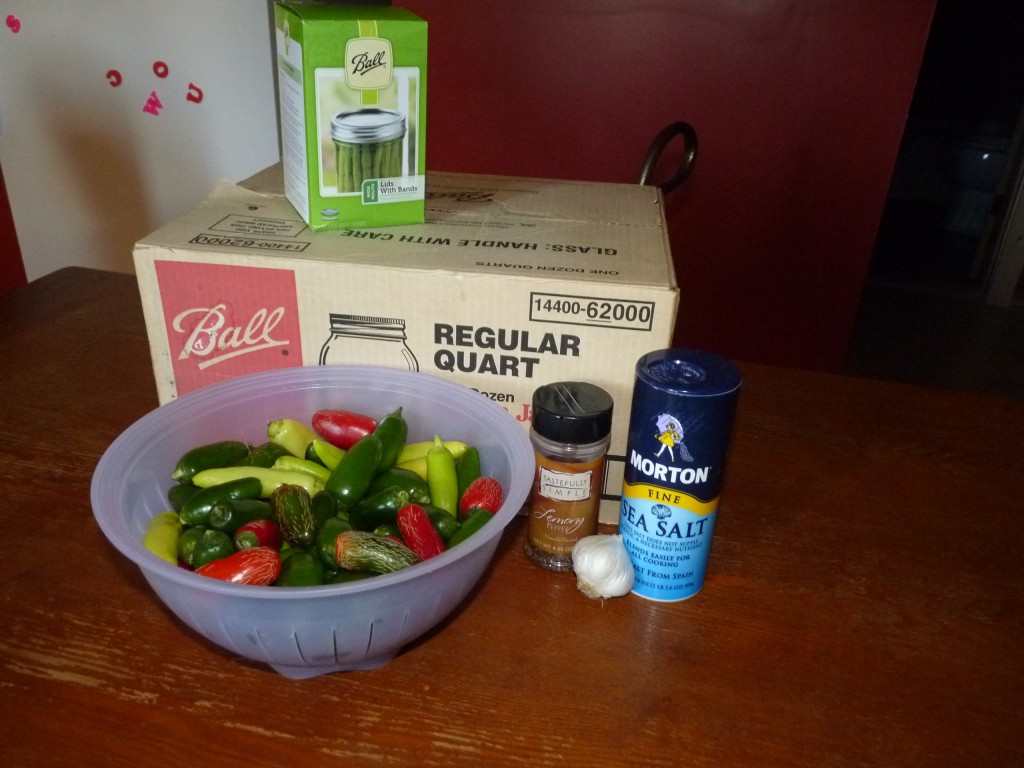 This process will be much easier if you have a dishwasher. Run the jars and lids through so they are very hot. If you don't have a dishwasher then get ready to boil some water! You need piping hot jars to fill and piping hot lids to top them with. Once you've decided how to heat your jars and lids, bring a half vinegar, half water mix to boil. Once it boils you can just leave it simmering to pour as needed.
Trim the pepper stems then stuff the jar(s) with as many peppers as you can pack in there and still be able to place the lid. Sprinkle salt and lemon pepper in the jar to taste. For a quart jar I used about 1tsp of each and for a pint jar I just sprinkled a little (very precise, scientific method ) Pack some garlic cloves in there too. You can't have too much garlic and it looks so pretty with the peppers.
Note: If you don't pack the jar tight enough, the contents will float like this once the vinegar mix is poured on them. Made that mistake the first time around!

Here's what a properly packed jar looks like after the vinegar mix has been poured.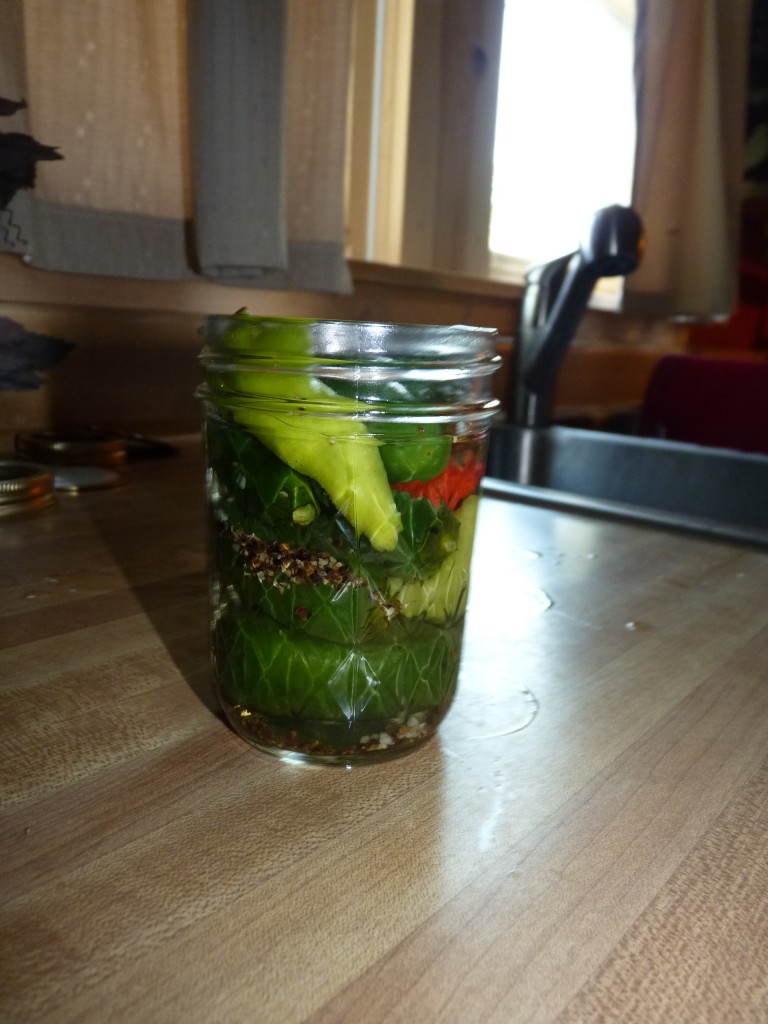 After the jar is packed, pour vinegar over the contents leaving 1/2″ head space. Wipe the rim dry then place a piping hot lid on top. Screw on the rim.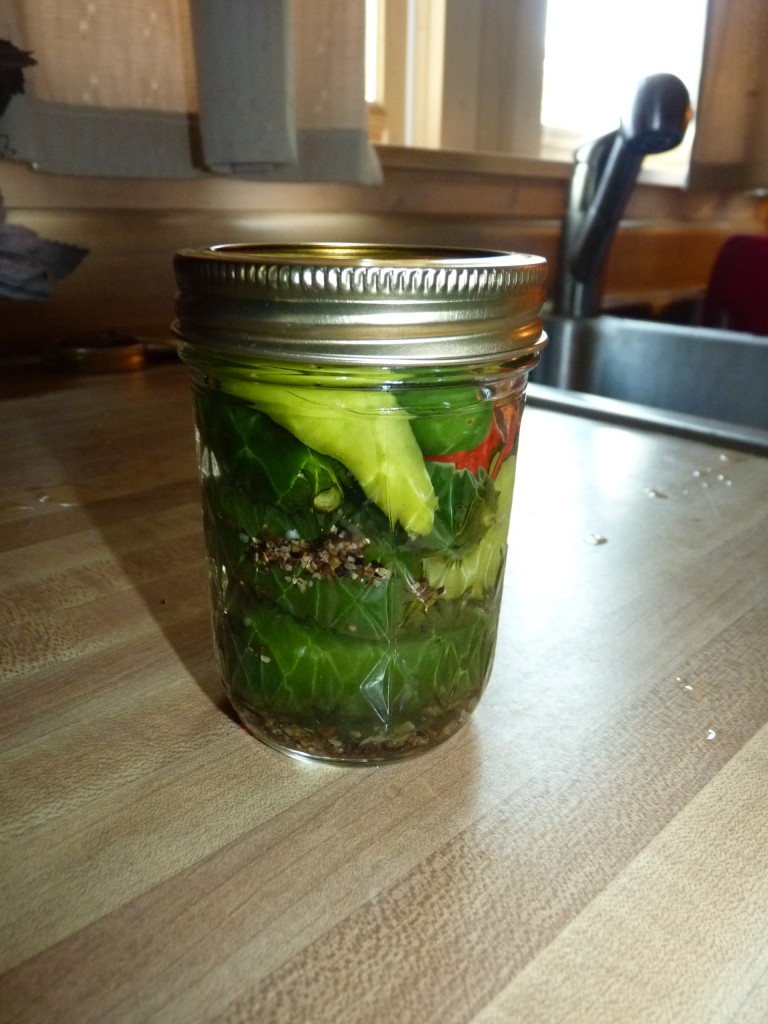 Since you aren't pressure canning or using a hot water bath method, it will take a little while for the seals to "pop." The lids seal in place as the jar cools so it usually 3-4 hours and sometimes overnight. If by morning, you have no seal it's probably because the lids weren't hot enough. You can repeat the process over again (it won't harm the peppers) or just stick the unsealed jars in your fridge. They will last in the refrigerator for several months like that. *
Aren't they pretty? I used a mixture of red and green jalapeno peppers, banana peppers, and garlic cloves. The jelly jar size makes an especially thoughtful gift, particularly for Christmas since they are naturally festive colors. I wrapped some ribbon around the neck of one to give my neighbor for her birthday.
I had no idea it could be this simple to pickle peppers! I've heard that you can can bell peppers using this same method, but they must be seeded and cut into strips first.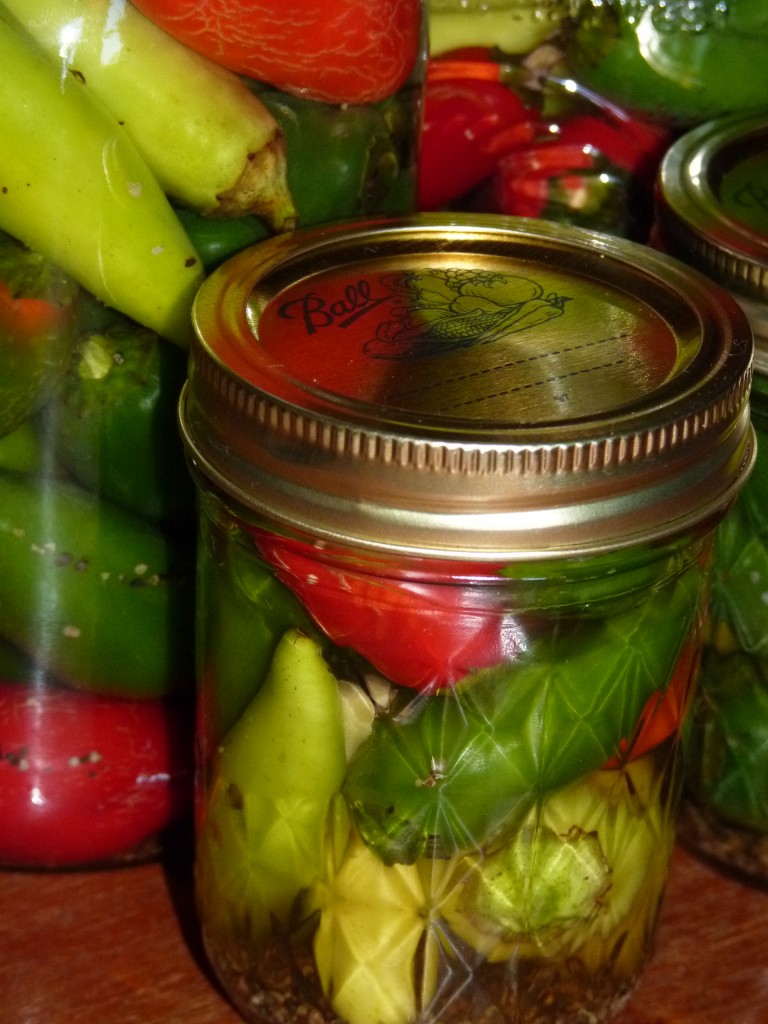 * I feel as though I should include a disclaimer since I used generalities throughout these instructions rather than spe
cifics. This is not an FDA-approved method and I can't give you an exact shelf life for your peppers. Use common sense. Vinegar and Mason jars do a great job at preserving, but if your pickled peppers become discolored or foul-smelling, please don't eat them then try to sue me. 🙂
Like this post? You may also like Short Term Emergency Preparedness Tips