This easy hot spinach dip has taken our family and church by storm. My aunt discovered it on the back of a Duke's mayonnaise jar and has made it for us three times in the last month for potlucks, birthdays, etc. We can't get enough of it and it's too good not to share. You may want to double the recipe because you can't have too much!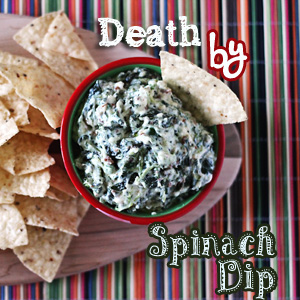 Easy Hot Spinach Dip Recipe
Easy Hot Spinach Dip
Prep time:
Cook time:
Total time:
Death by Spinach Dip. This easy hot spinach dip recipe will knock your socks off!
Ingredients
8 ounces cream cheese softened
1 cup mayonnaise
12 ounces frozen spinach thawed and drained, squeezed dry
4 ounces jalapenos, canned, diced, drained
⅔ cup bacon cooked and crumbled or 1 package of Real Bacon
1 cup parmesan cheese shredded
Instructions
Preheat oven to 350 degrees.
Mix together the cream cheese and mayonnaise.
Fold in spinach, jalapenos, bacon and Parmesan cheese.
Bake for 20-25 minutes in a baking dish, until hot and bubbly.
Let cool for a few minutes then serve with tortilla chips
Notes
Use fresh jalapenos if you like an extra kick
Easy breezy, right? This easy hot spinach dip still tastes great once it's cooled down to room temp too so don't worry about having to keep it piping hot if you are bringing it to a potluck. As long as you heated it enough to get all the ingredients to melt together nicely, it will be delicious!