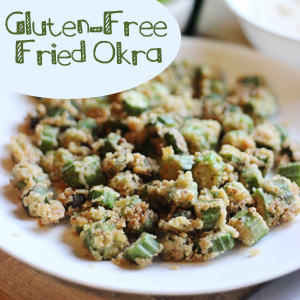 Until the last year or so, I've had great freedom with cooking ingredients. Reading blogs by moms whose family's diet had to be gluten, dairy, MSG, nut, additive, soy, egg, and/or meat-free made me wonder what on earth people with allergies could eat. Thankfully I didn't have to worry about it. A box of Hamburger Helper was fine for my family; or was it?
Over the last few years, Hubs had been dealing with digestive/gastrointestinal issues. In the months preceding Gus' birth last year, his problems escalated to a debilitating point. We're talking severe pain and bathroom trips that interfered with sleep and work. He decided to eliminated everything from his diet except for whole foods then gradually reintroduce foods back into his diet in order to determine the cause. The culprit? Wheat and dairy.   So when I was feeling like a whale and looking like this…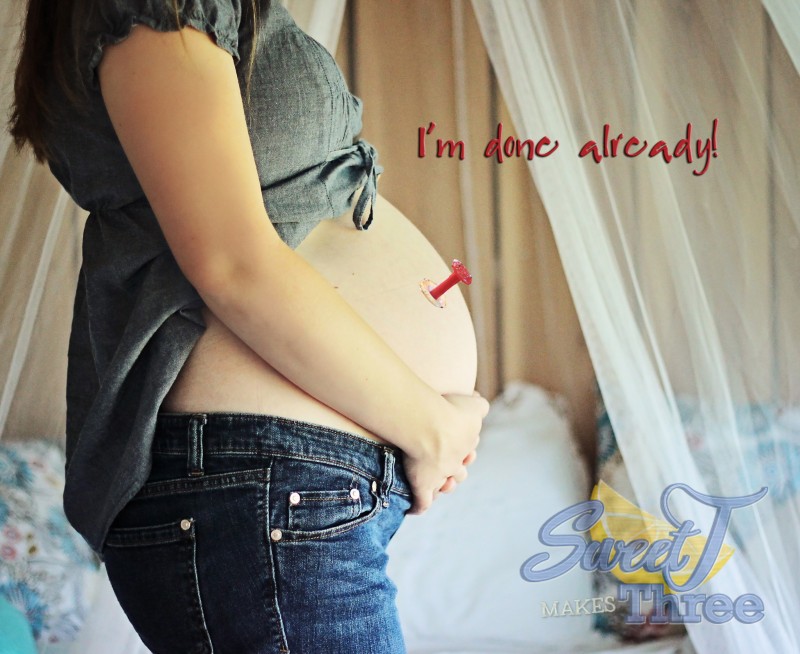 I was also learning to cook a different way than I had over the last 15 years (Hubs may or may not have gotten his head bitten off for deciding to make this change during my last trimester when I could barely move and had to chase a toddler around.)
Thankfully, I've adjusted to the new way of cooking over the last year and have even found a way to put a new twist on some of our old favorites. Thanks to brands like NOW Foods which offer organic allergy-free flours, amaranth, and quinoa I can even dabble in gluten-free baking and frying!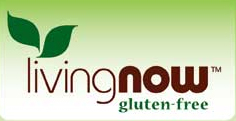 Late summer means okra time in the South so I made my first batch of gluten-free, dairy-free fried okra. It tasted exactly like the original fried okra recipe I've always used from Crazy Aunt Purl. Below is the basic gist of creating the dish. Be sure to visit Crazy Aunt Purl for more directions and a good dose of humor. Southern-style okra-frying is an art and difficult to quantify, thus no exact measurements are mentioned.
Gluten Free Fried Okra
Ingredients:
Okra
Almond Milk
livingnow Brown or White Rice Flour
Yellow Cornmeal (not cornmeal mix! It contains regular flour and therefore gluten)
Oil
Salt and Pepper to taste
Directions:
In a small bowl combine 1 part rice flour to 2 parts cornmeal. Set aside.
Slice okra into 1/4″ – 1/2″ uniform rounds and place in a bowl. Set aside.
Heat 1/4″ oil in an iron skillet over medium-high heat
Start adding almond milk 1 Tablespoon at a time to the bowl of okra. The okra should be lightly coated with milk, but enough should be used to create the sticky consistency shown below: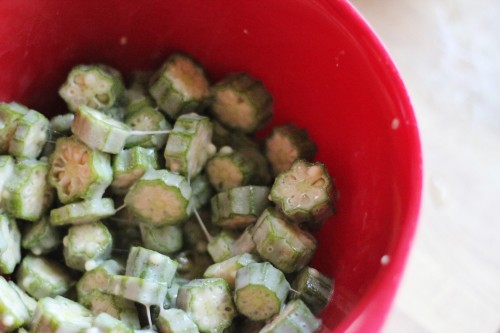 Begin sprinkling in the breading mixture until okra is coated like the picture below. I usually mix up too much breading since we aren't being exact here, and just save the leftovers for next time.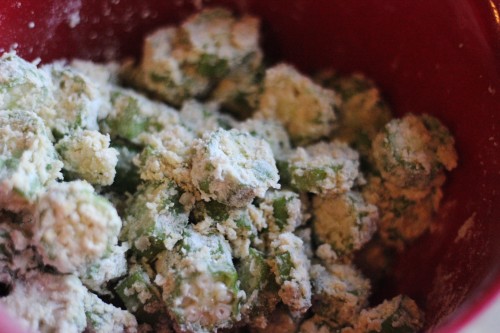 Add okra to hot skillet in a single layer ( too hot and your okra will scorch, too cool and the breading won't stick. Test a couple of pieces of okra first before you place the entire batch in the skillet.)
Fry until brown on one side then flip using a large spatula.
Fry the other side until golden brown.
Remove from skillet, drain on paper towels and serve.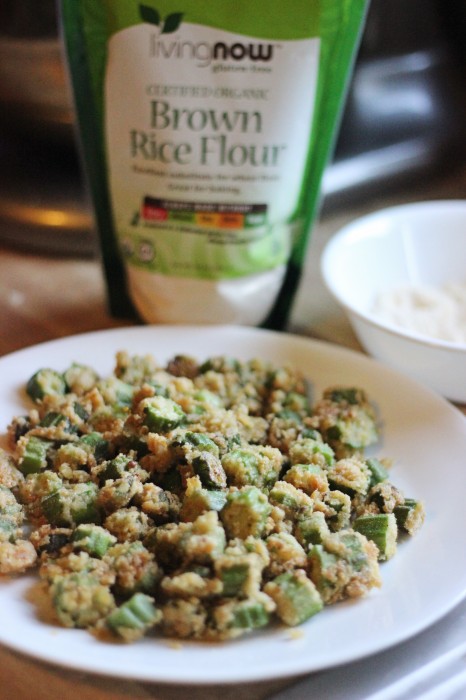 It used to drive me crazy when my grandmother, mom, and aunt would try to explain a fried recipe to me in such vague terms (how much exactly is "a mess" of okra??) Now I'm doing the same thing to my readers. Sorry! Frying really is an art rather than a science. Practice makes perfect. Hopefully the photos here and the advice from Crazy Aunt Purl will help you get it right.
What's the next stop on my gluten-free, dairy-free adventure? Using Living NOW tapioca flour and white rice flout to make gluten-free pancakes for Hubs. He was soooo jealous of the pecan pancakes I enjoyed at Cracker Barrel the other day. Shame on me for eating them in front of him!