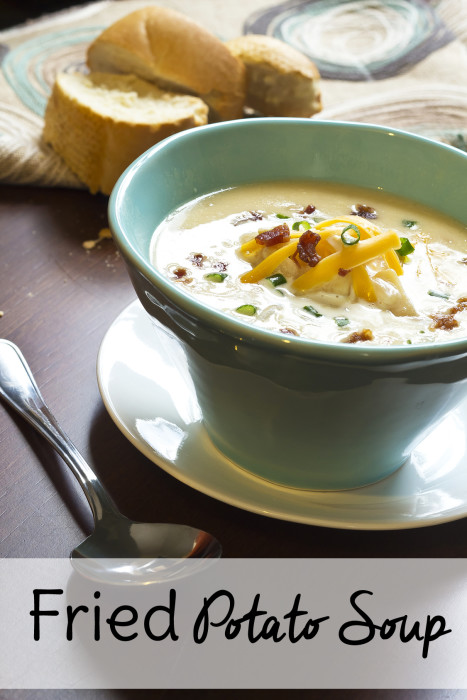 Loaded potato soup is one of my favorite soups.  There are many different recipes for loaded potato soup but most contain the same primary ingredients; potatoes, cheese, bacon, and onion.  I have tried various recipes but I'm always a little disappointed in the end flavor, the potatoes always seem a little bland.  I have tried boiling them in water, milk, and broth and I've baked them but nothing seemed to fix the problem.
One evening I had a craving for loaded potato soup and began to think about what to do to add flavor into the potato when it hit me "fry the potatoes".  When potatoes are fried with onion, the flavors blend wonderfully.  Thus, the Fried Potato Soup (Fully Loaded) was born.  This was the best potato soup I have ever made and possibly ever eaten.
The recipe is more of a technique than an actual recipe.  Although I made a huge pot of soup this recipe is easily adjusted to fit your needs.  Just follow the basic concept of how to prepare it and adjust the ingredient amounts to fit your family.
Fried Potato Soup
Fried Potato Soup
Author:
This is not your average
loaded baked potato
soup recipe. Fried potatoes make it even more sinful. Possibly the best potato soup you'll ever make!
Ingredients
10 medium potatoes cubed into bite size pieces
1 small yellow onion diced
1/2 bunch green onion sliced and separate greens from whites
4T oil
2 cups chicken broth
2 cups milk
1 8oz block cheddar cheese (shredded)
1 pkg bacon pieces or bits
salt and pepper to taste
Instructions
In a large dutch oven heat oil to medium high. Add potatoes and fry flipping occasionally with spatula. Cover between flipping to allow the potatoes to cook faster. About half way through frying add yellow onion and the white part of the green onions. Continue to fry until the potatoes are soft and the onions are translucent.
Add broth, milk, cheese, bacon, green part of onions, and salt and pepper to taste.
Lower heat to medium low and allow to simmer 20 to 30 minutes.
NOTE: If you know that the potatoes will stick to the bottom of your dutch oven, fry the potatoes in a separate skillet then add to dutch oven when potatoes are cooked.