Leave it to a Southerner to take a healthy green vegetable and deep fat fry that sucker! While this green bean recipe won't count as eating your veggies, it makes a delicious appetizer.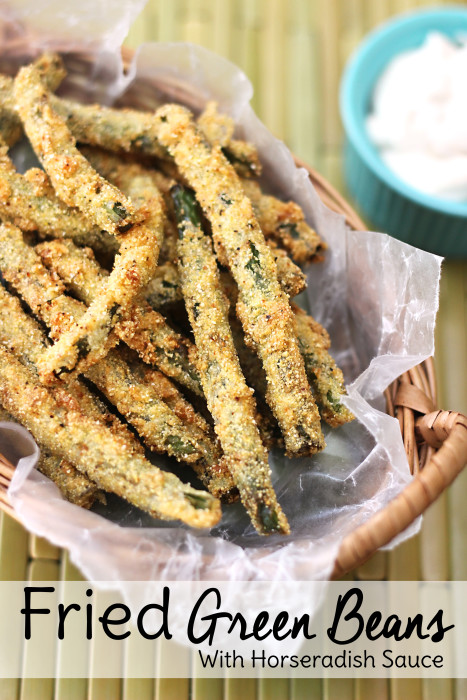 I should call this fried green bean recipe "hacked green beans" because of all the shortcuts I took.
Example 1 – I don't keep buttermilk in the house. Along with disinterest in college football and bafflement over monogram t-shirt pockets, it's one of several things that makes me a bad Southerner. Since napping children prevented me from running to the store for buttermilk, I mixed sour cream and water together for a sort of "sour cream wash." It worked beautifully. I may never buy buttermilk again.
Example 2 – I really hate dragging out the deep fryer or the dutch oven (told you I was a bad Southerner.) I fried these green beans in an iron skillet instead with great results. Maybe I should hack my way through the kitchen more often.
Fried Green Beans with Horseradish Sauce
Fried Green Beans with Horseradish Sauce
Author:
Prep time:
Cook time:
Total time:
This fried green bean recipe makes a delicious appetizer
Ingredients
Peanut oil for frying
1 cup flour
1 cup cornmeal
1 Tbsp creole seasoning (like Tony Chachere)
1 lb green beans, trimmed
1 cup buttermilk or "sour cream wash" (see post)[br]
[br]For Sauce
1/2 cup sour cream
2 Tbsp prepared horseradish
1 tsp Worcestershire sauce
Instructions
Pour oil into an iron skillet to a depth of 1.5″-2″ and heat to 375 degrees (this is medium heat on my stove with an iron skillet)
In a medium bowl, combine flour, cornmeal, and creole seasoning
Dip green beans in buttermilk then dredge in flour mixture to coat
Fry in batches until crisp and golden brown, approximately 3-5 minutes
Remove from oil and drain on paper towels.
Serve warm.
Horseradish Sauce
Whisk together sour cream, horseradish, and Worcestershire sauce.
Serve chilled