Fall has arrived in the Smoky Mountains and Dollywood is celebrating through the end of October with their annual Harvest Festival. My friend Leslie and I got to experience everything Dollywood's Harvest Festival has to offer from the food, music, and crafts to Great Pumpkin Luminights.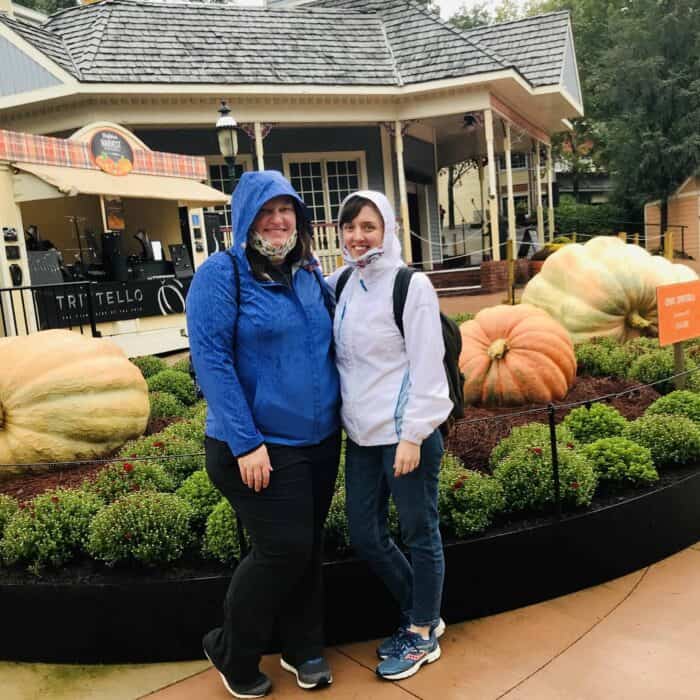 Here's what to expect on your trip to Dollywood during the Harvest Festival (and during COVID-19!)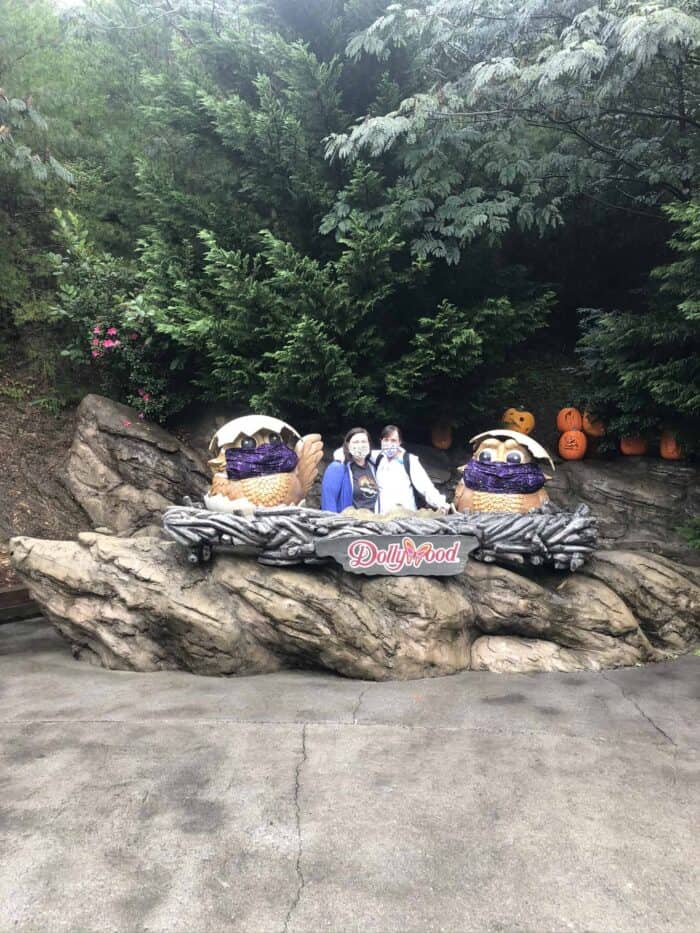 Masks are required inside the park and sanitation stations abound. Park capacity is limited and a temperature check is required before entering. You'll also be required to use hand sanitizer before boarding a ride. Click to find out more about how Dollywood is keeping guests safe in 2020. There are even spaces provided for a mask break if you need it.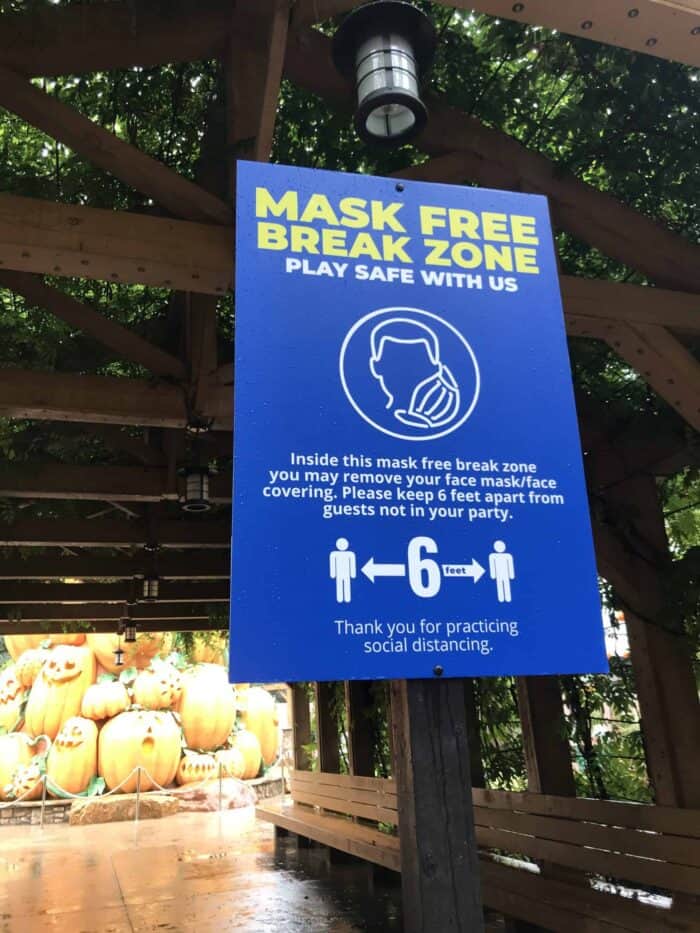 Upon entering the park you'll see more than a dozen colossal pumpkins, ranging from 800 to more than 1500 lbs. each. The massive displays come from growers across the East Coast who look forward to sharing their prize pumpkins with you.
How?? This gives a whole new meaning to "great pumpkin."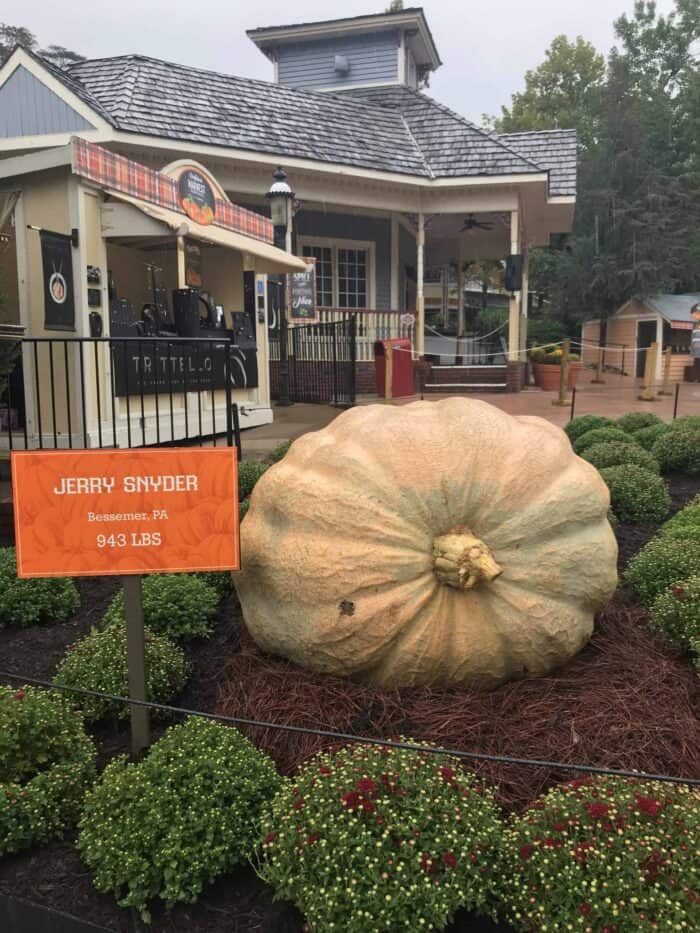 Dollywood Harvest Festival Music
Due to social distancing practices, all musical entertainment has been brought out of the theaters and into the outdoors. With eight different outdoor stages and various musicians also roaming the park, you're sure to hear as much Southern gospel and bluegrass music as you'd like. We might have stalked a banjo player at one point.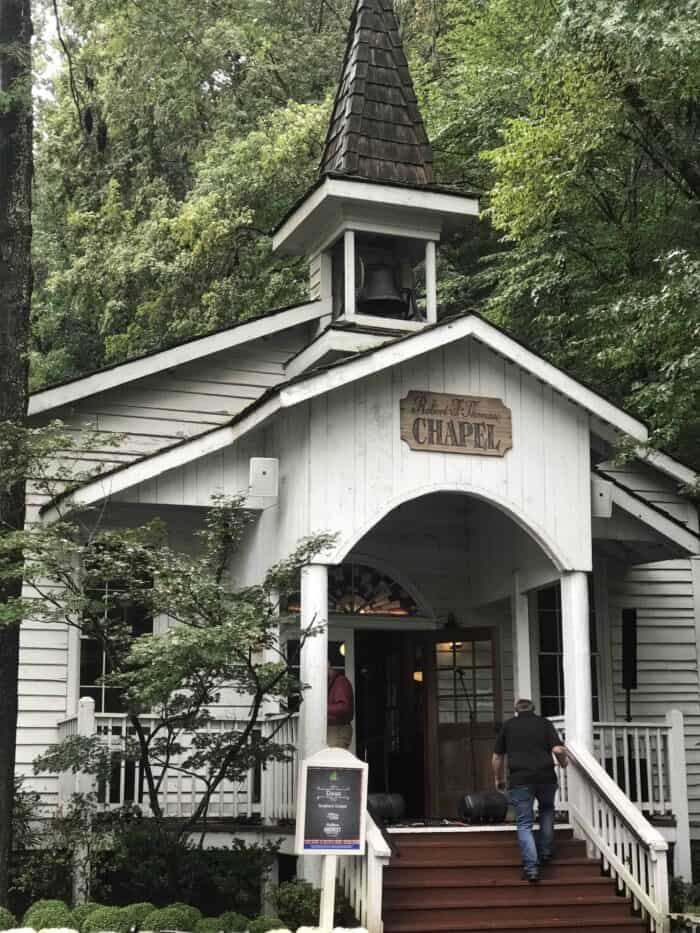 There's nothing quite like hearing Southern gospel coming from the porch of Dollywood's chapel.
I actually prefer this setup as you don't have to worry about being in a certain place at a certain time to catch your favorites, nor do you feel obligated to stay for the entire performance. This is especially convenient if your time at Dollywood is limited or you're traveling with multiple generations with different interests.
Music suffuses the park and enhances the sensory experience of Dollywood so I kind of hope this trend continues after COVID-19 precautions are no longer necessary.
Dollywood Harvest Festival Food
Craving pumpkin spice? Dollywood has you covered! The pumpkin praline funnel cakes are a must-try. You'll also find fall flavors like pumpkin spice milkshakes, hot wassail, and harvest kettle corn to carry and eat while you enjoy Dollywood's Harvest Festival.
Don't forget to try some of Dollywood's famous cinnamon bread! Grab some to enjoy in the park and have a loaf sent up to the Emporium for you to take home at the end of your day at Dollywood. It's that delicious.
Dollywood Harvest Festival Crafts
A variety of artisans can be found throughout the park, many of them giving life demonstrations of their craft. We saw everything from chainsaw carving to basket weaving. Our favorite crafter by far was Lisa Hayward who paints glass.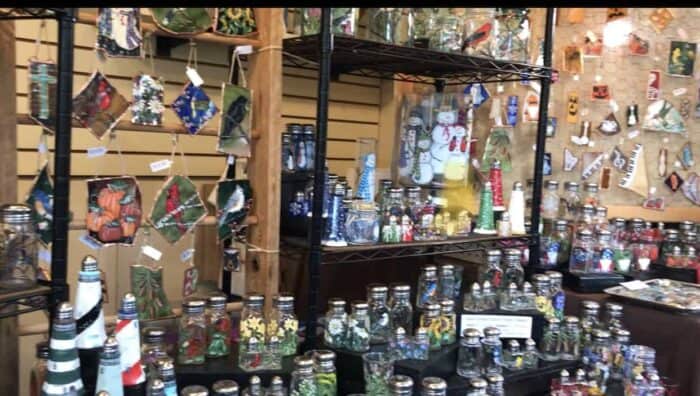 We were tempted to buy them out but settled on several pieces each. I purchased several of the tiny glass pieces to attach to Christmas gifts this year as well as a statement piece for my bay window. See the crow? It came home with me since we both love small, shiny things.
Great Pumpkin Luminights
Great Pumpkin Luminights was the highlight of this Dollywood visit for me. Best of all, Great Pumpkin Luminights is included with your Dollywood general admission, not a separately ticketed event.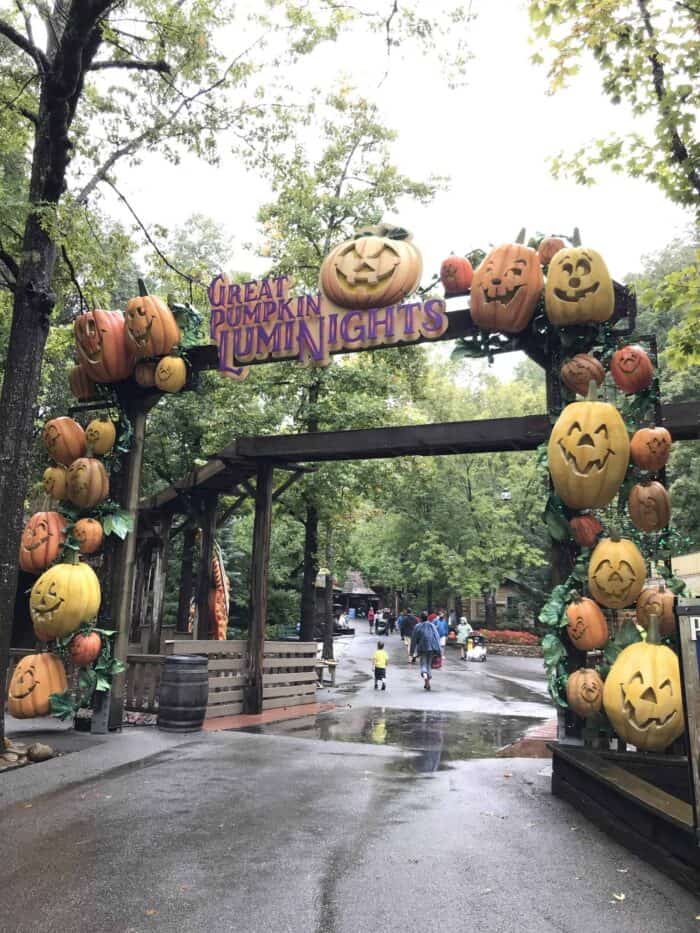 That being said if you'd like to experience Great Pumpkin Luminights alone without paying full price for an all-day ticket, you can purchase a reduced-price ticket for entry after 5 p.m. This is ideal for guests who want to make a quick trip to the park at dusk to experience the pumpkins as they glow to life. This limited-time offer, which is just $35 plus tax, is available online only. (Blackout dates apply.)
It's special to see all of Dollywood's pumpkins by day, but just wait until you see them at night!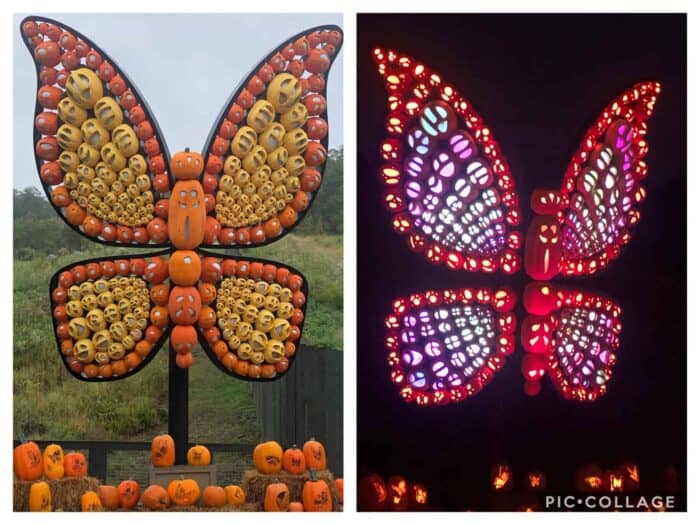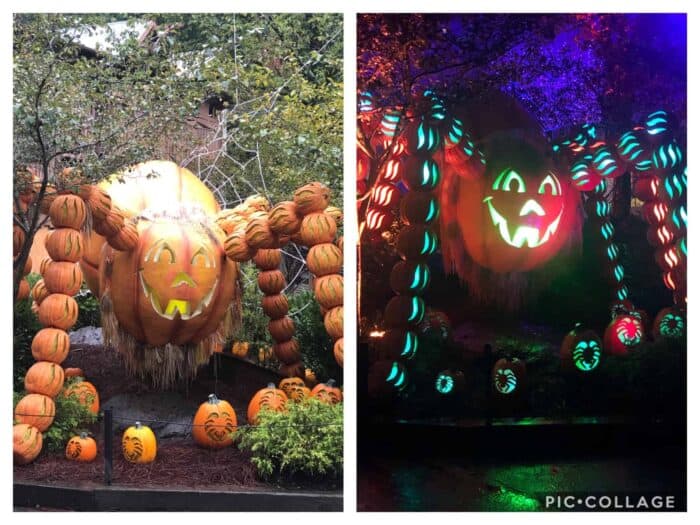 Neat, right? These frogs were my absolute favorite by day and by night.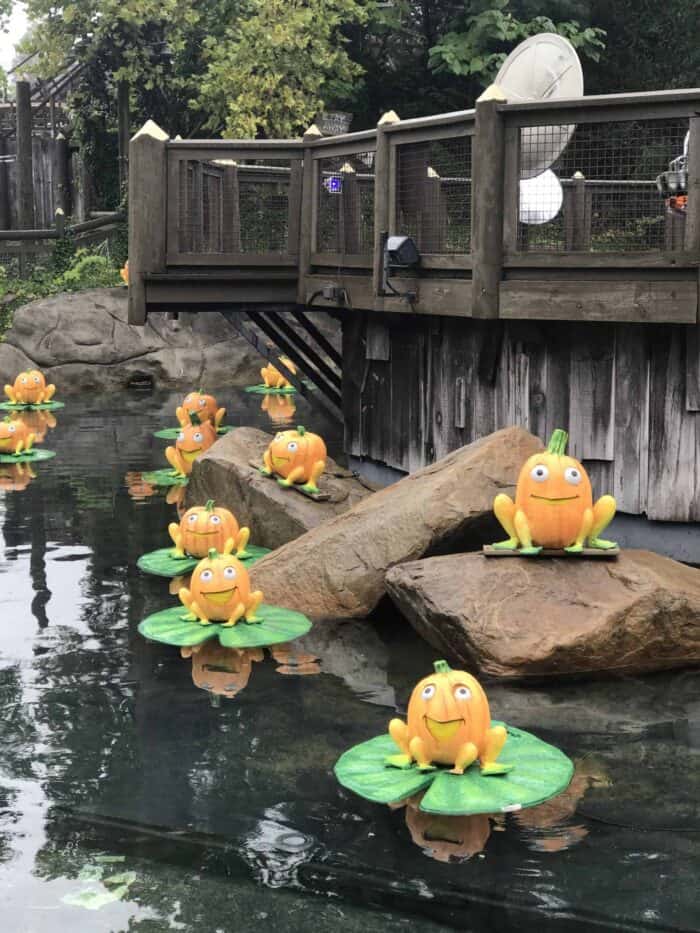 Check out the video below for a mini-tour of what you'll see during Great Pumpkin Luminights (and hear my frog buddies croak!)
Dollywood Harvest Festival Walkthrough
Dollywood is open 10 a.m. – 9 p.m. each day of operation (Sept. 25- Oct. 31) during the Harvest Festival. The park is closed on Tuesdays and Thursdays throughout the festival. (Time for cleaning and sanitation are extra important in 2020, y'all!)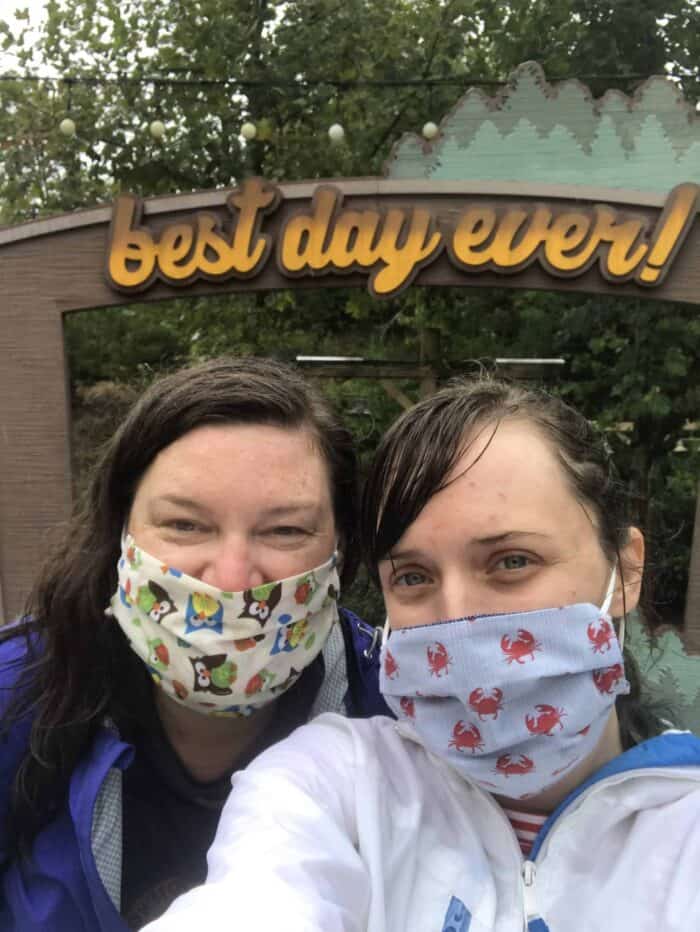 Rain or shine, we had a great time. I can't wait to visit Dollywood during the Harvest Festival next year and bring my kiddos!