I have been making what I called "braised beef tips" for years using the most basic of ingredients thrown into a crockpot and cooked all day.
What I produced was a flavorful dish that pleased the family but wasn't really "braised" in the true sense. I decided to do a little research and learn exactly what is "braised beef" and can I improve on my tried and true recipe.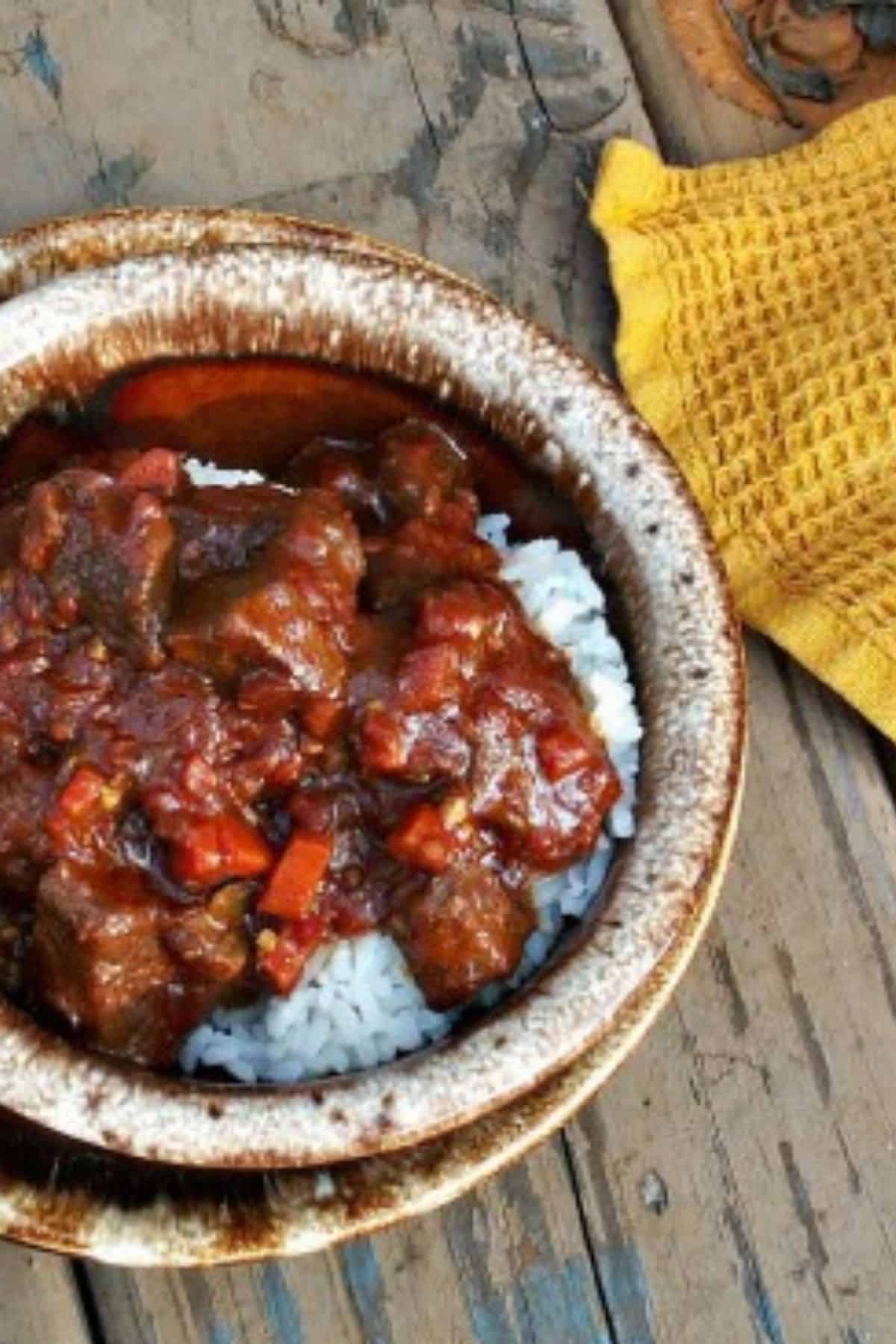 "Braising is a form of moist-heat cooking that breaks down connective tissues in tough cuts of meat, leaving them tender and succulent."
And although my crock-pot creation was a form of moist-heat the preferred method is baking in a heavy pan such as a dutch oven at a low temperature for 1 to 5 hours.
Braised Beef Tips
Ingredients
2 lbs beef tips
1 tbs oil
1 large onion chopped
2 carrots finely diced
1 – 14.5 oz can beef broth
2 – 14.5 oz cans stewed tomatoes (chopped)
2 tsp minced garlic
2 pkg brown gravy mix
Instructions
Preheat oven to 300 degrees
Add oil to dutch oven and heat on top of the stove to medium-high heat
Brown meat 1 pound at a time remove to bowl after browning and set aside
Add onion and carrots to the dutch oven and saute for about 3 minutes
Add garlic and saute 1 minute more
Return beef to the dutch oven, add tomatoes and beef broth.
Bring mixture to a simmer NOT A BOIL cover and place in a 300-degree oven
Bake "braise" mixture for 3 to 5 hours making sure the liquid doesn't evaporate past the meat.
About 30 minutes before serving prepare gravy mix according to package directions.
Pour over meat and return to oven for 30 minutes.
Serve over rice or noodles
There was a remarkable difference between the dish cooked in the oven as opposed to the Crockpot. The texture and flavor are much more defined and succulent.
For ease and convenience, you could still prepare the recipe in the slow cooker and I think you would enjoy it but I suggest if you are going to be home just place it in the over. You will be glad you did.
For a real treat, make your own homemade stewed tomatoes instead of using canned.
Make this Stove Top Stuffing Meatloaf Recipe for another easy weeknight dinner.
Braised Beef Tips
Total Time:
5 hours
15 minutes
Slow-braised beef tips take on an amazing flavor that you can't quite duplicate with a slow cooker.
Ingredients
2 lbs beef tips
1 tbs oil
1 large onion chopped
2 carrots finely diced
1 - 14.5 oz can beef broth
2 - 14.5 oz cans stewed tomatoes (chopped)
2 tsp minced garlic
2 pkg McCormick brown gravy mix
Instructions
Preheat oven to 300 degrees
Add oil to dutch oven and heat on top of the stove to medium-high heat
Brown meat 1 pound at a time. Remove to bowl after browning and set aside
Add onion and carrots to the dutch oven and saute for about 3 minutes
Add garlic and saute 1 minute more
Return beef to the dutch oven, add tomatoes and beef broth.
Bring mixture to a simmer NOT A BOIL cover and place in a 300-degree oven
Bake "braise" mixture for 3 to 5 hours making sure the liquid doesn't evaporate past the meat.
About 30 minutes before serving prepare gravy mix according to package directions.
Pour over meat and return to oven for 30 minutes.
Serve over rice or noodles
Nutrition Information
Yield

4
Serving Size

1
Amount Per Serving
Calories

433
Total Fat

18g
Saturated Fat

4g
Trans Fat

1g
Unsaturated Fat

13g
Cholesterol

105mg
Sodium

2467mg
Carbohydrates

31g
Fiber

4g
Sugar

11g
Protein

41g